How The Bon Accord Baths Of David Wilkie's Boyhood Sunk Into A Sorry State (Videos – 1940 & 2020)
The vast, cavernous Bon Accord Baths in Aberdeen, Scotland, where the lanes were once graced by the likes of a young David Wilkie, among many other Scottish champions, stands abandoned, dilapidated and falling into slow ruin 12 years after it was closed amid budget cuts.
A team of time-trippers from "Urbandoned", an outfit that visits historic buildings vacated and left for time to handle (sometimes sneaking past security cameras and keep out signs), has just released the video of its visit to Bon Accord Baths (see below), 10 years after the building went up for sale amid talk in community and media of it being converted to a leisure pool and spa, a shopping mall, a parking lot, games hall, bingo parlour.
None of those plans made it – and the art deco listed facility in Justice Mill Lane closed by Aberdeen City Council amid budget cuts in 2008 despite a campaign to save it has been left to decay, the pool drained but the weights machines and swim benches bought for the last few seasons of a going concern still lining the gym.
In 2015, campaigners to save the pool pointed to a survey that had revealed substantial roof damage. They asked Aberdeen City Council to push back the date for planning submissions so that more survey work could be done on the listed building.
In a statement, the council lamented that it had limited resources, the baths were not on its list of priorities for operational assets, while "millions" would be required to refurbish the facility. The money was imply not available.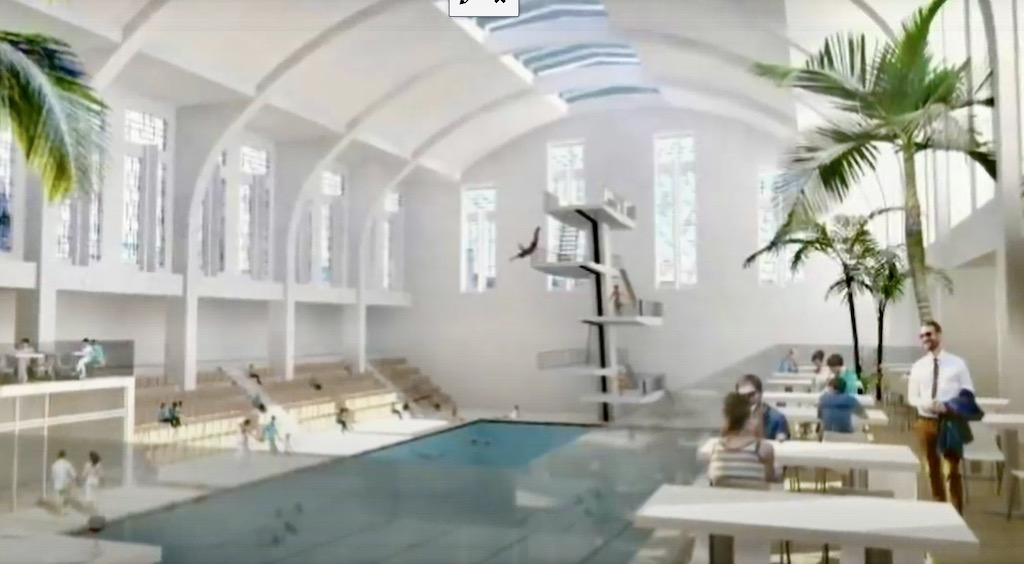 When I trained at the Bon Accord Baths many moons ago, the pool still displayed some of the original and intact "Turkish Baths" and "Public Baths" signs and plaques. There was even a faint whiff of carbolic soap in the air in some of the deeper recesses of the place. At the heart of it is a 33.3-yard pool, the deep end seconding as a diving pit.
A late inter-War baths completed in 1940 after the foundation stone was laid in 1936 on the eve of the Nazi death march, the pool cost £35,000 to build (the equivalent of about £2 million today, which would make it 'cheap' in comparison with the cost of indoor pool builds these days).
The Urbandoned team note that the clock on the wall in the main swim hall is stuck at 3:17. Surely, someone should get up there and change it to 2:15.
David Wilkie's parents came from Aberdeen. They were stationed in Colombo, Sri Lanka, when Wilkie was born on March 8, 1954 and learned to swim at the open air Colombo Swimming Club.
At 11, he was sent back to Scotland as a boarding school pupil at Daniel Stewart's College in Edinburgh, and joined Warrender Baths Club. He was coached by Frank Thomas – and later, when selected for the Scottish Swimming (then Scottish Amateur Swimming Association) squad in 1969 as an elite athlete, Dave Haller.
Wilkie, who competed in and trained at the Bon Accord Baths occasionally on family visits to Aberdeen, was once the subject of a complaint to the local council.
When I trained at the pool in the early 1980s, there was a doctor who would often followed his 6am fitness dip with a letter of complaint to the council moaning that the swim squad was taking up too much space in the pool (I recall us having 3, rarely 4, lanes, in what were often colder than usual waters, and him having just about all of the rest of it at 6am). It turned out he'd been doing it for years. In one letter, a council official once showed me, the grumpy doctor opined that the presence of a boy "with a lane all to himself" was a ludicrous waste of space for someone who "was never going to make it".
That boy was David Wilkie.
He went on to win the 200m breaststroke at the 1976 Olympic Games; was the only non-American to win among men in Montreal and did so in 2:15.11. In 1976. It was one of the outstanding swims of the history of the sport. Wilkie, who attended the University of Miami, where he was coached by Charlie Hodgson, was also winner of three world titles, two Olympic silvers and two world-championship bronze medals.
And here is that race and what it meant to the man who became the next British Olympic breaststroke champion, Adrian Moorhouse in 1988:
Memories of Bon Accord Baths
The commentator on the video of the Bon Accord Baths expresses a hope that the video of their visit captures the size of the venue. It doesn't quite do that. The main swimming hall is a vast, cavernous space. While I never much liked the sound in the place – especially when it was full during afternoon sessions on the other side of the lane line that divided the training squad and those there for fitness and fun – the light that poured in through the vast windows from the Granite City outside was glorious on a bright day, pink in sky and stone picked up and reflected by the glass. On grey days, it was a more sombre place.
I trained there with 1984 Olympic 200m medley and GBR 4x200m free bronze medallist Neil Cochran, my sister Debbie, Mike Peyrebrune (who would break the British 50m backstroke record in the pool in 1988) and other Scottish internationals like Alie and Sue Hamilton, Duncan Cruickshank, with Kevin Reynard, and the rest of the Aberdeen Swimming Club crew guided by my dad on deck.
This was the place where my coach (and dad) took a call from my mum one morning after training to tell me I'd passed by 'A' levels with two As and two Bs and could take up that place at university. The place, then, where I learned the literal benefits of keeping your feet on the ground: I was so happy that day that I leapt off a step heading down to the underground plant and a back door that led to a car park – and in that dizzy state forgot the bit where you had to duck to avoid hitting your head on the low ceiling.
Once, just round the corner from the main entrance down a steep alleyway, I'd sat for twenty minutes that felt like hours holding a young boy's foot on to his leg as we waited for the ambulance. He'd jumped off a high wall onto bricks broken by their own fall, his ankle severed in a way I'd never imagined possible and never seen since: a clean break, straight through, much hanging by bloody threads. He felt no pain and kept asking 'is it bad?' "Don't worry, it'll be fine. They'll get you fixed up. Keep still," was the best I could do.
This was the place, captured now in decay by Urbandoned, where I started to pay my own way in life, lifeguarding in my spare time while a student at the University of Aberdeen:
Bon Accord Baths are unlikely to be revived. It would cost more than its original £35,000 build budget to have designers draw up some sketches these days.
Dreams live on. There was a flurry of renewed hope in 2018 when The Bon Accord Heritage group revealed plans to reopen Bon Accord Baths. Meanwhile, Save Bon Accord Baths campaigners work on.
In terms of the region's fastest of fish, like Hannah Miley, there's the Aberdeen Sports Village these days. The facility was shut for several weeks in the COVID-19 pandemic but it is the kind of place where a controlled environment will see elite swimmers ride the first wave back to the pool at a time when safety first strategies are a must.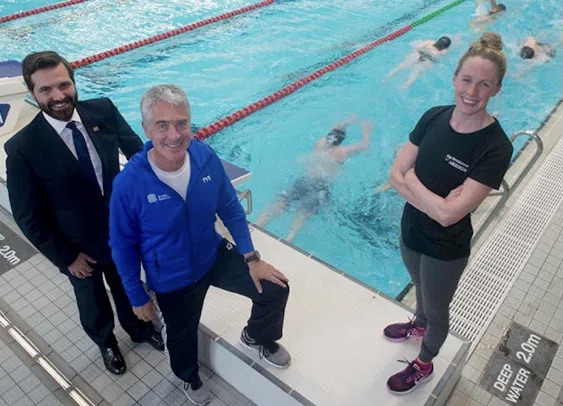 In 2017, Hannah's dad, Patrick Miley, a helicopter pilot who flew missions out to oil rigs over the North Sea in treacherous conditions for many a long year and is now a full-time coach, took charge of the then newly formed University of Aberdeen Performance Swimming programme (UOAPS).
Hannah Miley now has a great facility to train in but the Olympic finalist, World, European and Commonwealth champion, is living proof that you can reach great heights working in 25-yard pools, even one where the floor is about to cave in (a story for another day).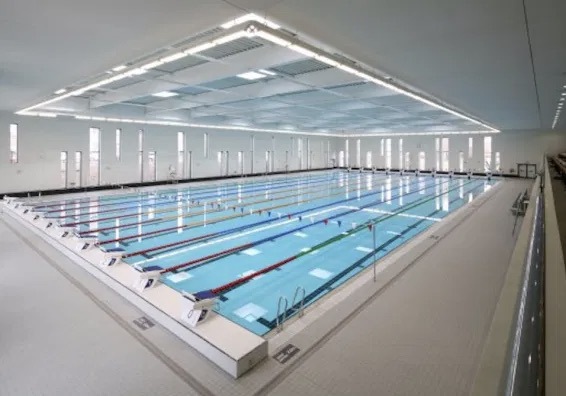 UOAPS is a partnership between the Aberdeen Sports Village, Aberdeen City Council, Scottish Swimming, the University of Aberdeen and seven of the city's swimming clubs. The aim, said the local media, was to "grow on the rich crop of swimming talent to have emerged from the north-east … including Hannah Miley, David Carry and Robbie Renwick."
All most worthy of mention – but no memory of Wilkie, no mention of Cochran. Nor Ian Black, three-times European champion (400m, 1500m free, 200m butterfly, 1958), Commonwealth champion 220y 'fly the same year (some of my colleagues in journalism still refer to me, with good humour and fondly – I think 🙂 –  as "Grampian Champion", because my name sits somewhat humbly and years and status apart under that of Ian Black on the regional championship trophy for 200m butterfly). Black, coached at Bon Accord by Andy Robb, was later headmaster at Robert Gordon's College, where Cochran went to school.
How we live in our times sometimes, when it might make us stronger to appreciate that we stand on the foundations of tremendous achievement and effort.
There are Walls of Fame in pools and sports facilities the world over but they tend to do that kind of thing much better, better than anywhere in the world, in the United States, where each new wave need only look up to appreciate what they're about to become a part of, what they're about to take pride in, what they are about to give their time, energy, dedication, determination and discipline too.
I can recall a swim club board at Bon Accord Baths. It carried the newspaper cuttings (some of which I have to this day) of medals and Trophies won and successful campaigns celebrated at Aberdeen Swimming Club. The facility was a public one and there were those who didn't like the idea of the swim club having its own corner of a wall in a corner of a cavernous swim pool. Like the doctor, they didn't have a clue.