How Dolphins Leapt To Their Best Olympic Swim Campaign Since Melbourne 1956 As Win For Aussie Women In Tokyo Tests USA Might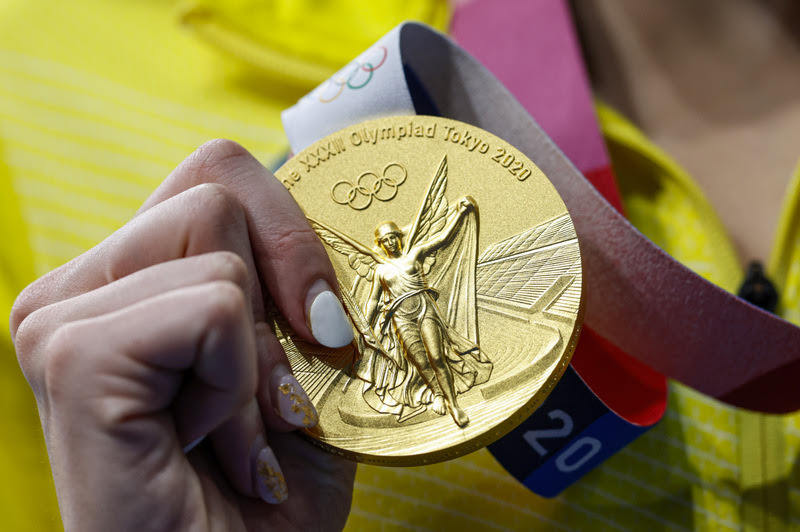 There was no topping the USA in the pool, as was the case for Australia at a home Games in Melbourne back in 1956 with 8 golds for the hosts, 2 for the top threat, but in Tokyo the Dolphins gave the post-Phelps Americans the fight of their lives, the women's meet to the Australians with a dominant tally of eight gold.
For direct comparison with the previous 20 years of Games, drop the three new events for a moment and we find Australia matching the USA on gold count and falling just seven total medals shy of the swim giant. Going into the last day, the gold standard hung on a thread: Americans needed a string last day – and they delivered one (more on them and that in a concluding reflection on Tokyo soon).
Beijing 2008 was the last time the women's meet went to Australia over the United States: back then, the Dolphins took six golds and Americans just two, relays delivering two silvers and a bronze. Shiny suits were a part of the picture that year, any with a Speedo polyurethane-panelled LZR Racer entering the fray with an edge, though Americans and Australians both had access to the skew of the season.
There's always something that makes comparison with what's gone before and what follows. This time, the addition of the women's 1500m, the men's 800m and the mixed 4x100m medley made many a reference to "biggest tally since…" relative, even though current-gen fans and those whose job it is to appeal to performance bean counters for next season's budget may choose not to notice.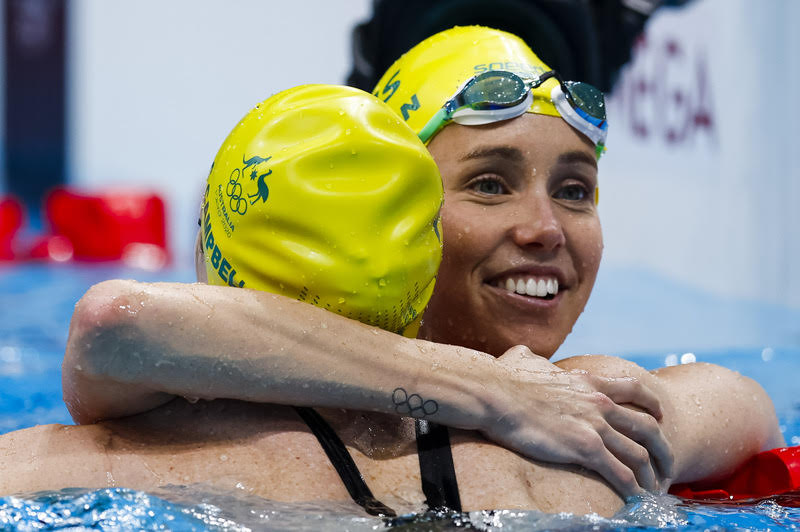 What is beyond doubt is that the Dolphins celebrated a record Games in the pool, the women's team outstanding: Emma McKeon and Ariarne Titmus took all titles from 50m to 400m freestyle, Kaylee McKeown delivered a double, too, on backstroke, there was gold in the 4x100m free, in World record time, and 4x100m medley to make up for a bronze in the 4x200m free that might have been gold but for coach decisions, while Cate Campbell and Emily Seebohm ensured that the Dolphins had two bites of the cherry in the 100m free and 200m backstroke at the tail end of careers stacked with prizes and pain on the performance roller-coaster.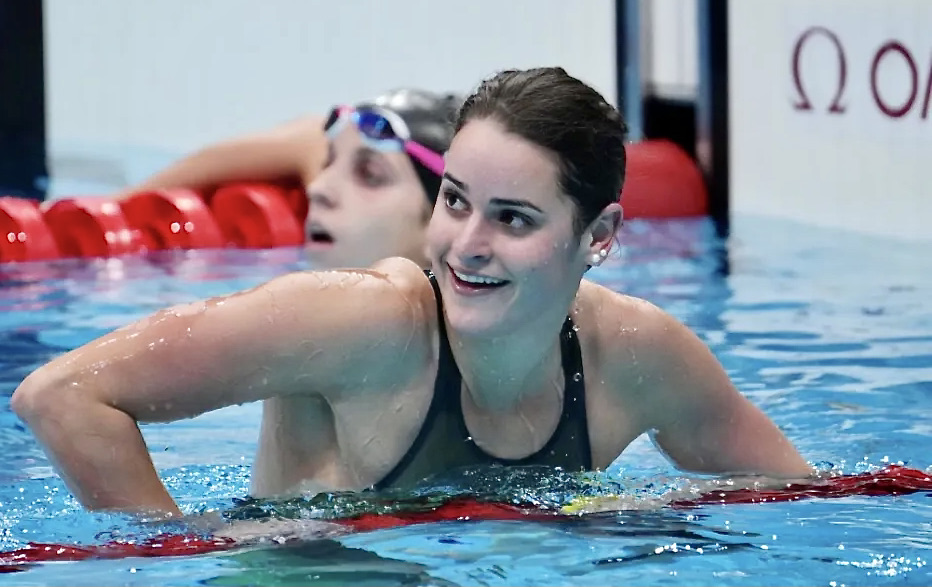 In the midst of it all, an array of glorious stats that per capita, so to speak, made Australia the most impressive team in the Tokyo tank. Part of the punching beyond its weight:
Emma McKeon – most career Olympic Golds for an Australian woman – 5 (2 solo, 3 relays);only the second woman in history, all sports, to claim 7 medals at a single Olympics; most Olympics medals by and Australian – 11;
Women's team – most medals ever at a single Games – 13; most gold ever – 8; medals in all four relays featuring women, three women only plus half of the new mixed medley relays.
Australian Dolphins Team – most Golds at a single Olympics in the pool – 9; Most Medals won at single Games in swimming – 21 (including the one won in open water but a count that includes only one medal in the three new events win the program); just two golds shy of the USA; medals in six out of the 7 relays. Me's medley the only one that got away
There has been much talk of systems, analytical forecasting tools, even "20-year" plans. All of which overlooks a big question for Australia and any steering the Dolphins : what is Queensland doing that the other states are not. Here's the list of 15 medal winners and their coaches from/working in Queensland: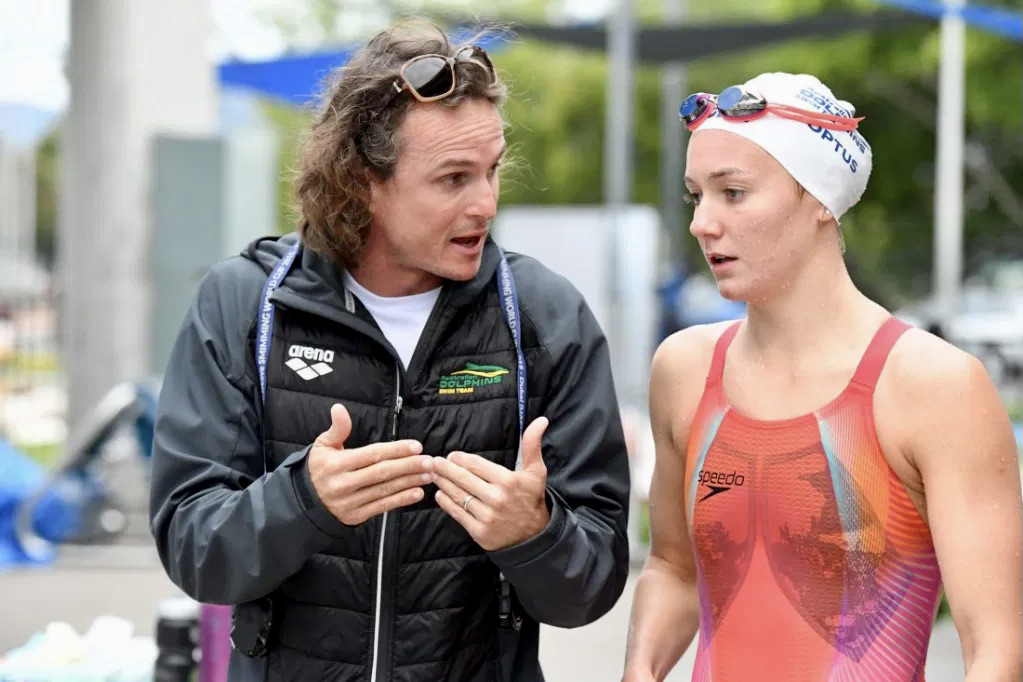 Emma McKeon; Emily Seebohm – Michael Bohl
Ariarne Titmus, Meg Harris, Mollie O'Callaghan, Elijah Winnington – Dean Boxall
Kaylee McKeown – Chris Mooney
Zac Stubblety-Cook; Jack McLoughlin; Leah Neale – Vince Raleigh
Kareena Lee – John Rogers
Other relay contributors:
Cameron McEvoy – Chris Nesbit
Alex Graham – Richard Scarce
Chelsea Hodges – Sean Eels
Isaac Cooper; Thomas Neill – Damien Jones
The relay medals must also go down on the record of Dolphins head coach Rohan Taylor and the coaches and others who worked on relay strategy before and during the Games. Britain head coach Bill Furniss and performance director Chris Spice spoke of the work that went into the first mixed medley gold going to pioneers Kathleen Dawson, Adam Peaty, James Guy and Anna Hopkin.
On the way to the Games, coach Mel Marshall noted the work that had gone into relays in general at special relay camps held since Rio 2016, disrupted a touch by the pandemic, though by the time the bug was on the loose, the foundation of a big shift not seen for more than a decade back to the days when Marshall raced to the International podium herself as Australian Bill Sweetenham triggered a revolution in coach education and approach to getting success on the biggest of occasions, the changes aimed in muscle, literal and mindset.
Australia's success was also the group effort that underpinned the team's success from day 1 to day 9 in Tokyo – and represented a turnaround from what was described as a "toxic culture" just nine years ago, when a squad of male supersprinters arrived in London with a shot at Olympic immortality but left making headlines of a different kind as inquiry heard complaints of teammates who reckoned "they ruined it for us too".
In Tokyo, Individual swims accounted for 7 or the Dolphins' nine golds in Tokyo but the relay success – with six medals out of seven chances – marked the biggest number of medals in relays by one nation at the Games, though that translated to third on the relays medals table, the USA up top with 2 gold, 2 silver and a bronze for a total of 5, Britain's men second with 2 gold and a silver, a count that made TeamGB the most successful nation in men's relays.
However way you cut such tallies, 16 out of the 26 Australian swimmers who returned home with a medal hail from or work in Queensland, including all the solo golds and the bulk of all relay medals. That's not to knock the work of those swimmers and coaches working in other states but clearly, Queensland is the powerhouse of Australian swimming and the Dolphins abroad (and that's been the case for some time) … and others might learn from that and perhaps ask the question "if the system, governance, the stuff at the centre have contributed to that success, then what aspects of all of that are not working outside of Queensland – and why".
Again, that's not to underplay the significance of leadership and team culture and the input of sports science and even a touch of human calculators and tools that can, apparently, tell us what race strategy might be a winning one …. which is all very well until a Titmus, a Ledecky, a Dressel and a Peaty pop up and punch holes in the placard of 'what went into it' to reveal the simple truth: it comes down to long-term work conducted by athlete and coach; getting the smart and hard work done, day-in, day-out, for the best part of decade and more; living a life and lifestyle commensurate with the goal; having a coach doing all of that in the context of their own roles as guides and guardians and messengers to young hearts and minds, all of it holding hands with a deep understanding of what it is to move at speed through water in a particular way, blessed with particular parameters, born-with and honed.
There's a sprinkling of good fortune in the realm of the 'uncontrollable', including whether you have such giants those listed above in your events, for example, but human intelligence, applied over the short and long term, counts. Australian men played their part in the result that put the women's team on the front pages.
Take the smart and steely manner of Zac Stubblety-Cook's victory in the 200m breaststroke: it speaks for the athlete and the experience and long-term guidance of his coach Vince Raleigh. Kyle Chalmers came close: just 0.06sec shy of joining the club of 100m champions who kept the crown, the battle with Caeleb Dressel providing the promised tight tussle. There was silver for Jack McLoughlin in a 400m freestyle final that produced a shock win for Tunisian Ahmed Hafnaoui and had Mack Horton cringing in the stands and selectors weeping for the downside of trials, where calculation aimed at being at very best come the big occasion tips in favour of the athlete for whom trials turned out to be the main event. And there were bronzes, too, for Brendon Smith in the 400m medley and for the teams in two and a half (mixed medley) relays.
That left the USA the winner of the men's meet, on 8 golds, Britain next on 4 golds, Team Tchaikovsky third with 2 golds and Australia next on the medals table for the blokes.
Confidence, Composure & Character Built On Dolphins Unity
Confidence and composure, a presence and a sense and expectation of stepping up not down come the hour are among characteristics often associated with TeamUSA. Winning often and being able top look back on winning campaigns galore and team traditions that support those who have that bad day when they could least do with one (it happens on all teams) helps with such things.
In Tokyo, we saw the best of Australia and Britain exuding that 'confidence and composure, a presence and a sense and expectation of stepping up not down'; we saw team behaviours that provided the alchemy of one-for-all, all-for-one, the deed there for to see for all with an eye to see, the word secondary to the act. They were living it, not trying to perform to a script.
For Australia, the challenges of 2012 and then, for other reasons, 2016, drained away steadily over the nine days of action (and eight mornings of finals that spoke to the Olympic colonialism of NBC allowed by the International Olympic Committee and subordinates, and encouraged in return for a big cheque) but if there was one moment that summed up the sun coming out for Australian swimming it was when, on the last morning of action at the end of the last women's battle of the Games in the pool, Cate Campbell delivered Australia's first victory in the 4x100m medley since Beijing 2008 as she stopped the clock ahead of American Abbey Weitzeil.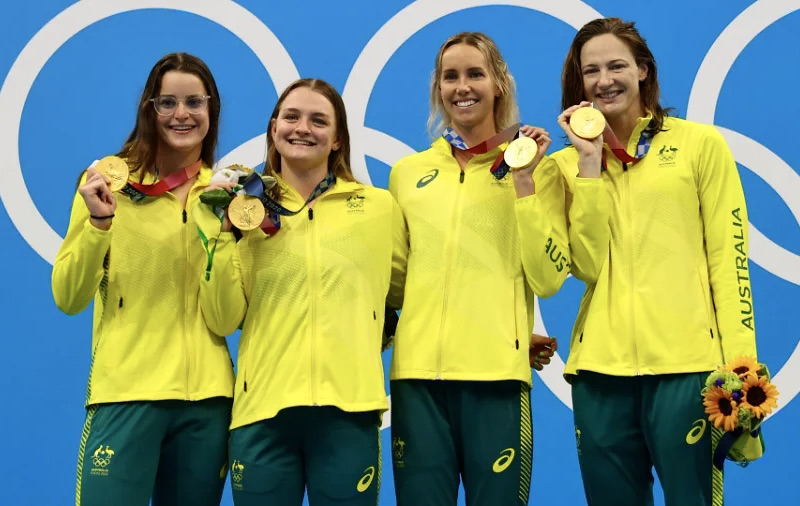 That meant a third gold for backstroke queen Kaylee McKeown; a debut Olympic title for Chelsea Hodges, a breaststroke specialist who swam beyond to keep the gap to Olympic solo 100m champion Lydia Jacoby to half a second; a fourth gold and seventh medal (and all that went with it, as listed above) for Emma McKeon as she raced inside 56sec on 'fly to to close the gap on American teen Torri Huske and complete a majestic nine days of standing up time and time again (the split of the stroke to solo champion Maggie Mac Neil, of Canada, with a sizzling 55.27); and then Campbell, on 52.11 for an Olympic and Oceania and Commonwealth record of 3:51.60, 0.13sec ahead of the Americans.
Canada were a further 0.87sec away and celebrating bronze with two of the fastest stroke splits (Kylie Masse, 57.90 back, and Mac Neil, after medley ace and Worlds 200m breaststroke podium placer Sydney Pickrem had held the fort and kept hope and opportunity alive) and a career seventh Olympic medal for Penny Oleksiak, her 52.26 delivering her second bronze a week that included the 200m free podium and had started with silver for Canada, with precisely the same split time, as anchor in the 4x100m free.
That moment eight days earlier had marked the first bookend of Cate Campbell's two golds in Tokyo, the sandwich a joyous bronze in the 100m free five years after the day went down in Rio. Memories of that, the tears that flowed and the soul-searching and recovery that followed, made the slo-mo of Campbell's last golden bookend in Tokyo all the more glorious.
As I wrote on the day: "Cate Campbell peered up at the scoreboard, her face like sun breaking through cloud, her arm arched into the air, her head falling back into the water, eyes closed, the lows washed away with a high that will live with her for the rest of life as the memory of a rollercoaster-ride that ended with a rush not the hush of not quite there. There are not many 'I'm done' pronouncements at the end of a Games in the pool, retirement best left to the long grass of contemplation un coupled from the last result, whatever that may be. For Campbell, if Tokyo is it, she would leave the fast lane on a high …".
Well, 4 gold, a silver and three bronzes in the Olympic account and 4 gold, 5 silver and 3 bronze on the World-titles (l/c) balance sheet, she ain't going just yet.
The 29-year-old told Australian media after the Games: "To be honest, I haven't made any plans. I'm just going to sit back and enjoy this moment for what it is."
A wise move: savour, digest, then decide.
The female Flag-bearer for Australia in Tokyo and a member of the Australian Olympic Committee Athlete's Committee, Campbell said: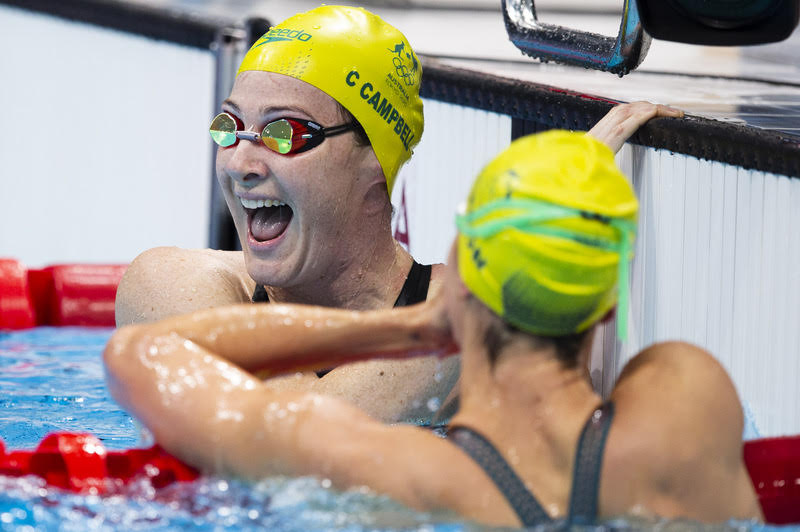 "I don't feel like I'm completely done with the pool or done with the sport. There's no point in saying this is definitely the time to walk away, but I definitely need a little bit of a different stimulus for a while."

Cate Campbell – a bronze between two golds that confined the challenges of the past to history – by Patrick B. Kraemer
Calculated Guesses Said To Have Helped Dolphins In Relays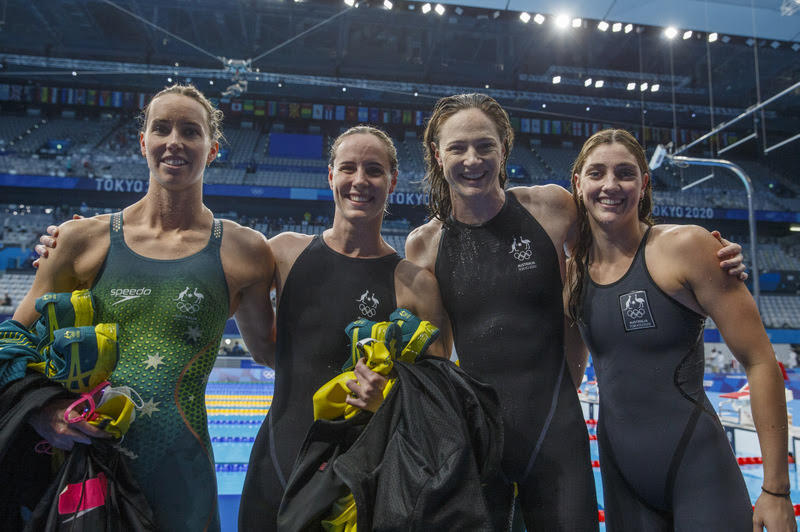 What follows is what's been reported and while many may have read it as "the secret of Aussie relay success" in Tokyo, the only "secret" out there that mattered was the work needed to ensure that Australia arrived at the Games in great shape, capable of backing up a fine set of performances at trials a month out from the big moment (for most own the key podium shots, it went really well and there were doubtless some lessons for others to be had for next time round in terms of holding trials so close to the main event, American-style); the work, for example, put in to deliver at those trials the first domestic race of four sub-53s 100m free efforts in a line-up that included six women capable of that speed.
Sure, a machine might be as wise as the likes of Rohan Taylor, Michael Bohl, Simon Cusack, me, you and just about any fan paying attention out there but when an Australian Trials confirms that the Dolphins will field a 4x100m free relay capable of having its best six under 53, at least two of its best four bound for the final under 52 at a time when no American seemed capable of cracking 53.5 and the ace in the pack, Simone Manuel, was off her best and racing solos at over 54 and unlikely to scrape much inside 53 in a rely, a machine that might work out what we already knew felt like a tool in the box beyond the requirements of some of the best coaches in the world.
And then there's this: Australia should have won the women's 4x200m free, too, it seemed to me and many of my colleagues up in the media stands. Yes, they took bronze behind two others teams inside the old World mark, China and the USA ahead of Australia. But that misses the point of what could have been and what any crystal-ball machine worth its salt might also have seen, Galadriel like, when trying to outdo we decades-long observers of swimming, whose eyes and ears and brains capable of understanding complex nuances in real time in the real world are apparently no more than orcs playing to a gallery of high elves.
It wasn't hard to see how Australia might have won even without Titmus getting her hand to the we all a full arm-swing ahead of Yang Junxuan as she's capable of: by using the energy of in-form teens instead of more experienced swimmers who had not been firing in Tokyo as keenly as they had at trials. But the plan was set, the media was told; it was even up to two years in the making, coach Dean Boxall said, so who were the media to question it as planners stuck to a 'fastest first in, -descending to slowest last in' strategy. The machine might or might not have retrospective intelligence but this human, among many others, is sticking with the notion that the fastest Aussie 4x200m quartet was not in the water that morning in Tokyo and the order the women swam in was part of the error.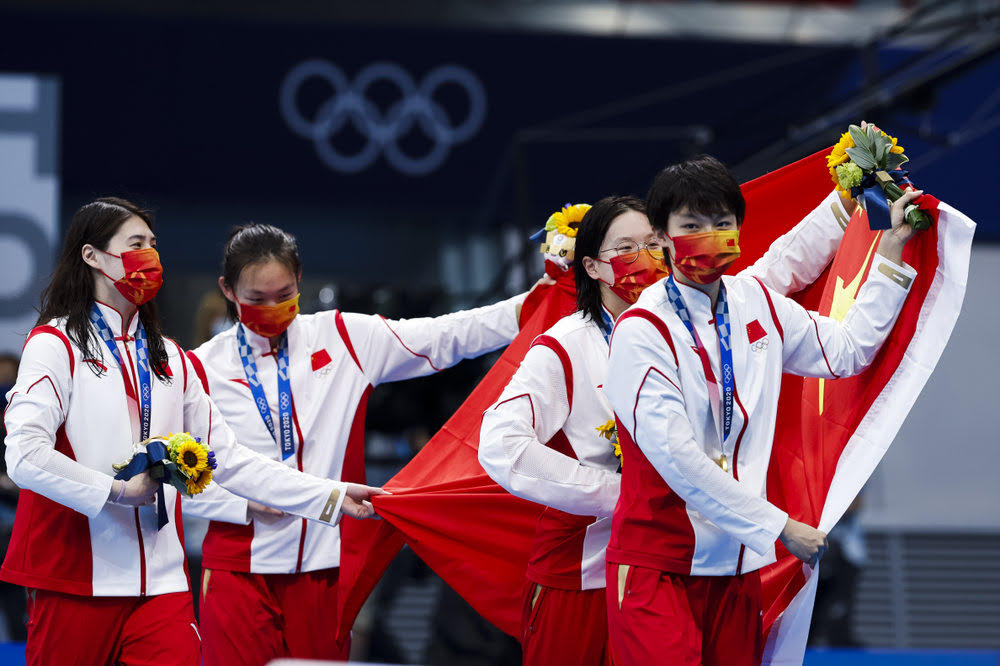 How about the following changes of dynamic, relative to the flow of key rivals that day:
Mollie O'Callaghan, 1:55.11 (heats lead-off); Madi Wilson, 1:55.62; Emma McKeon, 1:55.31; Ariarne Titmus 1:54.00 = 7:40.04 WR, Gold… or,
Madi Wilson (1:55.68, trials); Mollie O'Callaghan, 1:55.00; Emma McKeon, 1:55.31; Ariarne Titmus 1:54.00 = 7.39.99 WR, Gold, pioneering sub-7:40
None of that relies on anyone doing what they had not proved themselves capable of doing in the week of the Games, with a margin of error built in by placing Titmus well down on best but still roaring (busy and glorious week and all). I wonder what the machine would say if we asked it. As it turned out, the Dolphins set an Oceania and Commonwealth record of 7:41.29 for bronze. Understandable that a coach might say 'so shut up!', in a manner of speaking, but there was never any fun in that. If Boxall can rip of his mask to the stick and awe of a Tokyo volunteer and thrust his pelvis into a perspex barrier, surely we can all feel relaxed about the possibility that coaches may have called it wrong on the 4×200 while calling it right on much else.
With my calculations of a minute's work in mind, (and while understanding that a machine is only as good as the data pumped into it), here's the narrative of a machine said to have done its bit for Aussie relays … make your own mind up:
Swimming Australia's high-performance specialists teamed up with tech giant Amazon, which used machine learning to not only suggest the best possible combinations for the Dolphins in relays but predict with uncanny accuracy the likely squads to be deployed by rivals.
Swimming Australia signed a deal with Amazon Web Services (AWS) midway through 2019 for cloud and data solutions. Jess Corones, SA's performance solutions manager and one of those whop had helped Sweetenham advance Britain's prospects in the pool with scientific input more than a decade ago, was skeptical and too busy for online shopping.
But a link to a project AWS had been working on in Formula One (NB: machines talking about machines that rely on humans to build them both), had het jetting off to Silicon Valley, Las Vegas. She believed she was seeing a "game-changer" for the Dolphins. She told Phil Lutton at the Sydney Morning Herald: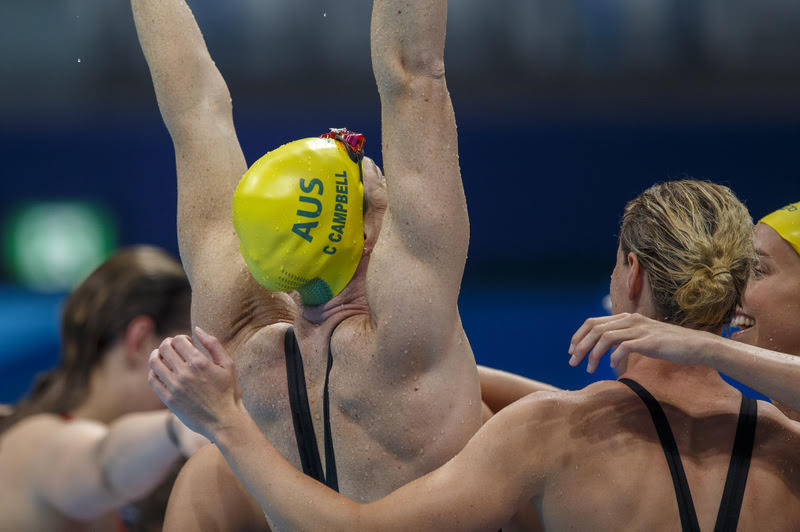 "[Previously] I'd have to prepare the relay data almost three months out from the international competition, there were three computer screens, the FINA website, feeding everything into Excel spreadsheets, trying to work out what's the best strategy. It was a bit of a laugh really, for them, they thought we were a bit archaic in how we did things … We talked about what was the best order for us to swim in … but could we also predict what the other teams were going to do? Because that would give us a real competitive edge. If you know someone is going to swim in the second leg or a relay, or anchor, or lead, you can find out who the best match might be, or engineer your team around that possibility."

Jess Corones – photo – Dolphins celebrate their World record win in the 4x100m freestyle at Tokyo 2020, by Patrick B. Kraemer
Here's a scenario where one can see how such calculations, when the clock is on and decisions have to be made in a very tight timeframe and with myriad computations possible, could be worth their weight:
The AWS algorithm and system was put through its paces at the International Swim League finals in Las Vegas in late 2019.
Corones was in the stands with Amazon staff and Australian swimming coaches Michael Bohl and Ron McKeon. "We were picking the order and the times these relay teams would swim between 0.1 of a second. It was unbelievable. That was the test, the proof of concept. Then were like 'we're on here'," Corones told Lutton, who wrote:
The variables at play were immense, with Corones and the AWS team considering the most successful historical order, the age of the swimmers and how many days since their last personal best. It also turned up some useful trends, including one that suggested there was a 60 per cent chance of younger and slower swimmers swimming a personal best in the second half of relays.
"We were picking the order and the times these relay teams would swim between 0.1 of a second. It was unbelievable," said Corones, who has dome sterling work in high-end performance swimming.
The strategy was said to have worked when Australia took bronze behind Britain in the inaugural mixed medley relay. Britain, too, had put in a huge effort with calculators human and chip to work out not just what its own best combo might be but how its best combos might fare against multiple variables and different line-ups possible among rivals.
For Australia Corones told Lutton: "We ran all those different scenarios, we looked at anchoring with [Cate] Campbell, anchoring with Kyle Chalmers. We were able to predict the American team and were pretty close on all of the international teams across all seven relays, so that was very satisfying."
That AWS helped in ISL conditions is probably beyond doubt. That it helped the Dolphins in Tokyo is also believable but the extent to which it helped remains debatable as we stare at the truth that's been there all along: if you have four of the best swimmers in the water on a given day and all four cylinders fire at once, you're chances of victory are strong. Human power is where its at, including the capacity of coaches to look at the form guide between heat and final and handing in the names of the four who will be asked to fire at max power knowing what chance they've got and knowing that they could not have placed a better quartet on the blocks if they'd tried.
In Tokyo, whatever part was played by man and machine, the best Australian line-up available on July 29 was not in the water.
When Sweetenham was asked about the Aussie success in Tokyo in general, he said: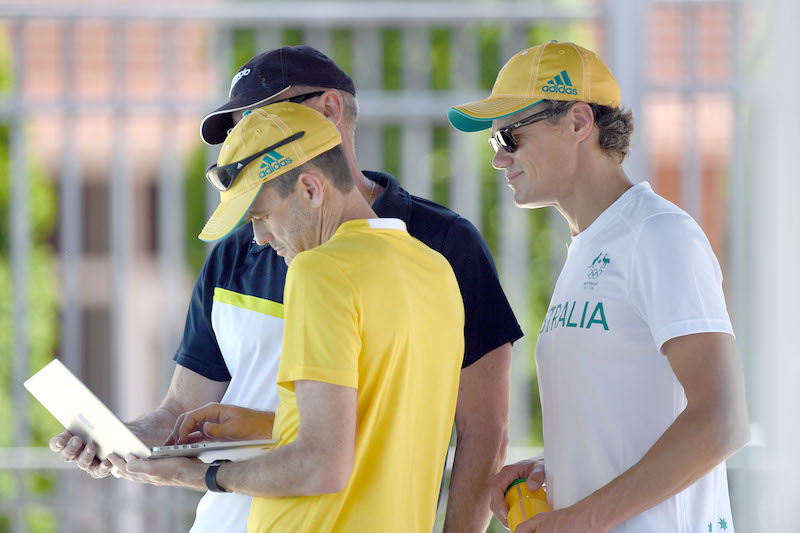 "Craig, I'm reading all the bullshit … stuff like a twenty year plan. My view is that this was down to a group/team of coaches and athletes taking advantage of our situation with the pandemic and doing a really great job. Nothing less and nothing more. Jacco [Verhaeren, head coach to 2020 but not at the Tokyo Games with Australia by virtue of the delay in scheduling caused by the pandemic and his own timetable for a return to Europe] left a sprint legacy for the 100 preparation and the old guard did a great job in the 200-up events."

Bill Sweetenham – photo – Jacco Verhaeren, right, the Australia head coach, talks tactics with his coaches on the way to a better Rio 2016 than a challenging London 2012 – courtesy of Swimming Australia
He sent a note of congratulation to the coaches on the Aussie team to "acknowledge you for the incredible job you have done with the athletes in your care. Excellent and extraordinary in every sense of the word. As always I follow your coaching performance with enormous pride in having worked with you for many years and witnessed your growth personally and professionally."
SOS has has sight of some exchanges in which coaches who have benefitted from Sweetenham's mentoring thanked him for the lessons they had learned and put into practice.
Some of those extend to team culture of the kind we are used to hearing from Americans at Games marked by their dominance. They offered lessons to the world – and the world has not only caught on but has adapted the lessons and applied them in ways that suit what might be described as national characteristics.
As Furniss said at the helm of Britain "we did it the British way". Understanding what that means considering what goes into the sometimes complex puzzle off team dynamic. It includes being there for those who don't have the great day they were looking for, while the latter, as several British swimmers noted, must "stay strong for the rest of the team": James Wilby said that before adding: "… for those who still have goals to achieve; my role for the rest of the Games is to be there to support them in any way I can."
It was very similar in the Dolphin school.
Australia's Cinderella Scene & Sustained High Performance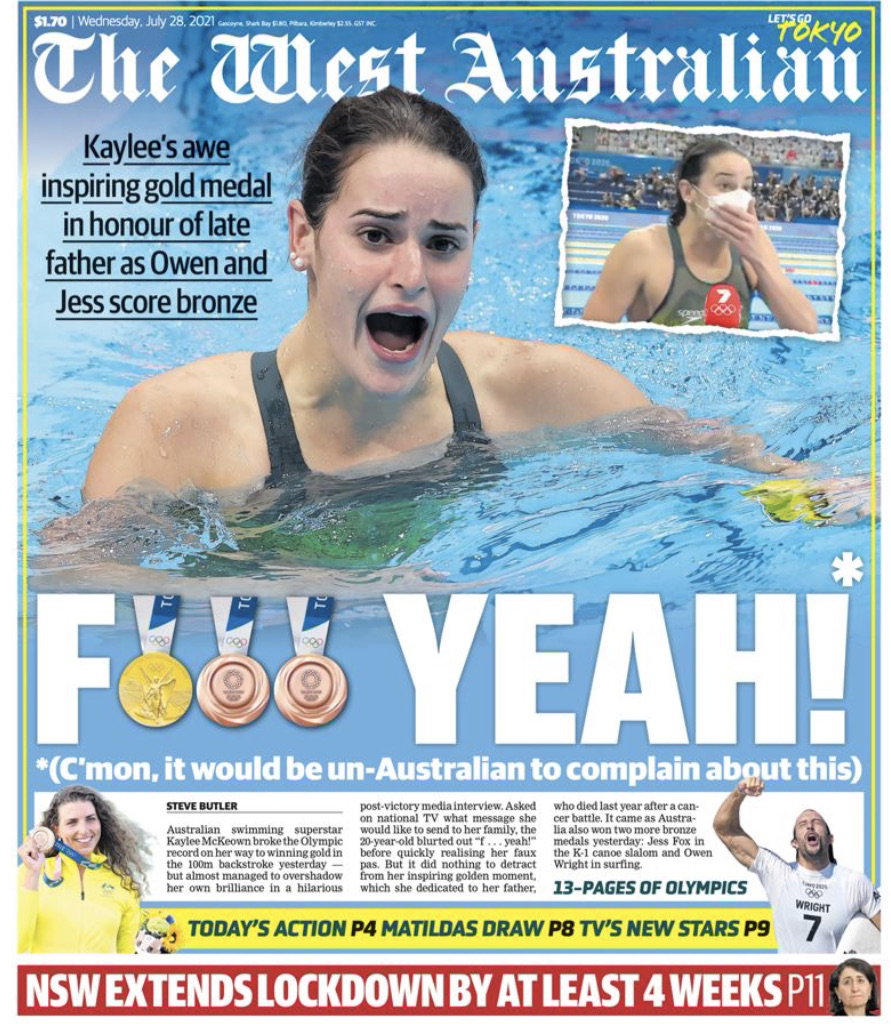 As Catriona Dixon noted when penning a piece on the Dolphins for the AOC, after the first of Kaylee McKeown's backstroke victories, someone shouted up into the stands "Who's got a size eight shoe?"
A ripple of glass-slipper inspection ensued and Cinderella would go to the ball: it didn't take long before Bronte Campbell's shoes were off her feet and on those walking towards the podium in the shape of a swimmer who'd lost her own sneakers and didn't know where to find them in time. Suitably attired head to toe, McKeown walked out into the glare of world broadcasts with nothing to detract from the focus of the moment and her achievement as she placed the gold around her own neck at a Games where much had to be adjusted to conform with pandemic protocols.
The shoes provided a small insight into what was described as the Australian swimming team's 'legacy statement': "We make each other better."
Adam Peaty, James Guy, Duncan Scott, Tom Dean, Luke Greenbank and others used the word "behaviours" when discussing their daily routines for the years leading up to Tokyo and there at the Games, too. Meaning: how does this impact me and my performance and how does it impact others and what impact would I like others to have on me. Swimming Pi, if you like: the circle of infinity on good outcomes.
Dolphins head coach Rohan Taylor also sighted "behaviours" and the red thread that feeds into team values. They were the foundation (Dixon even used the word 'secret') of sustained high performance.
On the Cinderella call, Taylor said: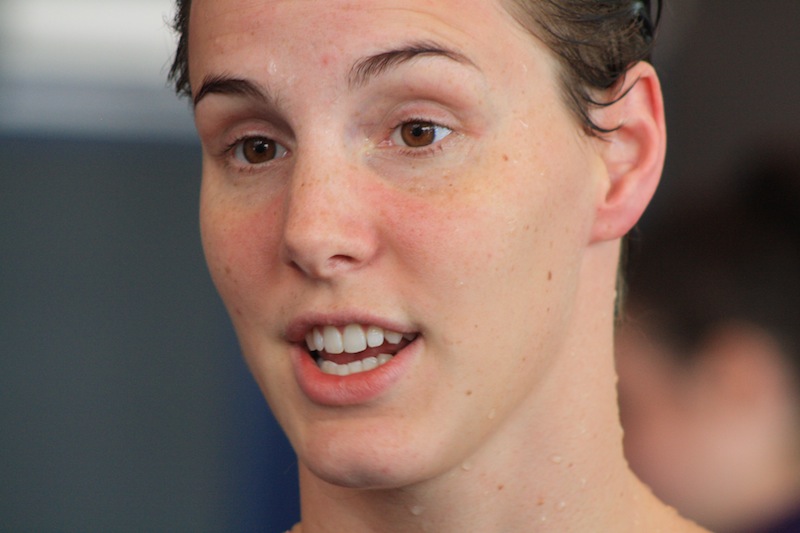 "That's the behaviour we're looking for, it's simple, but it illustrates the unity of our team. Our team values are courage, unity, and excellence, but they couldn't just be words, we needed to be able to see it and live it. The biggest thing we worked on as a team, our athletes, coaches and staff, was to ensure those values match behaviours that would have a positive influence on the team."

Rohan Taylor – photo, Bronte Campbell, by Craig Lord
It was about empowering those within the team to take ownership of their time and team, their challenge, their delivery of a result they'd worked for, says Taylor.
He had worked with Dolphins team athlete leaders Cate and Bronte Campbell and Mitch Larkin and had helped the swimmers to understand "the vision and collectively devise a set of values" conducive to a good outcome. He told The Australian media: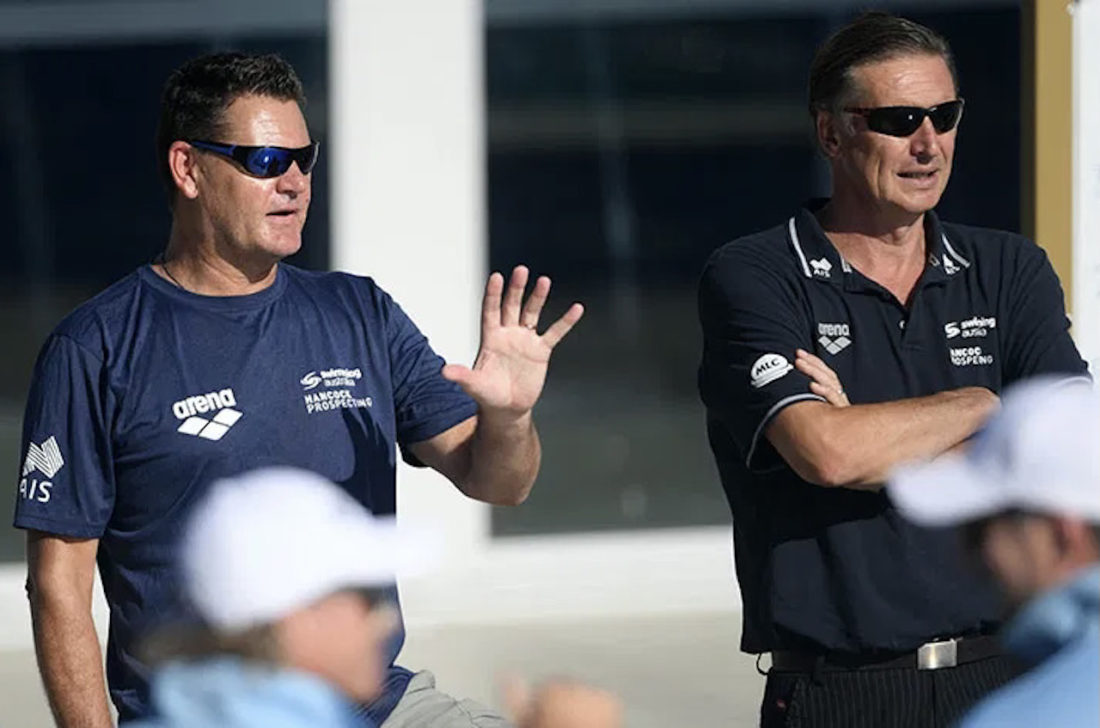 "We built the conversation; we built the language and then we put it into practice. We ran our event camps, our team leaders talked to the athletes, they took ownership of it. It was their words; our legacy statement. One of the behaviours the athletes wanted was: 'I've got your back'. No matter what the performance outcome was, it's the acknowledgement of I got your back and we saw it at the Games, the pat on the back after a good or not so good performance, it was those little subtle things that made our team."

Rohan Taylor – photo, left, with Alex Baumann, CEO of Swimming Australia – by Deli Carr, courtesy of Swimming Australia
"Leadership sets the vision," Taylor added. "Once the roles are clear and leadership needs to delegate to make sure that vision lives. Leadership empowers people, it doesn't micromanage them."
During COVID lockdowns and beyond, there were "weekly check-ins, discussions, encouragement, and transparency was implemented to ensure every member of the swim team was making true on their commitment".
All of which was doubly important because of prevailing pandemic challenges.
"The part social connection that plays in building a high performing team is critical," Taylor says.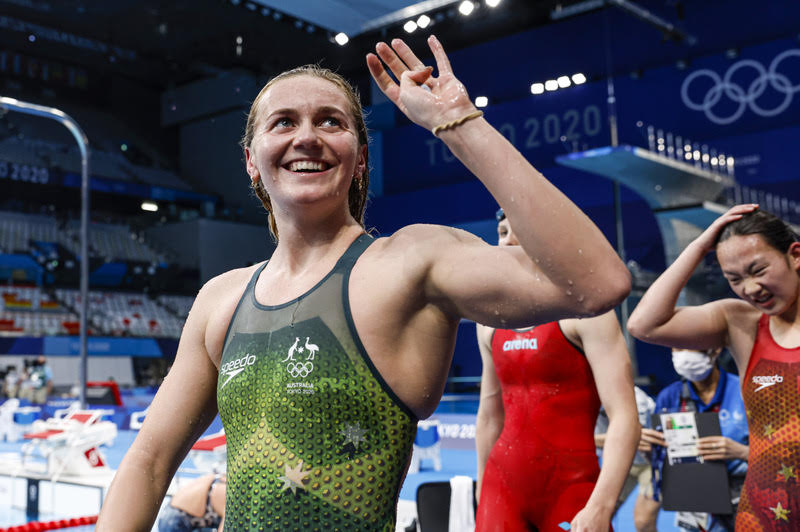 "You need to stay connected with your people if you're in a leadership position. Ask those simple questions: Hey, how are you going at school? How's the family? Those are things that show you are being genuinely interested. Your team needs to believe in what you do. You can reap so much through being available, being present, approachable, vulnerable; you've got to show it, and they've got to see it."

Rohan Taylor – photo – Ariarne Titmus acknowledges not the crowd, for there is none in Tokyo, but the crowd of coaches, athletes and others doing their best to support each other and show appreciation for outstanding efforts – by Patrick B. Kraemer