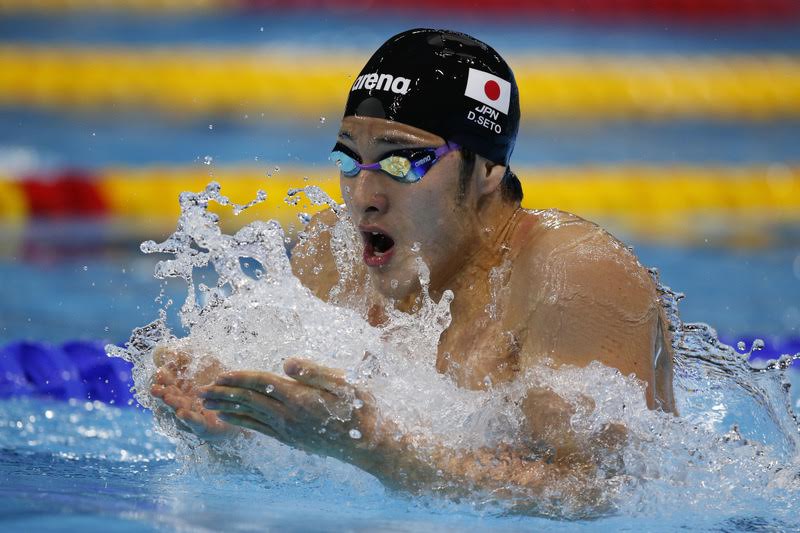 Editorial – Daiya Seto. Silly boy. Call him out for his slip of memory and the stumble of his better self on the path of vows, commitments, morals, ethics, loyalty; call it what you will from the large lexicon of love and all that flows, for better or for worse.
Hear his apology. Mark his penalty. See it make the media, the mainstream, social, the blog, the fan, the judgement and archive of a federation overstepping its authority.
Hope, too, that Daiya Seto kept and shared his greatest regret, sorrow and sorry for his wife, first and foremost, and then his family.
But … stop him from swimming? Why? On what grounds? Under what rules? Under which employment contract? Or is this about saving face and being seen to do the right thing? If so, there's a whole list of other missions to suggest the Japanese fed gets on with.
Let's be clear: Daiya Seto and his apology confirm that he feels he has done wrong. He may well have some answers to give to his wife and his family; will have to live with the knowledge that he caused pain to those supposedly closest to him; and he will need to work on healing and choices that impact others in hurtful ways. Beyond the club of lads who don't get it, he will have suffered a self-inflicted dent to his profile, too. Some may well see such words as another 'judgment' too far along the wide spectrum of views on such matters.
Suffice it to say that Daiya Seto isn't the first man to check into a Love Hotel blinded to the pain about to be inflicted on loved ones and the high cost of the cheque at check out if truth be known – nor will he be the last.
But what of the Japanese Swimming Federation? Is it a place stacked with officials who have nothing to hide, no faults in tow? Is it an edifice to high moral values and supreme ethics? And if that were the case, is it an employer of professional athletes with a contractual say in how the player behaves beyond the competitive sporting realm while on national-team duty? Is there a FINA rule barring Love Hotels?
The answer to the latter is, and could only be, no. After all, we're talking about a realm in which event hosts and bidders, FINA insiders and others whisper of the usefulness of painted ladies sent to ease the oil and brush of business affairs in luxury suites in the dead of nights heavy on self-serving pursuits and the consent of wilful blindness.
Why Daiya Seto Raises Questions About Federation Focus
What will swimmers have to say on the matter; what questions do they think the Daiya Seto story raises?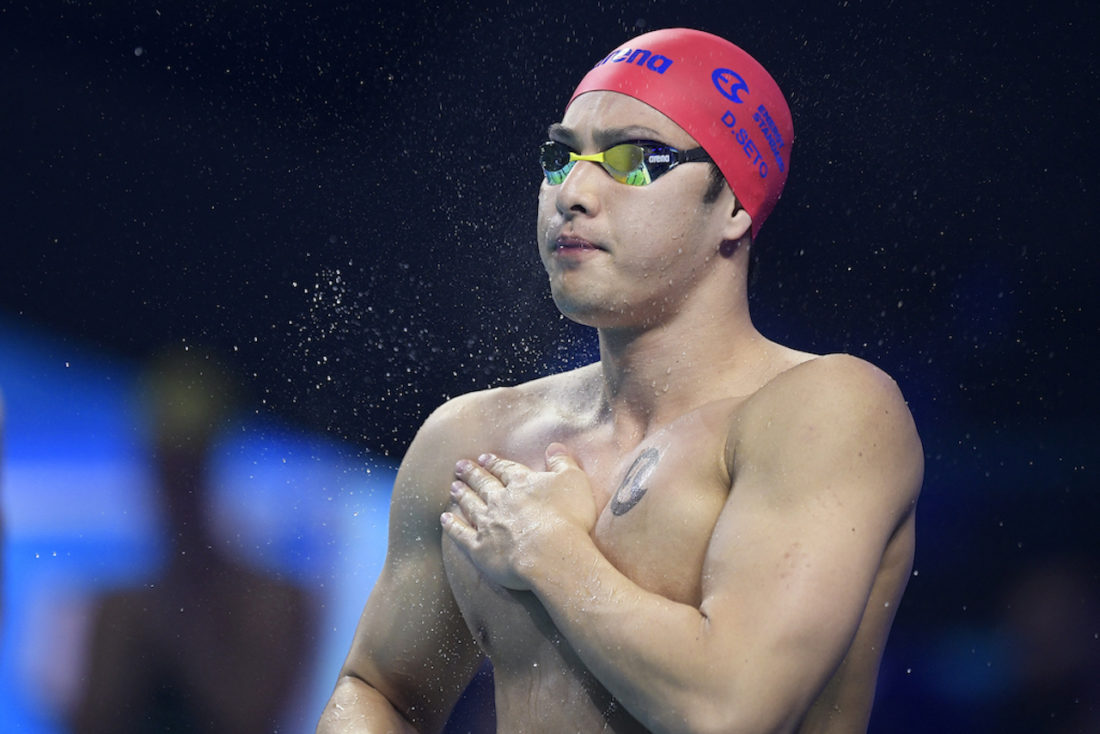 To the Japanese swim federation or, for that matter, any other domestic member of FINA, I would simply ask: have you sought to challenge the lack of morality, the turning of blind eyes to rules when those are inconvenient to grace-and-favour relationships and voting patterns? Have you sought to change any of the immorality that is actually in your control, is part of your jurisdiction, with voting power?
What, for example, did the Japanese federation (snap for all domestic federations of the top 30 swim nations in the world) have to say when U.S. Justice Department court papers made clear that among those it names as co-conspirators to fraud in the guilty plea case of Guam soccer officials Richard Lai was Hussain Al-Musallam, "first vice-president" and next-throne elect of FINA?
Did the Japanese federation, or any other, speak out against allowing Al-Musallam, Director General of Olympic Council of Asia and Secretary General of Kuwait Olympic Committee, to prevail in his FINA position in the absence of any independent, legal hearing into allegations that more than $900,000 left an account in the "sole" control of Al-Musallam and his Olympic Council of Asia boss Sheikh Ahmad Al-Fahad Al-Sabah and arrived in payments made to Lai's account without any explanation satisfactory to the U.S. Justice Department?
Has the Japanese federation, or any other, submitted any proposals for change to the status quo that would include asking those facing allegations of massive financial impropriety to step aside and only return to the pursuit of office when they have cleared their names in a court of law?
Has the Japanese Swimming Federation, or any other, openly called for an Independent Integrity Unit to replace the in-house FINA Ethics Panel so that swimming might catch up with other sports, such as World Athletics, and justify the high fees paid to FINA from IOC broadcast-rights funds?
Did the Japanese Swimming Federation, or any other, call for all FINA honours to be removed from Dr Lothar Kipke (ex-FINA medical commission, 2000 conviction for abuse of minors in the German doping trials), from Coaracy Nunes (ex-Bureau and ex-head of Brazilian swimming found guilty of fraud in relation to the Rio 2016 Olympic Games); from Ben Ekumbo (ex-FINA Bureau, convicted of fraud in relation to Olympic kit and still under investigation over allegations of sexual abuse of minors in swimming)?
Did the Japanese federation, or any other, raise a red flag when FINA bypassed rules written to ensure athlete health and safety in swimming pools? Let's remind ourselves:
It was August 2014 when Lauren Boyle – since retired – swam 15:22.68 over 1500m at the Wellington Winter Championships. Great swim. The speed made her the first woman from New Zealand to hold a world s/c or l/c record on freestyle and the second ever to hold a world s/c record in any stroke. There was no doubt that the 2013 and 2015 world-titles podium placer was capable of setting the record but doubts about the validity of the record were obvious from the outset, the conditions of the day having been highlighted by coach David Wright, among others.
The Wellington pool in which Boyle swam was set up in a format that made it shallower at the dive end than the 135cm minimum depth that is obligatory for the stretch of water 6m out from the wall. 
That requirement is not only a "minimum" but is part of "Facilities Rules". Further, the FINA World Record Application form requires the referee or another official signing as witness to a world record having been established that "All FINA Rules" have been complied with.
No ifs, no buts, no guidelines.
Even so, the then Chairman of Swimming New Zealand, Brent Layton, wrote in the domestic federation's annual report in 2015: "A lowlight was the attempt by bloggers and media commentators to discredit Lauren's 1500m freestyle record by claiming the pool was too shallow. The FINA handbook is clear. For the conduct of the Olympics and World Championships the minimum depth is a rule that must be observed. For the conduct of other FINA meets, like the Oceania Championships, the minimum depth is a requirement, unless FINA provides a dispensation. In all other instances, the minimum depth is a guideline and not a rule. Guidelines are not obligations, they are recommendations. The credibility the opinions of these bloggers deserve is clear; absolutely none."
Sadly, Layton was fibbing on several levels. No-one sought to discredit Boyle. Indeed the very opposite was stated in all articles I wrote and indeed read (the work of others). Layton simply states an untruth when he uses the words "attempt … to discredit". Beyond that, there is absolutely NO mention of the word 'guidelines' in the FINA Facilities Rules covering minimum pool standards.
Fr1.3 FINA rule states: "FINA Minimum Standards Pools. All other events held under FINA rules [yes, that means national championships] should be conducted in pools that comply will all of the minimum standards contained within these facilities rules".
Not Olympics, not World Championships alone … all competition held under FINA rules. The use of English is very clear. English is the predominant language and a de facto official language of New Zealand. It is also the first language of FINA. New Zealand courts seemed to be clear too:
A 2017 ruling included this: "With recent changes to the Health and Safety Act increasing the accountability on facility owners and operators to provide safe 'workplaces', an increased focus is being seen by swimming pool operators in relation to how swimmers are diving into pools for both competition and training. This increased focus is particularly relevant to pools with shallow depths of less than 1.4m."
To this day, the decisions of the New Zealand Swimming Federation and FINA remain in default of FINA rules.
It would be possible to list a great many other reasons why domestic swimming federations appear to take a certain strict approach with athletes but are prepared to look the other way when it comes to fulfilling one of their key duties as FINA members. Namely, to provide checks and balances and ensure that their representatives at FINA – including the top table – actually represent the key asset and stakeholder – the athlete – first and foremost.
I would be happy to hear from any federation that wishes to share its views or challenge mine on any of the issues above and many others involving athlete welfare, safety, health, rights and a fair share in a hugely lucrative sports business market that so far has granted the swimmer relative peanuts from the big pot of funds flowing from the Olympic realm.
Daiya Seto and His Due
When Daiya Seto admitted to an extra-marital affair and a visit to a "Love Hotel" with his lover last month, the world 200 and 400m medley champion resigned as captain of Japan's Olympic swim team. He also said he would quit his image-rights agreement with the Japanese Olympic Committee and agreed to sever his ties with corporate sponsor All Nippon Airways Co. upon the airline's request.
So, a price he did indeed pay.
Then, in to the chest-beating contest steps the Japanese swim federation and a FINA member that, to my knowledge, has not insisted on any penalties or action on a single one of the issues listed above, and feels a need to make a private affair all the more public and a matter of further personal grief for the swimmer's wife, the swimmer and their families. An issue worthy of the federation's ethics committee? Apparently so.
In an extraordinary online meeting, the federation determined that the 26-year-old Seto had breached its standards for sportsmanlike conduct under its qualification rules.
Guess where they stopped shy? The federation decided not to revoke Seto's right to compete at the postponed Tokyo Olympic Games, to be held in July and August next year. Gold – let alone home-Games gold, tends to reflect well on all, as opposed to personal and private errors of judgement that don't reflect badly on a swimming federation until the moment it decides to overstep its authority.
All Grown Up
The International Swimming League is currently paying monthly wages of $1,500 to around 300 athletes racing in the 10 Pro-Teams that will take to their blocks for Season 2 of the swim-revolutionary League in Budapest, Hungary, tomorrow. Seto, on the strength of just one Season 1 appearance, for Energy Standard, is ranked 58th best player as listed on the race roster for League newcomer the Tokyo King Frogs. 

The League's founder and funder, Konstantin Grigorishin, has noted time and again the journey to maturity ahead for swimmers. He has sent labour and rights experts to speak to them. He wants them to understand their power. He wants them to find their voice and express an opinion about matters beyond their lane. Such things fly in the face of national/Olympic team cultures and contracts that call on athletes to speak only to their own performance, all other comments reserved for positivity and plaudits for teammates, hosts, venues and the like.
Combine the wilful blindness and culture described in the silence and inaction of domestic federations above with the impact on the sport of swimming in 2020 COVID-19 season and you get to what might be a catastrophe for the sport of swimming, the birthing pools either closed or operating at levels that are economically unsustainable.
Swimming needs a revolution. It is a sport punching below its weight, a sport without a single full-time paid writer or journalist in the world. Imagine that. It's been like that for some time now. The League has lessons to learn on that score and others but what the pending Bubble of Budapest ISL Season 2 may now remind us of is the direction of travel long overdue in the sport and the athlete choice and voice driving it, courtesy of the kind of funding and mindset, business plan and FINA-format shake-up that have never before made it beyond the dream and to the water and the real world. 
The Unrelenting
In a year of Black Lives Matter, of Simone Manuel explaining (again) why she is "so tired", of the apology that flowed for the error of a young writer and the corrective course advocated by me as editor that day; in a year of decision day on a political direction that spills well beyond the United States; at a time when the likes of Katie Ledecky can be found on Twitter urging fans to "Vote", to use their right to have a say and shape their world …
… at a time when Global Athlete and other athlete-representative bodies are making headway in their challenge to the status quo and weakness of in-house athlete committees whose voices fail them when it most counts because that is what their masters insist on, swimmers have been relatively silent.
They've been silent when it comes to some of the biggest issues in the bigger picture of world sport, the athlete voice, the role and power of athletes to speak up, for example, when a fellow athlete – Iranian Olympic wrestler Navid Afkari – is executed by a dictatorship that feels offended by being called out for its failures.
If the likes of LeBron James and many others from Pro-Sports continue to attract followings, fans and dollars not only on the back of their sports performances but their leadership in life, then swimming, too, has courageous players prepared to stand at the helm, banner in hand and state 'No More!"
Nancy Hogshead-Makar and her advocacy on safe sport, on behalf of sexual abuse survivors, extending to getting the whole issue enshrined in law, is a case in point. Survivor Deena Deardurff is another; Simone Manuel, on discrimination, rightly joins Hogshead-Makar this week in the picks of Sports Illustrated's "The Unrelenting".
Then there are the likes of Adam Peaty, Tom Shields, Anthony Ervin, the mental-health advocacy of Michael Phelps, the voices and actions of Mack Horton, Duncan Scott, Chad Le Clos, James Guy and others in the face of the challenges brought by Sun Yang on the way to the Chinese swimmer's eight-year ban by the World Anti-Doping Agency (WADA), via the Court of Arbitration (CAS).
Good that they all speak up (on varying themes and sometimes with different takes) but what is often missing from 'current-gen' in swimming is what comes with Hogshead-Makar and the likes of Shane Gould, Sippy Woodhead and others who retired from racing long ago, moved on in life and neither need nor want a team or federation fund (unavailable to them in their day) to shore them up in life: the context of time passing, of history – and history repeating – and an understanding that the weaknesses of their own federations have led and continue to lead to harmful outcomes that directly impact athletes, coaches and even parents.
Swimmers: wake up! Educate yourselves about the governance of your sport, where power rests and who holds it; who has a say over … you. It matters. It plays out in your life and potential.
Care more about the home in which you were raised. Are you aware, for example, that thousands of coaches around the world are out of work, many unlikely to return to swimming? Are you aware that the birthing pool from which you came is at the point of collapse in many countries around the world, not just because it's COVID season but because COVID season arrived in a sport heavily subsidised by funds that are among the first to drain away in any crisis that demands a redistribution of support and cash flow?
What is your word on such things?
During this ISL Season 2, given the remote nature of it all, the swimming will not attract a wider audience but the swimmer will get more noticed if editors can no longer get away with saying, as one did to me some moons ago "the trouble with swimming is that there are no personalities – they just have nothing to say."
Untrue. So, let's hear your voice speak beyond the box they've put you in; let's get to know you, your personality, your take on the world around you. Matt Biondi – where are you with the International Swimmers' Alliance and what have you got to say on all the issues above and many more?
 If no-one told you swimmers yet: your time is now; you belong to what could be a pioneering generation set to go down in history as the one that started a new book of swimming because the old one, complete with its out-dated system of grace-and-favour management and self-serving structures, deserves to be snapped shut and placed on the shelf reserved for 'what once was but is no more'.
Swimmers, you're all grown up now – and only you can drag the sport of swimming out of its amateur infancy and into the maturity of a wider world that recognised professional sport as a job long ago. Why? Because you are the key asset, the major stakeholder.
In numbers, standing together, no federation, no authority can prevent you from calling time on the things swimming can do without, be that penalties for private but not criminal matters, be that corrupt official never called to account, be that rules overlooked when an issue is inconvenient to the machine, be it doping rules overlooked when the crisis is inconvenient to the relationships political and financial. 
Find your voice, know your rights, understand your power.
Letting Go…
Just put your feet down, child, The water is only waist high,
I'll let go of you gently, Then you can swim to me

"You see, I'm all grown up now."
He said:
"Just put your feet down child
'Cause you're all grown up now."
Just like a photograph
I pick you up
Just like a station on the radio
I pick you up
Just like a face in the crowd
I pick you up
Just like a feeling that you're sending out
I pick it up
But I can't let you go
If I let you go
You slip into the fog
This love is big enough for the both of us
This love of yours is big enough to be frightened of
It's deep and dark, like the water was
The day I learned to swim
He said:
"Just put your feet down, child"
"Just put your feet down child
The water is only waist high
I'll let go of you gently
Then you can swim to me."
Is this love big enough to watch over me?
Big enough to let go of me
Without hurting me
Like the day I learned to swim?
"'Cause you're all grown up now"
Just put your feet down, child
The water is only waist high
I'll let go of you gently
Then you can swim to me
Kate Bush & Dr. Robert Bush