Highlight Of Torri Huske World-Record rattling 100 'Fly Swims In A Sea Of Relative Doubt On Day 2 In Omaha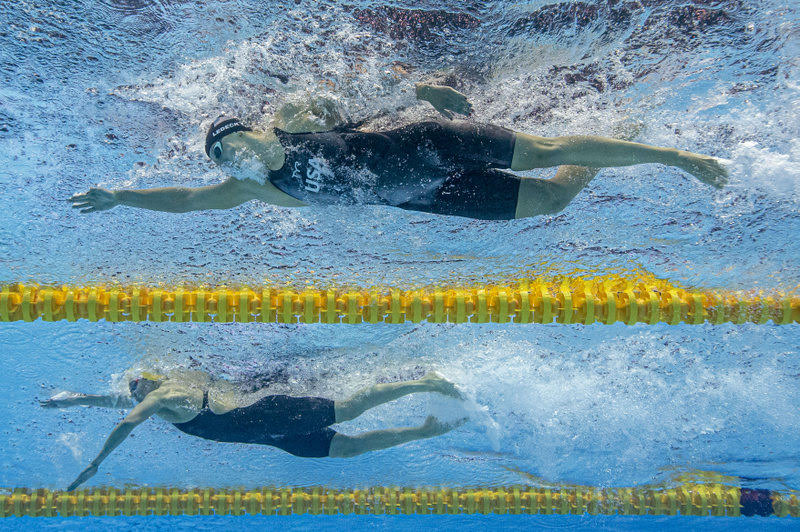 There are not many moments in history when the chinks in Team USA's aquatic armour catch the light enough to raise hope and confidence in others but on the second day at Olympic Trials in Omaha, Torri Huske and her impressive 55.66 World-record rattling American-standard 100 'fly ticket to Tokyo produced a highlight swimming in a sea of doubt if 'dominant force in the pool' happens to be your squad mantra.
On the one hand there was Katie Ledecky, not far from her world-record pace to the half-way point of the 400m free but on 4:01.27 by the close of business; on the other there was Michael Andrew, the relief tangible in the American promise after a 58.73 for the win and Tokyo ticket in the 100m breaststroke. The gap between 4:01 and Ariarne Titmus' 3:56.9 Down Under is enormous, as any rival of Ledecky's has been reminded on many occasions; the hope of a 58.14 without the edge of pressure is a world away from a 58.73 at the moment the swimmer "must" deliver in an event in which Adam Peaty makes mincemeat of who might see a dragon approaching and blink.
Let's be clear: there are many thousands of swimmers the world over who would dearly love to post such world-class times on the board as those of Ledecky, Andrew and others in Omaha. However, this, the U.S. Olympic Trials, is billed as 'tougher than the Olympics'. Well, not on the basis of day 2 its not. This was a selection meet with great prospects, expected excellence, some of which was distinctly 'off the boil', and plenty of holes in a program with the leading catchment and back-up support network of clubs, coaches and programs in the world.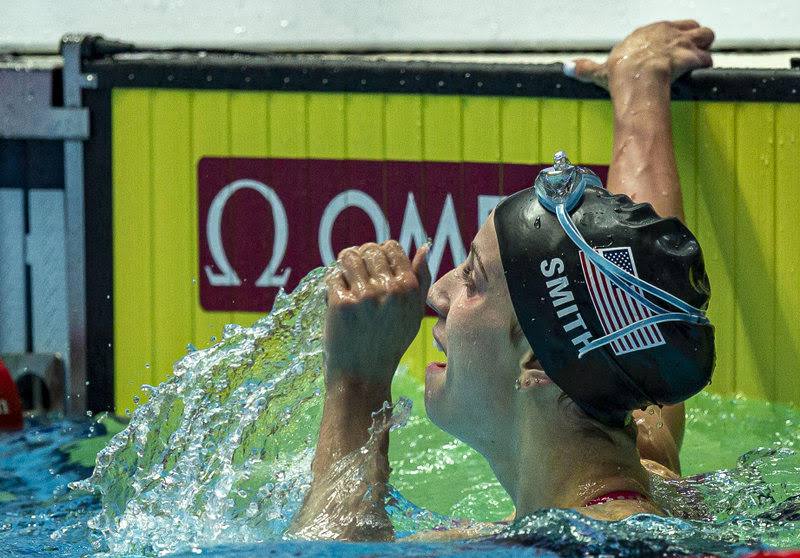 Take the 100m backstroke: Kaylee McKeown, on a World record of 57.45 in Adelaide, will be watching to see what Regan Smith, on 57.92 in semis in Omaha has to deliver Tuesday in the final but below them in the ranks, you have to go 40 deep before you leave the 1:01s behind, whereas in Australia, where backstroke standards are faster and deeper than can be found in just about any other nation you care to name, the 1:02s started at 10th place in heats.
Of course, its day 2, there are six days to go in Omaha and plenty of sizzling races ahead, including those featuring Caeleb Dressel, who raced the heats of the 200m free in 1:46 and then withdrew, a time posted and a subsequent selection in other events granting him access to the 4x200m free quartet that looks likely to need him.
Much rests on Dressel. Come the big one in Tokyo, United States dominance relies on more than the team that counts for much: as it so often has down the years, dominance relies on a handful of superstars. Dominance on the medals table, that feeling of invisibility, come through having a Michael Phelps winning 8, a Ryan Lochte as understudy piling up the medals and a Katie Ledecky winning every solo event she's entered in.
She may well do so again and a 4:01 in the 400m on day 2 can be viewed both ways: she's off her best form; or, she has absolutely no need to show her hand this week as she seeks selection to the 200, 400, 800, 1500m free and relay berth to boot.
Paul Newberry at AP writes: "But she was taken aback by the time. It wasn't as fast as expected, raising the stakes for an expected showdown in Tokyo with the Aussie Terminator. Ledecky earned a trip to her third Olympics with a never-in-doubt victory … a good five body lengths ahead of runner-up Paige Madden, touching the wall in 4:01.27. But the winning time was far off Ledecky's world record of 3:56.46, which she set almost five years ago at the Rio Olympics."
Titmus got the better of Ledecky and inflicted on the American a first defeat over 400m for the World title in 2019. Ledecky was ill, bypassed the 200 and 1500m events but made it back in time for the 800m, in which an 8:13 was not close to her fastest (8:04, one of the most stunning of WRs) but it was a race in which we were reminded: under no circumstances should we ever write off a pioneering American who has thrilled at just about every stroke since she claimed 800m gold at London 2012 at the age of 15. Ledecky told reporters in Omaha: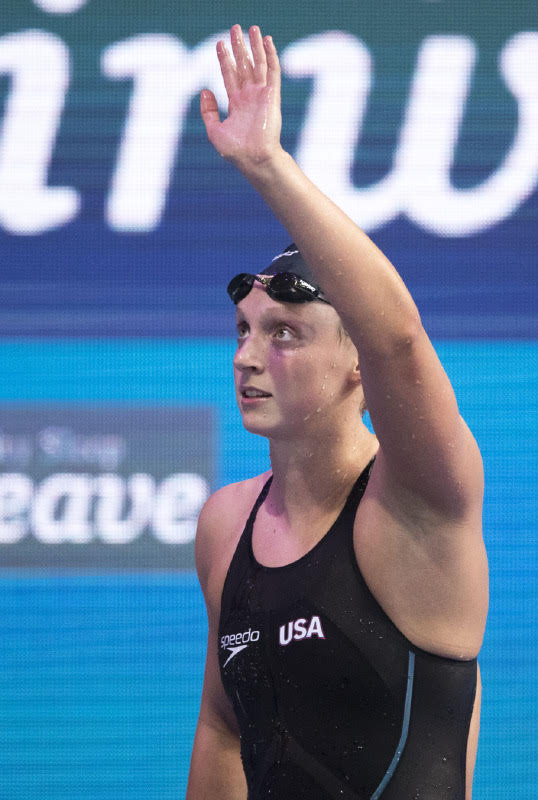 "Very much a blur. I thought I could go a little faster than that, so I'm a little surprised. But I'll take it for now. It was just good to be here and lock in my spot."

Katie Ledecky – by Patrick B. Kraemer
Titmus, the 20-year-old "Terminator", has shown that she's not to be intimidated by gold, nor bull runs, nor speed nor reputation. In Adelaide, she told reporters that Ledecky was "not going to have it all her own way. I can't control what she does, (but) if I do the best I can and put myself in the position to win a gold medal, it's going to be a tough race."
That reflects the truth of it: we can't know if Ledecky is off the boil, nor whether Titmus has boiled too soon, world records at Aussie trials (and others elsewhere, including the U.S.) having converted to disappointment on plenty of occasions in history. What we can say is that if both Ledecky and Titmus show up at their best, the 400m is going to be a thriller of a tussle. The 200m? At 1:53.09, Titmus is now the clear favourite for the 200m crown on paper: if she repeats that time, she is highly likely to leave the rest fighting for the minor spoils in Tokyo.
There was a time on the road out of Rio when the 1500m free was added to the schedule that Ledecky was billed as a shoe-in for four solo golds come Tokyo. It may yet happen but time and rivals and the conveyor belt of generational progress wait for no man, woman nor swimmer.
Huske & Curzan Deliver For The Teens
Torri Huske showed that with fellow teen Claire Curzan in the 100m butterfly when they swept aside all the experience in the lanes around them. There's a touch of pure hope and determination left in the teens of the sport at a time when swimming boasts evermore professional athletes in their late 20s and 30s.
At the 50m mark, Huske raced inside the world-record pace of Sarah Sjostrom in Rio, where she became the first Swedish woman ever to claim Olympic gold in the pool, and then in a global standard of 55.48 that remains on the books. Whether Sjostrom remains a golden force to reckon with in Tokyo remains to be seen, her recovery from a broken elbow key to her Olympic ambitions a year after the Games would have taken place had it not been for the COVID-19 pandemic.
Huske, an 18-year-old from Arlington, Virginia, faded from Sjostrom's pace on the way home but stopped the clock in 55.66, the third fastest in history: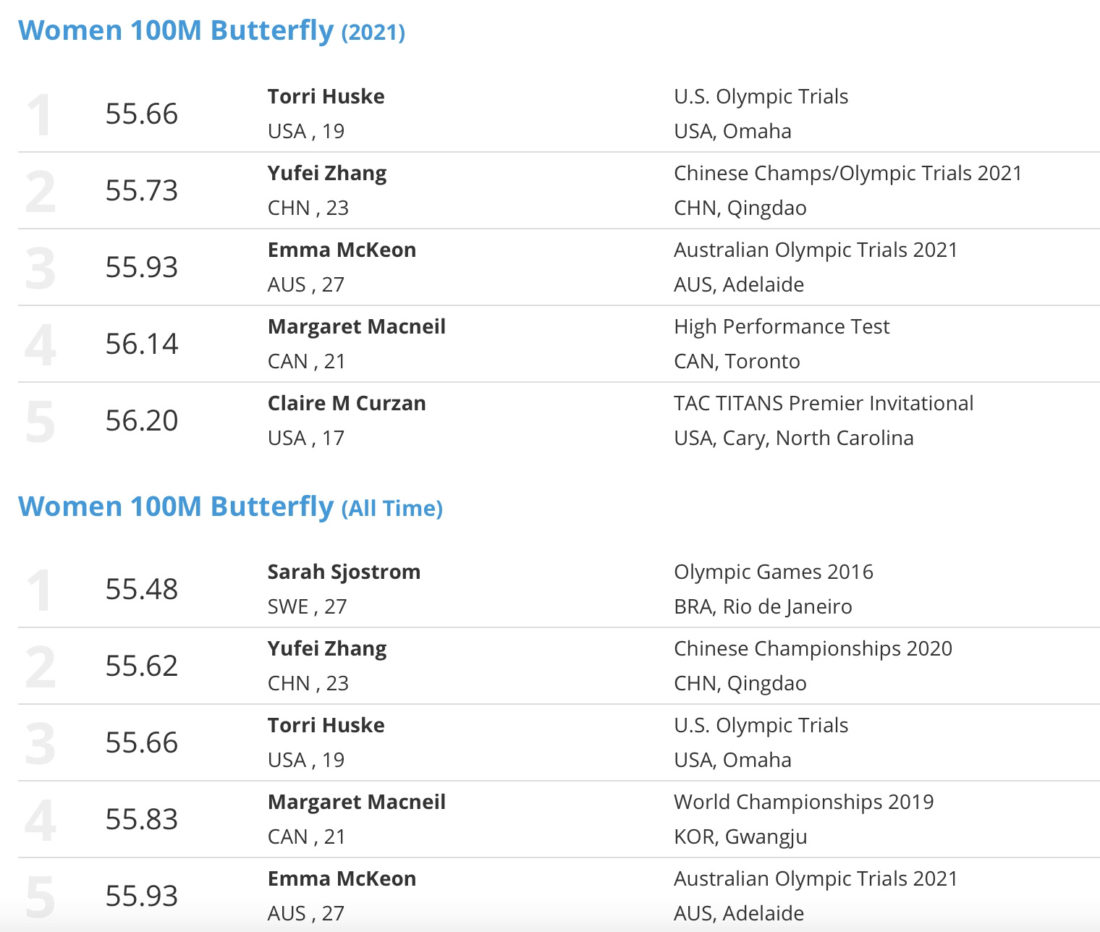 Huske told reporters "I don't even know what to do. I've been thinking about this a lot. I feel like it hasn't really sunk in. It's really crazy."
At 16, Curzan, of Cary, North Carolina, had posted a swift 56.2 on the warm-up trail earlier this year. She claimed a ticket to a debut Games with Huske in 56.43. When the gracious and bright Ledecky, one of the teens who upset the apple cart at London 2012, was asked about the spill of generations, she told AP: "It's so exciting to see some young swimmers coming up. I liked seeing Torri's ear-to-ear grin. It gave me chills in the warm-up pool."
Huske and Curzan kept Rio 2016 teamster Kelsi Dahlia (nee Worrell) off the team, the pandemic having contributed to the chance of teenagers who benefitted from an extra year of preparation and maturity. Huske is headed to Stanford, Ledecky's base, in the autumn. She said: "I feel like (the one-year delay) really helped me because I was able to work on my strength training," Huske said. "I feel like it makes a big difference in my second 50. I tend to fly and die — how fast can I go out and hang on."
Michael Andrew Lands The Prize Atop Podium Split By 0.07sec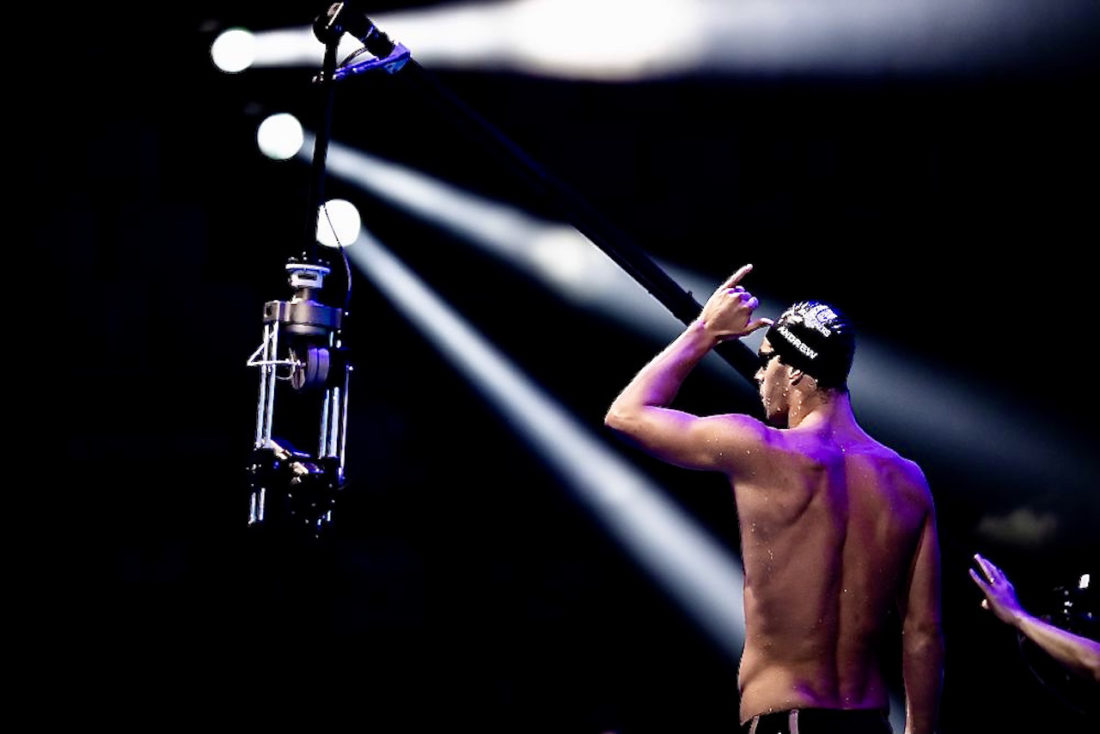 Michael Andrew is an anomaly in the American swim ranks on a number of levels. His Ultra-Short Race Pace Training (USRPT) methods, which started in a backyard pool with dad Peter as coach and mum Tina as manager (they now leave the New York Breakers ISL Pro-Team) have been criticised; he turned pro at 14; and in a country in which the system frowns on open discussion and criticism of FINA and the governance of the sport, due for a large number of reasons – and where Olympic swim legend Matt Biondi, head of the Swimmers' Alliance has noted that American swimmers appear to be more timid of speaking out than many of their international counterparts – Andrew joined a class action challenge to the global regulator alongside Katinka Hosszu and Tom Shields in a successful mission to force FINA to accept that it doe not have the right to ruin swimming as a monopoly in which it dictates when and where and in which competitions swimmers may earn their living.
In heats and semis of the 100m breaststroke, Andrew scorched respective American record of 58.19 and 58.14, making him the third fastest in history behind one man under 58, Arno Kamminga, of The Netherlands, and the pioneer of the sub-58 and, stunningly, sub-57, Britain's Adam Peaty, whose 56.88 is one of the most outstanding World record in the history of the sport.

When up against Peaty – and even Kamminga, the rival must hold his nerve. At stake was not Olympic gold but something just as precious for Americans who aspire to being the owners of Olympic gold: a place on Team USA.
Andrew, 22, survived a tight and nervy tussle, taking the final in 58.73, Andrew Wilson grabbing the second Tokyo ticket just 0.01sec away and Nick Fink locked out in 58.80 after having swim 58.50 in semis. Competitive trials, the fastest domestic top three but not top 2 these days.
Andrew was 18 when he just missed Rio 2016 selection. The relief poured from him as he told reporters: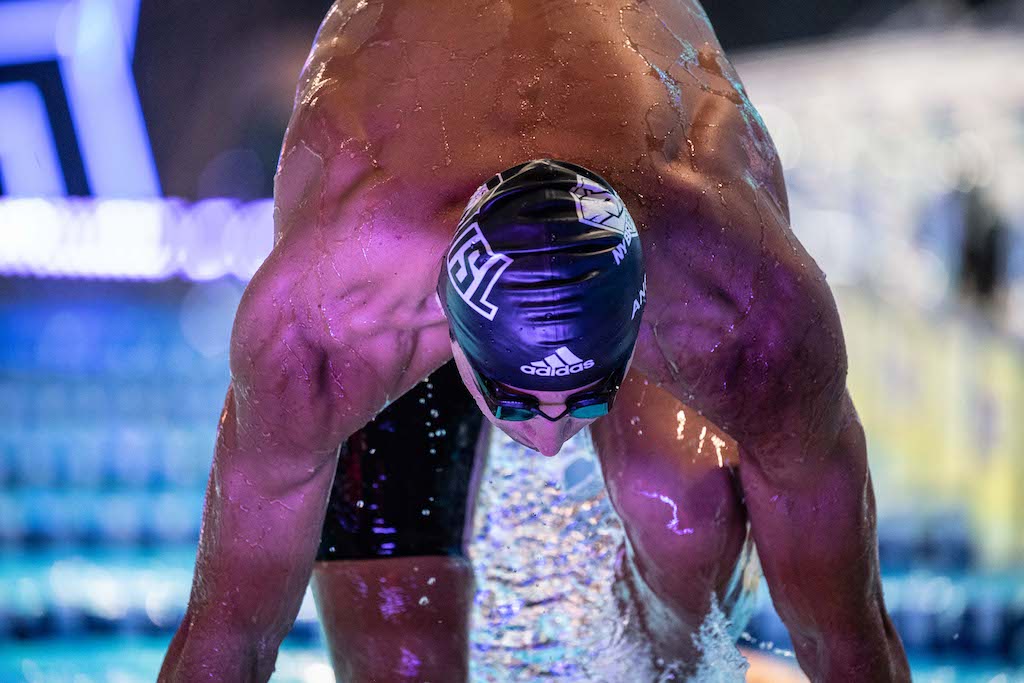 "It's still hard to believe it's real. It's been five years in the making. Not making that team as a 17-year-old and to come back to kind of rectify that, I'm just honoured and blessed."

Michael Andrew of the New York Breakers, photo by Mike Lewis, courtesy of the ISL
In semi finals on day 2, defending Olympic champions Lilly King and Ryan Murphy advanced led the pace into their respective finals, 100m breaststroke and backstroke, she on an impressive world-ranks topper 1:04.72, he on 52.22. The 400m winner in Omaha, Kieran Smith, led the way into the 200m free final in 1:45.74.