Hannah Miley Taking Her FitrWoman Mission On Tour To Help Girls Gain Despite The Pain Of Periods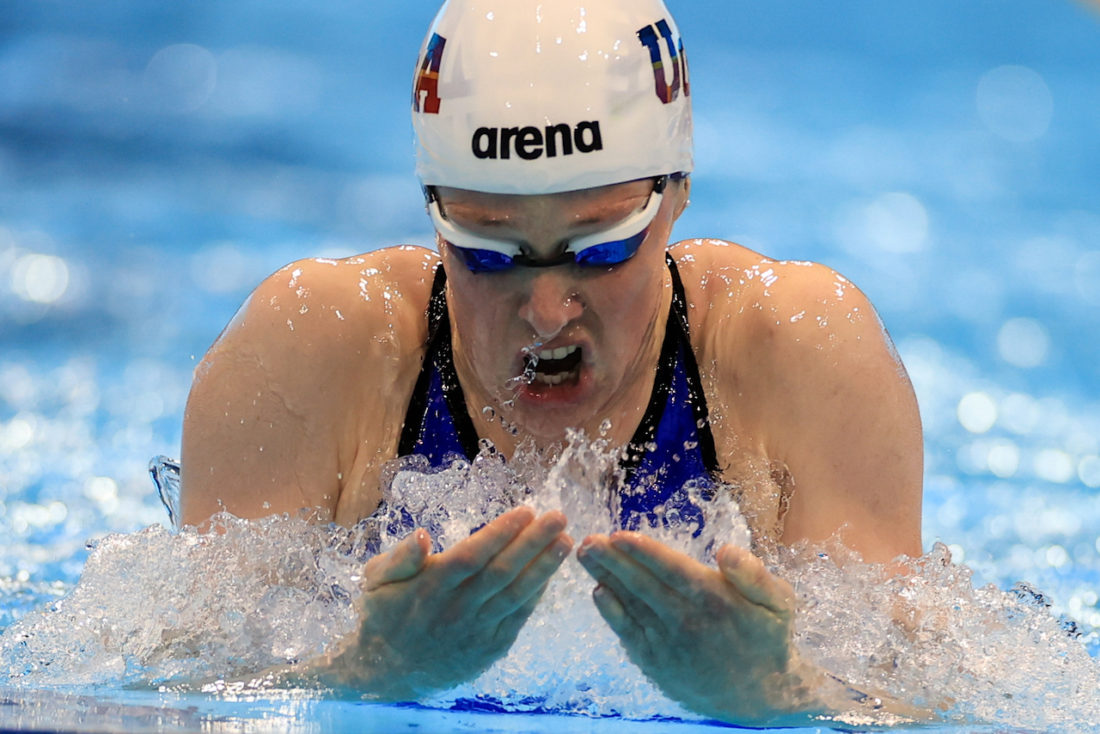 As one door closes for Hannah Miley today, another opens as she sets out on a mission to make the female experience in sport the best it can be, including feeling free to address "girls and women" as she builds a business aimed at helping improve education on periods, the menstruation cycle, and their impact on performance.
When she first started to have periods, Miley, now 32, was given just one piece of advice when it came to limiting the impact of her natural cycle on her swimming: "It was just 'go on the pill'. That was it … no further discussion."
A lack of options and education for British women swimmers meant that some ranked in the top 3 in the world heading into major competition, including the Olympic Games, found themselves out of contention when their big day coincided with what songwriter Kate Bush once described as "the punctual blues".
"The pill was good in a way," added Miley in an interview with The Times and SOS. "But you can also work with your body and the mental health and mental well-being side behind it. Some of the things that I've now learned have been fascinating and I look back and think 'why didn't I know about this earlier'?
On her learning curve, she was delivering a presentation at a British university when a transgender female in the audience said that she "did not appreciate me using the terms woman, girl, her and said 'you should use the term 'those who menstruate'."
Menstruation remains a taboo subject far and wide, Chinese swimmer Fu Yuanhui's reference to her period when she emerged from the medley relay at the Rio 2016 Olympic Games breaking a relative silence on the subject in China. It led to a wave of headlines, a growth in awareness, a setting aside of embarrassment and plaudits for the swimmer for speaking openly about the impact of her natural cycle on her performance in the pool.
The topic placed the Harry Potter author J. K. Rowling at the heart of debate last year when she tweeted criticism of the phrase "people who menstruate". A follow-up essay on Rowling's website was nominated for an award, had the back of those who agreed and flack from those who did not. Rowling wrote: "If sex isn't real, the lived reality of women globally is erased. I know and love trans people, but erasing the concept of sex removes the ability of many to meaningfully discuss their lives."
Miley intends to do just that by sharing her lived experience, along with education tools, with girls and women and those working with them, such as coaches.
Her business will work with the FitrWoman app developed by bio-analytical experts Orreco, to help women "track your menstrual cycle and provides personalised training and nutritional suggestions tailored to the changing hormone levels throughout your cycle".
The app has been used by the USA women's swimming team, while last year, Chelsea F.C. became the first women's football club in the world to use the FitrWoman application after the U.S. national side employed it for their 2019 Women's World Cup campaign.
Team USA's former performance coach Dawn Scott later joined the England team headed by manager Phil Neville and she was credited with having played a crucial part of the squad's success.
The aim of the FitrWoman app is to "take the guesswork out of training", a message Miley understands well as a swimmer who excelled through leaving "no stone unturned".
At a time of injury, she spent lockdown taking courses and talking to experts about how she might help "demystifying female health". After the intervention during her university presentation, Miley adjusted her approach by including a preamble in which she does not strip out "women and girls" but explains "those words are not used to disrespect anyone's choices".
Fellow swimmer Sharron Davies, has long campaigned for "spaces in which girls and women can be respected for who they are and what they'd like to be called".
Miley has since adjusted her approach by including a preamble in which she does not strip out "women and girls" but says "those words are not used to disrespect anyone's choices".
Miley told The Times and SOS:
"I'm very passionate about the female side of experience and life. None of what I do is intended to ostracise or exclude anybody else but I want to share my story of growing up as a female and how I managed it and how sharing that experience with other girls and women can empower them."

Hannah Miley – Photo: Hannah Miley gets set to race – by Georgie Kerr, courtesy of British Swimming
She added: "During lockdown, I've really enjoyed working on education and basically talking about my experience as well, because when I was younger growing through myself, period, it was not great."
Miley's mentoring business aims to offer workshops to both athletes and coaches from all different sports. "I'm in the process of commercialising it as well, with workshops in the business world aimed at demystifying female health," says Miley. "It's essentially about opening up the conversation and talking about it through education, sharing my story and, on the sporting side, offering ways to help track and plan for it, and then in [sport and others realms] offering mentoring in which I'll work one-to-one with some of the girls who can benefit from my experience and the tools available to them today that weren't something that I had access to."
The plan is to have other women join her program and spread the word and education with their own unique stories. Said Miley: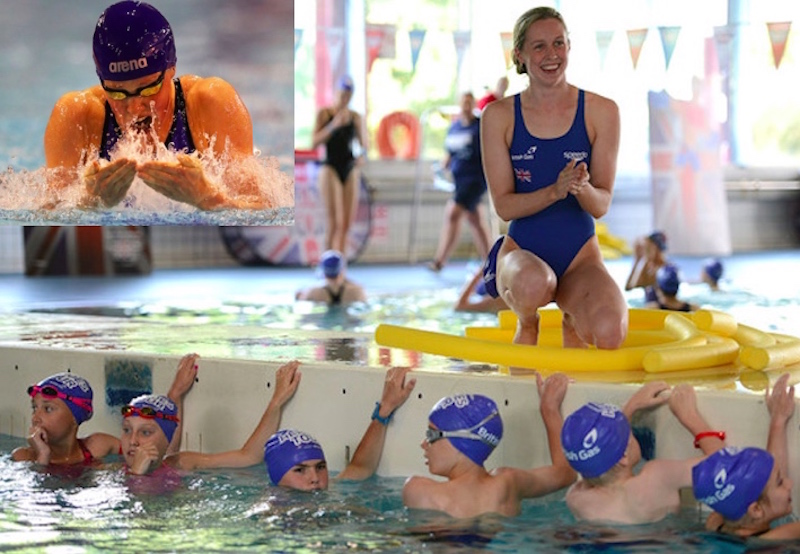 "I would love to take young athletes or athletes coming towards the end of their careers on board in the business, train them on delivery of the program but with their own story attached to it. That will get the education out there but in a way that allows each girl or woman to open up about their story and how they've managed it through their sport. This is not just about swimming: it's about all sports and the experiences of that large action of society that has grown up female."

Hannah Miley – Image: Hannah Miley's experience and attitudes will be passed on to the next wave in Scotland – photo courtesy of British Gas at a time when the energy provider backed British Swimming – inset, Miley in action at Olympic trials – by Ian MacNicol
When George Haines Asked His Girls To Work Through & With Their Periods … in the late 1950s
It took Orrico, the FitrWoman app and the digital age to take the topic of periods to the next level but way back beyond the void of relative silence on menstruation, swimming history offers insight into the pioneering that has helped keep the USA at the helm of swimming pace for many decades.
The legendary American coach George Haines and his female charges of the 1950s and 1960s were among the first to break the taboo on speaking about menstruation and then working out how to handle the impact of periods in performance swimming.
It was in the late 1950s when Haines called swimmer Lynn Burke to his office one day. He asked her if she swam when she had her "special time of the month". On the board behind him, he has a list of all the women athletes on his squad. Burke, who would go on top claim gold medals for the USA in the 100m backstroke and with teammates in the 4x100m medley relay at the 1960 Olympic Games, told the coach that she would skip training for between two and five days because of her periods.
Haines painted a picture and posed a question: if the Olympic trials and the Olympic final coincided with "that time of the month … why are you here, why are you even swimming," Burke recalled in a chat at the Hall of Fame back in 2015, the year before Fu Yuanhui generated a wave of Chinese headlines about periods.
As Miley raises the issue in Britain in 2021 and laments not having been given more information herself, we can look back to the 1948 Olympic Games in London to see what those watching that day could not: how there was already awareness of the impact of periods on performance but also the experimental nature of the environment in which athletes found themselves.
Denmark's Greta Anderson was racing in the third heat of the 400 meters freestyle three days after she had claimed gold in the 100 m freestyle. A favourite to win the 400m as well, Anderson fainted in the closing metres of her heat. Decades later she would reveal that she had been given an injection by team doctors to delay her period. She described "feeling 500lbs heavy" before she fainted. A water polo player from Hungary leapt in the pool and saved her.
Anderson recalled the incident as having happened in the final of the 400m but in fact, it happened in the third heat at London 1948. Four yeas later at Helsinki 1952, Anderson finished eighth in the 400m final.
That was never picked up by the International Swimming Hall of Fame (ISHOF) and remains a part of an archive that includes outdated and historically incorrect references. Nonetheless, the interviews with Burke and Anderson and well worth a look and listen for their importance in the thread of history on the topic of periods, how the topic has been handled and their impact on performance: