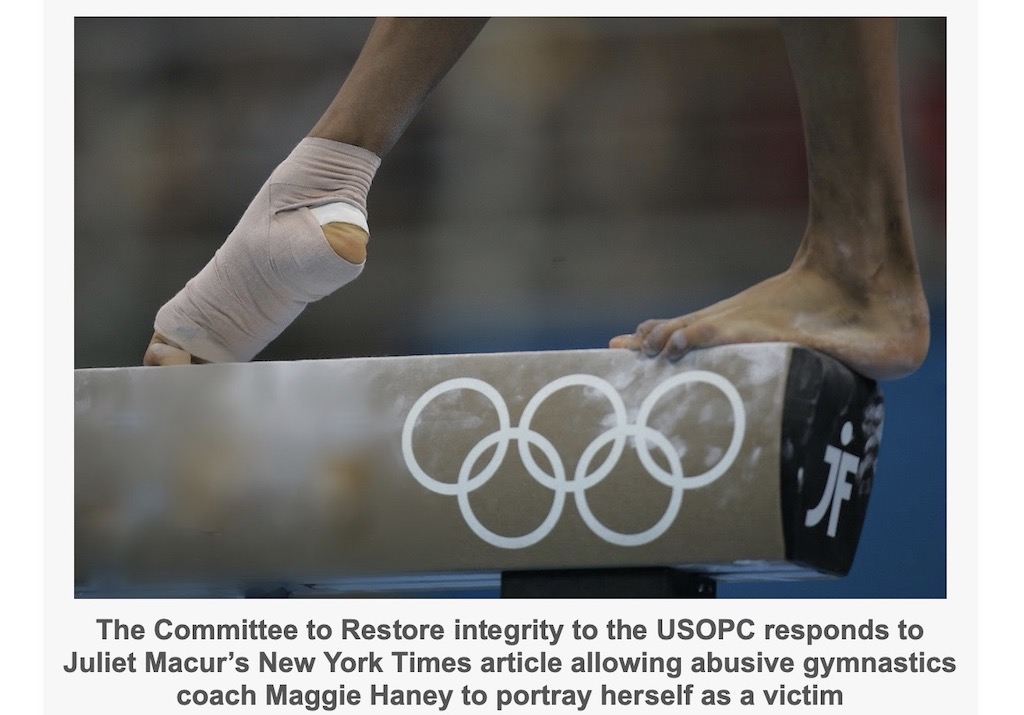 Fair Play For Women – Gymnastics Australia is the latest sports organisation around the world waging war on women by treating female athletes as a sub-class of humans who must move over and make room for males in their spaces and races even though the rules disallow sex-based discrimination and insist on safety and fair play.
The Australian Gymnastics federation has just changed guidelines to allow biological male transgender athletes to compete in the women's category and undress, regardless of genitalia, in female locker rooms and showers alongside both underage athletes and mature women.
As Sky Australia notes, 93% of 800,000 Australians involved in gymnastics are under the age of 12.
Yet, the adults at the top table in the federation room have laid down new rules in which transgender athletes are given a facility that is not open to any other athlete, men, women, junior or any other sub-category: trans athletes get to choose their category according to how they feel, according to their self-identified gender, a status that cannot be measured not subjected to checks and balances.
Transwomen will be allowed to compete with women, wear the uniforms of female gymnasts and can, according to the wisdom of paid leaders and Gymnastics Australia bosses on the Board of Governance, biological males will also be allowed to undress in women's locker rooms and showers, regardless of their genitalia.
The director for Gymnastics Australia defended the decision saying: "Diversity ensures our sport is better for all involved, and we want everyone to feel comfortable and supported as part of the gymnastics community."
There was no mention of women feeling comfortable, of female athletes losing opportunities and being forced to accept unfair play and biological males in their spaces and races.
GA boss Alexandra Ash said it was an important step to ensure all participants and stakeholders feel safe and included in the sport, Sky reports.
The quote from Ash, however, leaned definitively in the opposite direction and is laden with sex discrimination against women, which is illegal in Australian and international law. Said Ash: "Our commitment to transgender and gender diverse people involved in our sport is that gymnastics is and will continue to be a safe and inclusive environment for everyone, regardless of their gender, sexual orientation, ability, cultural background, or ethnicity. Diversity ensures our sport is better for all involved, and we want everyone to feel comfortable and supported as part of the gymnastics community."
She appears not to have heard the alarm bells nor seen the red flags that toll and fly high in her words. Gymnastics, as Canadian coach, former national athletics champion and women's rights campaigner Linda Blade noted, is a sport that need only look back a very short time to see the harm and damage it has allowed to unfold on the watch of governors who not only called it wrong but were part of the problem, wilful blindness only one of the curses some at USA Gym were proven to have suffered from. Coach Blade recalls the moment:
The Australian gym guidelines state that participation in sport is a human right. That actually means this: "Participation in sport is recognised as a human right under the terms of the United Nations Universal Declaration of Human Rights (UDHR), as a component of 'participation in the cultural life of the community".
So, participation, not competition. The Declaration does not even include the world "competition" in any of its articles. If there is no competition, no prize, no medal, no money, there is no impediment to people showing up, participating and presenting themselves in whatever legal way they wish. Competition is wholly different, yet Gymnastics Australia has now taken the view that females do not have the same rights and will not be afforded the same fair play and safety provisions as males.
The new guidelines go beyond participation. They extend to 'community gymnastics competitions', at which individuals will be allowed to compete in the category "they believe best reflects their gender identity".
In Australia, "community gymnastics" events mean competitions or leagues outside a Federation of International Gymnastics (FIG) sanctioned event or where qualification is being sought to represent national teams that compete in FIG events.
Of course, all those who will go on to seek selection for FIG events come from that community background. Some of them may now not make it, research suggests: a large percentage of girls in the presence of boys in sport do not make sport a part of their lives beyond the age of 12, according to research in Europe, including the UK study we cite in this article.
The comments at the end of the Sky article indicate that the direction of travel in the minds of the wider audience and Australia public runs opposite to that in the minds of Gym Australian bosses now openly disccriminating against women.
They know it, of course, which is why they cite studies showing that "trans and gender diverse people suffer from anxiety and depression", why they cite recognition of "intentional and unintentional phobic behaviours within sport in Australia".
They do not mention the vast amount of research showing the devastating impact of discrimination against women, the fact that almost all sexual violence is committed by males against females nor the research about impact on girls mentioned above.
What Aussie gym leaders allow to cartwheel over their tiny minds is the clash of rights they have fuelled in guidelines and rules open that throw women to the curb in favour of giving biological males access to female spaces and races, regardless of the cost to women. They have a journey ahead and on the way they may spend more time, energy and money on the issue than is justified, if the experience of swimming bosses is anything to go by: given a great chance to be included and have 'trans' status respected, trans athletes opted for 'no show' in circumstances that removed the potential motivation for male advantage to have its day in female sport.
Back to those comments on the Sky article – a few examples:
"GA boss Alexandra Ash said it was an important step to ensure all participants and stakeholders feel safe and included in the sport." I wonder if all the female participants fell safe now. I wonder if all the female participants feel included with the decision to wipe female only competitions from the sport.
Women's gymnastics as a sport has been destroyed. Woke agenda gone mad
Well that has just totally destroyed women's gymnastics.
I cannot voice my utter contempt towards the association. You've thrown biological women to the wolves, given away their safe space locker and bathroom facilities. Unless women walk out on strike. The patriarchy have it stitched up. Men in men's sport for the win and men in women's sport for the win.
Sounds like a complete unconditional surrender to woke agenda and ignore the rights and feelings of non trans and other non other categories. It would be good to see that the guidelines do not allow biological men or boys competing with biological females.In other words be inclusive but be fair. Compete like against like. It would also be good to see some clarity on biological men not being able to use female toilet and changing facilities. Being modern and in touch with inclusivity is fine but some things don't actually change like privacy, modesty and fairness. How about protecting everyone in the sport.
And so on and so forth…
The Sky article in full, with links to related material giving alternative views to those quoted in the news about Australian gym today
The Fair Play for Women tab at the helm of this editorial will appear on features we write on any sport that is failing female athletes by adopting discriminatory "inclusion" policies that break sex-based discrimination rules and charters citing fair play and safety.