Gregorio Paltrinieri Stamps Ticket To Tokyo Defence Of Olympic 1500m Crown In 14:40.38 For Record 17th Sub-14:45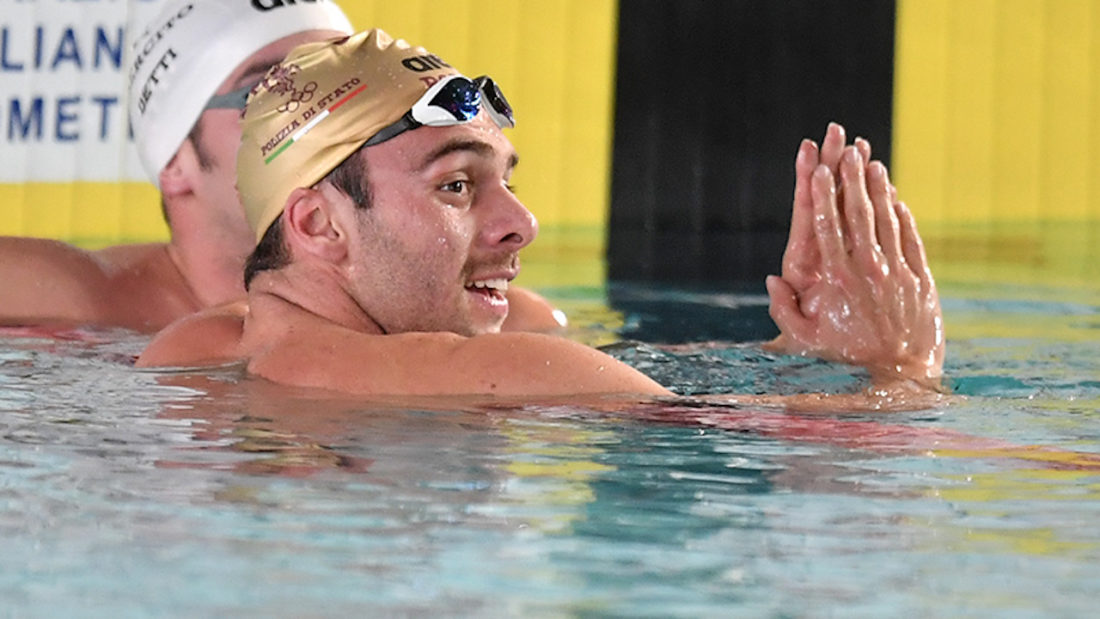 Gregorio Paltrinieri will defend the Olympic 1500m freestyle crown in Tokyo this summer after a 14:40.38 victory today in Riccione as the Italian Spring Open Championships and Olympic qualifier came to a close.
No Italian swimmer has ever retained an Olympic crown and only one has ever won two gold medals, Domenico Fioravanti having claimed the 100 and 200m breaststroke titles at the Sydney 2000 Olympic Games.
Among Paltrinieri's credentials are his 11 entries in the all-time top 25 performances in the history of the 1500m, including four in the top 10; his 17 sub-14:45 efforts, which amount to more than the combined total of Grant Hackett (8) and Sun Yang* (7); and Paltrinieri's 9 voyages below 14:40, a record well ahead of next best, Sun on 3.
When Paltrinieri claimed gold in 14:34.57 at the Rio 2016 Games, Connor Jaeger took silver in an an American record 14:39.48, with Italy celebrating a second bite of the cake as Paltrinieri's then training partner Gabriele Detti collected his second bronze of the week, after success in the 400m, on 14:40.86.
No other in the Riccione race today got inside the 14:50 qualifying time for Tokyo, Marco de Tullio on 15:05.31, Domenico Acarenza on 15:06.39. And no other in the world so far this year has raced inside 14:50, making Paltrinieri the pace-setter on his way to a Tokyo tussle that may be the making of the first sub-14:30 in history.
Paltrinieri, who switched coaches from Stefano Morini to Fabrizio Antonelli last year, was happy with his week's work and revealed that he will race all his three Olympic targets, including the marathon, at European Championships in May:
"I got off to a sprightly start in the 800m and today I wanted to distribute my energy more evenly in the race. I started slowly but I still struggled; it was a lot of effort. I'm happy with these championships, I've been trying a few things out. The most important aspect was undoubtedly being here and being able to compete. I liked being shoulder to shoulder with Gabriele, Mimmo (Acerenza) and the others and I take something important home with me, even from these 1500 swims. In the water I felt different sensations than usual. We had a good preparation period, including high altitude. Now we get back to work. With the arrival of summer, I also want to swim in the sea. Yes, I would like to do all my races for the Europeans. I'm having fun. With the changes in training and the change of coach I have found many new stimuli and I like it."

Gregorio Paltrinieri
1500m Tokyo Tickets, Too, For Simona Quadarella& Rita Caramignoli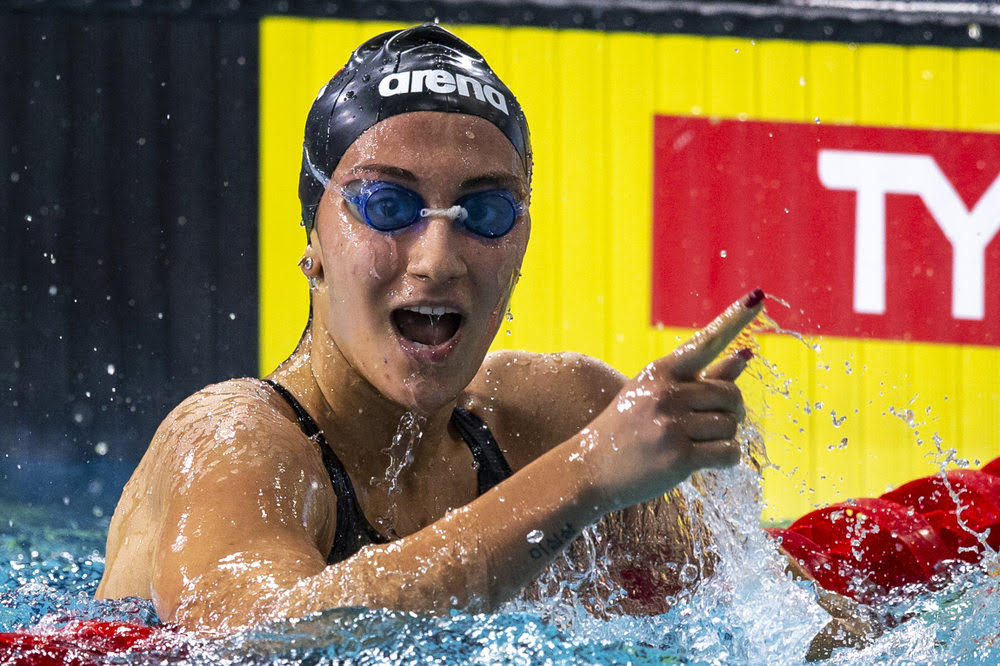 The women did better this day, in this terms: World champion Simona Quadarella, CC Aniene, retained the crown in 15:57.03 a couple of strokes ahead of a second sub-16min ticket to Tokyo, courtesy of Martina Caramignoli, on 15:59.13. The bronze went to Ginevra Taddeucci in 16:21.93.
They are the second and third swimmers inside 16 minutes so far this year, the first having been Katie Ledecky, on 15:42.92 last month. The American World record holder was not in the 2019 World-title race, through illness, but days later in what was one of the most impressive performances of her stellar career fought tooth and nail to retain the 800m crown in a battle with Quadarella.
Quadarella, coached by Christian Minotti, said:
"We have achieved the minimum goal, to drop below 16 minutes. It was a bit of a tiring championship, I never stopped racing. I think I have to do some more work, especially in high altitude preparation. That's okay for now: 15:57 is a modest time on which there's work to be built. Doing so many races this week was a choice because I wanted to try a little bit of everything. To the Europeans I hope to get even fitter. Then there will be the Olympics. After five they are approaching. Yes, I think about it enough and I want to completely regain my form. I've been training for more than a year with my thoughts focussed on these Olympics."

Simona Quadarella
The women's 1500m freestyle will make it Olympic debut in Tokyo, while men will race over 800m for the first time, too, marking the first time in Olympic history, since men got going in 1986 and women in 1912, that there is gender parity in Olympic swimming events.
Gregorio Paltrinieri, who will have three shots at the podium in Tokyo, over 800m, 1500-m and the Open Water 10km Marathon, is the Italian champion and European sub-14:40 30-length pioneer his country will look to for writing another line in World and Italian swimming history.
Paltrinieri fell just shy of making it 10 times inside 14:40 today. That must wait for Tokyo, perhaps. He will arrive in Japan as king of among frequently fast kings of the longest race in the Olympic pool (see stats below). Consistent excellence, speed and quality have been among the hallmarks of Paltrinieri since he became the first European swimmer to break the 14:40 mark in claiming the 2014 European title.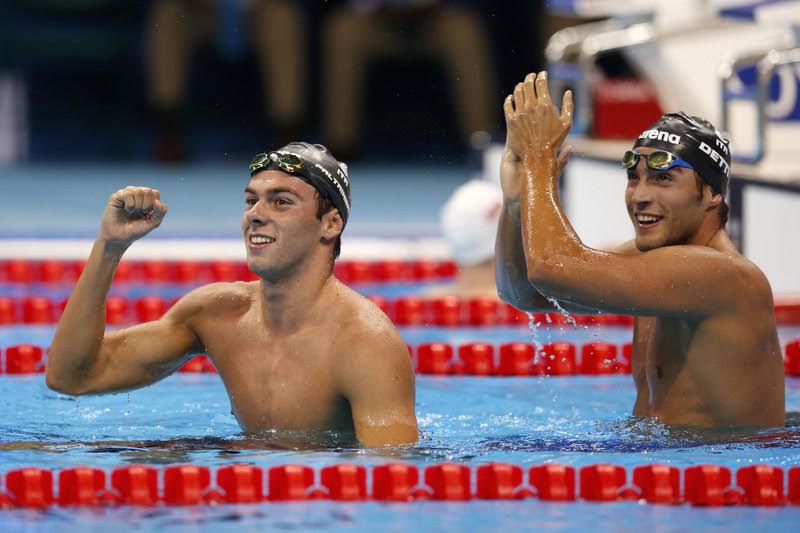 In the summer of 2020 when the Tokyo 2020 Olympics might have taken place, Gregorio Paltrinieri rattled out a European 1500m freestyle record of 14:33.10 at the Trofeu Sette Colli in Rome, the meet doubling as (Covid-delayed) Spring Championships.
It was the second-fastest 1500 freestyle in history and the fastest by a man without a doping record in tow, Sun Yang having fallen foul of anti-doping rule in 2014 and now awaiting a second hearing at the Court of Arbitration for Sport after an eight-year ban was set aside on the grounds that a judge was perceived to have shown racism towards Chinese people in tweets about cruelty to dogs in China but in language that included "yellow" when referring to the humans engaged in abuse of animals.
It was August 13, 2020 when Paltrinieri wiped 0.94 off his previous European record of 14:34.04, set when he claimed the continental crown in London in May 2016. As for the Seven Hills Meet record: demolished – a 14:49.06 from 2017 reduced to rubble.
Today, as ever, the splits were metronomic, the (1) indicating his dominance from start to finish:
27.48 (1) 27.48; 56.63 (1); 29.15 1'25.95 (1); 29.32 1'55.53 (1); 29.58 2'24.99 (1); 29.46 2'54.72 (1) 29.73 3'24.25 (1) 29.53 3'53.93 (1) 29.68 4'23.40 (1) 29.47 4'52.89 (1) 29.49 5'22.40 (1) 29.51 5'52.01 (1) 29.61 6'21.49 (1)29.48 6'50.89 (1) 29.40 7'20.43 (1) 29.54 7'49.83 (1) 29.40 8'19.31 (1) 29.48 8'48.66 (1) 29.35 9'18.15 (1) 29.49 9'47.60 (1) 29.45 10'17.14 (1) 29.54 10'46.50 (1) 29.36 11'16.05 (1) 29.55 11'45.62 (1) 29.57 12'15.16 (1) 29.54 12'44.83 (1) 29.67 13'14.16 (1) 29.33 13'43.51 (1) 29.35 14'12.39 (1) 28.88 14'40.38 – 27.99.
Italian record & Tokyo Ticket For Alberto Razzati
The last day produced an Italian record in the men's 200m medley when Alberto Razzetti, coached by coach Stefano Franceschi and racing at Fiamme Gialle/Genova Nuoto My Sport, took down the 1:58.09 standard he set last August at the Sette Colli and delayed 2020 nationals with a swift 1:57.13, through splits of 25.24; 55.84 and 1:28.97, his homecoming freestyle a 28.16. That was easily good enough for a Tokyo ticket, inside the 1:58 target time. The podium was completed by Lorenzo Glessi, on 2:00.81 and Matteo Pelizzari, on 2:01.38. Speaking through FIN, Razetti said:
"I'm very happy. It's a dream come true. I wouldn't have believed it until last year, now being able to comment on it is mega. It's yet to sink in. I am happy with how the race went and with the time which is sensational… Now it will be fun for the Europeans (Championships in Budapest in May). I hope to improve my races even more. Then there will be the Olympics. The dream becomes reality."

Alberto Razzati
Having qualified for Tokyo in the 400m medley on day 1, Sara Franceschi, racing for Fiamme Gialle/Livorno Aquatics ssd and, like Razzetti coached by her father coach Stefano Franceschi, took the 200m crown in 2:11.57, the target at 2:11.0, a swim at the Games assured. Ilaria Cusinato might hope to be there too: 2:11.75 for silver at a meet that has allowed for rounding up of times, targets set at 0.0 or 0.5. The bronze went to Anna Pirovano in 2:13.79.
In other last-day finals in Riccione, there were dash titles for Lorenzo Mora, on 25.30 in the backstroke; Benedetta Pilato, on 29.91 in the breaststroke; Piero Codia, on 23.47 and Silvia Di Pietro on 26.38 in the butterfly finals.
Gregorio Paltrinieri A King Among Frequently Fast Kings Of Longest Race In The Pool
Gregorio Paltrinieri is king of the sub-14:45 club, his victory today marking the 17th time in that zone, more than twice as may as the other big sub-14:35 beasts, Australia Grant Hackett on 8, Sun Yang*, of China, on 7. Then's there's the sub-14:40 club, which includes the leading contenders for gold at the Tokyo Olympics.
Grant Hackett, the sub-14:40 pioneer, on a stunning 14:34.56 at 2001 World Championships in Fukuoka, went inside 14:40 twice in his career, Sun thrice, his 2012 World record standing yet at 14:31.02; World champion Florian Wellbrock, of Germany, has been that way twice, on 14:36.15 for the European title ahead of Mykhailo Romanchuk, of Ukraine, and Paltrinieri and 14:36.54 for the Word title in 2019, when the Wellbrock also claimed the 10km Marathon crown.
Paltrinieri has gone below 14:40 nine times.
All being well, Paltrinieri and Wellbrock will be contenders for the crown in both events at the Tokyo Olympics, the 1500m in the pool at the end of the first week, the marathon a few days later in the second week – and this time without the support of pool teammates, who will leave Tokyo when their events are done, under the rules set out for ensuring safety and control in Covid Season 2. 
Those three men are joined by Mack Horton, of Australia, in the pool of those still racing who have dipped below 14:40. Horton hasn't raced inside 14:45 since 2016, when he joined the sub-14:40 club with a 14:39.54 at Nationals and Olympic trials for the Rio Games. Sun faces a second Court of Arbitration hearing on May 24-28, the outcome of which will decide whether he can return to the fray or must leave the sport for a term of years that may expire beyond Sun's racing shelf life. whatever the outcome, his best 1500m days were behind him before a dispute with anti-doping testers in 2018, revealed by this author in a Sunday Times report of January 2019, set him on a collision course with the World Anti-Doping Agency (WADA).
The Sub-14:40 1500m Freestyle Club
Green for current contenders
Textile Only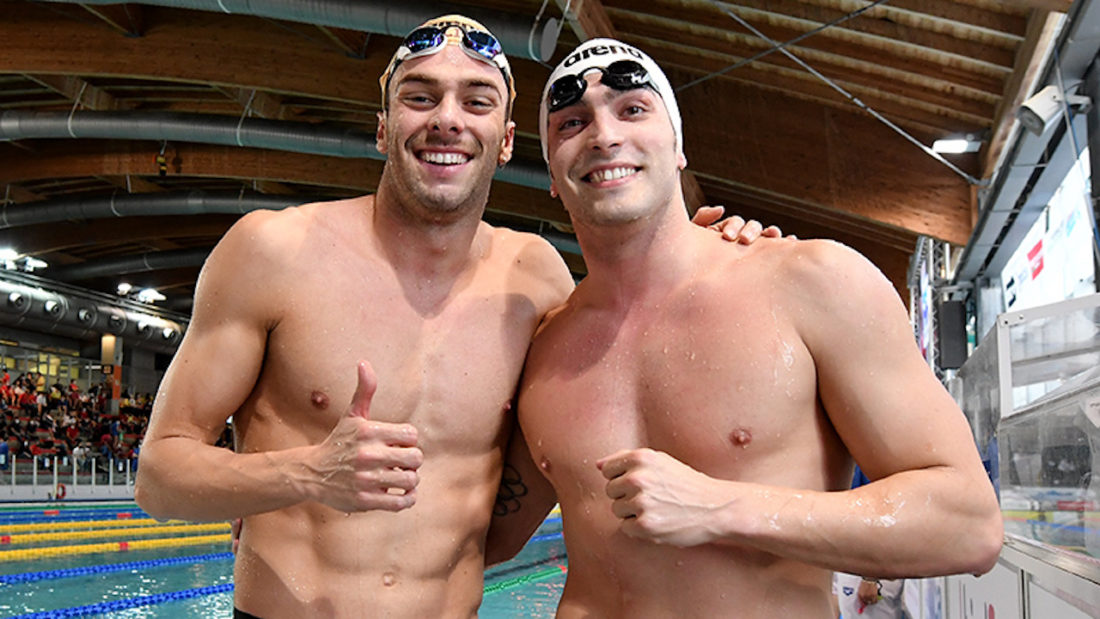 14:31.02 Yang*, Sun, CHN
14:33.10 Paltrinieri, Gregorio, ITA
14:34.56 Hackett, Grant, AUS
14:36.15 Wellbrock, Florian, GER
14:36.88 Romanchuk, Mykhailo, UKR
14:39.48 Jaeger, Connor, USA
14:39.54 Horton, Mack, AUS
14:39.63 Cochrane, Ryan, CAN
All suits – year of birth noted
14:31.02 Yang*, Sun, 1991, CHN WR 2012

14:33.10 Paltrinieri, Gregorio, 1994, ITA

14:34.56 Hackett, Grant, 1980, AUS WR 2001

14:36.15 Wellbrock, Florian, 1997, GER

14:36.88 Romanchuk, Mykhailo, 1996, UKR
14:37.28 Mellouli, Oussama, 1984, TUN
14:39.48 Jaeger*, Connor, 1991, USA
14:39.54 Horton, Mack, 1996, AUS
14:39.63 Cochrane, Ryan, 1988, CAN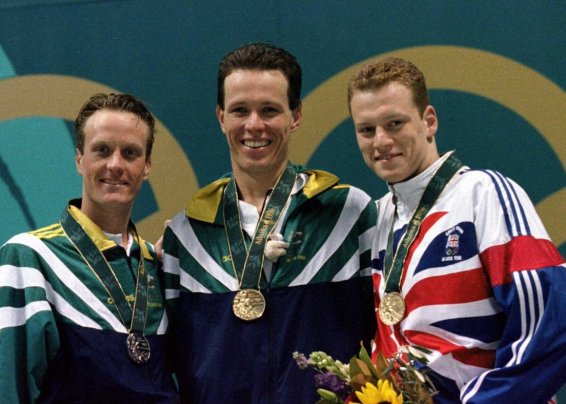 Just outside:
14:40.86 Detti, Gabriele, 1994, ITA
14:41.13 Prilukov, Yuri, 1984, RUS
14:41.66 Perkins, Kieren, 1973, AUS WR 1994
Perkins was the king of his era – and remains one of the greats of the sport, courtesy of his Olympic titles of 1992 and 1996 and the silver he claimed at Sydney 2000 close behind teammate Grant Hackett in an attempt to become the first man to join the Olympic swimming triple-crown club with dawn Fraser (1956-60-64, 100m freestyle) and Krisztina Egerszegi (1988, 92, 96, 200m backstroke).
Hackett then followed the same pattern, backing up Sydney gold with the Athens 2004 title before taking silver behind Oussama Mellouli, of Tunisia, at Beijing 2008 in the first season of shiny suits and all that came with them.