Gregorio Paltrinieri Sets Pulverising Pace In Last-Lap Pursuit Of Euro 10km Crown As Olivier Pips Wellbrock For Silver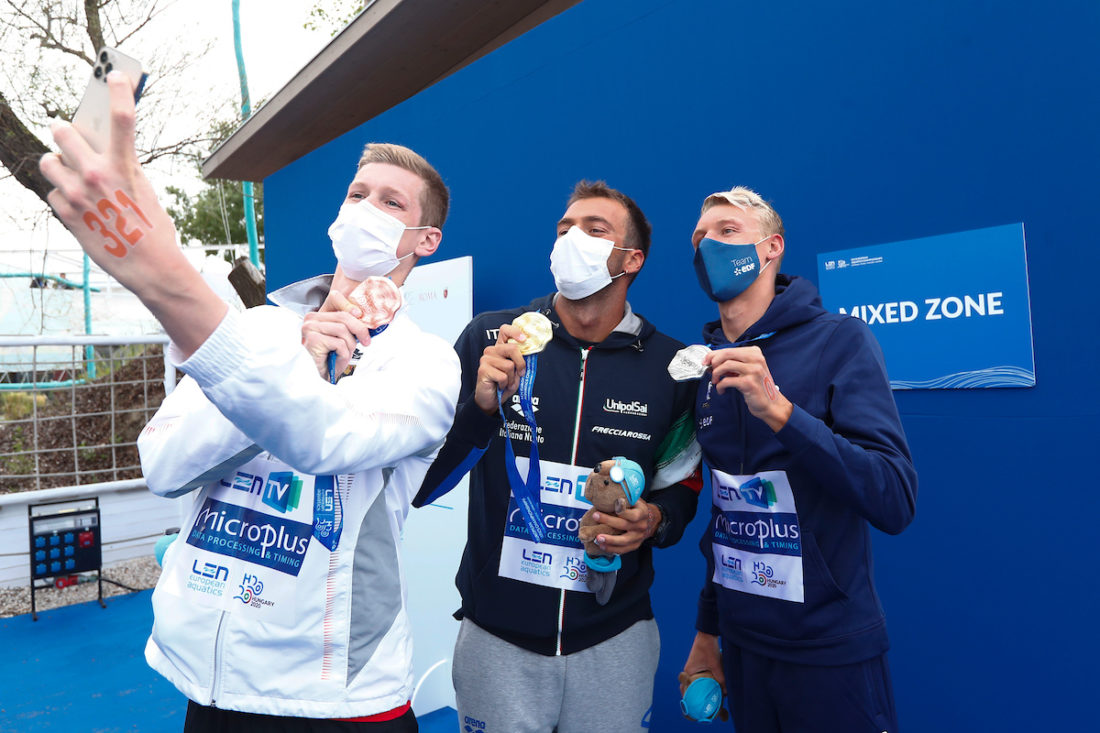 Gregorio Paltrinieri stayed with the shoal, never too far from contention but always seeking to steer clear of the bash and splash of the shoal, until just over an hour 40 minutes into the European 10km marathon title race at Budapest's Lupa Beach; and then he set his own course for home at a pace that pulverised the ambitions of all others on his way to a second crown in 24 hours after 5km victory yesterday.
The defeated included Olympic champion Ferry Weertman and World champion Florian Wellbrock as Paltrinieri sped to a dominant 1hour 51:30.6 victory 11.1sec ahead of the battle for the minor but well-deserved spoils.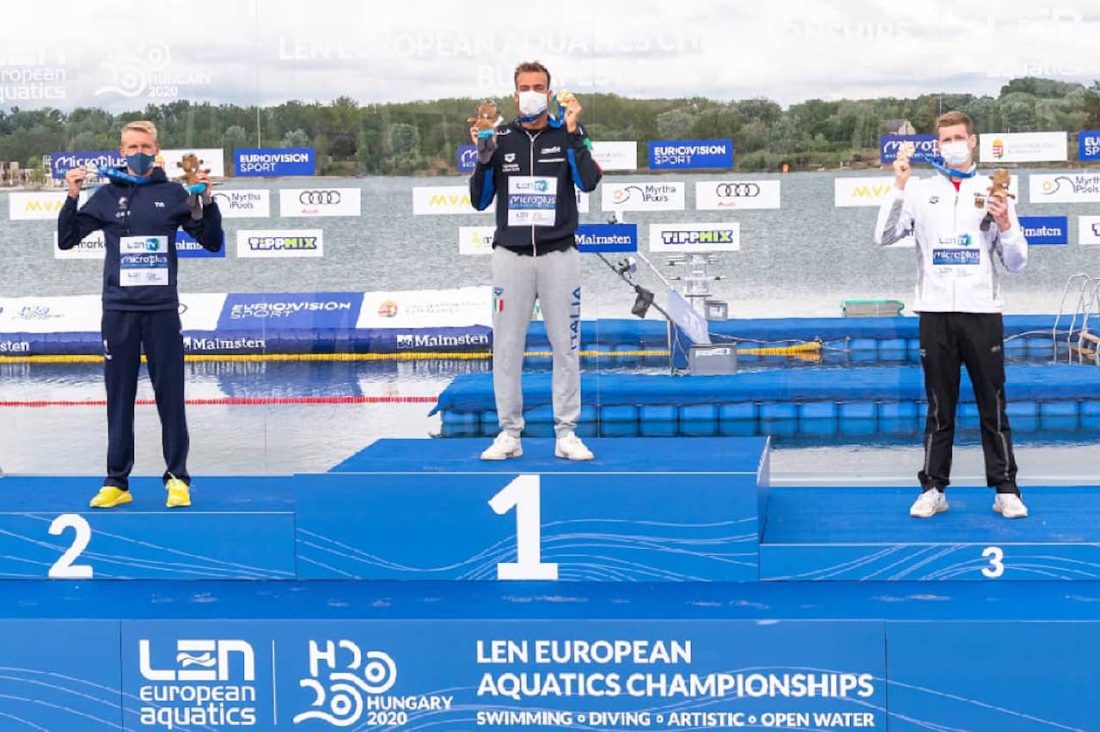 France's Marc-Antoine Olivier, Olympic bronze medallist at Rio 2016 and Worlds silver in 2019, got his hand to the pad in 1:51:41.7, a touch ahead off a slightly fumbled finish from Wellbrock, on 1:51:42.0, translating to a double celebration on the day for German national coach Bernd Berkhahn, who has of late taken on 5km and 10km winner among women, Sharon van Rouwendaal, the Dutch Olympic marathon champion.
The race playback will show the shoal – including the podium – where their strengths are and where they made or may yet make themselves vulnerable come the Olympic showdown in Tokyo in the first week of August.
Wellbrock did not or could not respond to a surge on the last lap after he had set the pace for much of the way, but his recovery in the closing stages of the race suggest that, if not gold, and it may well be that, he is on course to become the first German swimmer to claim an Olympic swimming medal since 2008, an extraordinary aquatic blip in history.
He and Paltrinieri are set to be sparring partners from 800m to the marathon in Tokyo.
Today, though, was all about Gregorio Paltrinieri's learning curve to the helm of the open-water crew and a marathon journey that started with him taking to sea, lake, river and ocean in that version of a change being as good as a rest that only long-distance swimmers will nod at with comprehension and a look of 'makes sense' about their faces. Back in 12th with a quarter of the race to go, having been up front earlier on, the 1500m king of Rio was a model of composure, his ability to change pace, respond, fall back, take the stream less frequented by myriad flying arms was all too obvious to those around him in the hunt for home.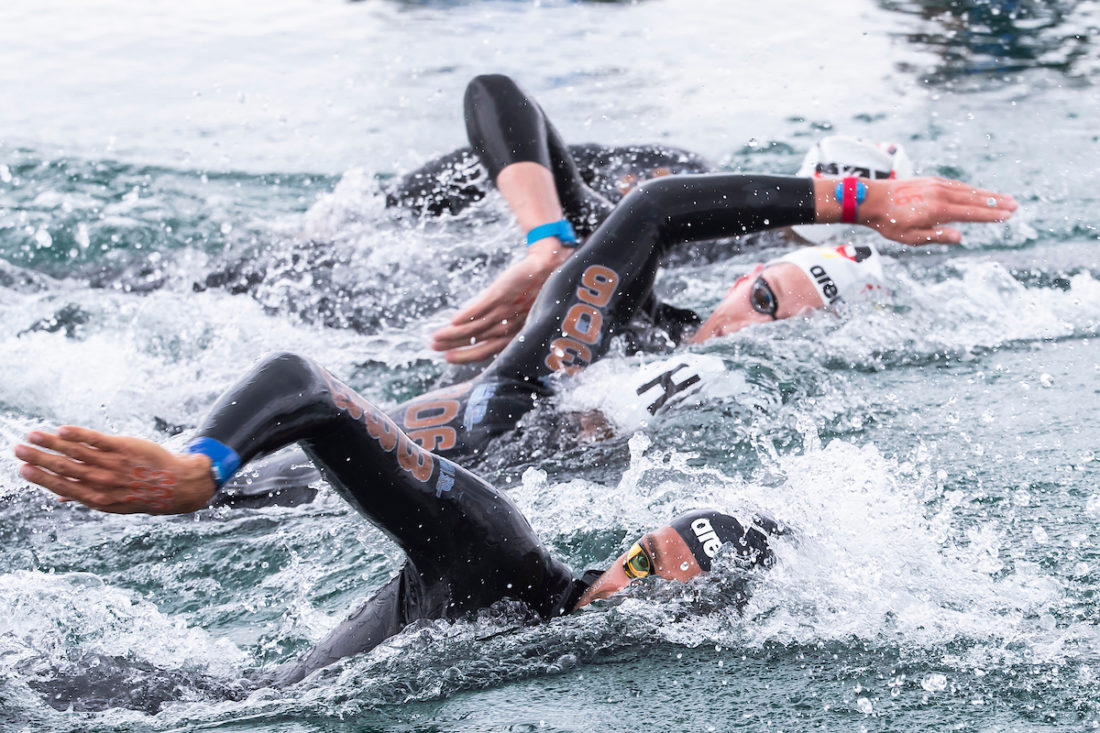 Gregorio Paltrinieri, who switched from long-term coach Stefano Morini to Fabrizio Antonelli last year, showed today at Lupa Beach, perhaps better than he has in all his other marathon swims, his aptitude for open water after a 2017 decision to head to Australia and do some ocean swimming with chum and rival in the pool Mack Horton. The Italian had the wherewithal and the strength and confidence to fall back a touch and change his potion every time he though he was about to be blocked in to the scrum.
In the decisive last lap, he moved to the outside of the shoal in clear water, steered clear of the wash and splash, the bump and bash and appeared to have a clear view of the line he would take – and the position of his rivals.
The first 5km done, Kristof Rasovszky, the Hungarian who led for a good stretch of the 5km yesterday before finishing a frustrating fourth, set the pace on 59mins 10.7, Wellbrock on 59:11.3, Britain's Tobias Robinson on 59:11.7, Paltrinieri, on 59:12.4, the top 16 through completed by Weertman, of The Netherlands, on 59:19.4, 8.7sec back from the Hungarian pacesetter.
Just 5 minutes on and Rasovszky, Wellbrock, Paltrinieri and Muffels were racing side by side; 5 minutes more and the same four held the line, with Robinson a second back, Weertman catching up fast, now just 1.8sec back from the lead pace.
No inch given. No break in sight, the race perhaps in the hands of the home sprint once more.
Just after 1hour 10 had passed, the second Hungarian in the hunt, Daniel Szekelyi, 23rd at half-way 12.7sec off the lead pace set by his teammates, struck out to establish a lead of a couple of body lengths. Wellbrock was on it: it took him less than a lap of a short-course pool to draw level.
The German's steady, long strokes stood in contrast to some of the frenetic turnover in the following shoal as he ploughed on in pursuit of his own breakaway. The pack was now more strung out, with Szekelyi, Britain's Hector Pardoe and Italy's Domenico Acarenza closest. Last-lap 5 was some hard work away yet as the battlers took on the formation of a flock in migration, Wellbrock at the helm as the sound of sirens travelling along a nearby road floated across the lake.
In the water, it was Wellbrock who was sounding the alarm: who can go with me? Catch me if you can. That, with a deal of to-ing and fro-ing in the swim scrum behind the German pace-setter is where it stayed past the 8000m mark and the last-lap bell, big guns close and in a position to close come the moment.
At the last-lap bell Wellbrock led on 1:29:43.8, Rasovsky 0.9 away, followed by 5km podium-placer of yesterday, Olivier, 3.1, then, between 4sec and 5.1 back Szekelyi, the ever-dangerous Weertman and Paltrinieri, France's Axel Reymond and Britain's Hector Pardoe.
By 1hr 35, the formation was broken, Wellbrock joined by four others; two minutes later, Reymond led a surge and took the lead. Within the next minute, Wellbrock had fallen back as Reymond was joined by Paltrinieri and Olivier, Weertman looking strong but the winning strength looked like it belonged to the 1500m freestyle Olympic champion.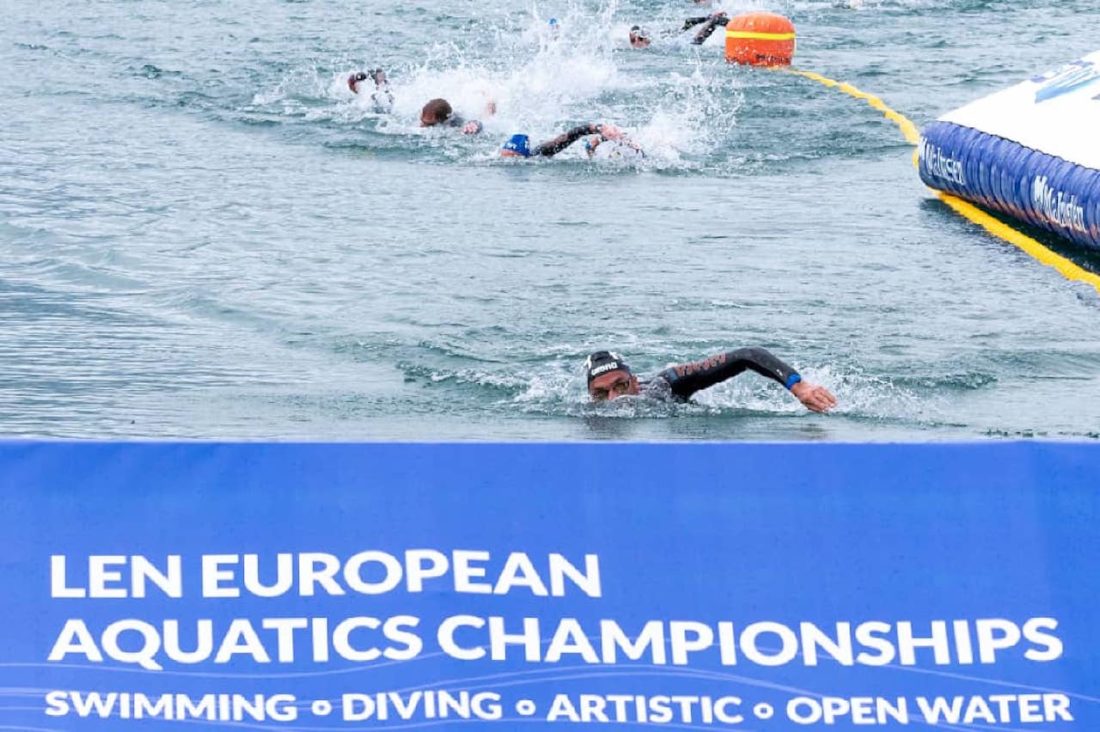 Gregorio Paltrinieri pushed on with a pulverizing pace, the pack now strung out but none of the top 6 out of contention yet, even though it was beginning to look like a battle for the minor spoils for all but the Italian hurtling towards a new status.
A strong sideways wind buffeting the water and the swimmers in it, Paltrinieri, a swimmer with his eye on a sub-14:30 in the pool over 30 lengths, had built an unassailable lead by the time he could work out his line to the sprint funnel into which all in the race swim with a sense of relief coursing through their veins.
Stroke solid and efficient to the last, two-beat kick trailing behind him, Paltrinieri stopped the clock and had time to swim on, rip his cap off and feel his heart calm before Olivier, who switched from his long-time program in Denain to Dunkirk last year, and Wellbrock sprinted to the podium, their finishing order decided on the timing of arm swing, the Frenchman with the greater experience in open water showing a touch of that as Wellbrock reached for the pad in slightly – and very much relatively – clumsy fashion by comparison.
Just a second back was Ferry Weertman, out of the medals but heading into the defence of his Olympic crown as dangerous as the next man in that kind of speedy company over 10km. Rasovszky was fifth, two seconds behind the Dutchman after his fourth place yesterday, some lessons doubtless learned. Back in eight was Britain's Pardoe, the only teenager in the top 10 finishers.
Paltrinieri told RAI, the Italian broadcaster: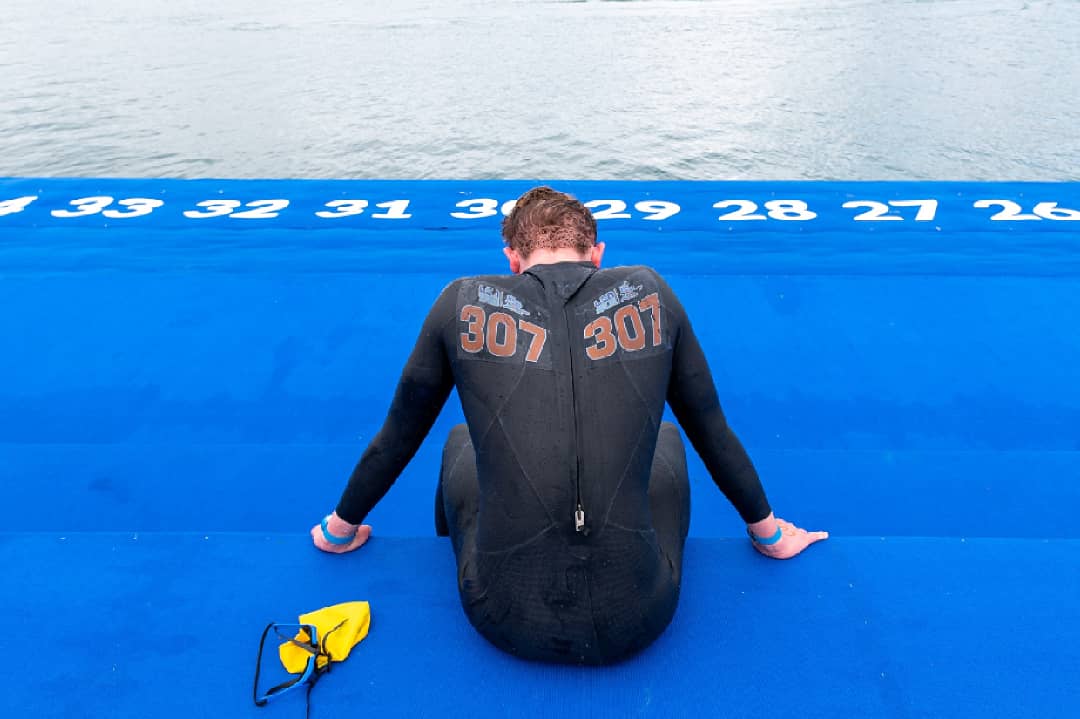 He told Italian TV station RAI:
"Mamma mia, today was much more effort than yesterday, I was tired, for sure. "I tried to do the first two laps, I was third from last or next to last, I was just trying to swim, then I started progressing slowly. On the last lap I went, pushed and saw that I was leaving (them behind) … a beautiful race. I am super happy and super tired. I saw stars in the last 100 metres. All the strong (swimmers) were there, it was a really good test ."

Gregorio Paltrinieri – image: Greg Paltrinieri – job done – photo by Giorgio Scala, DeepBlue Media, courtesy of LEN
The sub 1hr 52 finishers behind Gregorio Paltrinieri


P
No
Nation
Name
DoB
Time
Gap
1
333
ITA
PALTRINIERI Gregorio
05 SEP 1994
1:51:30.6
2
330
FRA
OLIVIER Marc-Antoine
18 JUN 1996
1:51:41.7
11.1
3
321
GER
WELLBROCK Florian
19 AUG 1997
1:51:42.0
11.4
4
317
NED
WEERTMAN Ferry
27 JUN 1992
1:51:43.0
12.4
5
306
HUN
RASOVSZKY Kristof
27 MAR 1997
1:51:45.0
14.4
6
325
ITA
SANZULLO Mario
05 JUN 1993
1:51:46.4
15.8
7
309
FRA
REYMOND Axel
13 FEB 1994
1:51:49.6
19.0
8
308
GBR
PARDOE Hector
29 MAR 2001
1:51:55.4
24.8
9
318
ITA
ACERENZA Domenico
19 JAN 1995
1:51:55.9
25.3
10
301
ESP
MARTINEZ MURCIA Alberto
27 AUG 1998
1:51:56.0
25.4
2017… Returning To Open Water
The opening leg of the LEN European Open Water Swimming Cup back in 2017 off the coast of Israel was highlighted by what was described as the 'sea debut' of Gregorio Paltrinieri. In fact, the Italian, who had clinched the Olympic, World and European titles in the 1500m free in the three previous years, had been an open master swimmer before he turned 17 and switched his focus to pool only.
In the men's race that day back in 2017, Hungarian Rasovszky took the win ahead of Russians Kirill Abrosimov and Evgenii Drattsev Paltrinieri 2.6sec off the medals on his return to the wall-less fray. He said:
"I enjoyed the race after all, managed to keep up with the others for most of the time. In the last lap I felt as if I was losing the necessary energy to go with the leaders and I fell behind. Still, it was a good experience, totally different from pool swimming but I learnt a lot here."
And he never stopped learning, racing in big internationals, domestic events and heading Down Under to take some time out of routine, not swimming, with Mack Horton in 2018.
Its was January that year when Horton and Paltrinieri skipped an 800m race at the Victorian State Swimming Championships to head for a challenge of a different kind: the Victorian Surf Coast to the 38th Annual Lorne Pier To Pub Ocean Swim over 1.5km.
Melbourne Vicentre Head Coach Craig Jackson had given his star distance duo the day off to join 5000 swimmers in one of the most popular and sort-after Ocean Swims in the country.
Horton had finished second in the race twice before, both times behind seven-time champion and notable surf and open water star Sam Sheppard. Paltrinieri opted in, too.
The Pier to Pub came with Jackson's blessing. Back in January 2018, he said: ""The boys came and asked me about the Pier to Pub and I see it as a nice break away from the pool – they'll enjoy it and it is always a big event in Melbourne. Mack will be back for the relay that night and all three have entered the 1500m on Sunday. We will then target the NSW Championships in Sydney the following week in what will be a final hit out before the Games Trials (February 28-March 3)."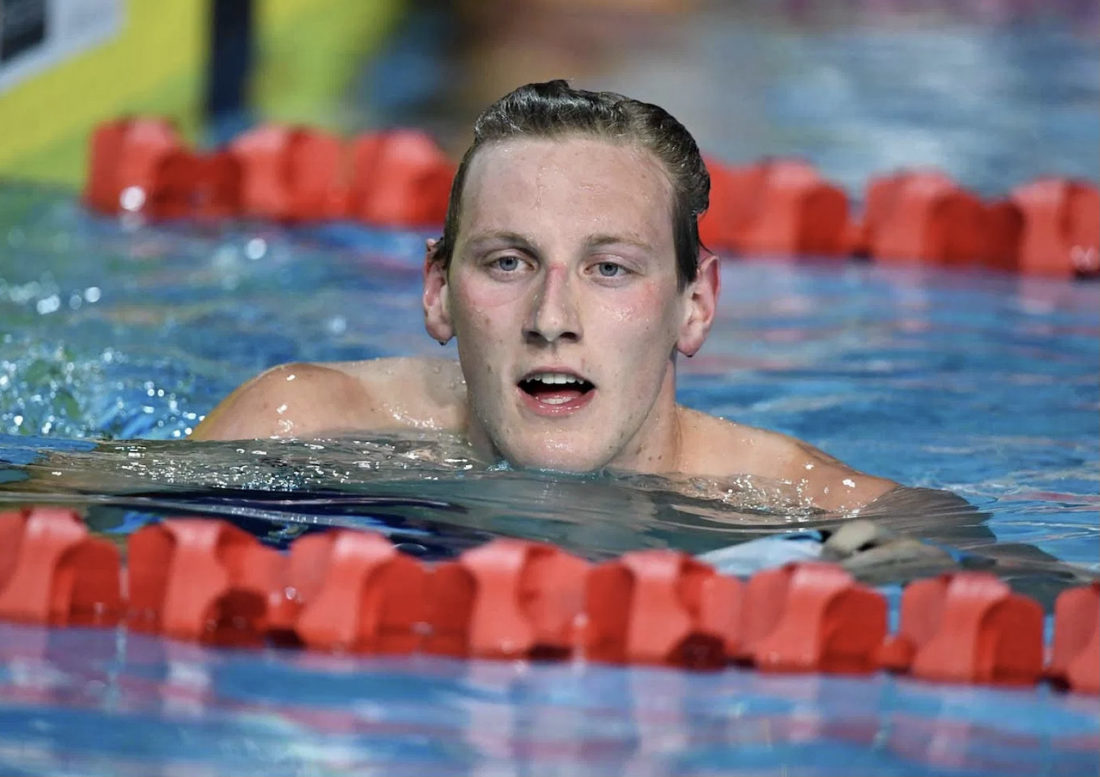 Horton summed up the his and Paltrinieri's feelings when he said:
"It's going o be a bit of fun, driving down to Lorne tonight to get ready for the Pier To Pub tomorrow, it will be good to see how Greg handles it and I just wanted to show him a bit of Australia and show him how we do ocean swimming down here as well."

Mack Horton – photo – by Deli Carr, courtesy of Swimming Australia
Well, they didn't win – but Paltrinieri's passion for open water had been well and truly rekindled, his learning curve well and truly on the "steep" setting to the place where we find him today in Budapest.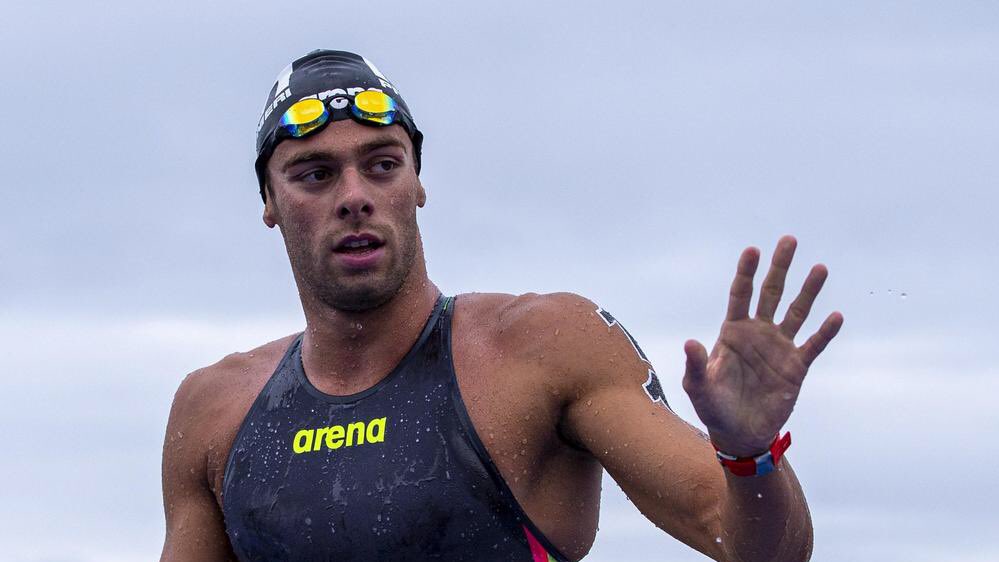 One of the obvious things that has set Gregorio Paltrinieri apart from the others in the club of fast distance freestylers is a happy marriage of a surf-like technique and a most helpful angle of buoyancy. Where in many there is a flicker of a 'dead zone' in the window between pull and recovery phase, a moment in which you can almost feel the bump, tiny as it may be, Paltrinieri appears to suffer no such thing. His flow is constant, his hips appearing to surf the surface, or wave, as he puts it.
Speaking to the Corriere della Serra's Alessandro Pasini, Paltrinieri once said:
"I create a wave when I swim… that does not fall in the middle; it feels just right on the skin. Its like flying with two wings on the water. It's beautiful."
Marathon Mission
In a late 2016 interview with this author, Paltrinieri cast his mind out to sea when asked what he had thought Rio 2016 and the Olympic Games would be all about before rising to his blocks to race:
"I said to myself 'it could be a bad swim, I won't make it' but I'm a human wave. I've never listened to those [negative] voices… I create waves to surf on. I learned that at sea with my dad and I love to be out there with the fish. I would love to compete in open waters."
His first post-Rio/pre-Windsor world s/c test came up on November 1 at Genoa's Nico Sappio meet back in 2016. He took on Olympic double bronze medallist (400, 1500) and then training partner Gabriele Detti over 400m (there was no 1500m at the event). The two received a grand reception at the meet. How had it felt? Paltrinieri told me: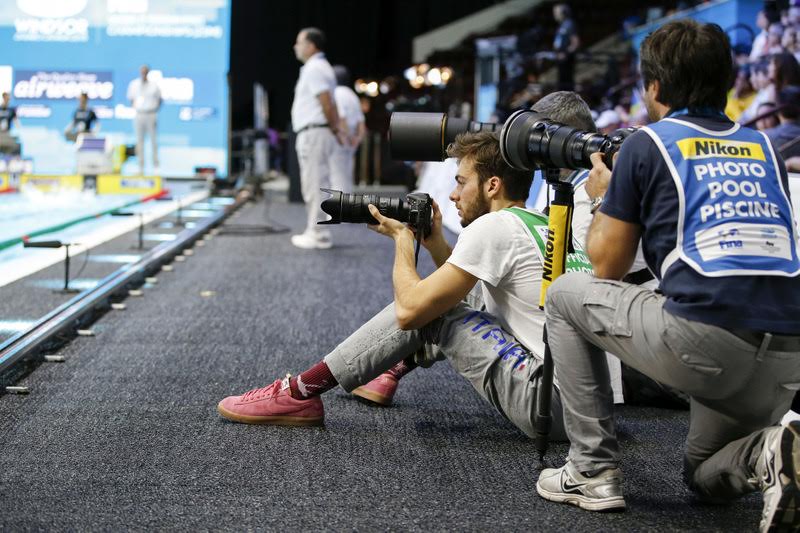 "Amazing. I didn't expect so much. I know people in swimming watch this but I think most people are watching swimming once every four years at the Olympics. They are not watching the European Championships, not even the world champiopnships like they watch the Olympics. Everyone gets crazy for swimming once every four years for the Olympics and that's great."
He adds: "Now everyone asks me, like sponsors, to be with them, to join them for an event. That's cool. This is the part of the year I can do this. In a while I'll be starting back in training and focussing on my performances and I won't be doing the other things but September/October, it's ok."
Especially when the assignments include juror duty for Miss Italy. Then girlfriend Letizia must have her eye on him, an Italian paper asked him of late. "She has given consent. She is glad of my success," came the reply.
The follow up question suggested that there were risks in being 'neo-famous'. Not for Paltrinieri, says the swimmer, noting that he will train on and limit his appearance to the odd TV appearance and "things that are quick and painless".
With a nod to that, Paltrinieri tells me he is keener to work on longer-term ambitions and passions beyond the pool. He notes: "Right now I'm studying the science of politics just because I like that subject more than others and I don't want to think about swimming the whole day. I don't want to be a politician in the future but its something I like to study."
What he would like to do in the future is architecture and design.
"When I was a child my favourite thing to do was architecture. It's not possible to study for that right now but design is my true passion, the arts, architecture. I want to do something in that area later on."
Ever since, and a fifth not a fourth year on, all ducts still lead to Tokyo and the defence of the crown he claimed on the last day of racing in the career of Michael Phelps in Rio. Paltrinieri's architecture will be aquatic for a while longer yet, his ambition to let no-one past him over 1500m to the end of his racing days.
That has not been possible, Florian Wellbrock among those standing in the way. Cue phenomenal clash in pool and open water in Tokyo in late July and early August.