Gregorio Paltrinieri Heads For Pool Party A Triple Champion After Italian Team Gold At Lupa Lake; Tom Daley & Matty Lee Take 1st Gold For GBR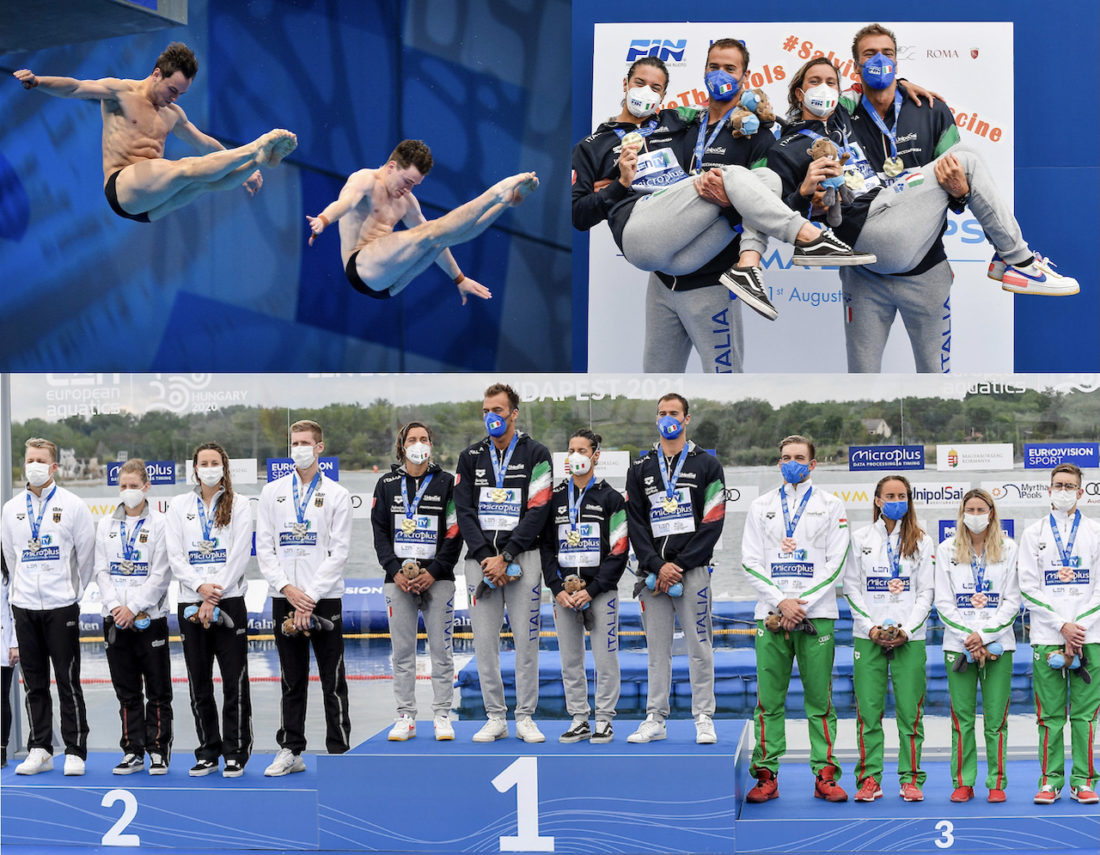 Gregorio Paltrinieri, the Olympic 1500m champion, will head to the pool for seven days of racing at the European Championships in Budapest already a triple gold medallist after adding open water 5km team gold to his tally today and Tom Daley and Matty Lee opened Great Britain's gold count at the 2021 Championships with victory in the 10m platform synchro on day 6.
Paltrinieri made it three golds in open water (after wins in the 5km and the 10km at Lupa Beach) as the man who delivered victory for Italy in the team event. After Rachele Bruni and Giulia Gabbrielleschi handed over in second place at the end of their 1250m off racing each, Paltrinieri's roaring 12mins 53 swim on the third leg of a mixed quartet granted the Italians an unassailable 14sec lead.
A fine comfort zone for Domenico Acarenza, who held on for gold by a comfortable margin after the closing 1250m lap even though World 1500m champion Florian Wellbrock clawed back 11.4sec to deliver silver for Germany, the bronze to Hungary, France, which had gone into the last leg off battle in second place confined to a frustrating fourth in the building battle that ensued.
France had a 7sec advantage over Germany and Hungary after three swimmers as Paltrinieri climbed out of the water ahead of watching three World champions battle for the minor spoils behind Acarenza.
Marc Antoine Olivier, Florian Wellbrock and Kristof Rasovszky staged a thrilling battle. Wellbrock and Rasovszky caught Olivier, the 5km and 10km silver medallist not long before the sprint home. The stroke-for-stroke fight between all three left the challengers 9 seconds behind Acerenza by the close, the finish so close that the referee had to check the video a couple of times before confirming that Wellbrock had stopped the clock .5sec ahead of Rasovszky, with Olivier just 0.2sec away from the podium.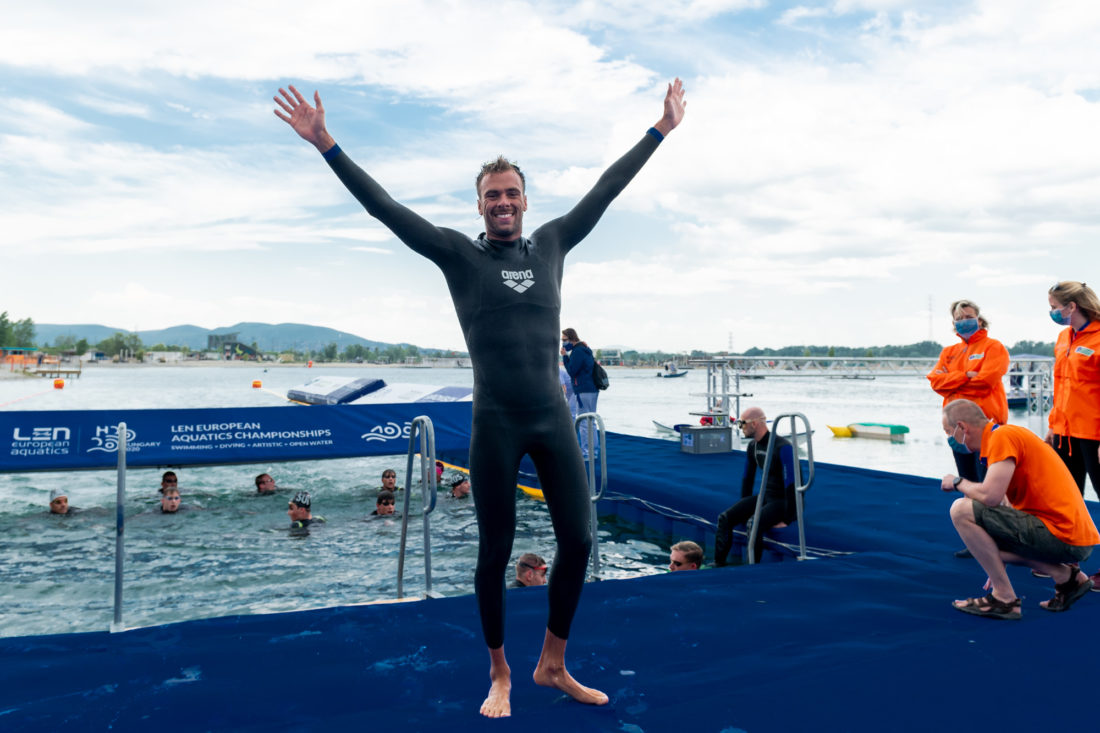 Paltrinieri said: 
"Three out of three – it's like a dream coming true. Never thought of anything similar what happened in these past days. I just came here to have a couple of good swims and do my best – to help the team winning this gold is really amazing."

Gregorio Paltrinieri – photo courtesy of DeepBlue Media/Giorgio Scala, for LEN Aquatics
Florian Wellbrock noted the good race but a goal fallen shy of:  "I wouldn't say the plan worked as it was to catch the Italians which we could not achieve. Still, it was a good race and we should be happy with this silver medal."
Kristof Rasovszky was delighted and noted the growth to come in the kid on the team: "This is the best thing one can imagine, winning a medal in team. Everyone gave its absolute best, the only thing we are missing is the fans, just image we achieve this with thousands of people around. Anyway, we are super happy and I see a fantastic potential in this team since the little kid (David Betlehem) will be 10cm higher, gain 10 more kilos too and then he will be our deadliest weapon at the World Championships next year."
Now Paltrinieri and Wellbrock head to the pool for clashed over 800m and 1500m next week.
The 5km Team Result
Place, Splits
Team
Time
GAP
1
ITALY
BRUNI Rachele (04 NOV 1990)
GABBRIELLESCHI Giulia (24 JUL 1996)
PALTRINIERI Gregorio (05 SEP 1994)
ACERENZA Domenico (19 JAN 1995)
54:09.0
1250m
13:48.7 (2)2500m
28:05.9 (2)
14:17.23750m
40:59.0 (1)
12:53.1
2
GERMANY
BOY Lea (24 JAN 2000)
BECK Leonie (27 MAY 1997)
MUFFELS Rob (08 DEC 1994)
WELLBROCK Florian (19 AUG 1997)
54:18.0
9.0
1250m
13:50.9 (3)2500m
28:06.2 (3)
14:15.33750m
41:19.4 (3)
13:13.2
3
HUNGARY
ROHACS Reka (28 MAY 2000)
OLASZ Anna (19 SEP 1993)
BETLEHEM David (04 SEP 2003)
RASOVSZKY Kristof (27 MAR 1997)
54:18.5
9.5
1250m
13:54.6 (6)2500m
28:09.5 (6)
14:14.93750m
41:19.6 (4)
13:10.1
4
FRANCE
CASSIGNOL Oceane (26 MAY 2000)
GRANGEON Lara (21 SEP 1991)
FONTAINE Logan (25 MAR 1999)
OLIVIER Marc-Antoine (18 JUN 1996)
54:18.7
9.7
1250m
13:48.7 (1)2500m
28:07.5 (4)
14:18.83750m
41:13.2 (2)
13:05.7
Gold For Tom Daley & Matty Lee
At the past two Championships, British divers claimed a total of 21 medals, including three golds atop 11 medals at London 2016 and 4 golds atop 10 podiums at Glasgow 2018. In Budapest the had to wait until the penultimate day of diving to claim a crown, victory for Tom Daley and Matthew Lee in a majestic duel with Russia's Victor Minibaev and Aleksandar Bondar worth the wait.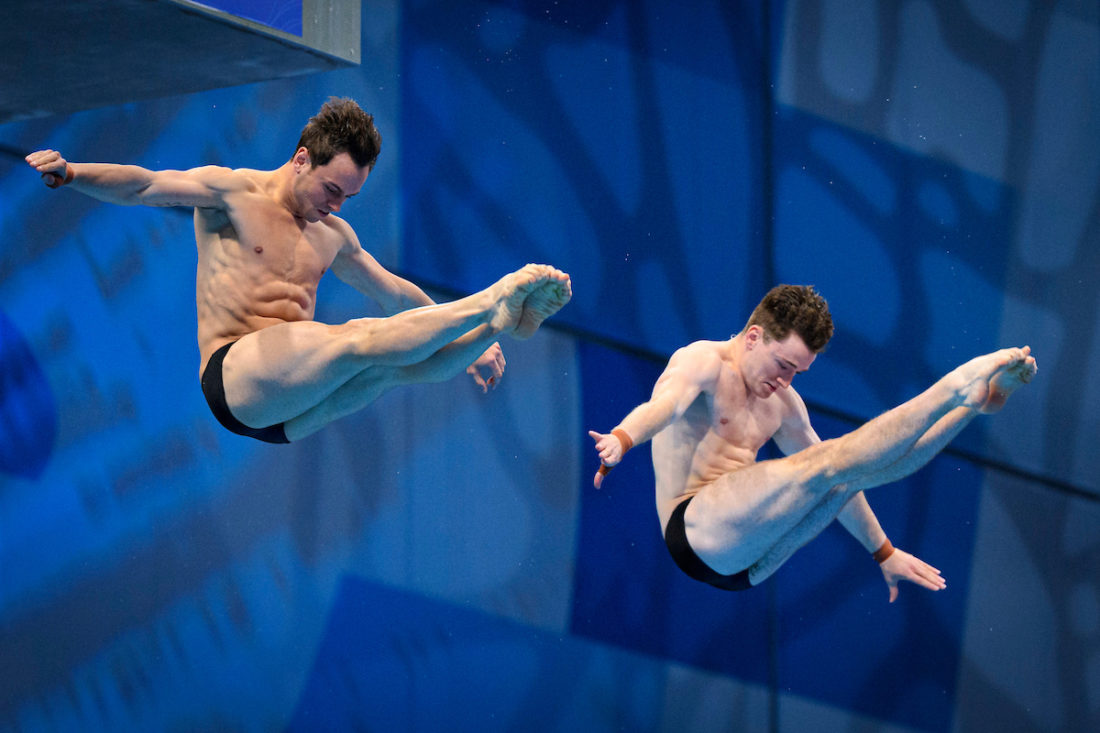 In an almost flawless display from start to finish at the Duna Arena, the British pair won their second gold in as many weeks, after World Cup success in Japan exactly two weeks ago but the win today delivered with a bonus on the was to a shot at medals at the Tokyo Olympic Games in the summer. Their points tally of 477.57 was a personal best.
It also marked the first time the decorated Daley had claimed European gold in the platform synchro event. The Daley senior international vault was opened 13 years ago when he became the youngest male European diving champion, off the highborn, in history, aged 13.
British Swimming noted: Diving second of eight pairings, Daley and Lee executed two strong required dives, before moving through the gears as they hit their optionals. Leading at the halfway mark, the Dive London duo, coached by Jane Figueiredo, pressed on the accelerator, a truly stunning Back 3 ½ Somersaults Pike (207B) rewarded with 97.20 points, extending their lead.
That being said the Russian pair, Aleksandr Bondar and Viktor Minibaev, who took World Championship silver in 2019 when Daley and Lee won bronze, weren't going to go down without a fight, but the Britons turned the screw once more with a 92.82 point Reverse 3 ½ Somersaults Tuck (307C) meaning a strong final dive would secure the title. Showing both poise and panache, Tom and Matty delivered, another dive that scored in excess of 90 points clinching gold.
Buoyed by their efforts, Matty Lee said:

"I feel really, really good. The whole lockdown situation made me really miss competing and I feel like I learnt why I love doing the sport. I'm now trying to embrace it all I can, enjoy it and just working really hard, and it's all paying off. I'm just really happy with where I'm at. It means so much to win this title and I'm very, very happy with it. There's room for improvement still, even with a PB, but I'm just happy with how the World Cup went and now the European Championships."

Tom Daley added:

"I'm absolutely delighted and that's the first time I've won a synchro gold medal at the European Championships. I think we were five points higher than our previous personal best at the London World Series, so I'm just really happy. Our last dive wasn't the best we could have done it, so there's still room for improvement and we've got eight or nine weeks until we compete at the Olympics."

Image: Tom Daley, left, and Matty Lee
Tom Daley competes tomorrow in the individual event, alongside Noah Williams in the 10m Platform, which brings the diving action in Budapest to a close.
The Russians took silver, while bronze went to Germans Patrick Hausding and Timo Barthel. Germany also celebrated gold when Tina Punzel took the women's 3m title. The first two rounds saw solid dives from the favourites, then in the third Punzel and Italy's Chiara Pellacani both had an erroneous attempt while Russia's Vitalia Koroleva came up with the best effort of the session with 75 points, which rocketed her to first place. She then suffered a huge miss on her next dive (just 40 points) and that even cost her a medal, Punzel and Pellacani sailing past and Emma Gullstrand also managing to get ahead of the Russian for bronze and the first medal for Sweden at Budapest 2021.
In the last event Eoin the synchronised swimming program, Ukraine edged closer to Russia on the gold medal count (6-4) when they won the Highlights Routine. The event attracted a low entry but of those there, Ukraine was judged best, Belarus second and the hosts Hungary third for its first medal in synchro. Ukraine claimed the Team Trophy and Martina Fiedina emerged the most decorated athlete of the championships so far, with four gold and four silver medals.