Great Britain Switches It Round For Dawson, Peaty, Guy & Hopkin To Go For Gold In 3:38.82 Euro Record 0.41 Shy Of Global Standard In New Olympic Event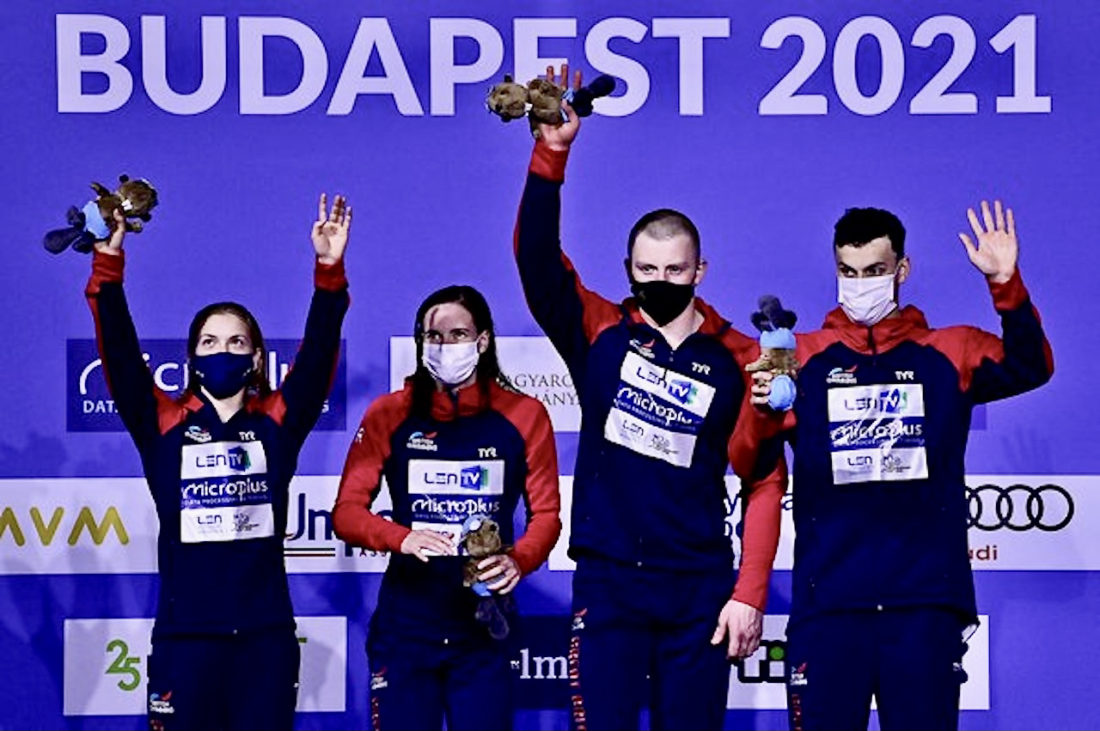 Great Britain had opted for two men, two women in heats and on previous occasions but for day 4 finals this evening it switched things round for dominance as Kathleen Dawson, Adam Peaty, James Guy and Anna Hopkin delivered gold in a European record of 3:38.82.
That left them just shy of the 3:38.41 world record established last October by a Chinese quartet at a time when all major nations seek out the best combinations for a relay event and "mixed" concept of two men, two women, that will make its Olympic debut in Tokyo this July should the Games go ahead.
Adrift Dawson, Peaty, Guy and Hopkin, the Netherlands took silver in 3:41.28, Italy the bronze in 3:42.30, which locked Russia out in 3:43.60. (Apologies for lack of names, athletes, but the microplus live timing operated for LEN, the European federation, failed all day from the women's 1500m heats through to the end of finals this evening and meant that journalists working outside the bubble could not collect splits and other information in the live environment)

The Brit team coaches played as smart a role as the swimmers played a blinder in the water: a 58.43 from Dawson led off on backstroke after she had earlier swum 58.44 in semis to lead the way into the solo 100m final due tomorrow, then came a 57.13 from Peaty on breaststroke, a 50.61 from Guy on 'fly before Hopkin hopped, skipped and jumped to victory with a golden 52.65 split.
For Guy it was relay medal number four: he has two golds, this one and the mixed 4x200m free, as well as silvers in the men's 4×100 and 4x200m free.
Hopkin was in the relay in a session that saw Freya Anderson take bronze in the 200m freestyle. Anderson is a 52-sec-split sprinter, too, adding up to options in the Britain camp that will be hugely valuable come the moment at the Games when every last reserve will contribute to the overall result.
Be it Hopkin and Anderson or Hopkin or Anderson for the mixed medley relay this summer, they are both on the cusp of pace that makes any deficit they may have on the fastest women 100m sprinters count for less in a world in which Peaty has a second on the rest of the best among breaststroke aces. Anderson's focus was on her solo medal this day. She said: "I knew it was going to be a really tight race and the four of us were head-to-head the whole way. It's nice to win my first long-course individual medal and it's a good confidence boost for the summer."
A summer of horizons much wider than Europe. Yan Zibei, Xu Jiayu, Zhang Yufei and Yang Junxuan are among favourites for the podium in the inaugural 4x100m medley relay at the Tokyo Olympics this July, courtesy of the 3:38.41.
Hopkin – 'this relay has huge shot at Olympic gold'
Afterward battle, Hopkin said, with a nod to the team:
"These guys got me a pretty good lead, I really didn't want to lose that! I definitely felt a little pressure, but I tried not to overthink it – I didn't want to look at where anyone else in the race was and just focused on what I was doing. I was really happy with that. I'm building through the week so I was just glad to get a shot at it tonight. This relay, I know we've got a huge shot at Olympic gold, so it means a lot to be a part of it here. I think we can all get quicker going into the Olympics, so it's really exciting going forward."

Anna Hopkin – photo by Georgie Kerr, courtesy of British Swimming
Peaty, his second gold of the week in the vault after 100m solo victory, the 50m breaststroke and the men's 4x100m medley to come, added: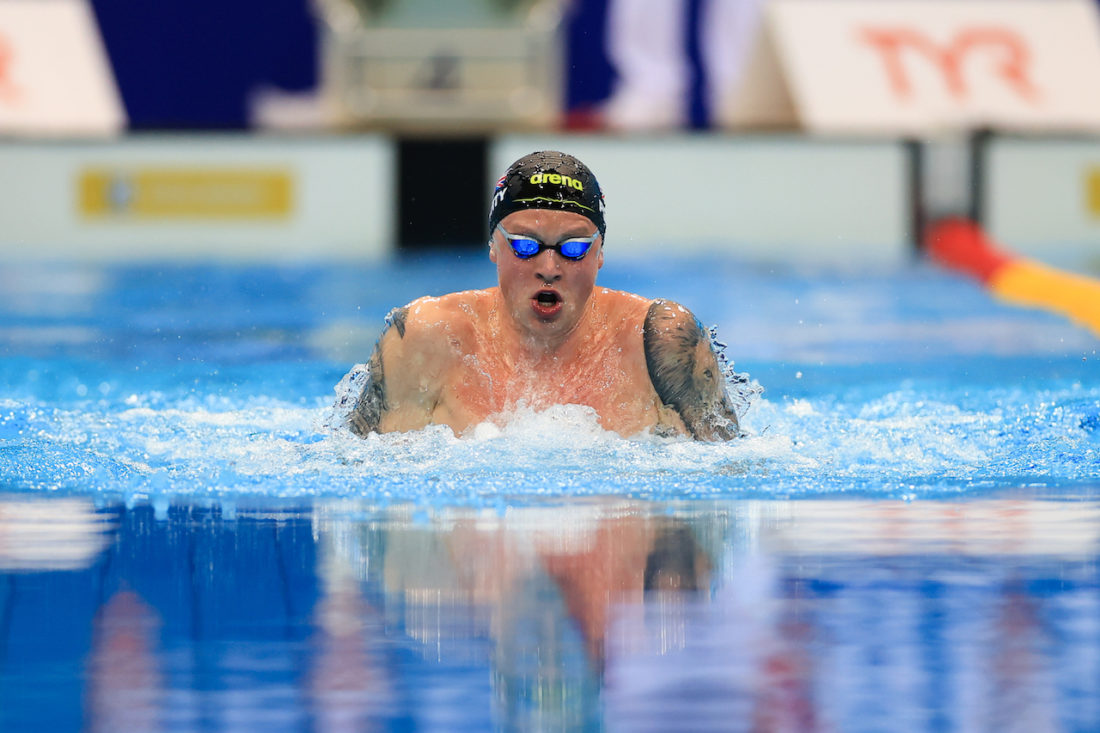 "Hopefully we can all perform at the Olympics as we should, get some good taper, some good individual performances and then that relay takes care of itself. This has made me more excited heading to the Olympics now, this event, it's the first time in a long time that we've felt we can break that world record. It's an exciting time to be a part of this relay, and as we mature and develop as a team, it's only going to go up from here."

Adam Peaty – photo by Georgie Kerr, courtesy of British Swimming
Women's 200m freestyle – Barbara Seemanova Spoils The Pellegrini Party With Victory By 0.02
She almost did not again: Federica Pellegrini, the undisputed queen of 200m freestyle international medal hauls, fell just 0.02sec shy of what would have been a fifth European title as she chased down Czech challenger and now champion Barbara Seemanova, home for gold in 1:56.27.
In the lunge for the wall, Pellegrini, in third or fourth for much of the race, on 1:56.29, and Britain's Freya Anderson, on 1:56.42, got past the pace setter for the bulk off battle, defending champion Charlotte Bonnet, on 1:56.55.
The times will not be competitive in the hunt for medals at the Tokyo Games this July but Pellegrini has shown time and again how it almost always comes down to racing, just about whatever the pace is among the biggest contenders.
At the last turn, the race had looked set to turn out differently, with Bonnet on 1:25.91, Seemanova flipping just 0.15sec away but Pellegrini 0.66sec down on the lead pace and Anderson 0.72sec. Under pressure, Bonnet had no response when a slight spearhead turned into a wall of pressure.
In victory, Seemanova became the first Czech swimmer to claim the European 200m freestyle crown.
Men's 200m medley – Spanish Gold For Gonzalez 0.19 Up On Defending Champ Desplanches
If there had been a crowd of the kind deservedly celebrated for its enthusiasm when the Duna Arena held the 2017 World Championships (snap Euros 2006 and 2010 on Margaret Island), they would have been on their feet at the half-way mark as Laszlo Cseh, 36 and racing at a record 10th European Championship, flipped over first in 54.08 with a 0.33sec advantage.
From there, it got stickier but Cseh still managed to hold on for fourth place in 1:58.04. The gold went, for the first time in the history of the event, to Spain, courtesy of Hugo Gonzalez and a 1:56.76.
That just got the better of defending champion and World silver medallist Jeremy Desplanches, on 1:56.95, the bronze to Alberto Razzetti in 1:57.25. On 1;55.9 at British Olympic trials last month, Duncan Scott was off his game on 1:58.18 in sixth, his result among several this evening that are of the moment and may be entirely irrelevant come the crunch in Tokyo.
Scott, who had raced into the 200m freestyle final in 1:46 earlier in the session, emerged from the medley to say: "I'm quite disappointed to be honest. I know how I'm feeling but I don't think that's a true reflection of the shape I'm at the moment. To go slower than the semi is really disappointing. I felt great last night; I had a really tricky double last night as well between the 200IM and the relay, but I was able to control the semi last night really well and felt quite comfortable. So I'm disappointed with that.
"There's not many meets in the world where the 200IM and the 200 Free cross over, so I'm not sure I'll have to do that again. That's pretty tough. I know my Olympic schedule and I'm pretty positive with that. But a meet like this, it's good to come and really test myself."
It was the second medal of the session for Gonzalez, all that college racing in the U.S. paying off in such company. The 100m backstroke gold went to Robert Glinta 52.88. ahead of Hugo Gonzalez, in 52.90, the bronze to Apostolos Christou in 52.97 (again, apologies to athletes and coaches for no more on that story – it was impossible to work in the live environment when the microplus timing system failed online).
Gonzalez put in his two big swims within an hour, prompting Spain's head of performance Séan Kelly to tweet a response:
P
L
Swimmer
Nation
R
Time
Gap
1
2
GONZALEZ DE OLIVEIRA H.
ESP
0.69
1:56.76
2
3
DESPLANCHES Jeremy
SUI
0.64
1:56.95
0.19
3
5
RAZZETTI Alberto
ITA
0.64
1:57.25
0.49
4
1
CSEH Laszlo
HUN
0.72
1:58.04
1.28
5
4
KOS Hubert
HUN
0.57
1:58.12
1.36
6
6
SCOTT Duncan W
GBR
0.63
1:58.18
1.42
7
8
VAZAIOS Andreas
GRE
0.63
1:58.35
1.59
8
7
LITCHFIELD Max
GBR
0.61
1:58.52
1.76
Men's 200m breaststroke – Chupkov Last-Length Thump Strokes Again: 2:06.99 Gold, Kamminga Closer Than He Was To Peaty
Olympic champion Anton Chupkov has an entirely un-secret weapon in his armoury: a last length turn of speed hard to find a match for in most other events and unmatched among his 200m opponents.
Sixth at the 100m mark one 1:02.31, 1.10sec back from the lead pace, the Russian halved his disadvantage for third place on 1:34.74, now just 0.61sec from race pace-setter for the bulk of battle Matti Mattsson, of Finland, momentum in place, sights set on the prize he'd come for.
He got it in 2:06.99, a time that he and the man just behind him for silver, Arno Kamminga, the Dutchman who took silver behind Adam Peaty over 100m, had bettered on previous occasions. Racing trumps all: Kamminga was closer to Chupkov today that he was to Peaty in the 100m, at 2:07.35.
Eric Persson, never out of the top three throughout, took bronze in 2:07.66, Mattsson locked out in 2:08.48, with 2016 champion Ross Murdoch fifth on 2:08.58 as the last man inside 2:09.
P
L
Swimmer
Nation
R
Time
Gap
1
5
CHUPKOV Anton
RUS
0.60
2:06.99
2
6
KAMMINGA Arno
NED
0.62
2:07.35
0.36
3
4
PERSSON Erik
SWE
0.66
2:07.66
0.67
4
3
MATTSSON Matti
FIN
0.66
2:08.48
1.49
5
2
MURDOCH Ross
GBR
0.78
2:08.58
1.59
6
7
PRIGODA Kirill
RUS
0.60
2:09.23
2.24
7
8
CORBEAU Caspar
NED
0.68
2:09.73
2.74
8
1
WILBY James
GBR
0.68
2:10.34
3.35
In other action, Boglarka Kapas, of Hungary, retained the 200m butterfly title in 2:06.50, Katinka Hosszu delivering a 1-2 for the Hungarian hosts in 2:08.14, the bronze to Russian Svetlana Chimrova in 2:08.55. (that was the first event of the evening and a lack of instant splits and other information that can be gleaned from a full result sheet but not from a TV screen nor a live feed disappearing every lap or so is essential to the journalistic job – a pdf at the end of sessions doesn't come close for a major championship).
In semi-finals, Britain and Loughborough teammates Molly Renshaw and Abbie Wood raced stroke-for-stroke to respective times of 2:21.55 and 2:21.86 in the first line-up of the 200m breaststroke before Switzerland's Lisa Mamie came home first in the second semi in 2:23.15.
Martin Malyutin, of Russia, led the way to the final of the 200m freestyle in 1:45.60 ahead of Duncan Scott, 1:46.15 and Britain teammate Tom Dean, 1:46.17, Lithuanian Danas Rapsys on 1:46.19 in the first semi.