Great Britain Mixed Medley 3:37.58 World Record Victory Makes Pioneers Of Dawson, Peaty, Guy, Hopkin & Anderson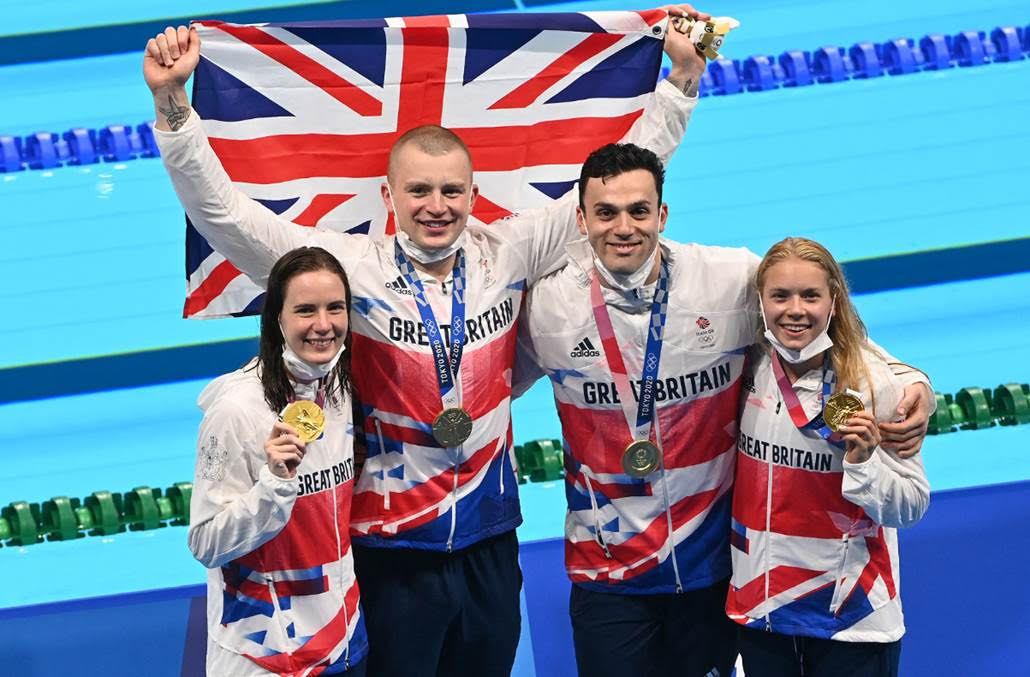 Great Britain aces Kathleen Dawson, Adam Peaty, James Guy and Anna Hopkin crushed their rivals in the inaugural 4x100m mixed medley relay with a 3:57.58 World and Olympic Record that made the quartet and their teammate Freya Anderson in heats pioneers of the Tokyo pool and for all-time.
China's Xu Jiayu, Yan Zibei, Zhang Yufei and Yang Junxuan, the previous record holders with a 3:38.41 from Qingdao nationals last year, took silver in 3:38.86, the bronze going to Australians Kaylee McKeown, Zac Stubblety-Cook, Matt Temple and Emma McKeon in 3:38.95, locking Italy out by 0.33sec, the USA fifth in 3:40.58, that only the second time in history that American men (albeit with women this time) have not made the relay medals. – Result In Full
The race, a thriller that has added a great new dimension to the sport, produced a wave of firsts and records and additions to pantheons, including Peaty celebrating his 14th world record; Britain entering the last day of racing staring at its best haul at a Games in the pool ever, just 21 years after Sydney 2000 produced no medals at all for swimmers for the first time since the post-War London 1948 Olympics.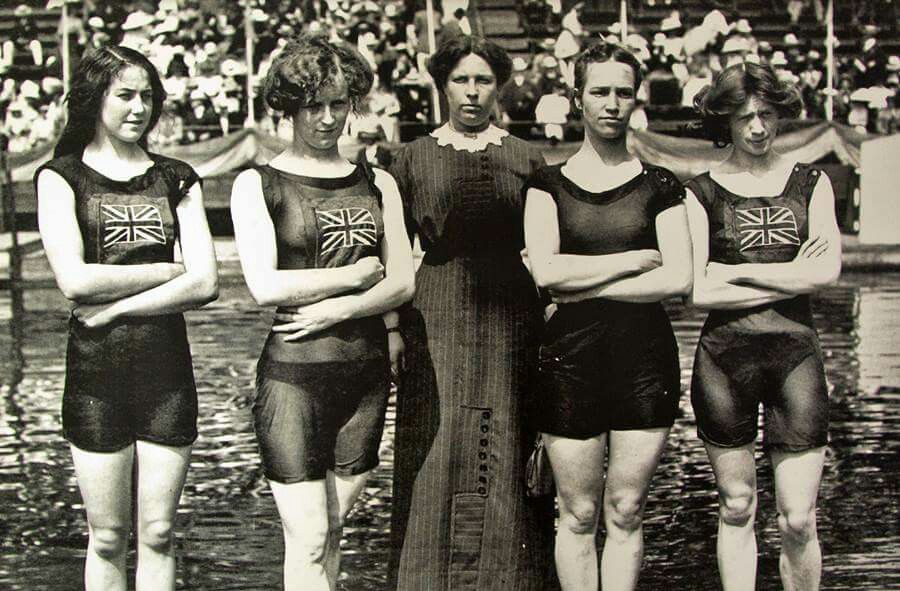 The last time British women took gold in an Olympic relay, the word 'inaugural' was in the mix, too: it was 1912 and Olympic bosses had assented to allowing the 'fairer sex' into the sporting arena six years before (some) women were even granted the right to vote in Britain, as a result of the suffrage of the Suffragettes.
Much water under the bridge – and it was flowing fast today in Tokyo. To be a part of a relay that takes Olympic gold in World-record time is the kind of stuff that ticks a box in what Adam Peaty has dubbed Project Immortal (achievements that live on long after the protagonists are gone).
Fastest into the final after heats that featured Anderson, Dawson, Peaty, Guy and Hopkin (in for Anderson) delivered the gold that makes Tokyo 2020 in 2021 the greatest ever haul for a Britain swimming team at a Games: the four golds, two silvers and one bronze medal match he's precisely the London 1908 tally, with a day and two medal shots to go. The modern-era record includes some of those excelling in Tokyo: at Rio 2016, there was one gold, Peaty's 100m breaststroke, and five silvers.
Dawson, coached by Steven Tigg and Brad Hay at the University of Stirling, got the party started with a 58.80, adrift a 58.1 from 100 and 200m backstroke champion in Tokyo, Australian Kaylee McKeown but sixth overall because four teams had fielded men on backstroke, including the favoured Americans, with Ryan Murphy, the 2016 double Olympic backstroke champion who claimed two silvers this time round, at the helm of pace.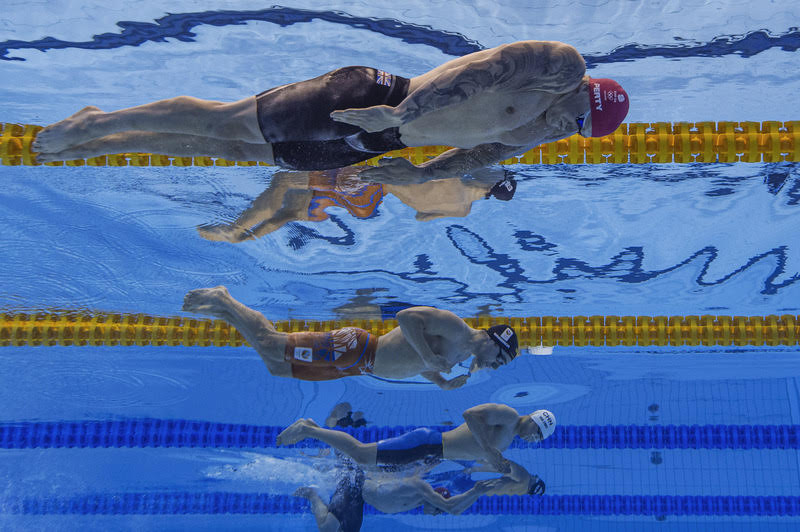 Peaty's U.S. quarry was on her way 6.57sec before the big beast of British Swimming left his blocks. Half of the deficit to Kaylene Jacoby, the newly crowned 17-year-old 100m breaststroke Olympic champion, was gone down the first length on breaststroke. On this day, the 8th anniversary of Peaty going inside the minute for the first time in his career, he blasted past the American with 25m to go on the way to a towering 56.78sec split, the second fastest eve sandwiched between the 56.59 he swam at the 2016 Olympics to help Britain claim silver in the men's 4x100m medley relay and the 56.91 he clocked in the same race for silver at the 2017 World Championships.
The two men who shared the 100m podium with Peaty, Dutchman Arno Kamminga and Italian Nicolo Martinenghi, were a second slower than the Brit, but more significant Wass the 1.33sec Peaty gained on China's Yan Zibei, part of a quartet that had set the World record at 3:38.41 at nationals in Qingdao last October.
The impact of 26-year-old six-times World breaststroke champion Peaty was at once seen and unseen. That 1.33sec catch-up on Yan Zibei meant that Britain, in lane 4, trailed China, in 3, by 5sec going into 'fly, with China two men down and two women to come.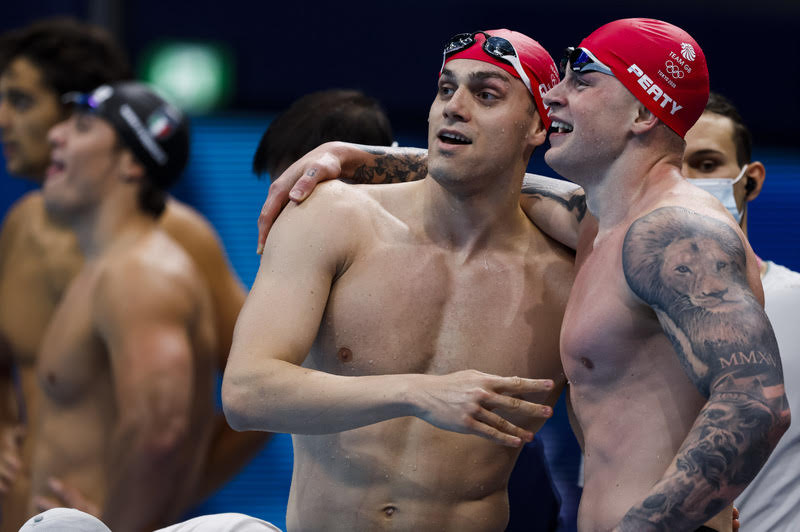 In went Guy, standing behind his blocks as if butter wouldn't melt even as he was about to chase down women flying way ahead of him. Guy needed no greater motivation than that which had already driven him to give his best in aid of Britain making three Olympic, five World and seven European podiums (11 of that total of 15 golden) before he made it four Olympic and 16 in all.
Even so, he had two hares running beyond his own will to win:
Guy had Zhang Yufei, China's 100m silver medallist and 200m champion on butterfly, in his sights and his task was crystal clear: get past her and hand over to Hopkin before Zhang could send Yang Junxuan off her blocks.
Guy had watched the Caeleb Dressel vs Kristof Milak duel earlier in the session knowing that the bronze medal earned by Noe Ponti, of Switzerland in 50.7 may well have had his named on it had he not opted out of the solo challenge in order to put his full focus on the two medley relays.
Asked about his 'sacrifice' after the race, Guy, coached by Dave McNulty at TeamBath, said: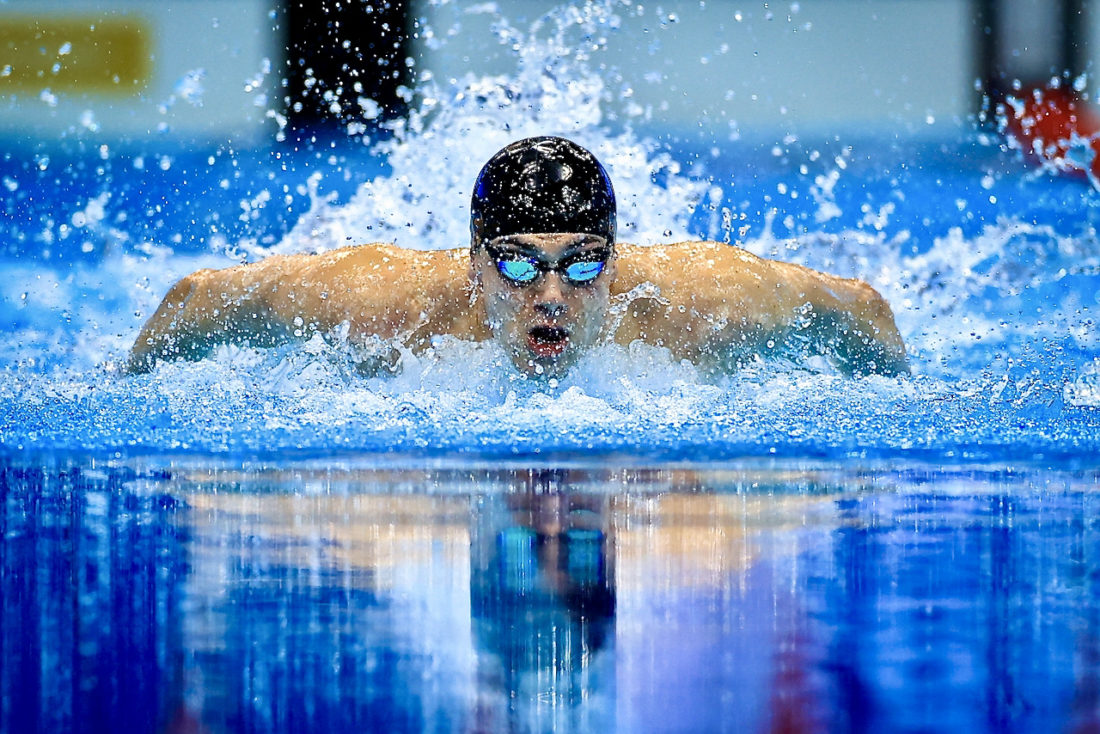 "I think I would have been fighting for medals, 100 per cent, because I'm in great shape here. It was a hard call to make. I had a chat with my coach and he said 'listen, you could do something really important and cool here'. He asked 'Can you do your best time after swimming the 100m butterfly? That's the risk you're taking.'

It's also about taking down the Americans tomorrow (men's 4x100m medley), because that's the main race at the end of the week. And it is what it is. It's done now. We live in the present but next year, the way I'm swimming right now, I'm not going to go anywhere. We have the Worlds, Europeans and Commonwealth Games coming up, and we will go for that (100 'fly) and hopefully I'll be fighting for medals again in the individuals."

James Guy – by Georgie Kerr, courtesy of British Swimming
Guy picked off all the girls ahead of him and with about 15m to go had caught Elena Di Liddo, of Italy, and then … Zhang. Game on.
Guy's split: 50.00. Britain had moved from fourth to first and the pattern of the race broke cover as Hopkin leapt, streamlined, broke into stroke, Thundercats for feet and rapid arm turnover churning and burning from go.
Great Britain Pocket Rocket Vs

USA Mighty Missile
It was the Pocket Rocket Vs the Mighty Missile, AKA Caeleb Dressel (or "The Bullet", as Guy calls the American), the man saving the United States from almost certain defeat on gold count by Australia at these Games.
And so it was left to Hopkin, one of Mel Marshall's charges at the Loughborough National Centre, to deliver gold. Hopkin was 9sec ahead. Mission Impossible for Dressel but stranger things have happened when a swimmer sensing a Great White in the depths feels a wave of panic.
Hopkin did what she had trained to do: pure focus on her own job and lane. Boom! 52.00. Gold. Fireworks, hugs, more belief built in a Britain team brimming with it at these Games as they reaped what had been sewn over the past two decades. As Peaty put it: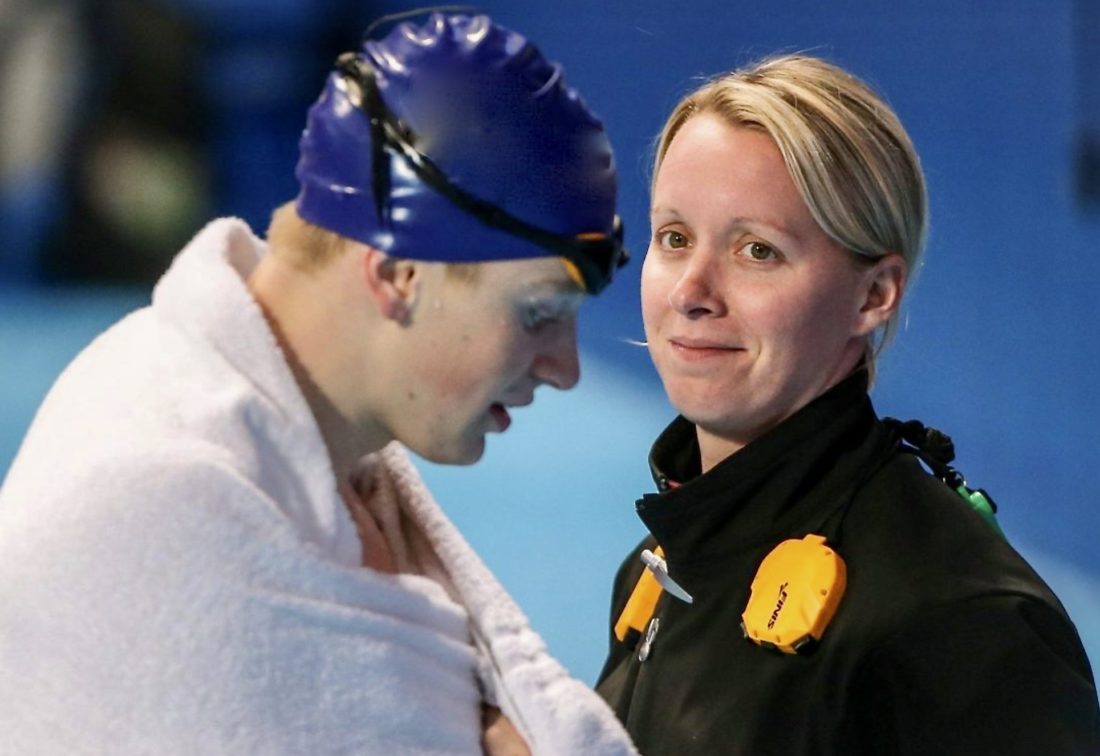 "One word has changed the whole team – that is belief. We have got champions who believe we can win, we've got champions who believe we can get world records. If you've got belief, you can build everything around that. We've showed that tonight, we're a second under the world record."

Adam Peaty – Photo: Mel Marshall with her charge Adam Peaty – courtesy of Mel Marshall
Asked about the 6ft 3 (191cm) "Great White or crocodile" chasing her down, Hopkin, 5ft 4 (162cm), said: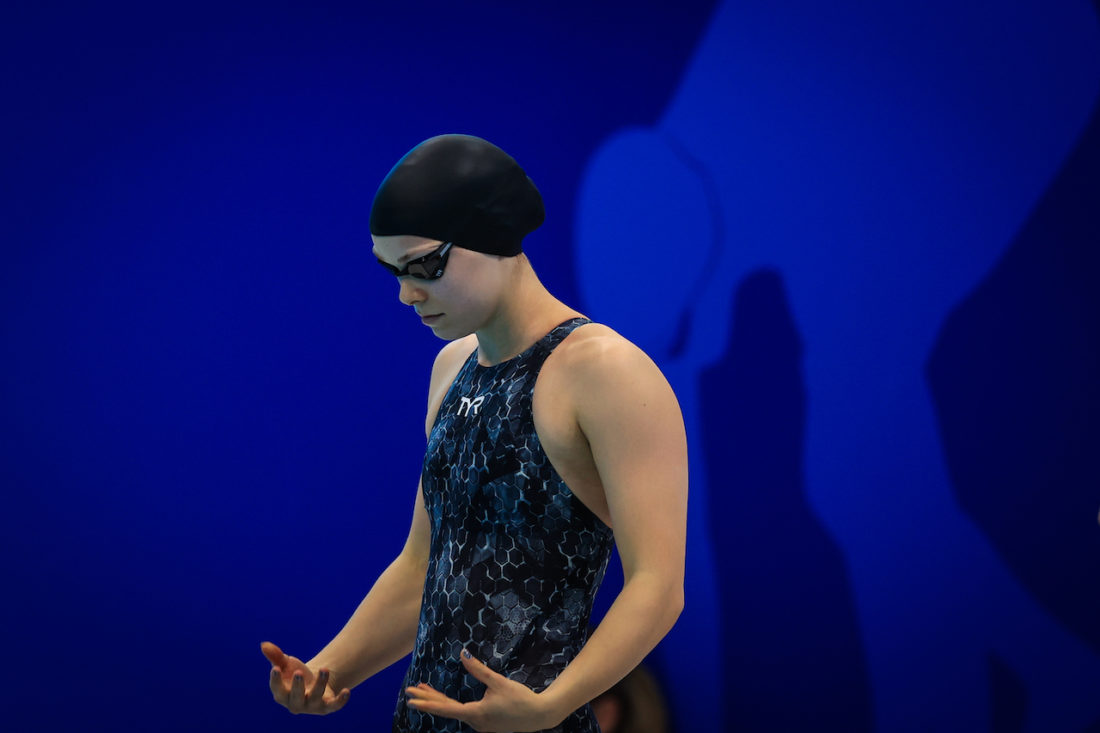 He is so fast. And to know that he was coming for me, it's a little bit intimidating. But I knew that the guys ahead of me would get me a good lead. And then it was just about me focusing on my own race and keeping my head down, not worrying about where he was. Because that would just distract me, and stay focused on my lane and bring it home for the guys.

Anna Hopkin – by Georgie Kerr, courtesy of British Swimming
Newly-established triple Olympic champion Peaty was buzzing, fizzing and crackling with energy after the race: "I feel great. Mel's trying to keep me as calm as she can, I get a bit carried away, especially when it's for the team! That just proves tomorrow's relay is going to be another good race – but right now, it's amazing to be a part of the team with these amazing women and Jimmy!
"My legs were shaking," Peaty added with a smile. "Jimmy knows that if I go out too fast, I'm not coming back. I think that was 0.7 seconds quicker than Worlds, so I knew I had to show my experience, not get carried away in chasing down the Americans – their breaststroker (Jacoby) did amazing … her goggles fell off."
Cue laughter – at the caricature of Peaty zooming past fast enough top knock Jacoby's goggles off her head, not the teenager who clocked a terrific 1:05. Her goggles had come off at the dive, in fact, and she would later say how weird it had felt to feel Peaty pass her at the speed he was travelling.
Had he felt it a tiny bit unfair for the youngster as he motored past, I ask? More laughter. He did, in fact, feel sorry for her when he noticed her goggle crisis at the end and thought she looked a little ruffled but Peaty added: "That's sport, I think she'll learn from that and be a force for the future, but right now, we are the champions, we're going to enjoy it and we'll hopefully be a force tomorrow."
Dawson, who recovered from her slip at the start to get to the turn wall first among women, paid tribute to the coaches guiding the Britain success: "We just wouldn't be here without them. They definitely got us to where we are right here."
She and Hopkin hoped that the TeamGB success in the pool in Tokyo and the link between their generation and the 1912 pioneers would serve as an incentive for girls to get into swimming, Hopkin hopeful that "there'll be a lot more success from the women at Paris", come the 2024 Games now just three years away.
No history file on swimming would be complete with the following footnote:
If the 1912 4x100m freestyle quartet of Belle Moore, Jennie Fletcher, Annie Speirs, Irene Steer merit mention, so too do other British women who, like many others around the world, were kept from gold and knocked off podiums by state-run doping programs, the GDR State Plan 14:25 the one that was caught from the shredders as witness to the Sporting Crime of the 21st Century. Pity the Britain medley quartet of Helen Jameson, Margaret Kelly, Ann Osgerby and June Croft, second behind the GDR.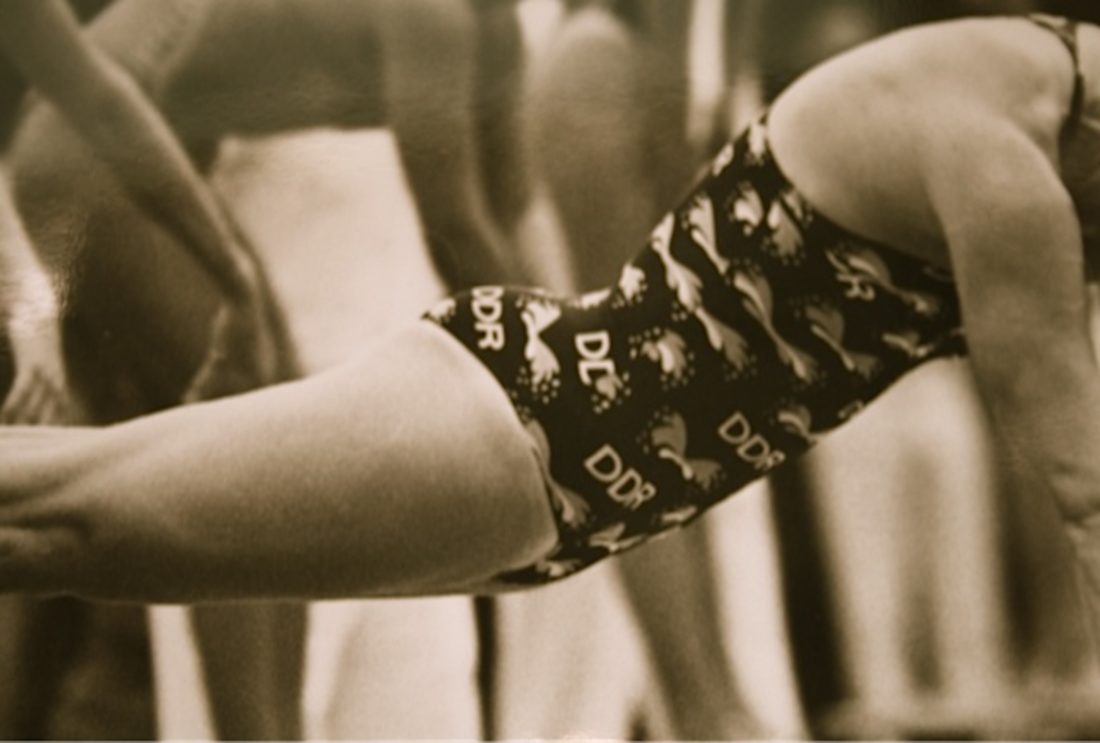 And consider the irony of Sharron Davies and her silver in the 400m medley being not only overshadowed by an androgenised teenage East German swimmer (and victim of abuse by largely male politicians and the doctors rolling out the plan) who was travelling at a pace two decades ahead of her time: Davies was part of the Britain team that raced under the neutral flag of the International Olympic Committee (IOC) at a time of boycott over the Soviet invasion of Afghanistan.
In Tokyo 41 years later, Davies on the deck working on poolside interviews and expertise for the BBC, Russian swimmers are racing under the same flag because their nation has been involved in a state-run doping cover-up and part off the penalty has been a whole-nation penalty for Russians not allowed to race as Russia nor hear their national anthem. Team Tchaikovsky get to listen to the glorious Piano Concerto No1.
The IOC has a program called "Take the Podium" these days but has never extended any such apology, conciliation process or recognition to the likes of the Brits in Moscow in 1980 and many others in similar positions despite the overwhelming evidence that the book of medals in Olympic waters 1976 to 1988 were won by swimmers being administered with doping.