Great Britain Keep USA & AUS At Bay As Scott, Richards, Guy & Dean Reclaim World 4x200m Crown: 6:59.08, Paris Powder Dry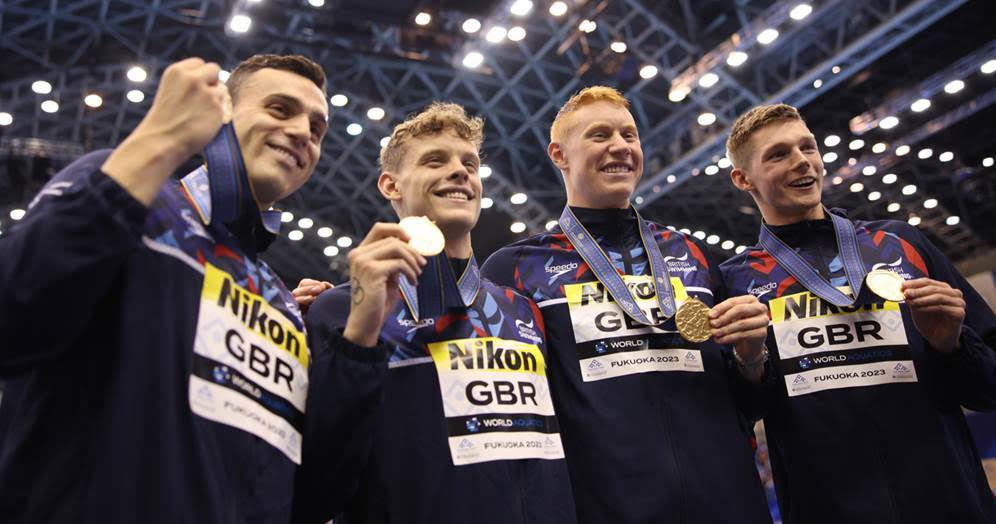 Great Britain kept the USA and Australia at bay to recapture the World 4x200m freestyle title in 6mins 59.08, leaving Olympic-champions quartet of Duncan Scott, Matt Richards, James Guy and Tom Dean 0.53sec shy of a world record that was lost to the Old World 111 years ago.
Powder dry for Paris. On paper, the record is all but history, the deed yet to be done, the details of which quartet from which nation to be revealed only in the moment. A wager right now would make the Brits odds-on favourites to get inside 6:58.55, a shiny suit record that has stood to the USA since Rome 2009 and all that.
The USA relinquished the title today but followed Great Britain in 7:00.02 for silver, Australia taking bronze in 7:02.13, the echo of deep history rippling over the water towards a date with destiny in Paris next year.
The record might have gone today given that Richards had claimed his first World solo 200m crown in 1:44.30 on Tuesday just 0.02sec ahead of Olympic champion Dean, and Scott, Olympic silver medallist behind Dean in the solo 200m in Tokyo, showed fine form when he took silver in the 200m medley, with Dean a last stab away for bronze, in a race won by French phenom Léon Marchand in a European record 1:54.82.
And then there's James Guy. Come what may, GBR knows he can be relied on to fight to the proverbial death as the relay king of Great Britain for the past decade with this sensational count to his credit: Olympic (5, 2 gold), World (7, 3 gold), European (10, 7 gold) and, for England, Commonwealth (8, 2 gold).
Scott was in first, a 1:45.42 leaving him second overall adrift a 1:44.79 from Lukas Märtens of Germany out on the wing in 1. Kai Taylor of Australia handed over in 1:45.79, with Luke Hobson on 1:46.00, the nations heading to the podium with their battle lines drawn.
No Brit bolted, all kept their nerve, Richards, if anything, holding back a touch give his freshly minted 47.45 best in the 100, but down the last of his four lengths he pressed on and gave GBR a lead of 0.42sec over the USA, his split 1:44.65 to a 1:44.49 for Carson Foster.
Germany was still in the game, Rafael Miroslaw on 1:45.79 for a 3:30.58 total, 0.51sec shy of the Brits, with Australia in fourth, Kyle Chalmers on 1:45.19 for 3:30.98.
Guy set off towards his sixth career relay global gold and podium No23 for Britain, with American Jake Mitchell and Aussie Alexander Graham chasing. Every time another's hand came into his view, Guy nudged it away with a 'shall not pass' response on his way to a 1:45.17 split, Mitchell on 1:45.06, Graham 1:45.55, the race handed to the anchors with Britain on 5:15.24, the USA 5:15.55 and Australia 5:16.53 and Léon Marchand getting ready on his blocks for France in sixth place just shy off 2 seconds back from the Dolphins with a promise for Paris of a podium-contending 4×200 if further progress can be made through the ranks.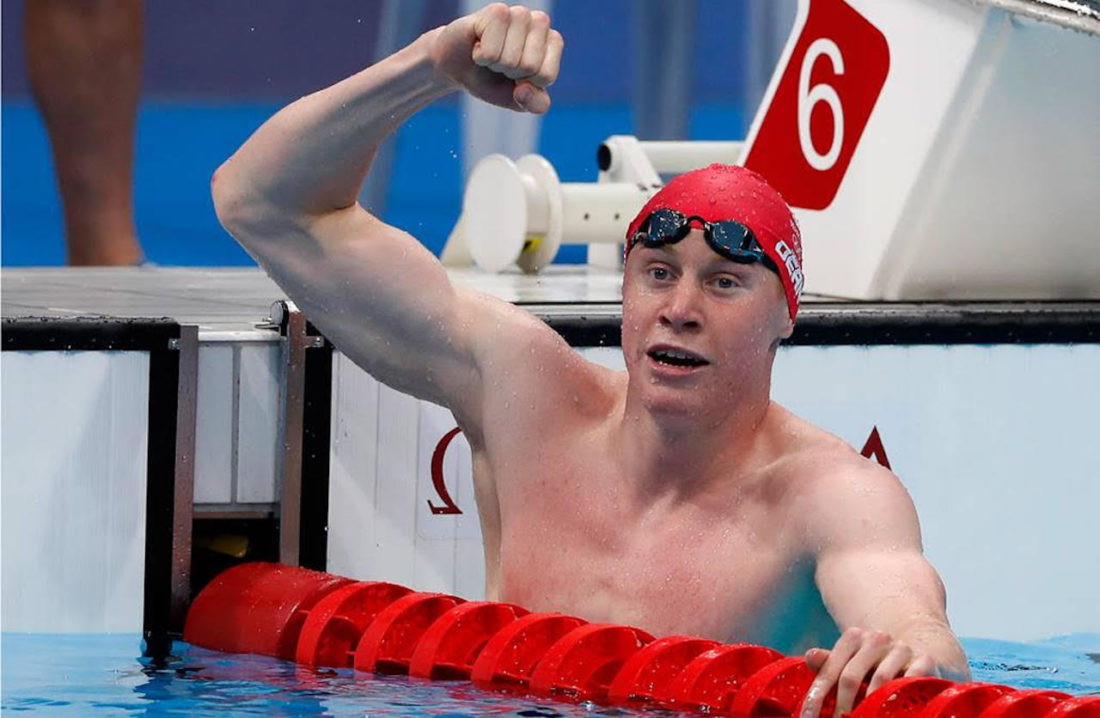 This day was not that one. It belonged to Tom Dean (photo, right, courtesy of Speedo) and mates, the Olympic 200m champion producing the swim off the final with a 1:43.84 to place the crown back on British heads six years after a Britain quartet that included Scott and Guy retained the title two years after Guy raced in the final for Britain's first 4×200 world title and Scott was a reserve for heats.
Kieran Smith pressed Dean all the way but every time he got too close, coach Dave McNulty's charge dug a little deeper. By the close of play, Smith's 1:44.47 gave the USA a silver lining, Thomas Neill's 1:45.60 Australia the bronze and Marchand's 1:44.89 got France ahead of Italy and Germany (fourth after three men) for fourth.
Why powder dry for Paris? Well, on paper a 7:55 does not stretch the imagination one bit when you add up the best of Britain splits and imagine an imperfect day. It's the alchemy of magical outcomes and while one would out of one's mind to suggest anyone in today's race took it 'easy', there was certainly a relative sense of 'what's required'.
Dean emerged to say in answer to a question about the disqualification caused by a teammate leaving the blocks 0.04sec too soon in the heats of the 4×100 free on day 1 last Sunday: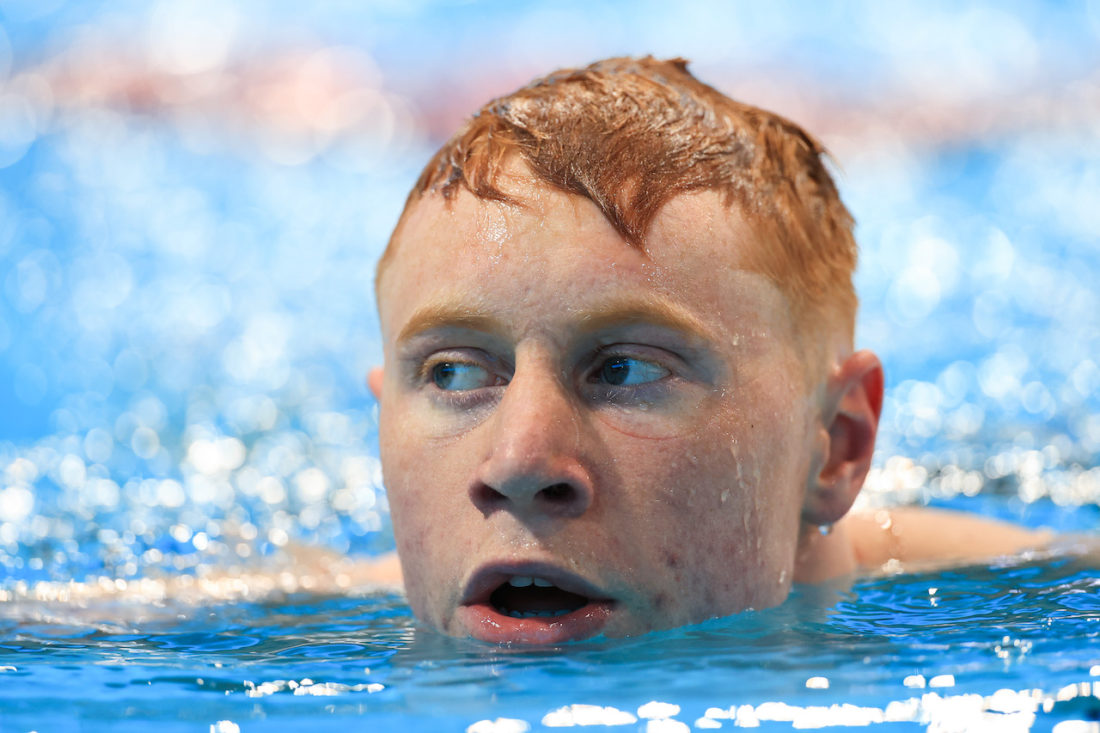 "We had to park that 4x100m Free to the back of our minds, it's an eight-day meet so you can't be lingering on what happens on day one. We know what we've got to do to get that to the Olympics now, then it's just park it, move on and focus on the 4x200m Free. We knew this was going to be probably our strongest relay of the whole meet, and I knew that when the four boys came together, something special would happen like it did last time we were in Japan."

Tom Dean – Photo courtesy of British Swimming
On getting the ball rolling, Scott said: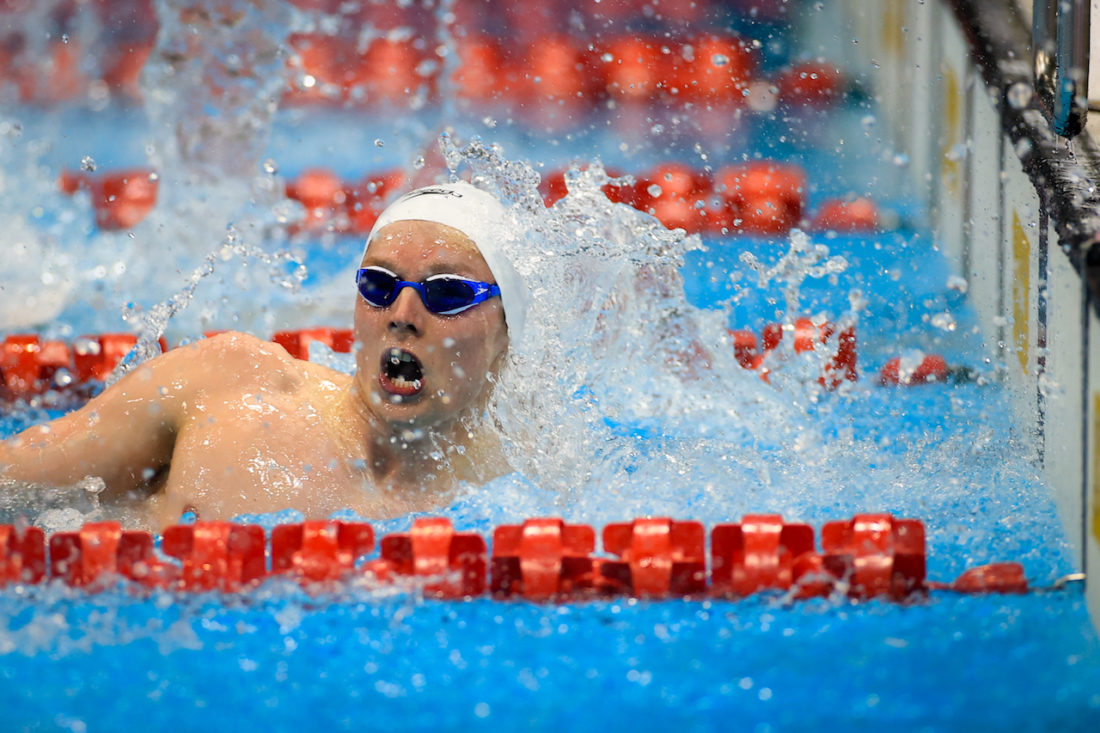 "I knew the boys either side of me are really good quality, both of them were in the 200m Free final and they've down some fast times this meet. I just had to try to work the race in and around that and put the boys into a good position, and I thought I delivered that quite well, relying on my back end. It's just a good chance for us to come together and put down a good performance."

Duncan Scott – Photo by Georgie Kerr, courtesy of British Swimming
Richards noted the record as "the next job":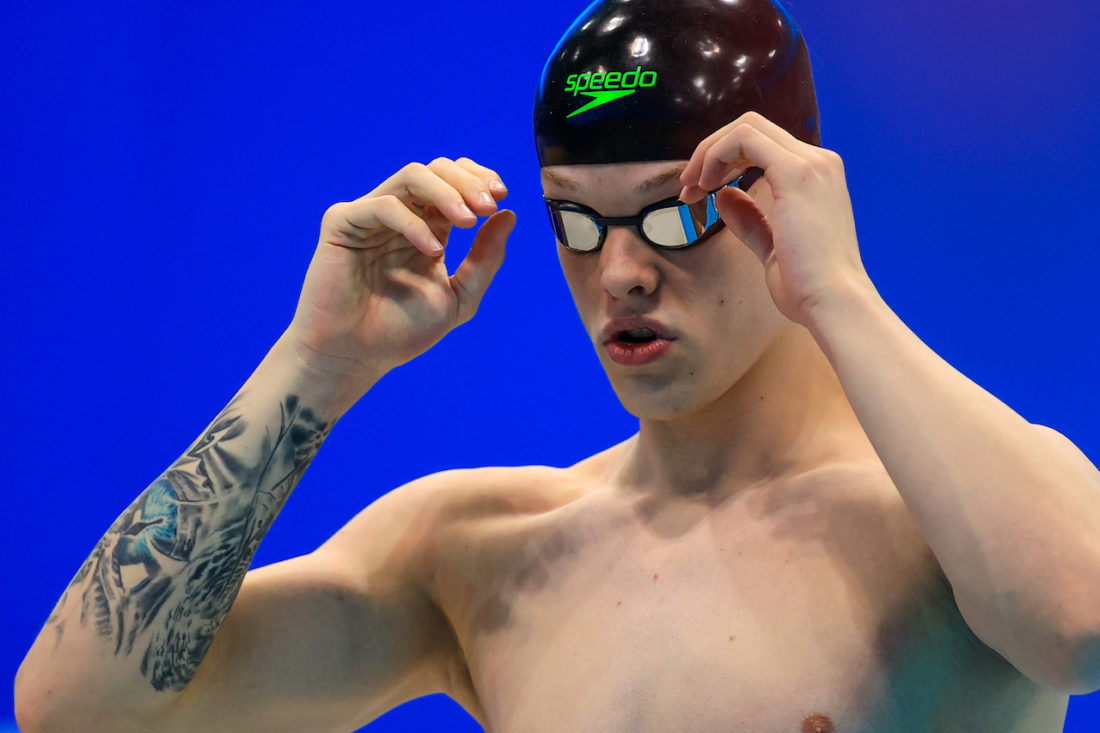 It's great. After that 1-2 we got on the 200m Free, I think we knew we were in good shape for a great week, we've seen some really great performances across the board from Jim and Duncan in their own individuals as well, so we knew tonight was going to be something special. We all knew that that world record was potentially on the cards tonight, so I think that keeps us hungry for next year, pushing on to make that happen. That's twice now we've won it on a world stage [that quartet, at Olympics and Worlds] and been just off that record, so that's the next job, to try to chase that down and put our names at the top of that record board.

Matt Richards – Photo by Georgie Kerr, courtesy of British Swimming
And Guy, who is a reserve for the final of the 100m butterfly tomorrow after semis before the relay, echoed that thought on the record, one stroke at a time: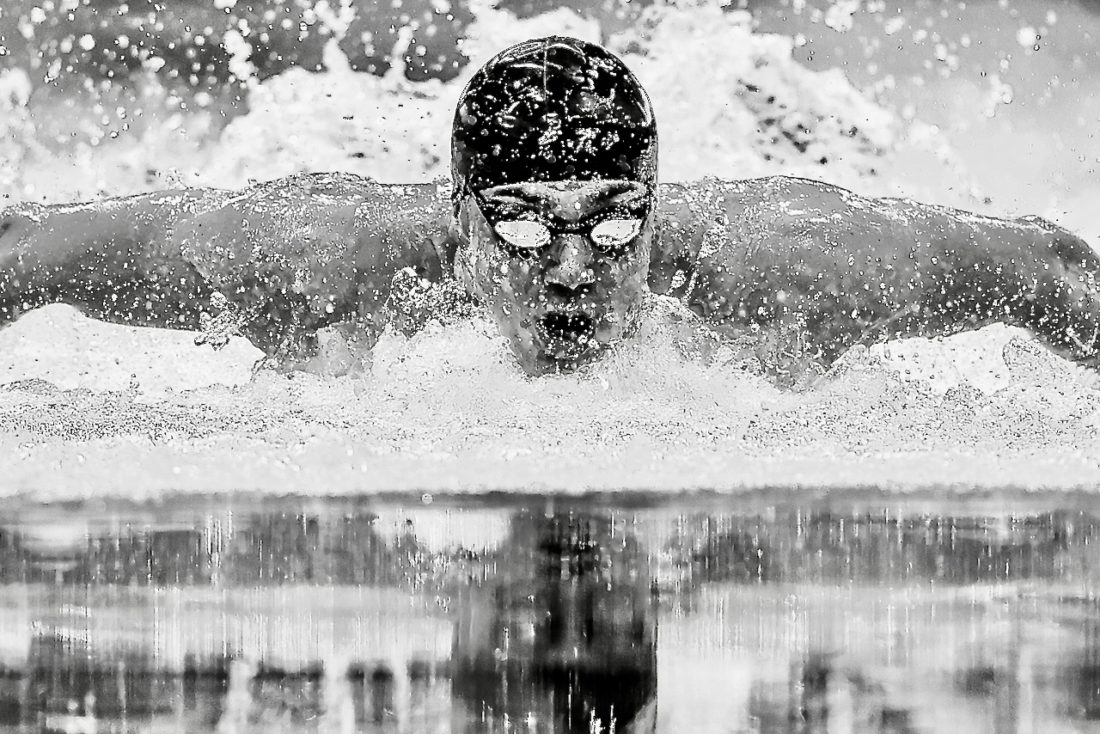 "We won it in Tokyo and tonight, I think we knew we were the favourites deep down, but we're not taking things for granted. It was nice to win but, like Matt said, the world record was in the back of our minds a little bit – but everything happens for a reason. Winning tonight was really, really nice, this is our first time together since Tokyo, and it shows that we're in a great place which hopefully we can build on that for Paris. At the end of the day, it's about enjoying what we're doing. We're racing the best guys in the world on the world stage, it's an honour to do that for your country. Hopefully we can progress that next year and progress with our individual swims."

James Guy – Photo by Georgie Kerr, courtesy of British Swimming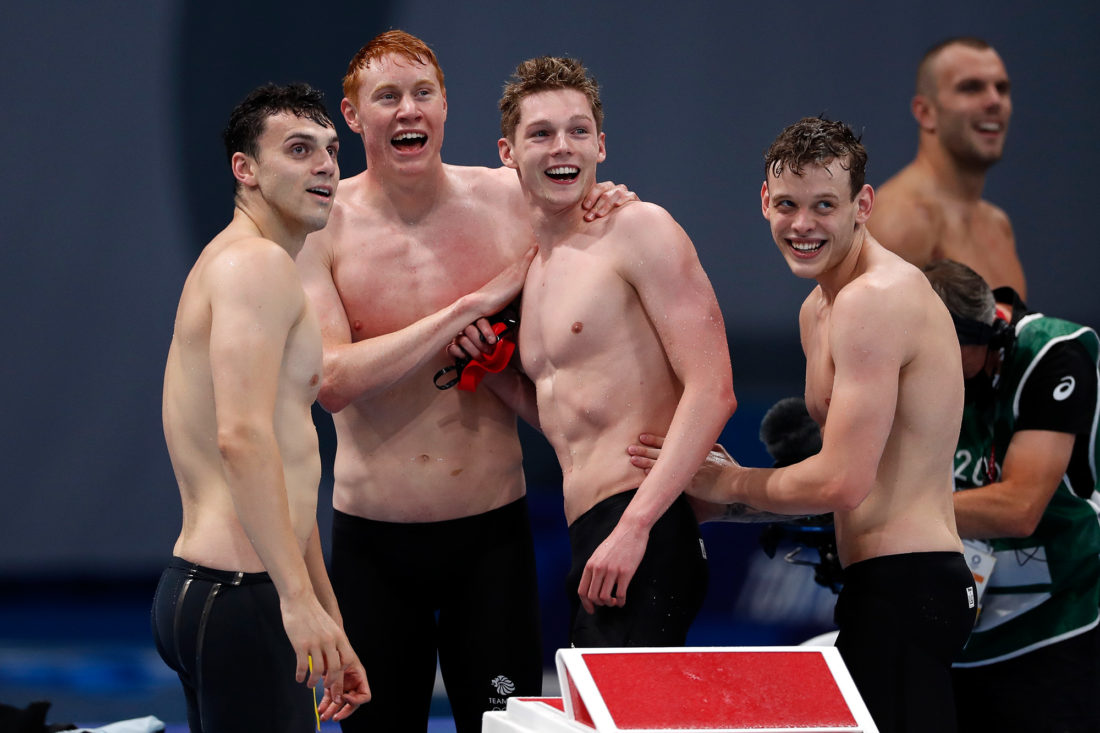 The Race: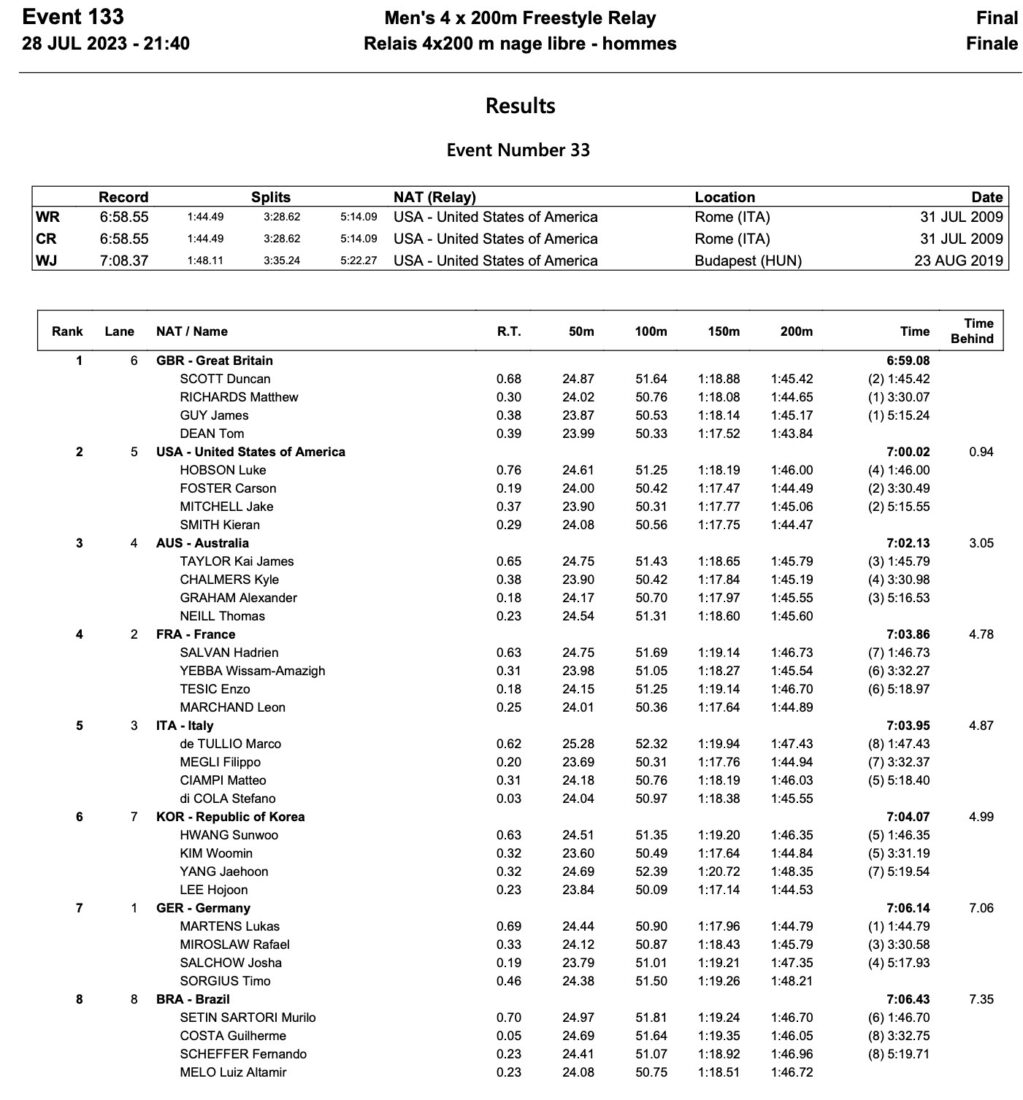 As said, the title returns to Britain after six years, with Joe Litchfield also getting gold as the heats reserve man; in the flow of a slow-burn mission to excel in the 4x200m dating back to the era of Olympic and Worlds mid-distance free podium placer Paul Palmer and his coach Ian Turner. It was fourth in 2001; 6th in 2003; a final missed in 2005; 4th in 2007; 7th in 2009; 6th in 2011; 8th in 2013 when Guy first made the top four for a place in the Britain quartet. Then came the big leap: gold in 2015 and 2017:
2015: 7:04.33 NR ahead of the USA & Australia – Daniel Wallace (1:47.04) Robert Renwick (1:45.98) Calum Jarvis (1:46.57) James Guy (1:44.74) – reserves Nicholas Grainger, Duncan Scott
2017 – 7:01.70 NR ahead of Russia & the USA – Stephen Milne (1:47.25) Nicholas Grainger (1:46.05) Duncan Scott (1:44.60) James Guy (1:43.80) – reserve Calum Jarvis
Then 2019, 5th; and after Olympic gold (see archive below), 2022 marked a time of recovery from the Tokyo roller-coaster of the five-year Olympic cycle caused by the Covid pandemic. Scott was out after a bout of illness and with Richards under par and confined to heats, Guy, Litchfield, Jacob Whittle and Dean took bronze in Budapest behind the United States and Australia, the two nations who have held the 4x200m free World records in a steely grip for the past 31 years – and for most of the rest of swimming history too.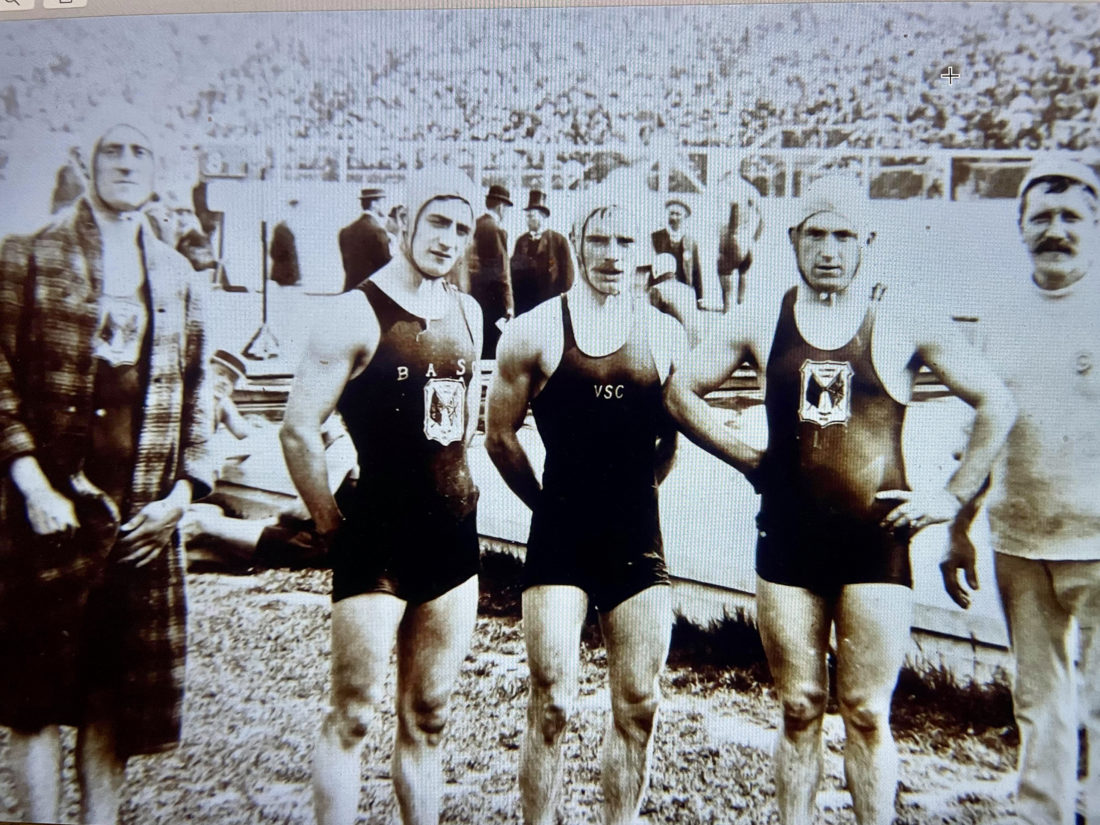 Twenty nine American and nine Australian quartets have held the record since the inaugural standard left Britain in 1912 four years after John Derbyshire, Paul Radmilovic, William Foster and triple gold medallist Henry Taylor lifted the Olympic crown for Britain in 10:55.6, the first official World record in the 4x200m, at a home Games in London. Foster was 18 years and 2 weeks old and remains the youngest British Olympic gold medallist in any sport.
There was no breaking American's 6:58.55 record from 2009 five days after Léon Marchand took down Michael Phelps' 2008 global 400m medley standard to reduce the number of surviving world records from the 2008-2009 shiny suits era to seven out of 20.
In the past 31 years, Australians have set the record four times, all of them featuring Ian Thorpe (as first man in on three occasions), and the USA three times, all of them featuring Michael Phelps as the first man in.
Last Britain Holders, Last 31 Years Of American & Australia Ownership
| Time | Name | Team | Date | Event | Venue |
| --- | --- | --- | --- | --- | --- |
| 10:55.6 | John Derbyshire Paul Radmilovic William Foster Henry Taylor | GBR | 24/7/1908 | Olympics | London |
| 7:11.86 | Ian Thorpe Daniel Kowalski Matthew Dunn Michael Klim | AUS | 13/9/1998 | Commonwealth | K Lumpur |
| 7:08.79 | Ian Thorpe (1:46.28) Bill Kirby (1:48.96) Grant Hackett (1:46.30) Michael Klim (1:47.25) | AUS | 25/8/1999 | Pan Pacifics | Sydney |
| 7:07.05 | Ian Thorpe (1:46.03) Michael Klim (1:46.40) Todd Pearson (1:47.36) Bill Kirby (1:47.26) | AUS | 19/9/2000 | Olympics | Sydney |
| 7:04.66 | Grant Hackett (1:46.11) Michael Klim (1:46.49) Bill Kirby (1:47.92) Ian Thorpe (1:44.14) | AUS | 27/7/2001 | Worlds | Fukuoka |
| 7:03.24 | Michael Phelps (1:45.36) Ryan Lochte (1:45.86) Klete Keller (1:46.31) Peter Vanderkaay (1:45.71) | USA | 30/3/2007 | Worlds | Melbourne |
| 6:58.56 | Michael Phelps (1:43.31) Ryan Lochte (1:44.28 ) Ricky Berens (1:46.29) Peter Vanderkaay (1:44.68) | USA | 13/8/2008 | Olympics | Beijing |
| 6:58.55 | Michael Phelps (1:44.49) Ricky Berens (1:44.13) David Walters (1:45.47) Ryan Lochte (1:44.46) | USA | 31/7/2009 | Worlds | Rome |
From The Archive – Tokyo 2020ne