Great Britain Claim First Gold In 4x100m Free Since Inaugural Crown In 1927, Hope, Hopkin, Wood & Anderson On National Record For Tokyo Ticket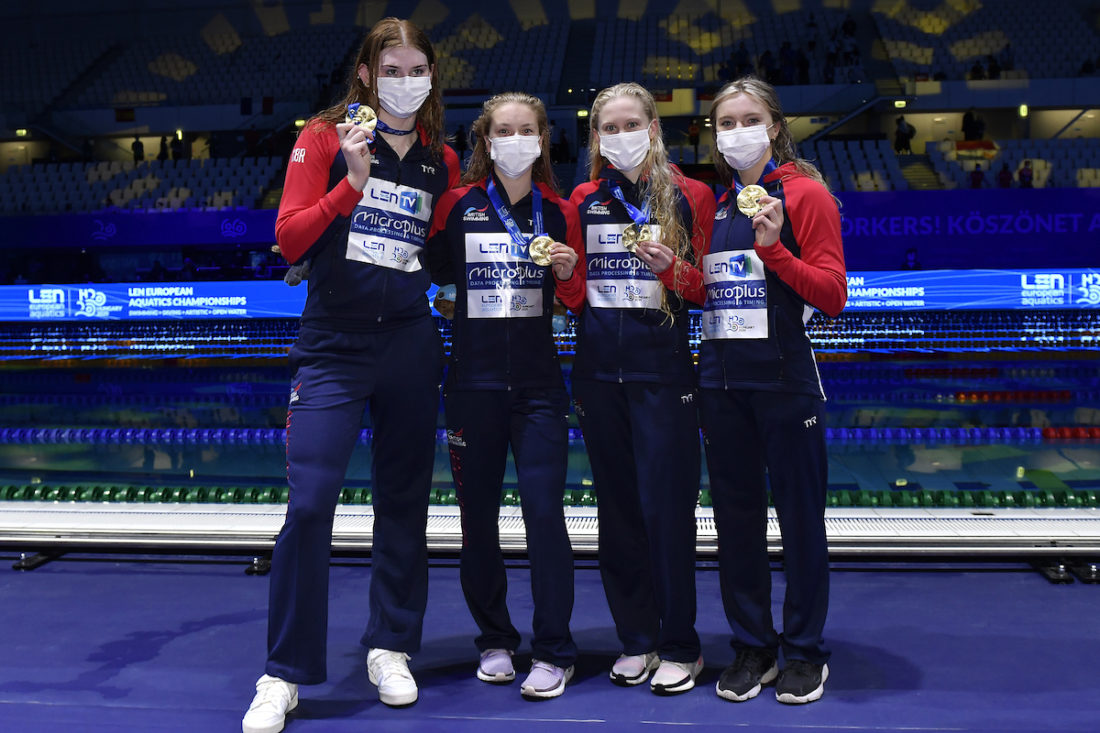 Great Britain is not known for its 4x100m freestyle quartets unless you trawl back to the beginning of it all but Lucy Hope, Anna Hopkin, Abbie Wood and Freya Anderson changed the game tonight in Budapest when they stunned continental rivals to claim the first British gold in the women's relay event since a British quartet took the inaugural title back in 1927.
The time on the board for Marion Laverty, Ellen King, Valerie Davies and Joyce Cooper in Bologna 94 years ago was 5mins 11.6sec. At the Duna Arena on the first of seven evenings of finals in the crowdless, anti-Covid-19 Bubble of Budapest, the British time of 3mins 34.17sec shattered the national record of 3:35.72 that had stood to an England quartet since 2014 – and elevated the British quartet into the all-time Top 10 and No7.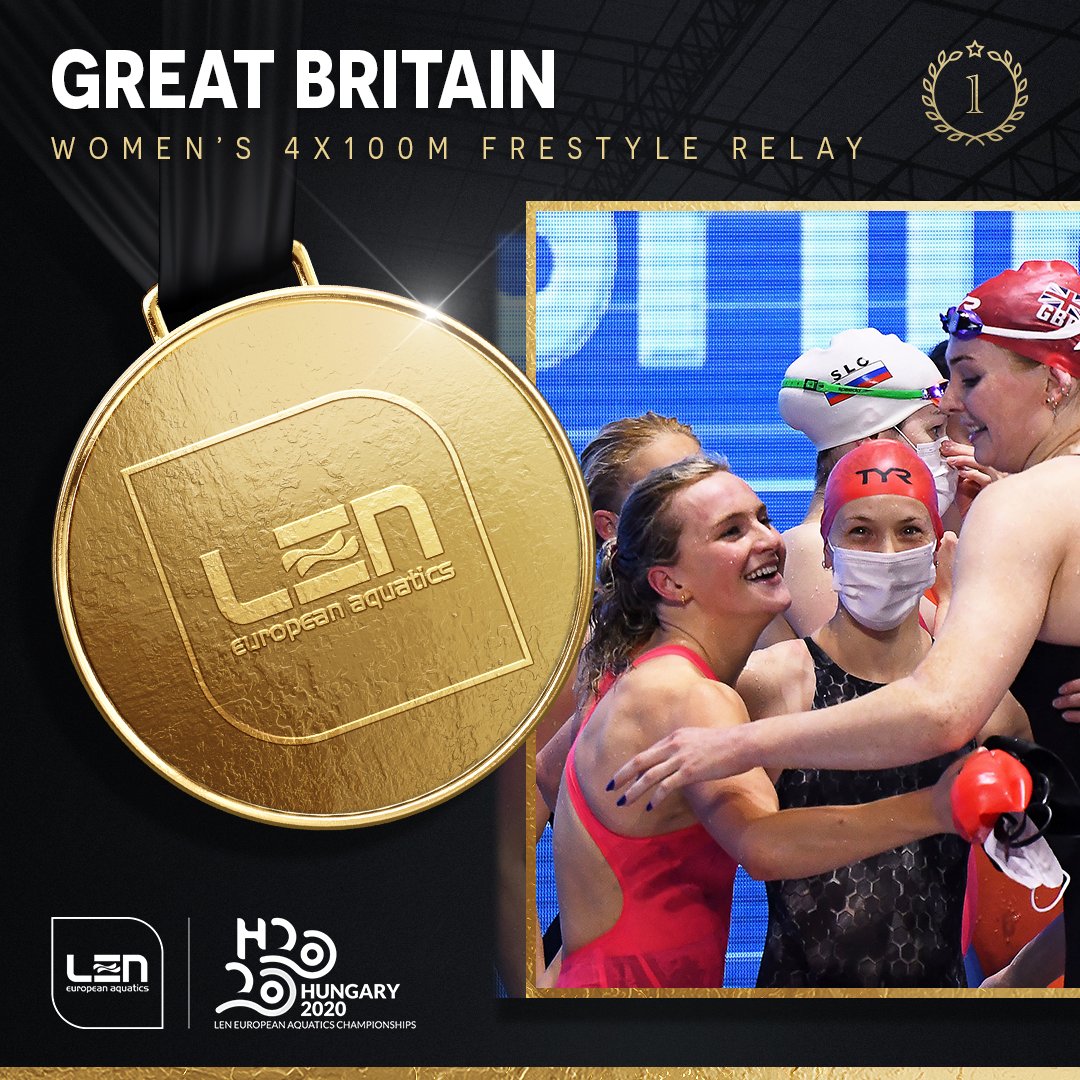 Britain celebrated three silvers up to 1962 but the last silver was back in 2010, when the Brits finished less than a second behind a German quartet that included 2008 double Olympic sprint champion Britta Steffen.
Silver for teammate Aimee Willmott in the 400m medley and the stirring sight of Olympic champion Adam Peaty racing faster than any other man ever has over 100m breaststroke even though it was "only" his 10th swiftest effort ever might have helped the Britain girls but victory over eight-time title winners The Netherlands, on 3:34.29, and title holders France, on 3:35.92, was all down to the long-term work and planning of the members of a young British quartet and those guiding them in the performance program.
Coached by Alex Jordan at Edinburgh University, Hope, who this year took down the 13-year-old Scottish 100m free record of Caitlin McClatchey, was in first on 53.89, just adrift the 53.56 split of London 2012 Olympic 50 and 100m freestyle champion Ranomi Kromowidjojo and a touch ahead of a 53.9 from France's Marie Wattel. After morning heats with Evelyn Davis, Emma Russell and Anderson, Hope said: "The goal tonight is to have a great race, get in and about it, and get one of the top 16 places to secure a place at the Olympics."
Well, they can start to hope for much more now in an event that has often been among the weakest relays for Britain in many a long year. Hopkin, coached by Mel Marshall at Loughborough, maintained second place after Hope, with a 53.59 split as France's Charlotte Bonnet took the lead with a 53.36 split. A medal was in sight for the Brits but a 53.90 from Wood, a breaststroke and medley ace, raised hope of more, Anderson, the 6ft 3in sprinter in the British fold yet to fire.
Having recently left her teens behind, Anderson was hunted down by Femke Heemskerk 14 years her senior and on a sensational chasing 51.99 but a terrific 52.79 from the British anchor delivered gold and the big upset of the day in Budapest.
The reshuffled all-time top 10:
AUS 3:30.05 COMMGM18
USA 3:31.02 WORLDS19
NED 3:31.72 WORLDS09
CAN 3:31.78 WORLDS19
GER 3:31.83 WORLDS09
SWE 3:33.94 WORLDS17
GBR 3:34.17 EUROPE21
FRA 3:34.65 EUROPE18
CHN 3:35.63 WORLDS09
ITA 3:35.90 OLYM2016
The Britain quartet was a combo of delight. Abbie Wood, a medley and breaststroke specialist coached by Dave Hemmings at Loughborough, who was in there for the team and to "give it a go". She said: "What a surprise! We came here to do the best we could but also to make ourselves more visible in respect with the men's team. The result is very good this a new British record but this also qualifies us for Tokyo.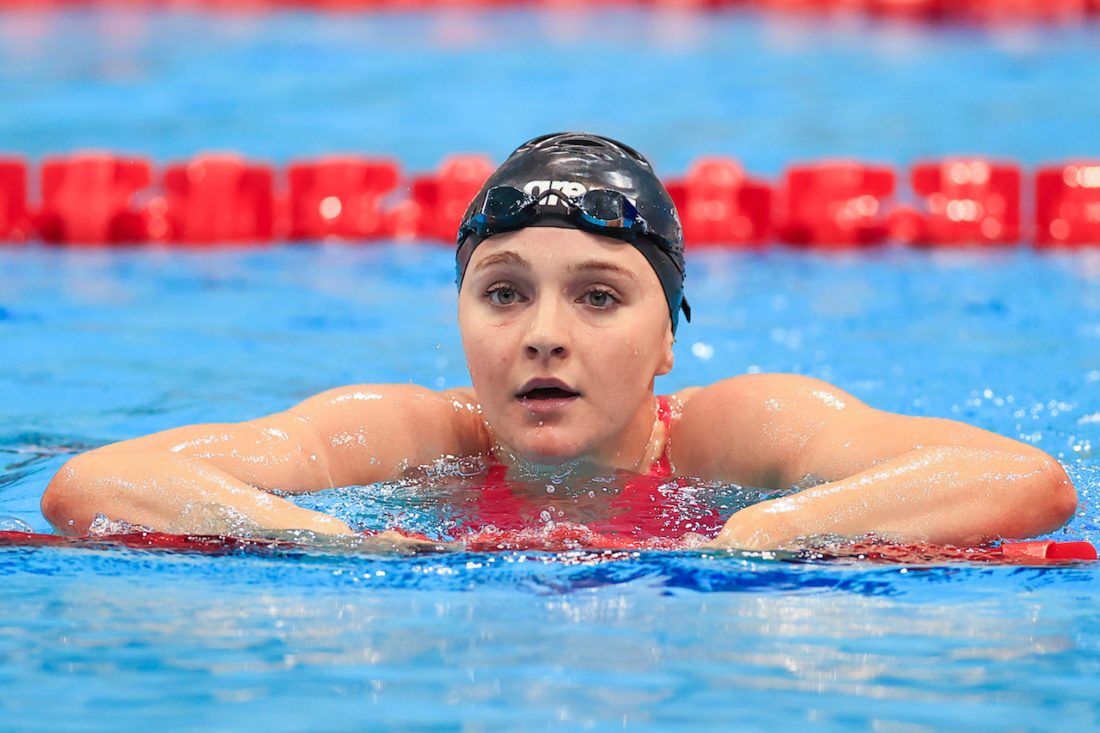 "It was a bit of gamble them putting me in, but I was asked to do it for the team. It's a group of three really strong freestyle girls and I feel like I just had to pull my weight and give it a go. To come away with my first senior medal and a British record I'm just over the moon, and it's a really good start to the meet."

Abbie Wood – photo courtesy of Georgie Kerr, British Swimming
Freya Anderson, coached by Dave McNulty at Bath, chimed in: "That was really good. The pressure was on, as I could see we were in third and then second so I had to just remain calm, keep my head screwed on and get my hand on the wall first. The added pressure definitely makes me go faster! I knew we were close second or third [going in] and I really gave my best for the team. We're very, very happy and it's an added plus we have set a new national record."
For the Dutch, Femke Heemskerk with plenty of golden experiences, said: "We are a little bit disappointed because we wanted to win the gold medal. We were so close, like in Glasgow (silver to France by 0.1sec in 2018) but that's sport."
The alchemy for Britain was what no other team had: "no 54s", rather three 53s and a 52:
P
L
Nation
Team/Names/DoB
Time
Gap
1
3
GBR
GREAT BRITAIN HOPE Lucy – 30 JAN 1997 HOPKIN Anna – 24 APR 1996 WOOD Abbie – 02 MAR 1999 ANDERSON Freya – 04 MAR 2001
53.89
53.59
53.90
52.79
3:34.17 GB Rec
2
4
NED
NETHERLANDS KROMOWIDJOJO Ranomi – 20 AUG 1990 TOUSSAINT Kira – 22 MAY 1994 STEENBERGEN Marrit – 11 JAN 2000 HEEMSKERK Femke – 21 SEP 1987
53.56
54.61
54.13
51.99
3:34.29
0.12
3
6
FRA
FRANCE WATTEL Marie – 02 JUN 1997 BONNET Charlotte – 14 FEB 1995 MARTIN Anouchka – 05 FEB 1993 TOUATI Assia – 23 APR 1995
53.97
53.36
54.25
54.34
3:35.92
1.75
4
5
DEN
DENMARK BRO Signe – 05 MAR 1999 OTTESEN Jeanette – 30 DEC 1987 JENSEN Julie Kepp – 03 JAN 2000 BLUME Pernille – 14 MAY 1994
53.73
54.89
54.63
53.56
3:36.81
2.64
5
1
SWE
SWEDEN COLEMAN Michelle – 31 OCT 1993 JUNEVIK Sara – 14 FEB 2000 HANSSON Sophie – 02 AUG 1998 HANSSON Louise – 24 NOV 1996
54.34
55.67
54.78
53.93

3:38.72

4.55
6
7
ITA
ITALY DI PIETRO Silvia – 06 APR 1993 PANZIERA Margherita – 12 AUG 1995 PELLEGRINI Federica – 05 AUG 1988 COCCONCELLI Costanza – 26 JAN 2002
55.11
54.88
53.94
55.15

3:39.08

4.91
7
2
SLO
SLOVENIA KLANCAR Neza – 19 FEB 2000 FAIN Katja – 31 AUG 2001 SEGEL Janja – 17 JUN 2001 PINTAR Tjasa – 15 FEB 1997
54.82
54.81
54.68
55.65
3:39.96
5.79
8
8
HUN
HUNGARY GYURINOVICS Fanni – 24 OCT 2001 UGRAI Panna – 18 OCT 2004 SENANSZKY Petra – 01 JAN 1994 VERRASZTO Evelyn – 17 JUL 1989
55.19
55.05
55.54
56.53

3:42.31
8.14
Russian gold In Championship Record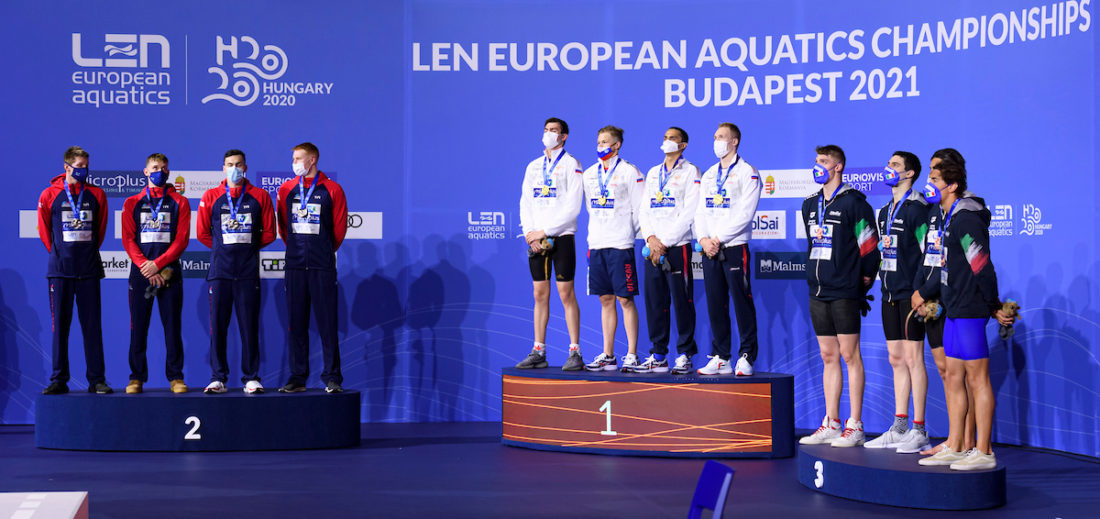 Day 1 success continued apace for Britain in the men's 4x100m freestyle when Tom Dean, Matt Richards, James Guy, all teammates at the Bath Performance Centre, and Duncan Scott, at the Stirling Performance Centre, took silver in a national record of 3:11.56 behind a Russian quartet that took gold in a championship record of 3:10.41 and ahead of Italy, on 3:11.87. The last time that Britain, which made the final on the efforts of Jacob Whittle and Joe Litchfield in morning heats, made the medals was 1962, they claimed silver at the first championship to feature the 4x100m. And until today, that remained the only medal for Britain in the 4x100m freestyle, one delivered on a day when the national women's team took the first gold since the last time that happened … in 1927, when women joined the Championships a year after the first men-only championships in 1926. The writing was on the end wall at Britain's Olympic selection trials last month.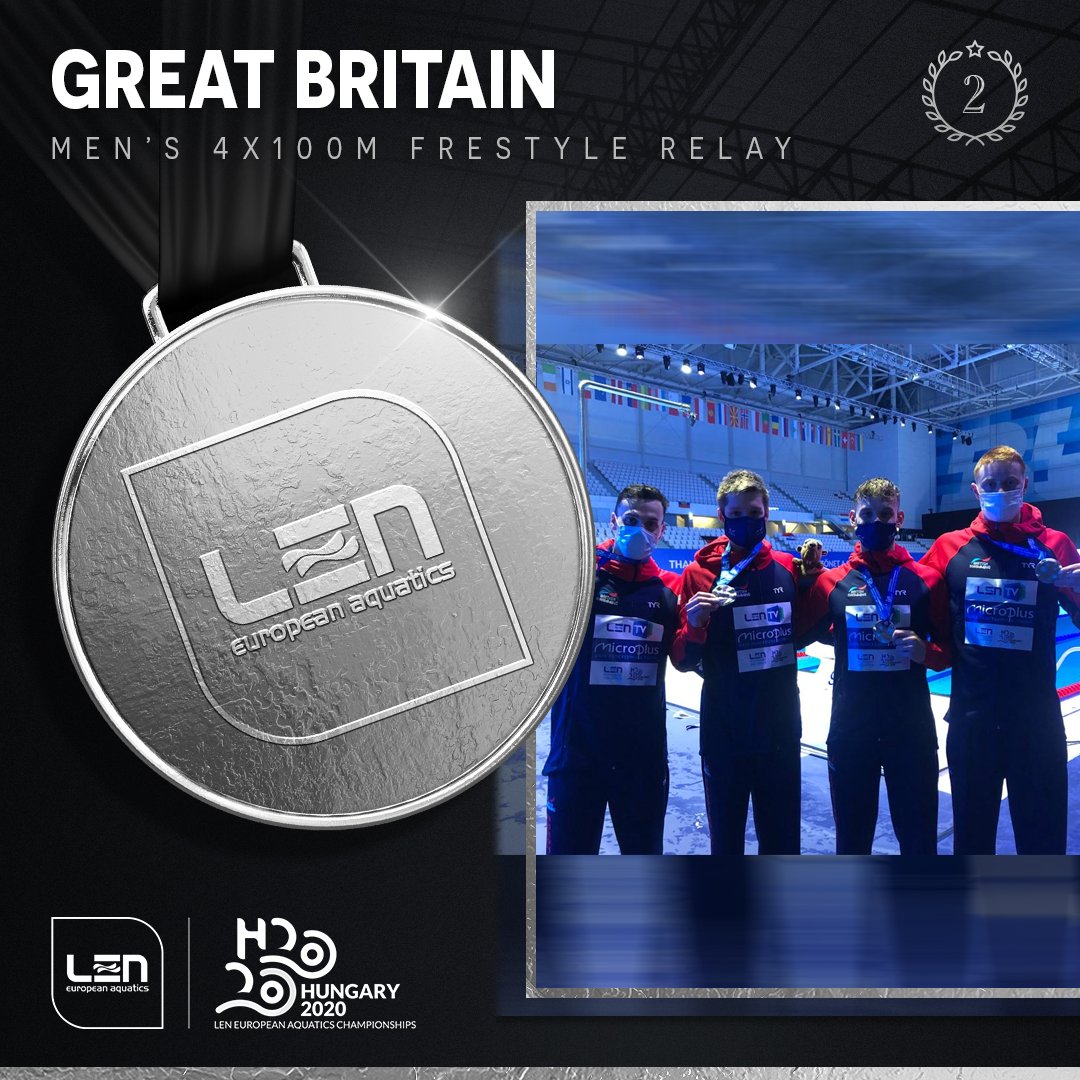 Andrei Minakov got the Russian rockets started on 48.18, compared to Dean's 48.32, Italy's Alessandro Miressi setting the pace at 47.74. Aleksandr Shchegolev's 47.64 compared to 48.13 for teenager Richards, Lorenzo Zazzeri on 48.30, before Vladislav Grinev laid down a 47.49, compared to 47.92 for Guy and 47.98 for Thomas Ceccon.
Last in or Russia was in-form Kliment Kolesnikov, on 47.10 and too far ahead of Duncan Scott to get to, but in 47.19 it was British silver, Italy's Manuel Frigo on 47.85 for bronze.
The race left GBR at all-time No7, with a slightly better time: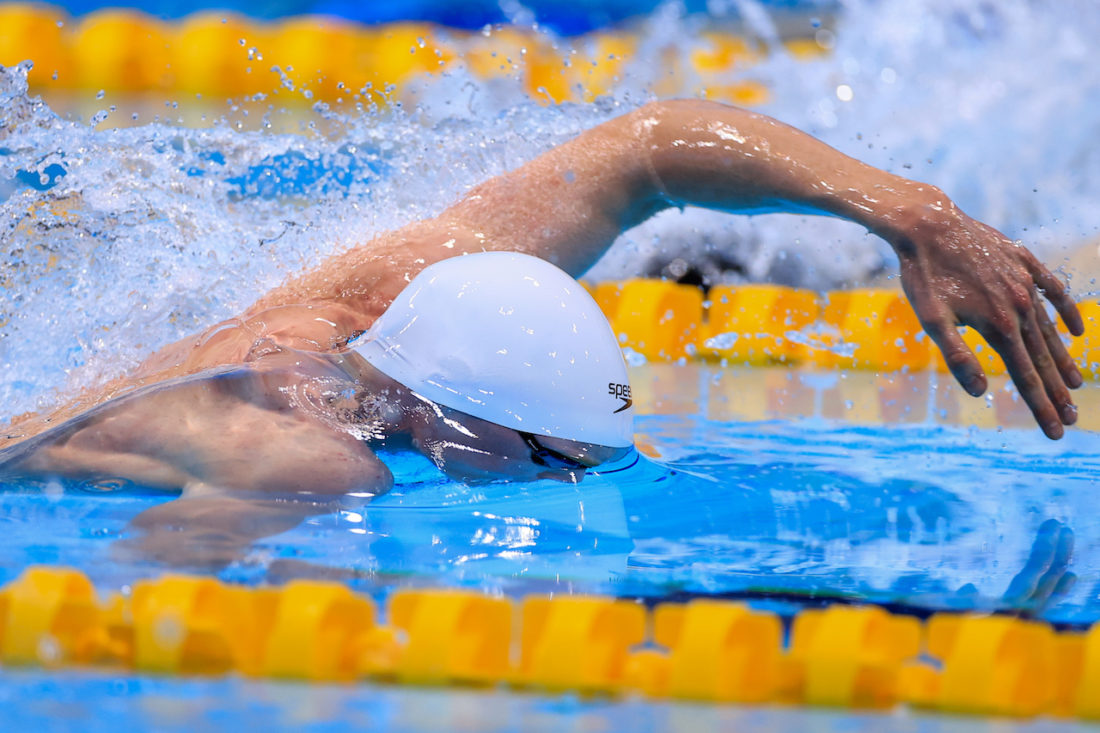 USA 3:08.24 OLYM2008
FRA 3:08.32 OLYM2008
RUS 3:09.52 WORLDS09
AUS 3:09.91 OLYM2008
BRA 3:10.34 WORLDS17
ITA 3:11.39 WORLDS19
GBR 3:11.56 EUROPE21
SWE 3:11.92 OLYM2008
RSA 3:11.93 WORLDS09
HUN 3:11.99 WORLDS17
The Russian team is a young one, with two teens in the mix and no Vladimir Morozov, who opted to bypass the Championships.
For the 2021 champions, Andrei Minakov said: "I'm happy and satisfied with this gold medal. This is my
first senior European Championships but our target is the Olympic Games. I'm excited to be in Budapest but it's a part of our training cycle."
A World record and a gold medal in the vault today, Kliment Kolesnikov noted: "Of course, this is a very good start, and I hope to do the same in all races I'm going to swim here. I'm focusing on each distance and I will try to my best in all events."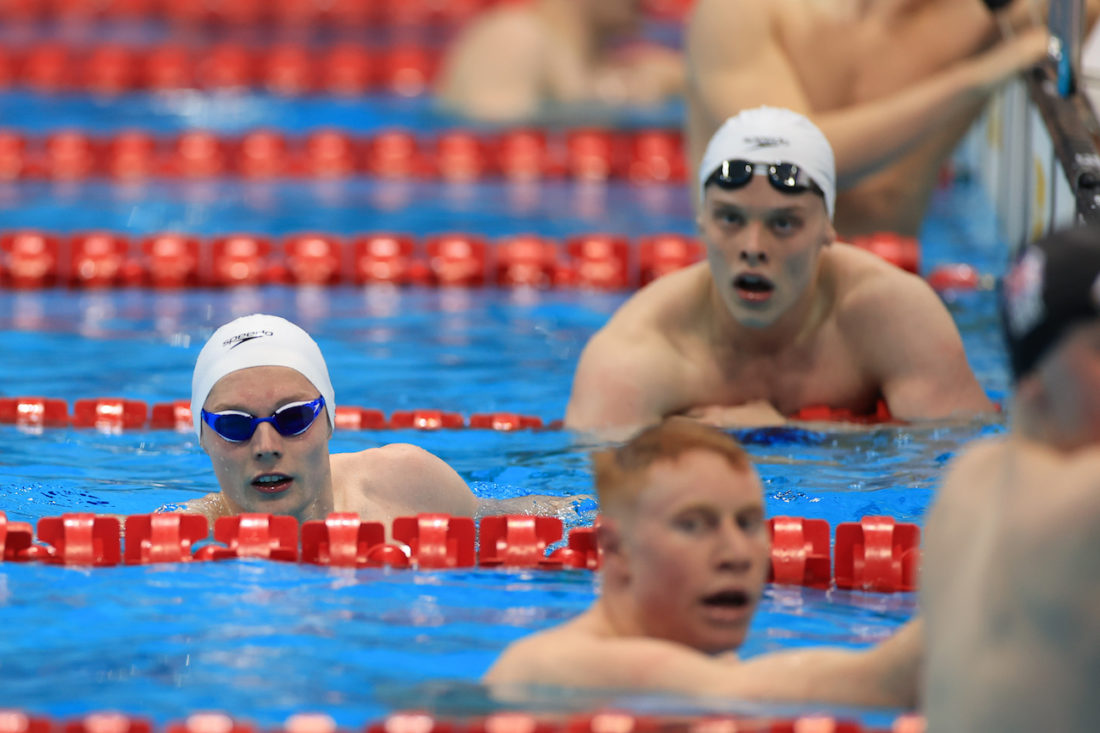 For Britain, Tom Dean said: "It's great to win the first medal for Great Britain in this event in sixty years. The team is stronger than ever so it's very exciting and it bodes well for the summer.
Richards added: "It's a great experience for me, this being my first senior international, to be in a team like this. It's a great dynamic, a brilliant experience, and hopefully the first of many."
Scott, the Commonwealth 100m champion for Scotland, was delighted with being handed a fine position to attack from: "It's not too bad when the boys put you in a good spot like they did there! We had a good swim all round to get a British record. To go faster than we did in 2019 was the aim and we managed to do that, and to get a medal is great. It's the first time we've come together and done a 4×100 and that gives us confidence going forward."
Two teams had three 47s but only one team had two sub 47.5s:
P
L
Nation
Team/Names/DoB
100m Splits
Time
Gap
1
6
RUS
RUSSIA MINAKOV Andrei – 17 MAR 2002 SHCHEGOLEV Aleksandr – 06 APR 2002 GRINEV Vladislav – 21 JUL 1996 KOLESNIKOV Kliment – 09 JUL 2000
48.18
47.64
47.49
47.10
3:10.41 CR
2
3
GBR
GREAT BRITAIN DEAN Thomas – 02 MAY 2000 RICHARDS Matthew – 17 DEC 2002 GUY James – 26 NOV 1995 SCOTT Duncan W – 06 MAY 1997
48.32
48.13
47.92
47.19
3:11.56
1.15
3
4
ITA
ITALY MIRESSI Alessandro – 02 OCT 1998 ZAZZERI Lorenzo – 09 AUG 1994 CECCON Thomas – 27 JAN 2001 FRIGO Manuel – 18 FEB 1997
47.74
48.30
47.98
47.85
3:11.87
1.46
4
8
HUN
HUNGARY NEMETH Nandor – 19 NOV 1999 SZABO Szebasztian – 11 MAR 1996 BOHUS Richard – 09 APR 1993 MILAK Kristof – 20 FEB 2000
48.41
48.25
48.34
47.50
3:12.50
2.09
5
1
GRE
GREECE CHRISTOU Apostolos – 01 NOV 1996 GKOLOMEEV Kristian – 04 JUL 1993 MELADINIS Odyssefs – 05 APR 1990 VAZAIOS Andreas – 09 MAY 1994
48.39
47.77
49.09
48.14
3:13.39
2.98
6
2
SUI
SWITZERLAND MITYUKOV Roman – 30 JUL 2000 LIESS Nils – 24 AUG 1996 PONTI Noe – 01 JUN 2001 DJAKOVIC Antonio – 08 OCT 2002
48.20
48.53
48.57
48.11
3:13.41
3.00
7
5
SRB
SERBIA STJEPANOVIC Velimir – 07 AUG 1993 NIKOLIC Uros – 20 JUL 1996 BARNA Andrej – 02 MAR 1998 ACIN Nikola – 19 DEC 1999
48.72
49.14
47.15
48.72
3:13.73
3.32
8
7
NED
NETHERLANDS KORSTANJE Nyls – 05 FEB 1999 PIJNENBURG Stan – 04 NOV 1996 DE BOER Thom – 24 DEC 1991 PUTS Jesse – 01 AUG 1994
48.86
47.79
49.03
48.11
3:13.79
3.38
Peaty Highlights Semi-Finals With a Nod To Tokyo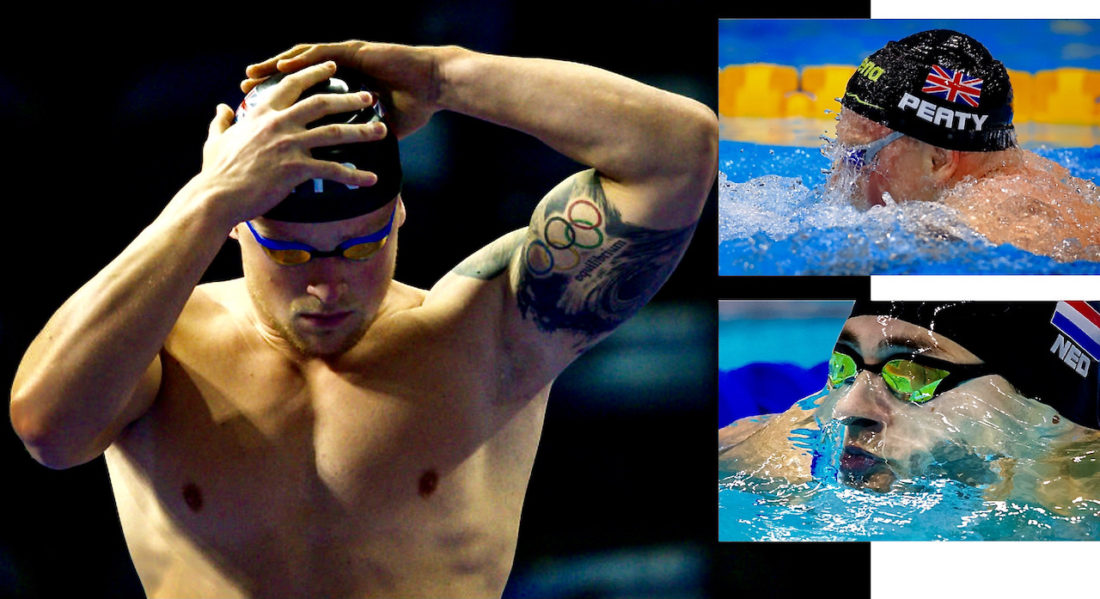 Kliment Kolesniokov's 50m backstroke World record was not to be topped in set is but in events relevant to the Olympic Games this summer, none matched the supremacy of Olympic champion Adam Peaty, who booked a ticket to lane 4 in the final of the 100m breaststroke in 57.67sec.
Peaty's world record stands at 56.88, of course, but his 10th career best today is 0.23sec faster than any other man has ever swum on an all-time ranking list that boasts the name Peaty beside the best 15 times ever – and all but 2 of the best 25 in the bargain.
Closest to the triple World champion, who remains undefeated over 100m since he made his International breakthrough in 2014, was Italian Nicolo Martinenghi, on 58.45, with Britain's James Wilby next through to the showdown today (TUES) in 58.80. They had watched the first semi go to the latest and only second member of the sub-58sec club, Arno Kamminga, sail through to the showdown in 58.74. Those four complete the sub-59 club, though Ilya Shymanovich, on 58.4 in heats, will be out on the wing after a 59.23 for matched 6th place just 0.13sec shy of missing out.
Peaty said: "That was really good. Technically I swam the race exactly how I needed to, but it's all about looking at the data now for tomorrow, and seeing how we can get better. I enjoyed that more than I enjoy racing normally, so that's always a good sign."
Wilby 's take on his swim: "Like I said this morning, it's all about moving it on through the rounds and practicing the things we want to practice for the Games – this is the closest we'll get to an Olympic simulation, with the competition. The front end is something I've been playing around with this year, so to get that as good as possible and then move it on down the back end this evening, it puts me in a good spot going into tomorrow."
In other semis, Louise Hansson, of Sweden, led the way to the 100m butterfly final in 56.73 ahead of a 57.48 for Marie Wattel of France; and the women's 50m freestyle qualifiers were led by Olympic champion Pernille Blume, of Denmark, on 24.06, Dutch Olympic champion of 2012 Ranomi Kromowidjojo closest on 24.14.