Great Aussie Hope Ariarne Titmus Misses Three Months Of Training Battling Shoulder Injury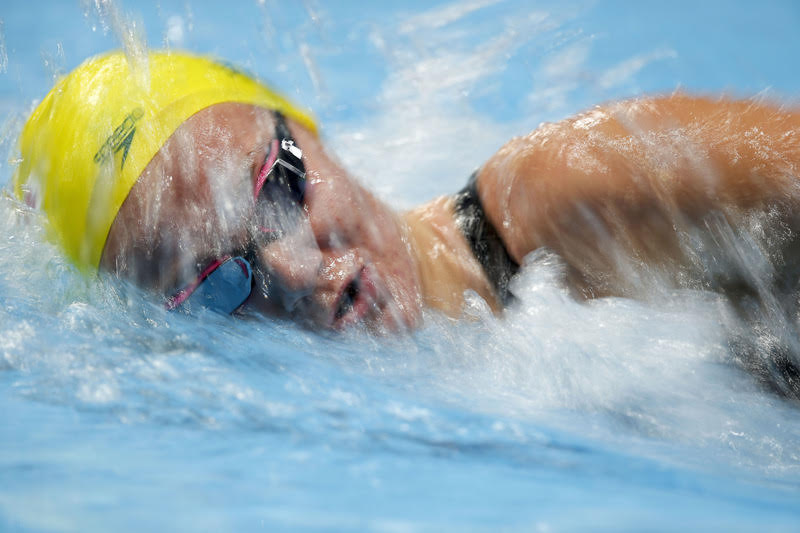 Ariarne Titmus, the Australian who ended the undefeated International record of Katie Ledecky over 400m freestyle at the 2019 World Championships, has missed three months of critical, full training while battling a shoulder injury.
Julian Linden reports in the Australian Daily Telegraph today: "While speculation about her injured shoulder has been swirling around Australian pool decks since her mysterious absence from a pre-Olympic training camp, the true extent of her problems have remained a closely-kept secret – until now."
After a steady return and solid recovery, Ariarne Titmus has been given the all-clear to race at the Australian championships at the Gold Coast this coming week after she skipped several key warm-up events.
Titmus and her coach Dean Boxall today break their silence on the on the shoulder scare, revealing the treatment and rehabilitation she has undergone to get back in shape.
Prime among these has been recruiting Jeremy Hickmans, the Queensland fitness guru who worked with the Brisbane Broncos. Boxall reached out to Hickmans for help in preparing all his elite swimmers for the Olympics, but particularly the careful management of Titmus' shoulder. Boxall tells News Corp: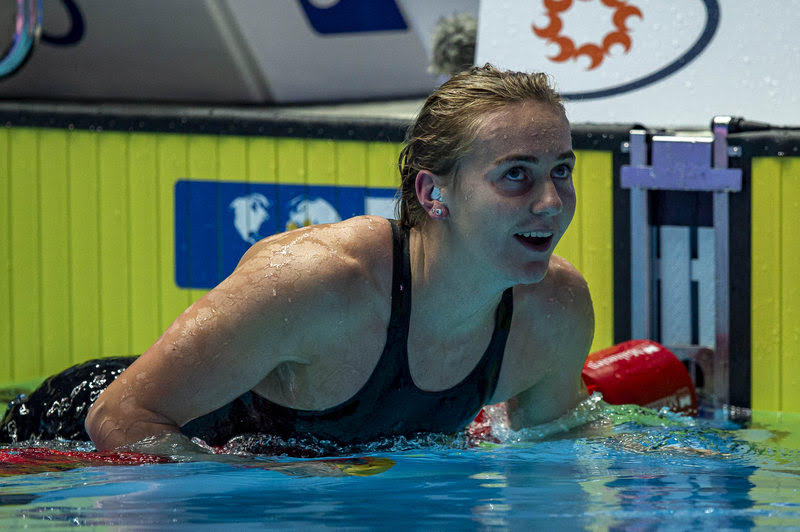 "We've got some unbelievable people involved, like Peter Wells, who's been an Olympic physio for three Olympics and Jeremy Hickmans, who was Wayne Bennett's right hand man. He's my strength and conditioning coach, and really looking after the rehab, and they've done a remarkable job."

Image: Ariarne Titmus by Patrick B. Kraemer
Ariarne Titmus & The Toughest Challenge: Katie Ledecky
Katie Ledecky spoke yesterday about the challenges of not seeing her family in person for the past year but a 1:54.40 at the Pro-Swim meet at Mission Viejo today appears to confirm that Ledecky is on course to pack the kind of punch the Olympic champion over 200, 400 and 800m freestyle has proven herself capable of time and again.
There is a blip fin the America's chart: under the weather as World titles started last year, she faced Ariarne Titmus in the 400m freestyle. A time of around 4-minute flat would normally have seen Ledecky to the wall first, a second per 100m down on her best, but falling a little shy that day was not good enough to fend off Titmus in towering form.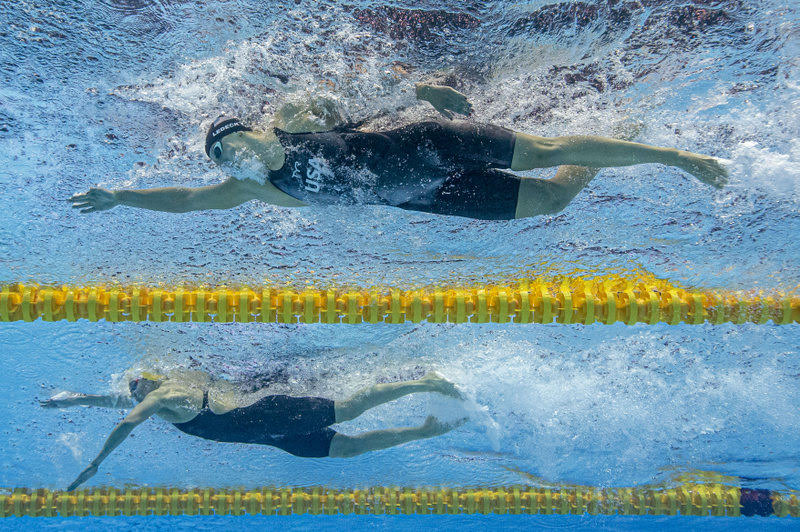 Ledecky missed the defence of the 1500m World title in 2019 but got back into the fray for the 800m against the 30-length winner Simona Quadarella of Italy. The battle was keen but just as it seemed as though Quadarella would do to the American what Titmus had in the 400m, by hitting hard just as the weakness in Ledecky kicked in, Ledecky dug deep, clawed back and, with every sinew and fibre of the last ounce of energy fought back and retained the title in truly impressive fashion.
Not her fastest 800m but that Gwangju swim was one of the most impressive performances of Ledecky's career. It is what Titmus will be up against in Tokyo at the Olympic Games in late July. Both Titmus and Ledecky know what it can mean to be just a touch down on your best, for whatever reason.
Ariarne Titmus – known as 'Arnie' – says she's not using that as an excuse and is confident her shoulder has now completely healed, leaving her just over 100 days to get herself back in mint condition. She tells Julian Linden: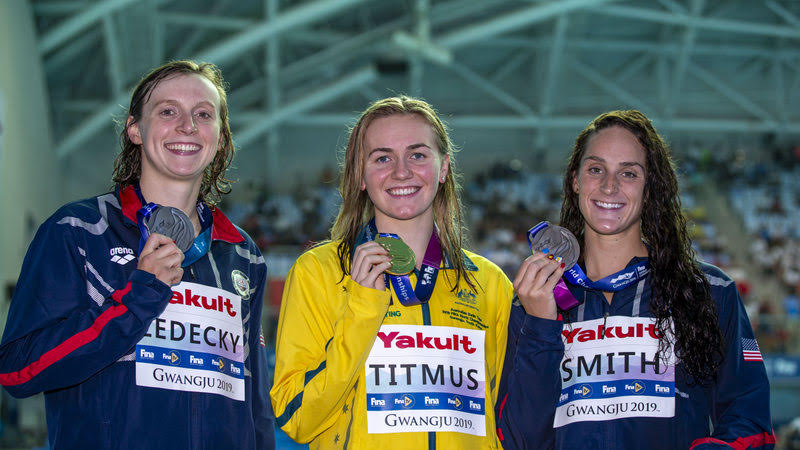 "It's been frustrating more than anything because I've not been able to do the work I feel that I need to do to be at my best. But I've had an amazing team around me and we've done the best we could to get it under control. I feel like I'm definitely getting back on track and if I can do everything the best I can, I feel like, if I can get to Tokyo, I can be in great form."

Ariarne Titmus – by Patrick B. Kraemer
The now 20-year-old Titmus felt a twinge in her upper shoulder while racing at last year's Queensland state championships. She immediately withdrew and was sent for scans. They revealed that she had injured her subscapularis tendon, the largest of the four rotator cuff muscles.
It is a fairly common injury among swimmers and often requires a lot of rest from the regular movements that can irritate and exacerbate the injury. Following sound advice to play it safe, Titmus took 14 weeks off full training – on the way to an Olympic Games.
"We've definitely been over cautious but I think you have to be because this is her first real injury, and she's back in full training and seems to be ticking along nicely now," says Boxall. "It's just a subscap tendon that basically just flared up. There's no tear, there's just no nothing, but it just needs to be managed because she's a distance swimmer that does a lot of repetitive motion with her shoulder."
Titmus returned to full training in Brisbane at the end of March. Next week she'll test herself in 100m, 200, 400m and 800m events at the Gold Coast Championships.
She;'s not looking for much, particularly because she will be training throughout the meet as part of a heavy block of work aimed at better and faster moments at Olympic trials in June and then the Games in July. She tells Linden:
"I honestly don't know where I'm at the moment so that's going to be the biggest thing for me. I know where I'm at training wise but it's a different thing when you've got to put a race together so that's pretty much the biggest thing I'm looking for, to see what I have to tweak before the trials. I just need to do some racing."

Ariarne Titmus