Powerful Backing For U.S. Olympic Review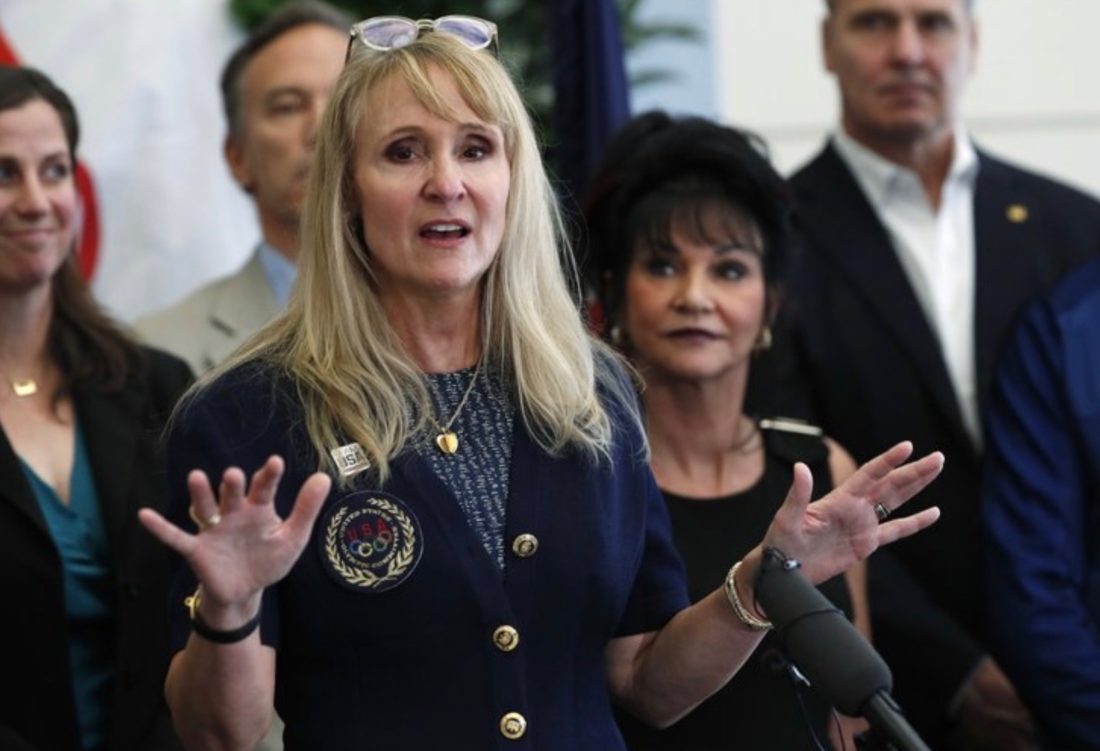 The judge who sentenced former sports doctor Larry Nassar to prison and a group of Olympians are backing an effort to create a commission to look into the operations of the U.S. Olympic Committee, the AP news agency reports.
Michigan Judge Rosemarie Aquilina joined the athletes and Colorado's U.S. Rep. Diana DeGette in Denver on Monday to announce the planned introduction of the bipartisan bill Tuesday in the House. It mirrors one introduced in January by Colorado Republican Sen. Cory Gardner in the Senate, a standard practice in Congress. It would set up a panel of 16 people, half of them Olympians or Paralympians, with subpoena power.
Aquilina urged people to ask their congressional representatives to support the legislation and add their names as co-sponsors. Aquilina said she became involved because this wasn't a partisan issue, but a "human thing. This is justice for everybody. Isn't that what judges are supposed to be — about equal justice?"
"It's troubling for me to hear that money and medals are valued more than the safety of athletes. We have to flip that script," added Aquilina, who sentenced Nassar to what equates to life in prison.
"How is it that the Olympics do not protect their athletes? That's their company. That's their bread and butter."

Michigan Judge Rosemarie Aquilina
Olympic 100m freestyle champion of 1984, Nancy Hogshead-Makar, fellow Olympic gold medallists BJ Bedford and Norm Bellingham, along with Paralympic gold medalist Sarah Will, swim coach and advocate for governance change Dia C. Rianda were among those attending the event.
"No amount of gold medals are worth putting the health and safety of our athletes at risk," DeGette said. "When the very body that Congress created to care for our athletes becomes more concerned about winning and protecting a brand than the athletes themselves — it's time for change."
Rob Koehler, director general of Global Athlete, formed to help athletes gain a more represented voice, said:
"It's time to make sure there is independent oversight, that the government takes a brave leadership role, not only for the United States but as an example for other countries, that it's no longer acceptable for sport to self-govern itself. It's all about the athletes. We lose focus of that. This movement is about celebrating athletes' victories, and the growth potential is there."

Rob Koehler
Read Global Athlete's Open Letter of support in full below – and below that, Global Athlete's call for the IOC to relax its out-of-date Rule 40.
Meanwhile, the latest legislation to establish the U.S. commission comes six months after a congressional report in the wake of the Nassar sex-abuse case that recommended a review of the law that governs the USOC and how the USOC can use its authority to more actively protect athletes.
USOC, said spokesman Mark Jones, would "continue to work constructively with both the House and the Senate to create healthy and safe environments for the American athletes we serve."
Among the panel's duties would be to evaluate how responsive the national governing bodies of each Olympic sports are to the athletes, and whether the U.S. Center for SafeSport has proper funding to effectively respond to any future reports of harassment and sexual assault. In addition, the panel would review the diversity of the USOC's board members, its finances and whether it's achieving its stated goals.
Gardner said he's talked to former U.S. Secretary of State Condoleezza Rice about serving on the panel. "That's likely the kind of caliber that we need," Gardner told AP.
THE OPEN LETTER FROM GLOBAL ATHLETE
US Government Bill launched in Congress today will review the suitability of 40-year-old Olympic Committee legislation for today's athletes.
Global Athlete becomes Supporter of new Commission due to the promise it holds for deep-rooted advances for Olympic and Paralympic athletes right across the USA and internationally.
Putting athletes first is a fast-growing trend in international sport, and we are pleased to see the United States leading the way for other countries to follow', said Global Athlete Director General, Rob Koehler.
17 June 2019: The new international athlete-led Movement for change in sport Global Athlete has today pledged its backing to a new United States Government Bill that establishes a Commission to review the state of affairs for Athlete Rights in Olympic and Paralympic Sport.
The Bill, revealed today in the United States Congress, commits to an in-depth review of the suitability of the 40-year-old US Olympic Committee Legislation, particularly with regards to the health and wellbeing of today's generation of Olympic and Paralympic athletes. The Bill arrives nine years before the Olympic and Paralympic Games return to the U.S. (Los Angeles 2028) and at a time of intense interest in advancing athlete rights ranging from greater representation, to better handling by authorities of bullying, harassment and abuse.
"Global Athlete is pleased to back the introduction of today's US Government Bill to review the state of Olympic and Paralympic Sport in the United States," said Global Athlete Director General, Rob Koehler. "Putting athletes first is a fast-growing trend in international sport, and so we are delighted to see the United States lead the way in assessing the suitability of athlete rights across American Olympic and Paralympic sport. Where the United States leads, I hope other countries will follow because the health and well-being of athletes is something we can, and must, all get behind," added Koehler.
The introduction of the Bill in Washington D.C. today will see a Commission conduct a study on matters relating to the state of U.S. participation at the Olympic and Paralympic Games, with a specific emphasis on the rights of athletes and minorities. As part of its work, the Commission will assess: the diversity of United States Olympic Committee (USOC) members including whether it extends to a suitable level of athlete representation; the participation levels of women, disabled and minority athletes; and an assessment of whether the United States Center for Safe Sport effectively handles reported cases of bullying hazing, harassment, and sexual assault.
The Bill will see the Commission conduct its work over 270 Days, following which it will present a report on the results of the study under including a detailed statement of findings, conclusions, recommendations, and suggested policy changes.
Global Athlete joins Athlete representatives from 8 countries in calling on the International Olympic Committee to relax Rule 40
International athletes call on IOC to work with National Olympic Committees to meaningfully reform Rule 40 which would liberate athletes' commercial potential.
18 June 2019: On the eve of the International Olympic Committee (IOC) Executive Committee meeting in Lausanne, Switzerland, Global Athlete has joined forces with international athlete representatives from 8 countries to encourage the International Olympic Committee (IOC) to "embrace change" by working with National Olympic Committees (NOCs) to meaningfully reform what is known as 'IOC Rule 40'.
Speaking as a collective, Global Athlete and the athletes of 8 countries said: "We are asking the IOC to positively embrace the overwhelming sentiment of athletes to reform and modernise Rule 40 so that it's more in keeping with how athletes wish to express and market themselves in today's world. We are encouraging the IOC to join us and show its support to all athletes by ensuring all National Olympic Committees loosen and modernise the currently restrictive 'Rule 40' so that it's more befitting the digital world that we now live in.
In doing so, the IOC would be enabling athletes greater flexibility in athletes' use of social media and personal advertising rights during the Olympic Games period, and in turn this would allow athletes to express their own personalities and promote their own sponsors during, and leading up to, the Games. By embracing our call for positive progress, the IOC and NOCs can not only help create stars out of Olympians, but they would also be growing the profile of the Olympic Games, too. It's a win-win opportunity, and one that we can surely all get behind for the good of Olympic sport.
Given the IOC is not currently paying athletes to compete at the Games, at a minimum, this gesture of good faith is in the best interest of everyone and will empower athletes to unlock their earning potential and amplify their impact on society. It is a fact of life that athletes are the ones that cause fans to fill up the stadiums, and that cause those in the sports industry to successfully sell television and marketing rights. It can only be right and logical, therefore, for the IOC to embrace the inevitable – and help level the playing field.
The Olympic Movement is one of the most powerful mechanisms to promote fundamental rights, peace and change; and so the opportunity for the IOC to unlock the potential of the international athlete community is a great one. Athletes want to grow sport together, and this is one way to do that. We urge the IOC along with the National Olympic Committees to be brave and show every athlete that you have their best interests at heart.