Global Athlete Backs Para Swimmer André Brasil In Call For Para Swim Bosses To Revoke Career-Ending Mid-Olympic Cycle Reclassification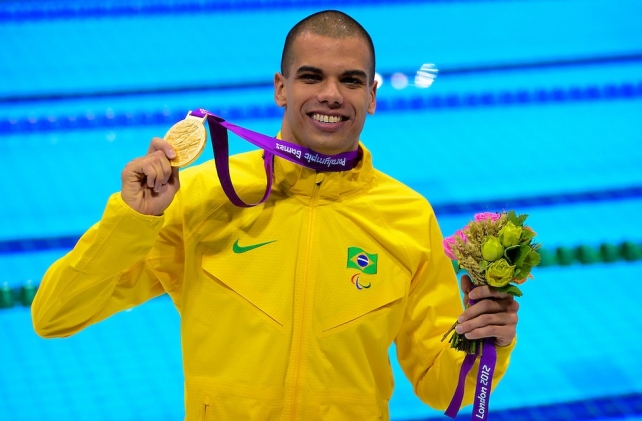 Global Athlete, one of the leading representative organisations campaigning for athlete rights, has backed Brazilian 14-time Paralympic medallist André Brasil in his battle against mid-Olympic cycle reclassification that has cost him eligibility for the delayed Tokyo 2020 Paralympics this year.
Campaigners want the International Paralympic Committee to revoke reclassification decisions that end in disqualification from para sport in mid cycle. Global Athlete stated today:
The Paralympics cannot claim to be a celebration of humanity while at the same time treat athletes inhumanely. Human rights are athlete rights.

Global Athlete
A landmark ruling is likely in the case whichever way it goes, given that the decision on Brasil will impact many others who find themselves either disenfranchised or shifted to competition categories in which their disabilities may render them far less competitive.
Global Athlete is not arguing against the need to reclassify and improve the system of categorisation in Paralympic swimming. However, they back Brasil in his belief that such mchanges should be introduced just after the major event of the four-year cycle, not after several seasons of work leading into the final stages of preparation before a Paralympic Games, which for swimmers marks a career highlight.
Brasil, winner of seven Paralympic golds and a three-time Paralympian, was told in April 2019 that he was no longer eligible to compete in Paralympic swimming. At the time he was working his way back from shoulder surgery.
He had swum for a decade in classification S10: as a child, he suffered polio, which left one leg 5cms shorter than the other and led to a loss of sensation and balance in his left leg. In swimming, balance and even distribution of strength are critical to speed.
However, in 2019, reclassification tests conducted at the Para Swimming World Series in Sāo Paulo – as part of the 2018 policy of reclassifying every swimmer, in the wake of complaints over cheating that included allegations of national-federation involvement – concluded that André Brasil was not sufficiently disabled to classify as a Paralympian.
André Brasil tweeted in 2019: ""Indignation, revolt, sadness … a story erased in a day … we are treated as numbers of points in the classification and not as human beings,"" Then he engaged a lawyer and legal challenge ensued.
Now, Global Athlete has called on the International Paralympic Committee and affiliate World Para Swimming to immediately revoke Paralympic Athlete disqualifications resulting from mid-cycle rule changes. In a statement issued today, March 1, 2021, it notes:
For over 16 years, 14-time Paralympic medalist André Brasil has competed at the 2008 Beijing, 2012 London and 2016 Paralympic Games. Suddenly, in the middle of a Tokyo Paralympic cycle he has been told he is no longer an eligible athlete.
The International Paralympic Committee (IPC) and World Para Swimming (WPS) classification changes made in the middle of the Tokyo 2020 Paralympic Cycle emphatically undermine the human rights of every para swimmer. This unilateral decision by the IPC to change classification rules without due consideration of the impact on athletes' lives is a gross abdication of its duty to protect the human rights of athletes. Specifically, such rule changes are a clear violation of the athletes' freedom of profession and the right not to be discriminated against.
Global Athlete is in full support of André Brasil 's proceedings against the IPC and WPS requesting to annul his classification and to implement at least a transitional period for the new classification rules to come into place following the Tokyo Paralympic Games, allowing all Para Swimming athletes who used to be eligible under the old rules the right to compete. The IPC has granted wheelchair tennis athletes this transitional period; para swimming athletes must be afforded the same.
The Paralympics cannot claim to be a celebration of humanity while at the same time treat athletes inhumanely. Human rights are athlete rights.
A number of other controversies unfolded because of the mid-cycle reclassification, among them the shifting of 2012 and 2016 British Paralympic champion Ollie Hynd from S8 to S9, and then back and then back to S9 once more.
Reclassification was deemed necessary to improve an imperfect classification system supposed to check two key tickets boxes among several: is an athlete's disability one that impairs their swimming skill and speed; which disabilities fit together in terms of ensuring as fair and meaningful a competition as possible?
The further question is: ought reclassifications that end in disqualification and effective removal from para swimming to take place mid-cycle after an athlete has put in two or more years of training for a target they are no longer eligible for.
On the IPC side, one of the reasons the reasons reclassification spills into mid-cycle is the amount of time and effort that it takes to reclassify many thousands of athletes around the world. If an athlete is to be disqualified, however, the question becomes one of fairness both ways: to remove the athlete altogether through reclassification is likely to be seen as unfair to that athlete; to leave that athlete in may be seen to be unfair to those that athlete will compete against when the perception (and reality of an official classification ruling) is that the one athlete has an advantage over the rest.