Germany's Leonie Beck Takes First Gold Of Fukuoka 2023 World Titles In 10km Opener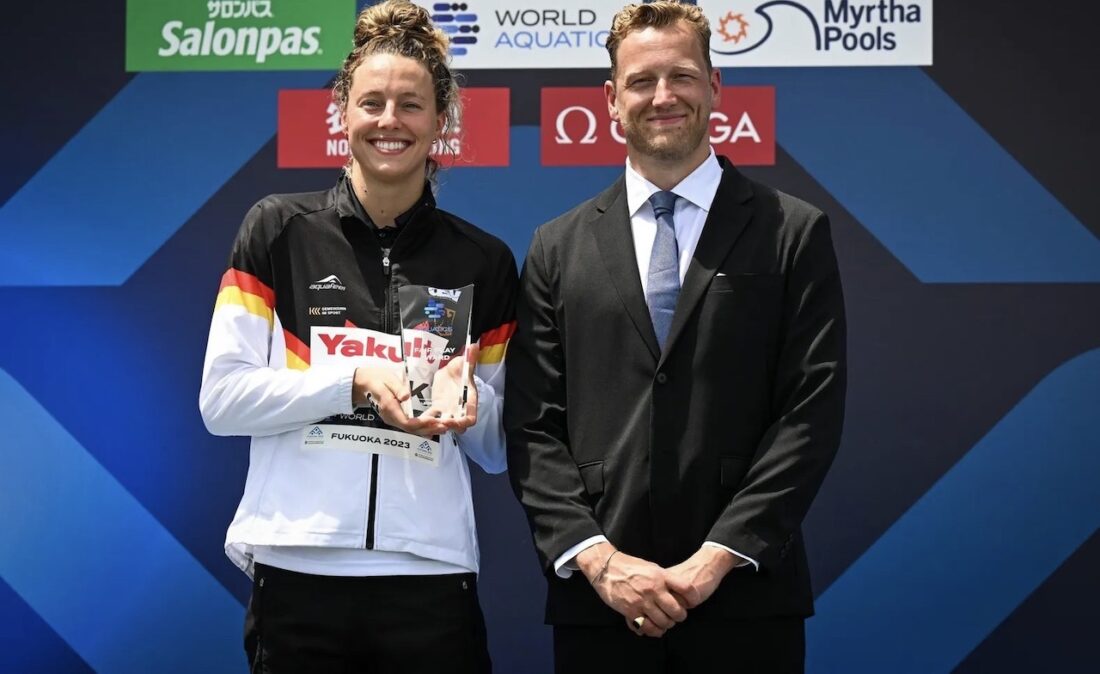 Germany's Leonie Beck made it three golden moments in one when she claimed the global 10km title on the opening day action at the World Aquatics Championships: the crown on her head, Beck also picked up the first automatic qualifying spot for the 2024 Olympic Games in Paris and was then awarded the World Aquatics Open Water Fair Play Award for an act of sportsmanship during the World Cup series last year.
The 10km in Fukuoka unfolded at Seaside Momochi Beach Park. Beck, coached by Fabrizio Antonelli, played a waiting game, sitting some 10 seconds behind the leaders for the first half of the race and then staying in close contention all the way to the last lap, when she made her move to the helm on her way to gold.
Beck stopped the clock at 2hrs 2 mins 34sec, more than four seconds ahead of silver medalist Chelsea Gubecka (2:02:38.1) of Australia, and Katie Grimes (2:02:43.2). All three take a ticket to Par is, Beck securing a German berth at her third Olympics.
The top 5 in the 10km battle today:
1 Leonie Beck GER 2hrs 2 mins 34.00secs
2 Chelsea Gubecka AUS 2:02:38.10
3 Katie Grimes USA 2:02:42.30
4 Sharon Van Rouwendaal NED 2:02:42.40
5 Ana Marcela Cunha BRA 2:02:42.50
"I am really grateful and really happy with the race," Beck said. "I think I could manage the first half to save a bit of energy. The last lap, I was fighting for my life. It was really hard for me and I think this day is a really good day for me.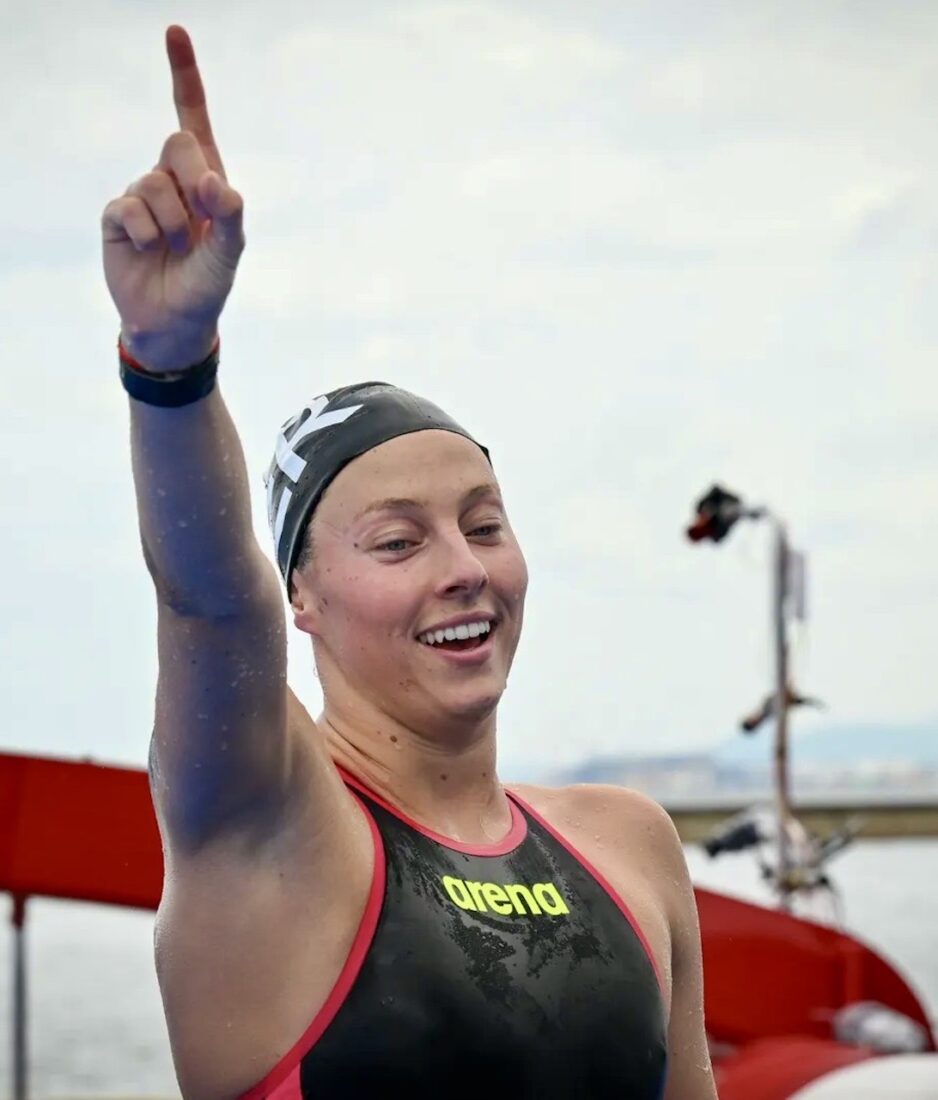 "I tried to stay calm in the beginning and not to lose the pack, but also not to swim very fast. I was always somewhere in the top 20 and then the last lap I was fourth. I tried to catch Sharon (van Rouwendaal) and Chelsea and then I saw, 'wow this is getting really hard.' I was exhausted but I didn't stop fighting, and I fought so much and didn't stop, and at one point I caught them. The last 400 meters, I didn't recognize I was passing them and I was just swimming and fighting to the end."

Leonie Beck. Photo courtesy of World Aquatics
For Gubecka and Grimes, Paris will be their second Olympics. Gubecka raced at Rio 2016, then missed the cut for Tokyo2020ne, while Grimes raced to fourth in the 800m in the pool in Tokyo and will make her Olympic marathon debut in 2024.
"It is exciting," Gubecka said of qualifying for Paris. "Going into this race, that was a big goal to try to get (to the Olympics) and that was our whole preparation, building around that. I am very excited to have my ticket potentially ratified. I can't wait to get back on the Olympic stage – this will be my second Olympic Games. I'm looking forward to the preparation to come."
Next home in Fukuoka today were the last two Olympic marathon champions Sharon van Rouwendaal (NED), Rio 2016 winner and the defending champion from Budapest 2022, and Ana Marcela Cunha (BRA), Tokyo 2020ne victor. Normally, they and five others would also have landed tickets to Paris today but the Covid pandemic spills turbulence into fast waters yet: playing catch up on contracts, FINA, since rebranded World Aquatics, opted to hold a World showcase every year between 2022 and 2025, including Olympic year 2024 and so, all but today's podium placers must show up in Doha next January to race at yet another World titles event and place in the top 13 if they want to secure Olympic selection for their nations. Should the medallists from Fukuoka finish in the top 13 in Doha, they will not be counted in the quota of 13 available places for Paris.
Beck Rewarded For Fair Play
Beyond gold, Beck claimed a second prize today, a Fair Play award for an "act of sportsmanship that unfolded at the first stop of the World Aquatics Open Water World Cup 2022 in Setubal, Portugal."
World Aquatics noted: One day after her 25th birthday Beck was awarded with third place in a photo finish, about 2.5 seconds behind the race winner, Ana Marcela Cunha of Brazil.
Beck had arrived at the touchpad at the same time as two Italian swimmers and another German. The swimmers' wrist transponders registered nearly identical times. Beck was identified as the third-place finisher by her German swim cap and was awarded the bronze medal, the other swimmers were ranked behind her.
"It was a really close finish," Beck said. "There were a lot of girls sprinting for the finish, maybe 5 of us. So it wasn't clear who touched ahead of the others. It was the next day when I saw the video of the finish online that I knew the result was not correct. I clearly saw that I didn't touch ahead of my competitors. I could see my place and that I didn't finish in third place. If I didn't touch ahead of them, then I don't deserve the medal. I wanted to be sure that I did the right thing. If I didn't touch ahead of them, then I don't deserve the medal. I wanted to be sure that I did the right thing."
Beck contacted the World Aquatics office and insisted that her medal, World Cup points, and prize money be reallocated to her teammate Jeannette Spiwoks, the real third-place finisher. They were, and Beck was awarded 5th place.
On her way to a double golden outcome in Fukuoka today.