Freya Anderson Set For Olympic Trials After Life In Bubbles, Bath & The ISL
Britain's Olympic trials get underway in London tomorrow a year after their original schedule, the delay a challenge for all but a chance that might not have been quite so keen a year ago for Freya Anderson.
A junior champion and great prospect back in 2019, Anderson left her teens behind last month and is now a great senior prospect in 2021 beyond a transfer from her formative club program to the national performance centre at the University of Bath.
"Excited to see what I and the rest of my training group can do at trials," Freya Anderson, a fat, record-breaking junior career in the bag, is aiming for a place on what would be her debut Olympic Games, in Tokyo from July 23. Trials are a case of containing the excitement of the occasion and treating the meet like any other, she says.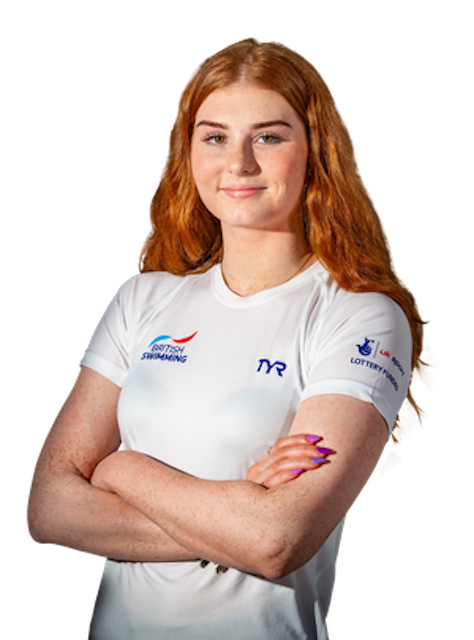 The trials will be held over the coming five days of racing in a bubble: only direct participants allowed into the venue at the London Aquatics Centre to ensure the safest of environments for the swimmers and those they work with. There will be no crown, no media present.
For an instant and solo-event ticket to Tokyo, Freya Anderson must finish top two and get inside 53.88 in the 100m freestyle and 1:57.28 in the 200m freestyle. Her form these past two season indicates that she will sail inside her target, Anderson's best times having moved on from 53.88 to 53.31 and 2:00.41 to 1:56.06 between 2017 and 2019, aged 16 to 18. In a similar timeframe she has also made short-course improvements of a second over 100m and 3 seconds over 200m.
Freya Anderson left her teens behind last month at the end of a year of transition. It was April 2020, just as the first wave of the pandemic started to bite that she made a permanent switch from Ellesmere Titans, where she had been coached by Alan Bircher for five years, to the Bath National Centre to train under the guidance of Dave McNulty to prepare for the Tokyo 2020 Olympic Games.
Within weeks, those were postponed. It would be July 2021, not July 2020: a year in the life of a 19-year-old sprinter is a long time Anderson may well be due for a healthy drop on the clock.
Anderson, eighth in the 100 free at the 2019 World Championships in Gwangju, South Korea, had already started to ease into the Bath program, having visited to undertake training blocks with McNulty in the year leading up to her permanent move to a squad that has celebrated Olympic success for the likes of Jazz Carlin, Siobhan-Marie O'Connor and James Guy, not to mention many others all the way back to Paul Palmer, the world of coach Ian Turner and the 4x200m quartets that laid the foundation on which Guy and his generation have stood tall as World champions.
Anderson made her move at the same time as Holly Hibbott also moved to Bath, from Sean Kelly's Stockport program, while Kelly moved on to Spain, where he is head coach.
Anderson paid tribute to Bircher as she left the Titans, saying:
"I'm forever grateful for what Alan's done with me and the programme at Ellesmere. It's going to be sad as I've been there for five years, but I think it's the right time to do it and have a new start."
Freya Anderson & A Passion For Gladiatorial Race Day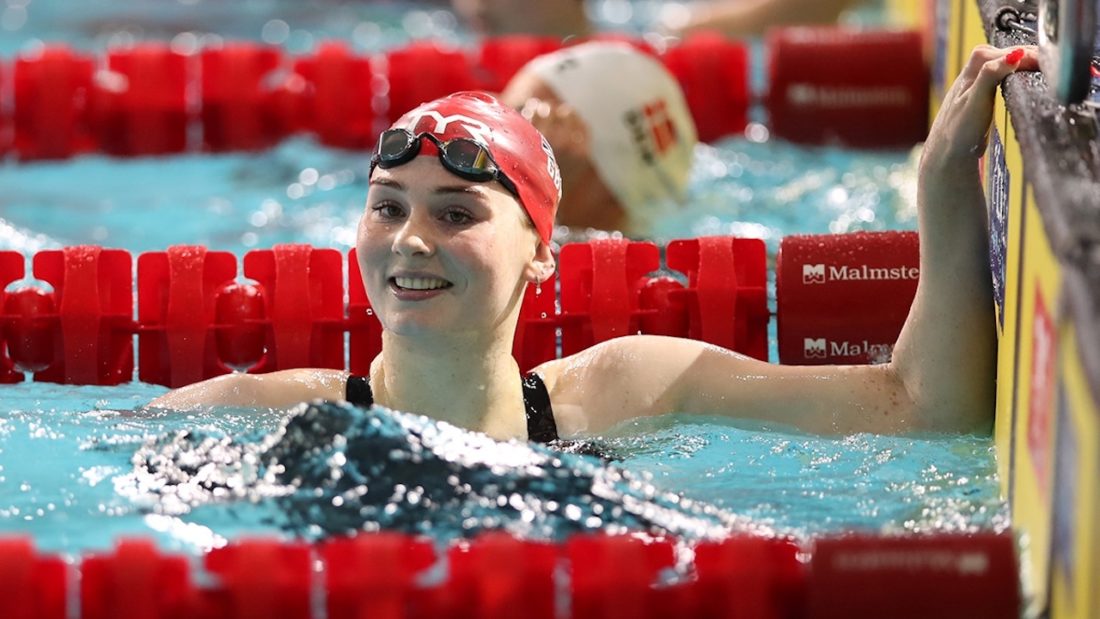 A few months before her move to Bath, Freya Anderson claimed 50m and 100m freestyle gold at the European Short-Course Championships in Glasgow. It was December 2019. Victories over 50, 100 and 200m followed at the Flanders Cup in early 2020 at a meet that included an eye-catching 1:56.06 in the 200m. Only two other Brits have ever gone faster, both Olympic medallists: Jo Jackson, the 2008 Olympic 400m bronze medallist, and Siobhan-Marie O'Connor, the Rio 2016 200IM silver medallist.
Freya Anderson was looking forward to Tokyo, telling Sky News through its sports scholarship program:
"I get excited. I think that's my comfort zone. I'm definitely more comfortable standing in front of tens of thousands of people in a race suit than speaking in front of 10 or 20 people. I don't know why that is. I think it's that swimming has been my comfort blanket and it's something that I really enjoy."
Her then and formative-years coach, Alan Bircher chimed in:
"She's a competitor. She can stand up in the race arena and touch the wall quicker than anyone else. I think she can be on the podium. We're trying to point her in the right direction. If that happens, so be it, if it doesn't, back to the drawing board and she goes again."
Even if she has to grumble her way through the tough stuff. A year ago, she said: "Sometimes [training] is really hard and I can't go without moaning, but you just have to keep your eyes on the prize. With the Olympics being so close, I don't want to be stood behind the blocks in Tokyo, if I make the team, and have regrets I didn't put everything into the training. I'm trying to go about just not holding anything back."
Year Of Living In Bubbles Bath & League Behind Her …
A year of living in bubbles, in Bath and on ISL tour, behind her says she is excited to finally be competing at Trials for Tokyo among her University of Bath-based teammates.
As the Bath program puts it today: "With competition opportunities limited during the past 15 months, she has spent hundreds of hours training in the London 2012 Legacy Pool under the guidance of coach David McNulty – whose athletes have won six medals at the past three Olympic Games – and can't wait to put that hard work into practice" at trials. Says Anderson: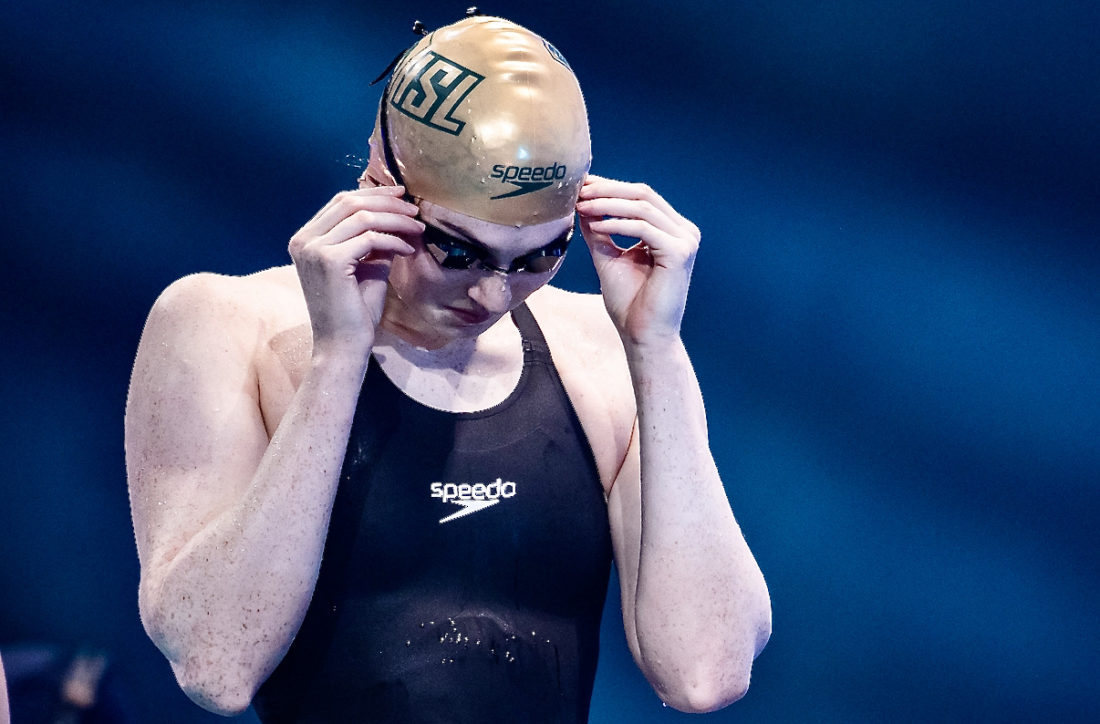 "I'm really excited to see what I and the rest of my training group can do at trials. There is always a bit of added pressure, it's Olympic trials, but you can't think of it like that. I have to go there and just race. I really enjoy racing and haven't had many opportunities to do so in the past year so it will be good to get there and race again."
On ISL Tour for the London Roar, Anderson broke her own British 200m free s/c record and had only good things to say about her move to Bath: "It's been amazing moving to Bath, it's just a really good environment to be in," she said. "I was meant to move in September 2020 [post-Tokyo 2020 in its original slot] but my coach and I decided to come here in May for the return to training. We had ten really good weeks of training in the summer and it has gone well since then. Everyone in my group is so professional and I look up to all of them. We are all really close friends and it feels like a family." She added"
"Working with Dave is amazing too, he just really understands all of his athletes and makes sure we are OK as both an athlete and a person, I really like that. I'd worked with him before at the World Championships and he has always been such a bright, bubbly person to be on poolside with."
Never Forget Where It Came From
This past year, many clubs and programs around the world have been shut – and some may struggle to get back on their feet, as we reported recently.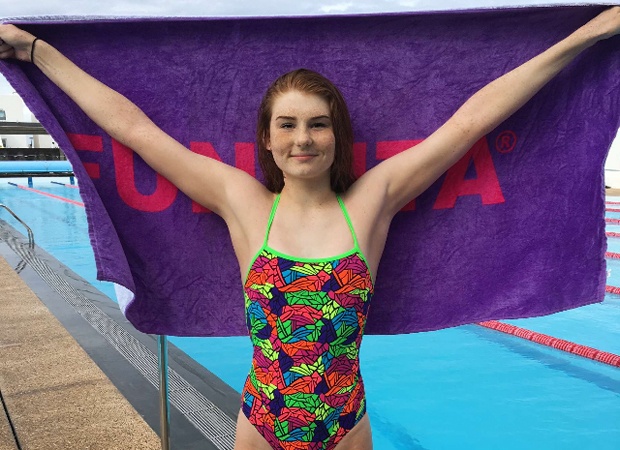 A good moment to recall what Freya Anderson, who learned to swim at 5 and started racing at around 10 years of age, had to say about her own club when asked by Swim England to think back to the beginning:
"I remember when I was properly learning to swim, like full on armbands and everything. I think at the time, I was quite scared of swimming and I used to try and touch the floor with my feet because I was so tall, so I used to get told off for that."

My first proper club was one back home where I live called Hoylake. When I first got involved with my club, I was doing swimming lessons as just a life skill and I got picked for a trial.

I remember I had to stay back behind my swimming lessons and go into a trial in a lane with everyone else. I was really nervous, but I got in."

Freya Anderson – image courtesy of Funkita
Looking back at how club swimming influenced her career, she said: "My first club helped me develop as a swimmer just purely by teaching me all the basics. They definitely taught me discipline and obviously you have to have discipline to carry on. I remember being really shy until I started swimming, so I think it just brought me out my shell.
"They just taught us how to enjoy swimming and once you enjoy it and you start to become more comfortable, then it's easy to make friends because you're all in it together I think. I think Hoylake has had a big influence on my career. It's where it all started, it's where I learned all the basics and, without that, I wouldn't have been able to progress to where I am today."