Freya Anderson Reaches 0.09sec Past Anna Hopkin On Last Swing Of Arm & Punch Of Pad – Both Inside Tokyo Cut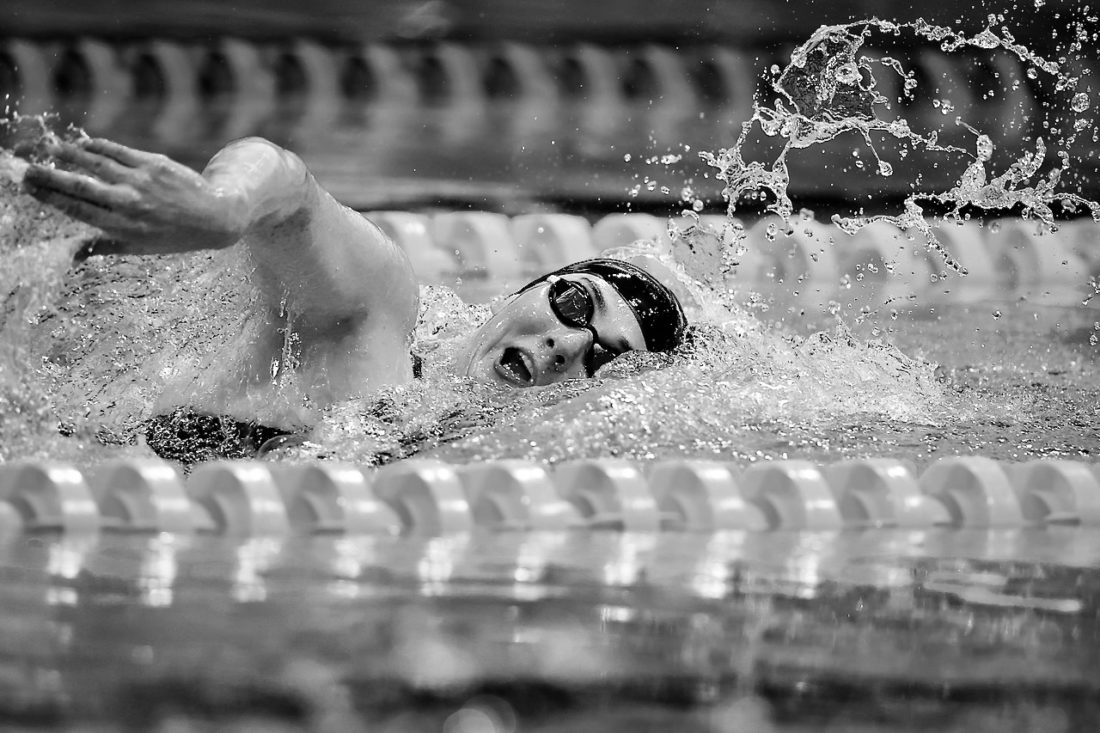 Freya Anderson and Anna Hopkin raced inside the qualification cut for the Covid-delayed Tokyo Olympic Games in 53.40 and 53.49 in the 100m freestyle at the start of the fourth and penultimate session of finals at the British Swimming Olympic Trials in London.
On a day of morning in Britain, as the country paid its last respects to HRH The Prince Philip, Duke of Edinburgh, the action at trials proceeded as planned, just as Queen Elizabeth II's "Stay and Strength" would surely have wanted. (Our main SOS images are all in black and white as a mark of respect this day).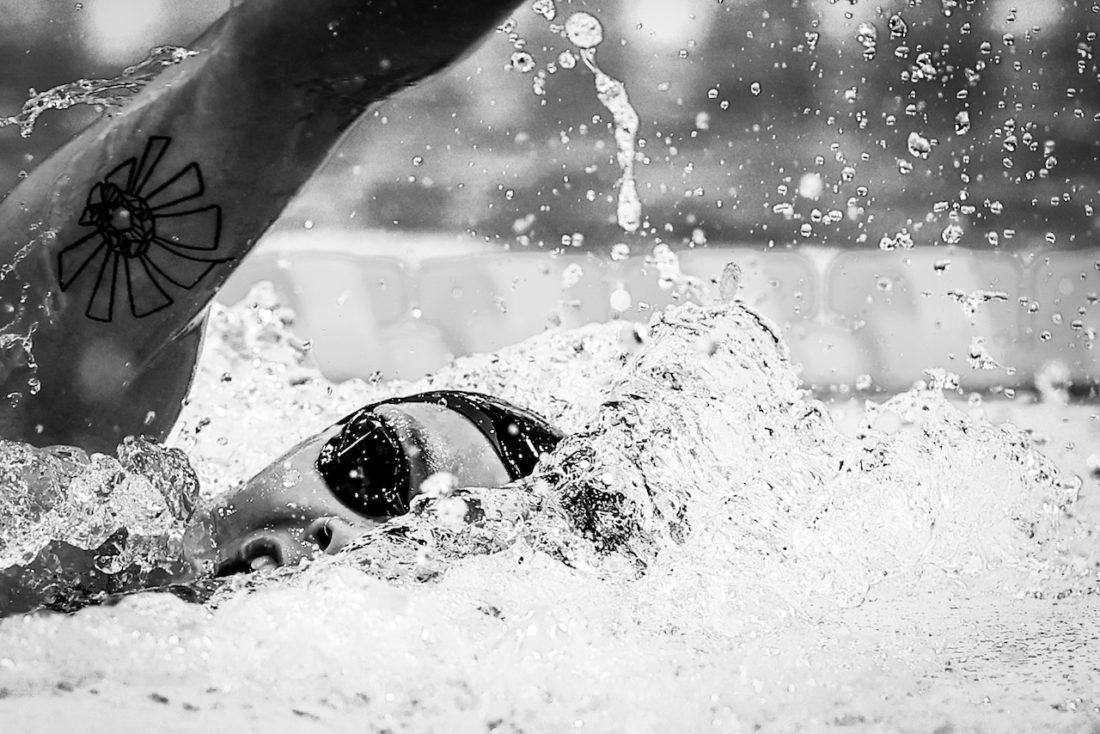 The 100m freestyle was a battle of two halves: Anna Hopkin blasted off her blocks to reach the turn in 25.43, 0.4sec ahead of Freya Anderson, who at 6ft 3 was a touch slower flipping over but powered and streamlined closer to her quarry off the wall. Hopkin refused to yield but slowly, surely and with every sinew and sideways glance, Anderson clawed her way level. Even so, it came down to the last swing of an arm and punch of the pad: 0.09sec in it, both women inside the Tokyo cut.
Third home was Lucy Hope, whose 54.19 established a 13-year-old Scottish record inside the 54.31 standard established at 2008 nationals by Caitlin McClatchey.
The flow of the fight:
| | | | | | | | | | | |
| --- | --- | --- | --- | --- | --- | --- | --- | --- | --- | --- |
| Place | Name | YoB | Club | | Time | | | Pt | | 50 |
| 1. | Freya Anderson | (01) | Bath NC | | 53.40 | | | 908 | | 25.83 |
| 2. | Anna Hopkin | (96) | Loughboro NC | | 53.49 | | | 903 | | 25.43 |
| 3. | Lucy Hope | (97) | Edinburgh Un | | 54.19 | | | 868 | | 26.13 |
There was only one way to swim it for both women. Freya Anderson, coached by Dave McNulty at the Bath performance centre after spending her development years under the tutelage and guidance of former Britain international Alan Bircher at Ellesmere College Titans, explained: "I know how fast Anna is in the first 50m, so that's the only way I can swim it, to try to claw it back!"
"It's amazing we both got under the time – it's great to see the 100m Free become so competitive. The trials experience has definitely been different, not that much of an atmosphere, but I've got a great support team around me who make it seem easy, so that's made it really fun."
Hopkin added: "I'm really happy with that. I'd have liked to go a bit quicker, but this year has been so uncertain and it's been difficult to know what kind of form I'm in, so to be that close to my best time and under the consideration time, I'm over the moon. Training's been great the last few months. I changed programme a year ago, and it's been great training with Mel Marshall and my new teammates at the Loughborough National Centre. I'm just glad it's going so well."
The Transition Of Towering Prospect Freya Anderson
Freya Anderson, 6ft 3, left her teens behind last month at the end of a year of transition. It was April 2020, just as the first wave of the pandemic started to bite that she made a permanent switch from Ellesmere Titans,  where she had been coached by Alan Bircher for five years, to the Bath National Centre to train under the guidance of Dave McNulty to prepare for the Tokyo 2020 Olympic Games.
Within weeks, those were postponed. It would be July 2021, not July 2020: a year in the life of a 19-year-old sprinter is a long time Anderson may well be due for a healthy drop on the clock.
Anderson, eighth in the 100 free at the 2019 World Championships in Gwangju, South Korea, had already started to ease into the Bath program, having visited to undertake training blocks with McNulty in the year leading up to her permanent move to a squad that has celebrated Olympic success for the likes of Jazz Carlin, Siobhan-Marie O'Connor and James Guy, not to mention many others all the way back to Paul Palmer, the world of coach Ian Turner and the 4x200m quartets that laid the foundation on which Guy and his generation have stood tall as World champions.
Anderson made her move at the same time as Holly Hibbott also moved to Bath, from Sean Kelly's Stockport program, while Kelly moved on to Spain, where he is head coach.
Anderson paid tribute to Bircher as she left the Titans, saying:
"I'm forever grateful for what Alan's done with me and the programme at Ellesmere. It's going to be sad as I've been there for five years, but I think it's the right time to do it and have a new start."
Freya Anderson & A Passion For Gladiatorial Race Day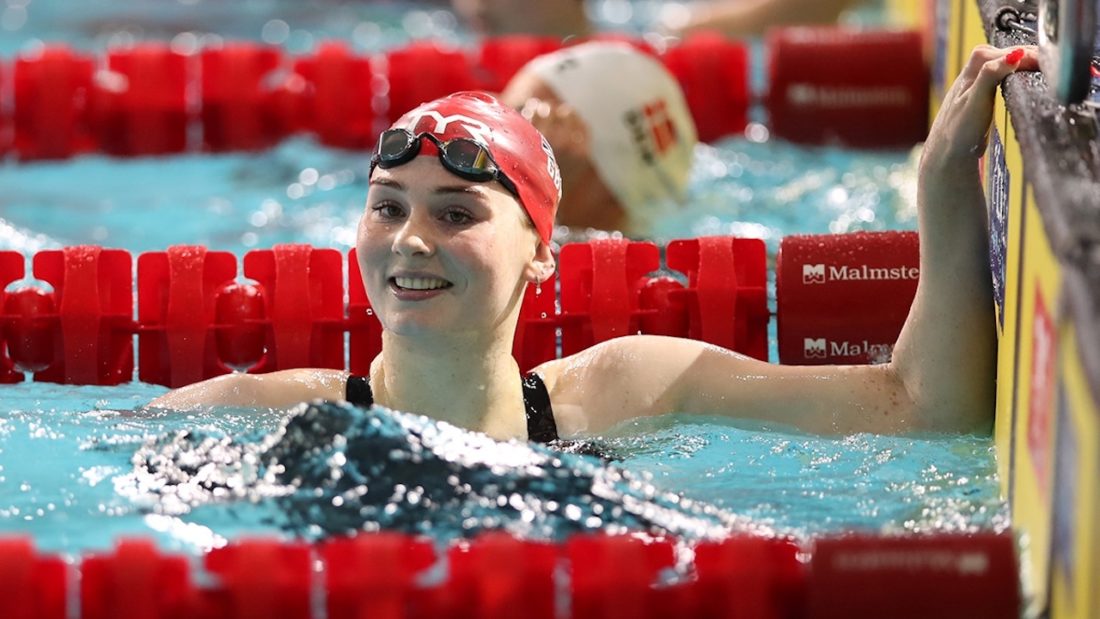 A few months before her move to Bath, Freya Anderson claimed 50m and 100m freestyle gold at the European Short-Course Championships in Glasgow. It was December 2019. Victories over 50, 100 and 200m followed at the Flanders Cup in early 2020 at a meet that included an eye-catching 1:56.06 in the 200m. Only two other Brits have ever gone faster, both Olympic medallists: Jo Jackson, the 2008 Olympic 400m bronze medallist, and Siobhan-Marie O'Connor, the Rio 2016 200IM silver medallist.
Freya Anderson was looking forward to Tokyo, telling Sky News through its sports scholarship program:
"I get excited. I think that's my comfort zone. I'm definitely more comfortable standing in front of tens of thousands of people in a race suit than speaking in front of 10 or 20 people. I don't know why that is. I think it's that swimming has been my comfort blanket and it's something that I really enjoy."
Her then and formative-years coach, Alan Bircher chimed in:
"She's a competitor. She can stand up in the race arena and touch the wall quicker than anyone else. I think she can be on the podium. We're trying to point her in the right direction. If that happens, so be it, if it doesn't, back to the drawing board and she goes again."
Even if she has to grumble her way through the tough stuff. A year ago, she said: "Sometimes [training] is really hard and I can't go without moaning, but you just have to keep your eyes on the prize. With the Olympics being so close, I don't want to be stood behind the blocks in Tokyo, if I make the team, and have regrets I didn't put everything into the training. I'm trying to go about just not holding anything back."
On ISL Tour for the London Roar, Anderson broke her own British 200m free s/c record and had only good things to say about her move to Bath: "It's been amazing moving to Bath, it's just a really good environment to be in," she said. "I was meant to move in September 2020 [post-Tokyo 2020 in its original slot] but my coach and I decided to come here in May for the return to training. We had ten really good weeks of training in the summer and it has gone well since then. Everyone in my group is so professional and I look up to all of them. We are all really close friends and it feels like a family." She added"
"Working with Dave is amazing too, he just really understands all of his athletes and makes sure we are OK as both an athlete and a person, I really like that. I'd worked with him before at the World Championships and he has always been such a bright, bubbly person to be on poolside with."

Freya Anderson – photo by Georgie Kerr, courtesy of British Swimming
Anna Hopkin reaps rewards of adapting, changing and finding new pathways to progress in the pool
Confirmation of selection will only come when events in May have finalised numbers and the British Olympic Association makes the official team announcement. Hopkins is likely to be on the squad – and that achievement will say much about her willingness to change, seek out new pathways to progress, move to in the United States and adapt her life as a professional athlete in a college system governed by 'amateur' rules.
Anna Hopkin knows all about adaptability.
The 25-year-old Commonwealth Games bronze medallist, Hopkin hopped over to America to join Neil Harper, a former British international long a coach in the States, with a view to embracing professional approaches and attitudes and workloads in college system heavy on amateur rules. She excelled as a member of the Arkansas Razorbacks, the competitiveness she encountered helping to hone her sprinting skills to where they are today.
Since the start of the pandemic, Hopkin has been in another college environment, Loughborough University and the performance bubble where the boss is Mel Marshall, another former Britain international and in her coaching days mentor to Adam Peaty from boy to superhero.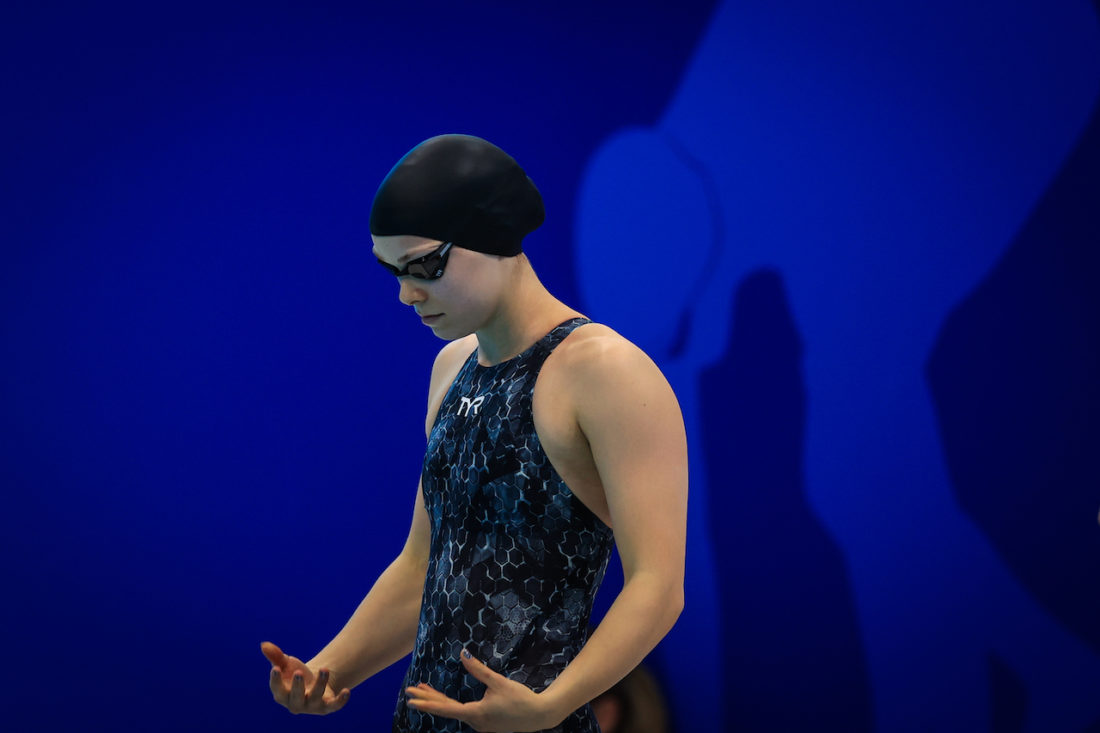 Speaking to Swim England of late, Hopkin said she believes her experiences are relevant to thousands of young club swimmers who have been forced to miss out on taking part in the sport they love while pools have been closed during the coronavirus lockdowns.
"You never forget how to swim. Everyone's swimming journey is going to be different but when you're young, you're so adaptable. I took a really long break and I did other sports and I stayed fit. Obviously this is probably the longest that any of them will have been out of the water and I'm sure a lot of them have been doing that throughout this time – doing other sports to stay fit."

Anna Hopkin – photo by Georgie Kerr, courtesy of British Swimming
Change and adaptability
Hopkin left the sport at the age of 13 after her love for swimming faded. She longed to explore other sports. Before heading to University four years later, she was drawn back to the water when in search of the company of others who lived sport.
That time out of swimming in her life offers a valuable approach to others who now find themselves locked out.
Hopkin said: "Although you might have lost a bit of feel or fitness, it doesn't take as long as you think it will to get back into it. When you're young you think you have to be the best you're going to be right there and then. Whereas actually, personally I think to have a long swimming career it's better to have slow and steady improvements."
Anna Hopkin was in the process of completing a masters degree at The University of Arkansas when the pandemic struck. She would have graduated last summer and only then returned to Britain to join Marshall's troops.
Like many, she found her plans and goals shifted by the strong gust of Covid circumstance. Now, she 's giving back in Britain by joining Swim England's Sharing Success sessions that aims to ripple out the messages of excellence to the next and the next and the next wavers. Said Hopkin:
"I feel quite honoured to be asked to act as a mentor to younger swimmers. I think it will be really exciting to share my experiences and hopefully inspire some of the younger swimmers to take it to the next level."

Anna Hopkin