French Swimming Boss & Pharmacist On Frontline of Coronavirus War Denounces IOC & Tokyo 2020 Inaction As "Indecent & Shocking"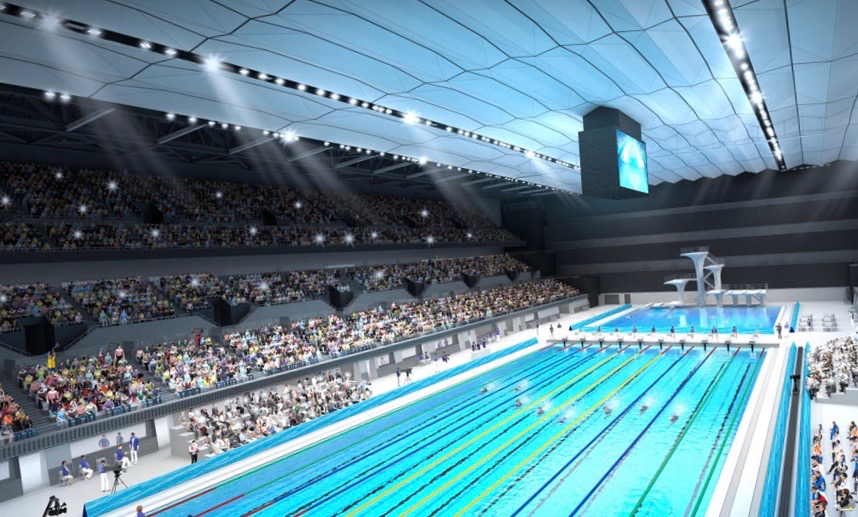 French swimming boss Gilles Sezionale is a man in the know on swimming and the coronavirus (COVID-19) pandemic. The head of the French Swimming Federation (FFN), a pharmacist by profession and currently working on the front line of the global health emergency, has harnessed his knowledge and status in both worlds to tell theInternational Olympic Committee and Tokyo 2020 Olympic Games organisers that he is stunned by a lack of action that he calls both "indecent" and "shocking".
From the heart of Paris 2024 country and city, Sezionale heaps scorn and pressure on the Olympic realm as he calls on leaders to catch up with monumental events unfolding across the world.
He tells Le Parisien in an exclusive interview with Eric Bruna today that sets flames at the feet of IOC bosses and Tokyo 2020 Olympic organisers that a message of "Games must go on" is out of step with the reality on the ground around the world. he advocates postponement until, 2021 and says he won't be going on any site visits to Tokyo as offered by his National Olympic Committee because as things stand, the show cannot go on.
Sezionale, who urges the heads of other swimming federations around the world to step up and demand action, contrasts firm decisions in football, highlighting the shifting of the Euro 2020 tournament to Euro 2021, to a lack of action in the Olympic movement and concludes that where "football does not put the health of its professionals at stake, the IOC does not pay the same respect to its athletes".
On the day the IOC Board held a teleconference with National Olympic Committees to hear them tell the tales of athletes unable to train, of trials and championships wiped out and preparation plans wiped out, Sezionale, in a sensational interview that will resonate far and wide in the realm of Olympic sports, is asked by Bruna how he explains the lack of decisive action from the IOC and Tokyo 2020 of the kind that football and other professional sports have taken. The French swimming boss refers to the IOC statement of yesterday and says:
"I can't explain it. What they write is indecent. It's shocking. They are wedded to the numbers of zeros (the money). I saw people tweet: 'Coca-Cola does not want to drink from this cup'. That's it. We are so steeped in a world of money that we forget hat matters most. There is no more money than the amounts football has – and yet football has been smart in playing the precautionary principle and shifting the Euro [2020 tournament] to 2021. Perhaps they are more sensible than our IOC wise men. If they take action, we can still do the same. I find it hard to understand that no one reacts. Football does not put the health of its professionals at stake. The IOC does not pay the same respect to its athletes. However, this is what they [IOC] live on. Without a show, no big money."
Sezionale took to Twitter to send a message to Olympic bosses that their priorities are out of step with a world struggling on health, life and financial grounds:
"While all sports cease their activities and postponements of major events multiply, the IOC evokes the possible continuation of the Olympic Games! I am devastated by so many inconsistencies when we should only devote ourselves today to the epidemic to save lives!"
The Tokyo Games are scheduled to start July 24. In the IOC's teleconference today, most talk was of the disruption to preparation of athletes and the desertification of the sporting calendar. The Spanish Olympic Committee (COE) head, Alejandro Blanco, was among those issuing statements after the teleconference that fell shy of a call to cancel or postpone.
Sezionale tells Le Parisien that he understands the economic impact of moving or cancelling the Games but says:
"The world is turned on its head. We don't have a crystal ball, but it costs nothing to say 'we will see, we must proceed with caution'. We cannot say: 'we wash our hands of it and pretend that everything is fine'. Japan wants to hold the Games at all costs, but they do not seem to realize that we have dead people at home and a population that absolutely does not want to welcome foreign delegations! We would all like it to be done quickly, but I am a healthcare professional and we know very well that the world is out of step. When Europe is finished, it may be the turn of the African continent. We don't know how it can turn out."
The French swimming boss advocates postponement of the Games, not cancellation, stating:
"Postponement seems logical to me. We must not forget that the Olympic Games are the dream of athletes. Today, they have this pressure of not being able to prepare, they are going mad. We must take this stress away from them. For swimmers, everything is off. [While smiling he adds] They have the bath tub at home. If it lasts a long time, what are they going to do at the Games? Just participate? It has to stop."
On the disruption to selection trials and= how nations will choose their teams, Sezionale says: "What are we going to do? End up choosing from lists? It is absurd. There is no balance – and we will not find that no matter what. We can also stay home – there is no need to put the show on [when scheduled]."
Sezionale said he hoped that his peers at other federations around the world, at USA Swimming, Swimming Australia, Swimming Canada, British Swimming and so on, "will also step up" and make the case for postponement.
The French swimming boss revealed that he has declined an invitation to tell the French Olympic Committee what dates he would like to travel to for various site-checking visits to Tokyo:
"As it stands, all I can say is that I'm not going. They went to visit the Olympic installations with a few presidents of federations, do you think it's the right time for that? We cannot have on the one hand the President of the Republic [Emmanuel Macron] demanding efforts to save lives and on the other hand pretend that everything is fine. It's unwelcome. Maybe they [IOC and Tokyo 2020] should get in touch with the reality on the ground instead of being stuck in their financial universe."
Meanwhile, the president of the Spanish Olympic Committee (COE), Alejandro Blanco, stated on the organisation's website that NOC heads ' expressed our confidence in the IOC and in President Thomas Bach, because I am convinced that the decision he makes will be the best for everyone."
Blanco added: "We explained the situation that athletes are going through in Spain, because it is not that they will be two weeks without training, it is that this situation may drag on and we will not be able to arrive in Tokyo in the best conditions. And like us, several countries are in the same boat … team sports do not have the ideal situations to train. Europe is isolated and it is a very complex situation."
Related: