4 Titles For Li; Freestyle Flush For Pan; Chen Takes Down Wu's 200 'Fly Standard; Sun Jiajun Breaks Asian Dash Mark; Yu Yuting Makes It 5 PBs On Last Day At China Nationals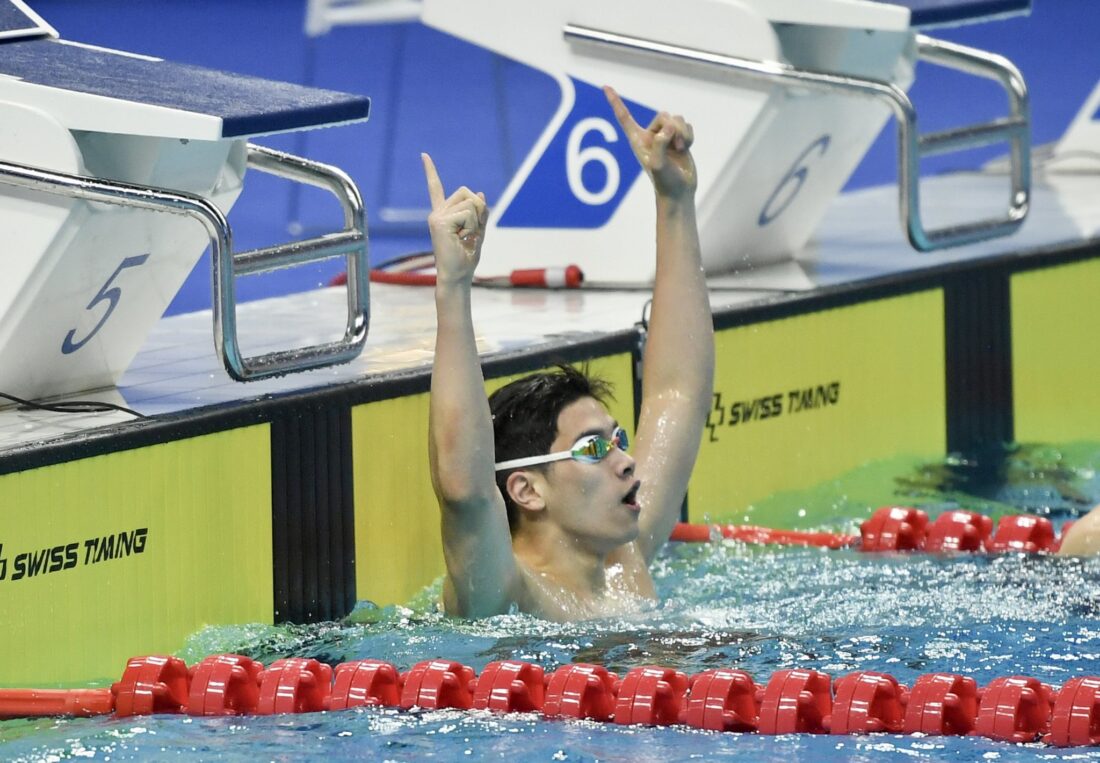 Li Bingjie sealed a four-title campaign with an 8:20 victory in the 800m freestyle as Chinese Championships came to a close in Hangzhou, where a 3:46 in the 400m free from Pan Zhanle completing a flush of impressive swims from 50 to 800m and Sun Jiajun set an Asian record of 26.61 in the men's 50m breaststroke.
Li claimed her fourth freestyle crown in 8:20.34 ahead of Yang Peiqi, 8:23.86, and Gao Weizhong, 8:25.27, after victories in the 200m (1:55.62) 400m (4:01.08 Asian record) and 1500m (15:51.21).
Pan Zhanle's 3:46.40 win was his fifth impressive freestyle effortm of the week after swims of 22.08 in the 50m, 47.22 for the Asian record and victory in the 100m, 1:44.65 for the 200m title and a 7:59.15 effort in 800m slow heats. The scope of sprint-to-distance speed brings to mind the likes of Ian Thorpe, Ryk Neethling and, of late, David Popovici.
In the fast 800m line-up, the crown went to Fei Liwei in 7:49.97, ahead of Liu Peixin, 17, in 7:53.38, and Zhang Zhanshuo, 16, in 7:54.26.
Pan, 19 this year, entered this season with a 400m free best of 3:52.31 from two years ago. His 3:46 today kept at bay Zhang Ziyang, 3:48.21, and Fei Liwei, 3:48.57.
Pan Age Peer Chen 1:54.16 China Record For 16th All-Time In 200 'Fly
At 17, Chen Juner clocked 1:54.61 in the 200m butterfly at The National Games. Two years on, he's the national champion in 1:54.16, a Chinese record inside the 1:54.35 that had stood to Wu Peng since the Beijing 2008 Olympic Games in half a shiny suit.
Wu made a comeback – and finished 5th in the 50m this week – in time to be there to see his record fall today.
Next home in the 200m was Niu Guangsheng, on 1:55.52, and Wang Xizhe, in 1:57.68.
In other action, Xu Jiayu made it a backstroke sweep with a 1:56.33 win in the 200m, his 50m and 100m titles accompanied by a 52.2 split leading his club medley relay team. The 200m podium was completed by Tao Guannan, 1:58.87, and Wang Yutian, 1:59.31.
The 26.86 Asian 50m breaststroke mark set by Yan Zibei at Gwanju 2019 Worlds fell to Sun Jiajun in 26.61, confining 100 and 200m champion Qin Haiyang to silver in a best of 26.72, also inside the previous standard, the holder of which, Yan, took bronze in 27.09
Zhang Yufei clocked 25.47 to take the women's 50m butterfly ahead of Yu Yiting, 25.86, and Wang Yichun, 25.89.
For Yu Yuting, the dash marked her fifth personal best of the week, alongside her victories in the 200m medley, 2:08.34, and 400 medley, 4:35.61, and in the 100 'fly adrift Zhang on 57.51.
Other coverage:
Qin Haiyang Just Shy Of His 6-Year-Old China Mark On 2:07.5 In 200 Breaststroke As Ye Shiwen Takes Women's Final With 1st PB in 4 Years
Pan Zhanle 1:44.65 Rattles Sun* High Asian Mark To Add 200 To His Paris 2024 Ambitions
Li Bingjie Matches Own Asian Mark With 4:01.08 Win In 400m As Fei Liwei Leaps To 14:46 30-Length Best
Qin Haiyang Leapfrogs 58s To Join 57sec Club With 57.93 Asian Record In Hangzhou