Fly Queen Maggie MacNeil Flips Over For 25.27 World 50 Back Mark On Canada Day & Daiya Seto Makes It High Five Of 400IM Crowns
Maggie MacNeil became a household name back home in Canada when she claimed the Olympic 100m butterfly title in Tokyo last summer, just as Daiya Seto, a household name in Japan felt the sting of being off his best just when it counted most, season and career.
It being winter, fortunes change with seasons and the size of pools and Maples tend to sleep but there was no sign of hibernation for the aquatics species as MacNeil flipped over on to her back and cracked the World record in 25.27 for the 50m backstroke global short-course crown ahead of teammate and training partner Kylie Masse, who delivered a Maple 1-2.
 
"If you told me my first world record would be backstroke I wouldn't have believed you," said MacNeil. "But I knew if I could fix my turns, there was a chance. That was definitely my goal coming into this meet."
MacNeil and Masse are only the second Canadian duo to go 1-2 in a single event, joining Joanne Malar and Nancy Sweetnam, who accomplished the feat in the 400-m IM at these championships in 1995.
The Canadian women weren't done there: Sydney Pickrem set the tone with victory in the 200m medley at the start of finals on the penultimate day of action at the World short-course Championships in Abu Dhabi, while the session came to a close with 4x200m freestyle gold for the Canadian 4x200m freestyle quartet a whisker outside the World record.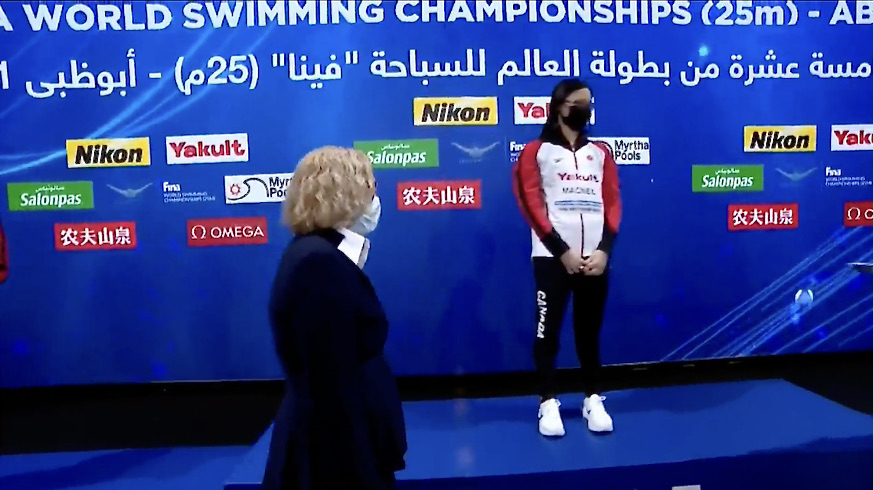 Canadian women now have five golds to their credit and are leading the women's meet. Today, they didn't put a stroke wrong, winning each challenge they entered. As Swimming Canada noted: " 
With those four medals Canada sets a new team record at the short course worlds with 12 medals (six gold – five silver- one bronze) so far. The previous high was eight in 1999 and 2016. The six gold tie the U.S. on the medal leader board at these championships with one day remaining, and are the most ever for Canada."
All in all, a very good day, then, for new FINA Bureau member Cheryl Gibson to be handing out medals.
All the more so at a time when reform processes may yet recognise her own achievements for what they were in the days of the GDR and systematic doping.
Seto, meanwhile, was back to flourish, too, stretching his honours to a record fifth 400m medley title in the little pool a couple of days after his first victory in the 200m medley.
Results in full from a meet with a solid entry and plenty of fast swims but far shy of a full compliment of top challengers across the board, an issue the sport still needs to work out when contemplating how to reach a wider audience that gets the Olympics but not much in between.
Women's 50m backstroke – Maggie MacNeil Gets Gold In World Record
At 25.27, Maggie MacNeil had the backstroke specialists in a spin. The standard had stood to Dutch sprinter Kira Toussaint at 25.60 since November last year. Masse was just outside that, at 25.62 for silver, while the bronze was gone in 25.86 courtesy of Sweden's Louise Hansson.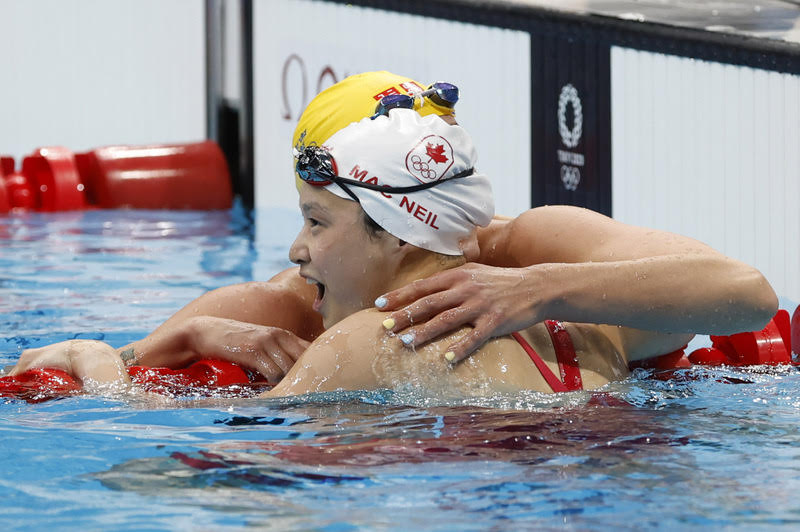 MacNeil's story is inspiring. Adopted from China, she kept China's top shot, Zhang Yufei, at bay in Tokyo last summer to become Canada's first 100m butterfly Olympic champion.
MacNeil was abandoned by her biological parents after being born in Jiujiang, Jiangxi province in February, 2000. As a toddler she was adopted with her younger sister from a local orphanage by Susan McNair and Edward MacNeil, of London, Ontario. MacNeil began swimming when she was eight and in 2008 and down the line became one of the stars of the University of Michigan program alongside teammate and Kong Kong pioneer Siobhan Haughey.
In 2019, MacNeil claimed the World 100m butterfly title. Her story is one of a great many among abandoned children in China under the now-scrapped one-child policy. As the South China Morning Post noted during the Tokyo Olympic Games:
"Imagine had she not been brought up from the orphanage, or had she not been deserted by her biological parents, what would she be now?" wrote one comment on the country's microblogging site Weibo. "The adoption changed her life orbit completely as she was given such quality care and training."
"She might have dropped out of school to support a younger brother had she stayed in China," wrote another.
The notorious one-child policy, which was rolled out in 1980, was imposed for more than three decades before it was liberalised into a two-child policy in 2015. This was further eased to become a three-child policy in 2021 to deal with a looming demographic crisis underscored by a rapidly ageing population coupled with the lowest birth rate since the Great Famine, the years of 1959 to 1962, when the country suffered an estimated tens of millions of deaths from starvation.
Under the first iteration of the policy, local authorities seeking to meet population targets often took harsh measures such as forced abortions and sterilisation. Families' preference for boys, especially in rural, farming areas, further resulted in massive sex-based abortions, adoptions or abandonment, leaving a large gender imbalance in the country.
Families which violated the one-child, and later two-child, policy faced hefty fines and difficulty finding a job. As recently as 2020, local authorities in Sichuan fined a family 718,080 yuan (US$110,000) for having seven children, according to Global Times.
Read the rest of Ziyu Zhang's fine article at the SCMP
Today, MacNeil paid tribute to her training partner double Olympic backstroke silver medalist Masse when she spoke of the benefits of training in that quality of company at the Toronto Performance Centre under the guidance of coach Ben Titley. Said MacNeil after battle with Masse: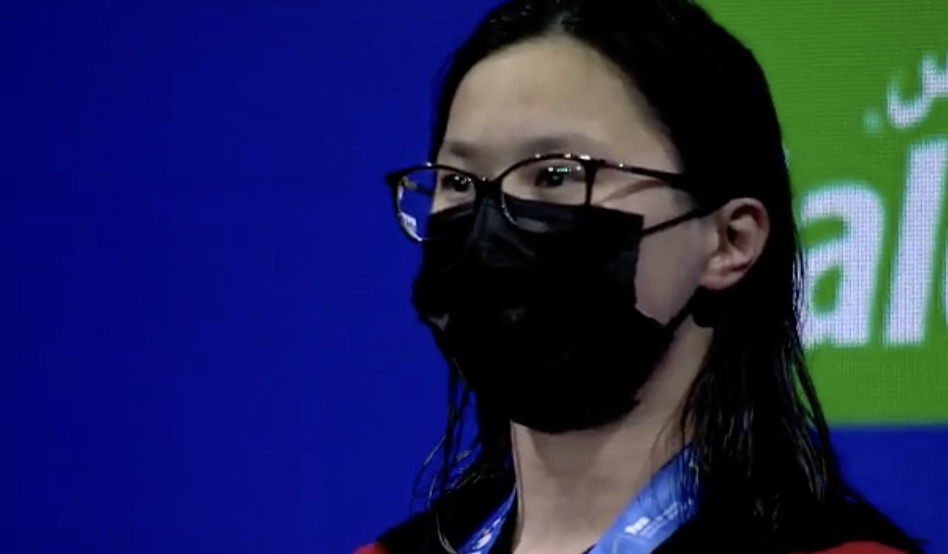 "I like the 50 back, I really like the underwater and I love training with Kylie. We have a great time pushing each other at the centre."

Maggie MacNeil
Men's 400m medley – High Five For Daiya Seto
As stated ad nauseam but no less accurately for that, when it most counted this year and this career, Daiya Seto was not at his best and the change of glory at a home Olympic Games in Tokyo passed him by but the mark of a champion is to get up, dust down, bounce back.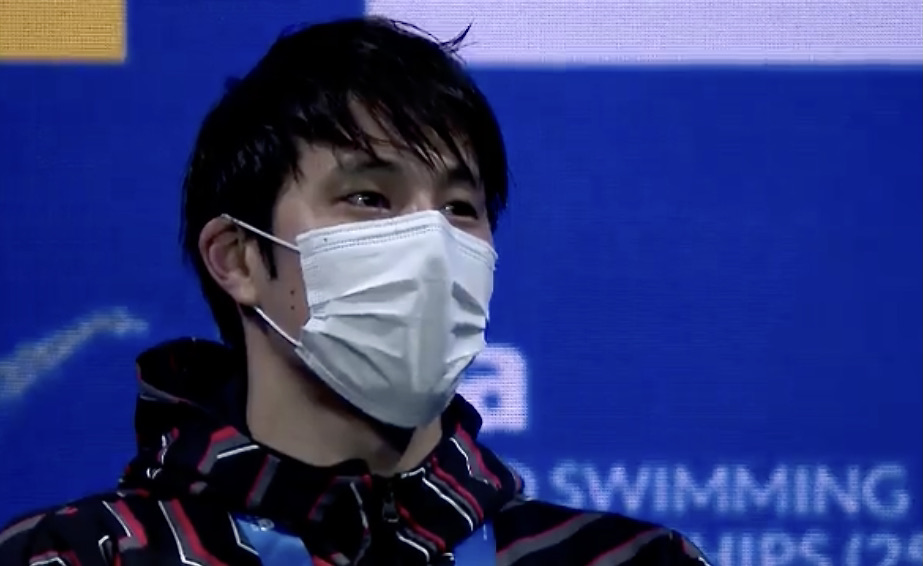 Though he had close competition throughout, Seto led from go to gold in 3:56.26, not far adrift his 2019 World record of 3:54.81, set at the first final in the history of the International Swimming League when racing for season winners Energy Standard in his only appearance that season before the Tokyo King Frogs squad was born in Japan a year later.
Seto enjoyed a solid lead at the 100m (53.29), 200m (1:52.00) and 300m (2:59.05) by which time Russian Ilya Borodin and American Carson Foster were 2.5sec adrift on 3:01s yet soon to sense that they were still in with a shot at upset.
On freestyle, the four-times title winner kept up the pressure and his margin over the two young pretenders over the first 50m on freestyle before the weigh of the pace and the season started to show. Seto's 28.27 last 50m was good enough to hold back the generational tide but Borodin's boomer of a 26.49 last 50 left him within the last swing of an arm to the end wall away, on 3:56.47, a World junior and European senior record that made the 18-year-old the third fastest man ever, adrift the man ahead of him and American Ryan Lochte, the 2010 champion before Seto got going on his bull run to today's high five.
Foster, who turned 20 last October, came home in 3:57.99 for bronze, Alberto Razzetti, winner of the 200m butterfly in Abu Dhabi, on 3:59.57, a national record that made him the first Italian ever inside 4mins.
Women's 200m medley – Gold For Sydney Pickrem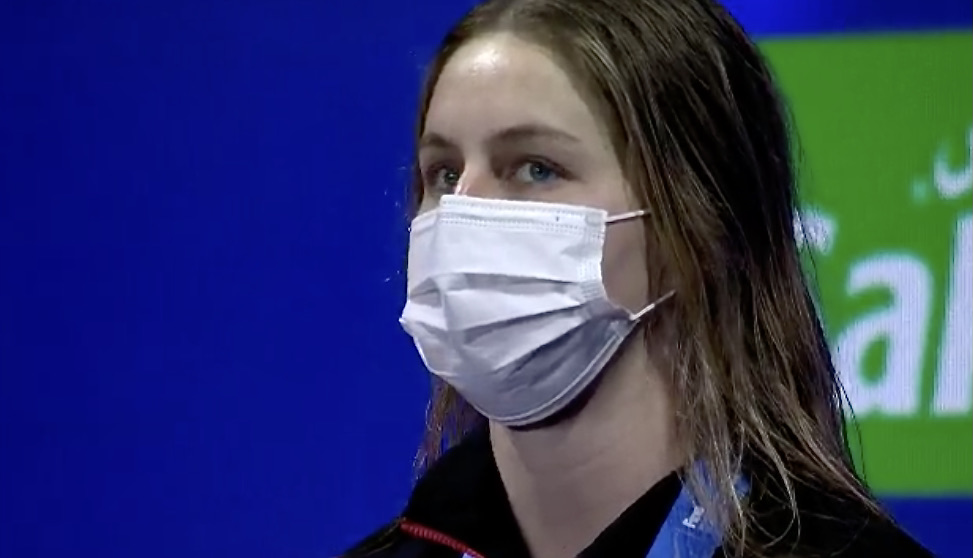 Sydney Pickrem panned for Canadian gold with a strong breaststroke leg and dogged determination on freestyle on the way to a 2:04.29 victory in a tight battle with Chinese teen Yu Yiting, whose 2:04.48 set a World junior record, and American Kate Douglass, on 2:04.68 for bronze. After Pickrem took the lead on breaststroke, Yu fought level down the first length of freestyle but off the last wall it was clear that the Canadian's experience of constant racing in the International Swimming League was about to pay dividends as she dug deep, drew level once more, refused to yield and then got her hand to the wall for the first global gold of her career.
Pickrem is the first Canadian to claim the crown, the only other from her country to have made the podium Marianne Limpert, the Olympic silver medallist at Atlanta 1996 who claimed bronze at the Athens 2000 short-course Worlds.
The Abu Dhabi ebb and flow today:
27.33 (3) 58.87 (31.54, 3) 1:34.40 (35.53, 1) 2:04.29 (29.89) Pickrem
26.85 (2) 58.53 (31.68, 2) 1:34.62 (36.09, 2) 2:04.48 Yu, WJR
26.44 (1) 58.40 (31.96, 1) 1:34.76 (36.36, 3) 2:04.68 Douglass
Women's 4x200m freestyle – Canada Rattles World Record For Gold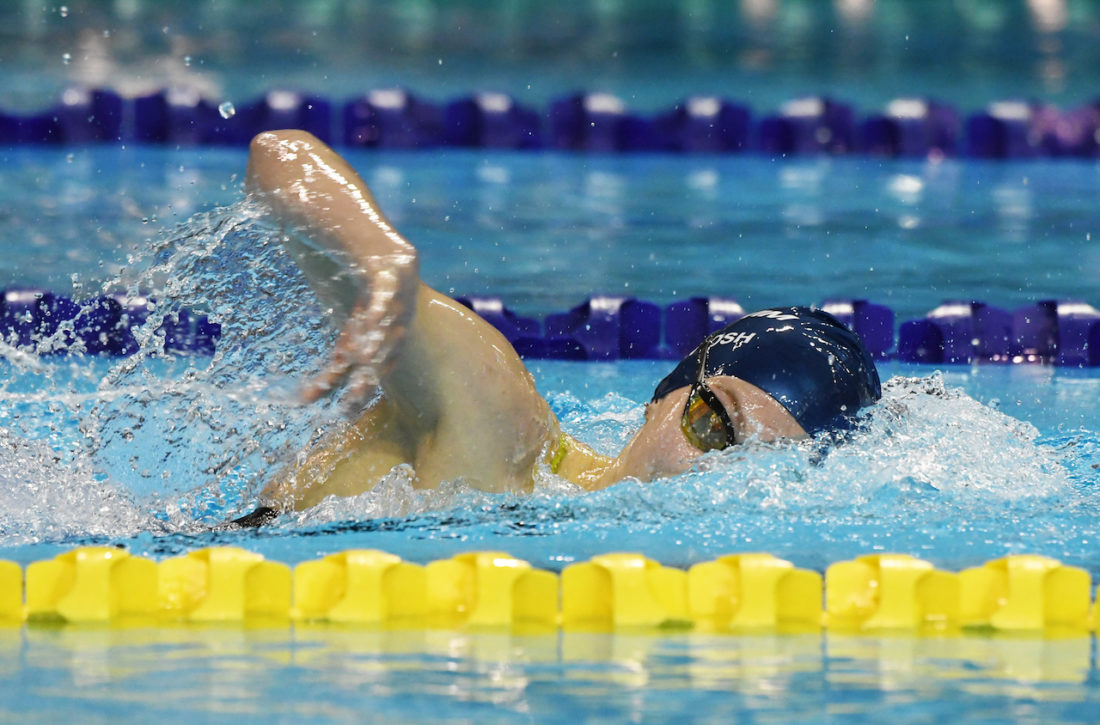 Teenager Summer McIntosh (1:54.30), Kayla Sanchez (1:52.97), Katerine Savard (1:54.01) and Rebecca Smith (1:51.68) rattled the World record when they set Americas and Commonwealth standards and a Canadian record of 7:32.96 for gold ahead of the United States and China.
The global high bar stands yet at 7:32.85 to a quartet from The Netherlands going back to 2014.

"We wanted to win this event," said Smith. "We wanted to try and get as close to the world record as possible and produce the best 200 free relay we could. It's been a long meet, a lot of races for some of us, so we wanted to finish it off strong."
Victory for the Canadians delivered their nation's third gold ion the day for a tally of five golds in all for the women's team. Wth one day of racing remaining, Canada is already celebrating its best result in the little-pool showcase since the championships got underway in 1993.
Torri Huske, Abbey Weitzeil, Melanie Margalis and Paige Madden claimed silver for the USA in 7:36.53, the bronze gone in 7:39.92 to China, which claimed Olympic gold in Tokyo last summer, courtesy of 400 and 800m champion Li Bingjie, Cheng Yujie, Zhu Menghui and Liu Yaxin.
Women's 100m breaststroke – Tang takes It As Hansson & McSharry Complete Sub-1:04 Club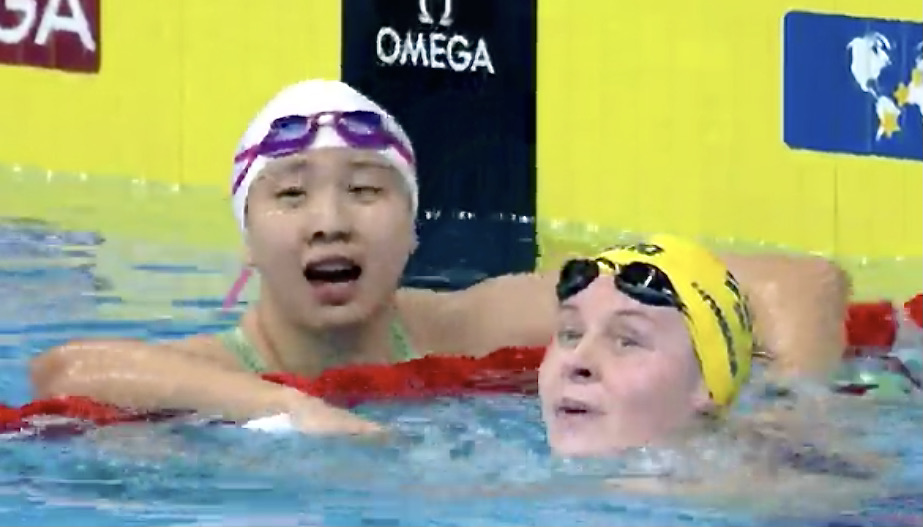 Tang Qianting set the pace there and back and then led all the way home after turning in 29.79 at half-way. Her 33.68 homecoming 50m was topped only by Sweden's Louise Hansson but by then the Chinese teenager had done the required damage as she fended off her closest challenger by 0.03 in an Asian record of 1:03.47, ninth fastest all-time. On the last length, Ireland's Mona McSharry inched past defending and three-times champion Alia Atkinson, of Jamaica, to snatch bronze in and Irish record of 1:03.92.
Tang is in the midst of a breakthrough year: in heats of the 100m at long-course Olympic trials earlier this year, she nailed a lifetime best of 1:06 flat in heats, a big leap from her 2020 career high of 1:08.6, the 1:07s bypassed when she first swam into the 1:06 zone during the China Swim Series at the beginning of 2021. She booked her ticket to Tokyo in 1:06.82. At the Games she clocked 1:06.47 in heats and 1:06.63 in semis for 10th overall.
Men's 50m butterfly – Santos Once More
For his third short-course crown in the 'fly dash, Nicholas Santos, the 42 Brazilian still going strong, clocked 21.93, 0.12sec shy of his 2018 championship record but good enough to keep Dylan Carter of Trinidad and Tobago at bay by 0.05sec. The 100m champion Matteo Rivolta (see below) was 0.04sec further away to take bronze for Italy.
Men's 4x50m medley – A Snap Of Stars, Stripes & Tchaikovsky
Golden snaps and snaps in general are, for whatever reason, becoming far less than they used to be. Today marked the second time the World short-course Championships, going back to the start of the event in 1993, witnessed a tie for gold in a relay, the Russian and American teams, after Vladimir Morozov (20.37) chased down Ryan Held (20.52) on freestyle, both stopping the clock at 1:30.51. Kliment Kolesnikov put Russia ahead on backstroke 0.34sec ahead of Shane Casas before the Americans led on breaststroke and butterfly courtesy of Nic Fink and Tom Shields ahead of Kirill Strelnikov and Andrei Minakov. On the podium, the Star Spangled anthem was preceded by Tchaikovsky, who will be standing in for the Russian anthem from the grave with his immortal strains until his nation's systematic-doping-crisis ban and accompanying manipulation of data are done.
Italy set the World record at 1:30.14 for the European crown last month but on 1:30.78 today, it was bronze for Lorenzo Mora, Nicolo Martinenghi, Matteo Rivolta and Lorenzo Zazzeri.
Breaststroke Disqualifications At The Dawn Of Underwater Cameras
Controversy has long reigned on breaststroke because judges can't see past the wash of starts and tumble of turns and underwater cameras have been barred as a tool to use when the human eye can't see what's happening. The Championships in Abu Dhabi are the first to allow cameras for judgements since a rule change and breaststroke swimmers and their coaches have been put on notice.
When Turkey's Huseyin Sakci was disqualified after dominating the first semi of the men's 50m breaststroke this evening, he was the 13th swimmer at the championships to have a DSQ posted in the 50m breaststroke battles after eight women were knocked out, including title favourite Alia Atkinson, of Jamaica, in the semis of her event, and four men in heats today before Sakci copped it in his semi.
In the 100m heats, six men and four women were disqualified and in the men's 200m heats in Abu Dhabi, it was one man. Beware all heading to the women's 200m heats tomorrow… dolphin kicking into stroke beyond the first natural undulation into dive and off wall is not permitted…
Catching Up With The Weekend…
Day 4 Highlights:
Men's 50m freestyle – Ben Proud takes A Gold For Self, Britain & All Her Missing Men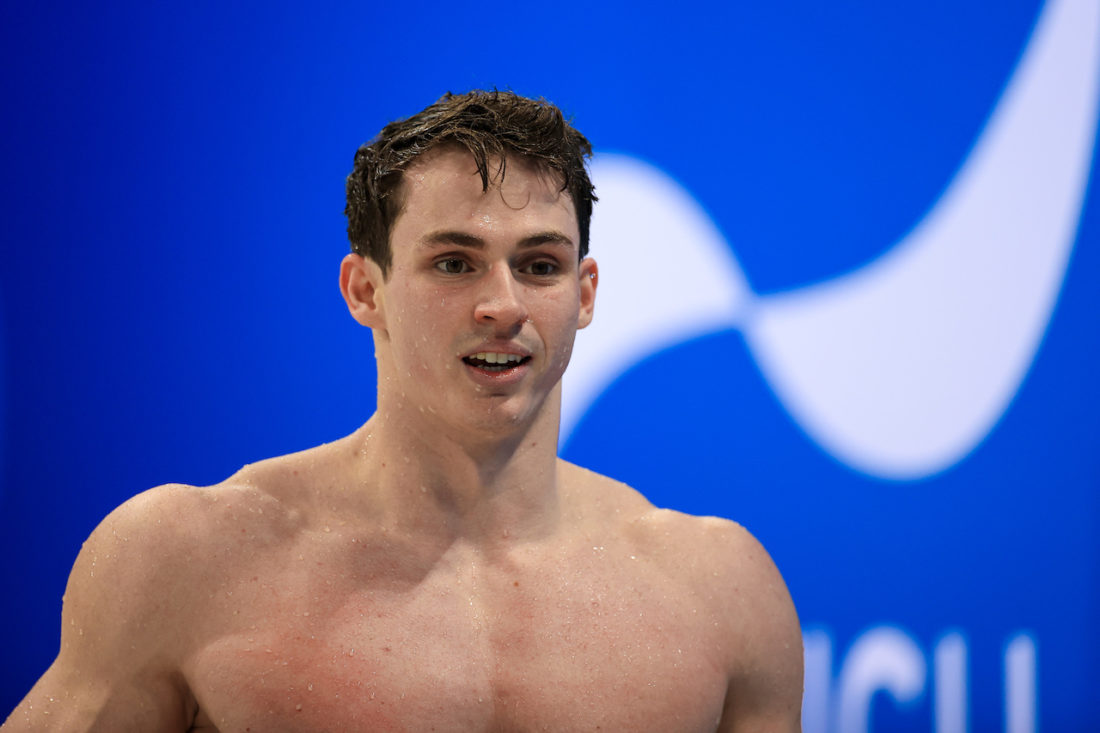 Ben Proud was just about the only British man standing by Sunday after contacts with COVID cases spread through the GBR camp and knocked a shoal of key contenders out of action. The big sprinter who grew up in the sport in Singapore, then at Plymouth Leander and College on his way through the Energy Standard pro-team program to the Performance Centre at Bath University with coach Mark Skimming, made sure he stood tall for all the missing men, gold his in a decisive 20.45.
Just 0.05sec outside the British record and fourth-swiftest effort all time that he established in the final of the International Swimming League for season winners Energy Standard, Proud was a cut above the rest, the best of whom was American Ryan Held, on 20.70, the bronze to Canadian Josh Liendo 0.06sec further adrift.
Women's 50m butterfly – Ranomi Kromowidjojo still going strong for gold
Ranomi Kromowidjojo, the Dutch ace who has maintained podium-making form consistently at global and continental level since taking the 50/100m free sprint double at the London 2012 Olympic Games, is still going strong. A 24.44 Championship record took her 0.03sec inside the meet mark she set for the crown in 2018. The 24.38 clocked by Therese Alshammar in the last season of shiny suits in 2009 before non-textile apparel and bodysuits were banned lived to fight another day.
Alshammar's former teammate Sarah Sjostrom took silver in 24.51, the bronze to Clare Curzan, of the U.S., in 24.55, a World junior and American record.
Women's 400m freestyle – Li Bingjie At The Double
Li Bingjie raced to a distance double a day after 800m victory (see below), her 3:55.83 the eighth fastest all-time. The podium was completed by Canadian teen Summer McIntosh, on 3:57.87, and the 100 and 200m champion in Abu Dhabi, Siobhan Haughey, of Hong Kong, on 3:58.12.
In other action …
There were two sprint golds on the day for Russian Kliment Kolesnikov, first in 51.09 over 100m medley, then in 22.66 in the 50m backstroke, while the opening and closing relays delivered gold for Italy and the USA respectively. The Italian men claimed victory in the 4x50m freestyle, courtesy of Leonardo Deplano, Lorenzo Zazzeri, Manuel Frigo and Alessandro Miressi.
At the other end of the spectrum, the American men topped the 4x200m final, Kieran Smith, Trenton Julian, Carson Foster and Ryan Held clocking 6:47.00 ahead of Russia (6:49.12) and Brazil (6:49.60), the title defenders whose 2018 quartet set the World record at 6:46.81.
Day 3 Highlights: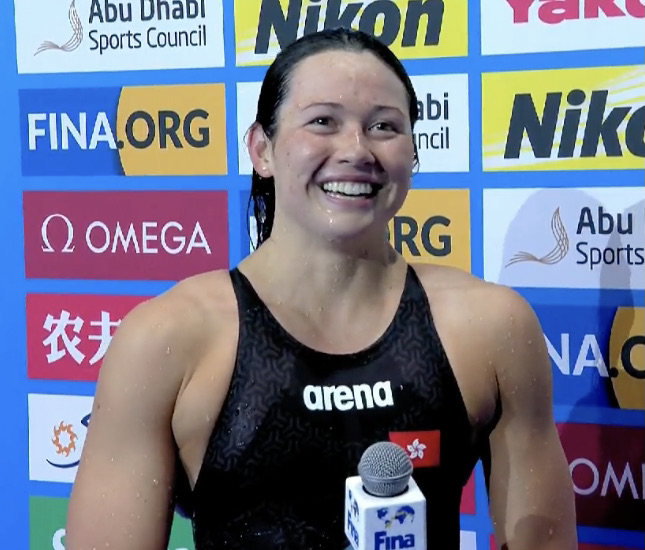 Women's 100m freestyle – Gold and sprint double for Siobhan Haughey
Hong Kong had never had a World short-course gold before these championships. Now it has two, courtesy of a sprint double delivered by Siobhan Haughey.
Both the winner of the 200m in World-record time on day 1 of action and the rival whose standard she replaced, Sweden's Sarah Sjostrom, have been faster than they were today but at 50.98 for Haughey and 51.31 for Sjostrom, they were the speedsters with an edge. The bronze went to American Abbey Weitzeil in 51.64.
Women's 800m freestyle – First World Title For Li Bingjie

Li Bingjie, of China, raced to her first World title as the fourth-fastest ever over 800m freestyle to provide the highlight of the third day of action at the World short-course Championships in Abu Dhabi today.
Gold in her grasp from go, Li raced inside Mireia Belmonte's World-record pace for most of the first half of the fight but where the Spanish ace had backed up with a faster second 400m back in 2013, Li maintained even splits and faded from the face e of Belmonte at her best on the way to the first sub-8-minute effort in history, a 7:59.34.
Li came home in 8:02.90, the second fastest in her country and Asia after the 7:59.44 of her Olympic teammate Wang Jianjiah for the 2018 World title at home in China.
The three-way battle for the minor spoils was led by Russia's Anastasia Kirpichnikova, on 8:06.44, 2019 1500m World long-course champion Simona Quadarella, of Italy, taking bronze in 8:07.99, 0.27sec ahead of Germany's Isabel Gose.
Men's 100m butterfly – Matteo Rivolta Takes Gold Four Years After 2017 Crown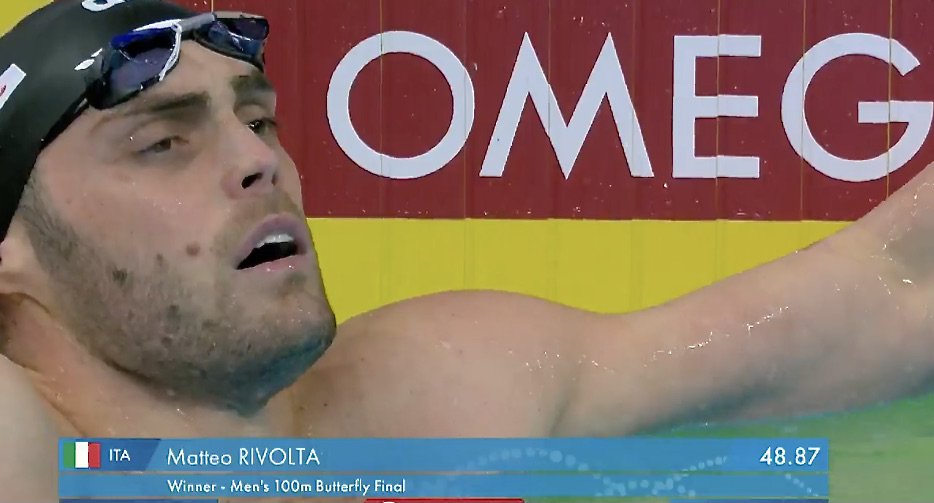 Matteo Rivolta peers back down nine years to his first two International medals for Italy in 2012 and sees European and Mediterranean honours.
Now he has a World title on the highest plinth in his pantheon after a 48.87 win over Chad Le Clos, the South African on 49.04 for silver, and Russian Andrei Minakov, on 49.21.
Men's 200m breaststroke – Gold For Nic Fink
The four-way battle made no impact on the all-time top 10 but lost nothing for all of that as Nic Fink raced from fourth to gold past rivals with the sole sub-31sec split in the closing 50m.
The American's 2:02.28 got the better of Dutchman Arno Kamminga's 2:02.42 for silver, the winner's teammate Will Licon held off Sweden's Erik Persson by precisely the 0.07sec that had split the two at the helm of 150m pace, bronze gone in 2:02.84, a 2:02.91 locked out. The top four split by 0.63sec.
Women's 200m backstroke – Gold for Rhyan White
As with the men's breaststroke final, there was no impact on the all-time top 10 at a meet missing some key names among the fastest contenders in all events. While they were away, Rhyan White made hay with a solid ands stylish 2:01.58 victory a touch ahead of Kylie Masse, the Canadian double Olympic silver medallist on backstroke, her 2:02.07 keeping Isabelle Stadden, USA, at bay on 2:02.20 for bronze.
Mixed 4x50m medley – Dutch gold in Championship record
The session came to an end with gold for the Netherlands, Kira Toussait (26.21), Arno Kamminga (25.40), Ranomi Kromowidjojo (24.36) and Tom de Boer (20.23) setting a championship record of 1:36.20, 0.2sec inside the standard that was set in 2018 by an American quartet.
The USA squad of Shane Casas, Nic Fink, Claire Curzan and Abbey Weitzeil took silver in 1:37.04, the bronze gone in 1:37.29 to Italians Lorenzo Mora, Nicolo Martinenghi, Elena di Liddo and Silvia di Pietro.