Florian Wellbrock Crushes Rivals For Magnificent Mind-The-Gap Marathon Gold, A First For Germany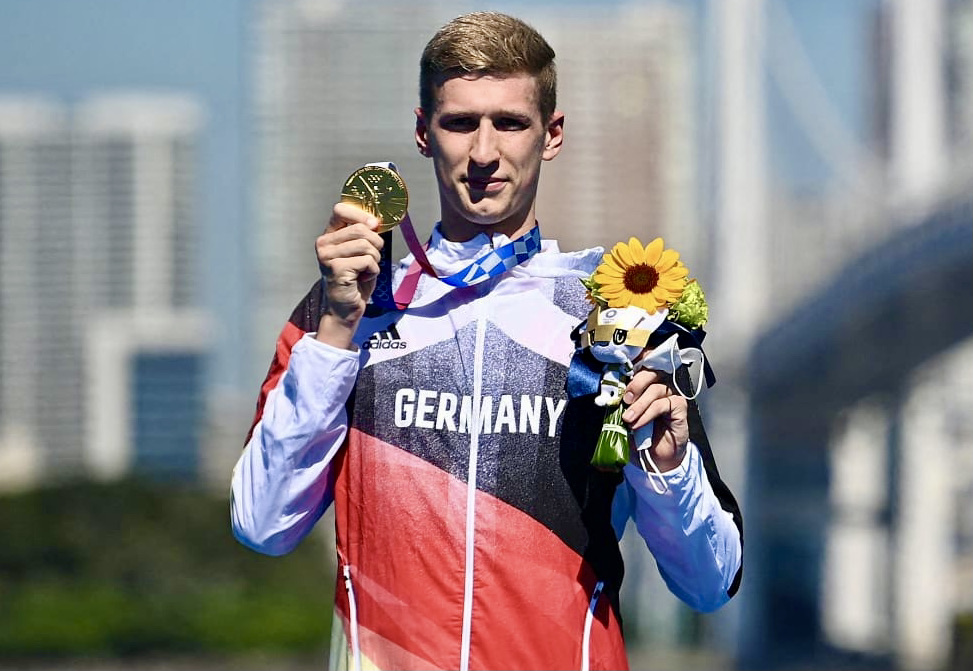 Florian Wellbrock is the toast of Germany this morning after racing to gold with what is by far the biggest margin of victory – 25.3sec – in the Olympic marathon since the 10km was introduced eight races ago at Beijing 2008.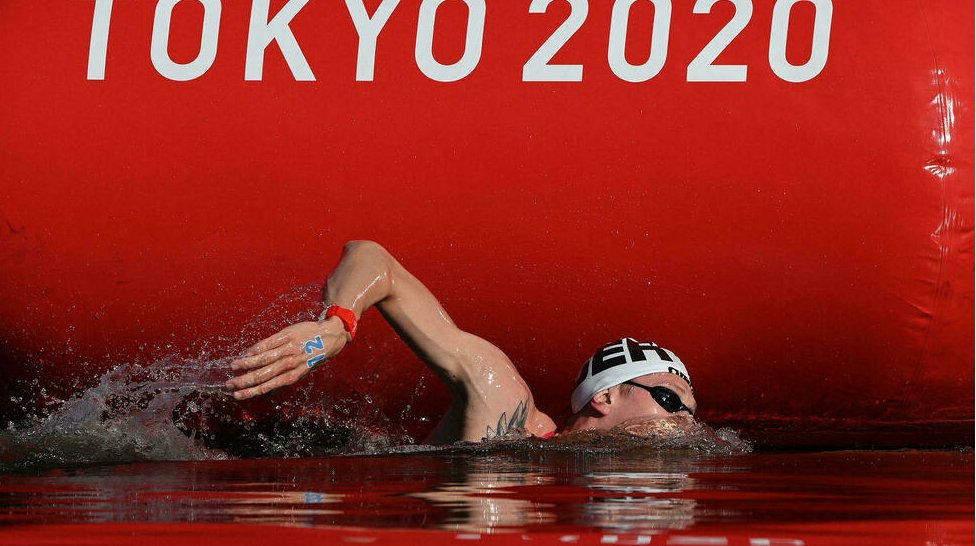 The 'splits' for each buoy and lap read like the form guide for the greatest horse in history – 1,1,1,1,1,2,1,1,1,1,1,1,1 – 1 hour 48:33.7sec. And in sweltering conditions at the Odaiba Marine Park in Tokyo Bay.
French challenger Marc-Antoine Olivier was the only man who ever led Wellbrock, the 23-year-old double World champion of 2019 who got locked out of the medals in fourth place over 800m in the pool last week before claiming bronze in the 1500m adrift the winner of both those races, American bolter Bobby Finke, the fastest last-50 man in the history of swimming speed relative to distance.
Coached by Bernd Berkhahn at Germany's high-performance centre in Magdeburg, Wellbrock set a speed to distance record of a kind, too, today, in a race that ended with Hungarian Kristof Rasovszky and Italian 1500m champion on 2016 Gregorio Paltrinieri on the podium with the German ace on 1:48:33.7 and 1:49:01.1: 25.3 and 27.4sec behind the champion. That's a relative ocean.
Matan Roditi, of Israel, and Athanasios Kynigakis, of Greece, almost a minute behind Wellbrock and the first biggest-distance freestyle gold for Germany at the Olympics since Emil Rauch won the 1500m at St Louis in 1904. Wellbrock's gold is also the first by a German man at the Games in swimming since Seoul 1988, when Michael "The Albatross" Groß took gold in the 200m butterfly for the Federal Republic of Germany (FRG) and Uwe Daßler gold in the 400m freestyle for the Democratic Republic off Germany (GDR).
Among key contenders, Olivier faded to sixth in 1:50:23.0, 1:49.3 behind Wellbrock, with defending champion of 2016 Ferry Weertman seventh in 1:51:30.8, 2:57.1 off the lead pace.
Disappointed by his fourth in the 800m, sanguine about his 1500m bronze, Wellbrock was dazed and delighted after his magnificent effort, for a pool-open-water-podium double, in the bay today. Said Wellbrock: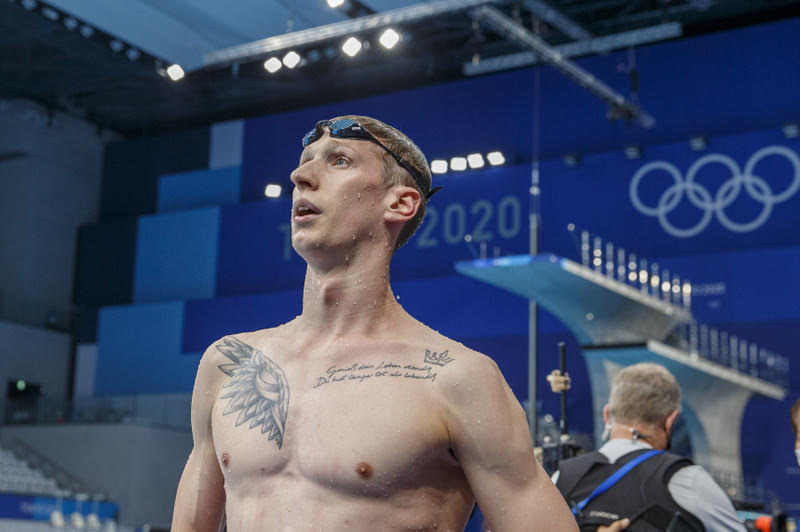 "This is my personal summer fairy tale. The goal was a medal, I hadn't speculated on gold. Maybe I needed the little damper over 800 metres to come back so strong today. It's a little bit unreal. The first seven (kilometers) of this race felt really easy. My competitors had to work really hard behind me."

Florian Wellbrock – bronze in the 1500m followed by gold in the marathon – photo by Patrick B. Kraemer
Wellbrock, in his first Olympic marathon race, piled on the pressure from go by opening up a lead of more than a 10 seconds in the first kilommetre. That forced others to make mistakes, including being panicked into early 'sprint' catch-up efforts over any steady war-of-attrition tactics and missing feeding stations when trying to use Wellbrock's momentary 'pit stop' pause for a drink as a chance to catch up.
They did, at least for a while, Olivier and Rasovszky two cases in point, but Wellbrock stepped on gas again and again with each passing attempt to move into contention with him. Ultimately, Wellbrock, avoiding the push and shove of a pack, was just too fast, too strong, too determined for anyone else in the race, his hunt for the big prize relentless.
So strong was Wellbrock that as he made the final turn around a red buoy at the far end of the course, his coach and the Germany team staff were already cheering and celebrating on the deck. They knew it was all over. And it was.
Wellbrock slapped the timing pad, climbed from the wash and sprawled out on the deck, pouring cooling water on his chest under the heat of a blazing sun, job done.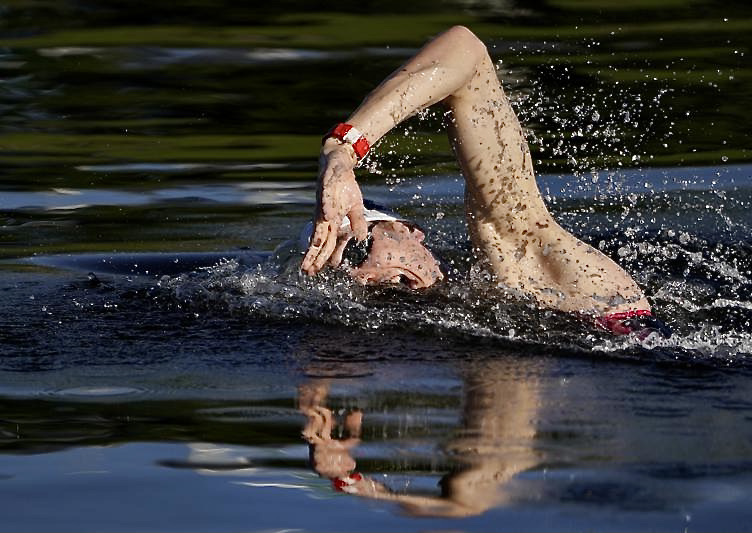 It ended in a win by a margin of 25.3sec, not far shy of the astonishing last 50m pace with which Finke swept past Wellbrock to gold in the 1500m last week.
Victory by more than 50m in a marathon is rare and never seen in Olympic waters, in which wins of less than 1 and note much more than 3 seconds have been the order of things since Beijing 2008.
In 2016, Weertman beat Spyridon Gianniotis, of Greece, by just 0.7 seconds in a race that ended with the top 19 closer to the lead than Wellbrock's Mind-the-Gap win over Rasovsky and the rest today. The previous biggest margin of victory was the 3.4 seconds by which Tunisian Oussama Mellouli claimed gold in 2012.
With silver in the 800m and now the marathon, Wellbrock and then Paltrinieri joined the club founder by U.S.-based Mellouli, winner of the 1500m free in 2008 and marathon at London 2012: they are the only three swimmer to make the podium in both pool and open water.
Competing in his sixth Olympics at age 37, Mellouli finished 20th out of 24 swimmers who finished the race. He was nearly 8 minutes behind Wellbrock, who he described as "a superstar".
Silver medallist Rasovszky said: "Florian was unbeatable today. I tried to be the best of the rest."
Paltrinieri, who suffered a bout of glandular fever after becoming triple European open-water champion in May, chimed in with:
"Florian was on another planet today It was surprising. I didn't even notice (Wellbrock's big lead) until my coach told me I was about 30 seconds behind this guy. I started to close the gap a little bit, but it was really hard."
Wellbrock & Coach Bernd Berkhahn Toasted Back Home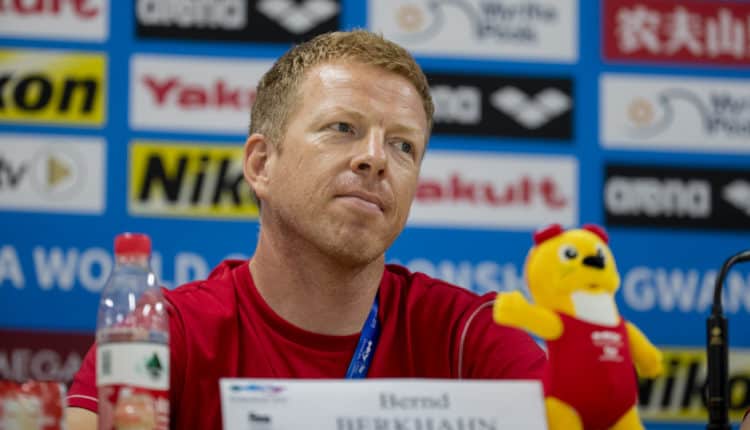 Wellbrock's win is the first for German swimming since Britta Steffen's golden double sprint freestyle at Beijing 2008. His medal is the second for coach Bernd Berkhahn in the Tokyo marathons: he also coached Sharon van Rouwendaal for the 2020ne Games and the Dutch contender took silver five years after gold at Rio 2016.
Sadly, there were no pool teammates to cheer for Wellbrock or congratulate him with hugs after the race, COVID-19 controls dictating that all pool swimmers had rio leave Tokyo by Tuesday, within 48 hours of the last race. Back home in Germany this morning, Wellbrock is the headline, toast and talk of the nation.
Now 43, Franziska van Almsick, has long campaigned for better funding for Germnany's Olympic athletes. Olympic gold proved elusive in her own illustrious career, one that included four silvers and 6 bronzes in Olympic waters, titles at all other levels and a 13-year shift as World record holder over 200m freestyle. She said: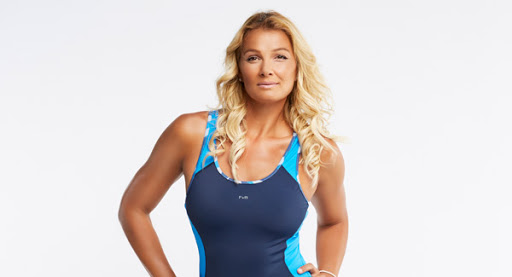 "Florian swam his own race from the start and clearly had the race in his grip the whole way. He's s become a focused, clear and calm athlete who deserves my great respect. Above all, it's his mental strength that inspires me … he has a clear, calm will to win."

Franziska van Almsick – courtesy of her website – http://www.franzi.de/aktuell.php
Olympic medallist and record World-title holder in open water fair Germany, Thomas Lurz, now 41, commentating for Eurosport, said: "An absolutely gigantic race. Exceptionally strong, exceptionally fast. A totally dominant race. There was no one else who swam anywhere as well as he."
And Paul Biedermann, who lost the 2008 battle of suits but won the war and remains World record holder over 200 and 400m free since his 2009 World titles, chimed in: "Florian dominated the field from the start and couldn't be stopped! He achieved something historic with the first Olympic victory in open water for Germany. Winning a medal in the pool and in the open water is in a league of its own and speaks volumes for the exceptional talent Florian Wellbrock."
Swimming As A Contact Sport
Florian Wellbrock and the leaders avoided the swimming scrum but in their wash there was open-water carnage of a kind that ought to come with a steward's inquiry: swimming as a contract sport – and in unacceptable heat – can be ugly. What happened today to Hector Pardoe (see below) is likely to have been an accident, one that put a swimmer out almost instantly, season of work sunk with the goggles that filled with blood and had to be discarded.
Even with the race starting at 6:30 a.m., the air temperature was already 27.2C with 80% humidity making it feel like a morning that started well over 30C. The water was measured in the high 29s, inside an upper limit open to question in a spot that asks venues not to exceed 27C for a swimmer dashing down 1 length of a 50m pool but thinks a two-hour marathon in 30C with the heat in the air still higher is unproblematic. Well, it is, and in extremis, Fran Crippen died in such conditions when his passing was preventable and avoidable*.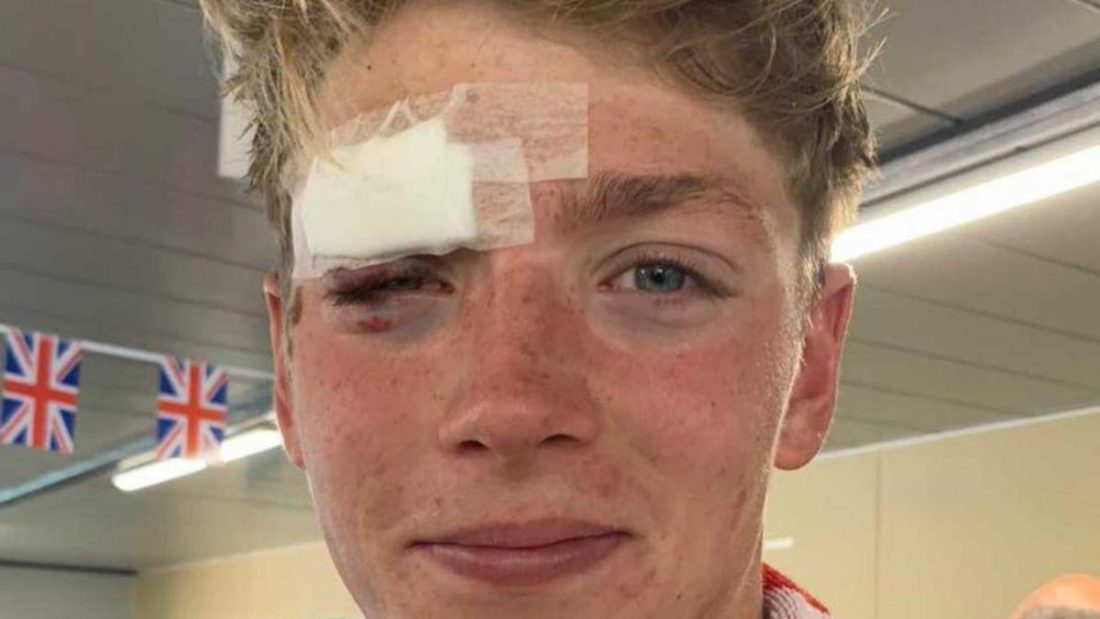 The stifling conditions were too much for French contender David Aubry today: with 3km remaining, he had to be fished out and was stretchered off the deck on his way to treatment. French officials said that a shoulder injury had hampered his training leading up to the race, so Aubry was not fit enough to handle the heat and pace of the race. Aubry was feeling better in recovery not long after the race, some reports suggested.
Hector Pardoe of Britain also had a DNF next to his name after being elbowed in the right eye. His goggles were knocked off, and he emerged from the fray with a nasty gash and a swollen eye. He'd got to the last lap before the damage was done. Such things are more than about the moment, the athlete's huge preparation and dedication – including his French odyssey – wiped out by an aspect of the fight that feels alien to swimming. Pardoe said: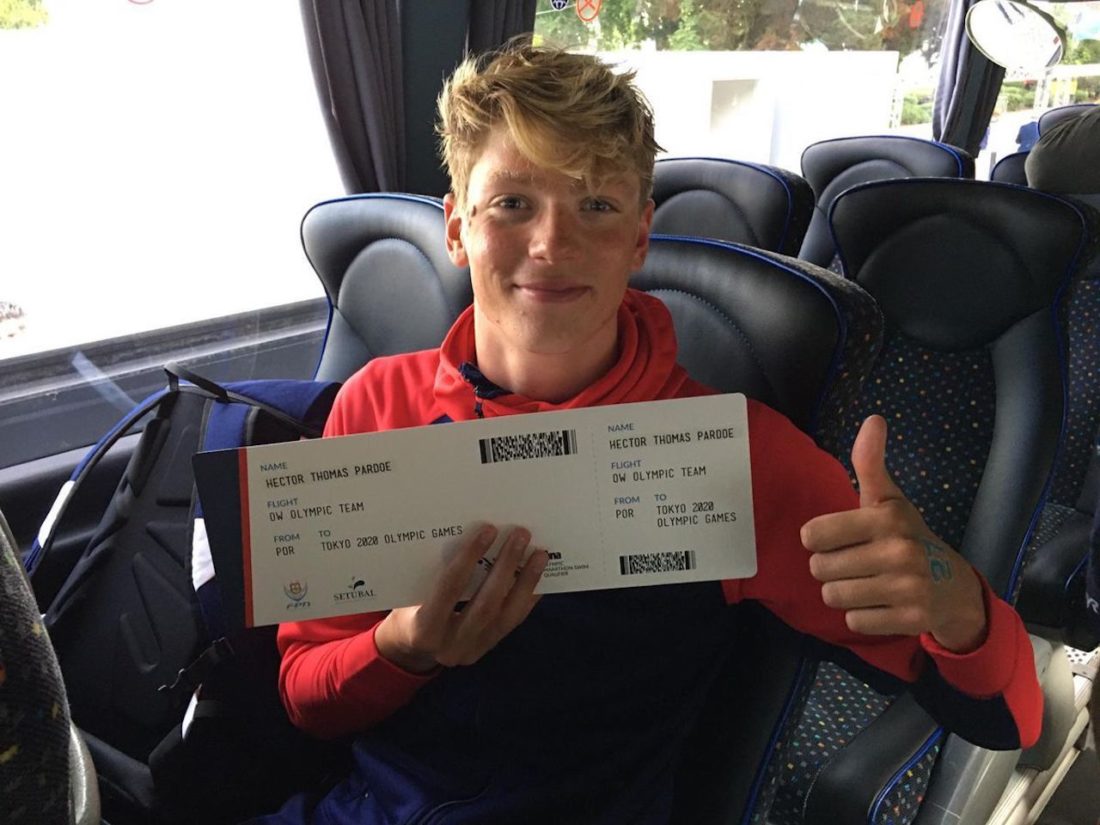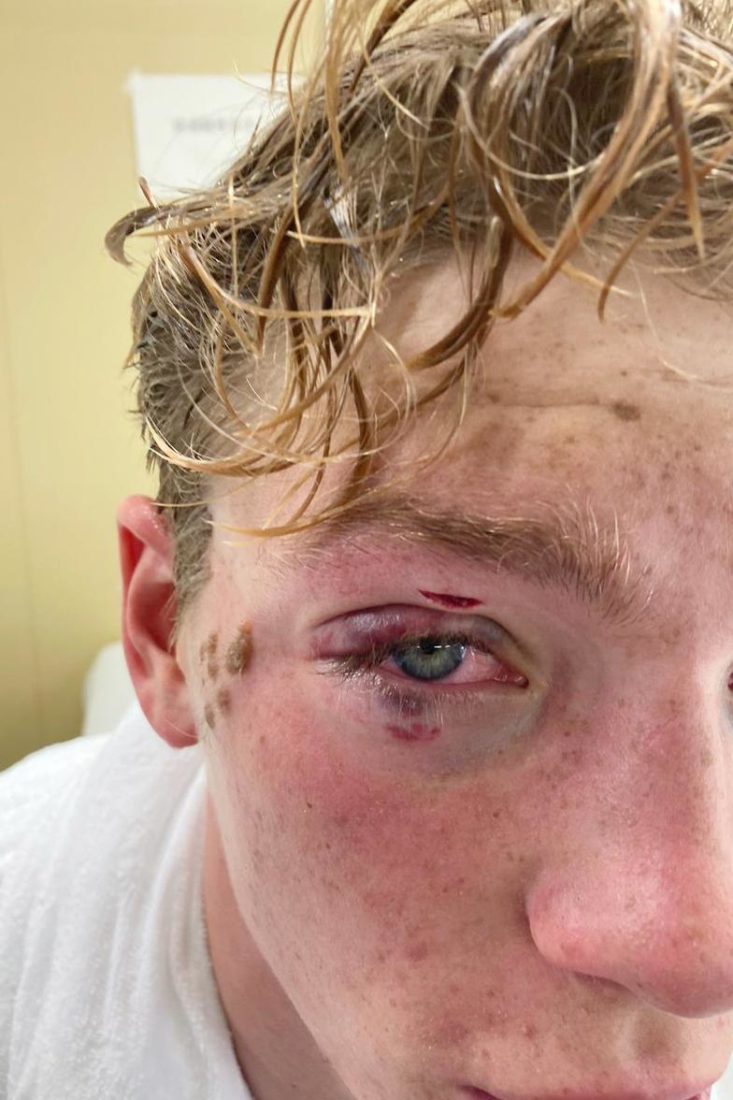 "My goggles were completely snapped off and I couldn't see a thing. I didn't realize how bad it was. It was all blurry in my eye. I lost my goggles and my race was over. I would have continued if I'd had my goggle but they just sunk. I couldn't see initially, when you get hit, it goes all blurry so I was waiting for it to come back but the goggles had gone and the race was finished. Once I got on the back of the jet ski, you can't get back in.

I've never not finished a 10km before so it's really disappointing that it's in the Olympics, the biggest stage of all. I've been progressing through every race this year, I thought I had a good chance of doing something good here."
It was not to be. He was rushed off for treatment and later said: "They didn't say much really, they were just trying to reassure me that it was ok. I haven't properly seen it yet, I can't really open my eye very well. There's frustration. I knew after three laps that it was over for top six but I just wanted to finish and try and get that top 12 because I'm still young and I can come back strong in Paris [2024] and hopefully try and win it."
He had found the early pace too hot but had not panicked. He said: "I saw from the start that it was such a fast pace and I was towards the back but I tried to calm down and bring it back to secure a top 10, top 12 finish. I was coming through the field, I felt ok with a lap to go, I felt I could secure that and then it was over."
On the conditions, Pardoe noted: "It was really hot, I noticed my heart rate was really high on the first lap when I wasn't even pushing that much. It's nothing I've ever really experienced before, I think the hottest I've ever done is 23 degrees, so to jump to 29 was really difficult."
Pardoe said he'll be back stronger and a contender at Paris 2024: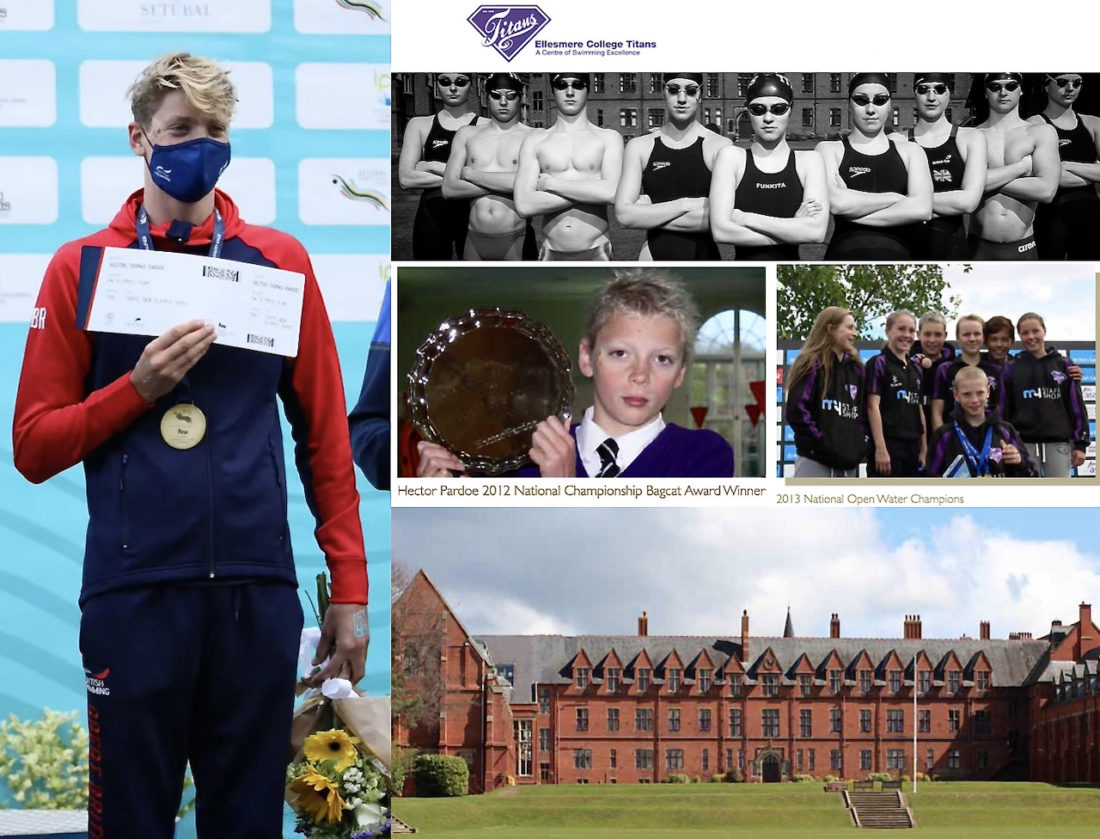 "This isn't going to be a setback, it's going to be more motivation. I'm going to get my head down for the next three years. I'll have a break first, have a nice holiday after this and then get my head down and grind and hopefully get back to it in Paris and try and challenge for the medals."

Photo – Hector Pardoe with his ticket to Tokyo in hand, left, and the place of excellence where it all began, Ellesmere College Titans, which Hector's father Jon helped establish and where Britain International Alan Bircher coached Hector from age 11 to 18 – images, courtesy of British Swimming and Ellesmere College recruitment
The British open water campaign ended with a 19th place finish for Alice Dearing and injury for Hector Pardoe, after the coach who should have been there with them was dropped from the team for highly questionable reasons. More lessons for those who govern the sport and need far better processes of inquiry when dealing with complaints and understanding the nature of those.
Encouragement from the former International Alan Bircher:
– * – declaration of interest: Craig Lord is writing a book in honour of Fran Crippen, his legacy and the events that contributed to his loss of life in 2010. On a visit to the Crippen family, Fran's mother, Pat, gave me a belt that had belonged to Fran. I wore it every day while reporting from the Tokyo 2020 Olympic Games so that he and those he left behind could be there with us and in memory of a man who asked for change in his sport. It came too late for him – and there is more to be done yet. RIP Fran.