Florian Wellbrock Caps Stellar Year With 14:06 World Record For Global S/C 1500m Title As 1st German To Scale Those Twin Peaks Since Hoffmann's L/C High 30 Years Ago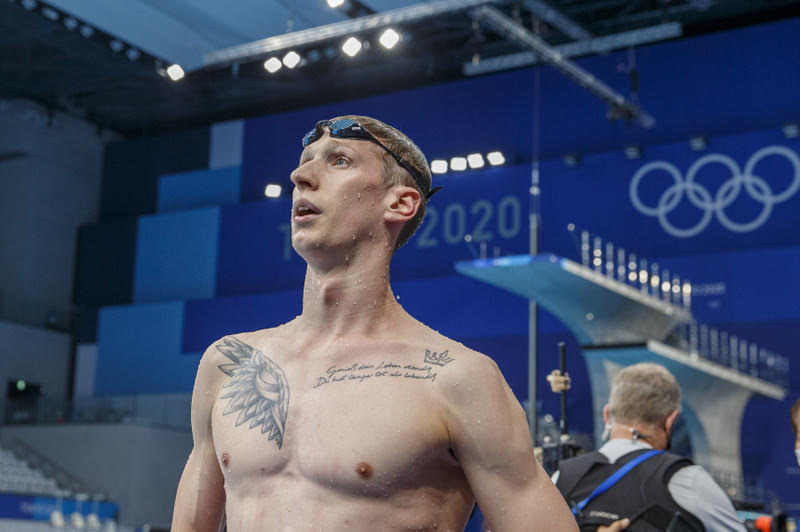 Florian Wellbrock, Germany's Olympic marathon champion, capped a stellar 2021 by cracking the 1500m freestyle World short-course record in 14:06.88 for the global crown in a terrific tussle with three men making distance freestyle racing tighter at the top than its been for many a long year.
The silver in the closing session of the championships in Abu Dhabi went to Ahmed Hafnaoui, the 19-year-old Tunisian who produced one of the upsets of Tokyo 202One when he claimed the 400m Olympic crown, in an African record of 14:10.94. Mykhailo Romanchuk, Olympic silver medallist ahead of the German's bronze over 1500m in Tokyo, was an arm swing away on 14:11.47 for bronze, while Gregorio Paltrinieri, the 2016 Olympic 1500m champion, raced home in 14:21.00 to find his 14:08.06 global standard from 2015 had been confined to history.
Wellbrock, whose standard was the fourth global mark to be set at the Championships, is the first German since Jorg Hoffmann in 1991 to claim a World 1500m title in World-record time. Hoffmann's high was in the long-course pool, while the latest distance ace for Germany matched that big-title achievement in Gwangju back in 2019.
Wellbrock, who last week won the last marathon of the 2021 World Marathon Series, emerged from the wash of a fine race at great pace to note that he'd exceeded his own expectations: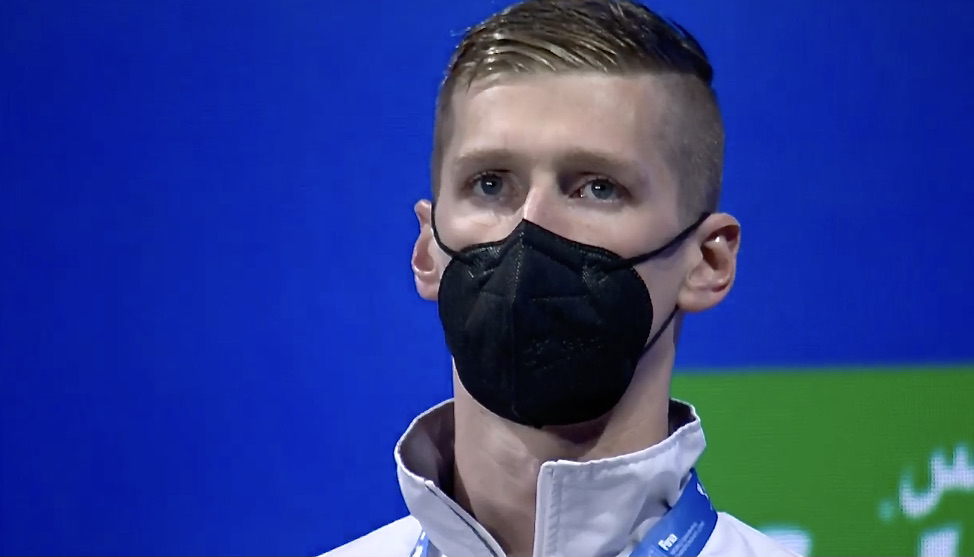 "I had a rest after the marathon but I didn't expect to be in shape for a world record. Today, there wasn't really a plan. I just wanted a good race with Mischa, Greg and the guy from Tunisia."

Florian Wellbrock
Coached by Bernd Berkhahn at Germany's high-performance centre in Magdeburg, Wellbrock shadowed Paltrinieri's world-record pace to the 800m mark, after which he piled on the pressure, extended his lead length by length over his rivals, caught the Italian's pace-setter, then edged ahead of it.
Pioneering status all but in his grasp with gold, Wellbrock then smote the global standard's ruin in the fountain of a furious 56sec finish, the kind of pace Johnny Weissmuller mustered for 100m Olympic victory a century ago, or in contemporary understanding, the speed of a dream for Adam Peaty and a nightmare for his rivals over two lengths breaststroke.
The WR splits:
53.66; 1:50.23; 2:47.48; 3:44.66; 4:41.57; 5:38.53; 6:35.71; 7:32.85; 8:29.29; 9:25.75; 10:22.20; 11:18.91; 12:15.59; 13:12.12; 14:06.88 (28.27 28.14; 56.41) WR, Florian Wellbrock
Wellbrock is the first German swimmer to own the 1500m world s/c standard and the first from his country to scale the twin peaks of title won in new global standard. Australian strength in the event down the years since short-course records were recognised by FINA in 1991 has meant that only three men had set the high bar before Wellbrock today.
Kieren Perkins (1992-1998) and Grant Hackett (1998-2015) set the standard twice each before Paltrinieri took down Hackett's 14:10.10 standard in 2015.
Now, Wellbrock is the second German swimmer in history to have set a World 1500m record, all pools: when Perkins made his breakthrough for silver at World long-course titles at home in Perth in 1991, the man ahead of him was Jorg Hoffmann, who claimed the crown in a then World record of 14:50.36. Wellbrock matched the long-course World-title feat in 2019 and today delivered the two highs in one in the short-course pool.
Maggie MacNeil & Sarah Sjostrom Highlight Women's Finals
The best of the rest of the finals came in the women's 100m butterfly and 50m freestyle, with titles for the Olympic 100m butterfly champions of 2016 and 202One.
Women's 100m butterfly – Gold for MacNeil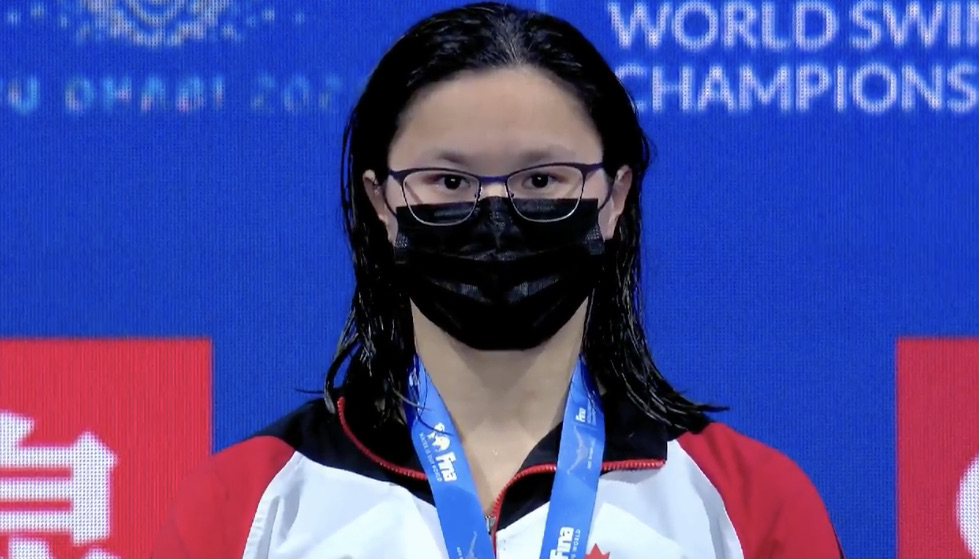 Tokyo Olympic champion Maggie MacNeil, who flipped over to down the World 50m backstroke record yesterday, topped a fine championships for herself and Canada with a 55.04sec victory after speeding from fourth to gold over the closing 50m of battle.
MacNeil was out in fourth on 25.77, American Torri Huske setting the pace at 25.50 ahead of Sweden's Louise Hansson on 25.66 and the other American in the fight, Clare Curzan, on 25.65. There was nothing in it all the way from there and MacNeil left it until the vert last flock of wings flying in to stop the clock before she had a waifer-thin edge at any time in the race.
Hansson took silver in 55.10, Curzan bronze in a World junior record of 55.39, Huske locked out in 55.75.
Women's 50m freestyle – Gold for Sarah Sjostrom
Whenever Sarah Sjostrom and Ranomi Kromowidjojo rise to their blocks for battle, a thriller is assured. It was no different today as Sjostrom, the first Swedish woman to claim Olympic swimming gold when she topped the 100m butterfly final at Rio 2016, took on the defending champion from the Netherlands in the last solo final of the championships in Abu Dhabi.
Kromowidjojo's 22.93 World record from 2017 lived to fight another day but her Championship record of 23.19 from 2018 lives on as history after Sjostrom stopped the clock at 23.08, the Dutch challenger with double Olympic sprint gold in her pantheon from 2012, on 23.31 for silver. The bronze went to Poland's Katarzyna Wasick in 23.40.
Sjostrom had a nightmare end to the last winter season back in February, when she slipped on the ice back home in Stockholm and broke her elbow. Gone were her chances of retaining the 100m Olympic title but come Tokyo, Sjostrom still managed to make the 50m freestyle podium, an astonishing feat under the circumstances. Today, she emerged from victory to note: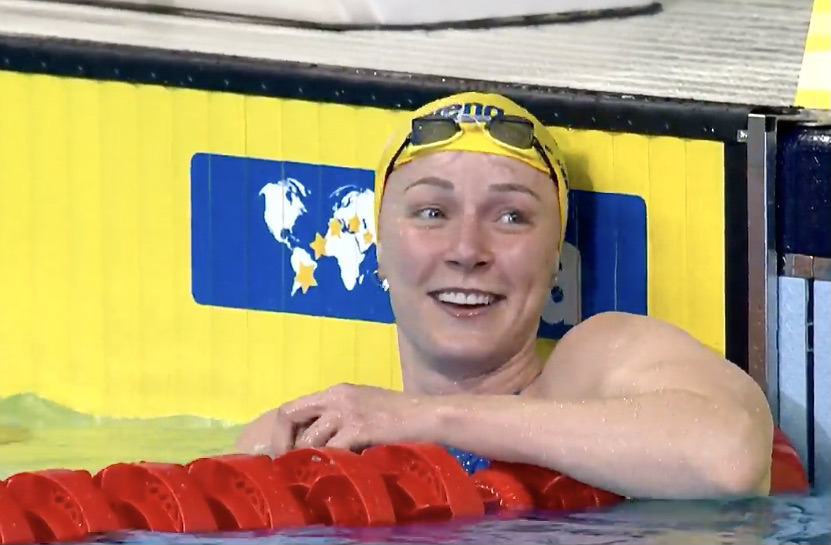 "I'm so happy to get an individual gold medal here. I broke my elbow back in February but now I'm back and it feels incredible."

Sarah Sjostrom
She wasn't done there, either. Two finals later, she was back in the fray for a second gold, Sweden's 3:46.20 victory in the 4x100m medley a European record that kept back Canada, on 3:47.36 for silver, and China, on 3:47.41, an Asian record, for bronze.
Sweden's Hansson sisters, Louise (56.25) and Sophie (1:03.70), set the pace before Sjostrom clocked 54.65 on 'fly and Michelle Coleman delivered gold in 51.60. For Canada, Kylie Masse (55.76) handed over to Sydney Pickrem (1:04.97) before Maggie MacNeil, her 100 'fly win still pumping through her arms, split 55.30 and Kayla Sanchez came home in 51.33. China's medal was courtesy of Peng Xuwei (57.12), Tang Qianting (1:03.25), Zhang Yufei (54.93) and Cheng Yujie (52.11).
With that win, Sjostrom extended her career tally at World s/c titles to 10 medals in all after claiming two gold, three silver and a bronze in the past six days. In the mix was a matched World record for her and Sweden in the 4x50m medley.
Three of the 10 career World s/c medals were put in the pantheon today. In the opening final of the last session, the women's 4x50m freestyle final, Sweden took silver behind the USA.
Abbey Weitzeil, Clare Curzan, Katharine Berkoff and Kate Douglass clocked 1:34.22 for the title ahead of race leaders for three legs of the fight, Sweden, which put its top guns up front on the way to silver in 1:34.54. Sjostrom and Michelle Coleman were followed by Sara Junevik and Louise Hansson. Sjostrom's 23.33 from a standing start was topped among all other splits in the final only by the 22.88 in which Ranomi Kromowidjojo took The Netherlands from seventh to bronze in 1:34.89 after Kim Busch, Maaike de Waard and Kira Toussaint had left only Hong Kong trailing them.
Italian Medley Quartet Take The Last Gold Among Men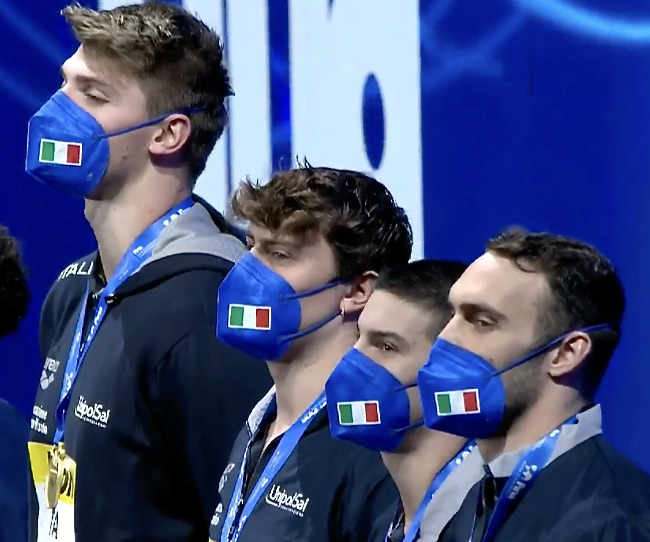 The last gold among men went to Italy, Lorenzo Mora (50.34), Nicolo Martinenghi (55.94), Matteo Rivolta (48.43) and Alessandro Miressi (45.05), who set a championship record of 3:19.76 in the 4x100m medley ahead of the USA – Shaine Casas, Nic Fink, Trenton Julian and Ryan Held – and the Russian team (Kliment Kolesnikov, Danil Semianikov, Andrei Minakov and Aleksandr Shchegolev.
In other action…
There were titles for Alessandro Miressi, of Italy, on 45.57 in the 100m freestyle ahead of American Ryan Held, 45.63, and Canadian Josh Liendo, 45.82; Emily Escobedo, of the USA, in the 200m breaststroke, her 2:17.85 fending off a 2:17.88 from Russian Evgeniia Chukunova and a 2:17.96 from 2016 title winner Molly Renshaw of Britain; veteran Polish ace Radoslaw Kawecki, on 1:48.68 in the 200m backstroke ahead of American Shaine Casas and German Christian Diener, on 1:48.81 and 1:48.97 respectively; and Nic Fink, on an American record of 25.53 in the 50m breaststroke ahead of efforts of 25.55 and 25.80 from Italian Nicolo Martinenghi and Brazilian Joao Gomes.
The top women and men's scorers for the meet were Siobhan Haughey, of Hong Kong, who established a World record in the 200m freestyle, and Kliment Kolesnikov, of Team Tchaikovsky, who claimed four golds and a silver in Abu Dhabi.