Florian Wellbrock Adds To Olympic Glory With Year-End Victory In World Marathon Series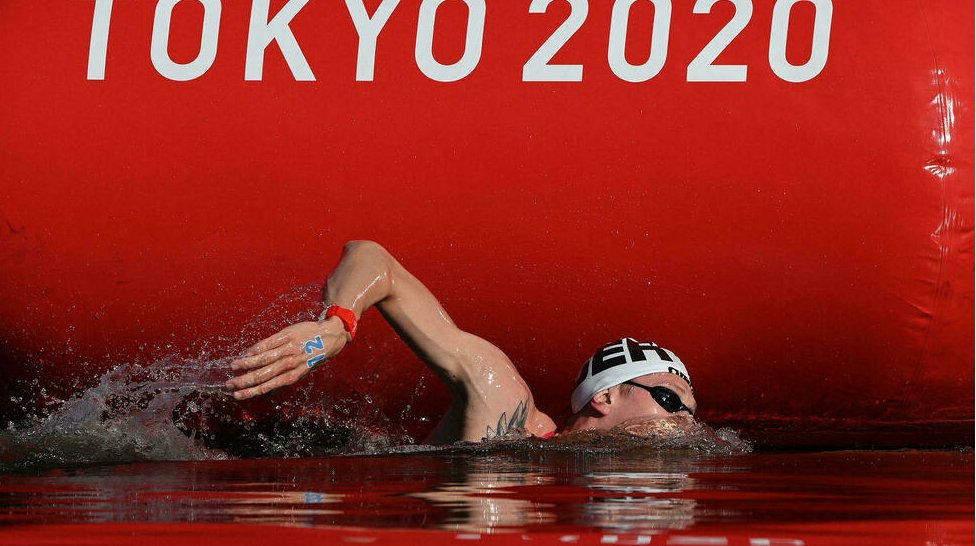 Olympic marathon champion Florian Wellbrock, of Germany, led Europe's dominance of the 10km battle at the ninth wave of the Fina/CNSG Marathon Swim World Series 2021, his 1 hour 48min 09.4sec victory topping no fewer than 21 swimmers from the same continent who kept the rest of the world at bay.
The cup is being held in conjunction with the World Short-Course Championships, which got underway this morning in Abu Dhabi and will run until Tuesday December 21.
The entry for the pool event has been impacted by the pandemic, through travel bans, calendar clashes and event overkill for swimmers juggling International Swimming League and World Cup seasons and the winter showcase now underway while preparing for a World long-course championships in May next year just nine months after the delayed Olympic Games in Tokyo.
Even some of those who have shown up to race in Abu Dhabi are taking the event in the course of their training stride, results on the first morning of action clearly demonstrate.
Out where the water is open, the world marathon series has also been affected by the pandemic, with several legs cancelled this year and events that did go ahead held without the best in the world present.
Today the conditions were good, the pace and race and closeness of battle in an event without the standard two-per-nation restriction all added up to a good moment for a sport still growing since its introduction to the Olympic Games in 2008 and events far more painful than growing pains, the death of Fran Crippen in waters off the coast of the United Arab Emirates in unacceptable conditions a forever-taint on all involved in the governance and oversight of aquatics and athlete welfare.
Today, the location of the FINA event evoked memories of the preventable tragedy of 2010 even though the geography and race conditions were a world apart.
Coached by Bernd Berkhahn at Germany's high-performance centre in Magdeburg, Wellbrock was followed on to the podium by two others who shared the podium yesterday in the inaugural 4x1500m (6km) relay, the "President's race", yesterday: Italy's Domenico Acerenza, a member of Italy's winning squad, took silver 2.56sec behind the German ace, the bronze to Hungarian Kristof Rasovszky, 14.2sec adrift gold a day after his close race with Gregorio Paltrinieri, who delivered the Italian relay gold.
Rasovzky took the overall series top prize among men.
Italy placed 5 swimmers in the top 12 finishers in the 10km, three of them in the top 5, while Europe filled the first 21 places in the race, before swimmers from Australia and the United States were the first to follow home.
Wellbrock at the helm of the Top 12 Finishers:
Pos
Nation
Athlete
DOB
Time
Gap
1
67
GER
WELLBROCK Florian
19/08/1997
1:48:09.4
2
37
ITA
ACERENZA Domenico
19/01/1995
1:48:12.0
2.6
3
14
HUN
RASOVSZKY Kristof
27/03/1997
1:48:23.6
14.2
4
28
ITA
SANZULLO Pasquale
04/03/1998
1:48:24.1
14.7
5
55
ITA
SANZULLO Mario
05/06/1993
1:48:24.8
15.4
6
20
FRA
VELLY Sacha
09/02/2005
1:48:26.1
16.7
7
10
ITA
MANZI Andrea
27/11/1997
1:48:29.6
20.2
8
61
GER
FRACH Niklas
06/02/1998
1:48:29.9
20.5
9
63
GBR
PARDOE Hector Thomas
29/03/2001
1:48:36.8
27.4
10
30
ITA
GUIDI Marcello
06/05/1997
1:48:37.8
28.4
11
38
GER
KLEMET Oliver
18/03/2002
1:48:37.9
28.5
12
68
GBR
ROBINSON Tobias Patrick
22/08/1996
1:48:39.4
30.0
Results in full at Microplus Timing
The way it panned out:
1000m Mark
Rasovszky HUN – 10:36.4
Wellbrock GER – 10:38.1
Velly FRA – 10:39.6
2500m Mark
Wellbrock GER – 26.57.5 – 1500 time: 16.19.4
Rasovszky HUN – 26.59.3
Sanzullo ITA – 27.03.3
4000m Mark
Wellbrock GER – 43.25.1 – 1500m time: 16.27.6
Acerenza ITA – 43.27.7
Rasovszky HUN – 43.27.7
5500m Mark
Wellbrock GER – 59.33.9 – 1500m time: 16.08.8
Rasovszky HUN – 59.35.8
Acerenza ITA – 59.37.7
7000m Mark
Wellbrock GER – 1:15:58.1 – 1500m time: 16.24.2
+1.6 – Rasovszky HUN – 1:15.59.7
+2.2 – Acerenza ITA – 1:16.00.3
8500m Mark
Wellbrock GER – 1:32.26.9 – 1500m time: 16.28.8
+1.5 – Acerenza ITA – 1:32.28.4
+3.1 – Rasovszky HUN – 1:32.30