Florian Wellbrock 3:44 & Lukas Martëns 3:45 In 400 Free Not Once But Twice Each In One Day At Magdeburg Test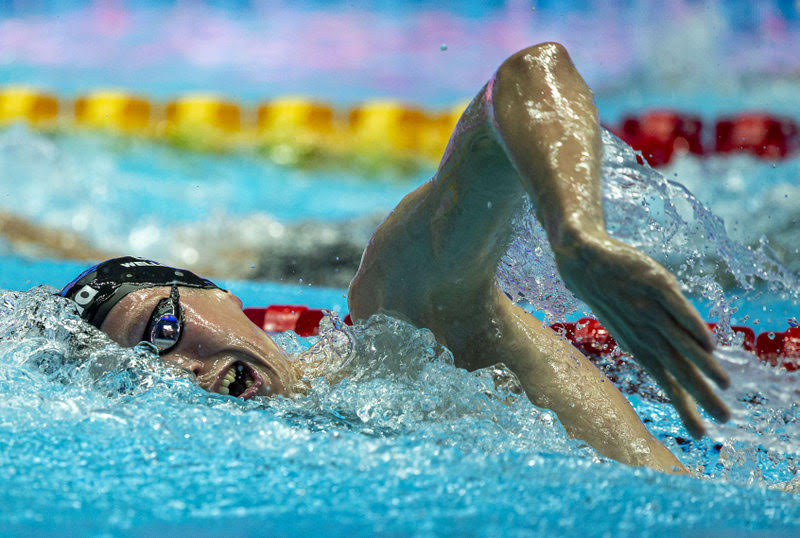 At the Gothaer Pokal (derby) in Magdeburg, 1500m and Marathon World champion Florian Wellbrock roared inside his career best of 3:45 with not one but two 3:44s in a day in a tight battle with Lukas Märtens, who chased Wellbrock all the way to match his own 3:45 in heats with a 3:45 in the final, too.
Right now, in the midst of the oddest training environment many swimmers will ever have faced in their lifetimes, both German contenders train at the Magdeburg Swim Club.
Florian Wellbrock was quicker in heats:
55.55; 1:52.64; 2:49.00; 3:44.35 heats (0.21sec outside Paul Biedermann's textile best)
55.34; 1:52.34; 2:49.36; 3:44.77 final
Lukas Märtens, 20 this year, was swifter in the final:
54.72; 1:52.50; 2:49.40; 3:45.71 heats
54.03; 1:52.29; 2:49.93; 3:45.29 final
One career high for Wellbrock, two for Märtens, then – and both looking set for the 400m at the Tokyo Olympic Games, though Wellbrock already has a full program with the 800, 1500m and Marathon. Last year, at the February meet in Magdeburg, the same rivals clocked 3:48.97 and 3:49.97, the latter Märtens' personal best.
In 2019, when Florian Wellbrock clocked the best seven times by a German swimmer that year, between a best of a then best of 3:47.14 and 3:50.82, Lukas Märtens was celebrating a best of 3:51.88 at European Junior Championships.
Great progress from junior to senior ranks for the younger of the two but what about that progress in Wellbrock, the man who took down Jorg Hoffmann's 27-year-old record in 14:40.49 and moved the pace on to 14:36.15 for the European title that same year. He claimed the world title in 2019 in 14:36.54 – when his personal best over 400m was 3:45.59 – and now holds the fastest eight 1500m free times all-time among Germans.
He is yet to race over 30 lengths this year, while the defending Olympic champion Gregorio Paltrinieri, of Italy rattled the 14:40 mark at national trials in Riccione this month.
On an April day in a home-program speed test, Florian Wellbrock on a career best 3:44.35 , just 0.21sec shy of the fastest textile time of Paul Biedermann, who holds the World and German record over 400m at 3:40.07 from the shiny suits circus of Rome 2009. But for that, Ian Thorpe would be the 400m global standard holder yet.
In other racing in Magdeburg today, Isabel Gose clocked 4:06.11 in the 400m freestyle and Sarah Köhler 16:07.71 over 1500m freestyle.