Florian Wellbrock 14:46 Draws Lukas Martëns To 14:49 As Only 2nd German 1500m Man Inside Jorg Hoffmann 1991 14:50 World Record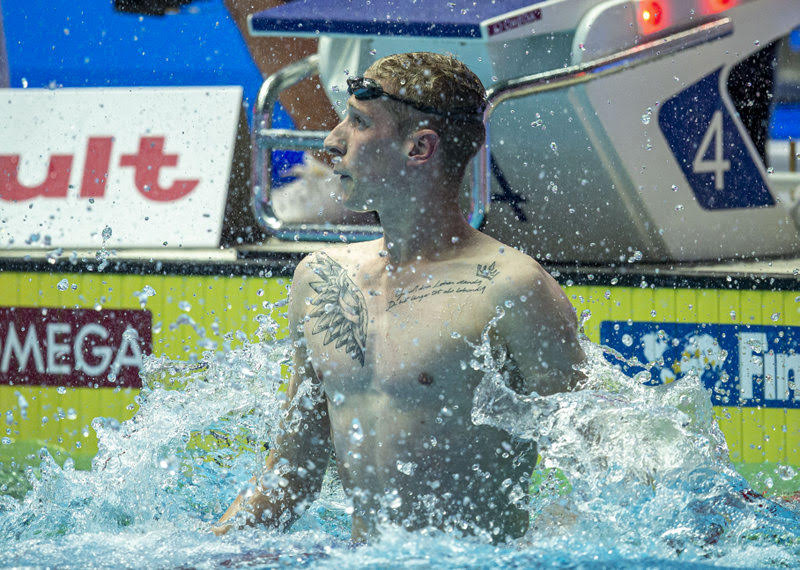 Until today, Florian Wellbrock was the only German man to get inside the 14:50 World Record Jorg Hoffmann set for the global 1500m free crown in 1991 but now there are two, after the world champion led training partner Lukas Martëns 14:46.03 to 14:49.26 at the Gothaer Pokal (derby) in Magdeburg.
For Wellbrock, it meant being 10sec down on his German record and the pace in which he won the European title in 2018 and the World titles in 2019.
For Martëns, it meant a best time by a whacking 35sec. It was just over a year ago when the boy of 18 clocked 15:24.34 at the Magdeburg Olympic qualifier. Then the pandemic hit – and Lukas has obviously been in hefty and intensive training at the Magdeburg swim club and performance centre alongside Wellbrock and under the guidance of coach Bernd Berkhahn.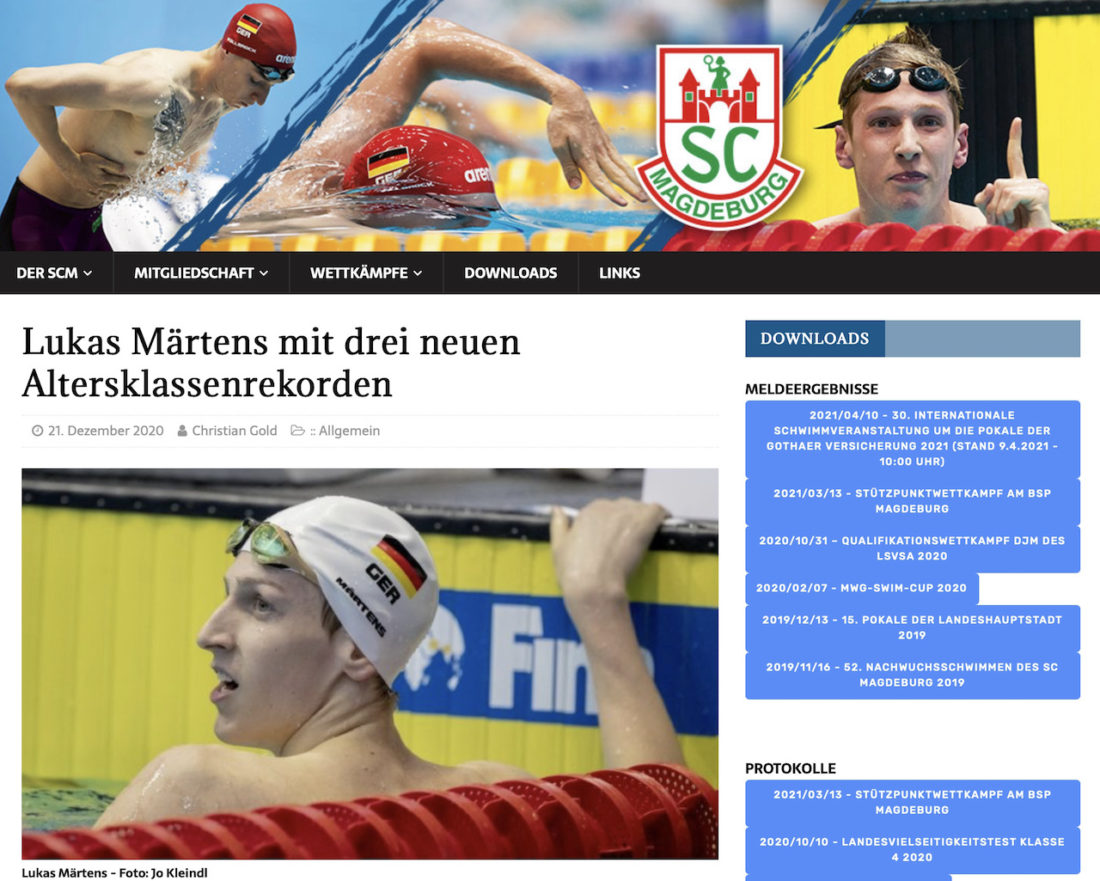 To the west of them is the Potsdam training centre, where Jorg Hoffmann is coach, at least until the Tokyo Olympic Games. He doesn't coach the only two men to get past him in Germany on the 1500m free clock since 1991 but he does play a part in their story.
Martëns leaves his teens behind this year and will also celebrate a coming of age in the pool, with likely Olympic selection and the status of becoming only the second German to race inside 14:50.
It was back in 1991 that Jorg Hoffmann became German and World No1 with the global title and record in 14:50.36. Until 2018, when Welllbrock took down the 27-year-old record in 14:40.49 and moved the pace on to 14:36.15 for the European title that same year. He claimed the world title in 2019 in 14:36.54.
Martëns was not on the radar over 1500m back then but last December, when Wellbrock clocked 7:50.67 over 800m at a qualification meet in the same Magdeburg pool, the youngster went 7:57.07 and the prospect of a sub-15-min 1500m was on the cards.
Martëns delivered on that promise today at the local derby. Today marked the first 1500m race of the year for Wellbrock – a couple of weeks after defending Olympic champion Gregorio Paltrinieri, of Italy rattled the 14:40 mark at national trials in Riccione this month.
Yesterday, Wellbrock and Martëns sparred over 400m freestyle. And this was the result:
Florian Wellbrock was quicker in heats:
55.55; 1:52.64; 2:49.00; 3:44.35 heats (0.21sec outside Paul Biedermann's textile best)
55.34; 1:52.34; 2:49.36; 3:44.77 final
Lukas Märtens, 20 this year, was swifter in the final:
54.72; 1:52.50; 2:49.40; 3:45.71 heats
54.03; 1:52.29; 2:49.93; 3:45.29 final
One career high for Wellbrock, two for Märtens, then – and both looking set for the 400m at the Tokyo Olympic Games, though Wellbrock already has a full program with the 800, 1500m and Marathon. Last year, at the February meet in Magdeburg, the same rivals clocked 3:48.97 and 3:49.97, the latter Märtens' personal best.
In 2019, when Florian Wellbrock clocked the best seven times by a German swimmer that year, between a best of a then best of 3:47.14 and 3:50.82, Lukas Märtens was celebrating a best of 3:51.88 at European Junior Championships.
Meanwhile, Lukas has a sister, Leonie Martëns, who finished third in the women's 800m freestyle on 8:48.94, the two ahead of her among Germany's national-team members aiming for peak form in Tokyo: Isabel Gose, Magdeburg, on 8:26,37, after a 4:06 in the 400m freestyle yesterday, and Sarah Köhler, Frankfurt, on 8:28.56.
In the 100m butterfly, Angelina Köhler, Hannover, took the win in 58,63 ahead of Aliena Schmidtke, Magdeburg, on 59.05.