Flo & Five Guys Go Marathon Swimming To Raise Awareness & Funds For Tom's Fight After Spinal Cord Injury In The Pool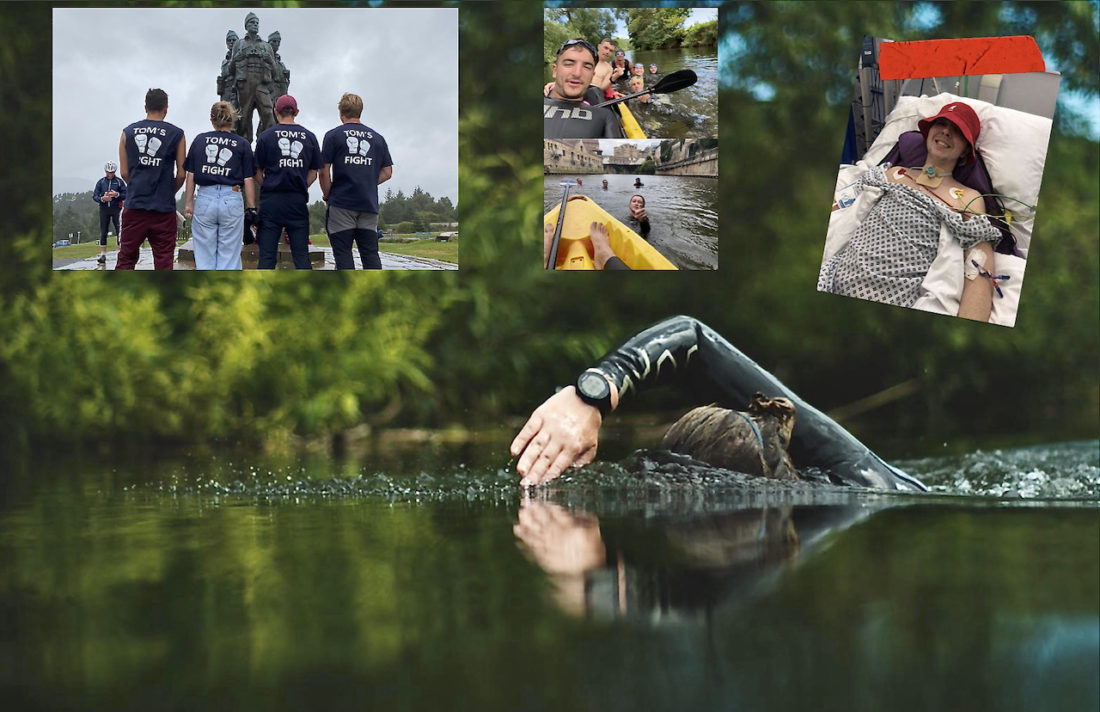 When Tom Lazarides jumped in a pool last summer and suffered a spinal-cord injury in a freak accident, his friends helped to save his life but that was just the beginning of Tom's Fight.
Tom fractured his neck in two places in the accident as well as sustaining a serious spinal cord injury. Airlifted to an intensive care bed at King's College Hospital in London, he could breathe only with the assistance of a ventilator. Whilst in hospital, he contracted rhabdomyolysis, which began to eat away at his
muscles. The condition hampered his recovery and made Tom's Fight all the harder from go.
By late last year, Tom was able to breathe unaided once more and is now on "a very long, slow journey of rehabilitation". Since his days in emergency surgery and intensive care, Tom has embarked on a challenging pathway of treatment and rehabilitation that is as cutting edge as it is expensive, at up to £10,000 a week.
Enter family and friends and some magnificent efforts to raise the funds required for a 20-year-old working towards his university degree and with his whole life ahead of him. So far, the Tom's Fight campaign has raised more than £180,000, a tremendous amount, though one that amounts to around the cost of five months of the rehabilitation that Tom needs.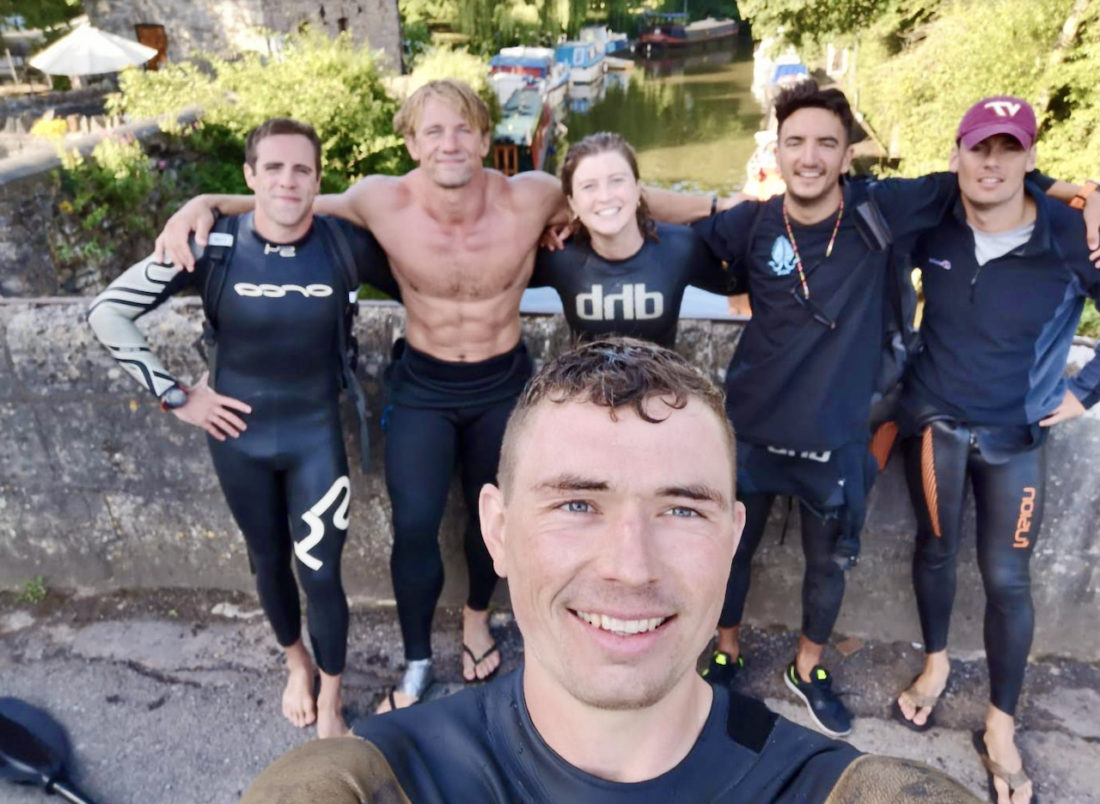 One of those making great efforts is Florence Jackson, a family friend who was 9 when Tom was born. Now 29 and a teacher, Florence's fund-raising swims are all the more remarkable for the fact that she was not a competitive swimmer in her youth. She never trained in a squad in childhood – and anyone who was and did will appreciate all the more what it means for her to be taking on the English Channel in August.
Here's How To Support Tom's Fight:
Her mission is about much more than helping the charity relay she's joined get to the other side: she's raising funds to help a childhood friend who suffered a life-changing spinal-cord injury in a freak swimming pool accident in June last year.
On a sunny afternoon with a small group of friends, 20-year-old accomplished sportsman Tom Lazarides, Laz to his friends, sustained his injury when he dived into the pool. Having witnessed the accident, his friends rushed to the rescue and helped to save his life.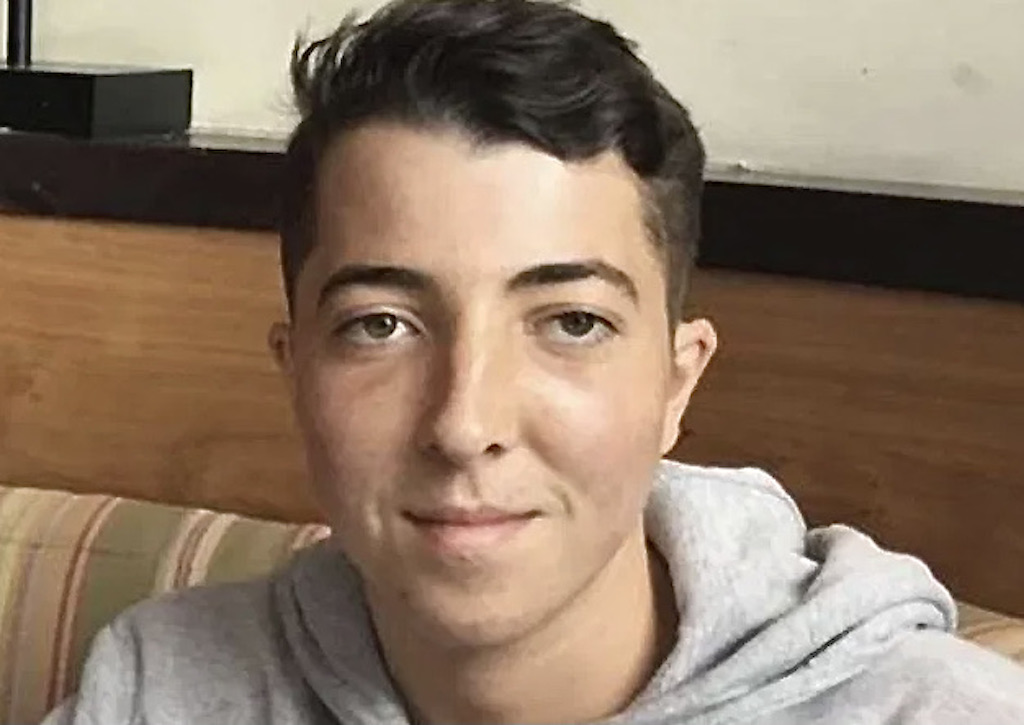 Mercifully, Tom's injury did not leave his spinal cord entirely severed and while that means long-haul recovery ahead, with much costly treatment, rehabilitation and physiotherapy required, there is, as Tom's parents note, " … every reason to be extremely optimistic about his potential for recovery."
Instead of returning to Durham University, where he is a member of Hild Bede, to complete his final year of a Business Management degree after summer 2020, Tom spent four months in intensive care, after which began the steady and painstaking process of months of treatment and rehabilitation.
Tom's situation is complicated by a frustrating set of circumstances: the Covid-10 pandemic has meant that some of the medical and care assistance he needed was not available to him at a time when the National Health Service (NHS) was overstretched with coronavirus cases; the places where he is able to receive world-class treatment are extremely costly, especially because at this stage in his recovery he needs round-the-clock care; the only facilities that many spinal cord injury patients in need of 24-hour care assistance are in homes that care for the elderly with specific conditions, such as dementia, but without the specific rehabilitation and physiotherapy that Tom needs if he is to lead an independent life.
The latter would be very much a last resort for Tom, throughout his youth a fine sportsman. Since he was very young, Tom has excelled at many sports including golf, cricket, hockey, rugby and football to name but a few. He has played cricket for his county, has an exceptionally low golf handicap and represents Durham University as a member of the golf team. He is also a member of Team Durham, plays college football and cricket for the Old Suttonians and won a sports scholarship to Sutton Valence, after Dulwich College. He is also a huge Liverpool FC and Leicester Tigers fan.
A sedentary life is not for him if it can be avoided – and there is every hope that it can be.
Tom's parents, Bridget and Marcus, say: "We, his friends and family and the many people who love Tom are determined that he will receive enough physiotherapy to fulfil this potential and will be able to go home."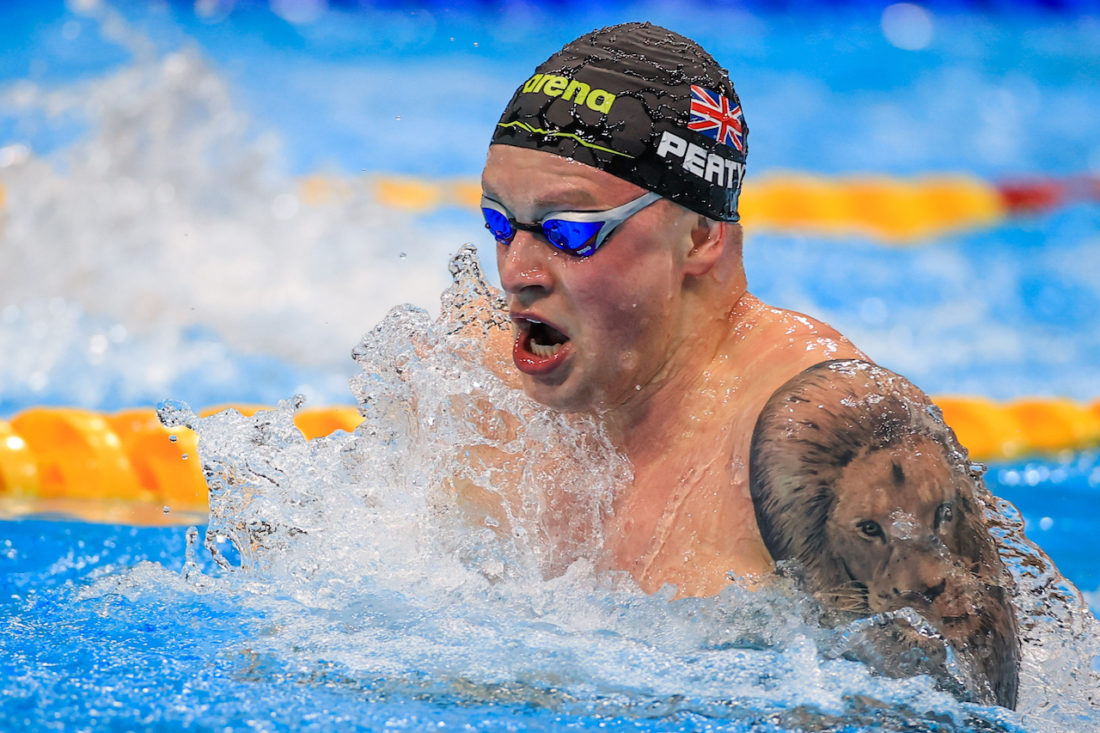 After the family launched their Tom's Fight campaign, among messages of support were those from British Olympic champions Mo Farah, of 10,000m fame, and Adam Peaty, the fastest breaststroke swimmer in the world. Acts of support and kindness flowed freely, too. (Adam Peaty's video of support is being uploaded to the Tom's Fight campaign site this week).
Tom's parents could not be more grateful for the boost all of that has provided to Tom's spirits and his ability to fight what comes with every passing day in therapy. Keeping the treatment going, however, will only be possible if there's money to pay for it.
As his parents note: "Although Tom has a great support network around him with two older brothers, a younger sister, his friends and we, his loving parents, his motivation and determination can only take him so far."
The therapy and rehabilitation Tom is now engaged in costs between £7,500-£10,000 a week.
Tom's family and friends, like Florence Jackson, have been making valiant efforts to raise the funds necessary to ensure that Tom "can go to a rehab facility where he is able to receive enough physiotherapy to ensure that he fulfils his physical potential and ongoing physiotherapy." His parents note:
"Tom is a 20-year-young man with so much to offer and we want him to be able to come home.

Bridget and Marcus Lazarides
With every faith that their son will be able to do just that, Bridget and Marcus are currently having adaptations made to their home in Dulwich, London, to accommodate Tom once he no longer needs to be in a clinic round the clock.
The Efforts Friends Have Gone To For Tom's Fight
An Instagram page, @toms_fight, has been established, with updates, information and the latest news on fund-raising activities. These have included the sale of 'LAZ' bracelets, by jewellery designers daisylily_ , Frankie's Farmshop sold "LAZZA" pizzas for a week and artist Kate Neame, has sold a series of linocuts. In the realm of the kind of sport Tom loves, Nico Blakemore, a close family friend of Tom's has run 118km, a km for each goal scored by Michael Owen for Liverpool, Will Bryant, Tom's best friend, has done a "Land and Sand" marathon in America, whilst a Three Peake's Challenge is being organised by friends from Sutton Valence.

A 1,500km cycle by England Hockey player, and Tom's golf coach, David Matthews is currently taking place, 'Dancing for Laz', the Fan Dance, a climb across the Brecon Beacons by Tim Woof is being planned and Cameron Evans is doing a 100km run. Dulwich College, where Tom was a student has organised a series of events and North Coast Wetsuits are supporting Tom, as is the Matt Hampson Foundation. Tom is hoping to go to Matt Hampson's "Get Busy Living Centre", which supports people seriously injured through sport, when he leaves rehab.
And then there's Florence Jackson, or rather "Flo and Five Guys", as she puts it with a disarming peel of laughter.
Big Swims For Tom's Fight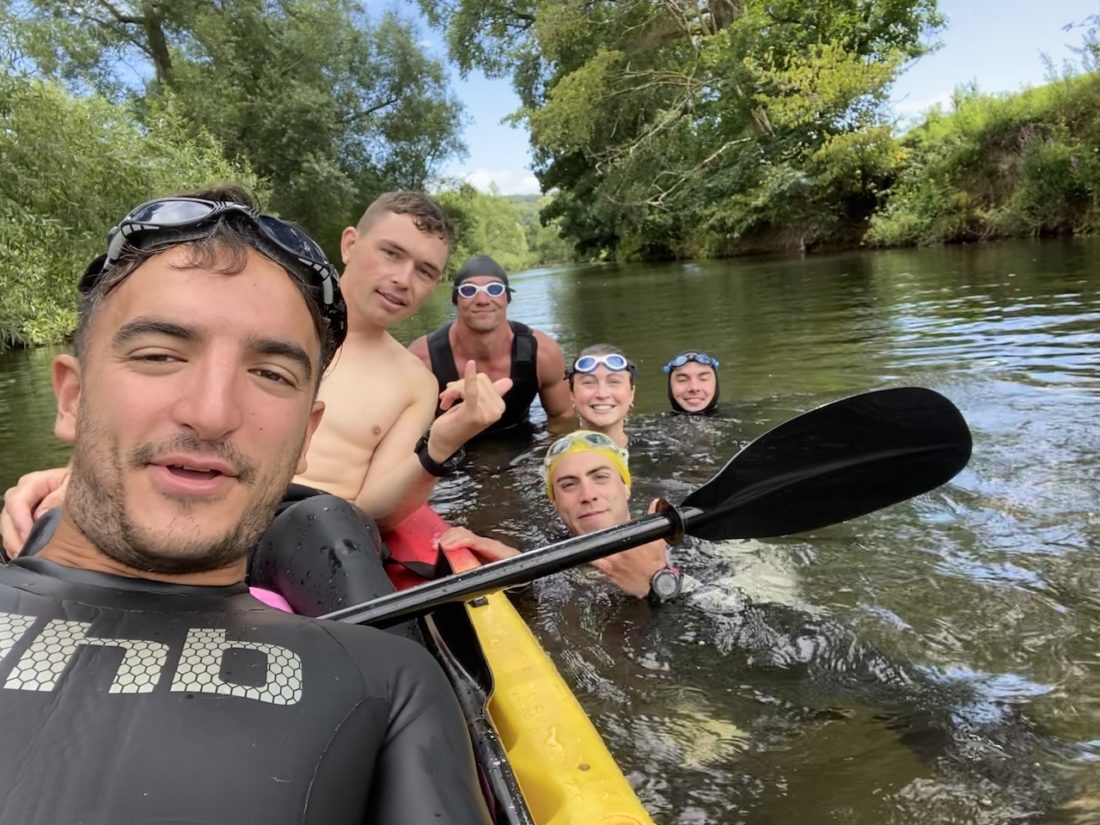 It all started with Florence and several friends discussing how great it would be to "swim from somewhere to somewhere" on a summer holiday together. Dreaming of resting on sunny banks after the swim was one thing, doing the swimming another, and some who had been keen, drifted away.
Florence turned to Óscar, a university friend, who was keen to take on a long swim. As she describes that moment, I intervene to ask if she'd been a trained swimmer in her youth or had undertaken some kind of training for the adventure ahead. 
In a manner of speaking was the reply. Florence had long had "a passion for the water", had grown up near the pools and Lidos of London and spent summers and holidays on the Cornish coast at the heart of a "sea-orientated" family.
She says: "I was always drawn to the water. It's calming. Birthdays were always a question of being asked what I'd like to do and the answer was nearly always 'a barbecue on the river'."
That was the pontoon off which she and her friends would launch their swimathon efforts.
Florence explains: "The first big swim came about because a school friend of mine that I rowed with at school and then at Durham University decided to plan a big swim from 'somewhere to somewhere'. It was at the level of a chat in the pub. Lots of friends were supportive but no-one actually volunteered to come along. Then Covid hit and we were like 'now we won't be able to go abroad, so why don't we use the summer to go and live our dream, 'the swim thing'."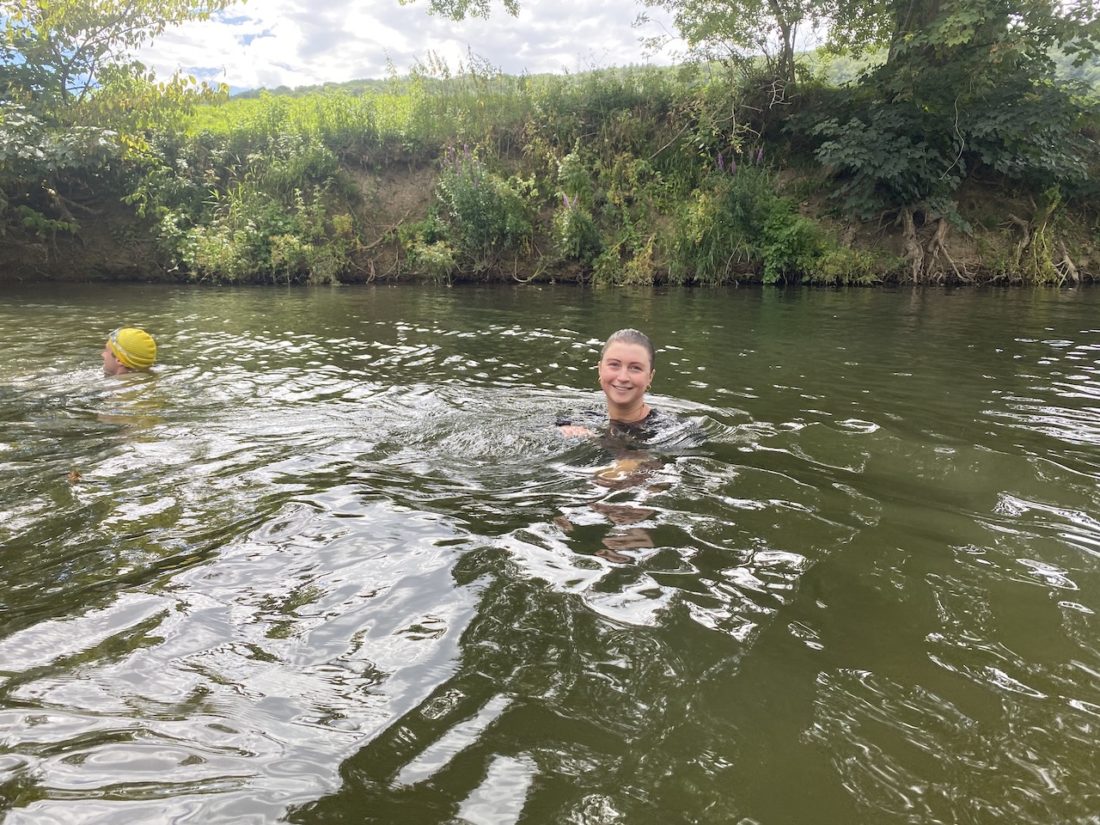 "Oscar and I plotted it out then we talked to my dad about it. It was about three weeks after Tom's accident and he said, 'well, why don't you use it as a platform to raise some money for Tom'."

Florence Jackson – all images from the swims courtesy of Florence Jackson
Swim No1 would be Bath to Bristol, a 36km swim over two days down the River Avon in England, with Flo and five male friends, four in the swim at any one time, two in a boat with the supplies and kit.
Swim No2 would be a 55km swim over four days along the Caledonian Canal and associated waterways in chilly flows of 8C and, in parts, waters rattling along at 28kmph, with "Flo and three guys", two of the original party unable to make it because of work commitments.
Those two swims contributed significantly to the fund for Tom's Fight. A small percentage of the pot goes to Aspire, the charity that supports people with spinal injury on the road to recovery and on to independence.
Avon To Bristol, The Caledonian Canal – Then The Channel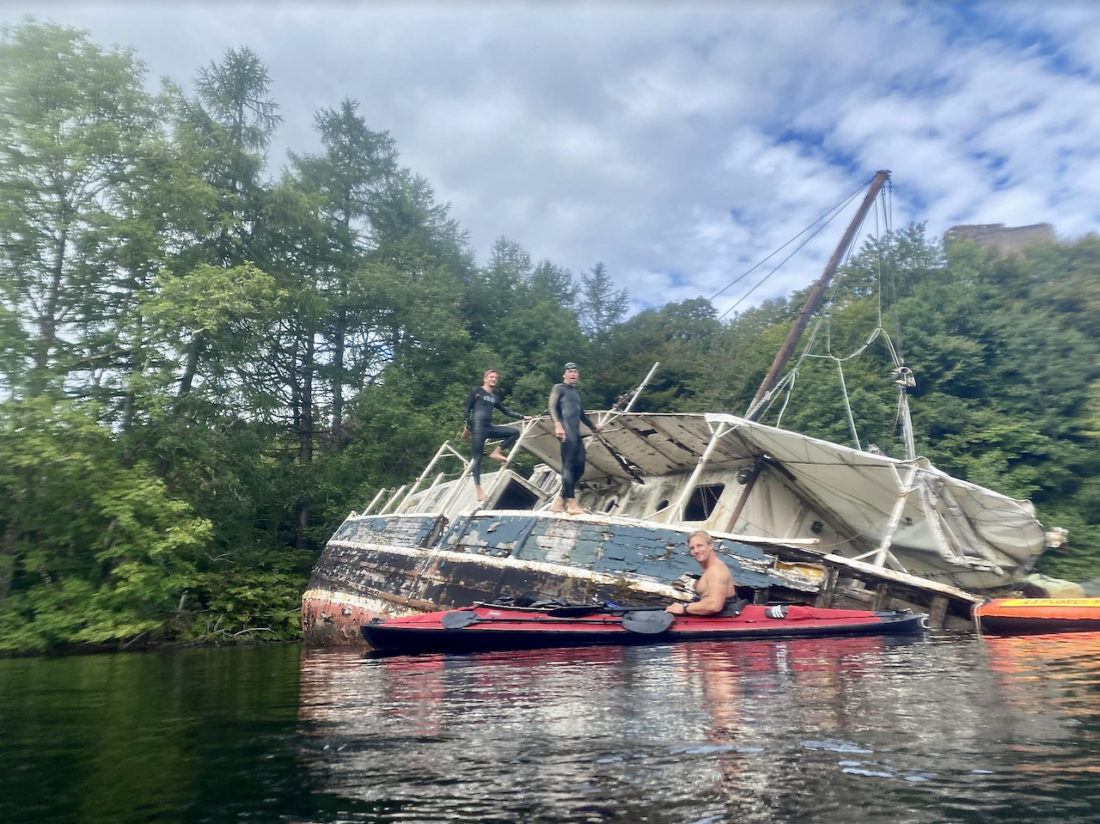 When Florence Jackson felt that a lot of friends were keen on a big swim until it came to actually planning one and getting it done, she turned to her friend Óscar, and both turned to four other friends who were all at Durham University together a few years before: Adam J, a lawyer, Tristán T, from the navy, marine Ed R, and teacher Tomo G all said 'we're in'.
Swim No1 was to be Bath to Bristol along the Avon for 36km in two days, four swimmers in the water at any one time, two in a canoe carrying the kits, warm drinks, towels, a change of clothes and a few other provisions. It was Swallows-and-Amazons fun with a serious twist: beyond the effort was the fund raising, Tom's Fight their driving force. Florence tells SOS: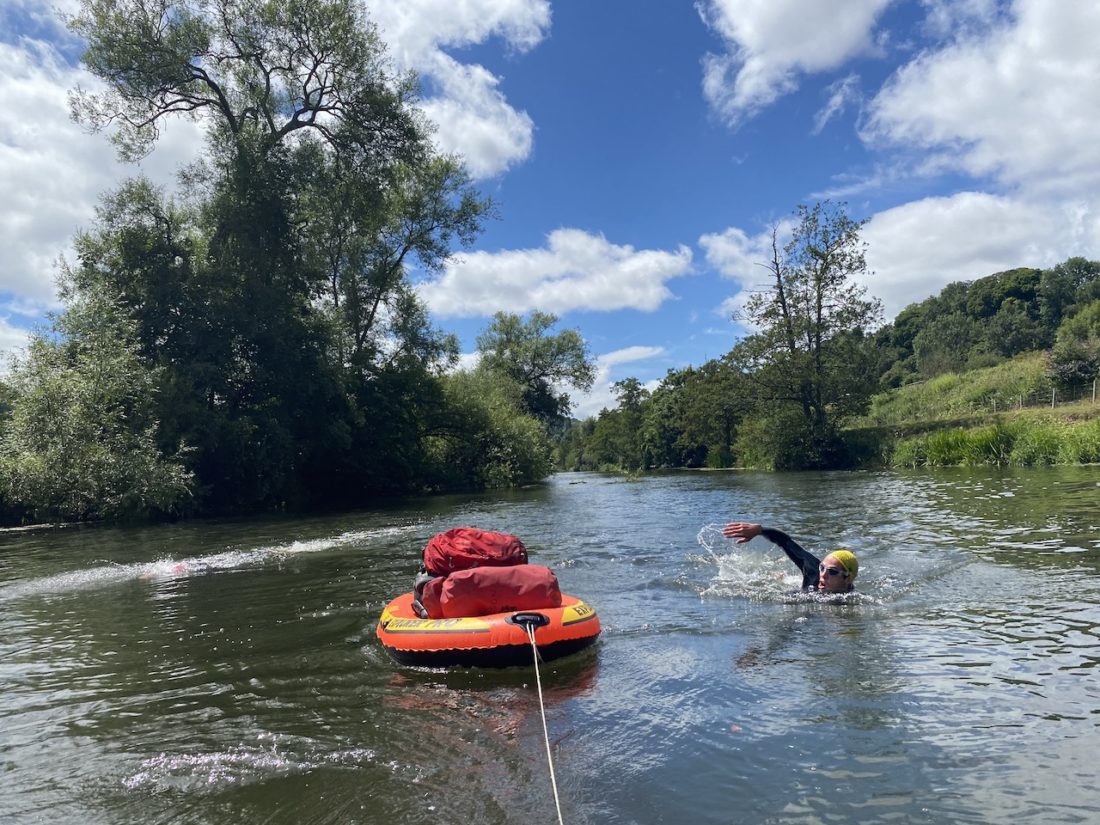 "We swam along the Avon, 36km over two days, carrying all our kit in plastic canoe and inflatable dinghy on the back of it. If you weren't one of the four in the water, you were kayaking. We had the weather on our side and it was super-exciting. It was quite easy in that we were going through towns so we didn't have to plot too much about food and where we would get it.

We just had one overnight stay and that was easy. It was a bit like a cycle tour, we'd swim two hours, then have a stint in the kayak and then if we wanted we would stop and have a break. Some stretches were hard but the worst of it was that the water was so grim. We had some horrible cuts and scrapes and you have to watch they don't get infected, so the biggest issues were more about the gross state of the water."

Florence Jackson
I mention a Thames swim I once did, the biggest issue beyond disorientation of the pool swimmer the foul metallic taste of the water. Florence recalls:
"When we were going along one canal, there was a dead horse on the bank and I had a massive sense-of-humour failure. The guys were like "Flo, this is 6km into 36km, get a grip!'."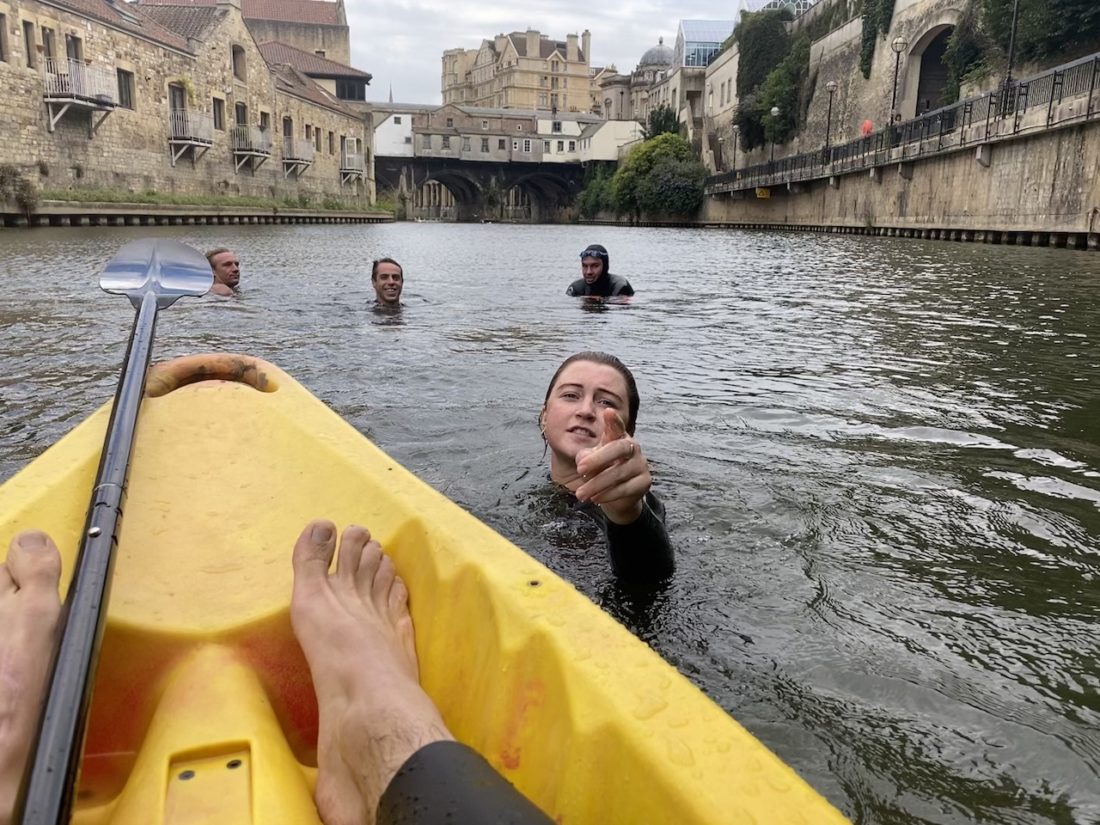 Avon to Bristol was just the fun warm-up as it turned out. The next swim was somewhat more gruelling and only four of the group could makes the dates, Flo joined by Óscar, Adam and Tristán. Says Florence explains:
After the Avon swim, the team was powered up to keep raising money for Tom but two of the boys were unable to join us for our second swim. We were down to four and the boys were down in Poole so we were training at Studland. I was there on holiday and we were all having this amazing time training around Poole and Bournemouth for a Scotland swim that was proving to be a lot harder than we'd thought, planning and doing."
The Scottish swim was over four days and followed a course from Fort William north up the River Lochy and then along the length of Loch Lochy and Loch Oich to Fort Augustus. Fifty five kilometres in three days – and in water temperatures of 8C. A different prospect to summer in a balmy river in Southern England.
"In the summer swim in July, the sun was up and everyone could warm up by peeling down the wet suit and wallowing in the sun," Florence recalled fondly. Not the same scenario in Scotland later in the year. They were wet, they were often freezing, every attempt to get dry and warm up was a drain on energy and it all proved "logistically a lot more difficult; with four of us". She adds: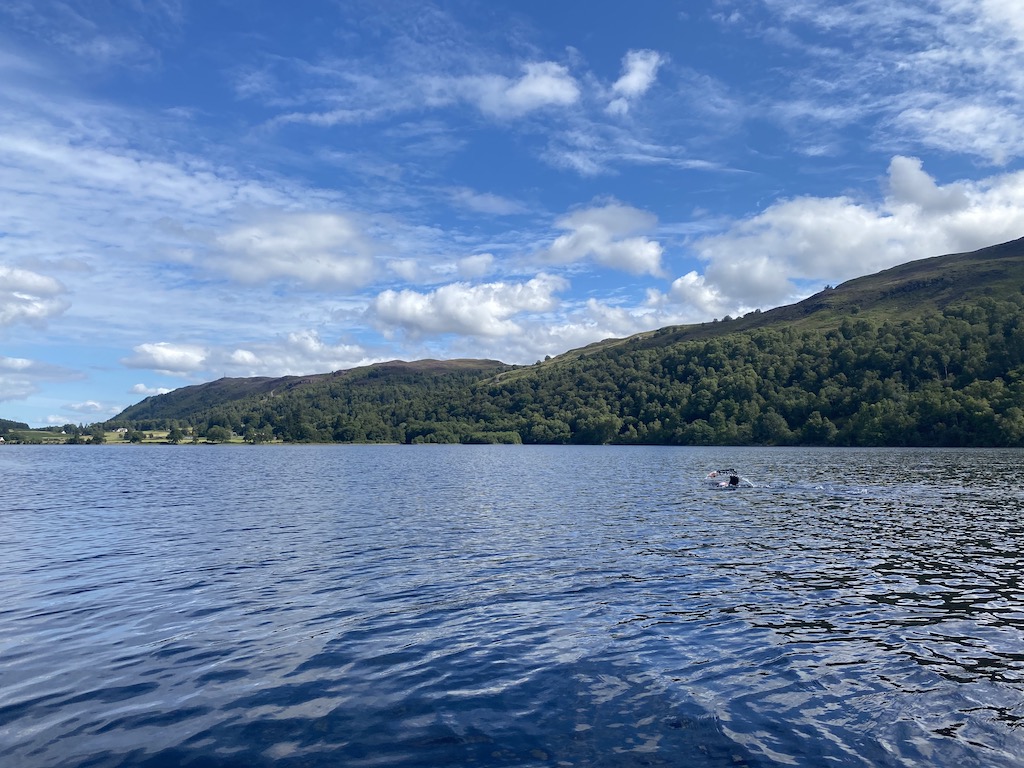 "There were two in the water, two in the canoe at any one time and were were having to cover 55km in three days. We had to stop, properly warm up, towel down, get warm clothes on, take in some hot liquid. We just had to be a little bit smarter with our safety and our changeovers and that kind of stuff. But that said, it was absolutely, breathtakingly beautiful and probably more enjoyable than the Bath-Bristol swim.

"Because it had that element of it being slightly higher risk, a little bit more challenging, we felt we had to take it a little more seriously and do something that would drum up more support among those who might want to donate to the cause we were swimming for."

Florence Jackson – image: Along Loch Lochy
There were logistical headaches along the way. In 8C waters, the four swimmers wore swim (not dive) wet suits, caps rimmed with a neoprene band to seal out the cold and the use of grease to help fool the body's temperature receptors in specific places, such as those under the cheeks that can lead to "brain freeze", says Florence. "The grease makes it a lot easier," she adds, echoing the thoughts and plans of pilots, guides, coaches and their channel swimmers down the past century and more.
Swimmers are not allowed in the canals, so the canoe with the kit had to go down the canal and the swimmers along parallel tributaries in stretches linking the lochs – and the flow in some of those streams made the 'swimming' faster than the swiftest Olympic dash there ever was, at a turbulent 28km an hour. Recalling that and the logistical and natural challenges of the Scottish swim, Florence says: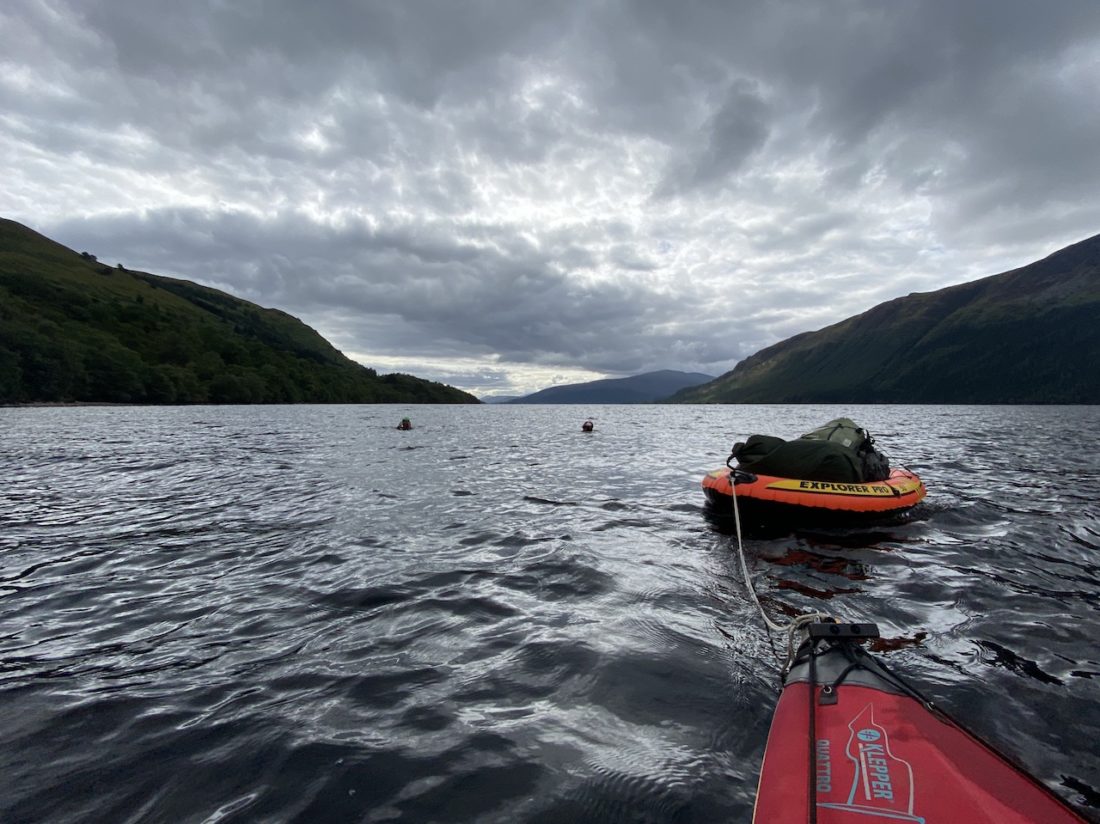 "There were stretches where you had to try to slow yourself down with your hands in front of you, hoping you weren't going to hit a rock and knock yourself out. It was quite interesting. A lot more problems presented themselves along the way in Scotland than they had in Bath to Bristol. It was a little … well, wilder. The water up there was 8C and the places where we were going to be swimming in were incredibly remote.

If you're half way along a loch, at a time when everything is shut because of Covid, there's nowhere to get food, there's nowhere to stay – and the midges were particularly bad this year. There was also the difficulty of getting our kit up there, getting it from place to place, what canoe were we going to use because the canoe we'd bad on the Avon belonged to one of the guys who couldn't make it."

Florence Jackson – Image – under slate skies on the Caledonian Canal Swim
The SBS Association got wind of the swimmers' efforts, through word from the marines in the group, and offered to lend the group a "Klepper", a collapsable World War II canoe that basically packs into a rucksack. "They used to assemble them on top of a submarine. It's also made of bamboo – light and easy to assemble," says Florence.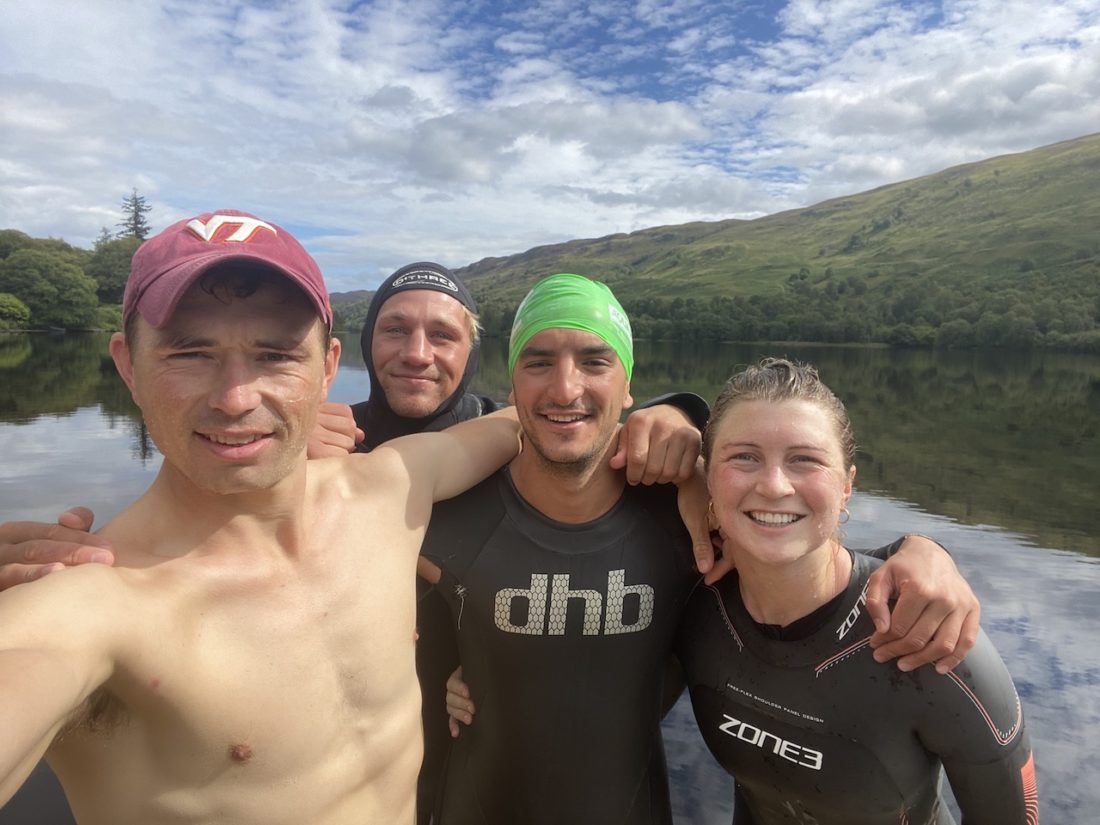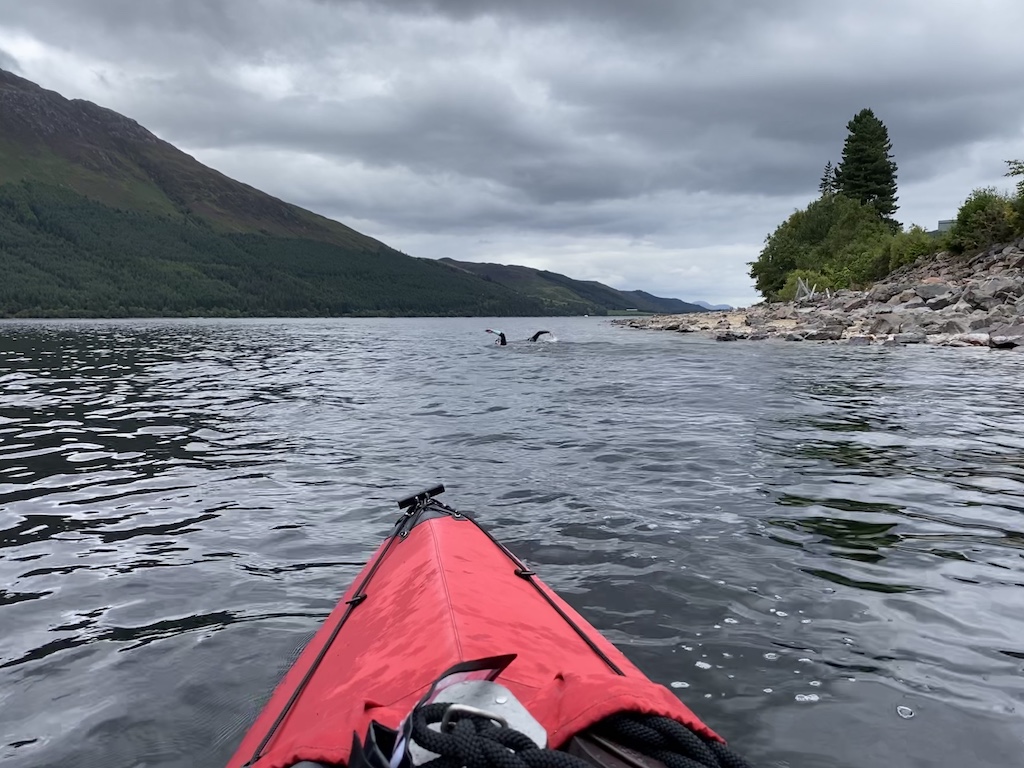 Military use often makes for very well tried and tested equipment and the Klepper worked a treat, essential provisions and warm clothing kept dry throughout what was at times a rough ride. The history of the Klepper includes the folding kayak first made commercially successful by Johannes Klepper, who had a factory in Rosenheim, Germany. Klepper kayaks were very popular for their compact size and ease of transport. Klepper's Faltboot was introduced in 1906, many years before hardshell boats were commercially produced. Oskar Speck undertook his seven-year journey from Germany to Australia in the 1930s using folding kayaks made and sponsored by another manufacturer, Pionier-Faltboot-Werft.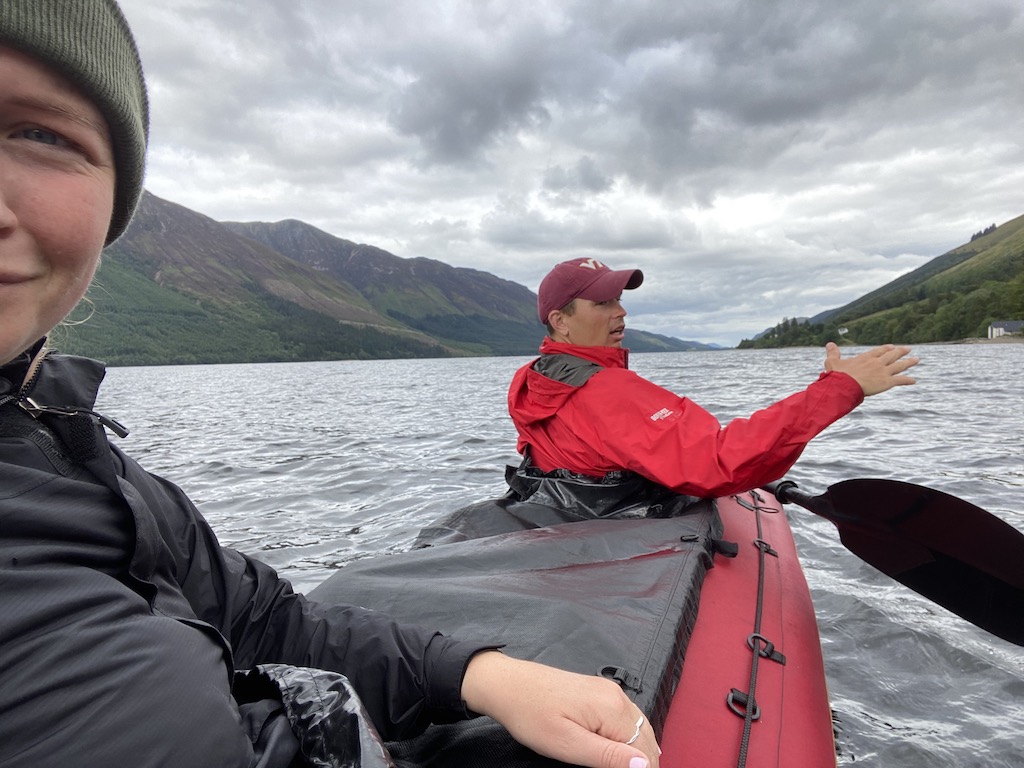 During the Second World War the British and Commonwealth special forces employed "canoes" in the Mediterranean, European, and South-east Asian theatres. The special forces of the day (COPPS, Royal Marines Boom Patrol Detachment,and so forth) had developed for them about a dozen state of the art collapsible "canoes" which were given the codename 'Cockle'.
The SBS also helped with a van to get the fund-raisers to their fund-raising efforts in Scotland and in return the swimmers donated some of the money they raised to the Special Boat Service and agreed to visit one of Scotland's best-known monuments, The Commando Memorial at Spean Bridge, dedicated to the men of the original British Commando Forces raised during World War II. Says Florence: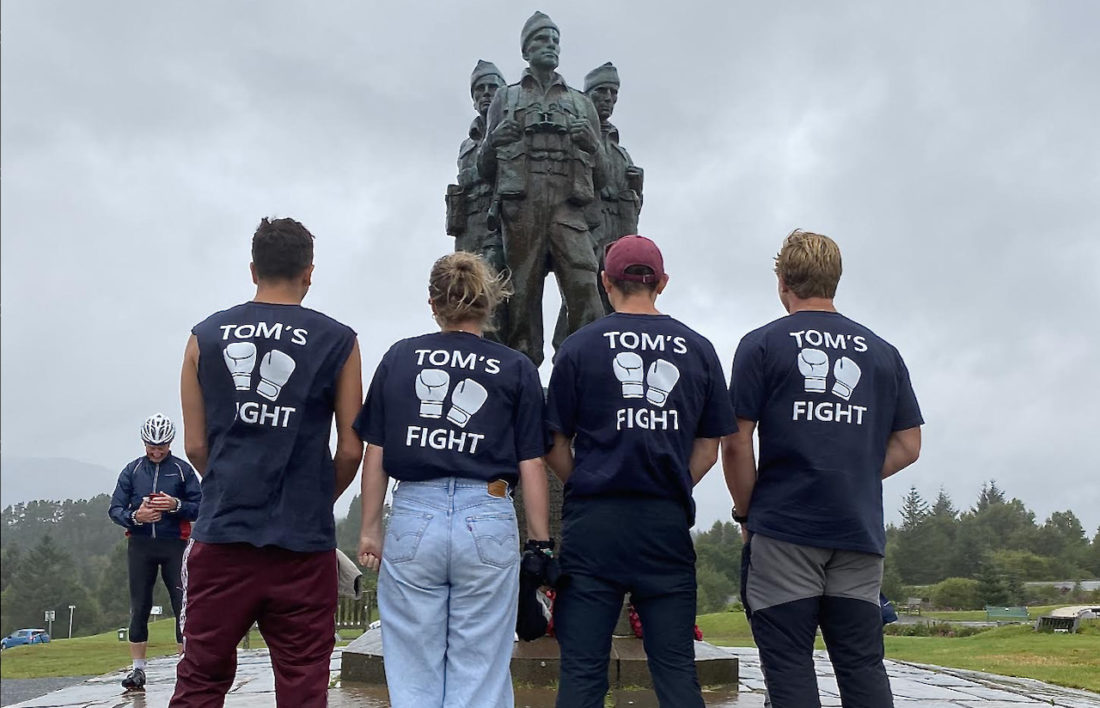 "The deal was that SBS got 1,000 (pounds) of the taking and a pledge for the swimmers to visit the Commando Memorial at Spean Bridge and have a photo taken there of us in our Tom's Fight kit."

Florence Jackson – Flo Jackson, with Óscar Richards, Adam Jamno and Tristán Trehan at the Commando Memorial, Spean Bridge
After the Scotland swim, Florence imagined that her ultimate goal of taking on the English Channel one day was three or five or more years ahead of her but the travel restrictions and lockdown conditions brought on by the Covid pandemic put her plans on fast-forward.
Next Wave – The English Channel This August
Florence made some provisional enquiries with Aspire, the spinal-cord injuries charity that sends swim teams out into the channel each summer with a view to raising funds that are then used to help those who sustained injuries on their way back to leading independent lives.
All the slots for the channel relays are filled years in advance but a few weeks after contacting Aspire, Florence got a phone call saying: "I think we can offer you a place … how are you fixed for Dover training weekend in May, June and July…", with a view to an August channel relay swim?
Astonished and delighted, Florence is now a member of the Aspire Bulldogs squad and on the cusp of her first full channel training session – and a solid test of the custom-made goggles donated to the Tom's Fight swim team by TheMagic5. She will join her new team in Dover next month and heading for the June pre-crossing qualifying Channel Swimming Association test in which the swimmer must "swim for an hour and an half, get out for an hour, warm up and then get back in for an hour".
Prospective channel crossers must also undertake a night swim and a boat test in which the pilot and tester will judge whether a swimmer is competent enough to stay out of the drag of the boat and to use the boat as a sighting/spotting aide, for example. Florence's experience in Scotland will help: she started to use bi-lateral breathing (both sides) to help with orientation when the weather closed in, the waters were dark and the experience a "wobbly" one.
Part of the challenge of a relay crossing is finding one's sea legs: in between swims as part of a relay crossing, there are spells sitting on a boat. That last thing the swimmer needs is for those spells to be dizzy ones, owing to sea sickness. "I have quite good sea legs, so I should be fine," says Florence, who with cheery disposition, says she's looking forward to the whole channel experience.
Like other friends and supporters of Tom's Fight, she is motivated by the wish to see Tom Lazarides get the best of help in the best environment possible. She says: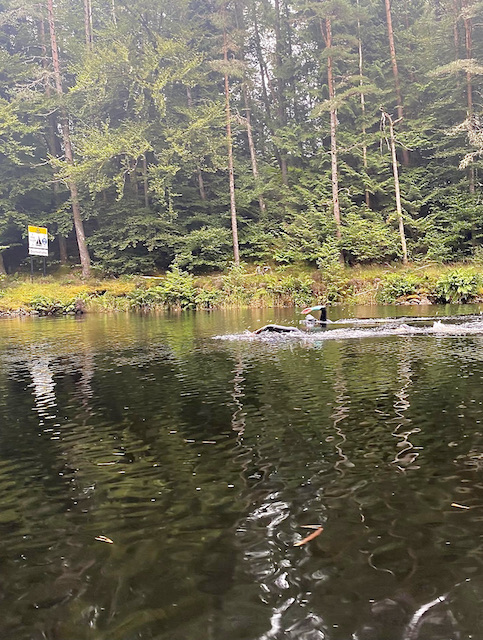 "There have been lots of people helping and providing wonderful support to the extent they can but Covid has made the whole thing all the more difficult: Tom needed three tests every time they needed to move him from one facility to another. It's been very hard for him and for his parents, who for a lot of the time have had limited access to Tom and a weekly journey from the south up to Sheffield for a short one-hour visit. Tom was moved to Stoke Manadville at some point but they didn't have the staffing to do the amount of physio he needs. The best they could offer was to get him wheelchair using in the interim.

Its not widely known but we were told that 70 per cent of young people with spinal injuries end up in care-for-the-elderly homes because they are the only places with round-the-clock care provision. That's wildly expensive – and its incredibly bleak for a young person."

Florence Jackson – image – swimming along a stretch of the Avon
It needn't be, which is why family and friends are committed to Tom's Fight. It ensures that he has the kind of rehabilitation regime he is currently benefitting from in Sheffield, where, notes swimmer Florence Jackson with a smile, Tom's progress is helped by the water therapy that is part of the specialist care he needs for the precise nature of his injury.
This article is free to republish in order to help raise awareness of Tom's Fight and the challenges of those who sustain spinal injuries. Please credit: source – www.StateofSwimming.com