FINA Treasurer Resigns To Follow Cornel Marculescu Out Of The Door, Leaving Swimming In A Hosting Rut Relying On Just Five Countries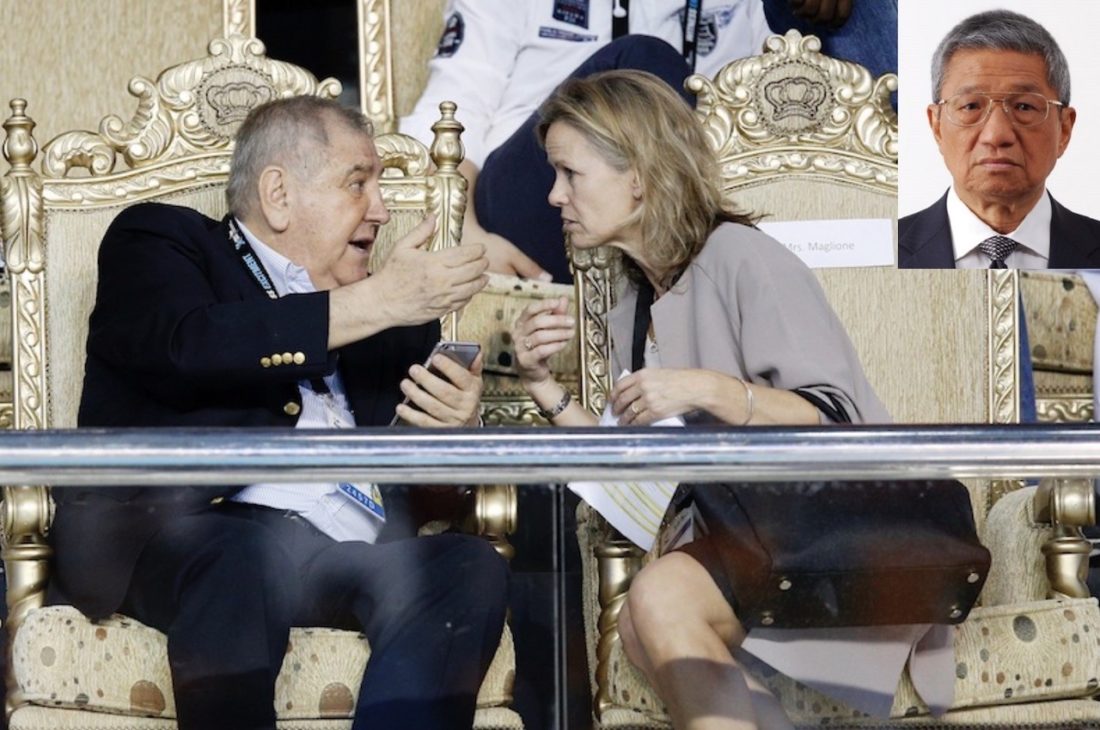 When Cornel Marculescu penned his resignation letter to FINA after 35 years as the director and then executive director of the global regulator for swimming, his self-assessment placed the federation "at its peak in almost every aspect I can think of", including the very line in his definition of "success" at the root of the dissent that led to his departure: having "host cities for all the major World Championships in place for many years to come".
Pipat Paniangvait, Treasurer and executive member since 2009 and one of the closest allies of Cornel Marculescu and supporter of the financial modelling led by the Romanian at the helm of power since 1986, also quit his post yesterday when the ruling council of FINA, the Bureau, accepted the director's resignation during what was at times a heated online meeting.
The resignations were offered and confirmed during an online meeting of the FINA Bureau on Wednesday this week. Witnesses to the meeting have told SOS that the gathering was a heated affair at times, with European delegates suggesting that Marculescu ought to be honoured in some way for his years of service, while others, including heir to the presidency Husain Al-Musallam, disagreeing.
Said one source: "Husain is getting really mad and was really angry when [Paolo] Barelli (President of the European Swimming League] raised the question of how they would honour Marculescu. Husain was shouting at people and shouted Barelli down. The whole time, delegates from the United States and Australia and others just sat in silence: they contributed almost nothing, asked no serious questions at a time when there are many serious questions to ask of FINA."
That picture is troubling in the context of the sports-organisation culture called into question during a U.S. Senate Hearing on FIFA in 2015, one that is well worth recalling.
Asked why there might be resistance to honouring Marculescu for his work and tenure of 35 years, the source said that there had been "bad blood" between Marculescu and Al-Musallam since a 2016 Bureau meeting in Budapest at which delegates from China and Qatar had been invited to present their bids to his the 2023 World Championships showcase. The "very large" delegation from Nanjing was headed by the Mayor of a Chinese city of 8.5 million, while the Doha delegation amounted to two local sports officials from the city of 2.4m.
Marculescu, who had secured myriad deals with partners and sponsors in China, is understood to have considered the Chinese bid by far the stronger one and Bureau members appeared to be in favour of granting the event to Nanjing. However, at an executive meeting ahead of the final vote, Al-Musallam is understood to have "persuaded the other members that there were good reasons to back the bid from Doha".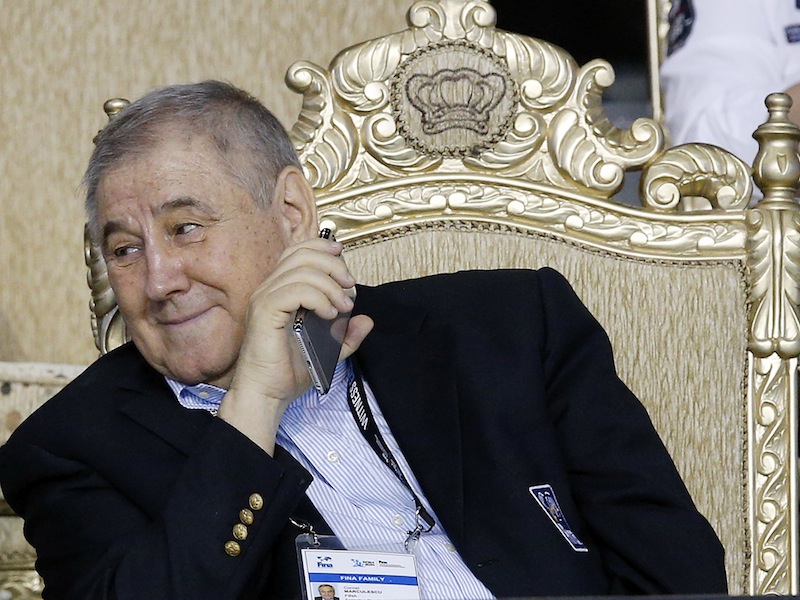 Whatever the actual ins, outs, ups and downs of any discussions, Doha was declared the winner and it was left to Marculescu to explain to the Mayor of Nanjing and his large entourage that they would be going home empty handed.
The 2023 event was also said to have attracted bids from "Argentina, Australia (with Melbourne or Sydney), Germany (two potential cities), Japan and Turkey". Senior figures connected with city sports authorities in at least two of those potential bidders told this reporter that they had no knowledge of any intention to bid for the swimming championship and were perplexed to see the FINA list on the way to two candidates emerging.
The story of 2023 in 2016 exemplifies a shift of power at the helm of FINA: for decades, Marculescu had been the man who travelled endlessly to bargain, barter and do the bidding of FINA with potential bidders, partners and sponsors. He was the director who brought home the bacon and presented it to the leadership, sometimes as a fait accompli passed by a show of hands but little to no discussion, according to the descriptions of Bureau business provided to this author by members of the Bureau.
As Al-Musallam's star began to rise soon after he joined the Bureau in 2009 as the only member of the ruling body from the Middle East, the count of delegates from that region – one with no world-class aquatics programs and an absence of anything that could be called a women's performance sports program – moved in the same direction. Within a decade, the count of Middle East delegates in the structure of FINA governance had grown tenfold, including three men on a Bureau of 25.
Only four nations in the best 10 swim nations in the world have a say at executive level – and even then there is reason to believe that only one of those nations is present (pre-Covid) when the core of executives take monumental steps without consulting major stakeholders, the full executive and full Bureau, let alone the major stakeholders of their sport.
When Konstantin Grigorishin met FINA leaders to discuss the launch of the International Swimming League, he was asked for a multi-million fee just to put on his event. There were less than a handful of men in the room, including Marculescu and Dale Neuburger of the United States. Grigorishin refused. In the mix was the Kuwaiti Sheikh, who, Grigorishin claims, told him that he could "talk to me". The Sheikh has no position, no official role in FINA and any permissions he may have been given by a handful of FINA executives, if that is the case, were never put to the Bureau nor Congress nor major stakeholders, including athletes and coaches. As one source put it:
"FINA is less democratic now at management level than at any time in its history"
While nine of the top 10 nations on the medals table at the 2019 World Championships in swimming are represented on the Bureau (but most do not contribute to any serious discussion nor are the bulk of them invited to be/involved in many, if not most executive decisions (according to two members of the executive), 20 of the next best 30 nations on a league table of success in one of the premier events of the Olympic Games are not represented in the decision-making process. They have their say at Congress, when 209 nations have two votes each, every one equal in weight, the USA, pop.328.2 million and the No1 world swim nation with the biggest bull run of success in its sport than any other nation has in any other sport worldwide, no mightier than the Cook Islands, pop. 17,459 at last count.
"It is not hard to see how voting processes can easily be steered to coincide with the wishes of the executive and leadership," says a senior source close to FINA, adding:.
"Congress is a convention of people that have been flown in, put up in quality accommodation, given per diems of a few hundred dollars a day for their whole stay, on top of all meals and travel and entertainment that has often includes a new wardrobe and others gifts and a wives' tourist tour throughout their stay of a week, two or even three weeks in what is often a fine city with lots of shopping and site-seeing opportunities. Imagine being a low-paid, part-time teacher or janitor or plumber who volunteers for sports roles and at some stage finds themselves in a position of being invited to FINA events and the luxury lifestyle contrast to their ordinary lives. If they're then asked to vote a certain way in order to stay and to receive the handouts that FINA grants through development programs and so on, well, you can imagine where that ends up."
Relative poverty does not paint the full picture of life in the corridors of FINA power. There is a different scenario at play, one in which wealthy delegates from wealthy nations also stay around for many years on end.
Paniangvait, of Thailand, where Marculescu has spent his winter breaks for many years, had been a member of the Bureau since 1992. The long terms in office of many of the current Bureau are not unusual. The nine-men executive in place until yesterday included three over-80s and three others over 70 with a combined total of 150 years residency in post, the longest termer of them all the outgoing president Julio Maglione, of Uruguay, who joined the Bureau in 1984, became treasurer in 1992 and was elevated to the throne in 2009 on a campaign ticket of "one-term only".
Since then, the FINA rules on terms of office have been changed with every passing Congress (the election event of the federation once every four years, barring extraordinary events) to allow long-term office holders to extend their lives at the top table of FINA. When Maglione steps down on June 5 at FINA Congress in Qatar – in all likelihood to make way for controversial Kuwaiti Husain Al-Musallam – new rules will allow the 86-year-old to stay even longer as an honorary life president.
That privilege extended to Maglione is not one that applies to members of the International Olympic Committee, the rules of which now state:
The age limit fixed is 70 years old, except for members co-opted between 1966 and 1999, for whom the age limit is 80. The Session may, on the proposal of the IOC Executive Board, extend the age limit for any IOC member for a period a four year maximum.
Maglione has had his one-term extension and is no longer eligible to remain as an IOC member under those rules. The role of president of FINA does not automatically grant a ticket to the club of 91 members of the IOC, 15 of which are heads of International federations. Maglione, a swimmer of modest club standard in his youth, relative to international standards, was an IOC member between 1996 and 2019 via his leadership of the National Olympic Committee of Uruguay. His term was due to end at the Tokyo 2020 Olympic Games but the Covid-19 pandemic has blurred the edges of deadlines and voting out the old and in with the new.
When A Silver Medal Means Instant Disqualification Of Those Who Dare To Challenge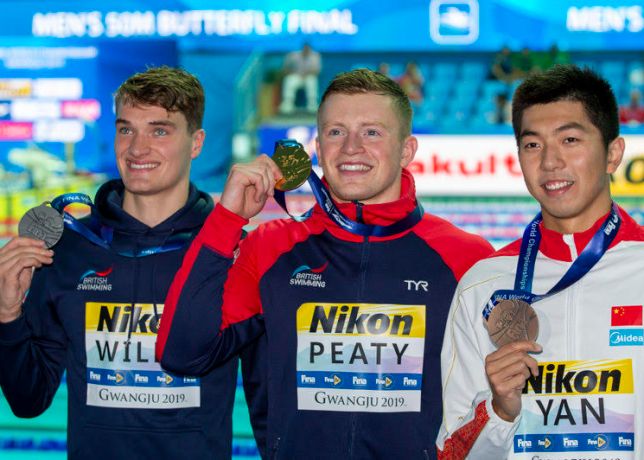 Among other rule changes designed to keep challenge to the status quo at bay is a statute that requires any candidate who stands for the presidency of FINA but loses to relinquish all roles in the federation. That is tantamount, said one senior observer, to telling James Wilby, silver medallist in the World-title 100m breaststroke race behind Britain teammate and Olympic champion Adam Peaty, that he must now retire.
It is because of that new rule that Al-Musallam – cited in 2017 by the United States Department of Justice as a co-conspirator to fraud alongside his boss at the Olympic Council for Asian, fellow Kuwaiti and FINA Order recipient Sheikh Ahmad Al-Fahad Al Sabah, currently facing trial in Switzerland – is the sole candidate for FINA president, his crowning set to be confirmed in Qatar in June.
Such heavy focus on self-preservation has come hand in hand with a strong trend to place all of FINA's golden eggs, its showcase, events largely in the hands of five countries: China, Russia (specifically Kazan), Hungary (specifically Budapest) and the two nations leading the Middle-Easternization of FINA, Kuwait and the United Arab Emirates.
Meanwhile, Marculescu's reference to "many years to come" adds up to six, through to 2027 on a list that includes no fewer than 27 championship, series and cup events out of 35 showcase moments 2016-2017 in just three countries – China, Hungary (all Budapest) and Russia (all Kazan) and one other region, namely the Middle East, all entries in Qatar or the United Arab Emirates, for a five-country total.
The bulk of all FINA events across three Olympic disciplines – swimming (including marathon), diving and synchronised swimming – has taken place in five countries the global regulator has relied on for repeat hosting on multiple occasions.
That canvas of competition contracts returning to the same places time and time again not only speaks to the essence and character of Marculescu's financial modelling but to a pattern supported and agreed by the ruling FINA executive of nine and its 18 other voting members of the managing Bureau, a body of well-compensated 'volunteers', the count of which include two women.
One of those is Margo Mountjoy, the Canadian doctor who will step down in June (a man could take her place, though the Americas' nomination for the next Bureau is Cheryl Gibson – which would make for fascinating top-table discussions to come), leaving Zhou Jihong, who in 1984 became the first of a wave of Chinese Olympic champion divers, the only woman on the Bureau with a vote. Penny Heyns, South Africa's double Olympic breaststroke champion of 1996, is the Athlete Commission representative on the Bureau but is not allowed to vote.
The ruling body includes three members of the executive and 11 other members (more than half the Bureau) from nations with no world-class programs and, more worryingly still, includes representatives from countries listed by Amnesty International and other Human Rights organisations among countries with the worst record on gender equality and related rights. In sports terms, the delegates concerned hail from countries with no elite women's performance swimming programs despite a FINA constitution that bars gender discrimination.
Those nations also feature among the five countries FINA turns to time and time again for hosting its competitions (and other events, such as gala dinners, coaching clinics, development conferences and Congress, sometimes but not always coinciding with competitions).
Snapshot Of The FINA Competition Canvas, 2016-2027: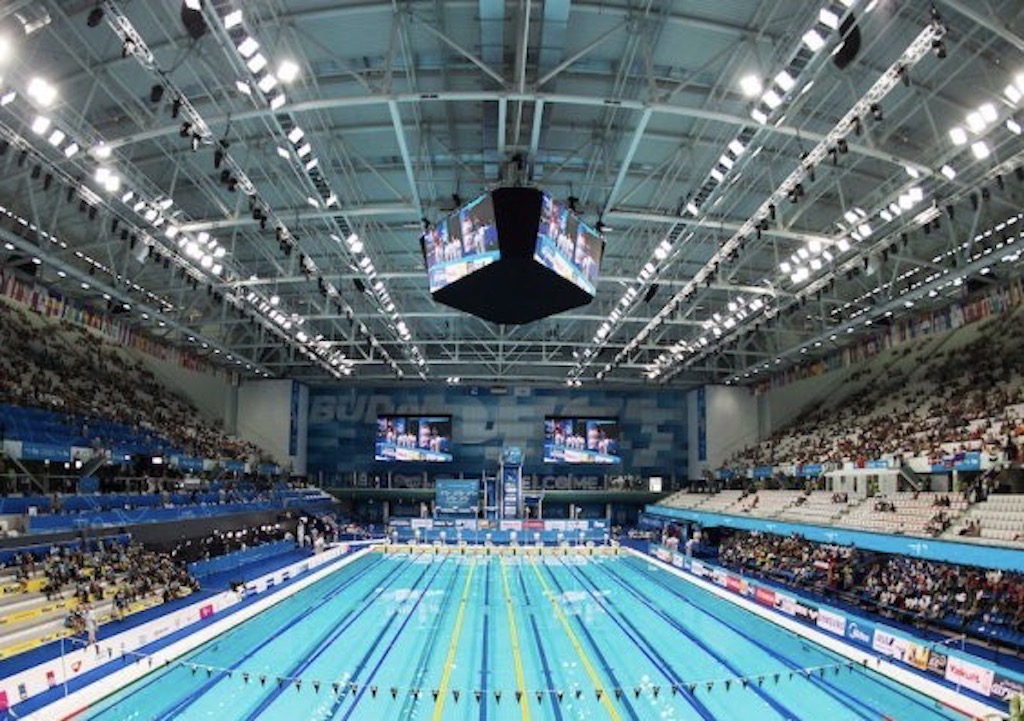 World Championships (inc. long-course swimming):
2019 – Gwangju, South Korea
2022 – Fukuoka, Japan (host in 2001)
2023 – Doha, Qatar (host to the June 2021 FINA Congress)
2025 – Kazan, Russia (host in 2015)
2027 – Budapest, Hungary (host in 2017)
World Championships, swimming 25m (short-course)
2018 – Hangzhou, China (host to numerous aquatics events for FINA, including championships, cups, series and gala dinners)
2021 – Abu Dhabi, UAE (Host to numerous FINA events, including that in 2010 at which Fran Crippen lost his life)
2022 – tbd, discussions held with potential hosts from China, Russia and the Middle East
2024 – Budapest, Hungary (host to multiple aquatics events for FINA including Bureau meetings of the leadership of the international regulator and competition bid presentations, contests and declarations of winners)
FINA Champions Series – swimming
2020 – Shenzen, China
2020 – Beijing, China
2019 – Indianapolis, USA
2019 – Budapest, Hungary
2019 – Guangzhou, China
World Cup (last cup series 2019) – Tokyo, Japan; Jinan, China; Singapore; Budapest, Hungary; Berlin, Germany; Kazan, Russia; Doha, Qatar
World Junior Championships (last one, 2019) – Budapest, Hungary
In Diving, we find a World Series scheduled for Zhuhai, China, Xi'an, China, Kazan, Russia, and Montreal, Canada. In Synchronised swimming's World Series, two out of the five rounds scheduled for this year, pandemic pending, are Budapest, Hungary, and Kazan, Russia, while in Marathon swimming, the 10km series includes Doha, Qatar, and Budapest, Hungary, among its hosts, and in high diving we find the 2020 edition scheduled for Kazan, Russia, the 2019 World Cup in Zhaoqing, China, and the 2016, 2017 and 2018 editions in Abu Dhabi, Qatar.
The growth of the UAE's role in swimming's global governance is controversial for one reason: in 2010 during a World Cup Marathon race, Fran Crippen became the first swimmer in history to die in FINA competition, his passing deemed a preventable death by two inquiry reports, including that of a FINA Task Force that concluded there was "an urgent need for an organisational commitment to athlete safety as a top priority".
Marculescu's Model Of Swimming As An Expensive Sport To Host
There are several key reasons why FINA competitions and events end up in a restricted market, one in which the style of procurement process in play is not obvious. One of the main barriers to global reach is the cost of hosting events.
The business model built by Cornel Marculescu means that potential hosts of a World Aquatics Championships must have a basic budget of $40m just to get over the line into the realm of bidders.
The basic fee to FINA for hosting rights is $20 million, after which $10m must be guaranteed for broadcast services (rights are a separate matter) and another $10m available for hosting the "FINA family", including accommodation, travel and subsistence for the vast bureaucracy of the organisation (around 500 people travel officially on the FINA ticket, almost all of them on per diem rates of between $100 and $750 for each day of stays that can stretch between 10 days and three weeks – and that money given despite all expenses having already been covered, including, in many cases, all meals).
One source confirmed that budgets for recent events have stretched to between "$50m at the low end to around the $100m mark". And "all of that has to be covered by the host, FINA a recipient from, not a financial investor in, its own events, in many ways," said the source.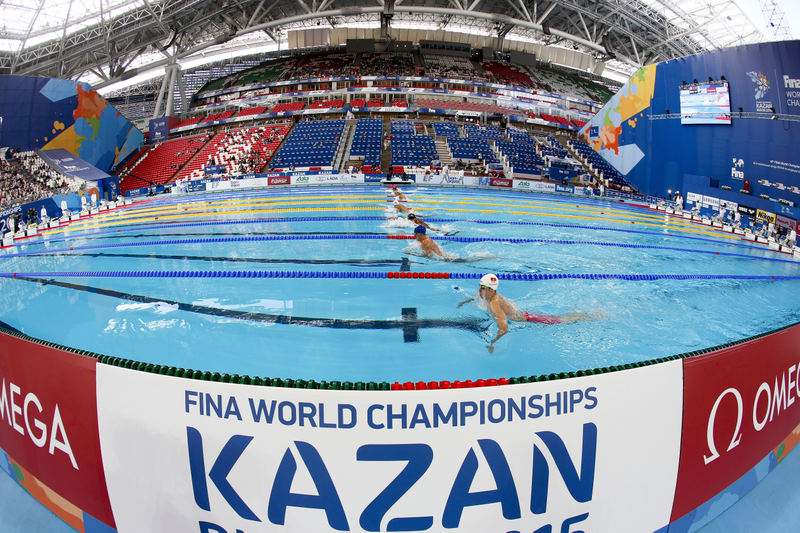 Another source recalled the power behind that position when relating a story of Marculescu's negotiating style in his dealings with the big-winners of the 2015 World Championships in Kazan, Russia.
The roof of the new swim stadium venue was not going to be ready in time but Marculescu had, many years before, established a protocol for "indoor pools only" for long-course showcase events to avoid the weather issues that had impacted previous championships.
When Kazan organisers said that it was "not possible" to get the roof ready in time, Marculescu is said to have picked up his smartphone, called a contact in Shanghai in full hearing of all in the room and asked: "I'm in Kazan and we'[re having a little trouble … could you organise the 2015 World Championships…".
The Russian roof was raised and put in place in time for the Championships. Significantly, Kazan also became an official FINA development centre and has hosted and will host myriad more events.
It is against that backdrop that the likes of Greensboro, North Carolina, USA, find themselves entering a lion's den when contemplating bringing the global showcase to a city answerable to taxpayers and voters who might well look at a budget not far from six-figure millions and ask "WTF!? For a swim meet!?"
The organizing committee that was behind a bid by Greensboro to host either the 2025 or 2027 FINA showcase soon withdrew when they got what it meant. Instead of going back to FINA and arguing strongly for a pathway back to manageable budgets, USA Swimming encouraged the diplomatic approach inherent in a statement from Greensboro that read:
"Encouraged by USA Swimming, our largest aquatics sport governing body in the U.S., we are going to take a walk-before-you-run approach to international aquatics championships…".
That left Belgrade, Serbia; Budapest, Hungary; Kazan, Russia; Kiev, Ukraine; and a n unnamed Chinese city in the race. Stalwarts of the FINA Hosts Club, Kazan and Budapest will host the 2025 and 2027 Championships.
A source told SOS: "Well, for that kind of money, for the budgets required to give Bureau members a limousine each through the championships and the top suite in the five-star hotel for three weeks for the president on top of a huge budget for the FINA family, you have to find places where leaders like [Viktor] Orbàn, like the Emirs and Sheikhs of the world, members of the Communist Party in China and so on can get these deals done without being accountable to citizens in the way you would expect in many countries where swimming is a successful sport."
A Woman Boss In A Man's Swim World?
There is another troubling aspect to the consequence of the Marculescu business model, which applies in smaller scale to many FINA events not only the showcase moments: its impact on women. The director departed with a wish: that his deputy director Marcella Saxlund be promoted to the top job, given her vast experience and work record. Saxlund was elevated as the temporary director. However, one of the sources I talked to noted:
"Look at the places FINA turns to to find hosts. In the Middle East it would be almost impossible for Marcella to negotiate with the people she would have to talk to there. She would not be taken seriously."
That view presents a clear test to Al-Musallam: Saxlund is clearly capable of stepping into Marculescu's shoes, as the director suggested as he departed this week. What, then, would be a reason to airdrop someone else in; would that someone be a woman; would that someone be a connection of any member of the Bureau or executive? The questions run for a federation with a very low score on equality among blazers.
Meanwhile, FINA business as usual goes on, and, after a return to Fukuoka, Japan, for the delayed World titles next year, Qatar will host its first FINA mega event. Discussion is already centred on the timing: Marculescu made July/July-August a calendar must for the key showcase of the summer of FINA seasons. Said a source:
"Qatar in July? We'll all get boiled – and open water is not an option. So when will it be? It's the pre-Olympic year before Paris 2024 and you can't let the World Championships spill into winter less than a year away from the Games."
Whatever is decided, the remark about open water is highly poignant: it was in waters over 34C and air temperatures over 40C, in a race that finished at high noon, that Fran Crippen's preventable death robbed a family of its son, grandson and brother, robbed a sport and nation of a much-loved athlete and robbed a man of his life at 26 years of age.
In the aftermath, FINA promoted the man in charge of the race on the fateful day of October 23, 2010, took marathon swimming back to the UAE within a short few years and flushed its committees and commissions with political appointees from the Middle East with no expertise or experience close to the excellence required when managing a realm in which failure to understand the champion mindset in world-class, performance sport can be – and, tragically has been – fatal.