FINA Sets February Dates For Doha World Titles Many Big Guns Will Place No Focus On At Start Of Olympic Year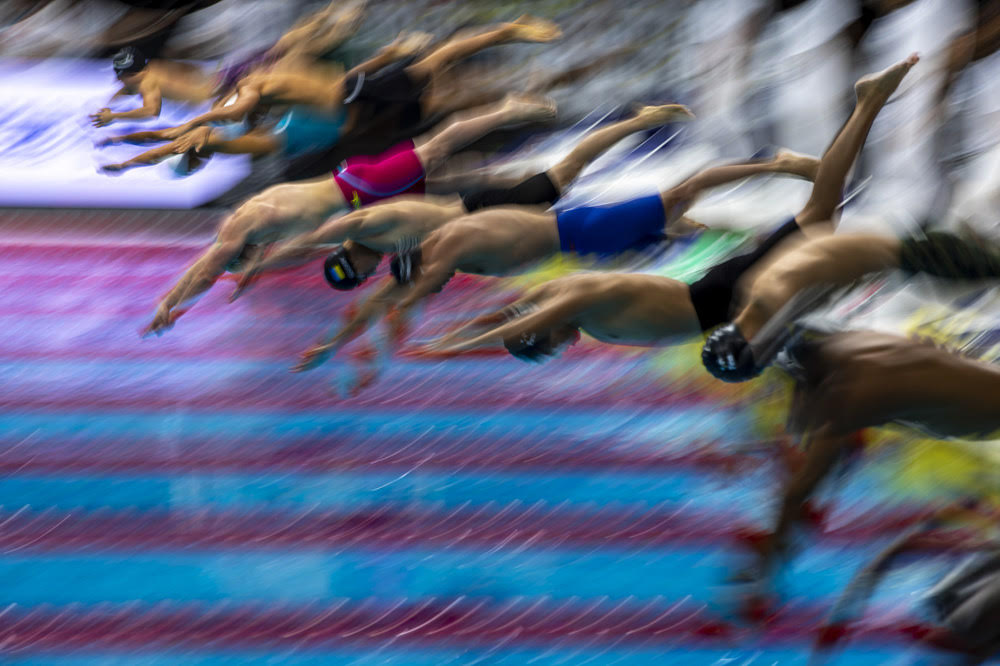 FINA, the global regulator for aquatics, has sent a signal to the World swimming community that it will remain deaf to myriad calls for a rethink on staging a World Long-Course Championships showcase (in Doha) at the start of Olympic year for the first time in history.
The move is, at least in part, a reflection of Covid-catch-up syndrome, contracts and politics, and, as far at the biggest names in the sport go, has far less to do providing "additional opportunities" for athletes, especially when the very best athletes regard a World l/c highlight as an event they appear to have no appetite for.
The mood music from the best in the sport is clear: "We don't want a World titles in early 2024 at the start of Olympic year – please think again". Part of the message to FINA from some of the biggest nations and names in World swimming is for FINA to also rethink any plans for changing the way relays earn qualification to the Olympic Games, by forcing at least nine of the bets 12 teams to attend Doha 2024.
Among those responding to FINA's decision was one of the world's most successful relay swimmers, James Guy, the 2015 World 200m freestyle champion who has contributed to 2 gold and three silvers for Great Britain at the Olympic Games and three gold, a silver and three bronze at World l/c Championships. He tweeted:
And this from another of the World's top swimmers, four-times Olympic medallist in Tokyo and Guy's GB teammate on the golden 4x200m free relay, Duncan Scott:
And from Adam Peaty, Olympic 100m breaststroke champion 2016 and 2020ne, World 4x100m medley champion and Olympic silver medallist with Scott, Guy and Luke Greenbank:
A FINA rethink may yet come, regardless of what has been agreed with Doha: as things stand, there is little chance of seeing Russians compete at the Paris 2024 Olympic Games given the war of aggression and brutality meted out by Putin and the Kremlin in their attack on a sovereign nation and related events contributing to severe challenges in the world economy, stretching to enforcing famine on many millions in developing nations.
Extend that thought one year on and many in sport are asking whether it is realistic to expect athletes from Ukraine – or any others – to travel to any sports event hosted in Russia? The money is on "NO!" being the majority answer. As such, Kazan 2025 World titles are likely to have to be called off in the same way Kazan 2022 World s/c Championships had to be called off.
The Kazan 2025 northern summer slot would be the natural home for the Doha event and the sport of swimming one year after the Olympics, as has been the case since 2001. In prevailing 'wait-and-see' mode, FINA has set February 2-18 as dates for a World Championships in Doha likely to face serious attendance challenges, including low media numbers in a year when media organisations will set aside the bulk of budgets for Olympic sport for Paris 2024.
World Championships, which used to be held once every four years and have been held every two years in between the Olympic Games, the year before, the years after, since 2001, are set to be staged for four straight years, 2022-2025, planning that will shed the red thread of historical statistics, including record title and medal counts and much more.
Today, FINA issued a statement including:
FINA has today announced that the 21st FINA World Championships Doha 2024 will take place from 2-18 February 2024 in Doha, Qatar, following a decision by FINA and the Doha 2024 Local Organising Committee.
The 21st FINA World Championships Doha 2024 were originally scheduled for the summer of 2023. However, due to the rescheduling of the 20th FINA World Championships in Fukuoka, Japan, to the summer of 2023 necessitated a change in the Doha event dates.
The Qatari capital will host FINA's flagship event for the very first time after successfully hosting multiple FINA events over recent years, including the 12th FINA World Swimming Championships (25m) 2014, nine editions of the FINA Swimming World Cup, four FINA Marathon Swim World Series events and a FINA Diving World Series event in 2009.
With 76 medal events taking place across the six FINA disciplines of swimming, artistic swimming, open water swimming, diving, high diving and water polo, Doha will provide an ideal setting for the world's best aquatics competition. It will also serve as a stop on the road to the Paris 2024 Olympic Games, providing qualification opportunities for the swimming, artistic swimming, open water swimming, diving, and water polo disciplines.
"At FINA, we are committed to giving athletes additional opportunities to compete on the championship stage. Today's announcement is a testament to this," said FINA President Husain Al-Musallam.
Among responses: