FINA Reform Part 6: Safeguarding & Its Twin Pillar Integrity To Determine Whether Swim Regulator Will Rise Or Fall – & Why The IOC's 'Statute Of Limitations' Is Irrelevant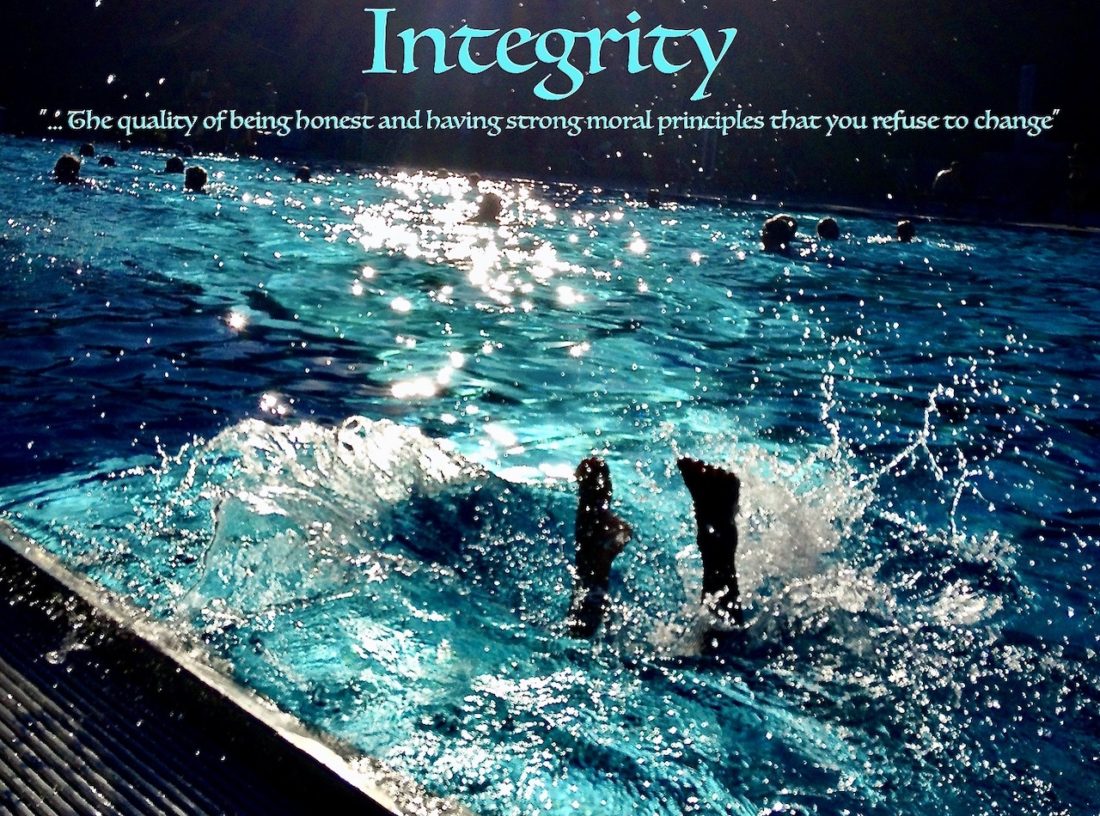 Editorial, Weekend Essay – The Sixth Pillar of the FINA reform process now approved and underway – Safeguarding, Medical & Equity – speaks to the First Pillar, good governance and the acceptance that the global regular must make its leadership and its governance and the realm it governs subject to the independent oversight of an Aquatics Integrity Unit.
Safeguarding – some definitions:
protect from harm or damage with an appropriate measure
keeping people safe from harm, abuse and/or neglect
helping raise public awareness so that communities, alongside professionals, understand their part in preventing, identifying, and responding to abuse and neglect
providing information to help people understand the different types of abuse
informing people how to raise a concern about the safety or well-being of an adult or child
It isn't like mastering the mechanics of black holes but it often feels as though safeguarding in the realm of Olympic sport is not only as easy to say as quantum theory but as hard to fathom.
Here, along the threads and girders that bind the First and Sixth pillars of FINA reform, is where the whole process will stand or fall. The bookends of the process are intrinsically linked, and while the reformists at FINA want the narrative and the eye set squarely on the future, the sixth pillar reminds us that there can be no future without consideration of the past, the present and what essential lessons and recognitions that have to be learned and acted upon if aquatic sports is to set goals worth chasing.
Two prevailing, right-here, right-now, in-our-time events at the Winter Olympic Games in Beijing – the case of a 15-year-old Russian figure-skating doping positive and the way the IOC has handled the Peng Shuai – shoot a flaming arrow at the heart of the matter and expose a thread of dragon fire that links those events directly to the world of swimming, governance of Olympic sports and half a century of tears that guardians and stewards have turned a blind eye to.
SOS has already looked at the Peng issue and how it reminds us of cover-ups and obfuscation we've seen all too often from China in swimming, the death of national junior champion Qing Wenyi in 2015 among the most disturbing events to raise questions never answered – nor even asked, it seems, by sports authorities, neither at home nor abroad.
Safeguarding is clearly an issue.
Seven years on, Winter Olympic headlines are heaped high with controversy, from the genocide, torture and rape of Uyghurs alleged by the victims and national governments working with rights organisations; Iran's fielding of a flag bearer on steroids in the wake of putting an Olympic athlete to death despite worldwide condemnation that led to no meaningful intervention from the IOC, and the open threat of "shut up and compete" from Chinese officials to any athletes who dare to exercise their right to free speech and mention China's abysmal human rights record and what foreign nations and independent rights watch agencies have referred to as crimes.
Safeguarding is clearly an issue.
All of that beyond questions of whether Peng is effectively a prisoner of the coercive system of control suggested and studied by academics, Human Rights Watch and peer organisations, as well as several leading asylum refugees from China, as well as a few inside China, when recalling their own experiences of torture, forced compliance involving telling lies in public statement under instruction from a state that defends its system and refuses to allow the truth to be told if inconvenient to the political classes. Even Chinese citizens of dual nationality, such as Australian academic and writer Dr Yang Hengjun, find themselves in detention and forced to endure "torture and lengthy interrogation" for years on end because their views – and even the facts they teach – displease Beijing.
Safeguarding is clearly an issue.
All the while the IOC, high-fiving with Xi Yinping and Co, says that it must remain neutral, even when that position is as sustainable as flying a block of ice to the sun and hoping it returns intact.
When the Reverend Desmond Tutu passed away last month, the IOC was among those paying plaudits and pointing to him as a beacon of hope and inspiration. What did not appear in the Olympic messaging was this from the South African Anglican bishop and theologian who played a key role in bringing apartheid to an end in his country: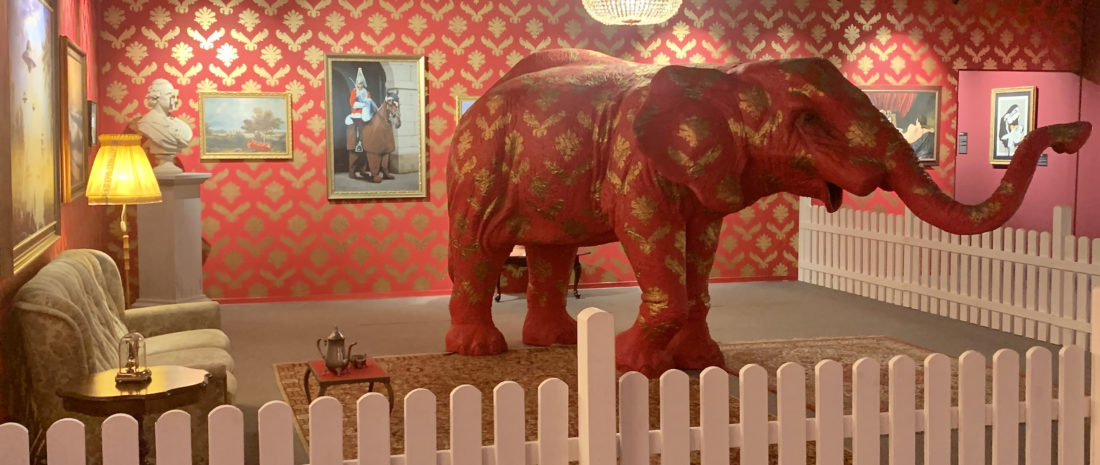 "If you are neutral in situations of injustice, you have chosen the side of the oppressor. If an elephant has its foot on the tail of a mouse and you say that you are neutral, the mouse will not appreciate your neutrality."

Desmond Tutu – image: the elephant in the room with its foot on the tail of a mouse … photo by Craig Lord, courtesy of "The Mystery of Banksy", a celebration of the work of the British street artist
Situations of injustice. Well genocide certainly seems likely to be on the spectrum along with all those other aforementioned matters and this one: the case of 15-year-old Russian figure skater Kamila Valieva and confirmation from the Independent Testing Agency (ITA) that she tested positive for the banned substance trimetazidine on Christmas Day.
Safeguarding is clearly an issue.
Beyond that moment, she was able to compete at European Championships and, this week, skated to a gold medal with teammates at the Winter Olympic Games, the ceremony postponed while the guardians of clean sport singed top to the WADA Code – the IOC, ISU and Russian authorities included – work out the legalities of their positions.
Safeguarding is clearly an issue.
The results of Valieva's sample, which was taken by the Russian Anti-Doping Agency (Rusada), were only reported as positive by a Swedish laboratory on Tuesday 8 February. That was a day after Valieva helped the Russian Olympic Committee to gold in the team figure-skating at the Winter Olympics. All interactions between adults – the sports officials, scientists, doctors, lawyers, coaches and more – have led to a situation where, despite rules that say it ought not to happen, a 15-year-old has been identified during an Olympics at the moment she skates to a gold medal now tainted and fated to forever feel like a lead weight round her neck whether she gets to keep the medal or not.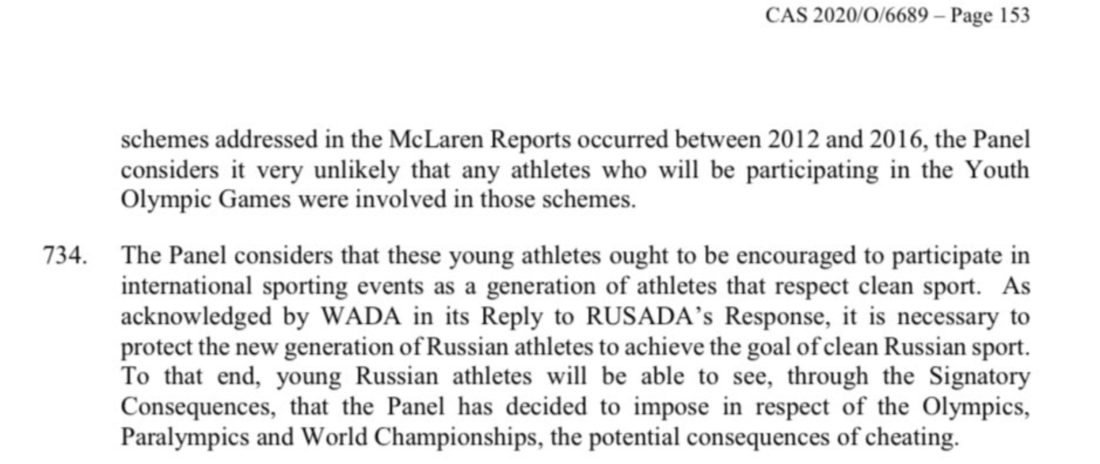 Safeguarding is clearly an issue.
When the Court of Arbitration for Sport (CAS) agreed that a whole-nation ban on Russian was appropriate but with the proviso that those athletes from Russia who could prove themselves clean could continue to compete under what are described as neutral banners, the reasoning included that pictured to the right. The questions arising from the case of the 15-year-old skater in Beijing, must then include: how do you protect young athletes by keeping an unreformed system in place, by failing to remove rogue doctors and folk of old sporting mindset who feel that performance-enhancement and dodging the rules is a legitimate part of the game?
Three streams to swimming with safeguarding in mind:
trimetazidine is the substance that Sun Yang tested positive for in 2014, the reasons for the imposition of a lenient penalty called into question by documentary evidence unearthed by SOS that anti-doping authorities are aware of but have not revisited since the Chinese swimmer was banned for four years and three months as a result of a manipulation case exposed by this author and accepted by two panels of the Court of Arbitration for Sport on the strength of arguments forwarded by the World Anti-doping Agency. Sun Yang's case dragged on because of the leniency of those in charge of FINA at the time; related issues drag on because of the leniency shown to Russia (as noted by Global Athlete today) in the biggest doping crisis since the days of State Plan 14:25.
in all the coverage of the case of the 15-year-old Russian skater, how many times have you spotted references to the how and who in the background, the people who must have supplied the banned substance? Too few is a reasonable answer. We are left to ask questions and search for references that may give us clues, as we see in this exchange between two journalists at the forefront of Olympic and doping-watch coverage:
3. "A form of epo" is cited by Andy Brown in his tweet in the mention of a supplement allegedly given to the skater. Whatever the truth of it, if and when we get the truth, the mention of epo in Russian context takes us back to reports in The Times I contributed to and others on SwimVortex in 2016 at the heart of controversy over whether Russian swimmers would or would not be able to compete at the Rio 2016 Olympic Games.
It was March 2016 when The Times published the first part of an investigation into how deeply the doping culture in Russian sport affected swimming. The findings sparked calls for the World Anti-Doping Agency to extend its probe from track and field to swimming and other sports.
At the time, the positive-test count in Russian swimming exceeded 20 swimmers between 2009 and 2015 when it hosted the FINA World Championships in Kazan. Among the 20 were teenage swimmers in a country that has a distinct record of dominance in European junior waters before fall off among senior athletes, the fat-tracking of very young athlete a notable feature of Russian sport. The Times findings included:
Sergei Portugalov (right), the doctor who masterminded doping in Russian athletics, attempted to get Russia's Swimming Federation to build its program around performance-enhancing drugs. [Portugalov was subsequently banned for life but, according to reporter Nick Harris in Britain, has since been witnessed dispensing 'nutrition' advice to Russian athletes in training camp in Portugal].
Two youth swimmers tested positive for EPO, the blood-boosting agent, but their cases never made it to anti-doping authorities outside Russia…
That's where we alight from past reports and take ourselves into a room in Russia where a meeting is being held between senior officials from the Russian Swimming Federation, including FINA Bureau member Vladimir Salnikov, and a doctor named by the two teenagers who tested positive for EPO, a banned substance in play in a few of the positive cases mentioned above.
Safeguarding is clearly an issue.
Salnikov and Co were on the trail of truth and willing to do the right thing when a local police chief entered the room, according to whistleblowers in close vicinity on the day. A relative of the doctor, the police chief is reported to have said "this ends here". And so it did. The cases were never reported to WADA, never made public, the young athletes never named – and the doctor, identity protected, was able to work on with other youngsters in sport.
FINA asked The Times to reveal its sources. Journalists don't do that, nor should any organisation even ask the question, rather they should understand the put a whistleblowing policy in place and fortify it with best practices including independence and other factors that builds trust in witnesses and victims for whom it is never easy to come forward and report what they know or believe to have happened that ought not to have happened.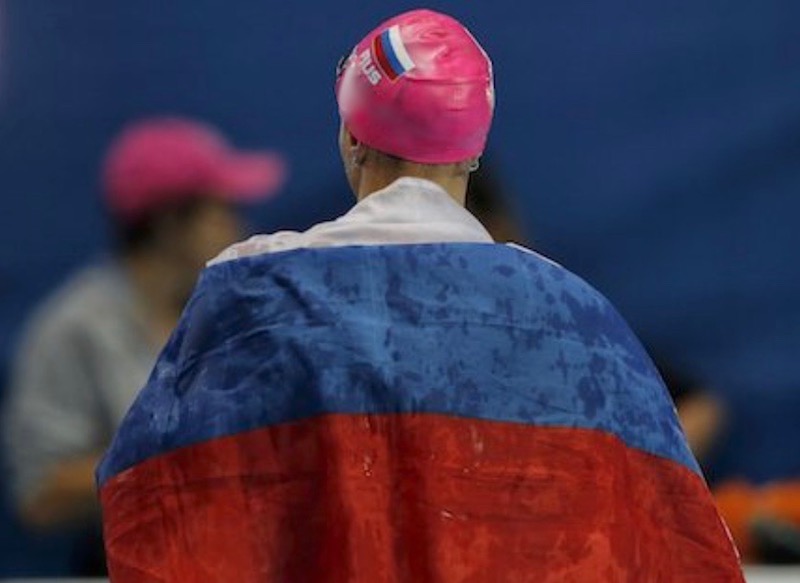 Instead, The Times simply noted to FINA that it might ask its vice-president to report the two EPO cases and provide the witness required for justice to have a chance.
If what whistleblowers reported to me in that case is true – and this reporter has no reason to believe that they have told anything but the truth and the whole truth – then, it is clear: the WADA Code was broken in more than one place. No action was ever taken against any individuals, while the whole-nation ban on Russia was deemed sufficient to cover a variety of allegations, some investigated and proved, some not in a crisis of systematic cheating still under scrutiny and playing out this very week in Beijing.
Safeguarding was and remains an issue.
And in the wash of unreported EPO cases among teenage swimmers, FINA gave official development centre status to Kazan in Russia and boasted of the benefits to youth. The details of the contract are unknown – and FINA has never publicised any clause, if one exists, that tells the development centre (or any of its others in the world) that its status will be removed if … fill, in the void of words that would be required to reinforce a clean-sport message and the threat of penalty should red lines be crossed.
As Alex Perry notes in his outstanding "Outside" feature: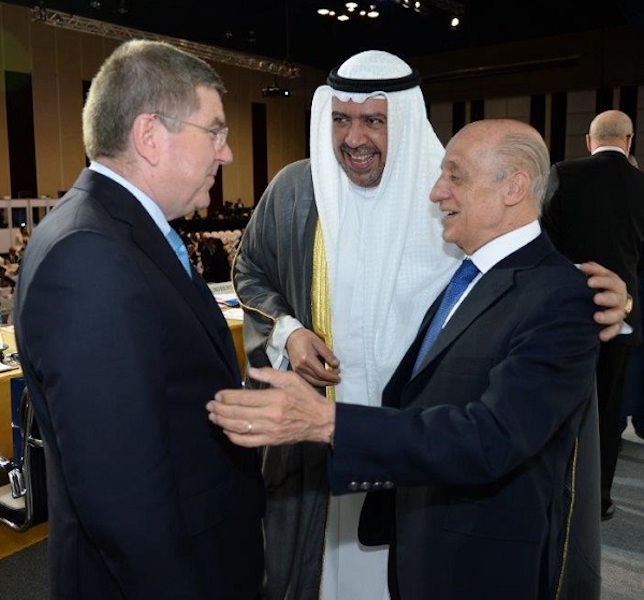 In 2014, Maglione presented Putin with his organization's highest honor, the FINA Order, declaring Russia "one of the most important and major powers in world sport." Maglione has since become a regular companion of Putin's, sharing the stage with him at FINA's 2015 World Championships in Kazan, in central Russia, accompanying him at international sports conferences, and attending his third presidential inauguration, in 2018, at his invitation. When I asked Vlasenko about the warmth between the two men, he beamed. "Our president adores him," he said of Maglione. "He loves him."

Thomas Bach, IOC president, with Sheik Ahmad and FINA's Julio Maglione
With all that in mind, how could a FINA reform process underpinned by a strong commitment to integrity and transparency ignore events that happened yesterday, relatively speaking? How could it ignore events of yesterday when they have a clear thread to today, including dark red threads scorching back half a century, past generations of women swimmers who have been treated like collateral damage by all sides, guardians and stewards included, in the Cold War of sport?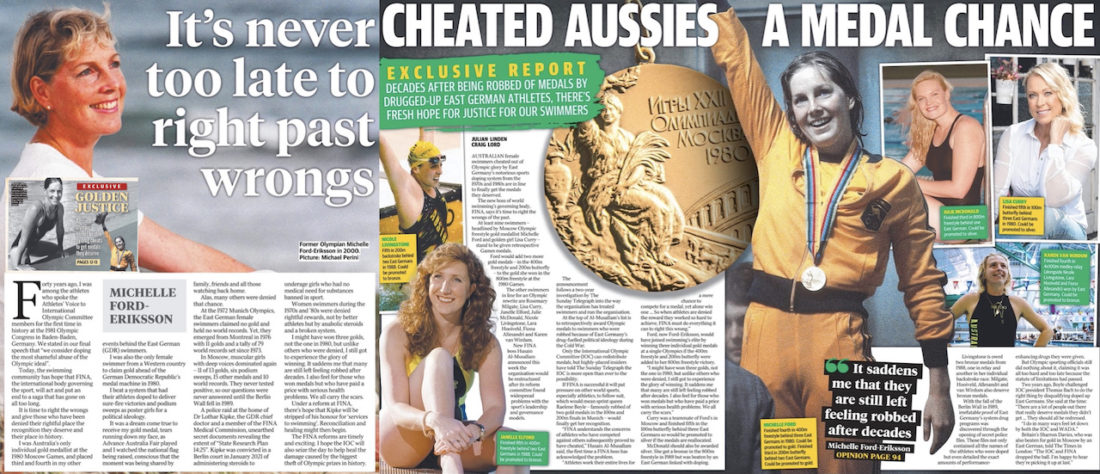 The Red Thread Between A Horrible History & Brighter Future
The need to understand that the past, present and future are all one when it comes to handling safeguarding, issues of abuse and integrity, is one of the hardest challenges facing the long-termers at FINA.
In an interview with me last autumn, the new president of FINA, Husain Al-Musallam, made it fairly clear that those current leaders/top-tablers at the regulator have until June this year, 12 months after his election, to show that they have understood and signed up in deed not only word to measures designed to save a sinking ship.
Al-Musallam smiled broadly when I noted that the current leadership group included those who were members of the old culture and governance model and had been for two decades or more, suggesting, at the very least, that they supported the methods and approaches of Cornel Marculescu, the former director, and "the way things were". After all, throughout three decades and more in which the Romanian held the top paid position at FINA, there was nothing to stop "volunteer executives" from honouring their duty of care and providing the necessary checks and balances in the way their responsibilities and roles obliged them to.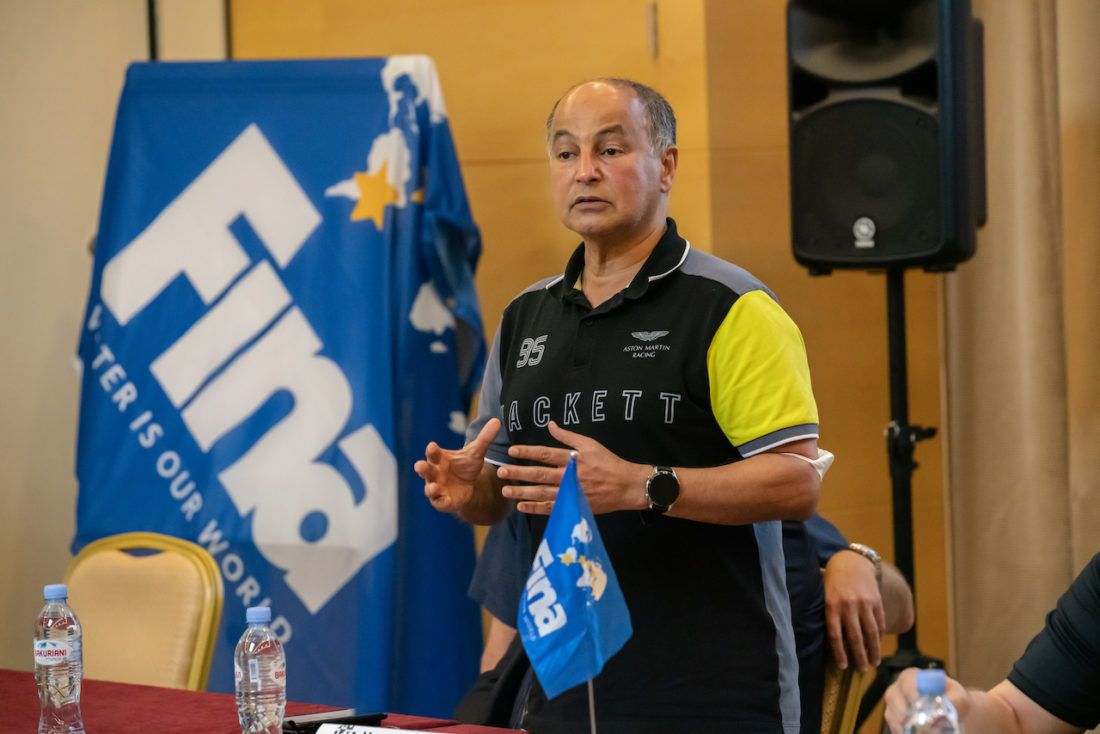 Beyond a small chortle, the president says "if they don't change, they will have to go – and there are different ways to achieve that. We are going to shift the culture…".
When it came to doping and other matters best suited to being placed in the hands of the new Integrity Unit, in the way they are at the Athletics Integrity Unit, Al-Musallam was entirely comfortable with the notion that FINA leaders should have no say in deciding the culpability of athletes nor should they be left to judge themselves if there was a need for them to be judged.
Safeguarding and related issues must be treated with the same urgency and importance.
It remains to be seen just how he and others intend to judge whether some of those at the top table with him are leopards who, no matter what clothes they wear, cannot shed their spots. The Integrity Unit is likely to have a say in at least some of that if issues from the recent past are brought to the attention of independent adjudicators.
Those who now want to move on and look only to the future without acknowledging and apologising for the harm they have contributed to in the past, even if that means their silence, have long put their faith in a model of governance in which they are their own judges and – guess what – the judgement has, invariably, been 'move on – nothing to see here'.
If Al-Musallam is to achieve his ambition of cultural shift, then reconciliation processes would have to look both at and beyond the injustice of the GDR years, the consequences for generations of women swimmers, on both sides of the Cold War in the pool treated to the blind eye and deaf ear of swimming governors. And FINA would have to look in the mirror fully conscious of the fact that all those issues and other forms of abuse are directly related to safeguarding issues of the present.
Some of that process will be painful. A commitment to safeguarding is apt to make that so. There are those in positions of power who have all but sat on their hands and looked the other way despite overwhelming evidence of abuse of various kinds. Some of that is reflected in the criminal convictions for sexual abuse, harm to minors, fraud and theft among members of FINA Bureaus, committees and commissions down the years; some of it is reflected in USA Swimming's list of individuals banned for life; some of it is reflected in the statements and appeals to be heard from survivors.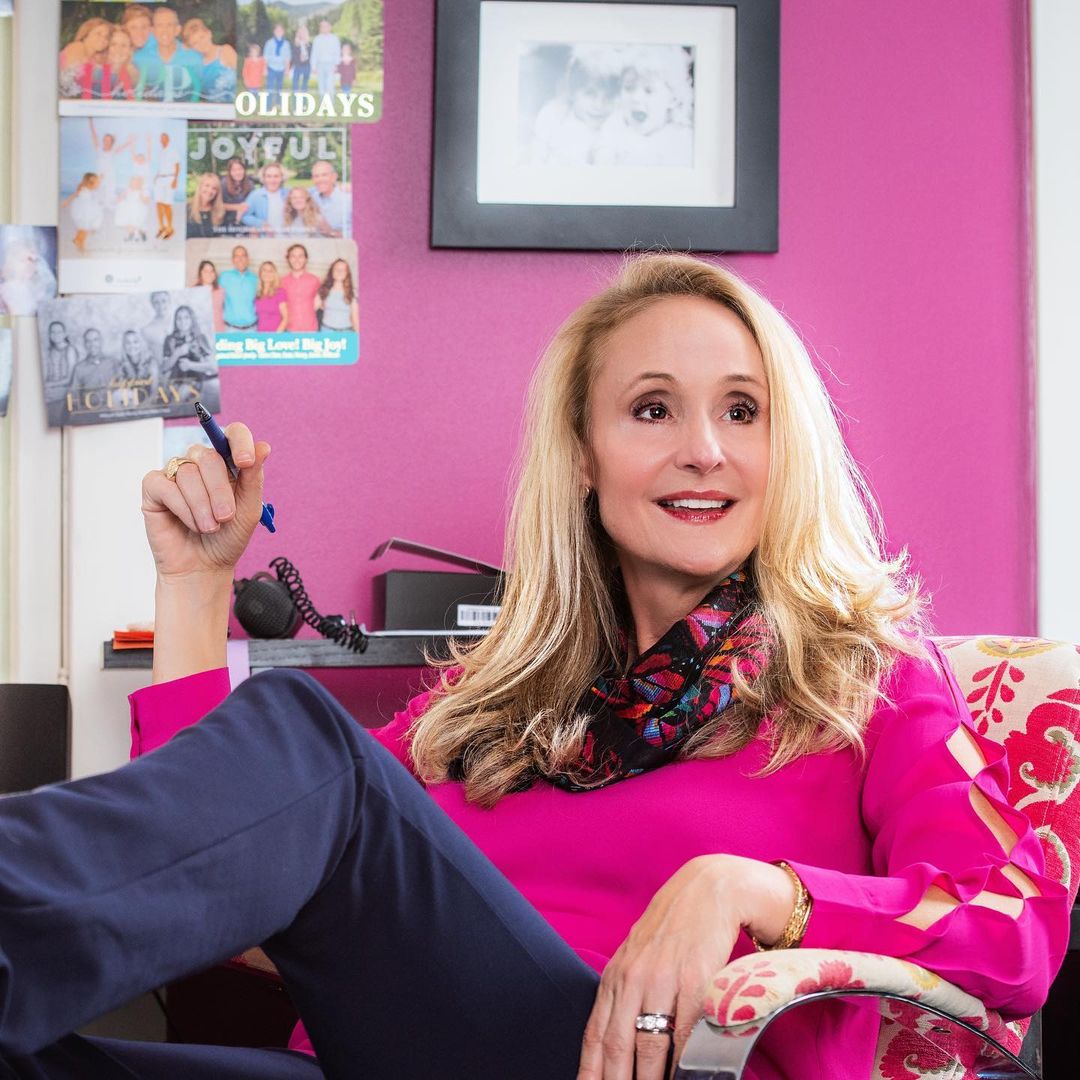 And some of it is to be seen in the work of Nancy Hogshead-Makar and Champion Women, who has found a voice alongside that of USA Swimming in the trans athlete debate of late but for many a long year has been ostracised and treated like an unwelcome alien in her own sport and even, she revealed through the Orange County Register, at the Women's Sports Foundation, which said it would renew her contract as their advocate on safe sport only if she did NOT mention sexual abuse again.
Al-Musallam, like all heads of Olympic sports federations one step down from the high-command of the IOC, may well feel he needs to tread carefully in any reconciliation but the good news so far is that he has proved true to his word spoken in an interview with me that ended with him saying:
"That's wrong, very wrong … send me the details and … ".
I did and he followed through and it led to this decision to strip Dr. Lothar Kipke of an honour he never should have been given, never deserved. It led to a decision that any Bureau of the past two decades could have taken, off the back of three requests from this author alone, one of them with the unanimous support of the FINA Media Committee. All of that effort was, effectively, thrown in the trash can. Al-Musallam told me that he had never been made aware, as a Bureau member, of any request for consideration of the issue by the Media Committee.
Well, never too late. And so it must be when it comes to the serious harm done by Kipke and others.
The crisis of guardianship and stewardship at FINA unfolded on the watch of 'leaders' who could and should have done much more to ensure that the global aquatics regulator lived up to the key ethical standard of Primum non nocere, or "first, do no harm". In sports governance, that would include paying for work that counts among its aims, to "discredit" the work of others.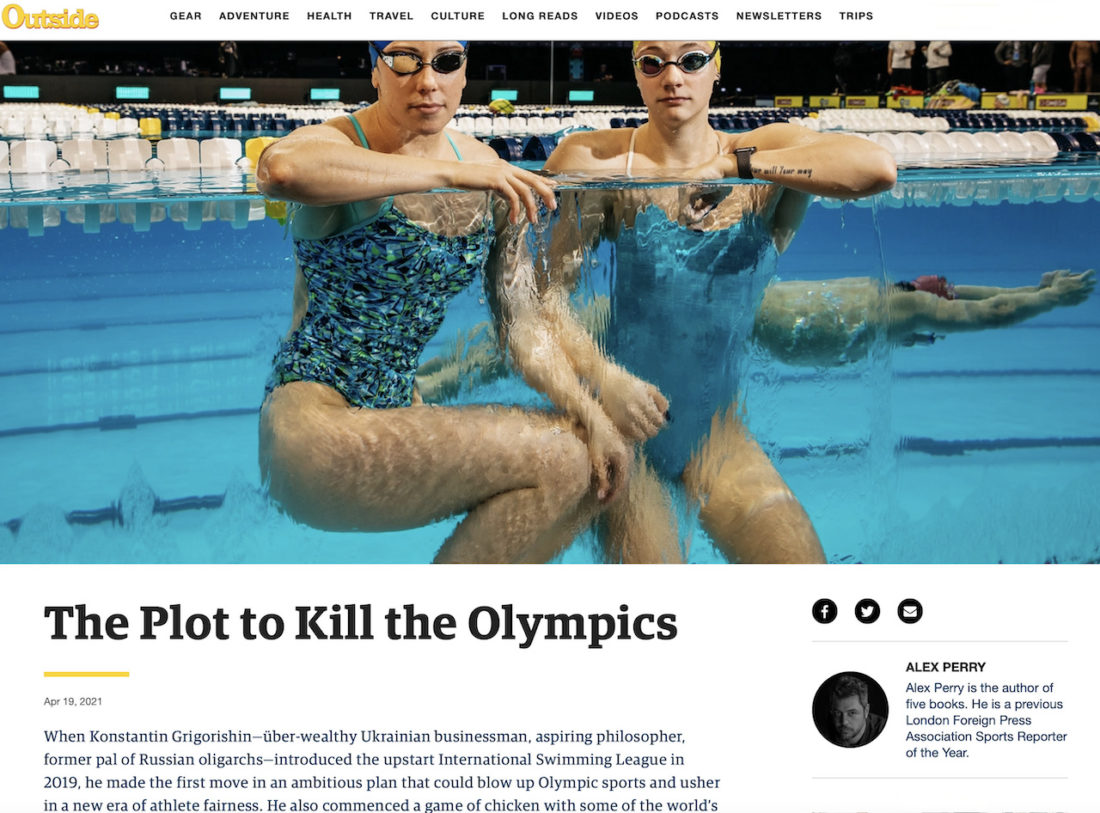 It would also at least call into question the behaviour of some still in leadership positions who, in the course of the FINA Vs ISL battle, according to depositions reported in this revealing feature by Alex Perry, were involved in exchanges now at the heart of legal dispute, including this reference: "We must win, we will win," wrote Neuberger. Marculescu wanted to punish swimmers who swam for Grigorishin. Neuberger preferred to go after national officials. "Hurt them badly," he wrote of one country federation, adding of its chief: "We must kill him … suspend him for years."
It is assumed that the literal meaning was not what the then American vice-president and now Treasurer of FINA had in mind but even in terms of any thoughts of punishment through the rule book, or in vernacular context, those words have been read by League lawyers as being demonstrative of overreach and an inappropriate keenness to maintain an iron grip, or "monopoly", in their words, on world swimming.
Wherever that dispute in the U.S. District Court ends up, "do no harm" is the least one might expect of those who hold positions of guardianship and stewardship in aquatic sports. Derived from that Primum non nocere maxim, non-maleficence is one of the principal precepts of bioethics that all students in healthcare are taught in school and is a fundamental principle throughout the world.
Bioethics spills well beyond the Hippocratic Oath: it is the study of the ethical issues emerging from advances in biology, medicine and technologies. Ethics in sport run along parallel lines, and from this summer will take on a new dimension when stakeholders and whistleblowers will be able to report complaints to an Integrity Unit outside the House of FINA, assuming that the best definition of independent is delivered.
The parameters of what such a Unit will and will not be able to investigate are fundamentally important to the success of the FINA reform process. There is little point in any of it if, for example, FINA leaders were to say 'no restropection'.
A failure to allow retrospection in a world where doctors, politicians, coaches and others have abused children and young athletes, raises questions of legality and there has been talk of further class actions beyond that involving swimmers Vs FINA in the League saga in the event of a refusal by sports authorities to deal with the past as the present issue it clearly is, unless we wish to suggest mental health problems still endured today as a result of events 5, 10, 15, 20, 30 years ago are not something we need to bother ourselves with.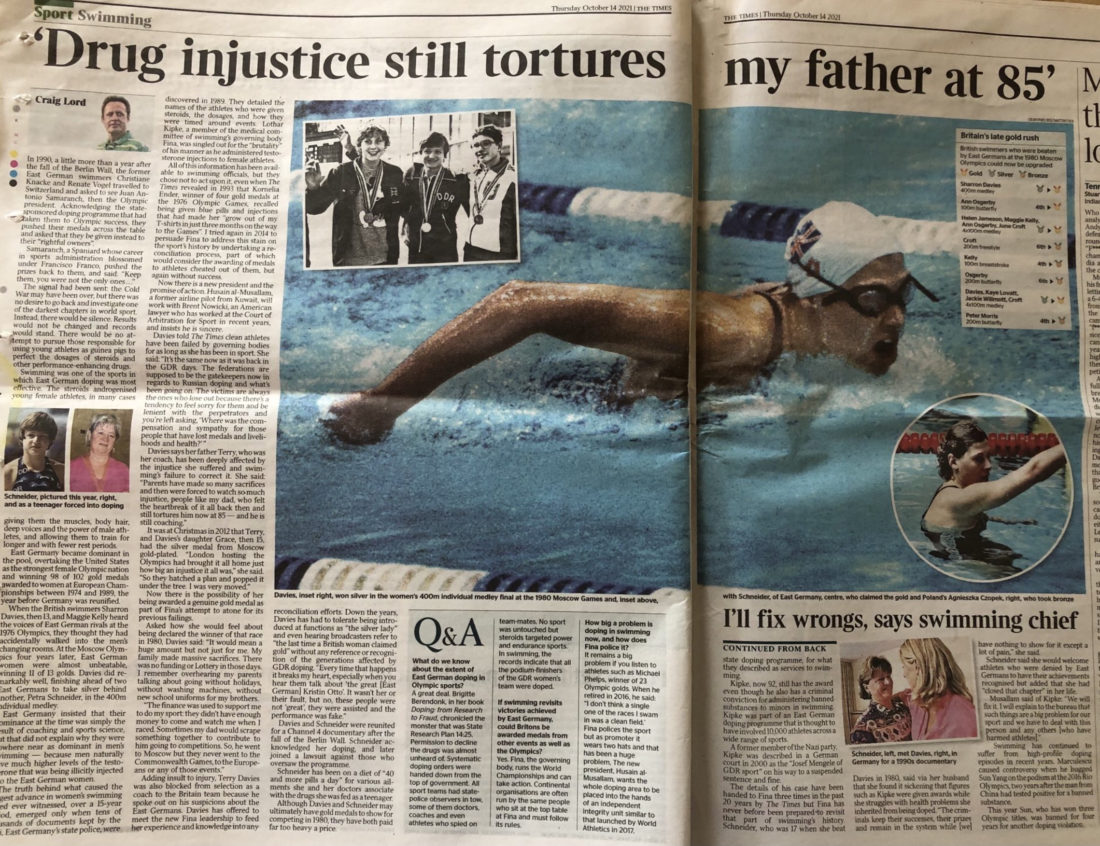 When last year The Times and this author broke the story mentioned in this article, follow-up articles in other publications reached for response from the IOC, some of the medals in question being of the Olympic sort. The standard response was "The IOC is unable to take any further action because of the statute of limitation."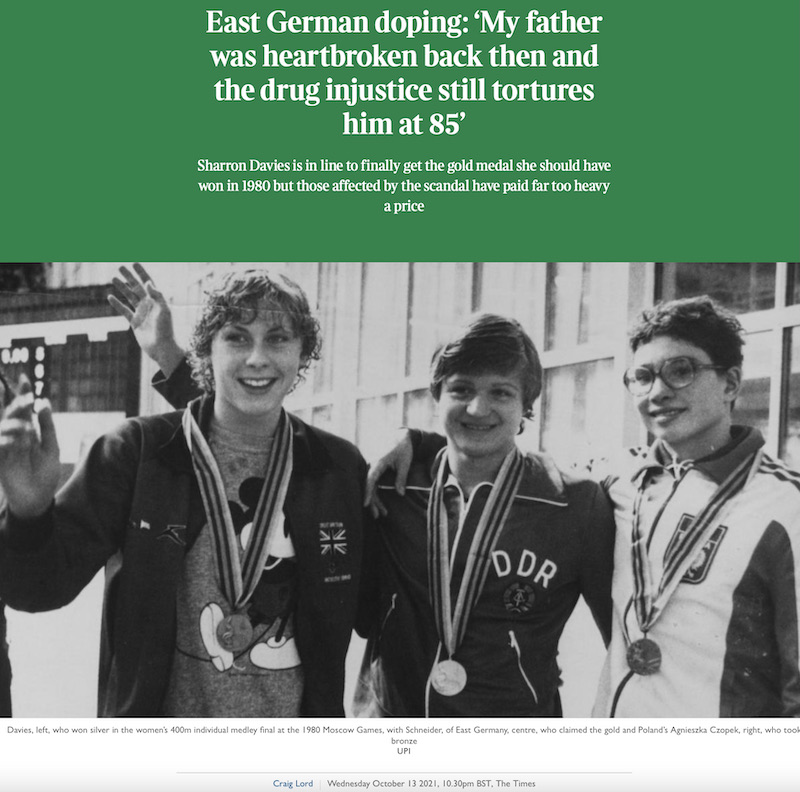 The statute of limitations, however, is an argument that simply does not work: in the current scenario, it would pertains to legal challenges that might seek to alter results, deprive people of prizes, perhaps penalise or even criminalise people for past misdemeanours.
None of that is in any sense relevant when the request from generations of women and those seeking fair outcome in sport is not retribution but reconciliation.
Reconciliation of athletes who worked hard for their prizes but were duped by guardians and stewards, in the form of politicians and doctors, is what Shirley Babashoff, Michelle Ford, Sharron Davies and her Britain teammates, what Conny van Bentum, what Nancy Garapick and Cheryl Gibson, what Enith Brigitha, what Rica Reinische, what Renate Vogel, what Christiane Knacke, what Sarah Hardcastle, what many other women swimmers have a right to expect.
Husain Al-Musallam is open to the idea that athletes might take the matter to the new Aquatics Integrity Unit when it launches in June this year. Swimming might only be able to deal with swimming medals but the IOC cannot escape scrutiny and lead on irrelevant "statute of limitations" nonsense in seeking to ignore fair request for reconciliation that is most certainly in the gift of sports governance in a realm that prides itself on being "autonomous" and "neutral" and able to set its own club rules and conditions of interaction.
There is only a battle ahead if the IOC and other governors want one. As Desmond Tutu, fellow South African of Sam Ramsamy, FINA vice-president and a close friend of IPC president Thomas Bach, noted with a nod to his role in the Truth & Reconciliation Commission and an inquiry predicated on the fundamental principle "To forgive is not just to be altruistic, [but] it is the best form of self-interest.":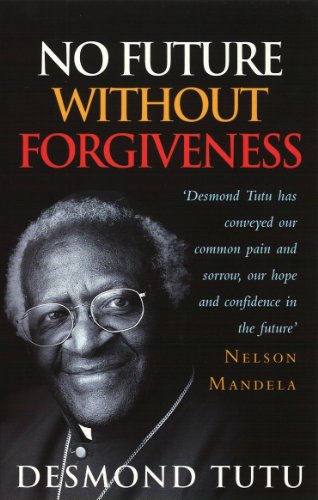 "Forgiveness is nothing less than the way we heal the world.We heal the world by healing each and every one of our hearts.The process is simple, but it is not easy. Forgiving and being reconciled to our enemies or our loved ones are not about pretending that things are other than they are. It is not about patting one another on the back and turning a blind eye to the wrong. True reconciliation exposes the awfulness, the abuse, the hurt, the truth. It could even sometimes make things worse. It is a risky undertaking but in the end it is worthwhile, because in the end only an honest confrontation with reality can bring real healing. Superficial reconciliation can bring only superficial healing."
Here's the kind of reference, from the Truth & Reconciliation Commission, that tells the IOC why it must drop any further talk of statutes of limitation because reconciliation, not retribution, is the goal; that tells media reporting on the issue to do their homework and understand why they need to go back to the IOC and its lawyers and say "irrelevant, please consider the question again":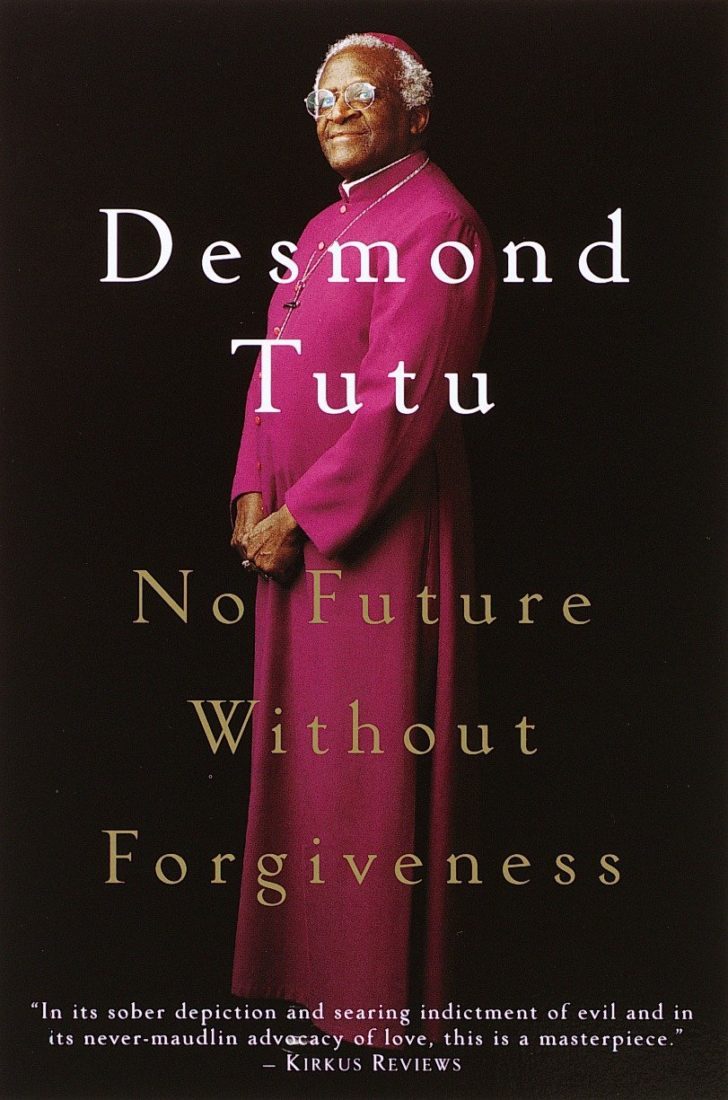 Forgiveness: The primary objective of the inquiry was to preach forgiveness in order to heal the emotions and wounds of hatred or anger that had been created by the apartheid system. There was no place for retaliation in the new society that emerged after independence. It was envisaged that "one who forgives becomes a better person than the one being consumed by anger and hatred." By the same token, it was also argued that "If you can find it in yourself to forgive then you are no longer chained to the perpetrator. You can move on, and you can even help the perpetrator to become a better person too." Nevertheless, the process of forgiveness also required acknowledgement on the part of the perpetrator that they have committed an offence. The Chairman of the Commission noted that he had actually "witnessed so many incredible people who, despite experiencing atrocity and tragedy, have come to a point in their lives where they are able to forgive." Take the Cradock Four, for example. "The police ambushed their car, killed them in the most gruesome manner, set their car alight" in the Eastern Cape in 1984. When, at a TRC hearing, the teenage daughter of one of the victims was asked: "would you be able to forgive the people who did this to you and your family?" She answered, "We would like to forgive, but we would just like to know who to forgive."

Truth & Reconciliation Commission of South Africa
The state of swimming (the meaning of side of our SOS coin) is precarious. A reform process, with integrity and safeguarding as bookends, is underway and neither transformation nor success will come in the form of a cheap supermarket coffee: instant.
The better blend and brew will come in time but along Process Road tests must be passed and there have to be signposts that show swimming and its governors are still on the right path. One of the biggest signposts is the ability of governors to understand – and then embrace the notion and inherent task – that the past is the present and the future of the community it calls "Family" when it comes to safeguarding. Their wounds and our wounds, so to speak. That's how it works in families.
Retribution is not the answer. Nor are the athletes harmed asking for that. They, on both sides of the Cold War in sport from the 1970s and 1980s, are asking for reconciliation, a process that brings the family together, not action that drives it further apart.
Reconciliation measures will help current legislators, governors, guardians and stewards better understand and develop more empathy for safeguarding and why all aspects of that theme must be a part of swimming's culture with the same level of obligation that World Championship organisers have when it comes to providing pool AND water. No way of separating the two. Essential.
Over the course of a few months, SOS has looked at the "Six Pillars of Reform" proposed by the committee charged with the task of making recommendations for change.
THE SIXTH PILLAR:

SAFEGUARDING, MEDICAL AND EQUITY
In this series, I have followed the FINA reform recommendations with my own notes and thoughts. For this sixth pillar, all I have to say this day is said above barring this: the below requires a great deal of meat to be built on bone, something the reform committee was, of course, well aware of.
F. THE SIXTH PILLAR: SAFEGUARDING, MEDICAL AND EQUITY
The Reform Committee reviewed and analyzed the processes and procedures related to the way in which FINA approaches issues of Athlete safeguarding, medical and equity/discrimination in Aquatic sports. In general, the Reform Committee believes that considerations should be made for working groups, policies, and inclusion ideas. More specifically, the Reform Committee has set out the following proposals for consideration which, for the most part, are not currently addressed in FINA programming.
1. Anti-Discrimination Policies
Discrimination comes in many forms and the FINA President has made clear that there is no space for discrimination within the waters of FINA. The Reform Committee considers it important to enhance the anti-discrimination language set out in the FINA Constitution to fully address any outstanding issues of racial, religious and sexual orientation discrimination. Such a revision could provide comfort for those feeling insecure and discriminated against, and at the same time, legitimize the FINA President's no discrimination agenda.
In addition to the enhancement of the FINA Constitution on this issue, FINA may consider developing educational plans and initiatives to better educate the aquatics community about these issues.
2. Diversity
The Reform Committee considers there to be a need for greater diversity in Executive Boards and Committees. This change can be driven by the formation of an Equity and Diversity Committee, or through constitutional reform. The former with a long-term approach; the later with immediate impact.
The Bureau currently consists of 33 members, inclusive of the Executive Director and Honorary Life Presidents. Of those members, 5 are women (i.e. 15%). Compare this to the IOC which is comprised of 103 members; 39 of whom are women (i.e. 38%).
Further seats should be afforded to women within the Bureau and as necessary, an enlargement of the Bureau could be considered to effectuate this change. Constitution reform in this respect is needed.
3. Mental Health and Wellbeing
Every Aquatic athlete, irrespective of age and status, deserves to train and compete in an environment free from unwarranted physical and psychological stresses such as harassment and abuse. Protections against many of these stresses and abuses are set out in the FINA Rules on the Protection from Harassment and Abuse. There are, however, mental stresses that are self- inflicted or not caused by a third person, but rather inherent to the nature of competitive sport and the enormous pressures that follow.
The Reform Committee suggests that FINA consider the implementation of a mental health and support program to address mental health aspects across its aquatic disciplines.
4. FINA Rules on the Protection from Harassment and Abuse
In consideration of the Reform Committee's proposal to develop the Aquatics Integrity Unit, the Rules on the Protection from Harassment and Abuse need to be modified to reflect that the adjudication of any allegations should be handled by the Adjudicatory Chamber, not the Ethics Panel. Additionally, the Reform Committee consider small modification in the Rules on the Protection from Harassment and Abuse as follows:
Elimination of the Event Safeguarding Officer on the premise that his/her role is generally redundant to that of the Athletes Safeguarding Counsel.
Amendment of the Rules to reflect that claim should be filed with the Independent Protection Officer, with a copy to the FINA Office.
Promotion of the Rules must also be a priority for FINA to ensure that National Federations are compliant with their obligations and that athletes are aware of their rights.
A new version of the Rules on the Protection from Harassment and Abuse can be found here. It is recommended that the reform to be effective 1 June 2022.
Conclusion and Timeline
The Reform Committee suggests that FINA engage in the following actions to create immediate reform:
Enhance the anti-discrimination provisions of the FINA Constitution, to be approved by the Congress, on the recommendation of the Bureau at the General Congress of May 2022 (Fukuoka).
Examination of FINA Constitution to determine specific recommendations to increase diversity in FINA Bureau and Committees. Such recommendations should be approved by the Congress, on the recommendation of the Bureau at the General Congress of May 2022 (Fukuoka).
Consider establishment of an Athlete mental health and support program
Accept modifications to FINA Rules on the Protection from Harassment andAbuse (Exhibit D) following approval by the Congress, on the recommendation of the Bureau at the Extraordinary Congress of 18 December 2021 (Abu Dhabi).
***
III. CONCLUDING REMARKS
The Reform Committee concludes where it began: Reform is not a single event. It is a process that will test our patience. The Reform Committee is aware that many of the recommended actions need sufficient and possibly substantial resources to be implemented. While the Reform Committee encourages FINA to act swiftly on the reform set out above, it must do so with great detail and care to ensure that a solid foundation for the future of Aquatics is forged.
The Reform Committee remains at FINA's disposal to continue its mandate and provide a Phase Two report with further reform. At your instruction, such report will be prepared for implementation at General Congress of May 2022 (Fukuoka).
End of reform Report.
Now starts the test of good governance. On your marks… Thanks to all who got this far in our series. The who wish to comment can email us or leave remarks on our Facebook and/or Twitter posts.