FINA Ethics Panel Suspends Italy Swim Boss Paolo Barelli Pending Outcome Of Inquiry Into Allegations of Financial Irregularities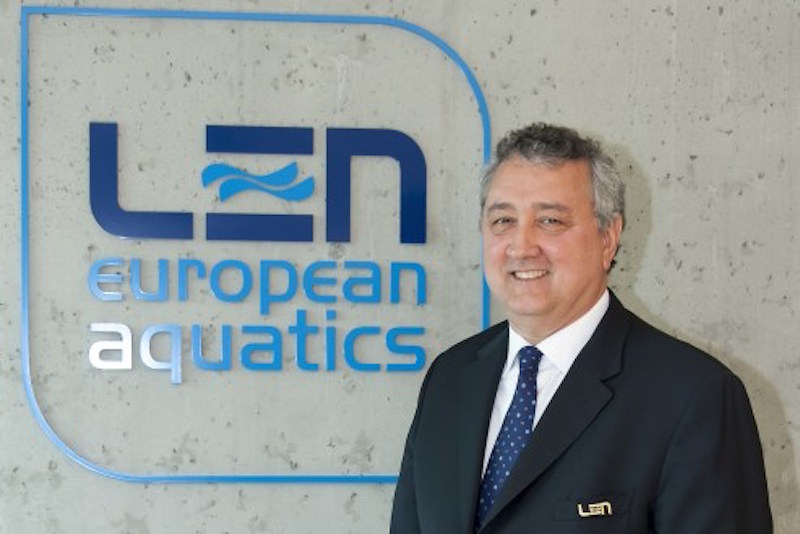 Paolo Barelli, the former president of the European Swimming League (LEN), ex-vice-president and member of the FINA executive and current president of the Italian Swimming Federation, has been slapped with a provisional suspension by FINA pending investigations into allegations of financial irregularities.
The decision is the latest development in a dispute between top FINA executives in which Barelli challenged peers in 2017, when he stood for the FINA presidency (a fight he lost) over what he alleged to be evidence of conflicts of interest, among other accusations over alleged financial impropriety that remains the subject of investigation and is linked to ongoing legal challenge in the United States.
Barelli, who is being investigated by legal authorise in Switzerland and Italy over the allegations, is a candidate for re-election to the Italian Senate, for the Forza Italia party, in the national poll scheduled for September 25.
SOS coverage of the bulk of the allegations against Barelli dating back to 2019 and related events that led to Barelli being voted out of office at LEN in a campaign that was not without its own controversies. As a result of the LEN vote, Barelli was also dropped as a senior member of the ruling FINA Bureau:
FINA issued the following press release today:
LAUSANNE (SUI) – FINA's Ethics Panel has provisionally suspended Paolo Barelli with immediate effect.
The FINA Ethics Committee is currently investigating multiple referrals of alleged wrongdoing from three separate cases against Mr. Barelli, who is the President of the Italian Swimming Federation (FIN), former FINA Bureau Member and former Ligue Europeenne de Natation (LEN) President.
The allegations of wrongdoing under investigation by the FINA Ethics Panel against Mr. Barelli include potential multiple rule violations of the FINA Constitution and the FINA Code of Ethics.
The Hearing Panel resolved to impose a provisional suspension on Mr. Barelli that precludes him from exercising any functions and participating in any activities within FINA, FINA Continental Organizations and FINA Member Federations. Thus, Mr. Barelli is ineligible to act as President of the Italian Swimming Federation during his provisional suspension.
Mr. Barelli's provisional suspension shall stay in effect until the resolution of all matters underway with the FINA Ethics Panel.