FINA Asks IOC To Halve Olympic Pool Standard To 25m After 2032 Games In Sustainability Drive That Would See Robots Replace Time Keepers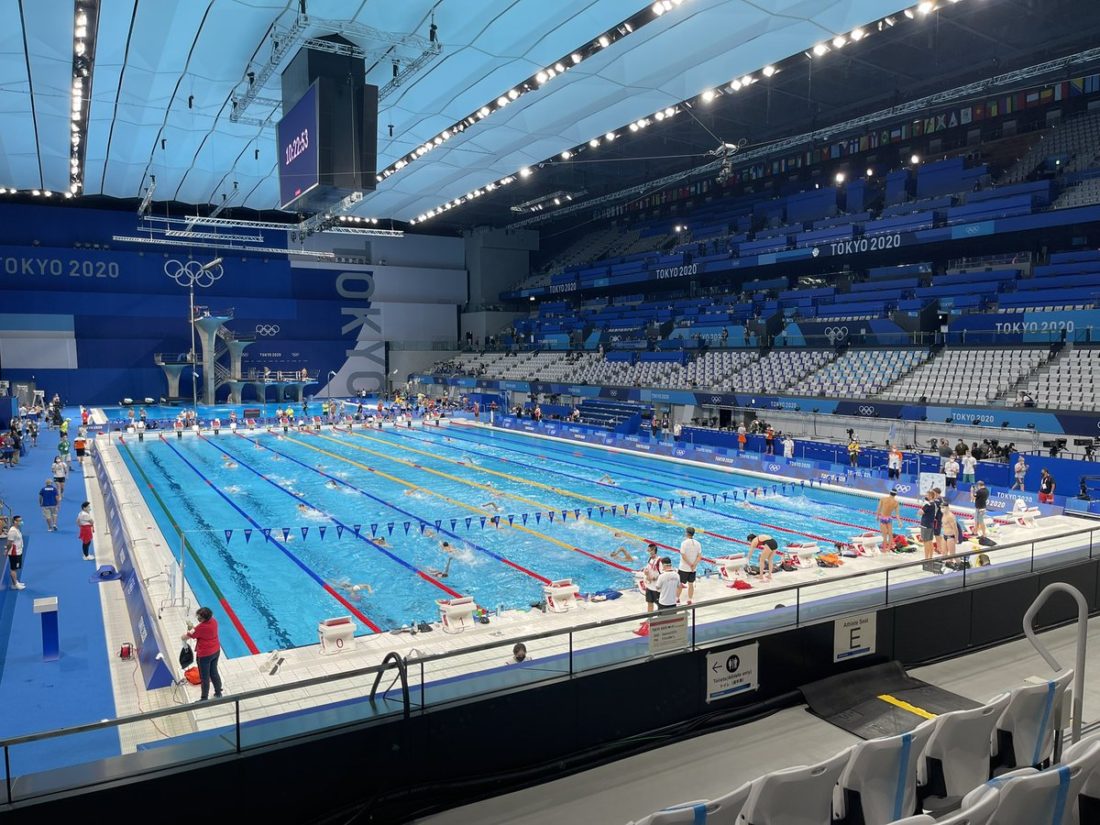 FINA has proposed to make 25m short-course racing the Olympic standard beyond 2032, wind down reliance on long-course pools and replace lane officials and time keepers with robots in response to an International Olympic Committee request for International Federations to help it reduce running costs and increase green measures to meet sustainability targets.
This article was published on the morning of April 1, 2022
The latest IOC Sustainability Report highlights developments such as an Olympic Forest as part of the Great Green Wall, an existing UN-backed initiative to combat desertification in Africa's Sahel region, the "young people's movement inspired by Swedish activist Greta Thunberg" and the work of the veteran British naturalist and broadcaster Sir David Attenborough, whose epic 2017 television series "Blue Planet II" sparked worldwide concern for the state of the marine environment.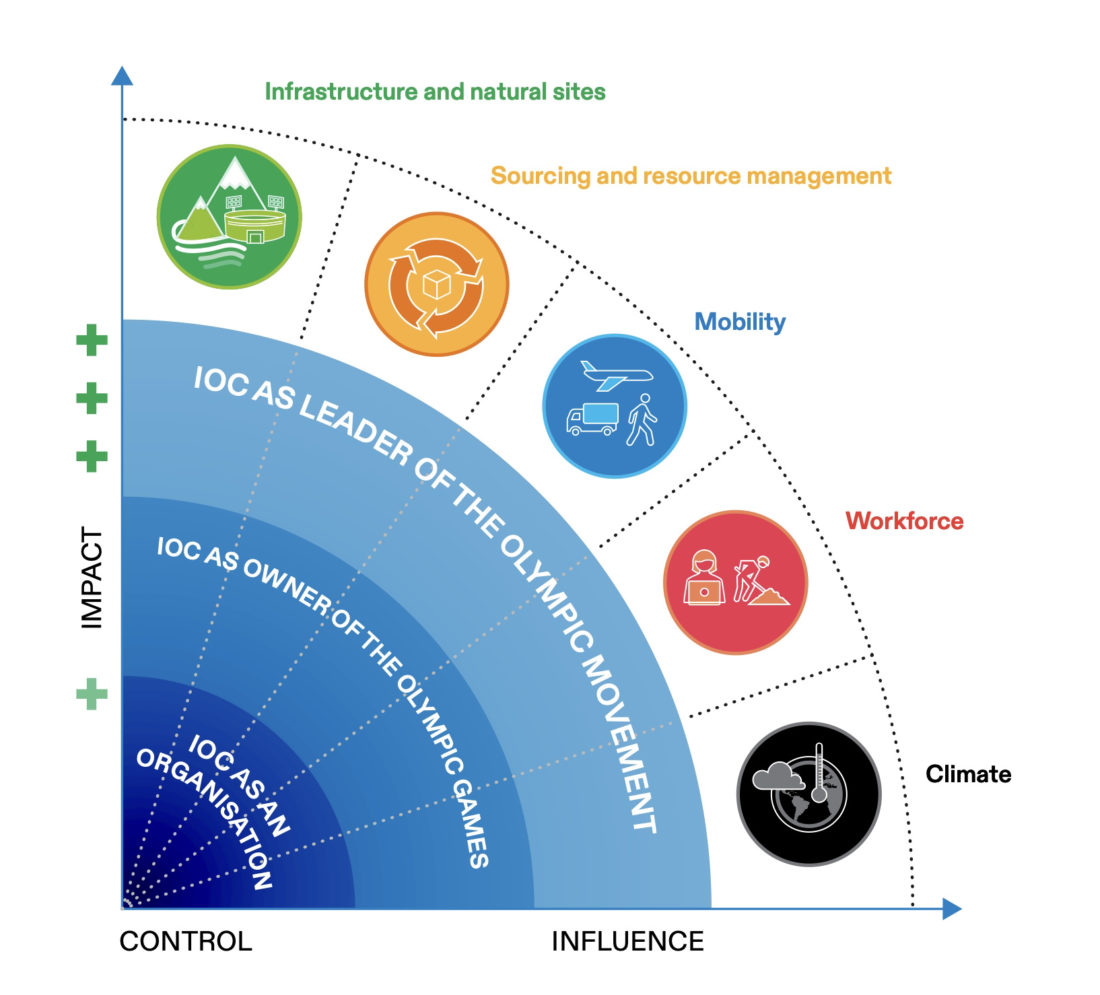 The IOC's plan centres on the Olympic Movement's control of and influence over five key "focus areas", namely, Climate, Workforce, Mobility, Sourcing and Resource Management and Infrastructure and Natural Sites.
The 2021 Sustainability Report says the IOC wants to "foster sustainable Olympic Games", "lead by example in corporate citizenship" and "include sustainability in all aspects of the Olympic Games". International federations, which are "beginning to develop active sustainability programmes" are called on to do their bit.
In the flood of proposals sent to the IOC from many sports, FINA asks Olympic bosses to consider halving the size of the traditional 50m pool and embracing short-course swimming as the lead standard in swimming as a way of contributing to sustainability.
FINA Facilities Rules set the dimensions of Olympic pools at 50m in length, with a minimum of 8 lanes (must be 10 lanes for World Championships, making a 25m width), each 2.5m wide. They must be at least 1.35m deep for at least 6m off the wall (for safety reasons) and the recommended depth is between 2m and 3m.
Many Olympic-sized pools have 10 lanes and have a width of 25m. It would therefore be possible to continue to use existing long-course pools and even have three traditional heats of eight swimmers take place simultaneously.
FINA's plan suggests a gradual process, with the Paris 2024, Los Angeles 2028 and Brisbane 2032 Games kept as traditional long-course, 50m pool, events. Los Angeles and Brisbane are high in the league of places that have been at the forefront of pioneering swimming pace down the decades, the outdoor, long-course tradition a key part of that picture.
A source close to Brisbane 2032 organisers said: "Good job they didn't suggest this for 2032, mate. There'd be riots outside millions of 50m pools all over the country!"
25m Aim 'Couples Green & Cost Benefits'
With sustainability high on the Olympic agenda, however, FINA has "coupled green issues with costs issues", said one source, as the federations contemplates the size of pools and budgets, especially at a time when geo-political shifts and dependency on old energy sources are likely to see the heavy funding of sport from Russia, China and the Middle East dry up.
Olympic pools hold around 2.5 million litres of water or about 660,000 gallons. Take a standard garden hosepipe and start to fill an Olympic pool and you'd be waiting around 19 to 20 days. A river would be quicker: one study of Olympic pools measured water flow down the Savannah River, along which 4,130 cubic feet of water travels per second, equating to about 31,000 gallons per second, or 21 seconds to fill an Olympic pool.
With a spring in his tone as April got underway, a source told SOS: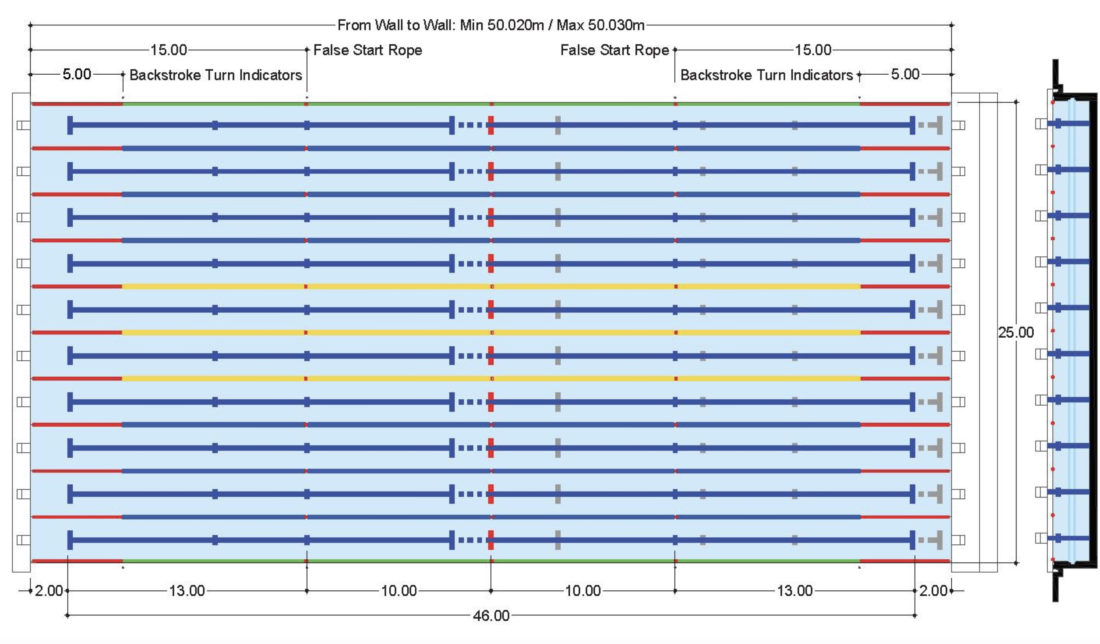 "The plan has several benefits in the long-term. We could be much more efficient in the way we use pools. We should also encourage communities and member countries not to build 50m pools that soak up massive budgets and in some cases are badly under-used. They should be building more sustainable facilities with much more efficient multiple use in mind.

"There's also the fact that short-course swimming is fast and furious and very entertaining. We're told about Gen X and short spans of attention. The 25m pool has a lot of benefits and the switch of emphasis wouldn't mean we can't use existing 50m facilities. Lots of meets in the United States run competitions across not down the pool. Those formats save a lot of time and resources and avoid having sessions of three and four hours of heats that leave everyone exhausted."

FINA source in the stream of April 1 thought – image: the set-up for a traditional 50m competition pool in FINA Rules
Such sessions require teams of officials to be present for long hours but FINA believes the digital age and technological development will make it possible for time keeping and lane monitoring to be performed by smart-eye technology.
The source said: "The IOC wants to reduce the number of people involved in a Games. We saw the use of robots at the recent Winter Olympics in China. The robots might not stand at the end of lanes and behind the blocks like human officials do. They could be placed precisely where they're needed, overhead, underwater, a digital face-recognition check in in the call room.
"The concept of 'time keepers' on each lane to take a manual back-up is outdated. There are lots of possibilities for efficiency measures that help reduce costs."
A FINA spokesman would not comment on any proposals for pools sent to the IOC but confirmed that the global regulator is "committed to sustainability".