Federica Pellegrini Awarded Lion Of Venice & Opens Door To 6th Olympic Campaign Beyond Tokyo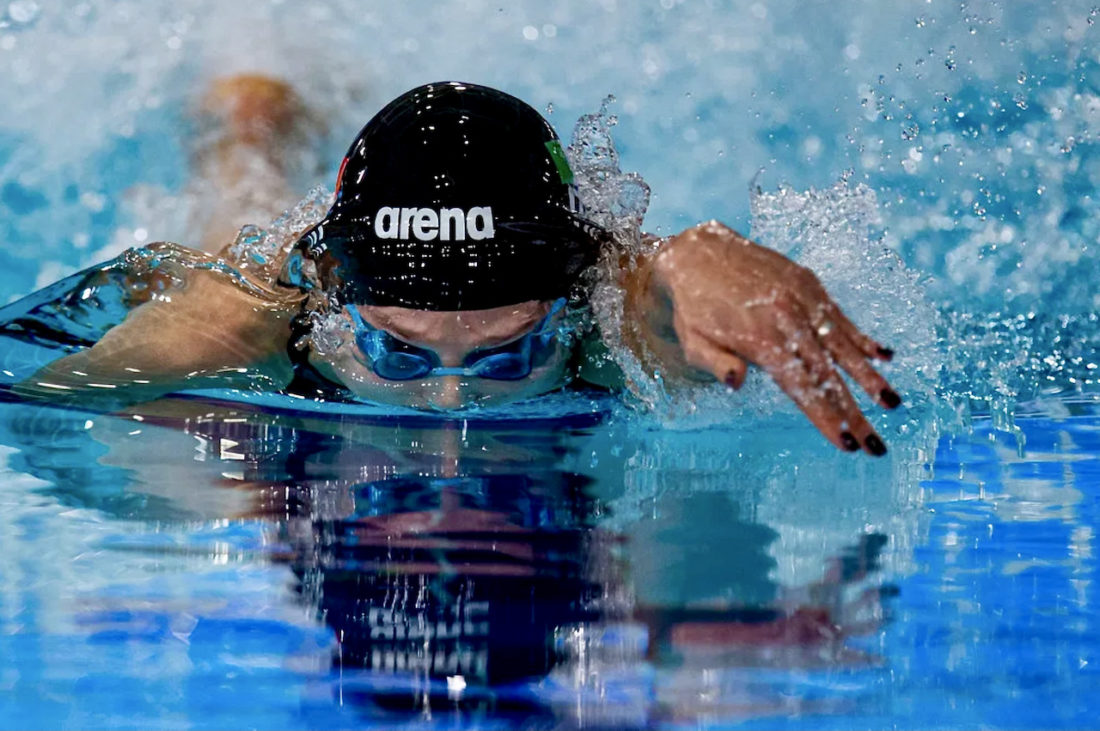 Federica Pellegrini, the Italian superstar swimmer of the past two decades, raised the possibility of a sixth Olympic campaign beyond Tokyo 2020 as she received the "Leone del Veneto 2019" – Lion of Venice – award at the magnificent Scuola Grande di San Giovanni Evangelista at the weekend.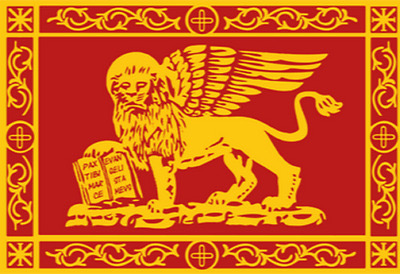 Dubbed the Lioness of Verona (because she hails from Venice, with the Lion of St Mark in its coat of arms, but trained in Verona), Pellegrini is the first athlete and the first woman to receive the Lion of Venice, which honours excellence and the region's biggest achievers and contributors on a global stage. On receiving her prize, Pellegrini said: "I've always felt a lioness, now I have it confirmed…"
The Olympic 200m freestyle champion of 2008 who claimed her fourth 200m World title and eight podium in that event at the global gathering in Gwangju last July, had said on several occasions that the 2020 Olympic Games would mark the end of her racing days. Now, she's not so sure:
"Tokyo 2020? It is said to be the last Olympics for me but… It may not be my last Olympics."
A sixth campaign? "Why not?" said a beaming La Fede, a pioneer in the pool beyond her own achievements: in 2019, she captained the Aqua Centurions, the first Pro-Swim team based in Rome and among the first eight international squads that launched the inaugural International Swimming League season.
"I have always said that with Tokyo my career would be closed but now that there are only seven months to go and I'm hearing others repeat back to me 'it's the last time you will see me in the race', I'm having second thoughts. In age and experience, I'm the the captain of the [Italian] team, I served as flag-bearer and as I think I still have something to give you even more in the coming years."
If Pellegrini makes it to Paris 2024 and a sixth Olympic Games, she would join a rare Olympic swimming club of those who made it to six Games and become only the second woman swimmer to achieve the feat after Sweden's Therese Alshammar. There are just two others who have stamped a sixth ticket: fellow Swedish ace Lars Frölander, the 2000 Olympic 100m butterfly champion, and Turkey's Derya Büyükuncu, who raced at all games from Barcelona 1092 to London 2012. Pellegrini would be the third and first non-Swedish swimming podium placer to make it six.
American Dara Torres, who at 41 became the oldest U.S. Olympic swimmer ever and the first American swimmer ever to make five Games, was matched by Michael Phelps, the most decorated Olympian in history, all sports, on the five-Games feat at Rio 2016. British swimmer and water-polo player Paul Radmilovic was the first to compete at five Games in aquatic sports, his four-gold career (water polo, 1908, 1912, 1920); 4x200m free in 1908) ending in 1928 at the age of 42 after medal-less efforts in water polo in 1924 and 1928. His four-gold tally lasted as Britain's best  until Sir Steve Redgrave's rowing achievement of five successive golds was nailed at Sydney 2000.  
Sacrifice, what sacrifice?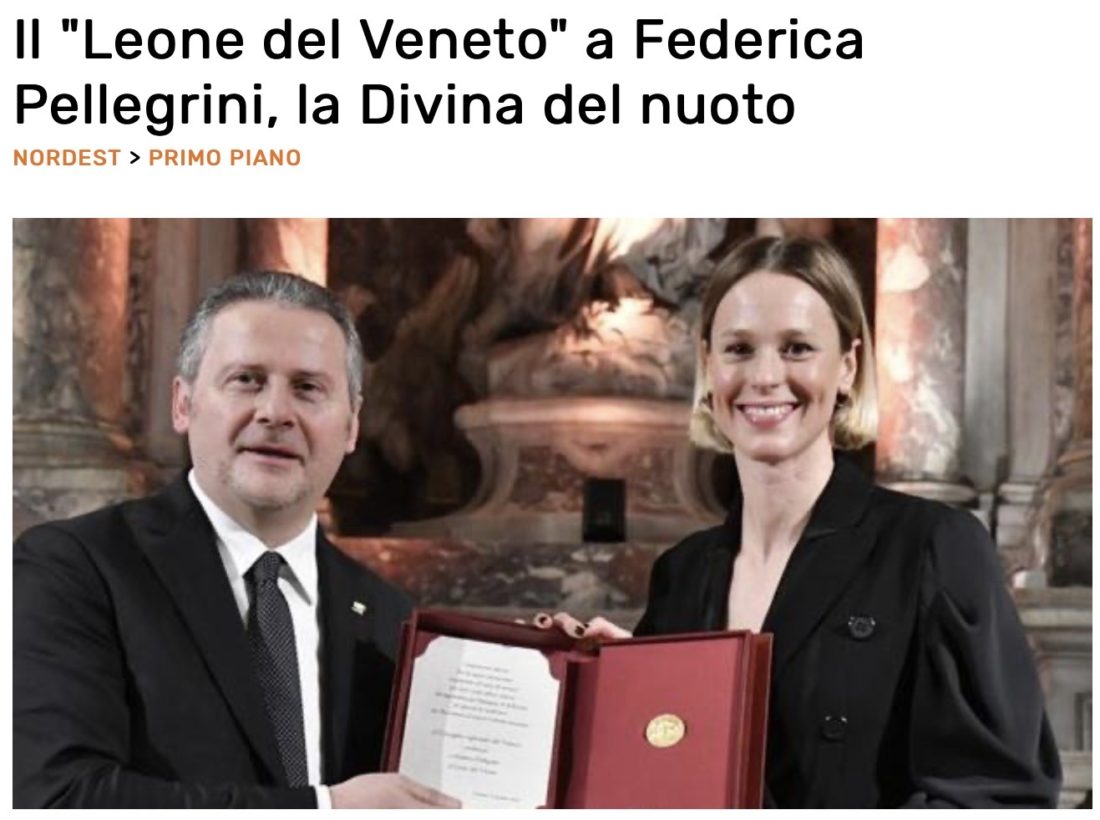 On the Lion honour, she said: "This is one of the trophies that has made me most proud."
Asked about the 'sacrifice' of her years as a swimmer, Pellegrini indicated that it had been no sacrifice in many ways:
"They [her parents] put me in the pool a little after I was one year old and I never gave up on my first one true love. The sport is everything. Alongside the passion if, of course, hard work and some sacrifice, but to get to give the best out of yourself you have to be willing to face all the difficulties."

Federica Pellegrini – Image – Federica Pellegrini receives the Lion of Venice – Photo Courtesy: screenshot from Il Gazzetino
In the front row at the ceremony [VIDEO – as events unfolded at the t Scuola Grande di San Giovanni Evangelista] was a couple with tears in their eyes: her mother Cinzia and father Roberto. The swimmer spoke of home as a safe haven:
"Whenever I can, especially before a big race, I go home to see my parents, to relax, to find distraction [away from swimming]. Then, my mom takes me shopping with her, and her perfect-Venetian pace helps keep me fit! Although I have travelled the world, nothing matched Venice and that's why in 2006 I decided to train in Verona, which it is far less than two hours from home."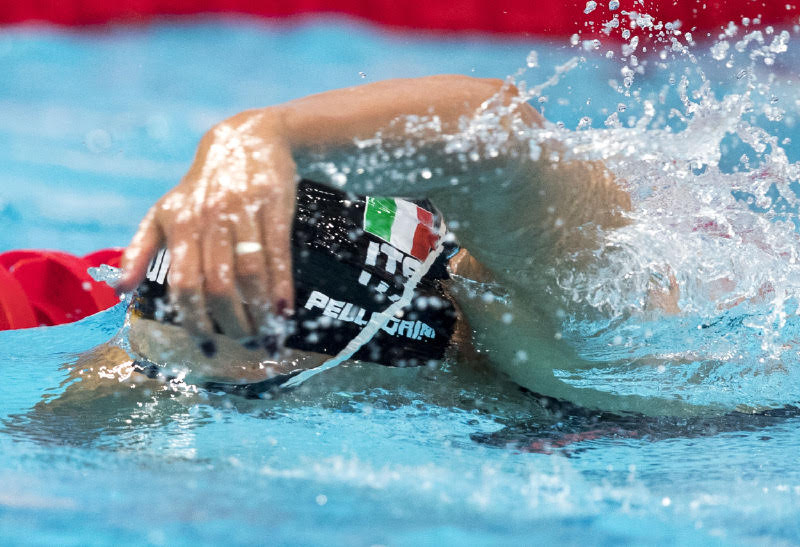 Little Federicas and Federicos On The Venice horizon
Pellegrini warmed the heart of all gathered with she envisaged a future with her own children wandering the shorelines of Murano, the series of islands linked by bridges in the Venetian Lagoon. Said La Fede:
"The return to my world is fundamental for me, and if I'm honest in ten or fifteen years time, I see myself wandering around Murano together with one or two little ones … ".

Image – Federica Pellegrini of Italy on her way winning in the women's 200m Freestyle at the 2017 World Championships in Budapest – Patrick B. Kraemer