Entire Pool Coaching Team Of Five Quit City Of Oxford Swimming Club In Dispute With Committee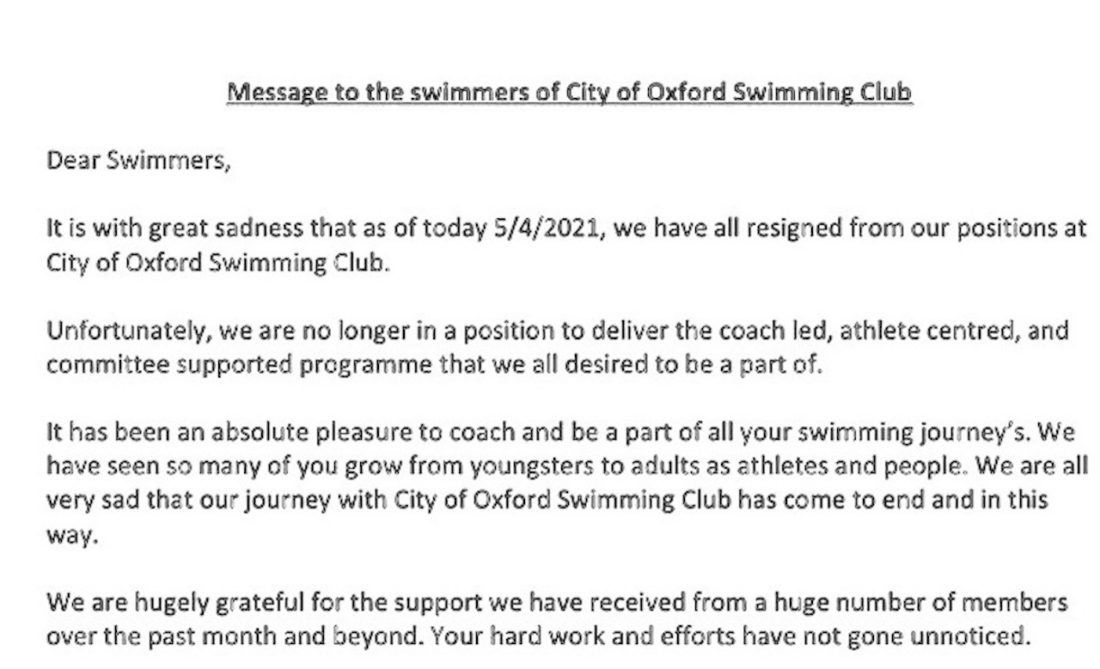 The entire pool coaching staff of City of Oxford Swimming Club in England has resigned en masse in a dispute with the club's management, with both sides denying the allegations levelled against them by the other side.
The coaches who have resigned are head coach Amanda Booth, Mikey Hire, head age-group coach; Zichen Liu, senior coach and head coach to University of Oxford Swimming; Fabian Whitbread, group coach; and Matt Croyle, lead strength & conditioning coach. Their letter is doing the rounds among swimmers and parents of the club today.
As Oscar Wilde might have put it: "'To lose one coach may be regarded as a misfortune; to lose all of them looks like carelessness." Both sides in the dispute have a view on who might have been 'careless' in that Wilde scenario.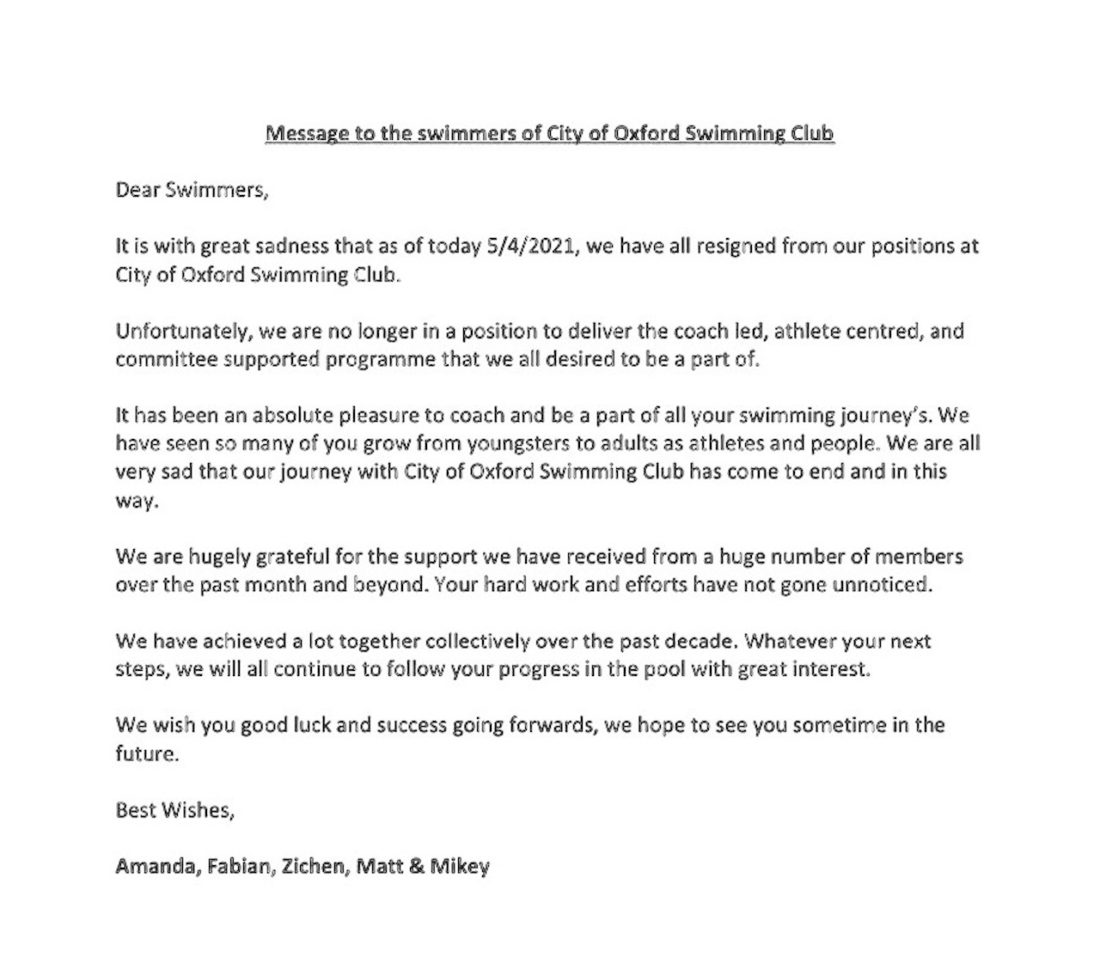 SOS has asked for comment from City of Oxford SC, which had previously informed this site that a lawyer and "an external arbiter" had been engaged with a view to "following employment law as well as codified procedures within our employee handbook". 
Update: The City of Oxford S.C. Committee has now issued a statement on the situation – it can be read in full here.
At the heart of the committee's version of events is this reference:
The committee took seriously and reacted compassionately to concerns raised by swimmers and parents about the behaviour of certain coaches. We undertook a two-month-long investigation and followed fair processes and procedures throughout. In response, the committee faced bitter accusations by certain coaches, and had to take action to protect swimmers who were too scared to talk or act on their own.
From their side, coaches have complained of being bullied, harassed and accused committee members of interfering in aspects of performance sport beyond their brief and knowledge.
The dispute took a decisive turn when the City of Oxford committee called an emergency meeting of the club to set out their arguments but without inviting the five coaches nor allowing them to express their version of events in a forum open to club members.
In a response to statements made about the Oxford coaches by City of Oxford committee members, the British Swimming Coaches Association noted:
"The BSCA have become aware of the statement below being circulated by the professional coaches of City of Oxford SC top counteract rumours allegedly being perpetuated by those we have referred to previously. Its content is self-explanatory and it is worrying that said staff have felt it necessary to circulate such clarification. Much of this is domestic in nature but the generic nature of the concerns arising are something coaches across the country have experienced from time to time and there is a wider general workplace story emerging from this for coaches elsewhere. As a reminder, the BSCA alerted all, that said staff had been suspended after raising serious health & safety concerns, which have been ignored by the employer. This matter has escalated but we cannot say more for breaching confidentiality. An SGM has been called for tomorrow evening (1st April 2021) where matters will be resolved either way and we may be in a position to report further."
Swim England, the association and regulator affiliated to British Swimming, is understood to have been asked to intervene in the dispute. SOS has asked the association for comment.
The dispute comes at a time when swimming clubs are only just making it back to the water in England after long lockdowns in the Covid-19 pandemic, with many coaches and clubs across the world struggling to keep their heads above the water.