Emma McKeon & Cate Campbell Lead Four Aussie Sprinters In First Domestic Race To Produce Four 52sec Blasts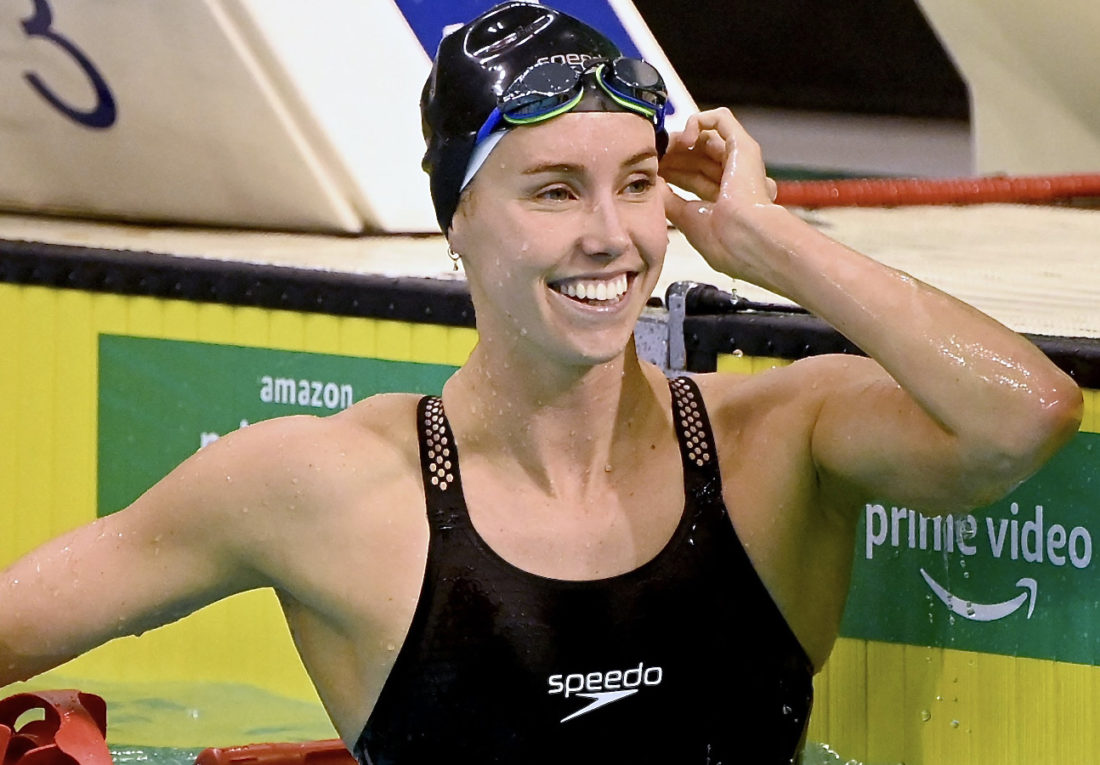 Australia now boasts six women in the sub-53sec club over 100m freestyle – and five of them, topped by Emma McKeon and Cate Campbell, are heading for the 4x100m free at the Tokyo Olympic Games after a final at Olympic Trials in Adelaide that delivered the first domestic line-up in history in which four women raced inside 53sec there and back.
The closest nations to that count of six are The Netherlands and the United States, each with two swimmers below 53, the best of them Olympic champion Simone Manuel, who shared glory at Rio 2016 with Canadian Penny Oleksiak, both on 52.70.
The first two home at Australian Olympic Trials in Adelaide today raced comfortable inside that, as they had done before, McKeon on 52.35 (her best the storming 52.19 she clocked in heats this morning), Campbell the elder on 52.59 (her best the second best ever, a 52.08 from 2018 Pan Pacs, the World record at an unworldly 51.71, courtesy of Sweden's Sarah Sjostrom, whose form remains uncertain on the road to recovery after a fall on the ice resulted in a cracked elbow.
The next two home after McKeon and Campbell today in Adelaide became the 17th and 18th members of the sub-53 club, Madison Wilson on 52.76 for 15thy all-time, Meg Harris, 19 this year, on 52.92. Both had clocked their career best times in heats, Wilson on 53.06, inside a 53.60 from 2019, and Harris on 53.23, after a best time of 54.03 in 2020.Leaps and bounds that make the Australian 4x100m quartet the team to beat in Tokyo.
As the events of 2016 remind us, of course, trials are a moment to qualify and less an indicator of what might unfold come the hour: on 52.06, then a World record, Campbell was treated to a worrying embrace by Dawn Fraser on the poolside in a scene that seemed to be captioned "gold in the bag". Touted as the champion before the gun went off but in Rio, Campbell suffered a bout of nervousness, tightened in the hunt for the wall, stopped the clock in 53.24 and the rest of the drama is history and a lesson for coaches preparing athletes for the big one.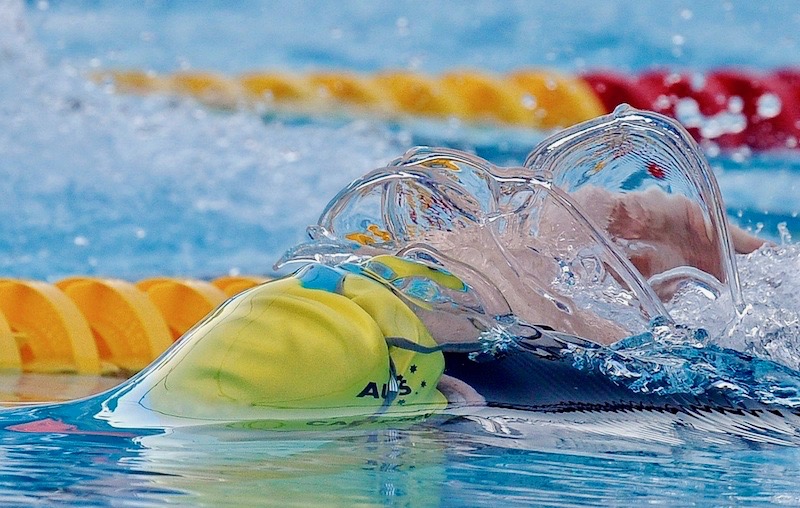 Now, Campbell returns to the Olympic fray for a fourth time after two bronzes at Beijing 2008 (50m and 4×100), gold in the 4×100 at London 2012 (semi-finalist in the 50), and gold and silver in relays at Rio 2016. On current form, she is not the favourite Aussie golden shot: McKeon is. A good thing, perhaps. Here is what Campbell's Wikipedia entry states:
"At the 2016 Summer Olympics Campbell won a gold medal as a member of the Australian women's 4 × 100 m freestyle team. The team, which included Campbell's sister Bronte, set a world record time of 3:30.65. This was followed by a silver medal as a member of the women's 4 × 100 m medley team. In the Olympic final of the 100 m freestyle, Campbell was the favourite, however after leading at the first turn, she choked and finished 6th in 53.24, despite breaking the Olympic record in the heats and semifinals with times of 52.78 and 52.71, respectively. She narrowly missed a medal in the 50 m freestyle final, finishing 5th."
---
Comment: The terms choke comes from this: "a person having severe difficulty in breathing because of a constricted or obstructed throat or a lack of air" but in sport it means "fail to perform at a crucial point of a game or contest as a result of nervousness". It's a term that carries a connotation of "failure", a touch of insult, a slice of "not up to it", a dollop of sport as war and back to the days of thumbs up and thumbs down in the arena, minus the big cats, but who needs those when you have niche fan sites out there quite happy to use such terms as choked, as long as they're not applied to "ours". Perhaps it's time to return to "nerves and nervousness", perfectly good terminology that describes what happened without the insult of a perversion like "choke". Some will not agree, and will think the likes of Matt Wilson should just man up and take it on the chin. They are the same people who doubtless have off days, at work and among family and in life in general, but think a man ranked fifth all-time as a member of an exclusive club of 2:06 swimmers over 200m breaststroke, is somehow not worth the pick. More on that theme here. End of commentary in this file.
---
McKeon, coached by Michael Bohl, and Campbell will enter the 100m freestyle in Tokyo as forces to reckon with and both will make towering contributions to Australia's golden-shot freestyle relays.
McKeon & Campbell
Lead A Storm Force Of 100m Freestylers
The first domestic line-up in history to produce four women inside 53sec over 100m freestyle (Bronte Campbell having been there before and young Mollie O'Callaghan close):
24.90 52.35 (27.45) Emma McKeon
24.95 52.59 (27.64) Cate Campbell
25.75 52.76 (27.01) Madison Wilson
25.52 52.92 (27.40) Meg Harris
25.24 53.08 (27.84) Bronte Campbell (career best 52.27, 2018)
25.91 53.25 (27.34) Mollie O'Callaghan
The sixth Aussie to race inside 53sec was Libby Trickett back in 2007 and then 2009, her career best in shiny suit at 52.62 from Rome World title before the suits were banned. Good to recall that Trickett was the first woman ever to race inside 53sec over 100m: she did so in standard suit at the post 2007-Worlds Duel in the Pool with the USA but her time of 52.99 was never recognised by FINA because she raced in a mixed relay in a lane next to Michael Phelps. These days, that would be allowed.
Cate Campbell noted how inspiring it was to have young athletes breaking through the ranks and helping to make Australia such a fighting force in sprint freestyle. She told Julian Linden at The Australia Telegraph: "The depth of talent in this event is just incredible. We've just shown that four girls can step up and swim under 53 seconds with a gun start, who knows what we can do with flying starts."
With a nod to many others about to make their Olympic debuts, Campbell aded:
""They inspire me with their energy, their passion, their love for the sport, which as you get older, you get a bit jaded so it kind of reminds me why I do it. What I love about Olympic trials is that moment where you see someone turn around and check the scoreboard and you see someone's dream come true. You can see it in their eyes and in their face and there has been so many magical moments this week and I'm glad I got to have mine."

Cate Campbell – image by by Marco Alpozzi / LaPresse

, for Arena
McKeon has long been speedy at 100m free but her signature events have been the 100m butterfly and 200m freestyle. She tells Linden: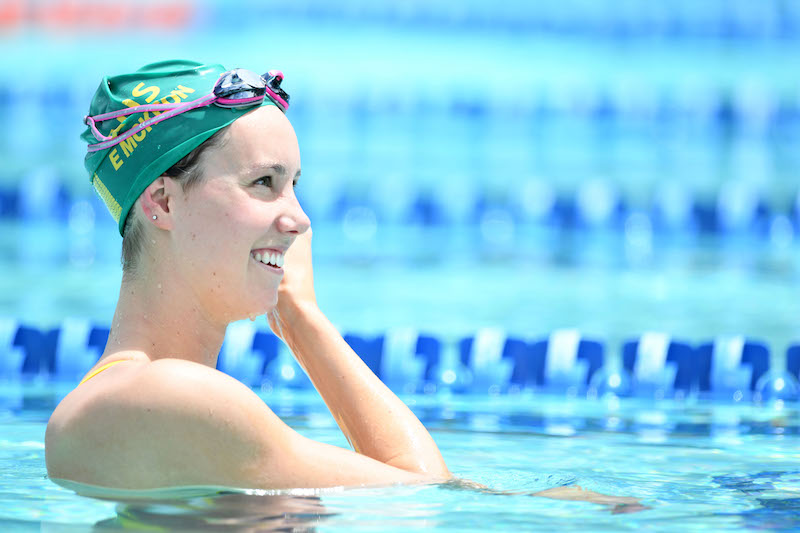 "I never really thought that the 100m would be one of my specialities but that's because my 200m work gives me a good back end and allows me to hold on. With the rising youngsters Kaylee McKeown, Ariarne Titmus, Elijah Winngington and Zac Stubblety-Cook all ranked No. 1 in the world in at least one event each, the Australian team for Tokyo is shaping up as one of the greatest ever to wear the green and gold. Young people always inspire me."

Emma McKeon – courtesy of Swimming Australia
Men's 200m medley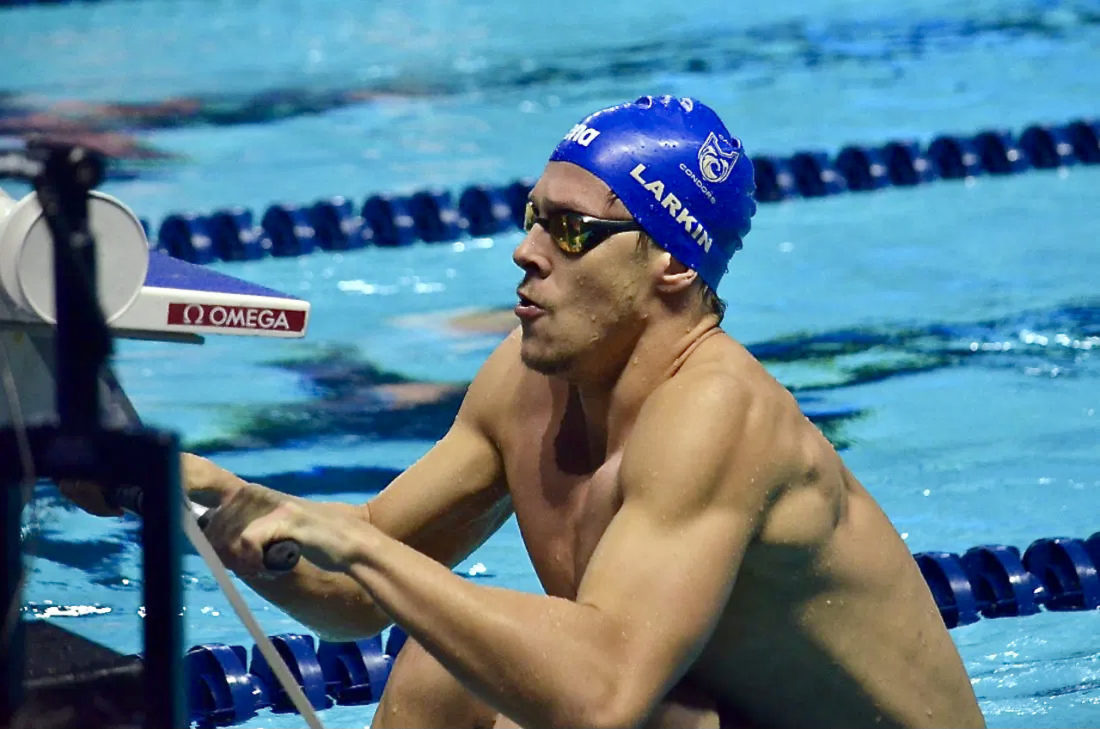 Mitch Larkin has made his choice: he could have returned to 200m backstroke, as a 2015 World champion finding his best form once more, or opt for the 200m medley in which the best off him is yet to come. In 1:56.29, Larkin rose to second on the 2021 World rankings behind the 1:55.90 clocked by Britain's Duncan Scott.
The footnote on such counts is this: the United States stages the final of the 200 medley in two days time, while the best of Japan so far this year was well shy of the best the best of Japan is capable of. Home Games and all that.
Larkin best, from 2019, is the 1:55.72 Commonwealth record, while the Australian all-comers standard survives yet from the 1:54.98 in which Michael Phelps claimed the World title in global-record time back at Melbourne 2007.
Today, Larkin felt no peer pressure as he swept through split of 25.22; 54.01 (28.79) 1:28.53 (34.52) and 1:56.29 (27.76), closest to him by the close the 400m medley winner and Tokyo ticket holder at trials Brendon Smith, on 1:58.82, third place to the second 400IM qualifier Se-Bom Lee, on 2:00.36.
Women's 200m breaststroke
Jenna Strauch and Abbey Harkin lifted the Tokyo tickets in 2:23.12Q and 2:23.59, Tessa Wallace locked out in 2:24.86.
The battle:
33.05 1:09.11 (36.06) 1:45.49 (36.38) 2:23.12 (37.63) Strauch
33.06 1:09.76 (36.70) 1:46.85 (37.09) 2:23.59 (36.74) Harkin
32.921:09.38 (36.46) 1:46.26 (36.88) 2:24.86 (38.60) Wallace
Men's 200m backstroke
Here was another race in which the higher standard of Aussie cuts, compared to the international A cut, cut a young athlete out of a shot at the Olympics by a whisker.
Set at 1:57.26, the target time was sailed past by Tristan Hollard, first home in 1:56.44, but on 1:57.45, Ty Hartwell, 20, will stay home and watch on telly, if he has the stomach stirring through heat after heat of swimmers slower than him.
The ebb and flow:
27.76 57.29 (29.53) 1:27.30 (30.01) 1:56.44 (29.14) Hollard
27.60 57.40 (29.80) 1:27.14 (29.74) 1:57.45 (30.31) Hartwell
28.13 58.45 (30.32) 1:28.53 (30.08) 1:58.06 (29.53) Travis Mahoney
This report was late and shorter than it might have been on account of two hours in dentist chair and so on. So sorry for having an off day.