Elijah Winnington Joins Club Of Aussies Greats Boxing Clever For 3:41.22 World Title A Year After Tokyo Trauma Almost Broke Him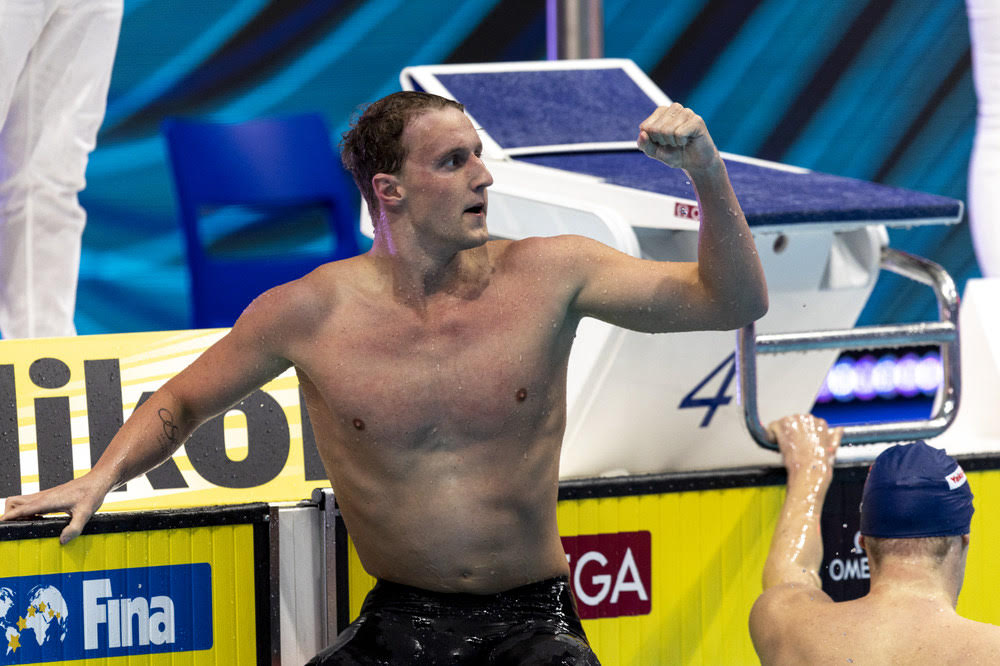 400m Freestyle final – Comebacks sometimes mean a swimmer was never away, as Australian Elijah Winnington proved in a terrific and tactical 3:41.22 triumph in the first final at World Championships in Budapest.
In textile, only fellow Australian Ian Thorpe, who remains the youngest ever winner of a World title in swimming from the first of his three triumphs at the age of 15 in 1998, and the disgraced Sun Yang, of China, have ever swim faster.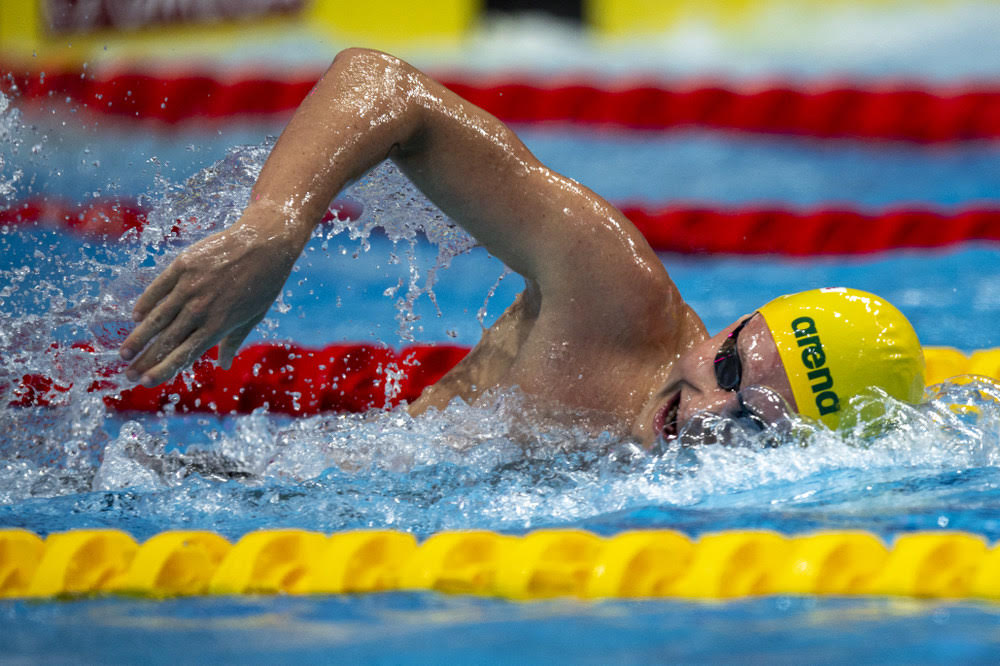 Winnington's win, within a year of a depression so deep after disappointment at the Tokyo Olympic Games that he almost quit the sport believing himself incapable of honouring his potential on the biggest of occasions, stamped a ticket to the most illustrious club of 400m free World Champions and medallists in history.
Australia is unsurpassed in the 400m since the global showcase got underway in 1973: 6 titles top 13 medals, almost all of them courtesy of Olympic freestyle greats Thorpe, Kieren Perkins and Grant Hackett.
The podium was completed by Lukas Martens, the German ace who took over the helm of challenge inside World-record race for the third 100m before Winnington hit back and confined him to silver in 3:42.85, and Guilherme de Costa of Brazil, on 3:43.31. Austria's Felix Aubock was locked out by just 0.27sec on 3:43.58.
Asked how he would sum up the difference a year makes, Winnington said: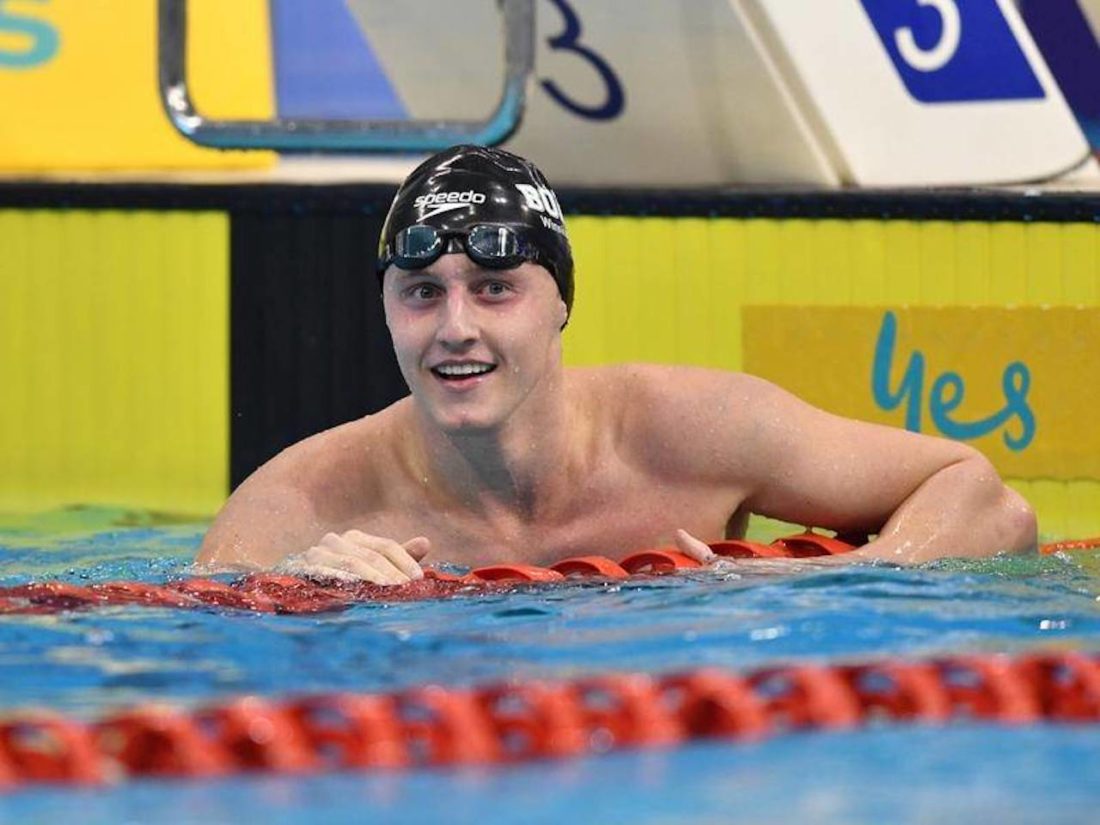 "With 75 metres to go, I don't want to sound cocky or anything, but I kind of knew in my mind I was going to be world champion. I knew I had it, I just didn't really know what time we were going. It's just one of those things that enjoyment brings confidence. This time around I just wanted to enjoy it and just enjoying it brings out the best in me. Like I say with my mind coach, fun is fast and that's kind of what was brought out."

Elijah Winnington – courtesy of Swimming Australia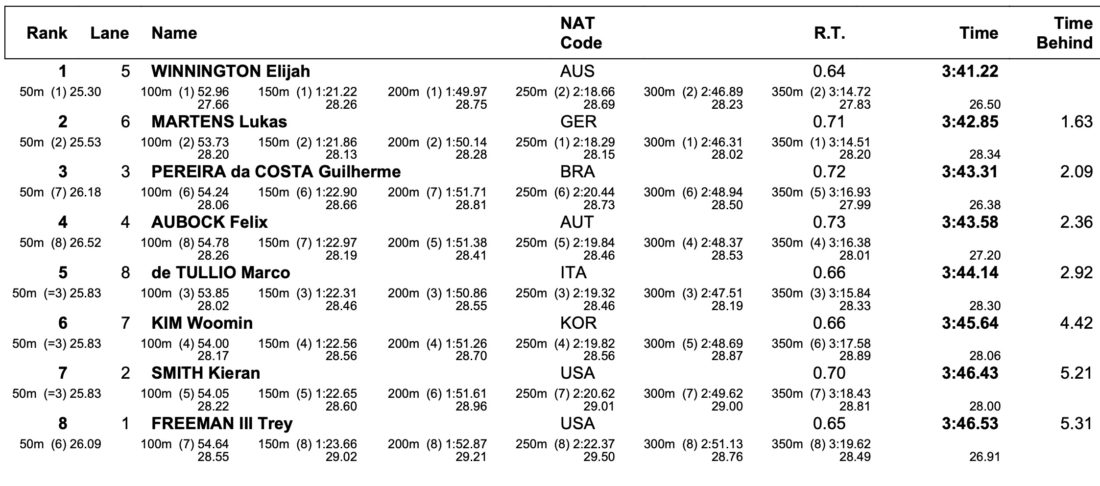 Winnington A Winner At Last
The championships opener provided the best of starts for Budapest 2022 – and Australia. Winnington's potential has long been at the high end of 'great expectation' but delivery on the big occasion has been a sticking point. Not this day.
The finalists had been asked to strike a pose as they were introduced to the crowd. Winnington, a 22-year-old coached by Dean Boxall at St Peters Western, home of Ariarne "The Terminator" Titmus, Olympic 200 and 400m freestyle champion, came out bouncing like a boxing rio ready for the bout about to unfold with Martens.
Winnington left nothing to chance from the moment he left the blocks and gathered momentum for a first 200m of battle in which he raced well inside world-record pace looking to all the world like a man demonstrating how to swim fast freestyle with a smoothness that belies the mighty effort and mastery of the element in the hidden depths of wash and the work of years.
Winnington set off in 25.30, 0.99sec inside the first-length pace of Paul Biedermann, of Germany, on his way to shaving 0.01sec Thorpe's 2002 World record of 3:40.08 at a Rome 2009 World Championships that went down in history as the shiny suits circus, non-textile suits accounting for the tally of 43 global standards set in eight days of racing that followed a voided to ban the booster suits from January 1, 2010.
Winnington turned in 52.96, the fastest ever split at the 100m mark, 1.46 inside Biedermann's pace and 0.06sec ahead of Thorpe's 2002 scorching start. The first man ever to face the first 100m of a 400m inside 53sec, Winnington was travelling faster than the two-length world record of 1964 and only an arm swims adrift the time in which fellow Aussie Mike Wenden claimed Olympic 100m gold at Mexico 1968.
By 150m, Winnington was still 1.21sec inside Biedermann's 2009 bomb but by half-way, while 1.05 ahead of the German's pace, turned in 1:49.97, the second swiftest 200m split ever adrift Thorpe's sizzling 1:49.57 of 2002.
That's when Martens hit back. Coached by Bernd Berkhahn and training partner to Florian Wellbrock Olympic marathon champion and defending 1500m and marathon World champion here in Budapest, Martens caught Winnington down the night length, had his feet on the wall 0.37sec ahead and by 300m held sway by by 0.58sec, 3:46.31 to the Australian's 3:46.89, both men still ahead of Biedermann's pace but no longer in timewarp contention with Thorpe.
Was Winnington about to pay a price for his early record hunt? Was he hell. Fire in his feet, thunder in his arms, the Australian champion of this year and last, struck back, turned 0.25sec ahead of Martens with a length to go and then revealed the high-octane fuel left in his tank: 26.50!
Martens later said he had "nothing left in his legs", which showed in a 28.34 homnecomer, while Costa was even swifter than Winnington, at 26.38, to pass Aubock and his 27.20.
The All-Time Splits compared:
Textile Top 3
53.02; 1:49.57; 2:45.43; 3:40.08 Ian Thorpe AUS Manchester 2002, Commonwealth Gold
53.59; 1:50.52; 2:46.64; 3:40.14 Sun Yang CHN London 2012 Olympic Gold
52.96; 1:49.97; 2:46.89; 3:41.22 Elijah Winnington Budapest 2022 Gold
Shiny Top 3
54.42; 1:51.02; 2:47.17; 3:40.07 Paul Biedermann GER Rome 2009 Worlds Gold
53.86; 1:50.44; 2:46.29; 3:41.11 Ousamma Mellouli TUN Rome 2009
53.97; 1:50.71; 2:47.15; 3:41.35 Zhang Lin CHN Rome 2009
With his supreme effort, Winnington adds more gold to a great tradition Down Under and extends Dolphins dominance of the 400m free on the all-time medals list to 6 gold atop 12 medals. Brad Cooper got the ball rolling with silver in the inaugural battle, while title holders Kieren Perkins (1994), Ian Thorpe (1998, 2001, 2003) and Grant Hackett (2005) also account for all other Aussie medals barring Winnington's today.
Winnington emerged with a a beaming smile on the face of a man who looked crestfallen in Tokyo last year after arriving at the Olympics the fastest in the world in 2021 but ending well down on best in seventh.
Today was a much better one, beyond a time of torment, head down and heading for the door, before the art of coaching, parenting, friendship and more kicked in to save the day through steady rehabilitation, the return of hope and the reigniting of essential flame.
Winnington explained the difference in the day: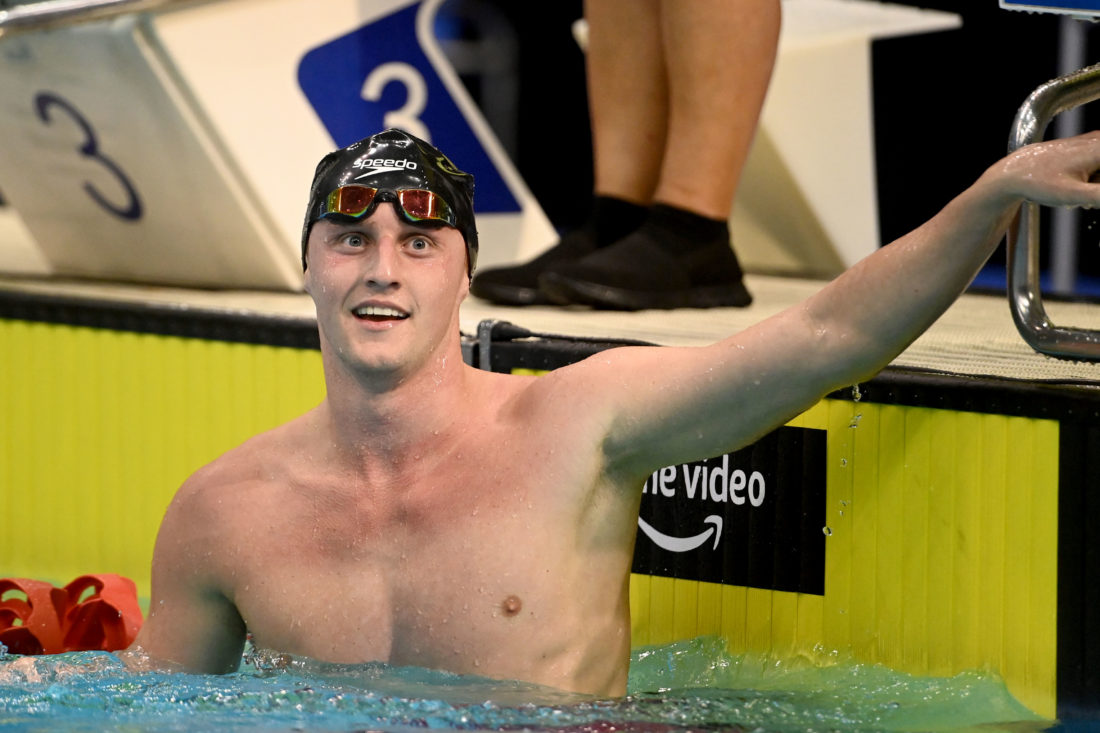 "I think it was actually because I wan't focusing on results and focusing on outcome – I didn't even have a goal time coming into this.

"You probably saw me walking out I was just looking around and enjoying the experience – it's my first World Championships and my second individual international final apart from Olympics.

"This time around I just wanted to enjoy it and just enjoying it brings out the best in me."

Elijah Winnington -image by Delly Carr, courtesy of Swimming Australia
His winning time of 3:41.22 was the fastest by anyone in the world for a decade and moved him to fifth in the all-time rankings all suits, third in textile. He also leap-frogged Mack Horton, the 2016 Olympic champion, as the second fastest Australian ever behind the legendary Thorpe.
Winnington paid plaudits to Thorpe and coach Boxall as the time on the board at the Duna arena sank in: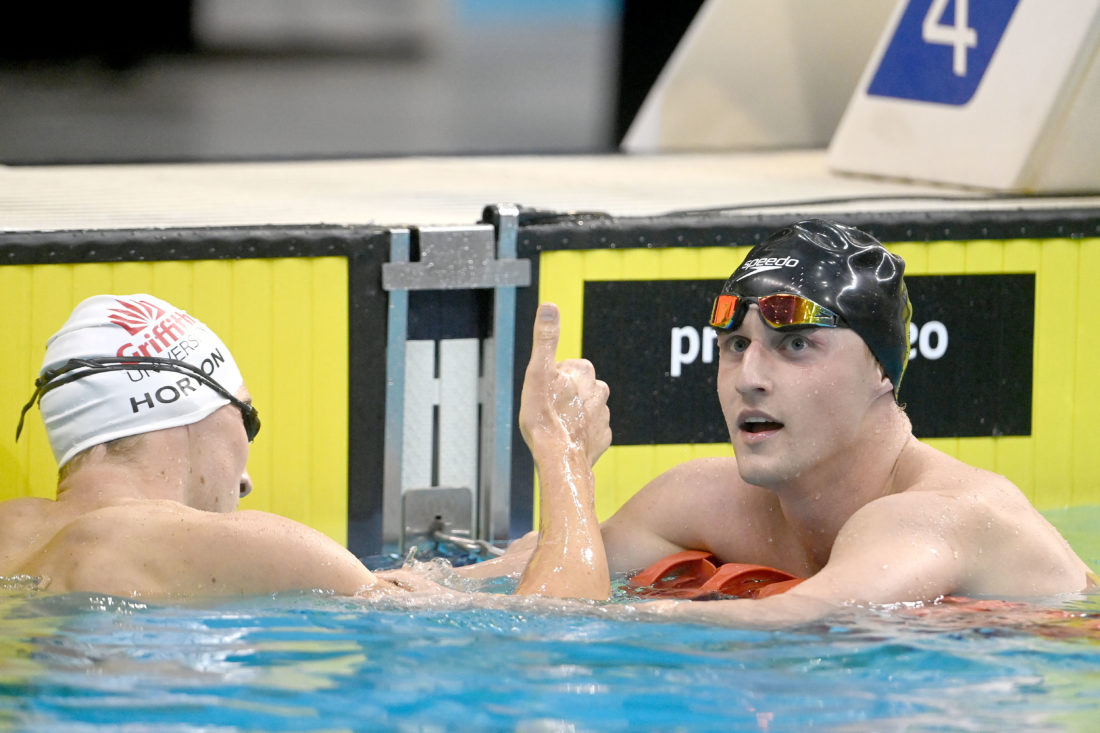 "I kind of have to pinch myself that the only person better than me in my country's history is the great Ian Thorpe. We have a great history in that event. And not only that, my coach Dean Boxall has a great history in coaching 400m champions. Ariarne Titmus just broke the world record about a month ago, so all credit goes to him, clearly he's doing something right in that programme."

Elijah Winnington – image, with Mack Horton at trials in Australia, by Delly Carr, courtesy of Swimming Australia
A natural prodigy who won a junior world title, Winnington has always had the tools to be a world champion but the mental approach to the big time needed working on. A 3:41 World title now stands as a big credit to that work.
Said Winnington: "This time last year, I never thought this day would happen. I thought I was going to be done hanging up the goggles because I wasn't enjoying it. To bounce back, it's kind of like 11 months, it's not even a full year, it's really cool. I've worked really hard to get to where I am mentally, not just physically.
"I was probably in this shape, if not better, last year so it's really just the mental game now. Everybody at this international stage, they put in work, they're all talented so it's who's tougher in the mind."
Winnington still has the 200m and 800m to come plus the 4x200m relay. In form, the flame burning, his week ahead is stacked with possibilities.
"Self-belief is everything. Like I've said 100 times, it's about enjoyment," he said. "It's about having fun out there because if you're not having fun, why the hell are you swimming anyway?" he said. It's not about the goal, it's about enjoying it. So that's the way I live by."