Eddie Reese Retires As Texas Longhorns Head Honcho After 43 Years, A Record 15 NCAA Crowns Atop Five Decades Of Top 10 Finishes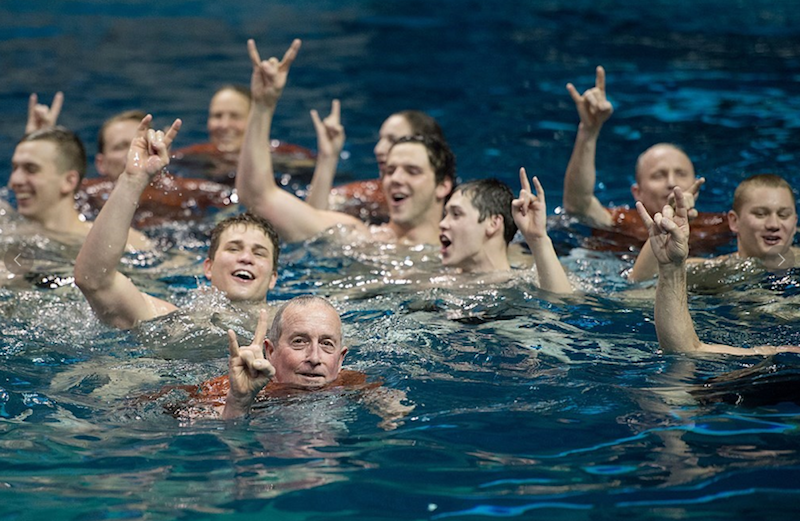 Eddie Reese has announced his retirement after 43 years as University of Texas men's team coach. Reese, 79, is the winningest of NCAA coaches: he leaves the deck after the Longhorns won a record 15th national championship at the weekend. A swimming dynasty, no less.
There is no college career like it: Reese and his squads first won the NCAA crown in 1981 before a bull run of four consecutive victories 1988 to 1991. Then, after a gap, 1996 produced another winning efforts as did the three seasons 2000 to 2002. It was 2010 before the Longhorns hooked another triumph and when they did so again in 2015, they would not relinquish the crown until through 2018.
The Longhorns finished in the top 10 at the NCAA championships no fewer than 41 straight years, 15 crowns backed by 12 NCAA runner-up finishes and third-place finishes on six occasions.
Longhorns success in Covid recovery season 2021 makes him the only coach ever too have claimed the NCAA title in five different decades. Down the long years, Eddie Reese and his shoals claimed 42 straight conference titles in the Southwest Conference and then in the Big-12.
In Olympic and World-Championship waters, he has had a bull run of success, among highlights the Texas Trio, Aaron Peirsol, Branden Hansen and Ian Crocker. Coach to 22 Olympic gold medallists – including Joe Schooling, the 2016 100m butterfly champion from Singapore – and head coach of the U.S. men's Olympic team in 2004 and 2008, Eddie Reese also served as an assistant coach on the U.S. Olympic team in 1992, 1996, 2000 and 2012.
Reese will remain in his role as head coach up until the U.S. Olympic Trials in June and will be on the Tokyo 2020 staff. Beyond that, he will have the college title of head coach emeritus. Wyatt Collins, Reese's assistant coach for the past five seasons, will take over as interim head coach.
Eddie Reese was never one to shy away from speaking his mind. In 2010, on the eve of the American Swimming Coaches Association (ASCA) World Clinic in Indianapolis, the body's then executive director, John Leonard, issued an open letter entitled The End of FINA ('s Democratic Process)?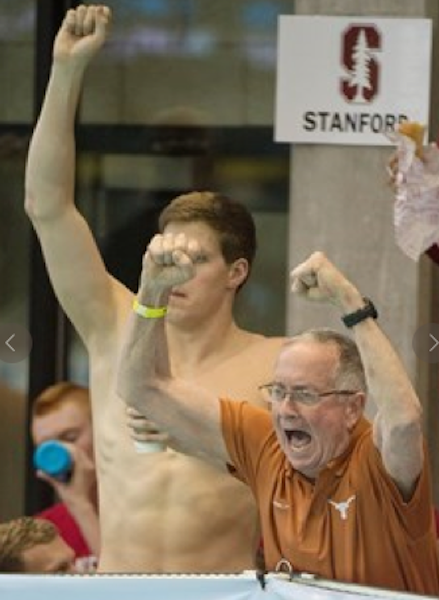 The shiny suits were at the bottom of the sea with a ball and chain around their non-permeable ankles, writs, legs and arms. It was August 2010 and two months later the world of performance swimming would suffer the most catastrophic event in the history of its governance: Fran Crippen became the first swimmer ever to lose his life in FINA competition, the events surrounding his preventable death lambasted by two subsequent reports.
On the eve of ASCA clinic back in 2010, Eddie Reese wrote a note passed to SwimVortex that read:
"It is time to openly start another organization … the best swimming nations have a "universal games" at the same time as the Olympics. The athletes would be very important in this situation."

Eddie Reese – image – Eddie Reese – driving the Longhorns to victory – courtesy of Patrick Meredith, UT Athletics Photography
Reese wisely noted that any skipping of FINA events would require athlete cooperation – a requirement under the US Amateur Sports Act.
Reese, then a board member of ASCA, was far from being alone in the ranks of top coaches from around the world who were growing ever more irritated with FINA's poor governance and leadership, as well as lack of recognition for coaches when it comes to decision-making. Coaches have often led the sport to places where FINA was seemingly reluctant to go, most notably in the war on doping and taking action against the likes of China, the dope-soaked scourge of world swimming in the 1990s.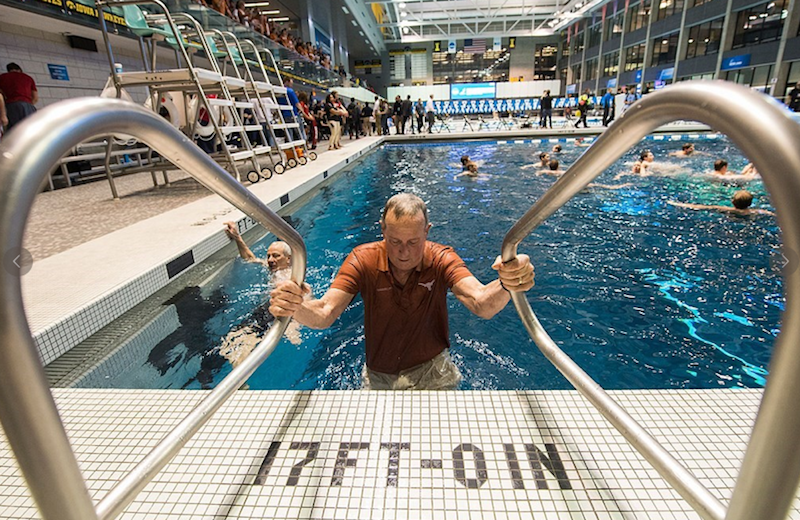 From The Archive – On The 2015 Longhorns Victory
The day he arrived in Austin, the program he inherited was nothing in the collegiate swimming world. Not only was the University of Texas a shrug-of-the-shoulders blip on the team radar, it never even featured an NCAA individual champion. But much has changed in the 37 years since Eddie Reese unpacked in the Lonestar State.
If a Mount Rushmore of this sport's coaching greats is ever constructed, a few names would receive immediate consideration, including those of Forbes Carlile, Doc Counsilman and Peter Daland, among others. It's a sure bet that Reese, too, would be among the leading contenders, such is the magic he has spun churning out collegiate, national and international champions.
The latest achievement in Reese's splendid career was wrapped up on last weekend when the Longhorns corralled their 11th NCAA team title under the Hall of Fame coach's watch. Putting together a near-perfect performance, one that reflected its top-end talent and unique depth, Texas bettered runnerup California-Berkeley by more than 100 points. Some of the highlights:
Texas amassed 528 points and its 129-point margin of victory was the largest at the NCAA Champs since the 2007 season, when Auburn prevailed over Stanford by 169 points.
The Longhorns received scoring from 14 of the 16 swimmers they took to Iowa City, with 13 guys contributing individual points.
With a pair of relay championships and five individual titles, Reese has now guided his athletes to 54 solo NCAA crowns and 41 in relay action.
Reese's troops made history in the 100 butterfly when six Longhorns advanced to the championship final, eclipsing the previous single-event record of four. Adding to the mystique, Joseph Schooling and Jack Conger led a sweep of the top four places in the final, where Texas racked up 92 points.
Given the accolades of the weekend and from his nearly four decades at the helm, one would understand if Reese took a moment – somewhere along the way – to savor his championship total and the vast success he has enjoyed. But that's not the Eddie Reese way. Actually, the 73-year-old is the antithesis of someone who counts trophies.
"No," Reese answered in Iowa City, when asked if he ever cherishes the NCAA titles he's won. "I've never had a goal to be an Olympic coach, never had a goal to win an NCAA title. I just want a bunch of people who will trust me, and we'll see how fast we can get them to go.
"I've got (11) rings from winning (11) championships, and I have no clue where they are. My grandchildren know where they are because they play with them, or used to, but I know what every kid did and how much they improved. Those are things that really matter. It's always about people. The number of championships just means I'm old."
The last line of the above quote is quintessential Reese. At the same time he is providing advice to his swimmers and preparing them for critical races, the 1963 University of Florida graduate has a knack for keeping things light, too.
Ask those who have trained under him and they'll mention Reese's arsenal of jokes, some which have been uttered more than a few times. His sense of humor, typically dry in nature, was certainly on display over the weekend as he unfurled a few good one-liners. An example: After Will Licon won the 400 individual medley on Friday night, defeating defending champ Chase Kalisz in the process, Reese revealed that he called the triumph back in the fall, making the prediction to longtime assistant coach Kris Kubik. He capped the discussion with this doozy:
"So, the one out of 150,000 times I'm right, I'm going to point out every chance I get."
The hit rate for Reese is obviously a lot better than the numbers he tossed out, and two storylines from the NCAA Championships served as proof. While Reese has recruited his share of blue-chippers, including the likes of Brendan Hansen and Aaron Peirsol, he's been equally adept at turning good recruits into great performers.
A year ago, Clark Smith wasn't even on the Texas roster for the NCAA Championships, having struggled at the Big 12 Conference Champs. But as a sophomore, Smith was a huge part of the Longhorns' title-winning effort, as he captured gold in the 500 freestyle on the opening night of competition with a personal-best mark of 4:09.72. That time was almost 10 seconds faster than what Smith managed a year earlier at the conference meet.
Meanwhile, Reese took Licon and made him into an NCAA champion. Although Licon had a strong freshman year, finishing fifth in the 400 individual medley and reaching the consolation finals of the 200 medley and 200 breaststroke, there was major work to be done heading into his sophomore campaign. With Reese's mentorship, Licon won the 400 medley and 200 breast over the weekend, beating National Team members and defending champs Kalisz and Kevin Cordes, respectively.
"Eddie is constantly teaching," Kubik has said about his coaching partner. "He does a lot of talking about life, as much as he talks about swimming. He talks about how to apply what you learn in swimming to life. It's very important to him that his swimmers enjoy what they are doing.
"Eddie has designed a program that is totally unpredictable. I don't think there is a harder working team in the country, but we spread our workout over the entire week and it's never the same on any given day, so we have the ability to stay loose."
After a 21st-place showing at NCAAs in his first season, Reese's teams have been no worse than seventh in any season since, and in the top five in 35 of his 37 years. To go with his 11 championships (Kubik has been part of every one), the Longhorns have been the runnerup at the NCAA Champs on 11 occasions. Why has that success been maintained? Credit Reese for his ability to relate to a variety of athletes in different eras, and give credit for his constant pursuit of innovation.
This season, Reese had his athletes spend a considerable amount of time on kicking sets, a focus that clearly paid off in the butterfly. The Longhorns had a huge advantage in that area of the race and it was a major reason why they made history with six guys in the championship final. Simply, Reese isn't one to rest on his laurels.
"The best text I got (on the 100 fly) was from a guy who swam for me a lot of years ago and he said, 'I thought the Orange and White meet was in September,' and that was just perfect," Reese said.
"I would like to leave that topic with this thought: We got a kick out of the butterfly. It's all about kicking. You've got to be able to kick. There are five strokes now. Kicking is one of them. It is the second fastest stroke. You've got to do it."
With Reese in his 70s, he's obviously closer to the end of his coaching days than to the beginning. Yet, the man seems to get sharper by the year and continues to put his swimmers in position to succeed, and at an ultra-high level.
With another Olympiad looming next year, Reese is bound to add to the 29 Olympians he has already moulded.
Regardless of what happens in the future, Reese's legacy has been firmly established. Simply, he is a legend in the sport – for what he provides his athletes in and out of the water.
"I really don't think you will find a nicer human being – a genuinely nicer individual than Eddie," Licon told USA Swimming correspondent Bob Schaller in a 20 Questions Tuesday feature. "He does all the things that matter right. People say, 'It's what you do when people are not looking,' or 'When the cameras aren't on you.' Eddie is the prime example of that, because he cares all the time.
"I see him helping pick up trash after the meet, or having a kind word with someone who just wanders in. His heart is unbeatable and we could not appreciate that more."