Duncan Scott For Scotland Turns Tables On England's Tom Dean To Make 200 Gold His First Podium Of The Night, Tartan Immortality Calling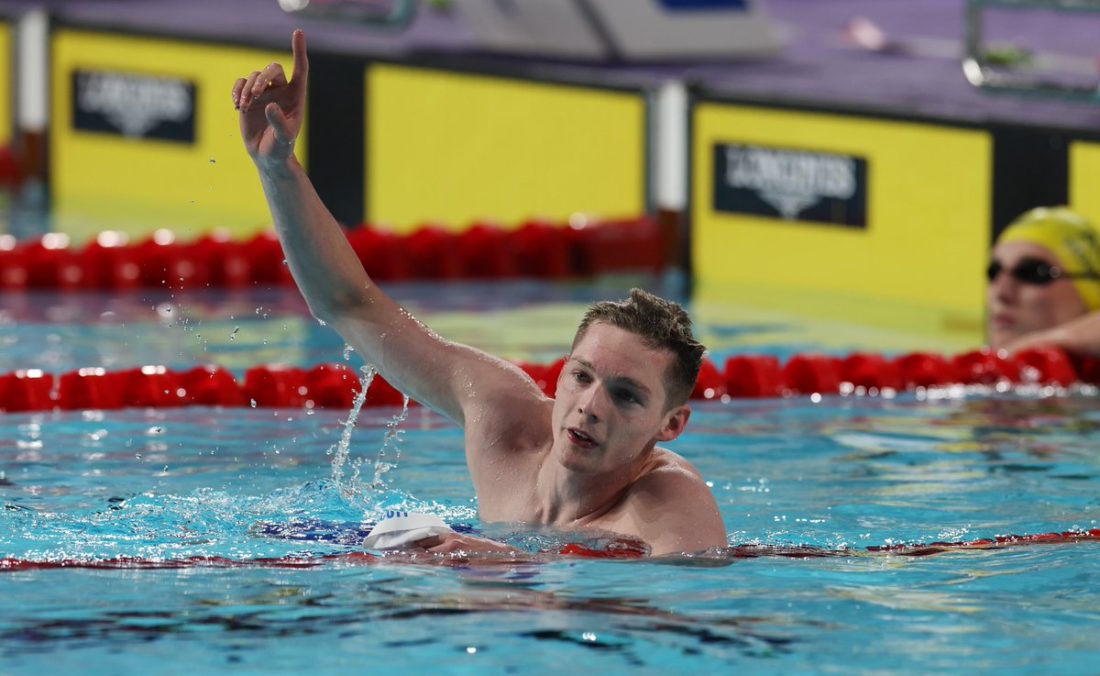 Duncan Scott got the edge over over Tom Dean 1:45.02 to 1:45.41 in the Commonwealth 200m freestyle fight in Birmingham tonight to reverse the British 1-2 of the Tokyo Olympic Games in the 200m freestyle. The rival camps built once every four years for the Brits meant gold for Scotland, silver for England.
The much anticipated 200 final followed two dash showdowns won in Games records. The first, a 22.81 blast of dominance, made England's Ben Proud a Commonwealth pioneer as the first man ever to win the 50m butterfly title more than once: he first claimed the crown as a teenager back in 2014.
The only woman inside 30sec, Lara van Niekerk delivered gold for South Africa in 29.73 over 50m breaststroke.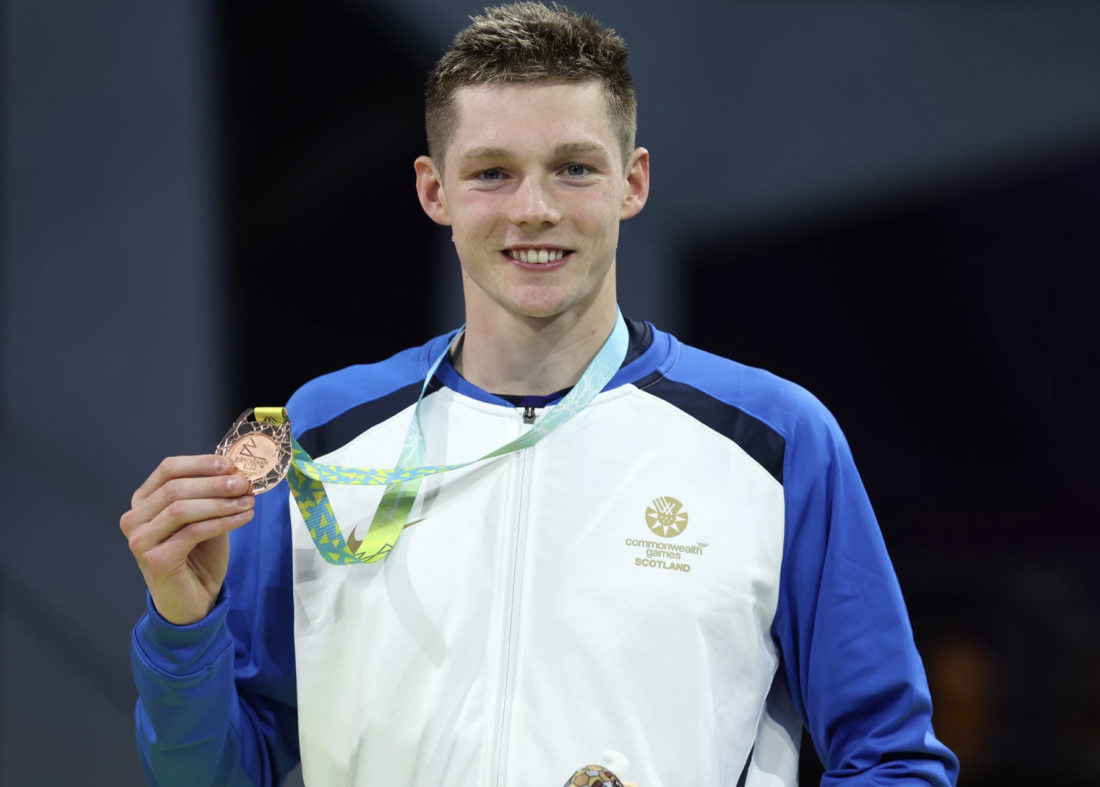 The men's 400m medley also produced a Games – and a Commonwealth standard at that – when Lewis Clareburt stopped the clock in 4:08.70 to become the first Kiwi to claim the crown since Mark Treffers pipped England's Brian Brinkley in 1974.
But for the energies sapped in the 200m freestyle, Scott, who claimed bronze on 4:11 behind Clareburt, might have have been a tad closer to Clareburt: it was the Scottish all-rounder's record of 4:09.18 from Trials in April, pre-season-shaping Covid infection, that the New Zealander took down.
There was more history on the second night of finals as Pieter Coetze claimed gold in the 100m backstroke: no South African had even won a medal of any colour in the event before.
And there was gold for Canada';s Olympic champion Maggie Mac Neil, who pipped Aussie Emma Mckeon by 0.02sec in the 100m butterfly.
Both Relay Podiums A Snap: G- AUS, S-ENG, B-CAN
In the closing relays on day 2, Australia's women dominated the 4x100m freestyle, a 3:30.64 victory delivered by Madison Wilson (53.22), Shayna Jack (52.72), Mollie O'Callaghan (52.66) and Emma McKeon, who after silver in the 100m butterfly roared him in 52.04. England took silver and a Canadian quartet with Summer McIntosh up front and Mac Neil last in the bronze.
The session came to a close with Australian men – Flynn Southham (48.54), Zac Incerti (47.96), William Yang (47.60); Kyle Chalmers (47.02) – matching their female teammates as champions of the 4x100m freestyle, on a Games record of 3:11.12, England uncomfortably close on 3:11.73, a reflection of Britain's growing 100m freestyle force (see our footnote on the Brit sum of parts at the end of potted reports), Tom Dean on the best split of the night, a sizzling 46.70 chasing down Chalmers (had Duncan Scott the Scot and his world-beating textile split of 46.1 been there, well …). The bronze went to another nation turning its domestic tide in the 4×100 free, Canada, on 3:13.01.
Potted reports:
Men's 200m Freestyle – Scott Pips Dean
It was not quite as tight as the Tokyo tussle that gave Britain Olympic gold and silver 0.04sec apart over 200m freestyle last year but the latest and only clash of Duncan Scott Vs Tom Dean did not disappoint as the Scot turned tables on the Englishman for a 1:45.02 to 1:45.41 victory in a thriller with Australian Elijah Winnington, close for bronze on 1:45.62.
In victory, Scott became the first Scottish swimmer to back gold with gold at consecutive Games, four years after he claimed the 100m title ahead of then Olympic champion Kyle Chalmers, of Australia, who did not defend the 200m crown he took at the home Gold Coast games in 2018.
With gold in the 200m free and bronze in the 400m medley, Scott now has nine Commonwealth medals in his pantheon, 2014-2022, just one fewer than the all-time record count for Scotland across all sports: shooter Alister Allan (1974-1994) is the standard bearer yet. Allan's tally included three gold, Scott's tally of wins stands at two … and counting.
The ebb and flow:
24.91; 51.54; 1:18.45; 1:45.02 (26.57) Scott – SCO – coached by Steven Tigg and Elaine Johnston
24.62; 51.51; 1:18.56; 1:45.41 (26.85) Dean – ENG coached by Dave McNulty and Paul Lloyd
24.91; 51.94; 1:19.04; 1:45.62 (26.58) Winnington – AUS coached by Dean Boxall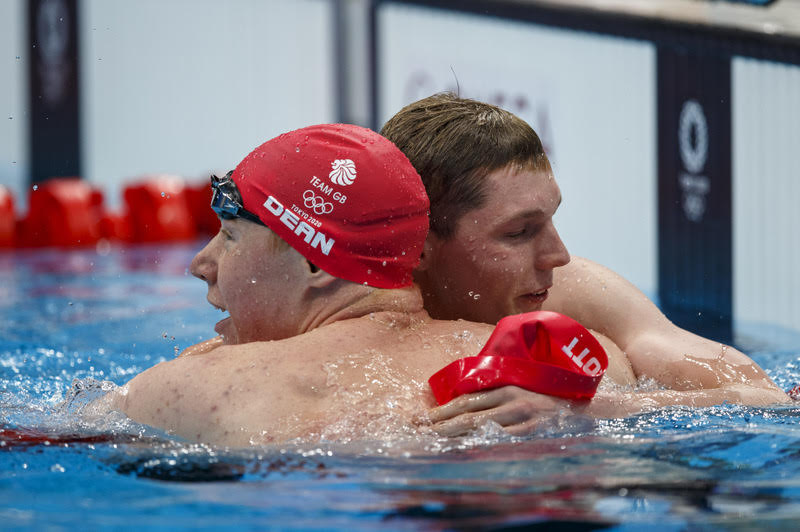 As the splits suggest, there was little in it – and everything in it. Dean, last year the first British Olympic champion and leader of a British 1-2 in the 200m since London 1908, set the pace to half way but then only by 0.03sec. Scott, whose silver in Tokyo was one of four medals, his other silvers, in the 200m medley and the men's 4x100m medley, topped by gold in the 4x200m freestyle with Dean, James Guy and Matt Richards, gained the edge down the third lap but again, the gap was just 0.11sec.
At that stage, Winnington was a half second back from Dean and as the World 400m champion on 3:41.2 last month in Budapest and Commonwealth champion on 3:43 yesterday, the Brits might have looked vulnerable – but for the fighting spirit in them.
One visitor was held off, the one from the other side of Hadrian's Wall could not be, 0.39sec in it this time round. It would, as Dean suggested on the eve of battle, come down to which man had the bigger 'killer instinct' in the hunt for the end wall. Scott the Scot was the hunter, Dean the hunted, as is the nature of title chases.
Reflecting on the latest fiery scramble home, Scott said: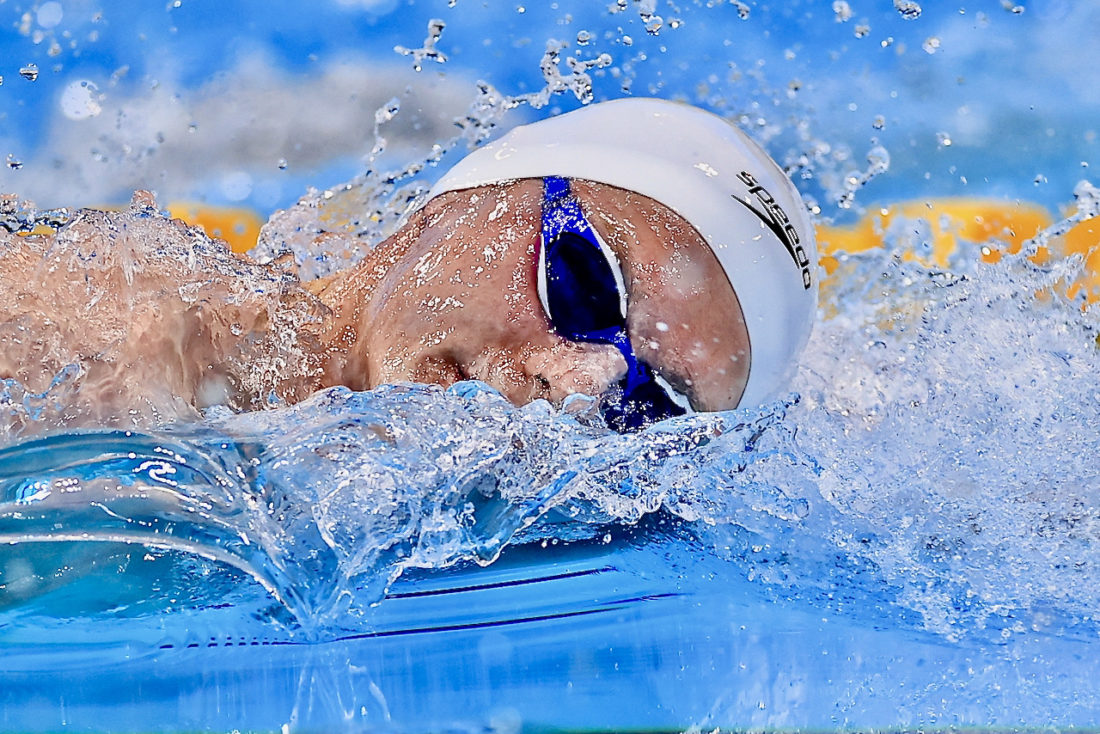 "We both love it. It's a really positive thing. It's a nice change being on different sides of the table this time. Scotland versus England. It's always positive, we'll rekindle the relationship as we get back to Team GB."

Duncan Scott- photo – riding the 200m freestyle wave of excellence – by Georgie Kerr, courtesy of British Swimming
Dean nodded and repeated the sentiments he'd expressed to SOS leading up to battle: "We finished and he just said 'One-two again'. We said the same at the trials and at the Olympics last year. One-two at an international competition again and we're going to keep doing that and keep doing that. We do push each other on."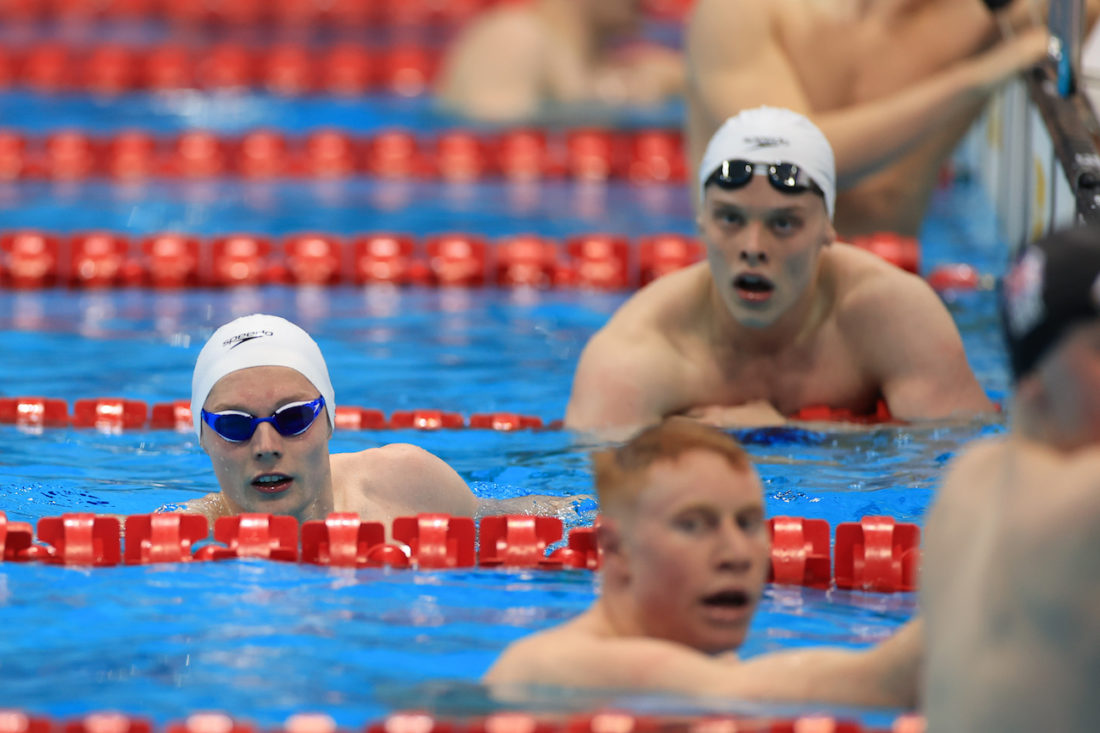 "The bond we have is more important than our rivalry. We push each other on. I can't seem to get away from him! Every time I race he's there, whether it's a small little home competition or the Olympic games, he's always there. He's annoying sometimes – but it's only a good thing and I will always have good memories."

Tom Dean – Photo: The 200m podium at Britain Olympic trials in 2021 – Duncan Scott, left, Tom Dean, near, and Matt Richards, far – by Georgie Kerr, courtesy of British Swimming
The top three had a distinct edge on the rest, Mack Horton (AUS), 1:46.78, Matt Richards (WAL) 1:47.19, Matt Sates (RSA) 1:47.75 the next three home, with Calum Jarvis (WAL), the Tokyo heats man and Olympic champion for Britain on 1:47.84 and Joe Litchfield (ENG) bringing the fight to an end in 1:48.87. Splits in full.
Joyous The Voice To The Spiky Challenge In The Flower Of Scotland:
On the clock, none of it is likely to rattle young David Popovici, the 17-year-old Romanian who took the pace down to 1:43.21 for the World title in Budapest last month and is tipped to be the man to beat come the Paris 2024 Olympic Games.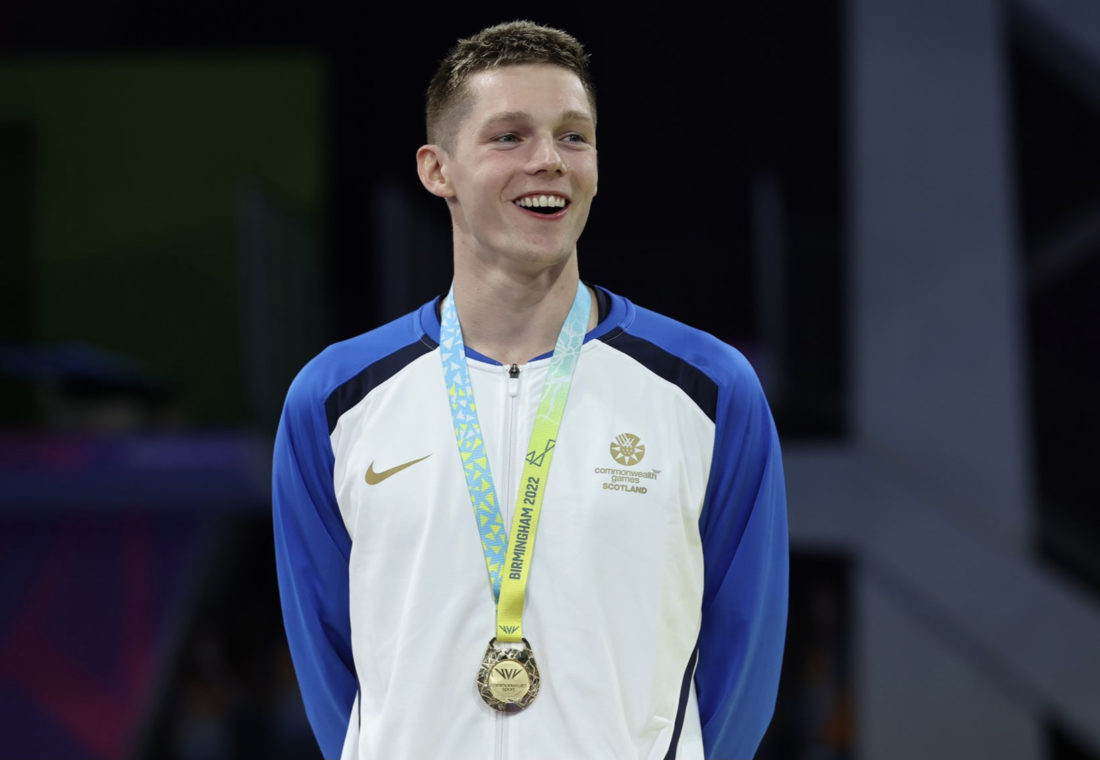 But just as Popovici has learned lessons and grown since finishing fifth in Tokyo, swimming is a sport where you think of 'old dogs' never learning new tricks at your peril. Scott and Dean produced the show anticipated at the Commonwealth Games this day to tilt history a touch further away from Australia's historic dominance of the event, the sparring part of the path to Paris and a faster, edgier day of serious intent.
Australia, which has won two third of all medals over 200m freestyle since 1970, has now won 10 of the 14 golds on offer in that time. Scott, the first Scot to claim the title since former teammate Robbie Renwick was crowned champion in 2010, kept Dean from being the first English winner since Ross Davenport in 2006.
The Brits will next clash over 200m, barring the 4×200 relay if order should fall like that, in the medley next Wednesday.
There will be no further major 200m free battles for the pair this year though: Scott contracted Covid during preparation for World titles and was forced to withdraw from Budapest action last month when Dean claimed bronze in the 200m adrift Popovici's powerful display.
Dean will head to Rome for European Championships the week after next, while Scott is heading home to get on with the job of recovering, recuperating and preparing for the long haul to Paris.
Men's 50m butterfly – Proud The First Man To Claim Crown Twice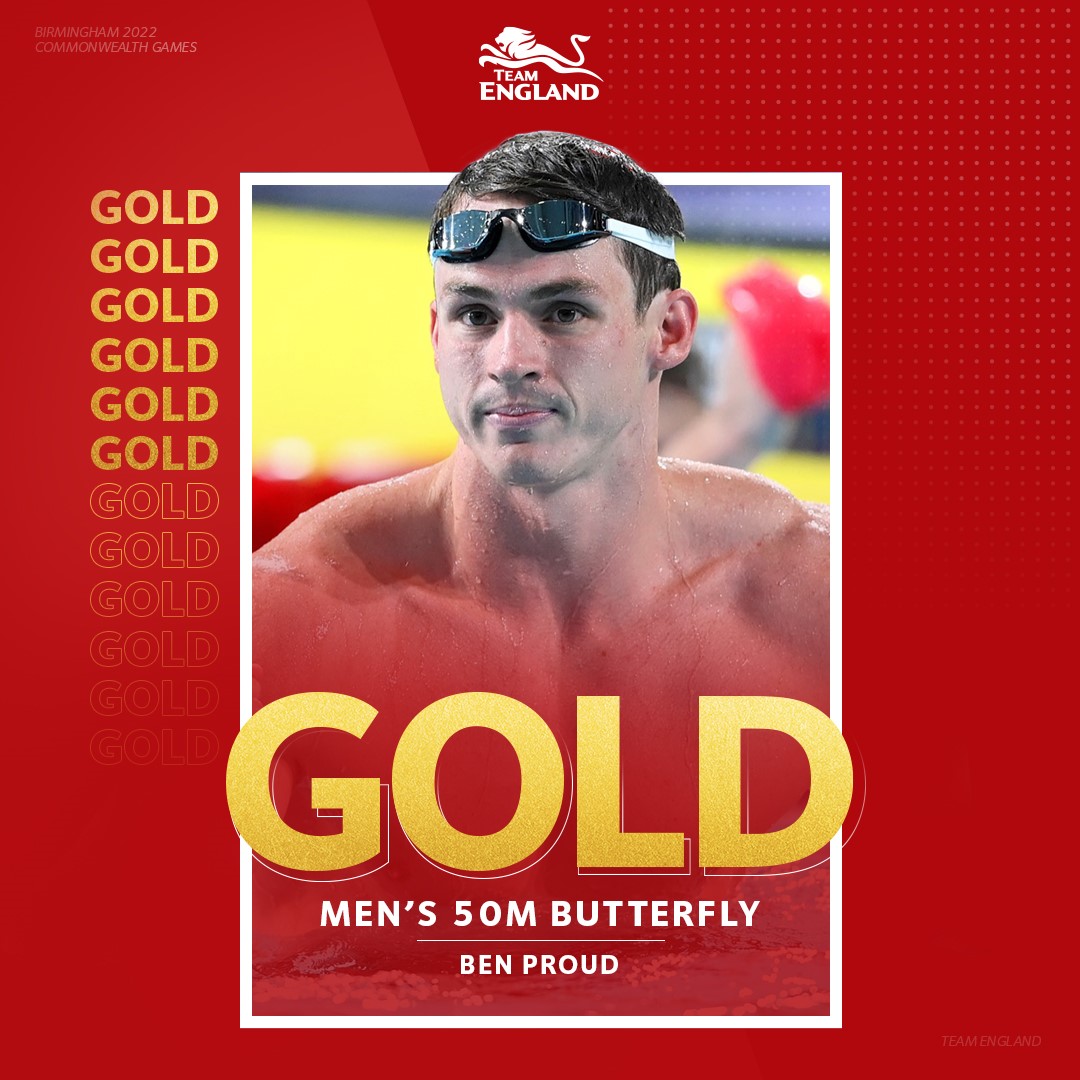 It's a summer of plenty for Ben Proud, a champion once more just over a month after becoming the first British man to claim the World 50m freestyle title at the FINA showcase.
Eight years after he first claimed Commonwealth 'fly dash gold for England, the ace sprinter demolished his opposition to regain the crown in 22.81, a Games record 0.06sec shy of his British record form 2017 and 0.08sec shy of a shiny suits Commonwealth record.
Women's 50m breaststroke – Games Record For Lara van Niekerk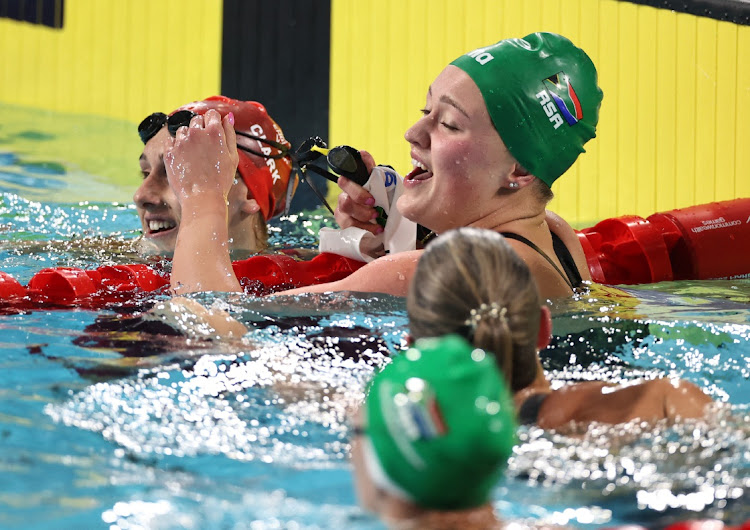 The second dash final of the evening also produced a Games record, Lara van Niekerk living up to her pre-meet form with a 29.73 victory for South Africa. Closest was England's Imogen Clark, 30.02, with Australian Chelsea Hodges just 0.03sec adrift for bronze.
That left South African Olympic 200m champion and World record holder Tatjana Schoenmaker locked out on 30.41.
Men's 400m medley – Lewis Clareburt Shaves Back Scott Standard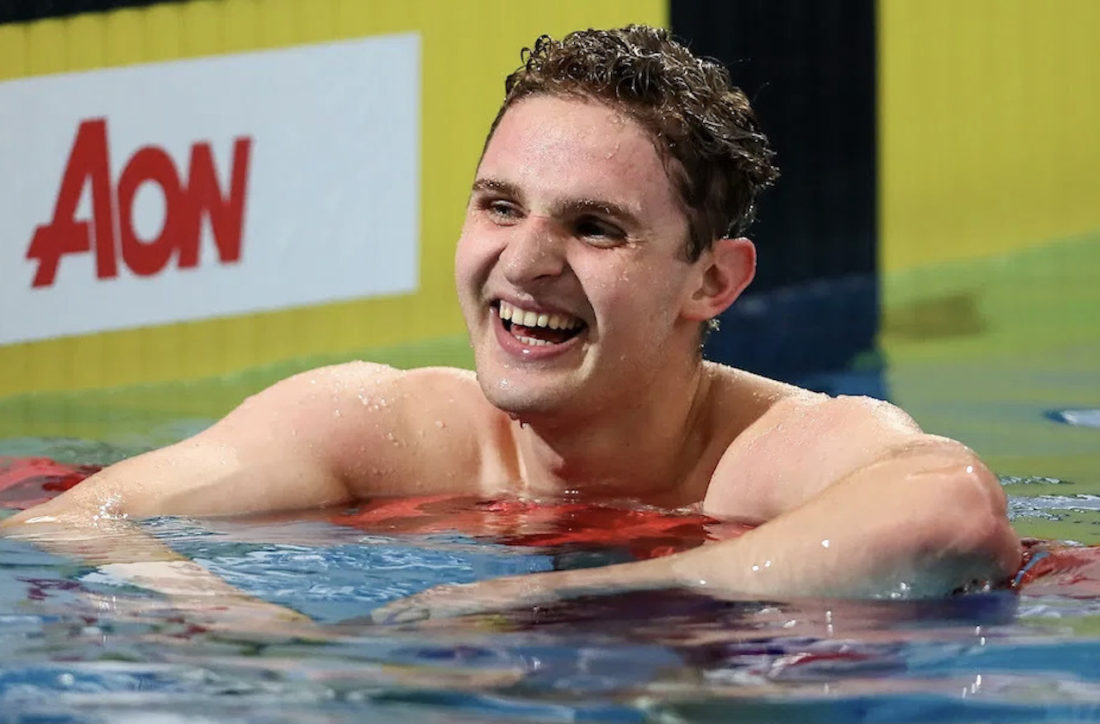 Lewis Clareburt, Olympic finalist last year in a showdown at a Games where the topsy turvy morning finals-evening heats format produced some oddities, led all the way after the first turn and resisted all efforts to chisel away his lead on the way to a 4:08.70 Commonwealth-record victory.
The standard had stood to Duncan Scott at 4:09.18 since April but the Scottish ace had already won a gold of his own earlier in the session over 200m freestyle in a battle royal with Tom Dean and Elijah Winnington. Olympic bronze medallist ahead of Clareburt in Tokyo last year, Brendon Smith, of Australia, took silver in 4:10.15, Scott, a tad sapped of energy, the bronze and his second medal of the evening, in 4:11.27.
The ebb and flow:
55.94; 1:59.58; 3:11.18; 4:08.70 Clareburt NZL
56.55; 2:00.25; 3:13.06; 4:10.15 Smith AUS
56.72; 2:01.11; 3:14.07; 4:11.27 Scott SCO
Women's 100m butterfly – Maggie Mac Neil Strikes Again, Games-record Gold By 0.02sec Over Emma McKeon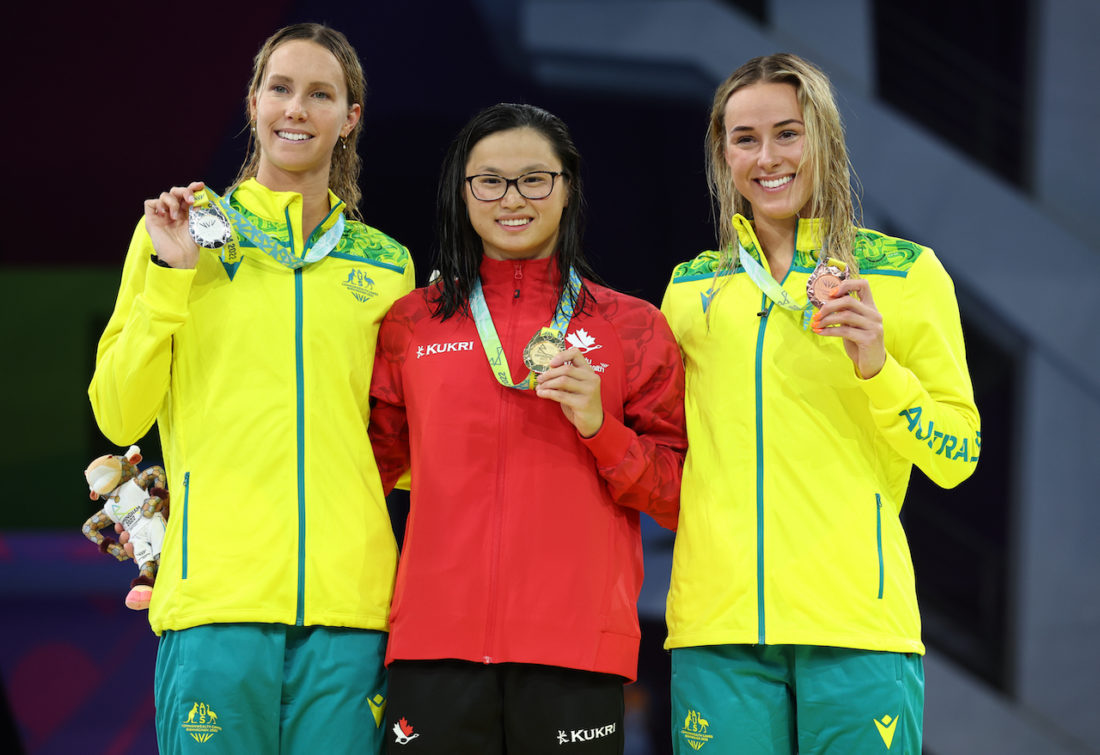 Canada's Olympic 100 'fly champion Maggie Mac Neil had a 0.63 reaction off the blocks, to 0.70 for Emma McKeon, Australian fellow Olympic podium-placer and winner of a record seven orbs in Tokyo last year. McKeon made up 0.05 in the swim but Mac Neil had done enough: 56.36, a Games record, for gold ahead of McKeon's 56.38. Brianna Throssell granted the Dolphins a second bite of the cherry, on 57.50.
Mac Neil focussed on relays at the world championships in Budapest last month due to an elbow injury and to give herself a mental-health break.
''I was really motivated to get back,'' she said. ''I'm extremely proud to win the gold here at my first Commonwealth Games. At the worlds I got my feet a little bit wet but I knew the focus was going to be these Games.''
Mac Neil is proving herself the winner of winners in the 100 'fly, her pantheon now including World (2019), Olympic (2021) and Commonwealth (2022) crowns.
Men's 100m backstroke – Pieter Coetze Edges Out Brodie Williams by 0.13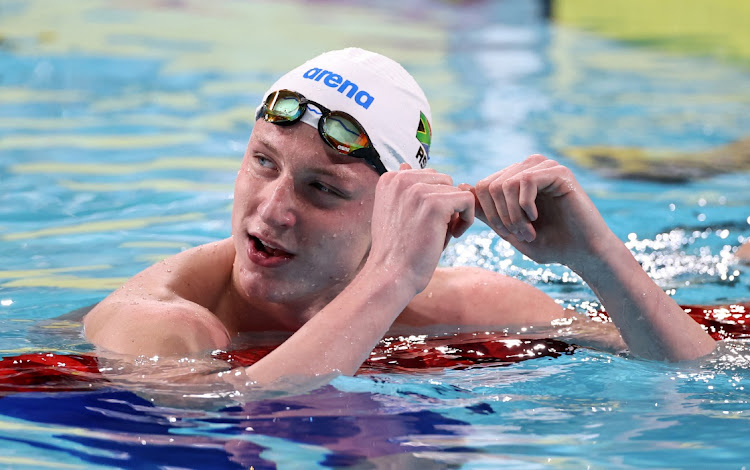 Pieter Coetze is a pioneer: not only had South Africa never claimed gold ink the Commonwealth 100m backstroke, it had never celebrated a medal of any sheen and worth in the event. Coetze changed all that with a 53.78 win by 0.13sec over England's Brodie Williams, whose 53.91 not only granted him silver and a first senior international medal but raised the prospect of better times still for the Britain 4x100m medley relay that has relied on Luke Greenbank without a real double as back up or stand in. The bronze went to Australian Bradley Woodward in 54.06.
Women's 4x100m Freestyle – Gold By A Gulf For Australia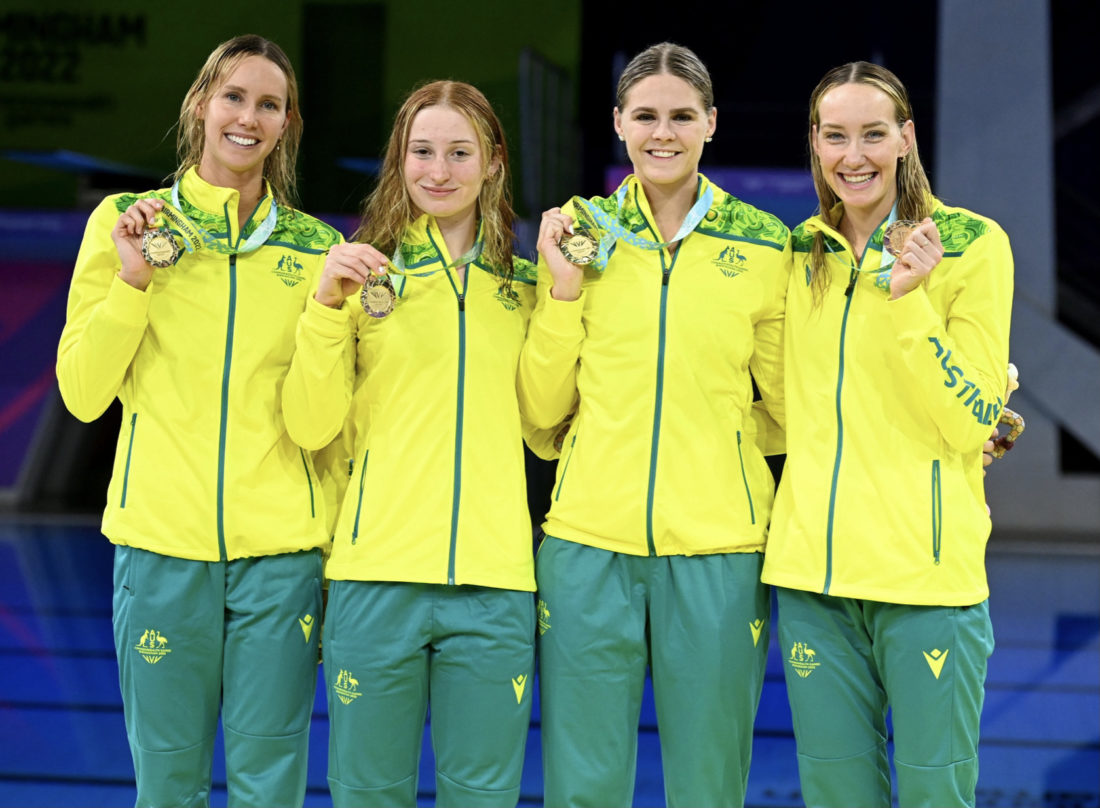 After Australia's dominant golden quartet came England (Anna Hopkin, Abbie Wood, Isabella Hindley, Freya Anderson) in 3:36.62, the bronze to Canada (Summer McIntosh, Katerine Savard, Rebecca Smith, Maggie Mac Neil) in 3:37.25.
Men's 4x100m Freestyle – Aussie Gold As Chalmers Holds Off Dean's 46.70 Swiftest Split Of All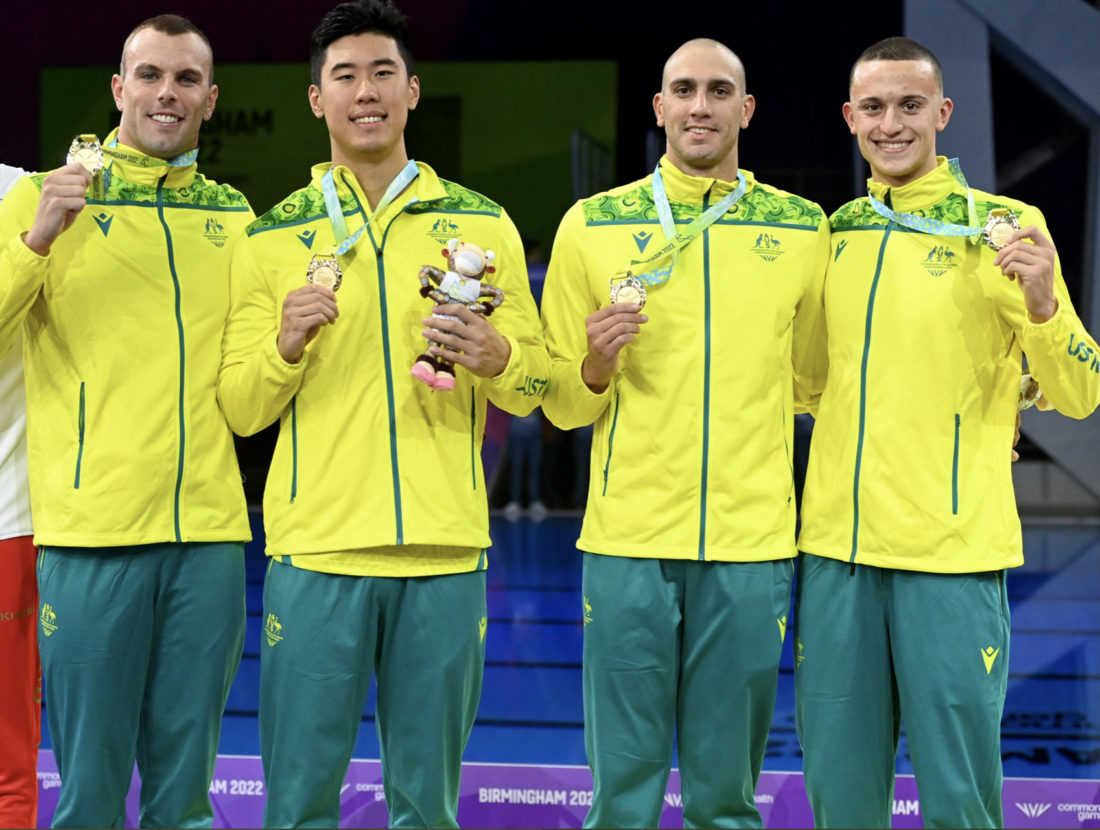 Australia (splits and names up top), on a Games record, had its cage rattled by England, as Lewis Burras (48.39), Jacob Whittle (47.94), James Guy (48.70), Tom Dean (46.70) came home in 3:11.73 just shy of the British record 3:11.14 that Burras, Whittle, Richards and Dean clocked at World Championships last month.
The England quartet also fell just shy of the 3:11.62 national record set by Adam brown, Sinmon Burnett, Liam Tancock and Ross Davenport at the Rome 2009 World-Champs shiny suits circus.
Bronze in Birmingham went to Canada in 3:13.01, courtesy of Josh Liendo (48.33), Ruslan Gaziev (48.13), Finlay Knox (48.82) and Javier Acevedo (47.73).
Add Scott & Richards & Stir Simplicity Into Steely Challenge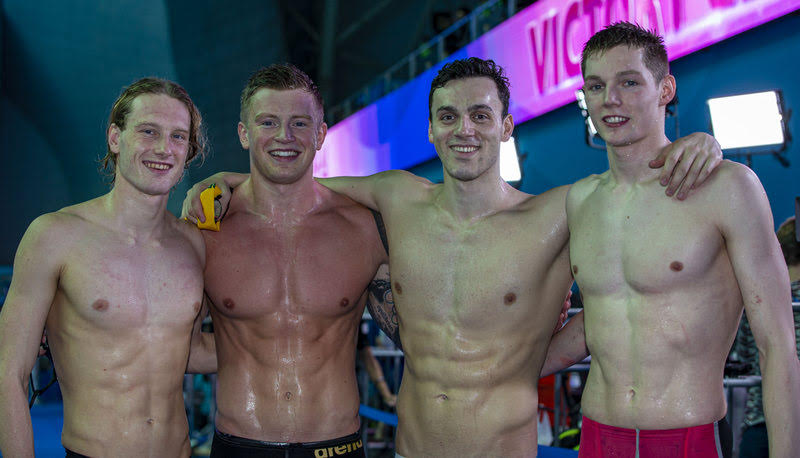 A footnote on the Brits: take Dean and Whittle, add Burras with his sharpest edge, or Richards, of Wales, and then Scott, of Scotland, at their best in freestyle relays, and you have a 3:09 (or even better), with Guy, who only got back into serious training this year after a long post-Tokyo break, ever there to keep them all honest and keen and take the split if they don't step up.
At 3:09 anything, that's an arm swing away from U.S. gold at Tokyo 2020ne and ahead of the rest. Fine prospects for a nation that has not been a factor in the 4×100 for a very long time. It takes the bonds of brotherhood and shared passion to find a team firing on fuel on all four cyclinders just when needed. On that score, the Brits know the can: they've already proved it – and forced the United States to remind itself of the same principle.
After Britain beat the Americans in the 4x100m medley relay at 2019 World titles, Scott on the swiftest 100m free split ever seen in textile, they were determined not to let that happen at the Olympics. By the time the medley relay came round on the last morning of finals in Japan, the Brits had beaten the Americans in the 4x200m, the Mixed 4×100 medley.
Step in Lindsay Mintenko (nee Benko), the Team Director and former international for the U.S. She'd done the sums and reminded her crew what it already knew: on paper, you can't lose, you just need to go in and be at your best. The simplicity of the highly challenging is the key.