Duncan Scott, Tom Dean, James Guy Bring Down The Curtain With Speedy Show Of 200 Free Force At British Nationals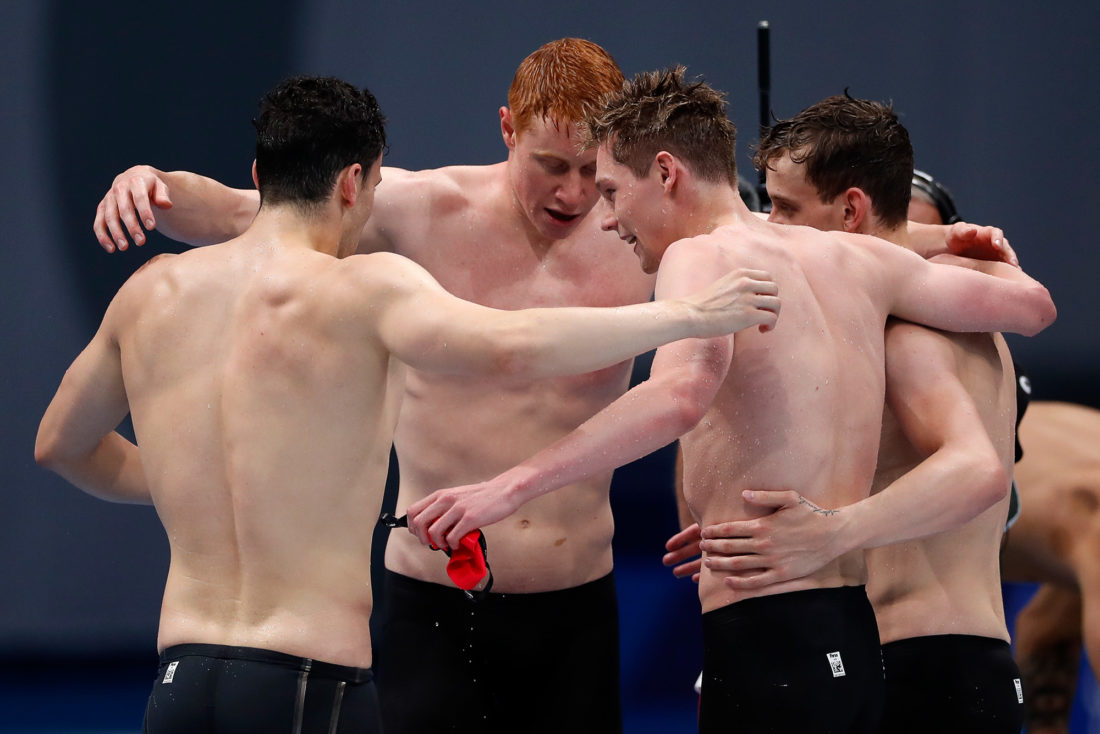 There could have been no better way to end British Championships at Ponds Forge in Sheffield than the spectacle of Olympic silver, Olympic gold and World champion finishing a sizzling 200m free in that order after a stroke-for-stroke battle that ended in favour of Duncan Scott, 1:45.54, over Tom Dean, 1:45.73, and James Guy, 1:46.44.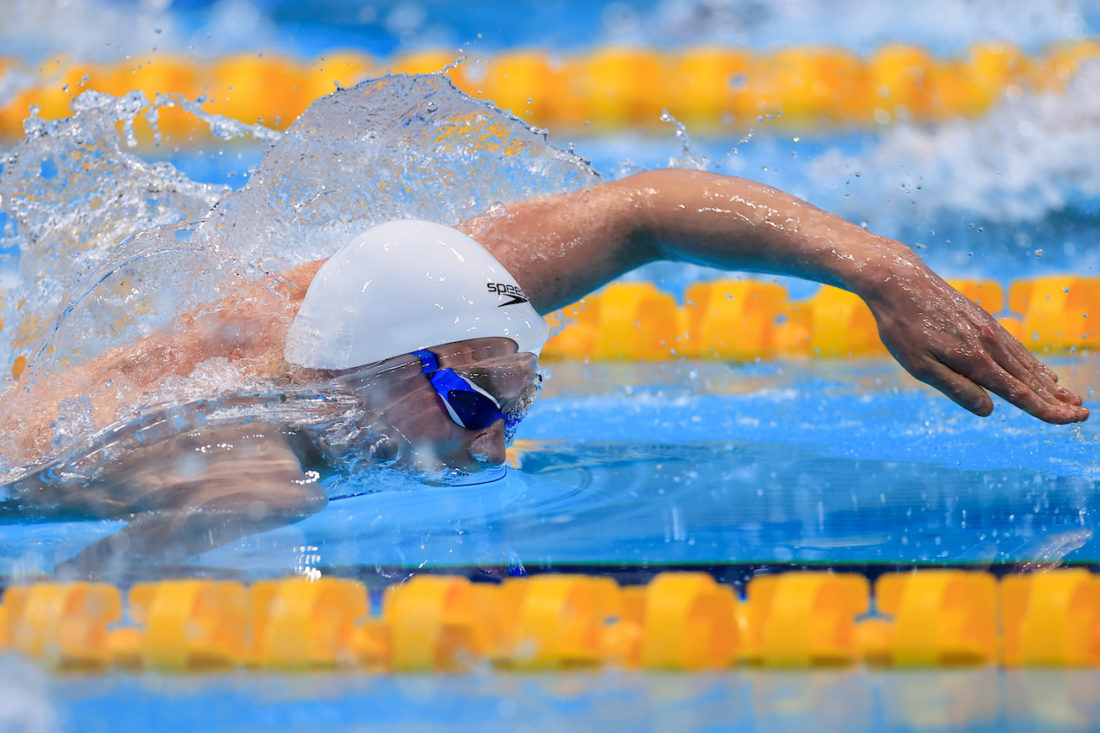 Guy led all the way until the last half of the last of four lengths before Scott took the lead and Dean followed, his 0.19sec deficit to the champion by the end more than double the average gap at any other time in the race between the men who in Tokyo delivered the first Olympic solo 1-2 punch in the pool for Britain in 113 years.
Six days of a few tremendous swims and much very solid racing are done and some struggles were evident. There was much talk of how it all led the world rankings with No1, 2 and 4 occupied by Brits but the fairly pointless nature of global comparison so early in the season was highlighted by the 1:45.44 lifetime best clocked by Germany's Lukas Märtens at the Stockholm Open. Ate this time of year, trials season only just getting going, the ranks are as reliable as pulling names out of a hat and crystal balling a World titles podium.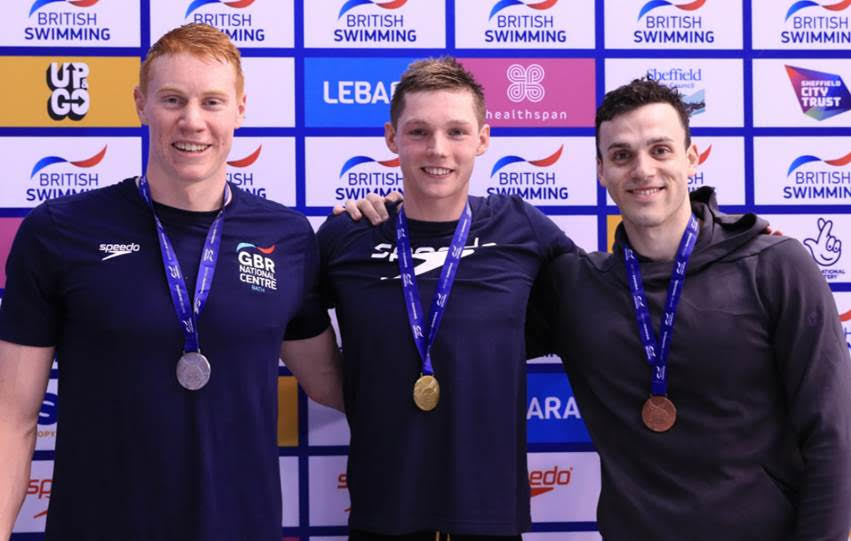 Fast all round and much more speed to come. The point of today in Sheffield was the race, the settling of solo and relay berths for the international action to come this long-course season first at World titles in Budapest, then Commonwealth Games in Birmingham in late July and early August when GBR becomes the parts of its home-nations sum, and then the European Championships in Rome.
A gladiatorial summer stretches ahead. This evening in Sheffield, Guy, who only got back into quality training in January, set the tone as one might expect of a 2015 World champion who's pace has been overtaken by Scott and Dean but who's warrior and guts have not. Anyone in any doubt need only look at the unique haul of relay honours amassed by Guy for Britain and England.
With Scott in 4, Dean in 3 and Guy in 6, the most decorated 200m freestyle Brits of the past century delivered this curtain-closing show: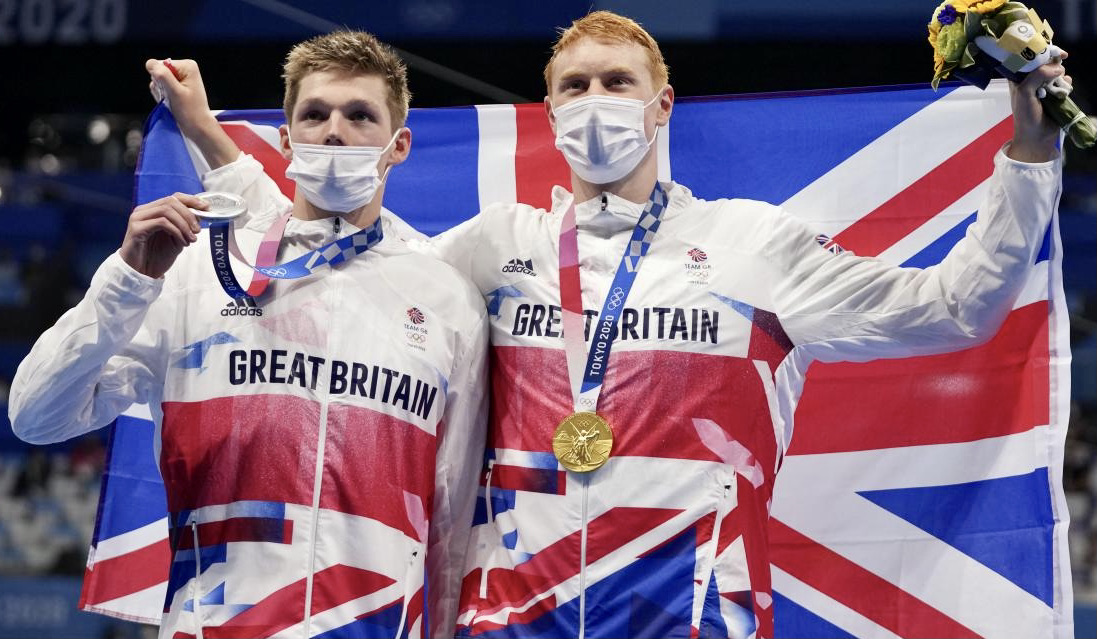 24.94; 51.62; 1:19.05; 1:45.54 Scott
24.93; 51.72; 1:19.16; 1:45.73 Dean
24.66; 51.44; 1:18.87; 1:46.44 Guy
It's been a splendid week for Scott: a 4:09 Commonwealth record in the 400m medley; a 1:56 flat in the 200m medley and now a reminder returned to a teammate he loves to race, even when that man takes Olympic gold by a 0.04sec margin invisible to the naked eye.
Where It takes One Guy To Make Three Guys Understand No Inch Will Be Given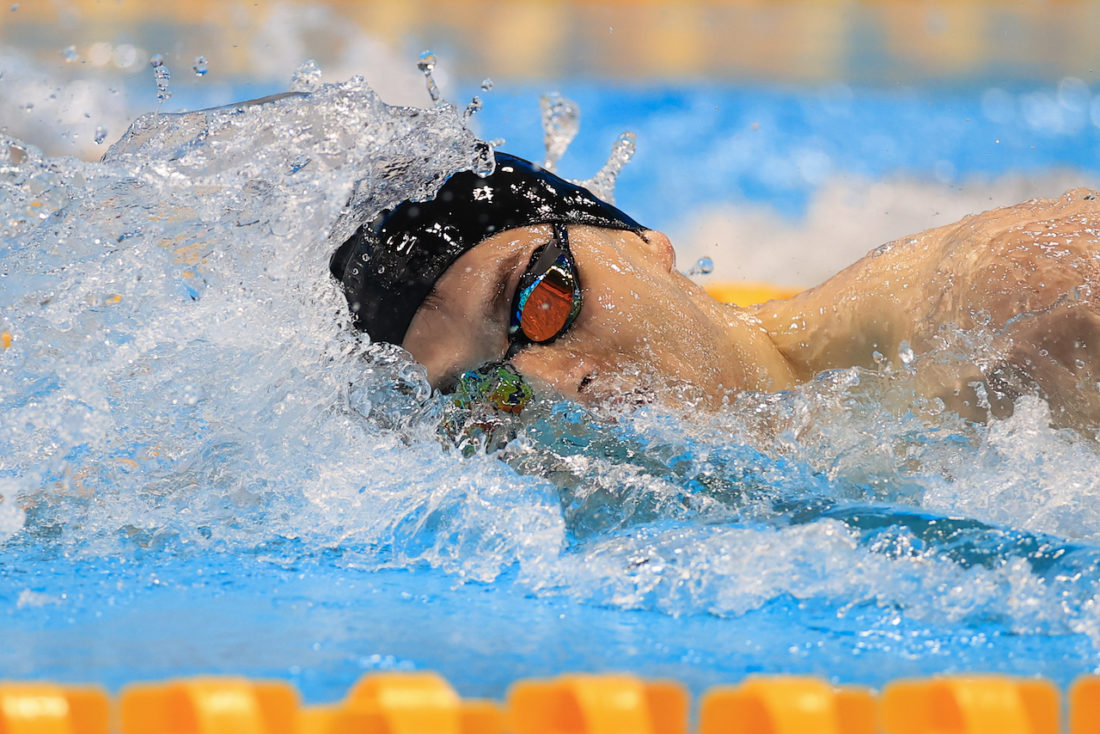 This day, Dean never let Scott go, just as Scott never let Dean get a whisker ahead of him apart from the 0.01sec edge Dean had over Scott at the first turn. Throughout, both men were reminded by a glimpse across the pool at Guy – though no reminder was needed – that no inch would be given.
Home in fourth was Olympian Joe Litchfield, who now has a shot at racing as reserve for the 4x200m relay, his 1:47.66 keeping at bay men who have known what its like to win a World title, Cameron Kurle (1:47.94) and Olympic gold medallist from heats in Tokyo, Calum Jarvis (1:48.52).
After them came teenage sensation of Tokyo Matt Richards, well down on best this day, on 1:48.67, but already preselected for World titles courtesy of his epic results at the Games last year.
A year ago, at Olympic trials, Britain's 200m free final produced the fastest top 8 in domestic waters ever known in swimming, unless you count a United States trials held in shiny suits back before the booster bathers were banned from January 1, 2010.
The pace was not as hot today but still hotter than almost any other nations has even managed to muster over eight lanes in one 200m free race. The Olympic champions are in fine shape even when their shape is not what it will be come the countdown to the 'take your marks' that matters most.
That said, Scott pointed to the slower times this year and described morning heats efforts as "lazy". He was much happier with the final and appealed to the shoal to keep the momentum going and help "move things on again". Scott said: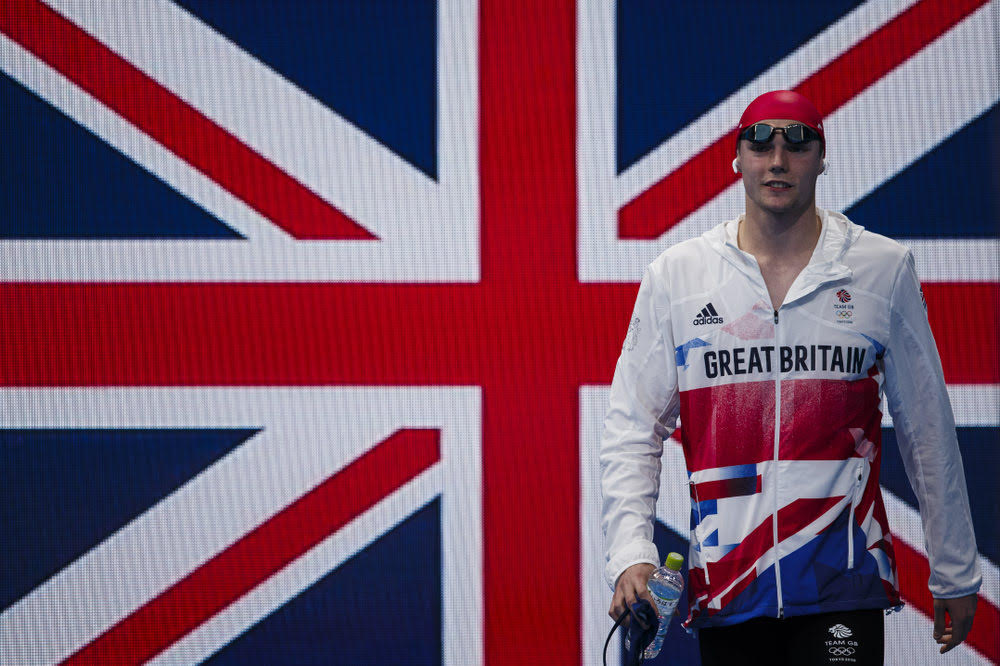 "We set ourselves quite high standards in the 200m Freestyle and that is quite important, that's why we've got to where we have and had such success in that 4x200m in Britain.

"It's probably one of the staples I was talking about within the British team – the 4x200m Freestyle Relay comes along and the expectation, being part of the British team, is it's going to medal. Now the target is on our back and we've got to try to set the world standard. Look at the final, we've done well there as a group tonight. A lot of the boys, we've been chatting through the week about how we know we can move things on again in the summer, which is pretty pleasing.

"To be honest, I was quite disappointed with how the heats were as a 200m freestyle in Britain as a whole, I thought we were quite lazy this morning. I don't know if it was a couple of us feeling sorry for ourselves on last day of the meet, but I just thought the standard we need to try to hold, it wasn't good enough. But some people moved it on quite a bit there tonight. It was good to see. I just hope we are able to keep moving things on the rest of this year and the next few years then into Paris."

Duncan Scott – photo – Duncan Scott walks out for the seventh of his nine races in Tokyo, a Commonwealth record of 1:55.28 delivering a second silver to add to gold, with one battle yet to come… – by Patrick B. Kraemer
With lifetimes bests in the 100m free and 200IM to look back on, Dean noted the special nature of the rivalry in the 200m free and said he didn't think he would ever get tired of it: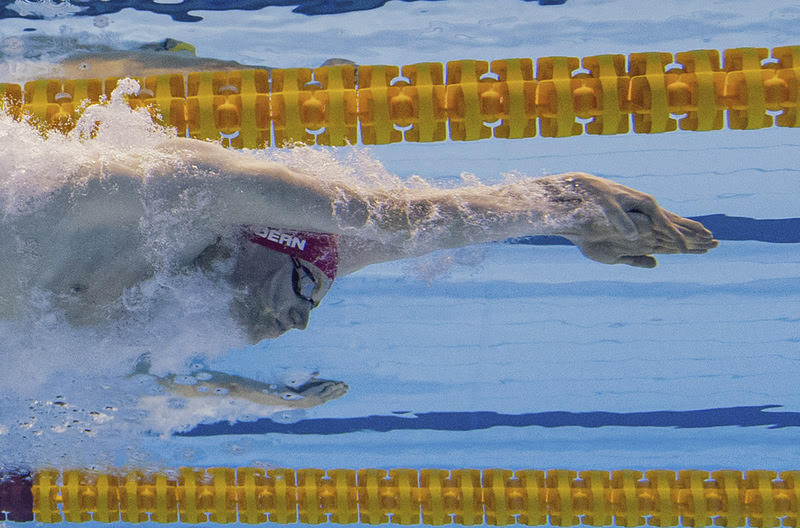 "The 200m Freestyle at the end of this week is always so special – we saw it at the last Trials and we saw it here as well. It's like the blue riband event for British Swimming at the moment, it's so strong. We showed that with the 4x200m Free at the Games, we've got so much depth – and a one-two with Duncan, I don't think I'll ever get tired of doing that!

"There was no pressure on that race at all. I knew I'd booked my ticket and confirmed my place in the top two tonight, but there was no pressure. What I really wanted to do was get that 100m Free and my 200m IM sorted, I got PBs in both of them and qualification in both of them, which is brilliant. I haven't trained my 200m IM in three years, so to come and pop a 1:57.1, I wasn't expecting that at all. It's probably the best week I could've hoped for, I'm really happy with how the team has done and how I'm back to my best, it's nice to be back in that position again."

Tom Dean – photo Tom Dean streamlines off the wall in the 4x200m free on the way to gold at the Tokyo Olympic Games – by Patrick B. Kraemer
All of which got the vote of British Swimming as global sporting highlight of the weekend, a somewhat biased view but understandable nonetheless… :
Ben Proud, Unrested But Unrelenting In Pursuit Of Winning Speed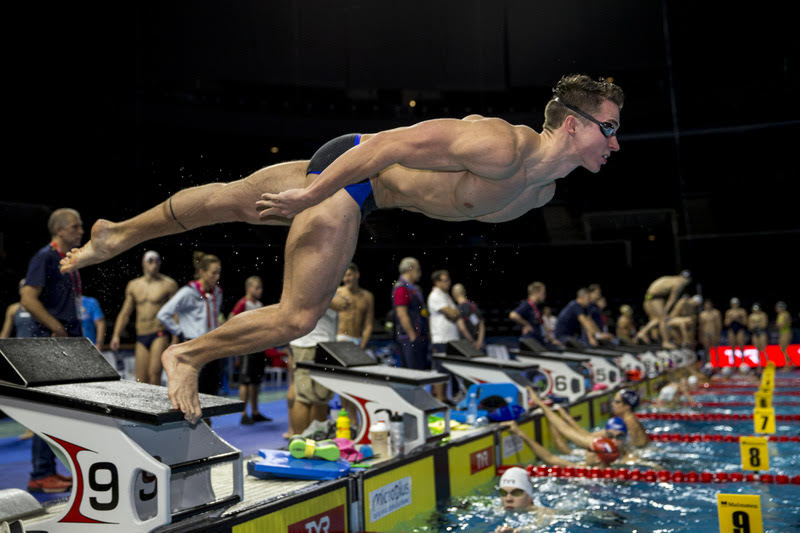 The 50m butterfly title went in 23.09 to Ben Proud, former World champion now based at Bath and racing through the championships unrested as a sprinter preselected for World Championships courtesy of his Olympic top six finish in Tokyo last year. Jacob Peters, on a lifetime best of 23.61 in heats and celebrating a new high bar of 23.47 in the final, took silver, with comeback racer Adam Barrett, a former bronze medallist for England over 50m butterfly, third in 23.80 and in line for international selection once more for England.
Luke Greenbank trailed Olympic teammate Brodie Williams a touch over the first 100m before pressing his Tokyo 2020ne podium presence down the third lap and then refusing to yield all the way home to a 1:57.57 to 1:57.90 win. The Budapest 2020 World cut of 1:56.08 was ahead of them but Greenbank, coached by Mel Marshall at Loughborough, is preselected, courtesy of his Olympic bronze last summer in a final topped by Evgeny Rylov, who is banned from World titles, lost his Speedo sponsorship and faces a related disciplinary process over Russia's war on Ukraine and his role at a Putin propaganda rally.
There were no qualifiers in two women's finals, Laura Stephens at the helm of the 1§00m butterfly on 58.43 but likely to make the England medley relay cut for the Commonwealth Games. The session opened with the women's 1500m free, the title going to Fleur Lewis, of Barnet Copthall, in 16:45.51.
SOS British Nationals Coverage
Day 1: Unrested Adam Peaty Looking Sharp on 58.58 For British Title, James Wilby On 59.17 On Way To Budapest World Titles As Dan Jervis Goes 3:46 Lifetime Best 400
Day 2: James Guy Guts & Adam Peaty Power On Show Despite Test Of Tank Half Empty
Day 3: Duncan Scott Cracks Commonwealth 400IM Mark in 4:09.18, Faster Than Tokyo Gold As Lewis Burras Blasts 47.88 Ticket To World Titles
Day 4: Tale Of Two James – Wilby Lays Down A 2:09 On Way To Defence Of Commonwealth Crown As Guy Grabs His 20th National Title
Day 5: Duncan Scott Scorches 1:56.08 200IM As Tom Dean Joins Him On World-Titles Roster In 1:57.18 & GB Has 2 In Free Dash After Lewis Burras Pips Ben Proud In 21.77