Duncan Scott Scorches 1:56.08 200IM As Tom Dean Joins Him On World-Titles Roster In 1:57.18 & GB Has 2 In Free Dash After Lewis Burras Pips Ben Proud In 21.77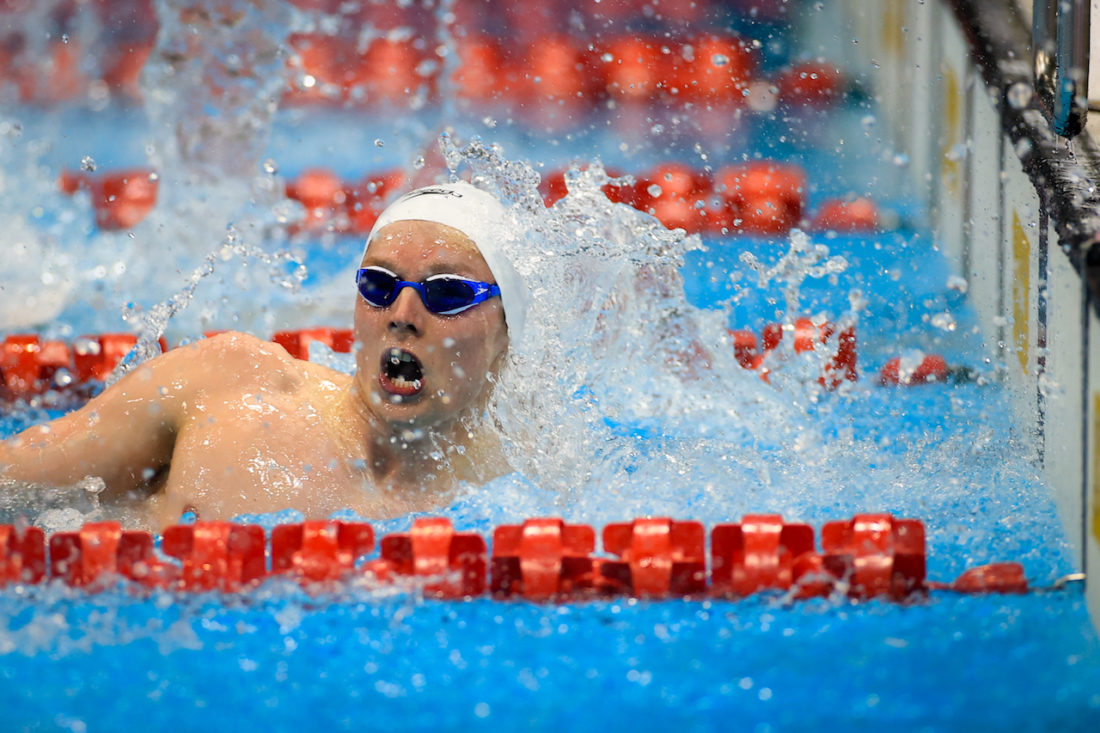 Duncan Scott and Tom Dean, the 200 freestyle aces who punched the first 1-2 finish for Britain in Olympic swimming in Tokyo last year will do battle side-by-side in the 200m medley in World, Commonwealth and European battles this summer after a sizzling 1:56.08 from Scott was followed by a 1:57.18 lifetime best from Dean.
The fifth and penultimate day of British Championships at Ponds Forge in Sheffield made a few things clear from two finals: Britain has two podium contenders in the 200IM this summer, should the Scott and Dean show become a double act at the double in two events; and in similar vein Britain will also have two contenders in the 50m free after Lewis Burras, a 47.88 100m in the bag earlier in the week, inflicted the first big domestic dash defeat on Ben Proud in more than eight years, 21.77 to 21.91.
The Scott and Dean Show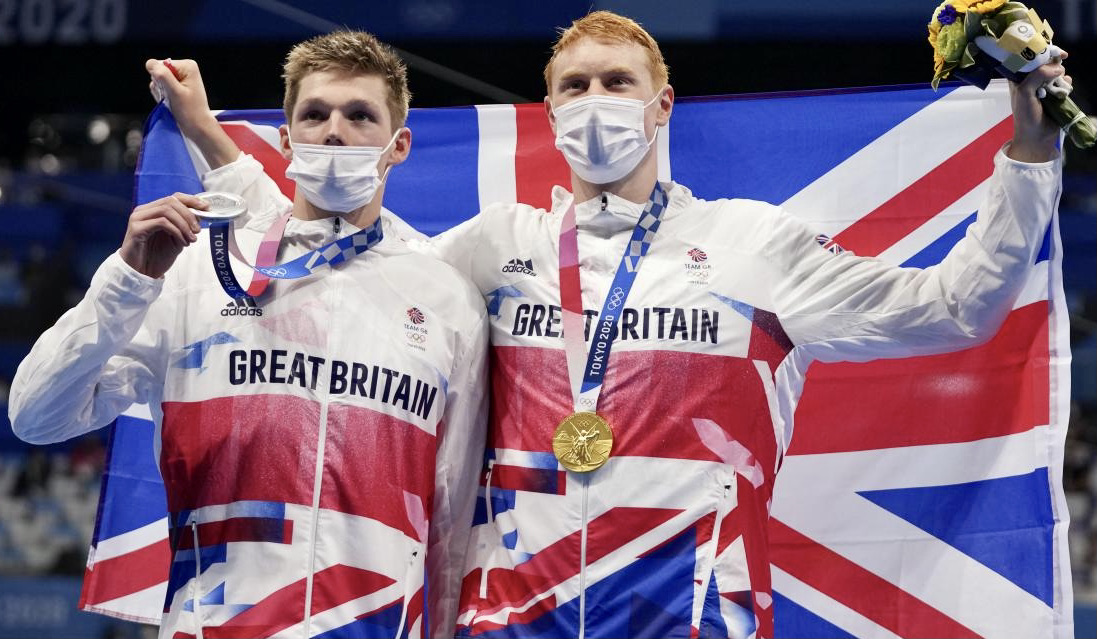 In Tokyo, it was Dean who got the touch 0.06sec ahead of Scott in the 200m free, before both took gold as 4x200m free teammates and then Scott took silver in the 200m medley and joined metres for a third silver in the 4x100m medley. Scott's haul was the single biggest tally in history by any British athlete, all sports, at a single Games.
Like Scott, Dean had enjoyed success on medley in his youth but a focus on freestyle, in part driven by the drive to make relay berths, has kept him from making the four-stroke challenge anything more than a phenomenal training tool and weapon for his key targets.
The form guide pointed to Scott, coached by Steven Tigg at the University of Stirling performance centre, dominating the race – and so it proved. But Dean was impressive and impressively close.
The ebb and flow:
25.00; 54.07; 1:27.92; 1:56.08 – Duncan Scott
25.40; 55.87; 1:29.64; 1:57.18 – Thomas Dean
Tokyo 2020 Comparison:
24.78 – 53.78 (29.00) 1:27.63 (33.85) 1:55.00 (27.37) Wang Shun Gold
25.06 – 54.52 (29.46) 1:27.82 (33.30) 1:55.28 (27.46) Duncan Scott Silver
Scott, the third fastest time of his career granting him 9 out of the best 14 times ever sum by British men, emerged from a battle the last 25 metres of which he said had felt like it "took hours" to hear a question about "world No1", a fairly pointless point at this stage of the season, as the champion noted: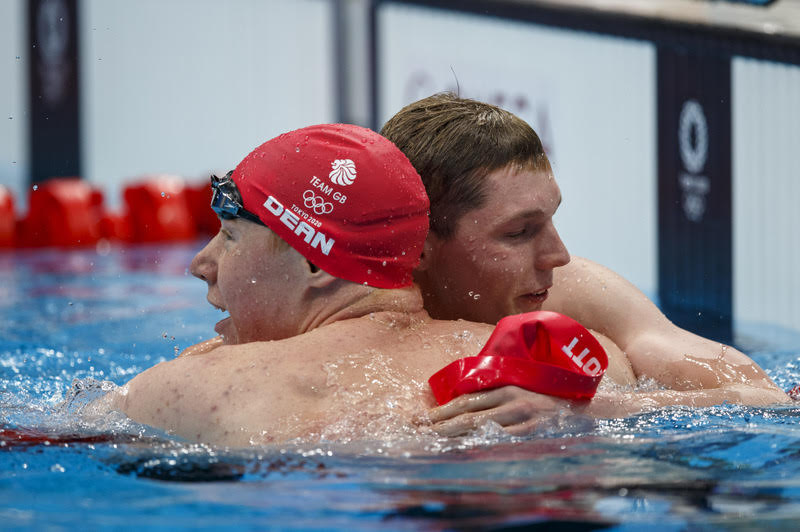 "Its early days in the season. The 400IM was the focus this year so I didn't know where I'd be on the 200. It's pretty solid for this time in the year. And Deano (Tom Dean) doing a PB in there … I always love racing him."

Duncan Scott. Photo: Tom Dean and Duncan Scott share the joy of a podium shared in Tokyo after the 200m free – by Patrick B. Kramer
What to focus on for the Olympic silver medallist? There's World titles in Budapest in June, then Commonwealth Games, for Scotland, before the season finale at the European Championships in Rome in August. Perhaps he'll make it all three.
A menacing 4:09 Commonwealth record over 400m in the pantheon on Thursday, Scott is pre-selected for World titles in the 200m medley. The Budapest 2022 cut at 1:57.61, Dean and Co had a mountain to climb: the qualifying standard has only ever been exceeded by Scott, Tokyo 2020ne teammate Max Litchfield, James Goddard and Dan Wallace.
All of those men have made major medley podiums at Olympic (Scott), World (Goddard, Litchfield), European (Goddard, Litchfield) and Commonwealth (all barring Litchfield, who was a title contender in 2018 but was forced to withdraw with a shoulder injury).
So, in short, that's the kind of company any would have to be in the mix with just to get the ticket to Budapest this June.
Dean, taking lane 4 for the final in a rare appearance on medley on 2mins flat in heats, entered the fray with Scott eight fastest Brit all time, his 1:58.34 from 2018 at No 42 on the all-time Brit performances list adrift several efforts from all those mentioned above in the club of swimmers who ever raced inside the Budapest cut, plus Max's younger brother Joe Litchfield, Roberto Pavoni, a European podium placer, and Mark Szaranek, at 29 the oldest in the race today, four years on from silver in the 400m medley at the 2018 Commonwealth Games.
Now, Dean, coached by Dave McNulty at Bath, leap-frogged three men and 32 performances to become 4th fastest ever British 2090m medley man behind Scott, Max Litchfield and Goddard, with the 10th British all-time performance. The drive is his, the magnet Scott, as it was in the 200 free before and at Tokyo.
Here is a domestic rivalry that will make them and Britain all the stronger. And perhaps that will be the case, too, in the 50m freestyle:
Lewis Burras Joins Ben Proud In The Club Of British 50 Free Contenders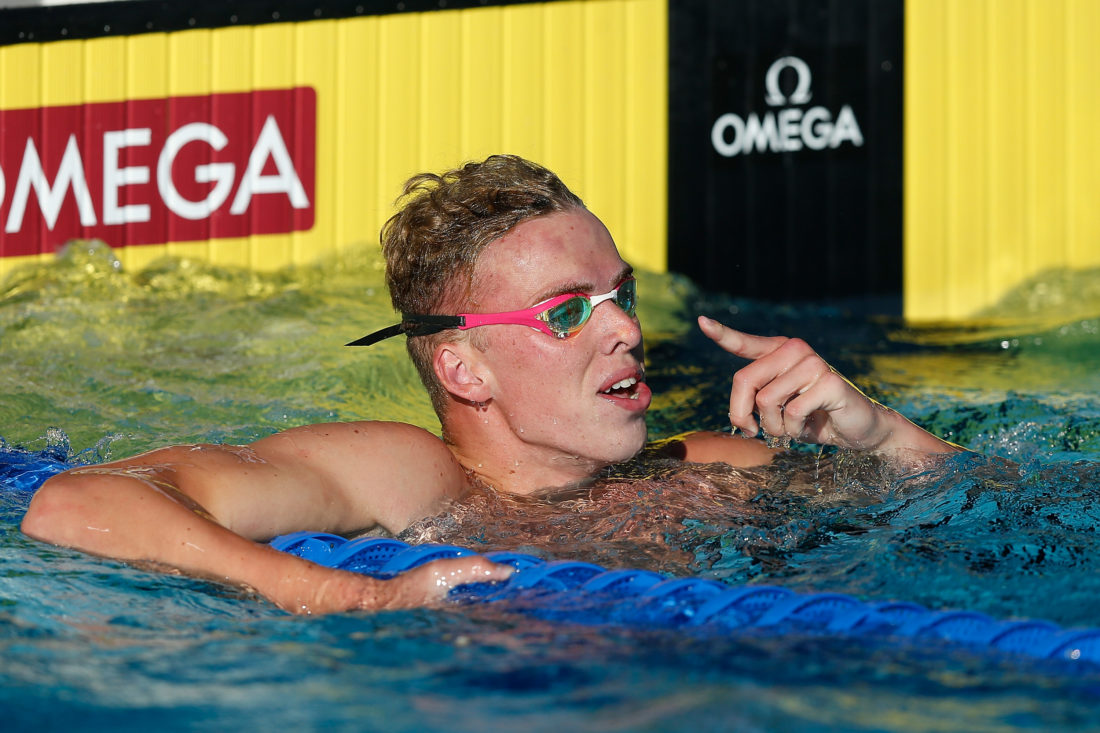 On 21.77, Lewis Burras, coached by Zoe Baker at Winchester SC, got the better Proud by 0.14sec and 0.02sec inside the cut for Budapest. Proud did not need to rest up for speak performance, his place in Budapest secured with a top-6 finish at the Tokyo Olympic Games last year.
Until last month, Ben Proud owned the best 52 times ever swim by a British sprinter over 50m freestyle. Then Lewis Burras clocked 21.84 at the Edinburgh International to muscle his way into Proud's list of plenty at No39 best Brit performance ever and No2 Brit ever.
After a thumping 47.88 victory in the 100m freestyle this week, it was clear that Burras was in the form of his life. Good for him, great for British sprinting, the day of two GBR teammates getting into a 50m free final in global waters a very rare sight indeed if that comes to pass this summer 2022. Said Burras: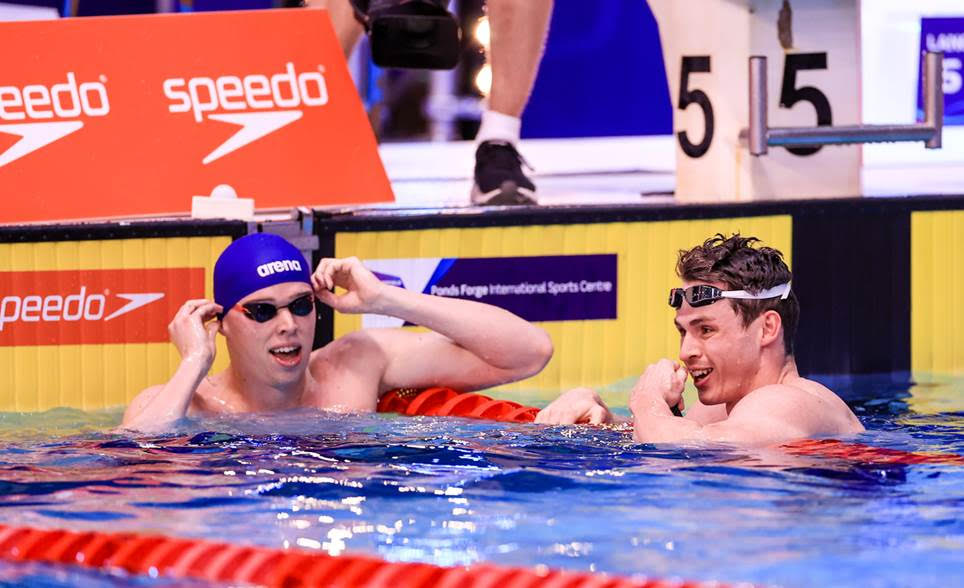 "That time is just under my PB – I'm really happy with that. For the last eight years or so, Ben has been the guy for British sprinting and he has set the bar really high – not only in the country, but also on the international stage. To have someone so good and setting the bar so high has really helped to push me on."

Lewis Burras. Photo by Georgie Kerr, courtesy of British Swimming
Third Title For Abbie Wood
Abbie Wood collected a third national title of her own for 2022 with a dominant 2:11.03 victory in the 200m medley. Coached at Loughborough by David Hemmings, Wood, champion in the 200m free and 200m breaststroke this week, said: "I'm just trying to learn through each swim.
"At the start of the meet, Dave and I agreed we wanted 10 solid swims through the week, so for my eighth of the week, I can't be too annoyed. It's still close to my PB. I think it [the body] is hurting a bit. This is just a starter meet for the rest of my season. Dave and I agreed that this is the start of the next racing cycle, just post some good times as a starting mark for the summer."
Triple Distance Dominance For Dan Jervis
In distance finals, Dan Jervis, Swansea, added the 800m freestyle title to his victories in the 400m and 1500m, while Freya Anderson, Bath, took the 400m freestyle.
Jervis, coached by Adam Baker, missed the Budapest 2022 World-0titles cut of 7:49.58 with a solid 7:50.35 effort ahead of Bath teammates Luke Turley and Kieran Bird, on 7:54.52 and 7:55.95 respectively. Jervis summed up his week thus: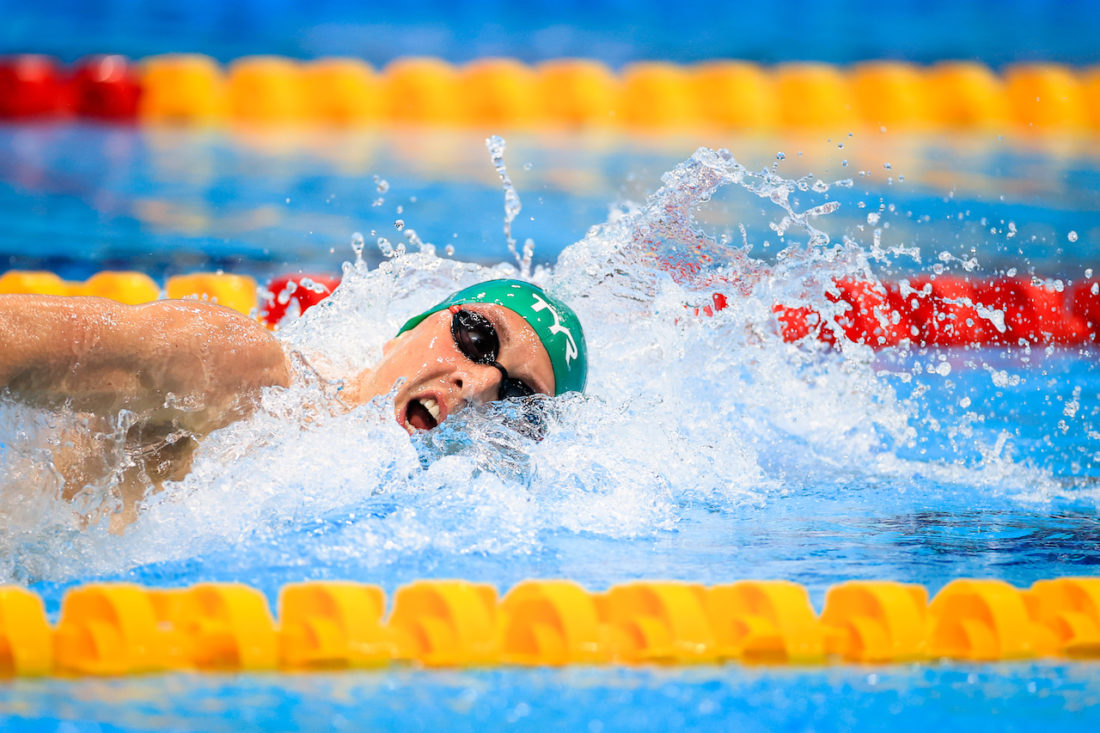 "The thing about being a distance swimmer is it's very much a mental game. The way I train, and the people I train with, we train to be world leaders in swimming. Physically, I'm in the best shape of my life. I can honestly say that, people may train as hard as me in the swimming world, but nobody trains harder than me.

"When you have one brilliant swim – my 400m was the best I've ever done – and then one not so great swim in the 1500m, it's very much a mental game then, and it's how you play that.

"I think I pulled it back around. It wasn't as quick as I wanted it to be, but I'm really happy with that. It's the first time I've ever had three British titles in one week, so it's good."

Dan Jervis. Photo – by Georgie Kerr, courtesy of British Swimming
Anderson clocked 4:08.46, a lifetime best by 4sec, in a close 400m battle with Nova Centurion's Freya Colbert, second on 4:09. 04.
"This week has been weird to sum it up in one word," said Anderson. "It hasn't gone as I wanted it to go. The 200m, I completely blew it, I don't know why. I had to bounce back on the 100m. I was happy with the 100m and I am happy with tonight."
In the women's 50m backstroke, Lauren Cox, of Loughborough via Coventry and development years with former international backstroke ace for Britain Adam Ruckwood (whose wife is another former backstroke ace and international for Britain, Sarah Price) took the title in 27.83, 0.01sec ahead of Swansea's Media Harris, European 100m champion and Olympic Mixed Medley champion Kathleen Dawson, preselected for World titles, swimming through the championships and placing third today third in 28.31.