Duncan Scott Savours Unique Medley Mission At Solo Freestyle-Free Fukuoka Worlds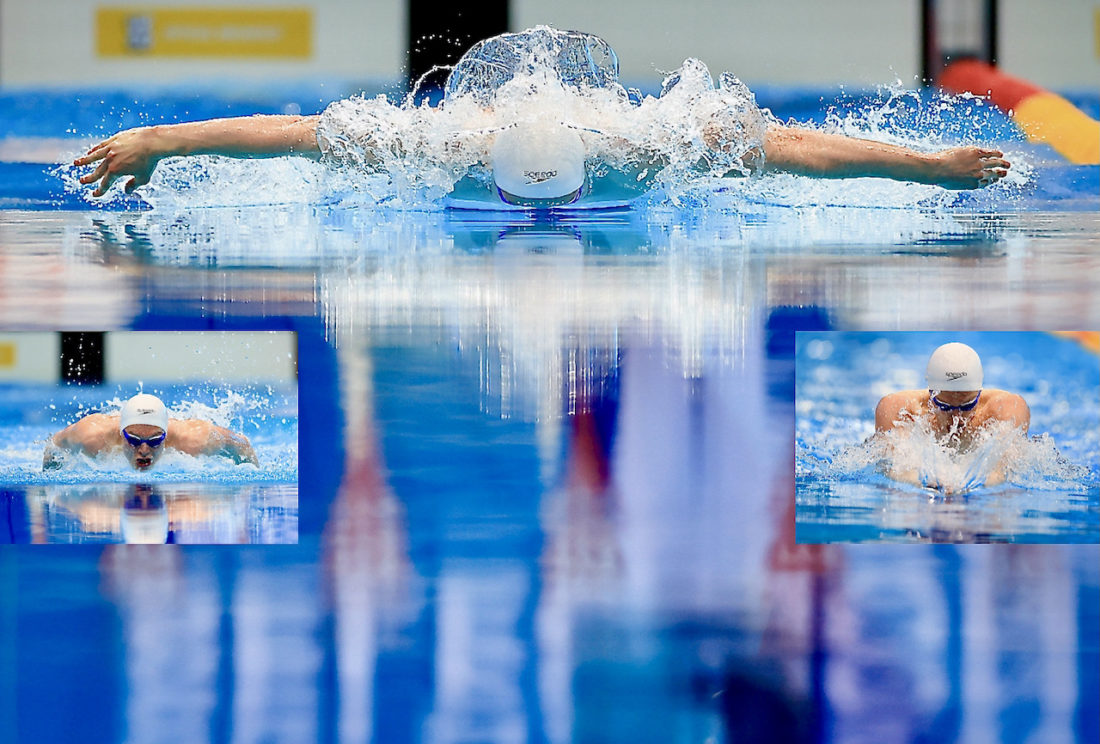 Duncan Scott is all in, as ever, but for the first time in his illustrious international career Britain's most decorated athlete in any sport at a single Olympics heads into a major championship with medley not only his main solo mission but his only one.
There'll be plenty of relay action at the World Aquatics Championships in Fukuoka, Japan, from July 23 but Scott today confirmed that his one solo event will be the 200 metres medley and that he's out of the 100m freestyle, his berth as second-man home at British trials in April, passing to fellow Olympic 4x200m free champion Matt Richards.
At British trials back in April, the 26-year-old missed out on Fukuoka selection in the 200m freestyle. The Brit berths at the global showcase from July 23 went to Richards (1:44.83) and Tom Dean (1:44.93), Olympic champion 0.04sec ahead of Scott at Tokyo2020ne, in a nervy domestic battle in which third place went to king of Britain relay honours James Guy.
On his fourth place, Scott says: "I definitely saw it as a disappointment but we're very lucky for the depth we have in the 4×1 and 4×2. I didn't go into British Trials in great form. We tried some different things in training leading up to it – focused on volume – and I didn't recover as much as I thought I would."
Whatever unfolds in Fukuoka, world titles are part of the Olympic puzzle: "My entire training is centred on Paris. Anything I do [in Fukuoka] is a bonus [beyond] what I do in Paris."
On Medley, Dean pipped Scott and they produced the 3rd and 4th top performance points scores at British Trials in April: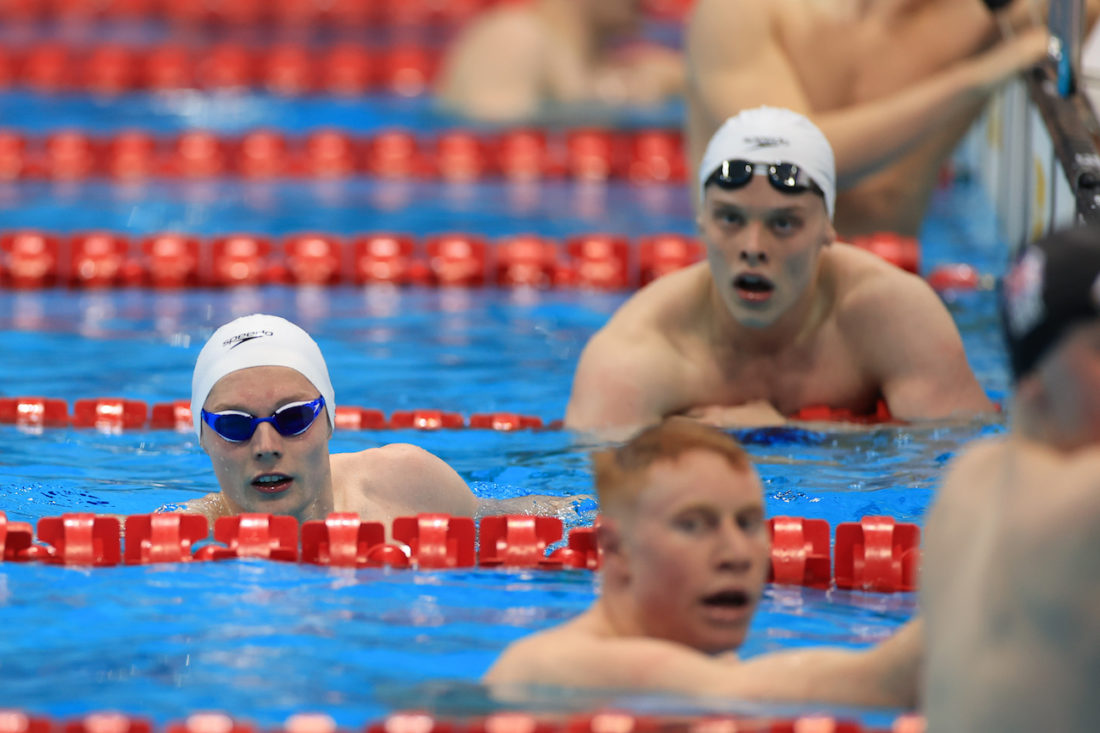 947 Dan Jervis 14:46.95 1500m freestyle
946 Matt Richards 47.72 100m freestyle (H)
933 Tom Dean 1:56.65 200m medley
931 Duncan Scott 1:56.72 200m medley
931 Lewis Burras 47.99 100m freestyle
930 Duncan Scott 48.00 100m freestyle
929 Matt Richards 48.02 100m freestyle
So, freestyle flown, its medley for solo Scott when he returns to Japan two years after claiming a gold and three silver medals at the Covid-delayed Tokyo2020 Olympics for a tally that topped those of all best Brits before him in Games history: first in the 4x200m, second in three times, in the 200m free, 200m medley and 4x100m medley.
Together in Tokyo, the 4×200 crew clocked the swiftest time ever seen in suits not shiny, while the next four Brits behind them, including Tokyo gold medallist from heats Calum Jarvis, had produced the fastest line-up ever seen in domestic waters.
Health more than robust is a prerequisite for making the cut in such company in a Britain that's been building a stronger wave for a quarter of a century since Paul Palmer (alongside quartets often guided by coach Ian Turner and peers) chided the Government about the challenges of podium-chasing in spite of a lack of resources. National-lottery funding was born and a decision was taken to professionalise the coaching leadership and mentorship of the sport.
Patience, the fuel of process to progress, is key, its nature eternal. So, no surprise to find Scott revisiting words such as setback, disappointment and hunger, not as negatives but components in the alchemy of fuel.
Scott used all three words when he spoke to me for a post-Tokyo reflection and summary of his swimming story so far back in 2021. As he and coach Steven Tigg noted, medley got parked for most of Scott's international career because freestyle was a fast track to selection, at first on teams and then many teams and solo events, for Britain and Scotland.
And yet, by summer 2021, there he was, Scott the Scot a slither shy of China's Wang Shun as they stopped the clock on the same wave into the wall as golden shots in the Olympic 200 IM.
No predictions but Scott, in good spirits and appearing cut, is looking forward to the "unique" situation of a single solo target at a major, he said during an online call from the British camp in Rheims, Champagne-Ardenne. It's the place where Team GB will conclude preparations for the Paris 2024 Games a year from now.
He explained: "The two events I qualified for [for Fukuoka] are on the same day so I'll be doing the 200m IM as my only individual event. The 100m free is there but I'm going to have to step aside for that, that event has moved on a bit and my 48.0 isn't going to get me much there.  A 47-mid best might get close to the action but … So there'll be the 200 IM."
Make no mistake: Scott won't be sitting around twiddling his thumbs. He'll be helping in relay heats and finals, "the 4×100 free on day 1, the 4×2 and then hopefully mixed 4×1 free" as the eight days of racing progresses.
Used to one of the biggest race schedules in international waters, his Tokyo mission an epic worth anyone's thesis, Scott is keen to see what turning up as fresh as fresh can be for the solo event feels like: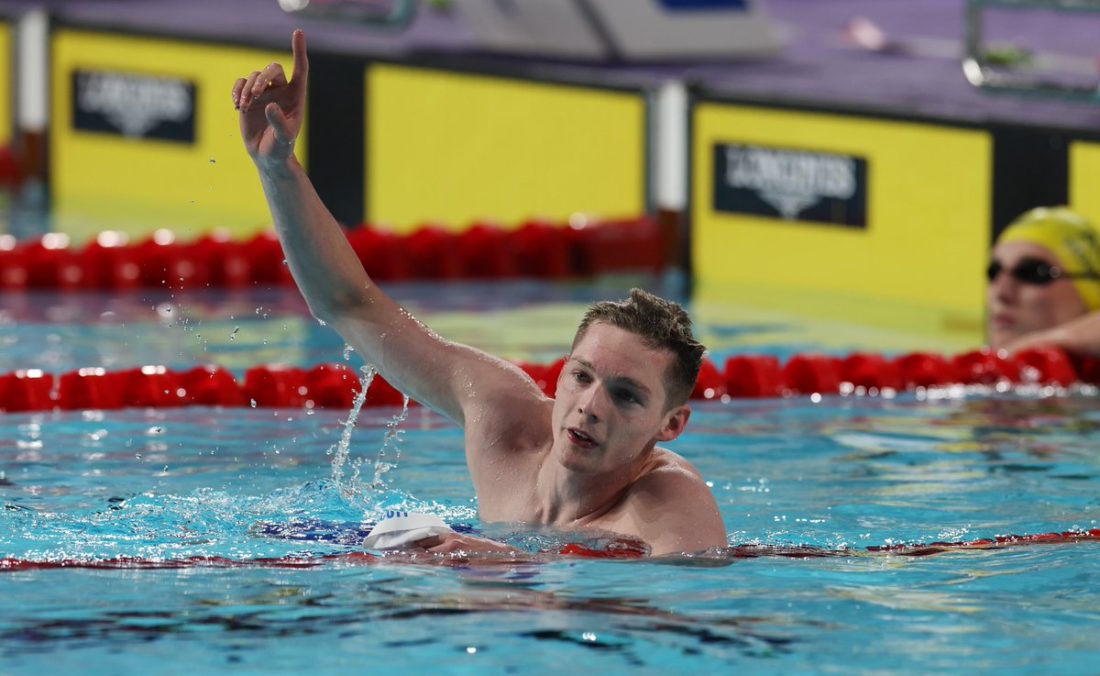 "I'm really excited to try out just one individual event. At Commies or Olympics, I'm swimming ten plus times in a week so it'll be interesting to see how I fare just doing the one. I might feel fresher, you never know. This might be the new way. Will I feel fresher come the later rounds, will I feel better than doing loads of events?"

Duncan Scott – photo by Ian MacNicol, courtesy of Scottish Swimming
Performance and time will tell. He's asked about 'going for gold rather than a handful of silver/bronzes'. Time was when he might have closed the lid on his laptop. But here's a supreme athlete who's grown beyond 'elite' measure. He's a scholar of his sport and the art of team; he's a study in himself. Scott says: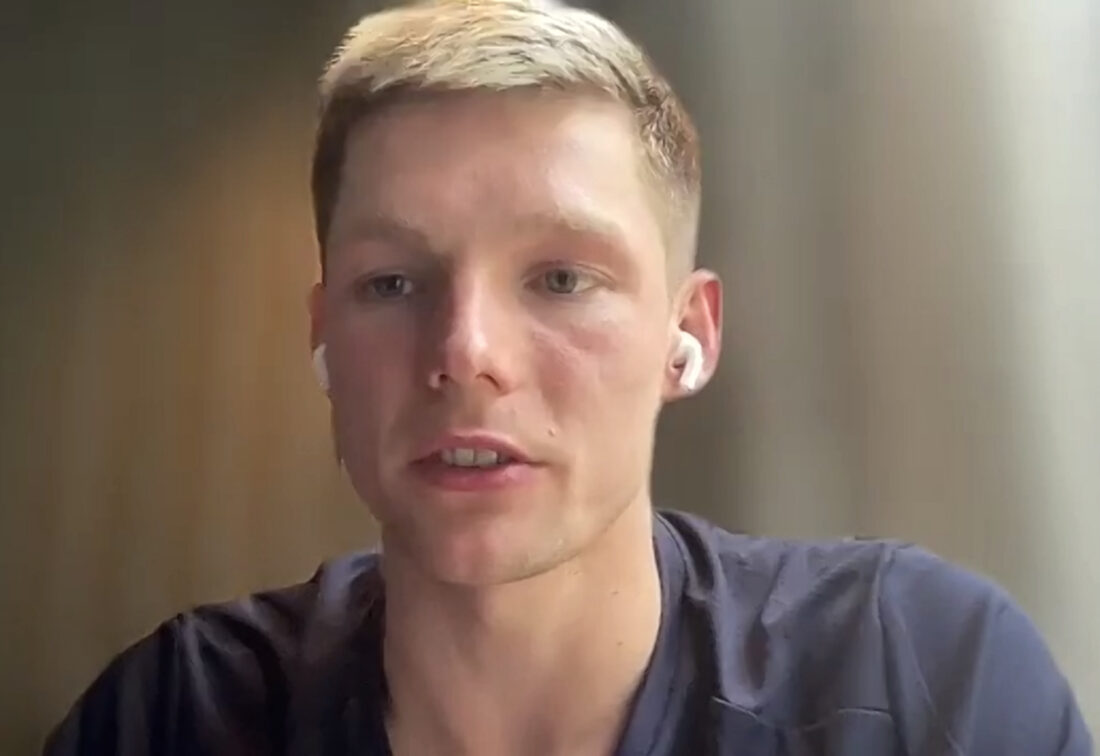 "At the start of the season, I didn't sit here wanting not to swim the 200m free. But that's the beauty I guess of the British Championships; we've got such good depth in the 200m free, and other events, that you've got to be at your very best at the trials. I fell short of that and that's fine.  So this is going to be a good opportunity to try out doing just one individual event and I'm looking forward to that – it's going to be quite an exciting and quite a unique experience for me. there'll be  areal relay focus on some days and then all-in for the 200m IM which is kind of cool."

Duncan Scott
Best not imagine him gone from the 200m free, though: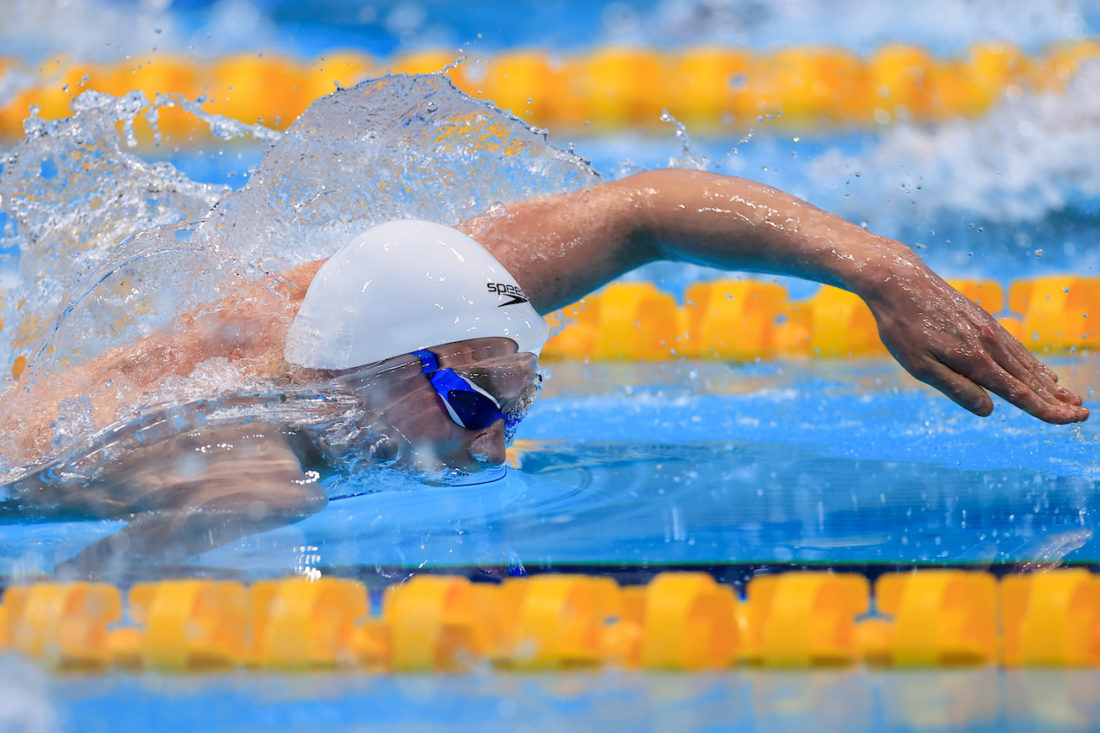 "I'll just need to wait and see how this year goes. I've not lost any ambition in the 200m free at all, if anything, it's made me hungrier because I want to get back in there. That's the beauty of the 200m free in Britain – people are fighting for places. I think Matt [Richards] and [Tom] Deano are going to do a superb job and it'll be really good to watch them go head-to-head internationally but also see how they fare against the best from around in the world too.  And the 4x200m relay team is going to be quite special and I'm really looking forward to being a part of that too."

Duncan Scott – Photo by Georgie Kerr, courtesy of British Swimming
Any benefit in observation of peers and rivals in races he would normally be blind to by virtue of being in the battle not the stands? He hadn't given it any thought and turns to team once more as he tells SOS: "I've not been the spectator much. Since 2016, I've probably watched, live, less than five races. A lot of it is just on the TV in the prep area because I'm either getting ready for something or chilling out after something else. I'm not sure. I'll be excited to watch a bit of swimming but the relays will keep my schedule quite full. I'm going to have a job to do in the heats to allow some of the others to freshen up from their individuals elsewhere. "
His own individual is a shape-shifter of an event in his short cycle of three years between Olympics. Young French ace Léon Marchand, 18th in Tokyo 0.15sec shy of making the semis, is a 1:55 man these days (World titles last year) and on a roll of medley parts building, his 2:06.59 French 200m breaststroke record at nationals last week a warning sign to all the medley mighty.
Scott notes Wang's sharp 1:55/56 efforts since Tokyo before turning to Marchand, who he's never swum next to. "… because last year … I didn't do Worlds, he is not actually someone I've raced before so I am looking forward to that a lot, going head to head with him." He adds: "I think Carson Foster will be really good again this year and the other American whichever it will be – I think that's going to be a cracking race at their trials – you've got Carson, Chase Kalisz, Michael Andrew if he does it, Shaine Casas – all of them are white hot at '2IM' so it's going to be quite exciting."
There's also Tom Dean "and a few others" to keep an eye on. "I think the 2IM is going to be interesting to see what happens once we get to it. No medallists from the Tokyo Olympics medalled at World Champs (Budapest 2021) so it's going to be real interesting when it gets to worlds this year."
More on The Odyssey and Medley Mission For Scott & Tigg On The Way Top Paris 2024 and "The Disciplined Pursuit of Less":
The Odyssey & Excellence Of Duncan Scott & Why He's Still Revisiting Every Race Two Weeks After Awe-Of-Four Olympic Triumph