Duncan Scott Medley Mission Just Got Serious, At 1:55.9 For British Record Ahead Of Litchfield Bros, Joe A Tokyo Ticket Holder, Too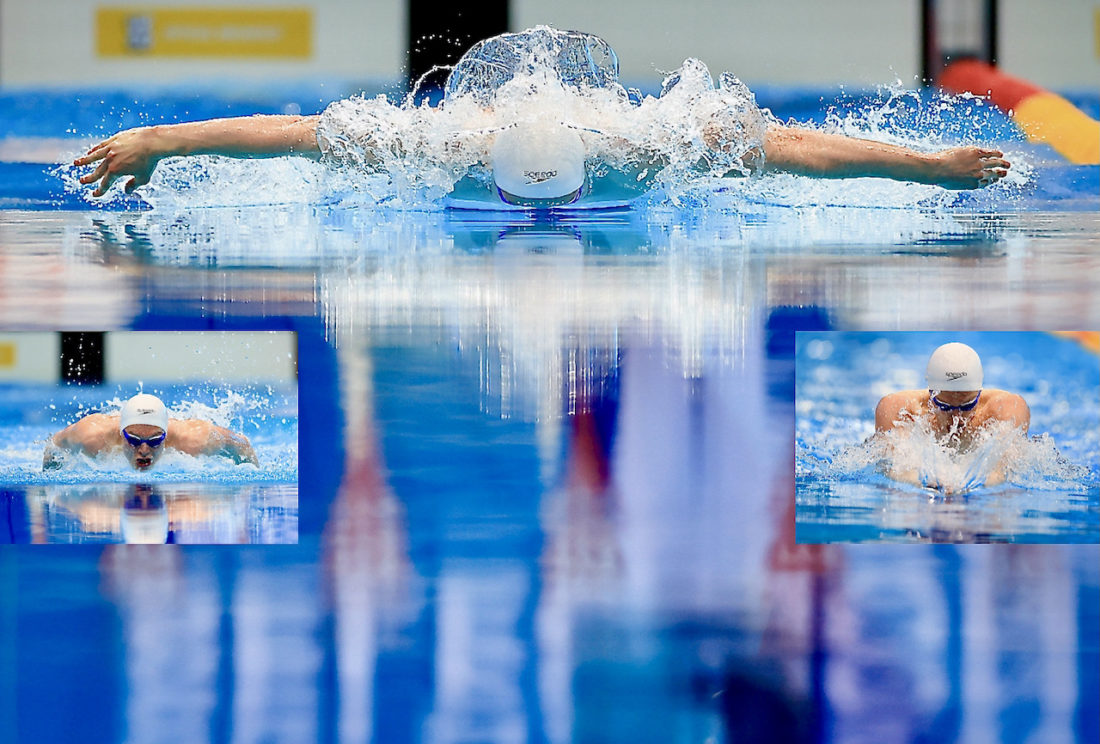 Duncan Scott is perceived as a world-class danger for his there and back and that twice on freestyle, over 100 and 200m, but today he pressed on with mission medley, honouring versatility with every stroke he took on the way to a sizzling 1:55.90 British record in the 200IM.
That sterling effort from a member of the Stirling University squad guided by coaches Steve Tigg and Brad Hay drove Scott deeper into the realms of the excellent as 11th swiftest ever on a list that includes four high achievers, among them a certain Michael Phelps, no longer in the hunt for medals.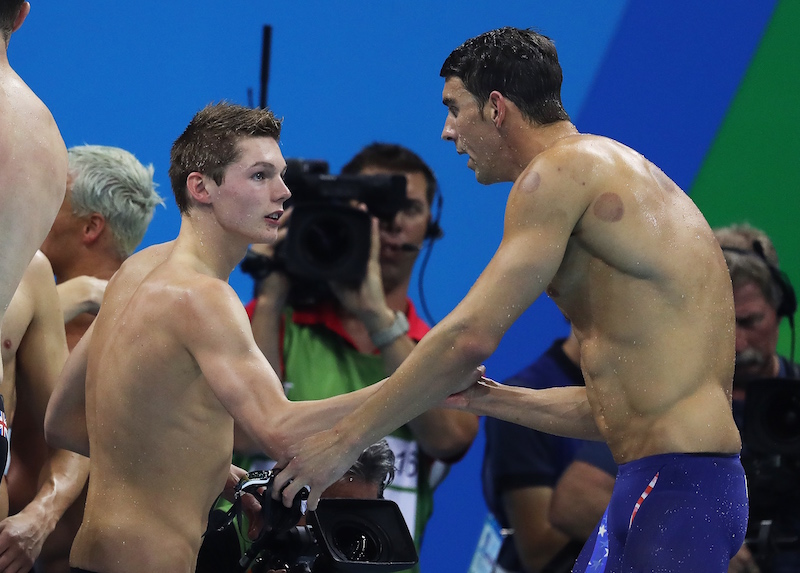 Perhaps a touch of medley magic passed through hands shaken in mutual respect one generation to the next as Phelps and Scott exchanged a 'well done and fare well' in the moments after one of the last of those 23 Olympic golds was added to the American's pantheon. It might also have been something to do with process, long-term work and careful planning, dedication and discipline, too, as coach Bob Bowman might tell you, alongside Tigg and Co.
The new high bar of Scott and Britain falls just outside Phelps' best 10 career 200 medley swims. That's not a slight but a huge compliment to the British sprinter.
Here's how his 200IM flowed: 25.38; 54.39; 1:28.06; 1:55.90 (27.84) …
| | | | | | | | | | | | | |
| --- | --- | --- | --- | --- | --- | --- | --- | --- | --- | --- | --- | --- |
| Place | Name | YoB | Club | | Time | | | Pts | | 50 | 100 | 150 |
| 1. | Duncan Scott | (97) | UniOfStirl | | 1:55.90 | | | 951 | | 25.38 | 54.39 | 1:28.06 |
| 2. | Joe Litchfield | (98) | Loughboro NC | | 1:57.74 | | | 907 | | 25.57 | 55.23 | 1:29.41 |
| 3. | Max Litchfield | (95) | Loughboro NC | | 1:58.43 | | | 891 | | 25.80 | 55.11 | 1:30.37 |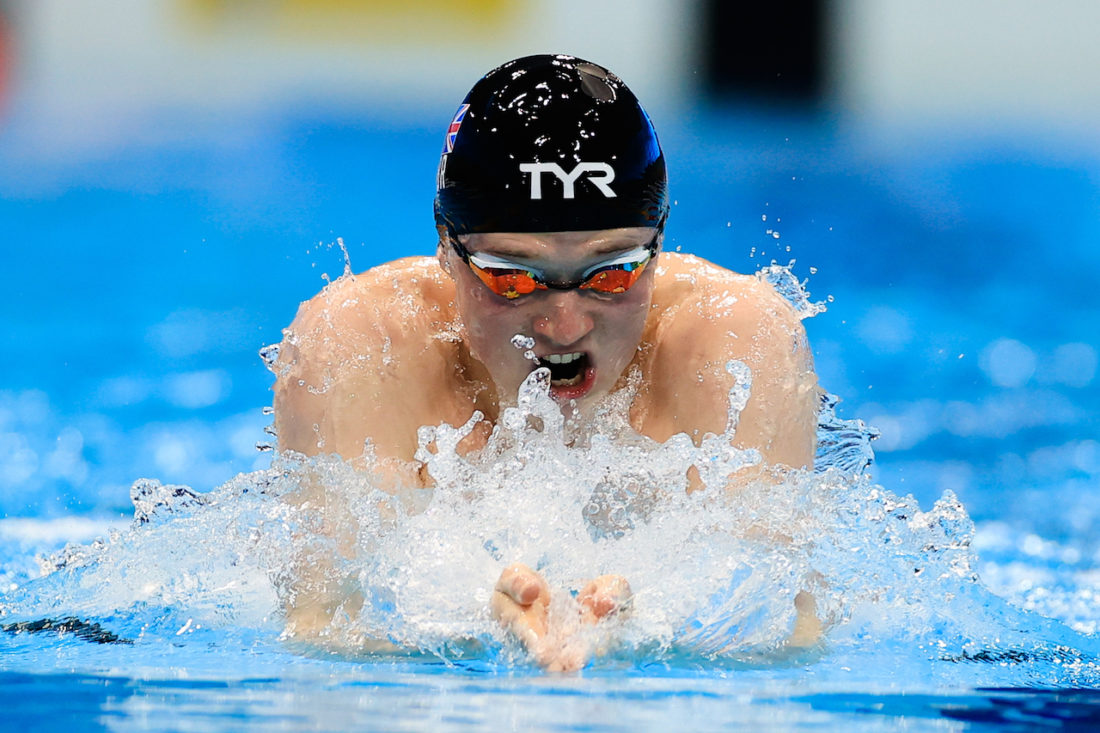 The new standard replaced the 1:56.64 at which Max Litchfield had held the mark since 2017 World titles. Litchfield finished second and third today, Max the elder on 1:58.43, Joe Litchfield getting the better of his brother, on 1:57.74, inside the target time for Tokyo.
The Britain team this summer may be the first in history to boast brothers in medley events: Max Litchfield will race the 400IM on Friday in search of another Olympic final after he finished a frustrating fourth in Rio. He shook himself down, got up and made European long-course podiums and, on the cusp of the global pandemic in December 2019, Litchfield lifted the European 400m short-course crown.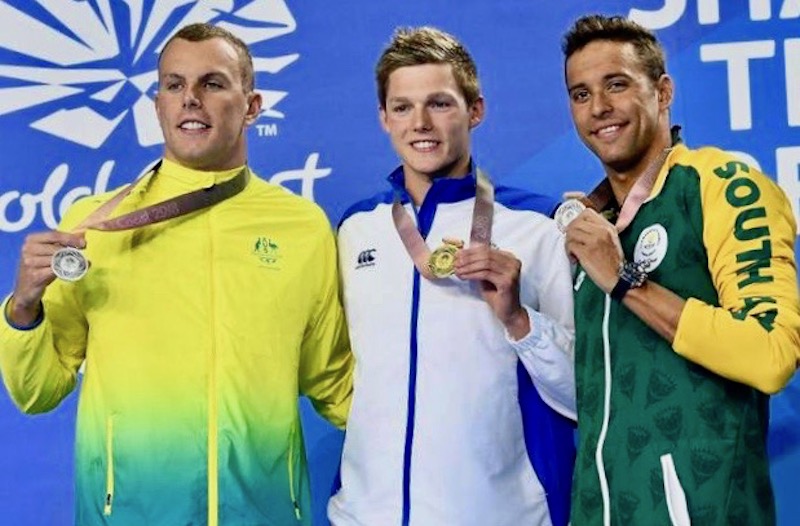 Scott, mentored by Tigg since the swimmer was a boy who found favour with the water he found he had a feel for, will be back in action on Friday, too. All eyes are on the 100m freestyle, in part because of the choices he and his coaches made in 2019: a year after felling Olympic champion Kyle Chalmers, of Australia, for the 100m free Commonwealth crown for Scotland, Scott opted out of the race at World Championships "to see what I could do in the medley".
Fifth place just 0.77sec from gold and 0.13sec from the podium was what he could do. His time then was 1:56.91. Now a second faster, Scott would have claimed the World crown in 2019 had he been the man he's grown into today. At his new pace, he'd have also made the Olympic podium at any time in history.
Consider the medley company Duncan Scott finds himself in, on the clock as 11th fastest 200 medley man of all-time: today he out-swam Wang Shun, the Olympic and twice Worlds bronze medallist from China, and Jeremy Desplanches, the Swiss ace who claimed silver at World title in 2019.
Ahead of him among those still in the thick of contention are giants Ryan Lochte (USA trials come round in June), his teammate Chase Kalisz, Japan's Kosuke Hagino and Daiya Seto. Then there's Mitch Larkin of Australia (trials in June), and Germany's Philip Heintz.
Scan the lot of that club of speedsters and clock their dates of birth: Lochte is the vet', 13 years older than Scott, who turns 24 in May and is three years younger than anyone else in the all-time top 15. Just outside that is American Michael Andrew, 22 this year.
Tokyo will be a tussle of generations, the Covid delay having tilted the balance in favour of some who have been able to reach greater maturity than they might have in time for the Tokyo Games. Scott, a year older than Litchfield the younger, counts himself in that equation, a cocktail of reasonable caution and confidence in the mix of his comments.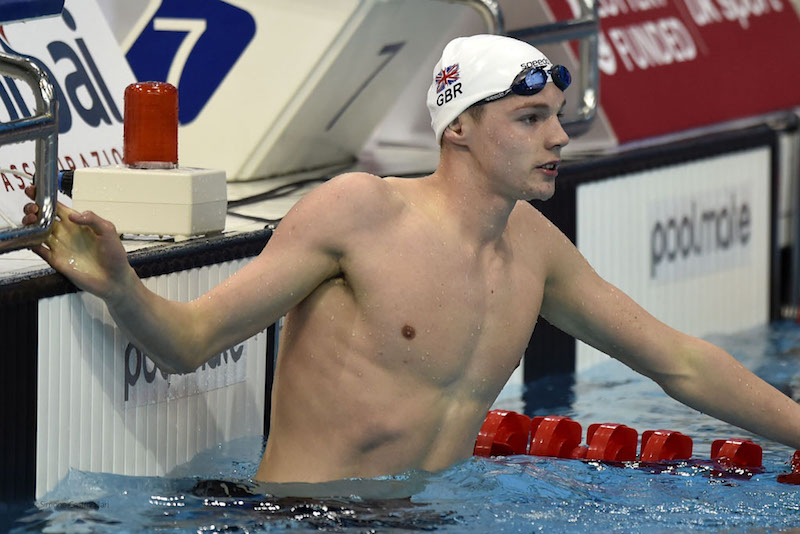 Not everyone who will be a contender has raced yet this year, let alone raced rested, tapered and ready to fire. Scott has a smart swim head on him and a helpful humour too, one capable of dispelling any tension in the challenge (he waved to the crowd after his win, big grin on his face – knowing, of course, there was no crowd, such is life in the bubble).
While Scott understands the 1:54s or better others will have in mind for the summer ahead, he also knows that he has room for improvement, too.
Here's a glimpse of gap that all current medley swimmers ponder when contemplating the 200m clock:
25.38; 54.39; 1:28.06; 1:55.90 (27.84) Scott today
24.89; 53.48; 1:26.51; 1:54.00 (27.49) Ryan Lochte 2011 WR (standing)
Asked how he felt about his new high bar, Duncan Scott said: "It's been a while since a long-course tapered meet, that was World Championships in 2019, so I'm just grateful to be here. I'm delighted with that swim, it's a big PB and it's great to move things on too.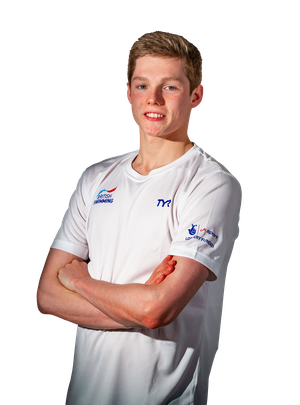 When Duncan Scott answers a question, he follows the train of thought the question leads him to, whether or not the asker meant to elicit the deeper reply they then get. He adds without prompt:
"Balancing the events I do, I've got to put that down to my coaches, Brad Hay and Steve Tigg, the way they are able to balance the sessions and the way they prioritise different things throughout the week. "There's been a lot of work on the breaststroke, I don't know if it paid off, but I enjoy doing the medley stuff, it's good fun. It's happy days for me now: I've got a day off tomorrow, that doesn't happen often – so it's a lie-in!"

Duncan Scott – Photo by Georgie Kerr, courtesy of British Swimming
I note the degree to which a 1:55.90 places him, especially as a man believing he has lessons to learn and improvements to make yet, on the edge of "podium shot"; and I ask when 'mission medley' took hold (keeping in mind that in his youth he claimed 200Im gold in the European Youth Olympic Festival and the 2014 European junior title as the younger of the older two years eligible). Duncan Scott, 2018 Commonwealth silver medallist, replies:
"I think there's a few fast people yet to swim this year and we've seen some trials with people being pretty quick as well. I used to do medley when I was younger. It was the first event in which I made British Age Groups (youth nationals); 400 IM, I used to do … fortunately it dropped down from the 4. I've always loved doing IM and love doing the training . I guess for me, there's so much to work on and improve on and I really enjoy doing that in training."
In short-course racing, including as a member of London Roar in the International Swimming League, Scott has laid down some impressive 400m medley times. At the ISL final in Las Vegas on the eve of Christmas 2019, Scott clocked 3:59.81. Alchemy was the idea. He says:
The 400 short-course worked out really well for the 200 long-course. Its an event I've always looked at and always done. I've done it most years. I just wouldn't say I've focussed on it as much as I have over the last 24 months. For me, sitting here right now after that race, there's so much to improve on. I did find the event really exciting, I really enjoy it."

Duncan Scott
The fast freestyle of a man on 47.87 at 2019 British nationals is surely a part of the race to look forward to but how did he perceive what may look to the outside observer like an advantage?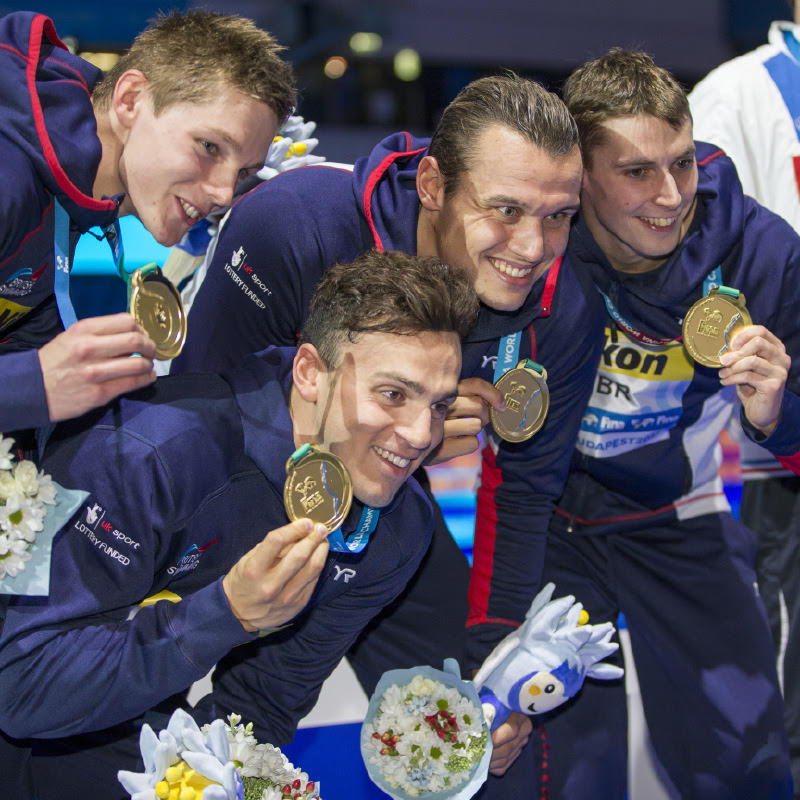 He sees that it would be perceived like that: he's definitely got what it takes to do damage up against the best of the best, as witnessed in golden 4x200m relay efforts and when he brought Britain hime to 4x100m medley gold at 2019 World Championships, among several other moments that spring to mind.
His 27-high last 50m today was not among his best but was "pretty good", he notes, while adding this insight:
"The freestyle field around me in that 200 (medley) is really good … you've got a couple of 1:47-standing freestylers in there. At the same time I would say it's a very different feeling that last 50 of a medley and the last 50 of a 200 freestyle. You've worked different muscle groups with doing different strokes, so it is different. Yeah, I get it that for me my last 50 is my strongest stroke, as you say, but for me that just means 'where can I be at 150?' That's what I'm looking at: how fast can I be to there and, like, you know, looking at small margins, how much quicker can I get to certain places by. There's so much improvement to be made on breaststroke, for example, to work out how good can I be by that 150m mark."

Duncan Scott – photo: Great Britain Gold in the 4x200m freestyle at 2017 World Championships – (L-r) Duncan Scott (1:44.60); James Guy (1:43.80), crouching; Nicholas Grainger (1:46.05) and Stephen Milne (1:47.25) – Photo by Patrick B. Kraemer / MAGICPBK)
All of that to this about and much more this past year. Had it been challenging? Duncan Scott has a heartening way of pouring glasses both half-empty and half-full in equal measures as he gives careful consideration to his answers. He sighs, says "you know it just becomes the norm now…", adding: "It has been a really strange past 18 months or so. Last year being told I can't train but the trials and the Games are still going ahead but I wasn't able to be in the pool; that was quite difficult.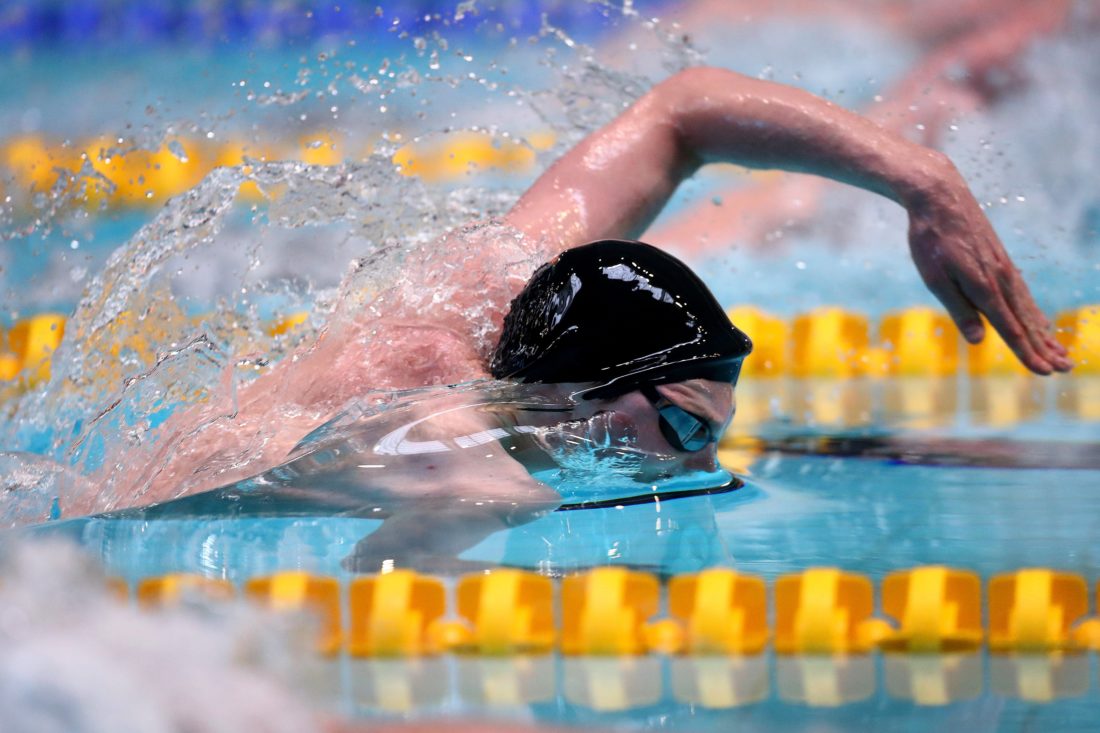 "But then several weeks after that it was all cancelled and I really enjoyed getting out on the bike. It was the first time I'd been road cycling and I thoroughly enjoyed that. I was doing the laps and the turbo and all that and it got pretty challenging but Stirling's quite a nice place when you get out on the bike – and there was some really nice weather, so I actually found that quite enjoyable to go out there with a couple of the guys
There was circuit training and Zoom calls and "stuff like that" in the low of a new way of being but, Scott adds: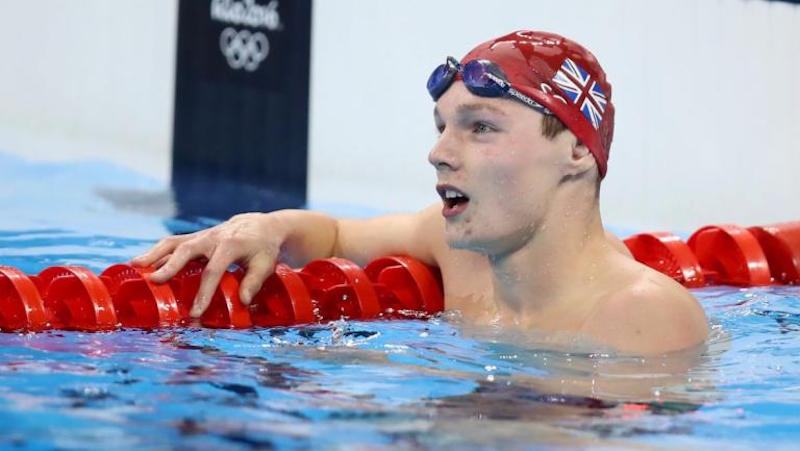 "It was quite challenging but I never lost the hunger I had for the sport and pushing above what I wanted to do. I think that extra years of maturity has really helped me to become a better athlete. I think, in truth, there were some aspects of it that I really enjoyed. like relaxing a little bit more and chilling out. But getting back to it I've found there are so many aspects to it that I've just got much better at in the pool. That's been great."

Duncan Scott – Photo by Patrick B. Kraemer