Duncan Scott Holds Tom Dean Off By 0.05 in 1:46.70 On Return To 200m Racing, James Guy Close, GB 4×200 Building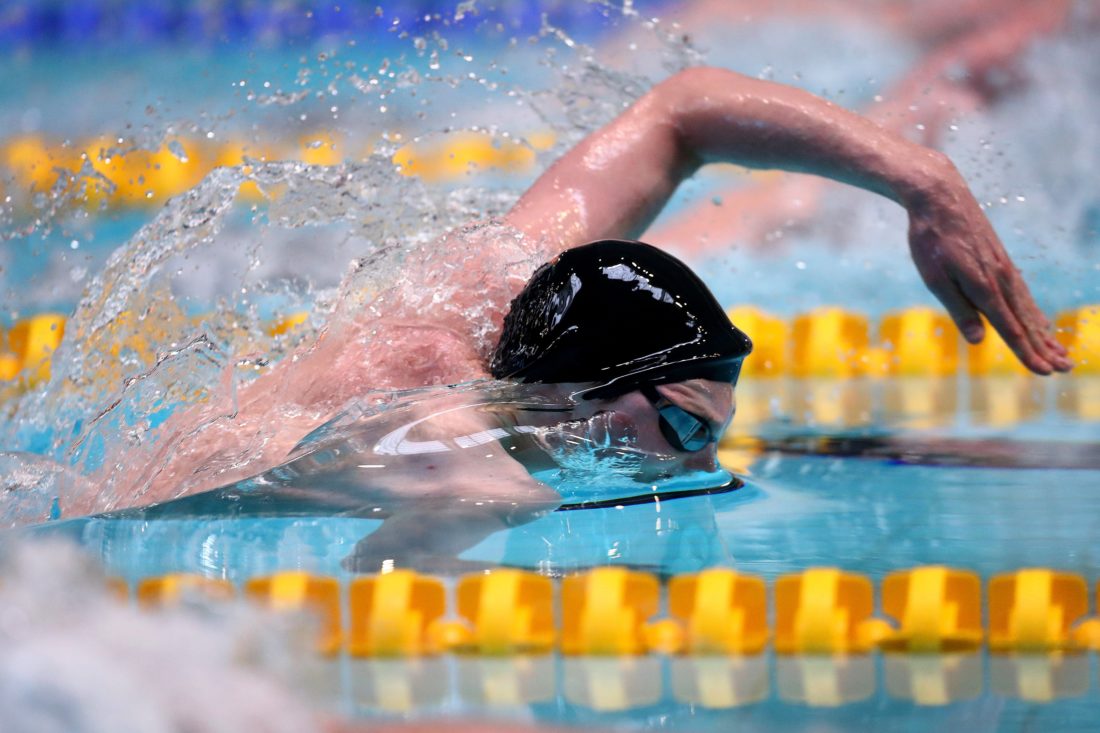 Duncan Scott had not raced in the big pool for a whole year when he arrived at the British Invitation Meet in Manchester this weekend. He leaves with three wins under his belt, the curtain-closing battle for men the highlight of the day when Scott snatched a 1:46.70 victory by just 0.05sec over Tom Dean in the 200m freestyle.
James Guy, the 2015 World champion and one of the men responsible for delivering gold for Britain over 4x200m free and 4x100m medley at the global showcase and getting the squads on the Olympic podium too, was third in 1:47.47 in a loaded final.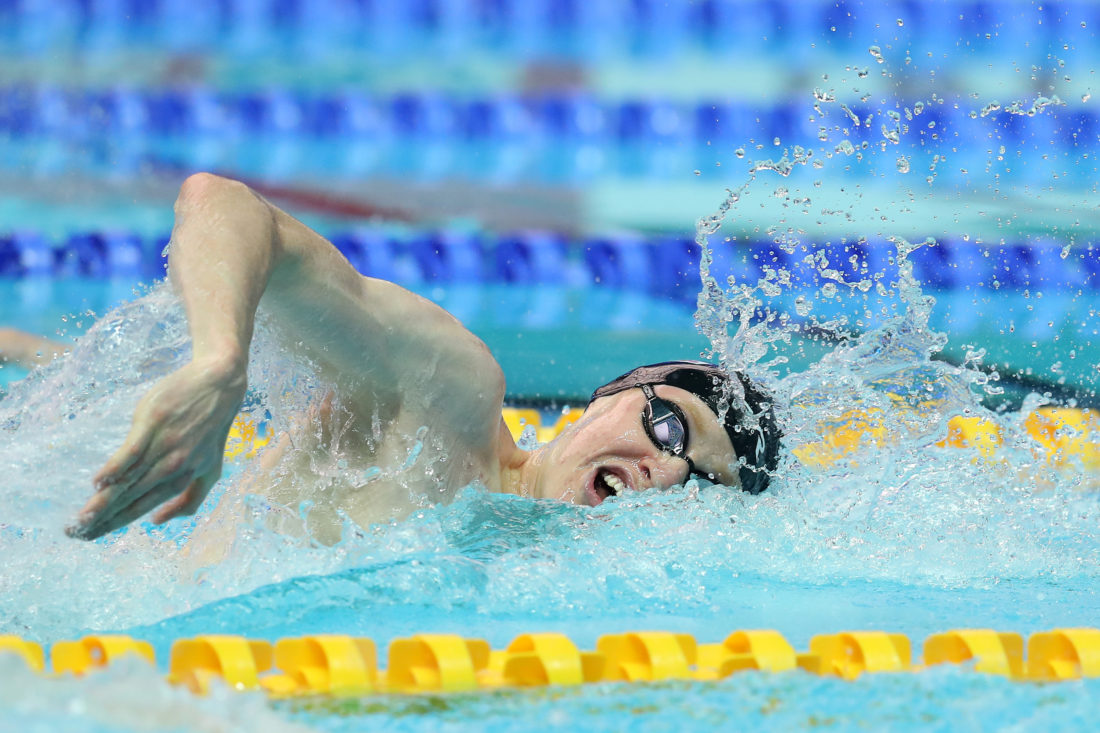 The three-way tussle helped Dean shave 0.11sec off the career high he set in 2019 before a racing drought caused by Covid in 2020.
Not bad all round, nor for what was the first long-course 200m race in a year for Scott, coached by Steven Tigg at the University of Stirling. It came a day after he took wins in the 200m medley and the 100m freestyle, triumph secondary to speed test a month out from Olympic selection trials.
In a standard Olympic years, trials have a keen edge to them. Not so this time round for Duncan Scott, who is among those pre-selected for the delayed Tokyo 2020 Olympic Games courtesy of his solo medal at 2019 World titles, a bronze in the 200m freestyle.
Indications are that the best of Scott is yet to come – and he will arrive in Tokyo without having had to show his full hand.
His Gwangju 2019 world-titles podium was gained in 1:45.63, the fifth best of his career in a tight range topped by the 1:45.16 he clocked at 2017 World titles to fall just 0.02sec shy of the 1:45.14 British record in which Guy claimed the global crown in 2015. Those two men account for the best 14 efforts ever by British men, one of the key athletes responsible for lifting Britain's bar in the 4x200m, Robbie Renwick with the last sub-1:46, a 1:45.99, in the swiftest national four-length battles all-time.
Today, it was James Guy who set the pace, turning at the helm at the 50 and 100m, by which time Duncan Scott was just 0.05sec away, Took Dean 0.4 further back. And here's how it went from there in a race without rest from the work going in for the bigger moment:
25.23; 51.63; 1:18.91; 1:46.70 – Duncan Scott, Uni of Stirling
24.83; 52.03; 1:19.38; 1:46.75 – Tom Dean, Bath Uni
24.78; 51.58; 1:19.43; 1:47.47 – James Guy, Bath Uni – 33rd best in a career with 26 sub-1:47s
25.70; 53.71; 1:22.24; 1:49.44 – Matthew Richards, Bath Uni, 19 and the only teen in the field
25.64; 53.20; 1:21.65; 1:49.67 – Max Litchfield, Loughborough Uni, after a 4:16 win in the 400IM
25.58; 53.61; 1:22.11; 1:49.96 – Calum Jarvis, Bath
There was also a 1:49.19 from Cameron Kurle in the B final after he missed the cut in morning heats. The hunt for 4x200m berths at Olympic trials in London next month will be keen indeed.
Duncan Scott noted the fun and drive in the British 200 free ranks, saying:
"200 Free in Britain is always good fun! I've been doing some race simulations at home, but to come here and race some other guys has been really good. It was just so tight and that's what's so good about it – head to head racing gets a bit more out of you – it's really good looking ahead to trials and the 4×200 relay.
Reflecting on his first long-course meet in a year, he added:
"There's still plenty to do and plenty to learn. Some of the times were good but I think some of the execution of skills, there's a lot of room to improve. I'm quite happy with where I am and I've got a final phase now and then into taper, so I'm quite excited for the next block."
With a nod to the challenge of racing with a weight of work in his bones, Dean also pointed to the relay flame the 200m crew keep alight with each passing generation for more than 20 year going back to the days of Paul Palmer:
"I just wanted to come here and move it on from the Manchester International – that was the main aim. I had a bit of a shaky start to the three days in that 400, feeling a bit tired from training, but to finish off with that is good. GB 200 free is just a stacked event and it's always going to be an exciting race when you've got eight top guys going head to head – that only bodes well for trials in a months' time."
Kathleen Dawson Makes It Three Scottish Records in Two Days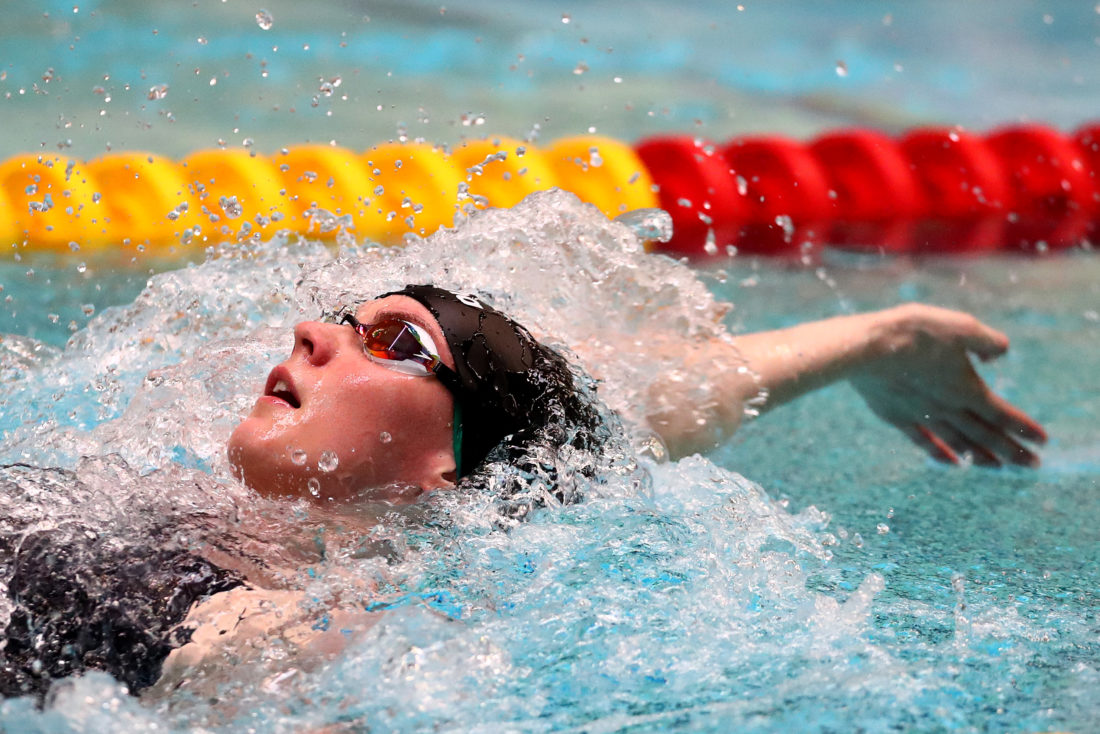 A day after a sizzling 58.6 Scottish record in the 100m backstroke, Kathleen Dawson added "lane 1 outside smoker" to her weekend celebrations when she took the 200m final in her third personal best in two days.
It was back in 2016 that Dawson clocked 2:09.62 at British nationals. Perseverance got her past the plateau between teen and mature athlete and today, the University of Stirling ace coached by Bradley Hays made it 2:09.44 for a third Scottish standard in Olympic events at the meet, her training partner Cassie Wild not far off, on 2:10.93. On day 1, there was also a dash standard from Dawson.
Another backstroke record-breaker at the meet, Luke Greenbank of Loughborough and Cockermouth, made it a brace of triumphs with a 54.56 in the 100m that kept at bay his mate at the university program Joe Litchfield, on 54.88, and Bath University's Brodie Williams, on 55.39.
Pre-selected for the Covid-delayed Tokyo 2020 Olympic Games courtesy of silver behind Adam Peaty over 100m breaststroke at 2019 World Championships, James Wilby, of Loughborough, took the 200m breaststroke in 2:11.24, off 1:02.92 at half-way. Next home was Ross Murdoch, of the University of Stirling squad in 2:12.88, off 1:04.31, with Loughborough's Gregory Butler on 2:13.88.
Talking and Loughborough's Anna Hopkin left nothing to chance as she turned for home in the 100m freestyle with a strong lead of 26.20. Freya Anderson, Bath University, fought back but Hopkin had done enough and the win was her's in 54.44 to 54.51, Edinburgh University's Lucy Hope close on 54.94.
Max Litchfield, the World and European medallist who finished fourth over 400m medley at the Rio 2016 Olympic Games, was a class apart in his signature event. The Loughborough ace stopped the clock in 4:16.74 ahead of respective efforts of 4:21.52 and 4:23.50 from Bath teammates Brodie Williams and Jacob Greenow.
In other action, there were wins for Aimee Willmott, of University of Stirling, on 8:42.88 in the 800m freestyle.; Harriet Jones, of City of Cardiff, on 59.03 in the 100m butterfly; Jacob Peters, of Bath University, on 23.90 in the 50m butterfly; and Loughborough's Candice Hall, on 2:15.11 in the 200m medley.
Rikke Moeller Pedersen & Partner Celebrate Birth Of Their Daughter
In other news: Denmark's Rikke Moeller Pedersen, the former World record holder, and her Nicolai Sehested, the Danish sailor and skipper of Team Rockwool Racing, celebrated the arrival of their first daughter, Philappa, yesterday. The happy news was delivered on Rikke's Instagram account: