Duncan Scott Cracks Commonwealth 400IM Mark in 4:09.18, Faster Than Tokyo Gold As Lewis Burras Blasts 47.88 Ticket To World Titles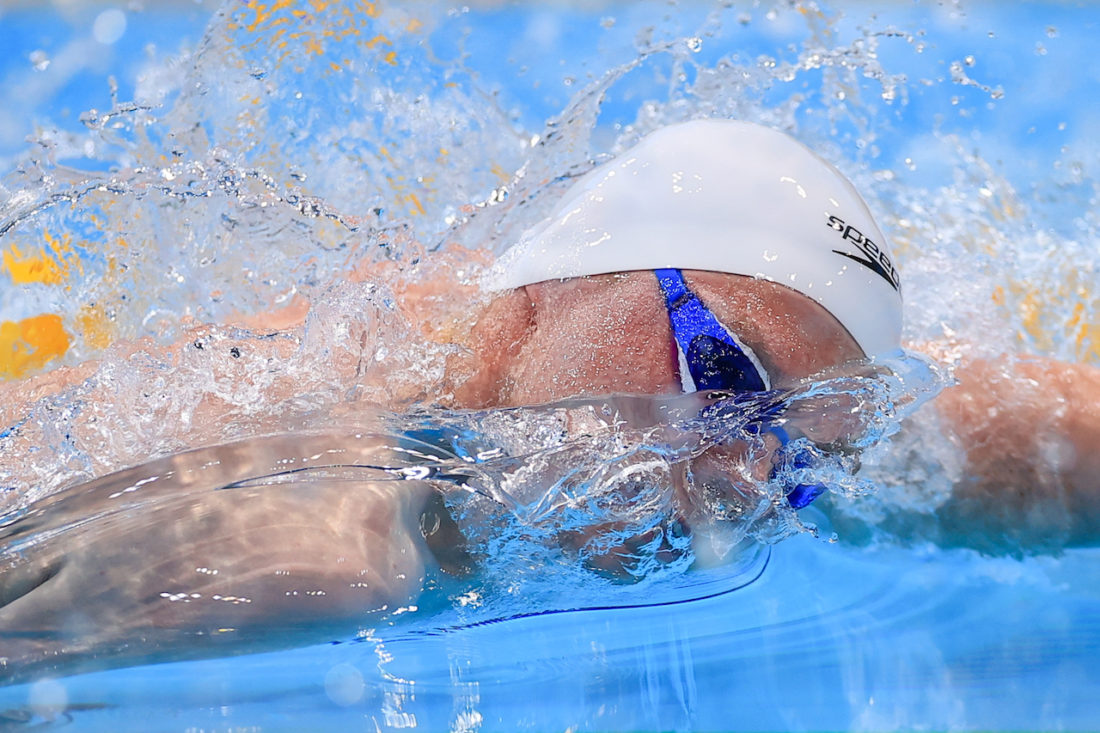 On 4:09.18, Duncan Scott not only set a Commonwealth and British record in the 400m medley at the national championships in Sheffield by wiping 6 seconds off his lifetime best at the deep end of a sprinter's challenge but his pace would have granted him Olympic gold last year in Tokyo.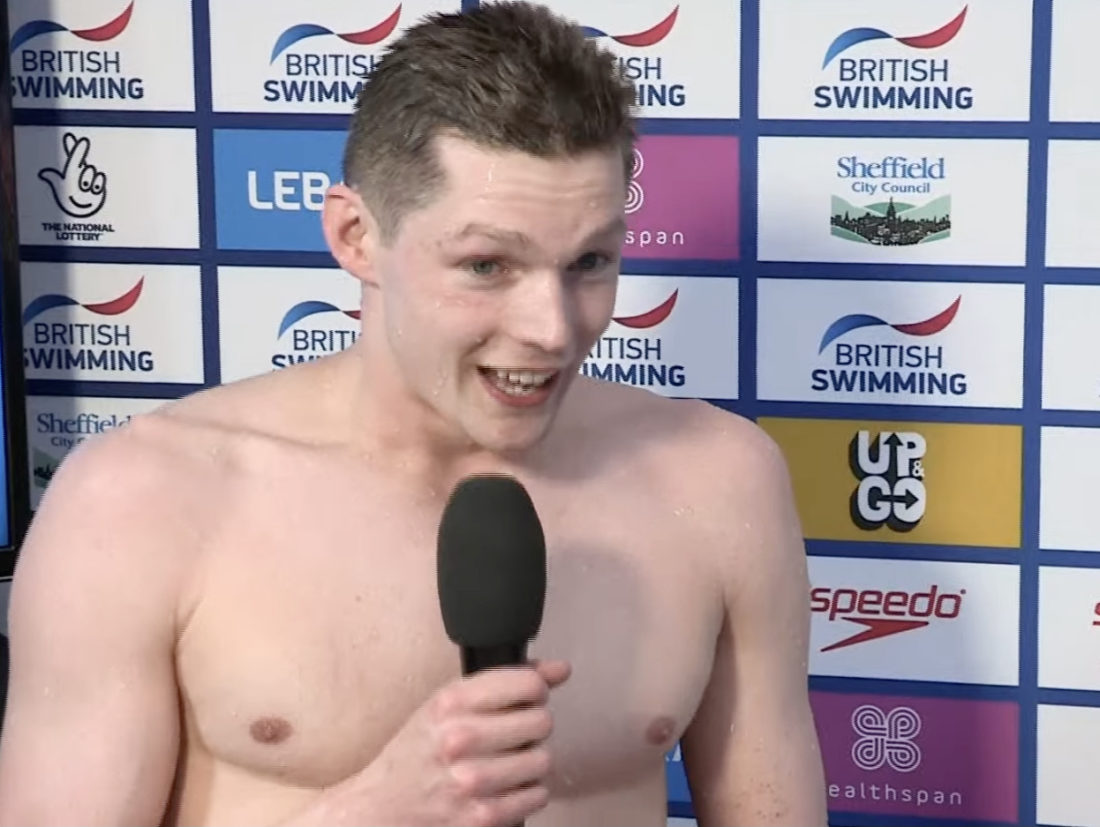 American Chase Kalisz took the Olympic crown in 4:09.42, while Scott, the long-course 400IM a matter of training tests and a memory from his racing youth, claimed gold and three silvers, one of them in a tight tussle over 200m medley on the way to becoming the biggest hauler of medals in history at a single Games of any British athlete across all sports.
With that accolade and his record haul of six golds at the 2018 Gold Coast Commonwealth Games, could the 24-year-old be aiming for seven golds at Birmingham 2022 when the Tartan Aquatic Army heads south for battle?
On 57.26 over 100m freestyle, no wonder Scott said he'd bypassed the there-and-back sprint today at British nationals because he was "scared of the 100 boys". He was joking, of course, his two lengths freestyle at the back end of his record breaking medley mash and grab.
Out in 56.77 on butterfly, Scott turned in 1:59.97 after a 1:03.20 backstroke split, Brodie Williams close at that stage. On breaststroke, Scot the Scott broke clear, turning into freestyle in 3:11.92 (1:11.95). Then for freestyle: 4:09.18. Boom!
The Commonwealth standard had stood at 4:09.27 to Australian Brendon Smith since Tokyo Olympic heats. The British standard had belonged to Max Litchfield since 2017 World titles in Budapest, when 4:09.62 got him onto the podium.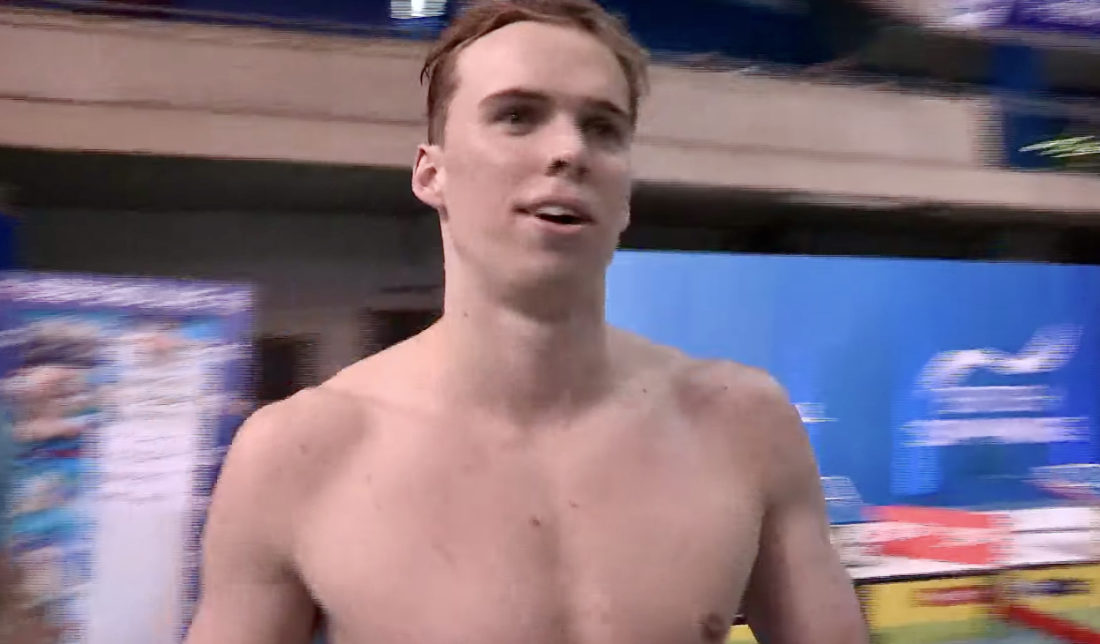 At a championships with many solid efforts but few spine-tinglers at this stage of the game, this was the highlight of the day, despite the terrific three-way clash in the 100m free that delivered an English record 47.88 from Lewis Burras for a national title he first claimed in 2018, then over Scott, this time over Olympic 200m champion Tom Dean, on 48.06, and a national age record from 18-year-old Jacob Whittle, on 48.24.
Burras and Dean raced inside the cut for selection to the solo 100m at World Championships in Budapest in June.
Not long now before Britain is looking at a sub-48 quartet from a standing stand, and much faster from one standing and three relay starts. Scott's 47.76sec British record lived to fight another day after he had already ruled the 100m in for the future during post-400Im comments.
Short-course in International Swimming League action, Scott has made a sprint of the 400m medley and doubtless gained valuable insight with each passing swim and season. Long-course changes the dynamic but Scott made it look like he was a past master of double the distance of his Olympic success on medley.
If he made it look smooth at the surface, there was furious effort in the depth of effort – and it was there for all to see on dry land. Said a panting Scott: "Everyone makes this look so easy talking after races… Yes, I was pretty happy with that. That's the first one I've done with some good preparation in a long time. It's good to get a gauge of where I'm at. I knew I'd be around that… I'm pretty happy with that."
Steven Tigg, his coach at the University of Stirling performance centre, referred to Scott's unfilled potential on medley when he told SOS last year: "The biggest challenge to Paris is setting the correct 'pace'; there's no rush, we need to keep doing the simple things consistently well and whilst keeping an open mind not being drawn to some of the shiny pennies that can detract from the pursuit of improvement.
"The Disciplined Pursuit of Less I like to call it . He is in a great place as an athlete and a person, he's only 24 chronologically, biologically I believe and from what we can tell, a lot younger, so he's still not at his peak physically."
Asked about his program and bypassing the 100m free today, Scott replied: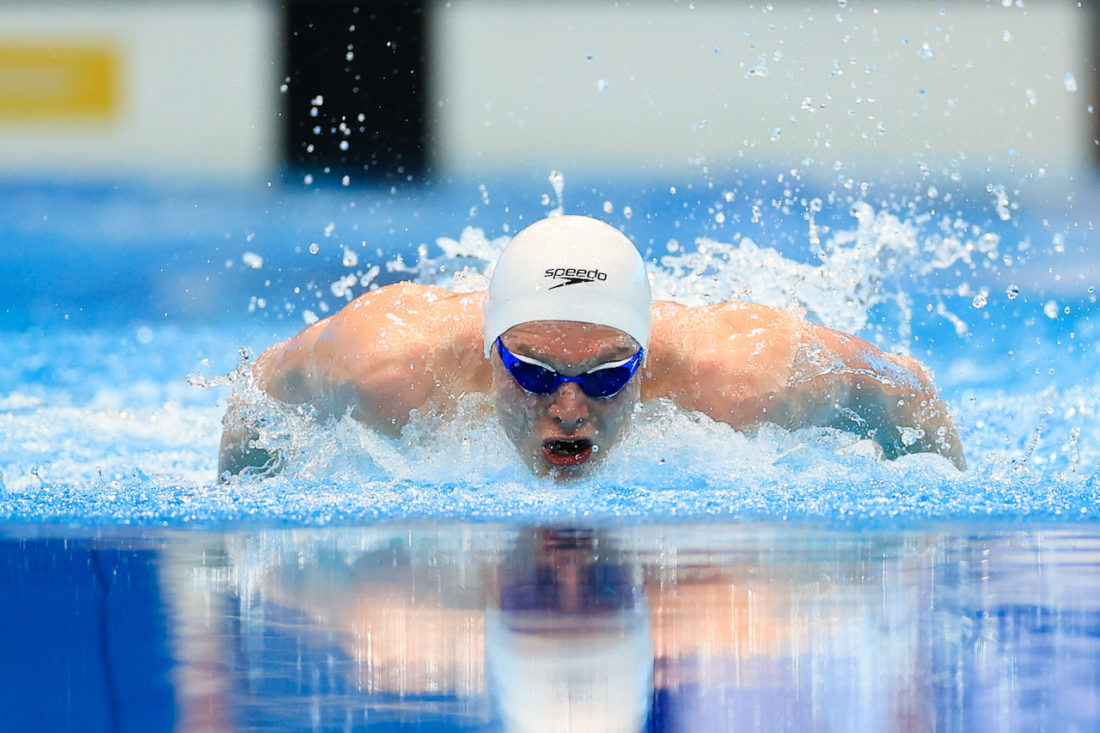 "I was scared of the 100 free boys that's why I decided to do that 400IM today. As many have said, it's the year after the Olympics and I'm just trying out as many things as I can. I really enjoy testing myself in different events, like this long-course. I've got no idea [what he will settle on for the big occasions]: the 100 free is one that I've got to keep battling at and we've got such death in Britain now that its makes it really exciting to be a part of those relay teams. That's not an event [100 free] that's getting dropped by any stretch of the imagination."

Duncan Scott – image by Georgie Kerr, courtesy of British Swimming
Commonwealths have been held in the same year as a World titles showcase before but wherever they fall on the calendar, they are the fun and spice in the basket of challenges for Brits with three majors on the long-course cards this year (World titles, Budapest, June; Commonwealth Games, Birmingham July/August; and European Championships, Rome, August).
The Commonwealth Games offer Scots a once-every-four-years chance to roll out the Tartan carpet. Then there's the kilts or trews, belt, sporran, sgian-dubh, knee-socks with a cuff known as kilt hose, garters, kilt pins and clan badges.
Bravehearts in bathers. Said Scott: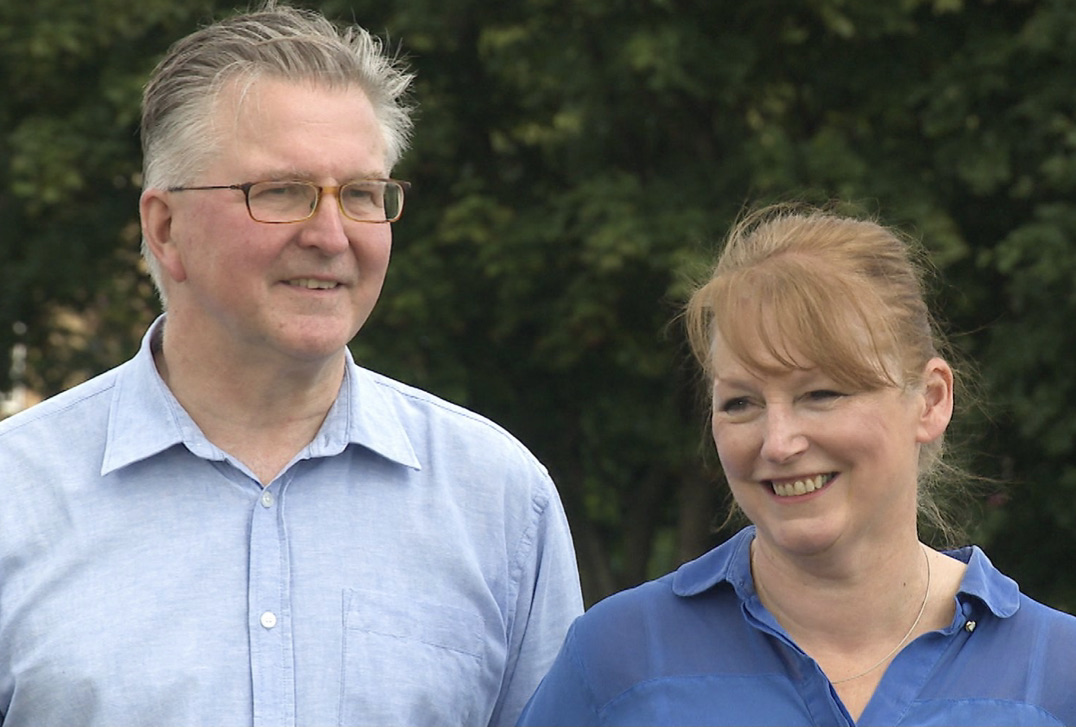 Yes, if anyone knows my mum, she's a proud Scot so she'll be buzzin'. Doesn't come round often. I absolutely love competing for Team GB but its always nice when you get to break off into home countries and you get those little rivalries that come every so often, it's good fun. I always really enjoy that. I'm looking forward to this year. There's been some good swims so far and there's openly more days left of the championships.

Duncan Scott. Image to the right: Nigel Scott and Joy McNaughton, parents of Duncan Scott
And then he was off to watch the mates he will race alongside in relays, if not solo battles, throughout the action-packed summer season ahead.
Burras Rattles Scott Mark In 47.88
The 100m final was much anticipated after Lewis Burras, coached by former international and World 50m breaststroke record Zoe Baker, clocked a sizzling 48.15 in heats, Jacob Whittle on 48.36 and Tom Dean on 48.57.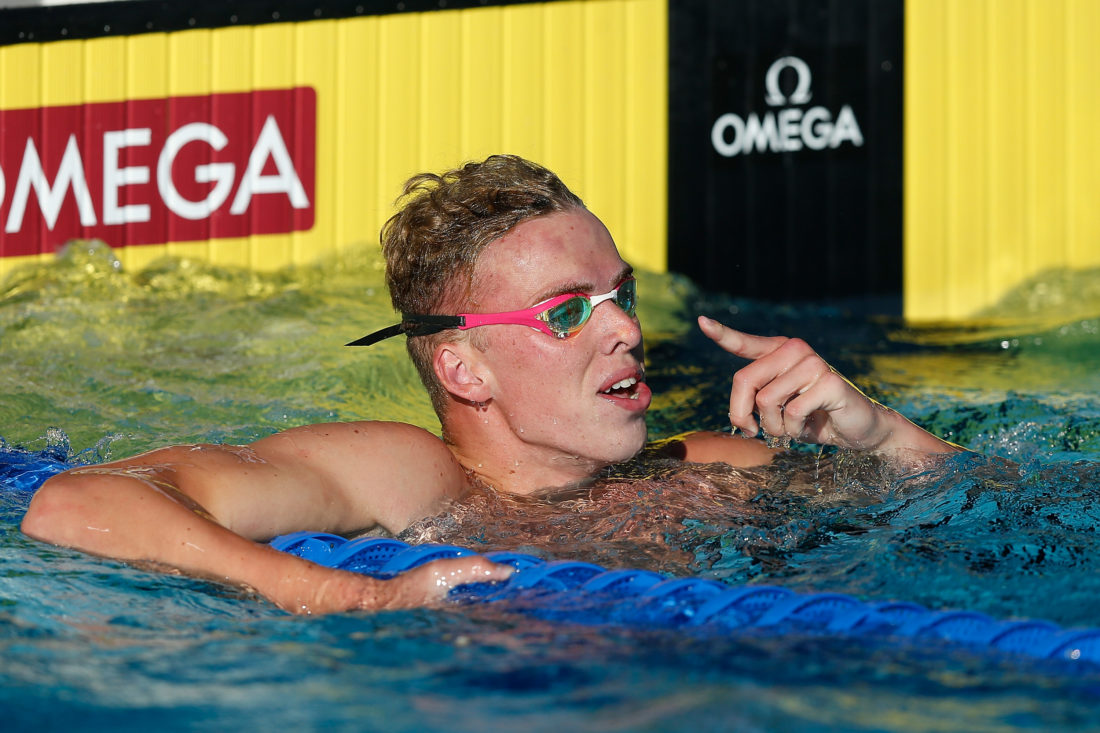 Sometimes, such showdowns fall shy as tension takes the edge of them. Not this one. Burras, who was deprived a shot at Olympic selection last year by a hernia operation, was out in 22.68 and looked like a man who'd forgotten there was another lap.
With 20m to go, Dean rolling with the momentum expected of a 200m Olympic champ, Burras retained a solid lead that look unassailable. So it proved but only just, as Dean and Whittle joined the drive to make Britain a competitive 4×100 free force to reckon with.
In Birmingham Scott will be off being a Scott and the three above into being English but at Britain level, look how far they've come, along with 4x200m Olympic champions Matt Richards and James Guy part of the advance party pre-selected for Budapest 2022 on the strength of their Tokyo treasures.
You have to go back more than a century to find a time when Britain had two men in the best 10 in the world over 100m freestyle at the end of the same year. It's early days yet but Burras, Dean and Whittle are right up at the helm of spring pace.
Much was made in some quarters of "World No1 Rank!" after the speedy 48.15sec Burras clocked in heats this morning, let alone the 47.88 of the evening. Speedy it was, speedy he is, tremendous the promise and possibility of a competitive Britain 4x100m freestyle relay capable of producing four cylinders firing inside 48. Talk of World No1 rank in April before the vast majority of the best in the world have raced in peak form, any year, is a short break in the cloud on a stormy day that tells us little about whether it will spell rain or shine come the crunch.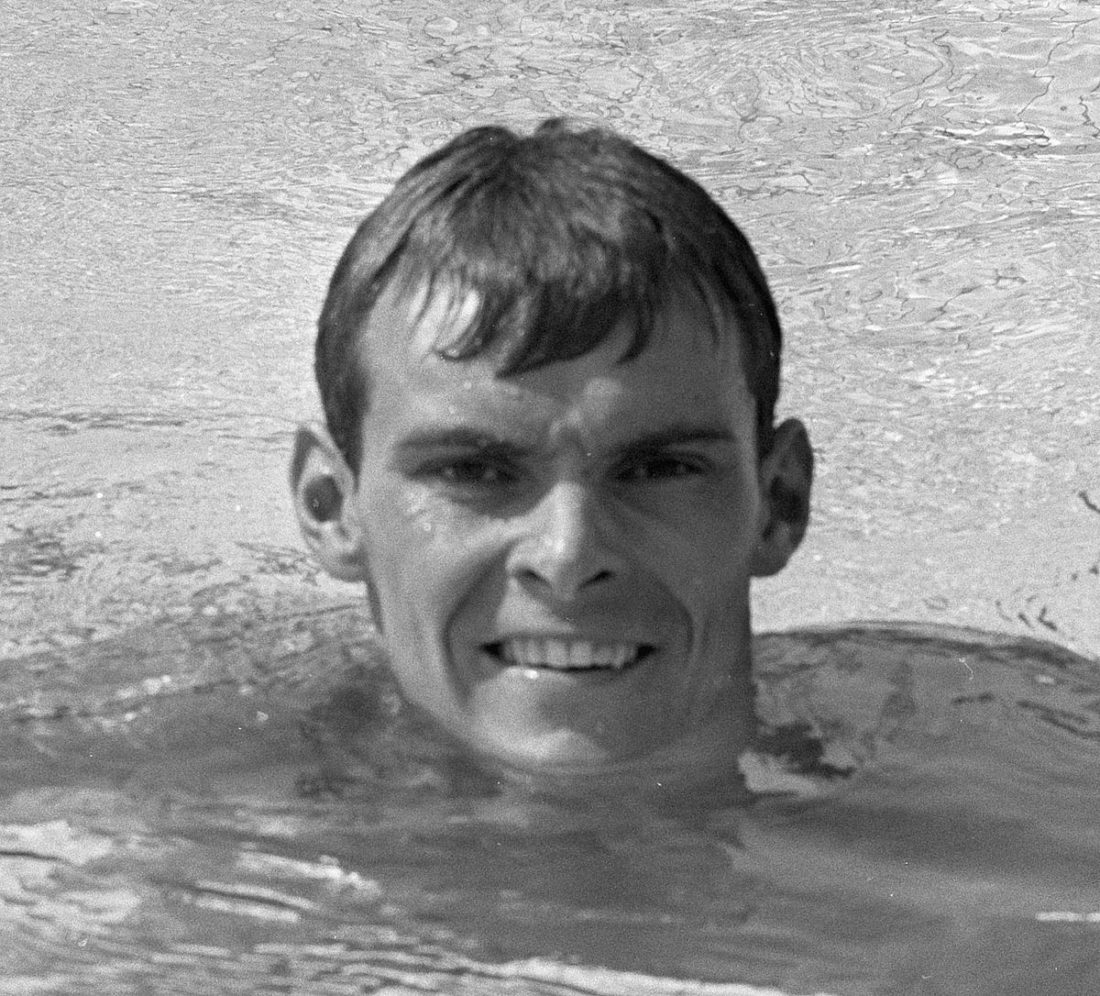 Year ends through history tell a tale of 100m free drought for Britain in global waters between Scots Bobby McGregor, the 1964 Olympic silver medallist and fourth in 1968 when pipped for bronze by a boy called Mark Spitz, and Duncan Scott, who became Britain's next Olympic finalist in the event in finishing fifth in the Rio 2016 final on his way to lifting the Commonwealth Crown in 2018 ahead of the 2016 Olympic champion Kyle Chalmers of Australia.
Since McGregor, Scott has topped the best of Britain when it comes to creating tall waves among the very best on the big occasions over 100m freestyle. In between, Simon Burnett raised high hopes in 2006 when his 48.57 British record for England and the 2006 Commonwealth title made him the only GBR swimmer ever to top the end-of-year World rankings.
For consistently high ranks, however, look to McGregor back in the day and now Scott, who after finishing fifth in in the Rio 2016 final, has ended every subsequent year in the global Top Ten. To find two Brits in the World best 10 at the end of any year, you have to go back to the days of Paul Radmilovic and John Henry Derbyshire, who in 1906 were finalists in the 100m at the 'Intercalated' Olympics.
In Tokyo we saw Brits catch up with 1908. The last and only other time Britain claimed the long relay crown, the 4x200m free was new to the official Olympic program at a home Games in London.
The 1908 quartet of John Derbyshire, Paul Radmilovic, William Foster, who was 18 years and 2 weeks old and remains the youngest British Olympic gold medallist in any sport, and Henry Taylor added to Taylor's two solo golds, over 400m and 1500m and those three golds at one Games have remained the best of Britain until Tokyo2020ne.
James Guy, Tom Dean, Matt Richards and Callum Jarvis – guided by coach Dave McNulty and TeamBath – and Duncan Scott were the next Brits to celebrate 4×200 gold.
And here comes the next time warp and a catch-up with the cutting-edge of contemporary standards over 100m freestyle.
An emotional Burras said: "I watched the Men's 100m Freestyle last year. I had just undergone a hernia operation so was unable to walk, but I knew that those boys were on to something special, and if I was going to turn up today and do what I needed to do, it was going to take something special.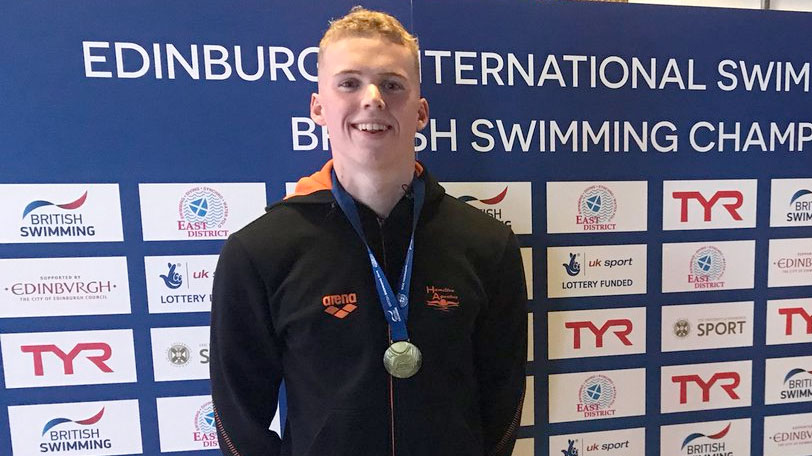 "I took it out hard, I had to attack my turn, hit my kicks and keep the breathing pattern going. A big focus was trying to stay in the middle of the lane, and not let either Tom or Jacob ride that wave home. I got to the 10m mark and told myself, 'pain is temporary', and that helped me get my head down.

"These guys are some of the best swimmers in the world, I've been lucky enough to swim with Tom on a junior team, with Brodie Williams – and to see them there in Tokyo, I knew I had let myself down in a way. But it has definitely given me some fire to push on in this cycle."

Lewis Burras. Photo, Burras, a champion in his junior years, is now coming good as a senior – courtesy of SwimEngland
Below is Burras back in 2018 after his first national title at the start of a roller-coaster he's just climbing down from and heading in the right direction, courtesy of a whole list of people, family up front, that he thanked in a post-race Oscars-acceptance-style statement of relief and gratitude that left Zoe Baker and this until last:
"It was Ian Hulme (coach) who put me in touch with Zoe Baker … and honestly, Zoe is the reason why I'm alive today."
In Other Action
The third session of finals this week started with a 14:58.63 victory for Dan Jervis in the 1500m freestyle. Having set a lifetime best for the win on the first day of action, Jervis had expected more even though the pressure was off, courtesy of pre=selection for the World Championships on the back of his fifth place finish at Tokyo 2020ne.
His best 1500 of 14:46.51 just shy of the 2004 British record of fellow Welshman David Davies, the Athens Olympics bronze medallist, Jervis was the most honest of all asking, answering and commenting when he noted: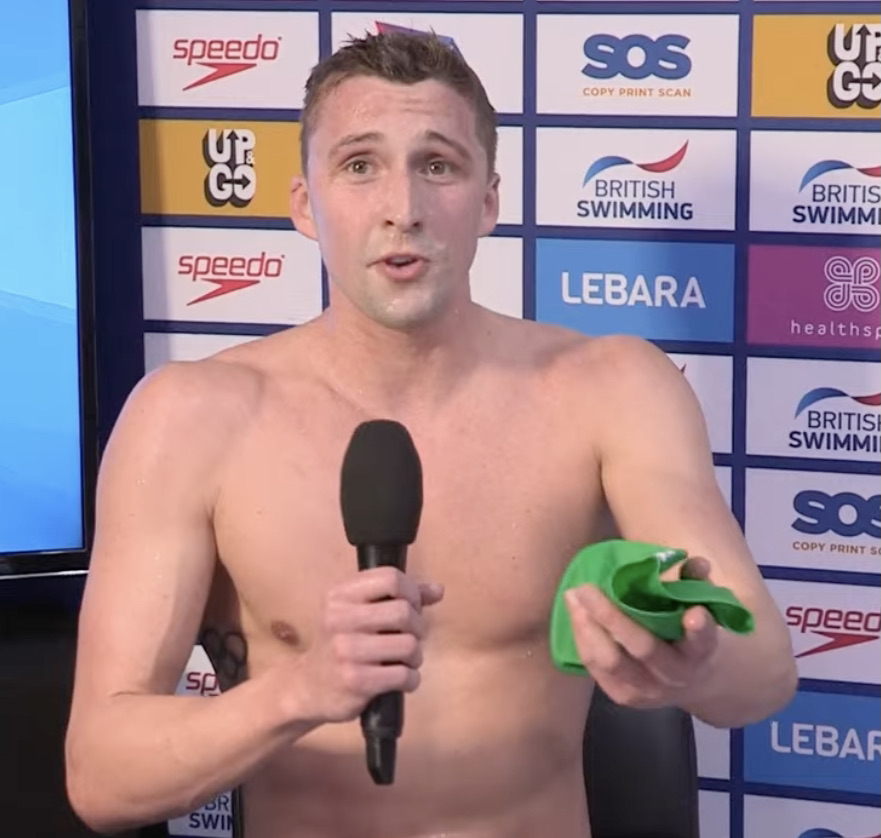 "I think physically I'm in best shape of my life. I showed that in the 400 … all credit to Adam [Baker] my coach. But I think i just let it get to me. I was so focussed but on the wrong thing… I was focussed in the time but I should have been focussed on the race, on the performance. I'm a bit disappointed there, I let myself down a bit. Not me, not my standard. I won't be doing that time in the summer."

Dan Jervis
Anna Hopkin, coached by Mel Marshall at Loughborough, was another who will be in Budapest despite falling shy of the cut in the 50m freestyle with a 24.85sec national title. Olympic champion with 4x100m Mixed medley mates in Tokyo, Hopkin emerged from a dominant win to reveal that she had recovered from a Covid infection last week just in time to be clear to race at the championships. Hopkin said: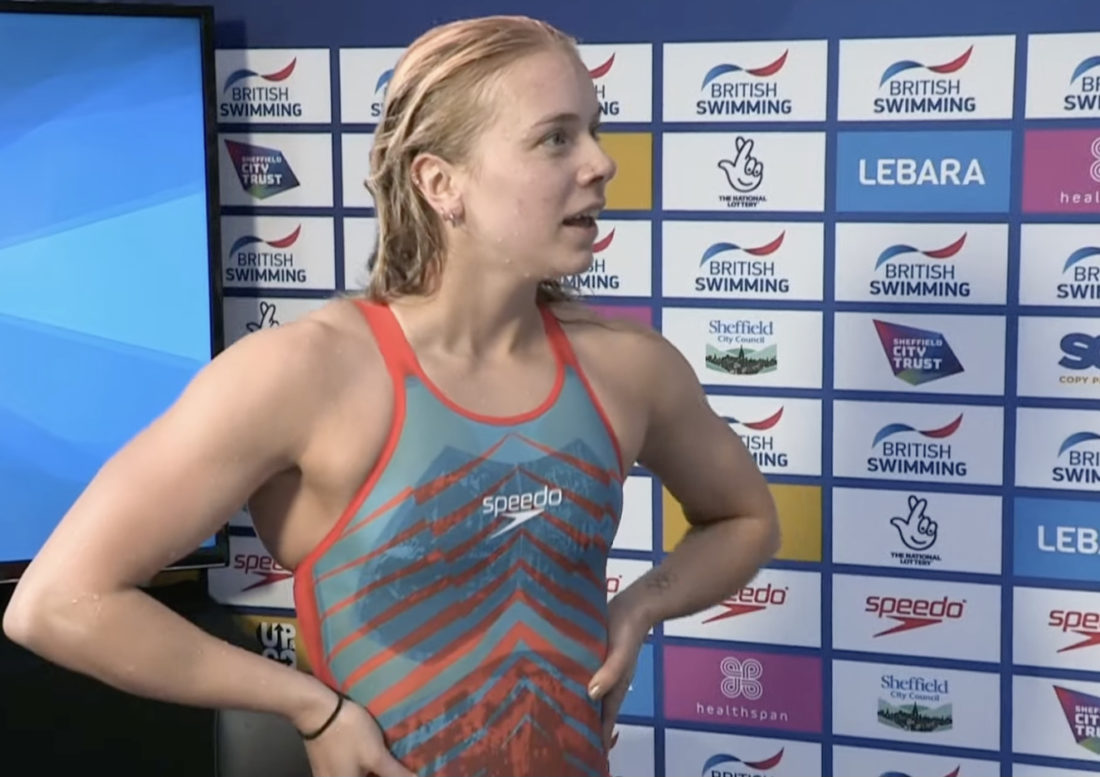 "That was s decent race for me. It's been a different sort of preparation coming off the Olympics. It's just good to see where I am at this time of year. I got Covid last week so that wasn't ideal. It's just something we have to deal with now."

Anna Hopkin
She added: "At the minute, I've qualified for Worlds as a relay swimmer, so obviously I still need to prove myself individually. Hopefully over the coming months, when we do more competitions, I can prove myself more than now. It's a bit of a different year to last year, so hopefully there is more to come in the summer.
"At the moment, I feel I have momentum going through, but I think after the summer, I'm going to need a decent break this year, because then it's two years to Paris and that's when we really need to refresh and be a bit more fresh in the mind as well. I've just got to push through this year, try to build on what I did last summer, then take a good break after the summer and come back through for Paris."
Hopkin was back on the deck after the men's 400m medley finals for a World Record certificate presentation with fellow 4×100 Mixed Medley Tokyo Olympic champions Kathleen Dawson, Adam Peaty and James Guy.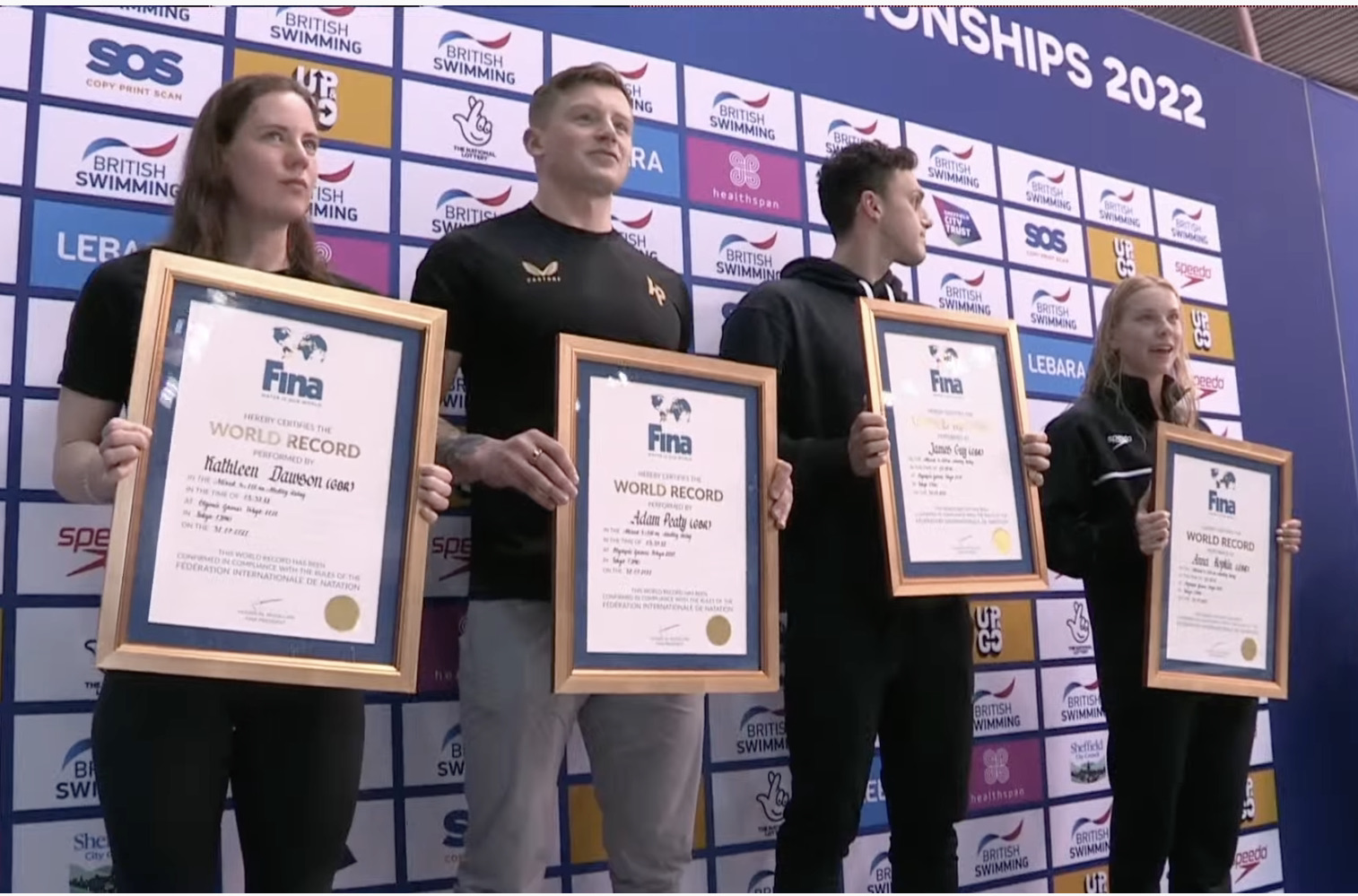 Anna Hopkin noted: "My mum and dad are here, they obviously couldn't watch me live at the Olympics. For them to see that presentation will mean a lot. They were gutted they couldn't be out there, they'd have 100 per cent been there. So it's nice they can feel a part of it here now."
In the women's 200m butterfly, Laura Stephens, of Loughborough, was just 0.2sec shy of the target time for Budapest on Laura Stephens for the national title in 2:08.11. Discretion may get her to Budapest yet.