Duncan Scott 1:44.47 Record Draws The Mettle In The Men About Him, Tom Dean On 1:44.58, Britain 4×200 Relay In Great Shape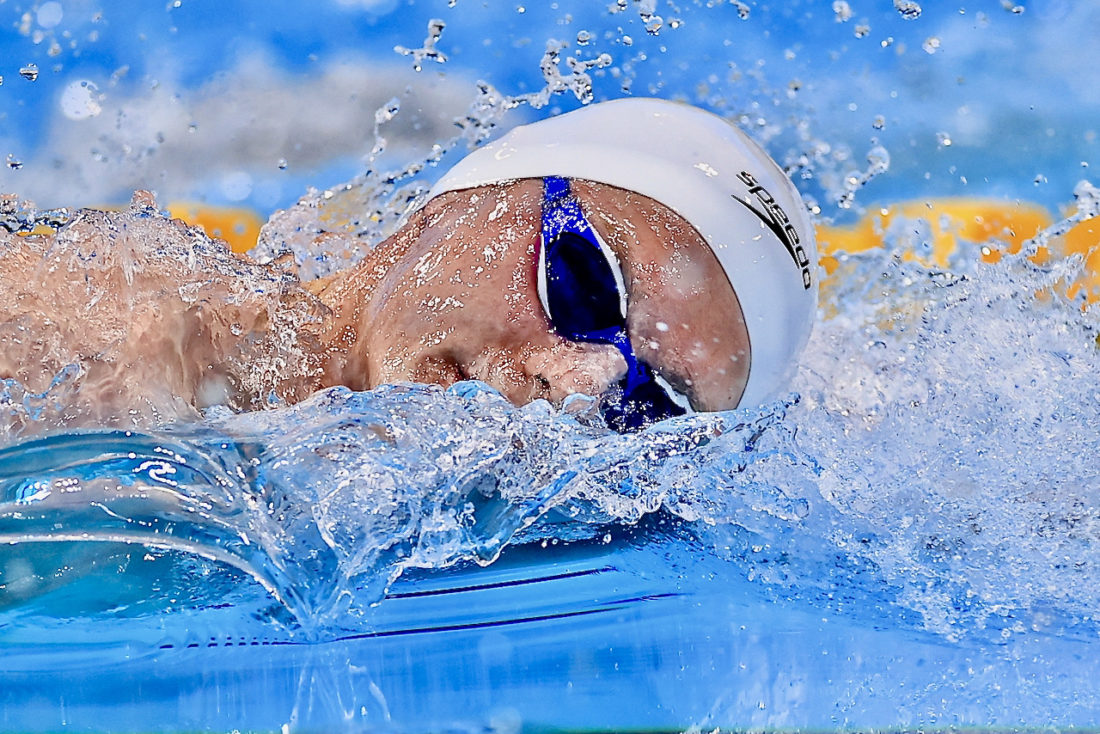 Duncan Scott on a 1:44.47 British record, Tom Dean leapfrogging the 1:45s to go 1:44.58; 18-year-old Matt Richards on 1:45.77; 2015 World champion James Guy on 1:46.04; Calum Jarvis on 1:46.47; and Cameron Kurle on 1:47.36 added up to the race of the British Swimming Olympic Trials and great prospects for the solo 200m freestyle and the 4x200m freestyle at the Tokyo Olympic Games in July.
It was the fastest 200m freestyle line-up in domestic waters at Olympic trials ever seen barring one shiny suited race.
Consider the speed of Duncan Scott and Tom Dean, not in the fakery of shiny suit lists but textile history: faster than Katsuhiro Matsumoto, Park Tae Hwan, Danila Izotov, Paul Biedermann, Pieter van den Hoogenband – and faster than Sun Yang's controversial win at 2019 world titles when Duncan Scott snubbed him on the podium in a peaceful protest over Fair Play and sportsmanship.
And swifter, too, than the 1:45.14 in which James Guy had held the British record between lifting the 2015 World title at 19 years of age and the Scott's 1:44.91 4x200m lead-off for Britain at 2019 World titles in Gwangju.
There's this, too: the line-up was faster than any U.S. Olympic trials in history, barring the shiny suited 2008 event, and only then by a margin of one swim, the 1:44.10 of Michael Phelps; the London podium faster; the U.S top 8 just 0.06sec swifter than London today in what remains the fastest domestic 200m free line-up ever known.
In textile, London April 18, 2021 is king;
All suits, London April 18, 2021 top 4 home is king, the fastest there has ever been in domestic waters. (see stats and splits below).
As the late ASA boss Norman Sarsfield once said after an acrimonious selection meeting: "If a' 'ad 50 Philip 'Ubbles, I'd take 'em all, but…" Hubble he was and is, and he was a world-class 'fly ace who helped Britain and England onto big freestyle relay podiums aplenty in his day 1970s and early 80s.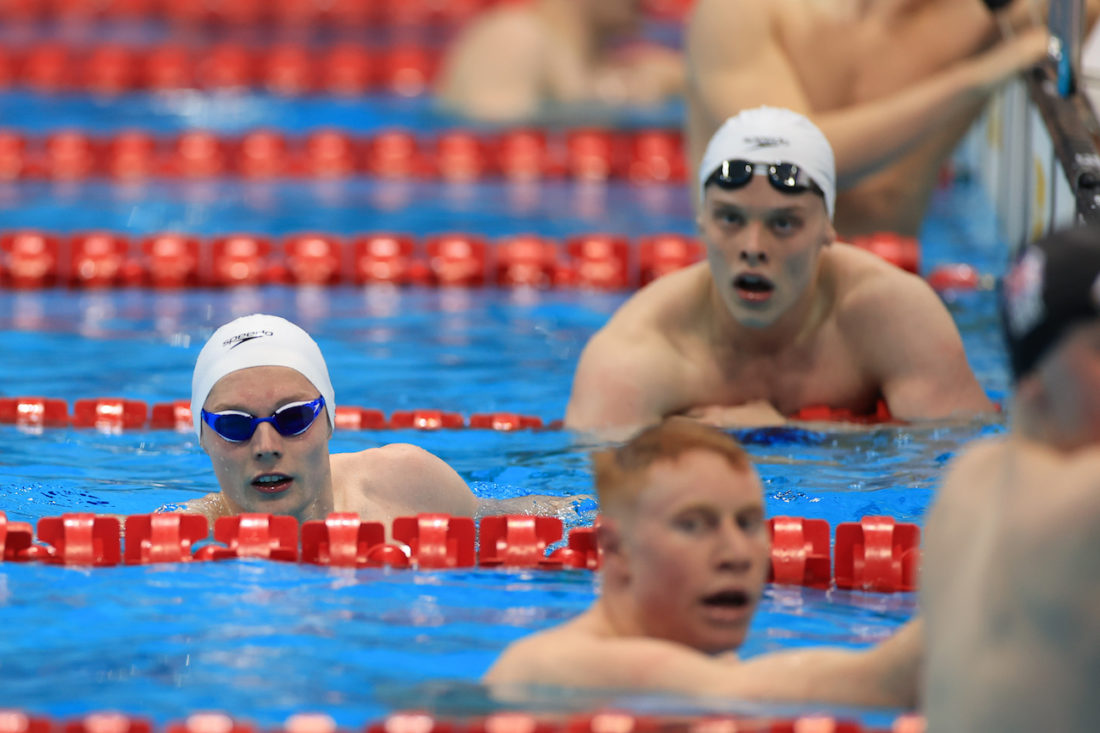 Take 'em all, the entire 200m freestyle final, is surely the message selectors will take to the table when they meet tomorrow after Olympic selection trials ended with a bang.
Given that the first five home are a must and the last two home, the Brothers Litchfield, Joe and Max, are already on the team, the nod to Cameron Kurle is essential to honour a field off men who not only kept the 4x200m flame alive for Britain but shone its light around the world of watching quartets.
What a race, one in which the courage of Duncan Scott, coached by Steven Tigg, his mentor since boyhood, and Brad Hay at the University of Stirling, drew the mettle in the men either side of him in a battle that lived up to its billing. And how.
Tom Dean, coached by Dave McNulty at the Bath performance centre, set the pace down the first length on 23.98, Duncan Scott and James Guy closest at 24.45 and 24.48 respectively, young Matt Richards last over in 25.04. By half-way the teenager was up to fourth on 51.04 after Scott had taken the lead on 50.25, Dean on 50.57, Guy 50.87. From there, the finishing order would be shuffled only by a hand. Last turn and Scott flipped in 1:16.88, dean 1:17.36, Guy on 1:18.07, Richards 0.15sec away.
Homeward bound they skimmed and splashed, dug and clawed, every ounce of work done, every challenge met, every setback overcome poured into the pool with passion. There as not a man who didn't want it.
Duncan Scott – 27.47; Tom Dean – 27.22; Matt Richards – 27.55; James Guy – 27.97; Calum Jarvis – 27.50; Cameron Kurle – 27.54; Joe Litchfield – 27.41; Max Litchfield, the 400m medley ace – 28.11. Six of the field raced home within a range of 0.33sec. That's hunger for you.
Matt Richards, coached by Jol Finck at Bath, turns 19 in December. But for a matter of touch over a couple of weeks, he would have set World Junior records in the 100 and 200m free this week.
Courage and competitiveness left the blocks with the pace-setters, who rattle along inside the best textile pace of Yannick Agnel, Michael Phelps and Ian Thorpe until the last turn. Agnel's sensational 25.98 rocket home for the Olympic crown at London 2012 was beyond any who came before him and has ben beyond any who have tried since. Phelps and Thorpe are outstanding examples of outer-orbiter last-length thunder-and-lightening, men who in their prime were almost unbeatable, but for each other and a few others in the company of similar rarities.
The splits below show just what a sensational moment this is for British 200m freestyle, in the mix of the storylines Tom Dean's recovery from Covid not once but twice, with all the disruption inherent over the past year. As Sun Devils coach Herbie Behm put it:
Some Stats & Splits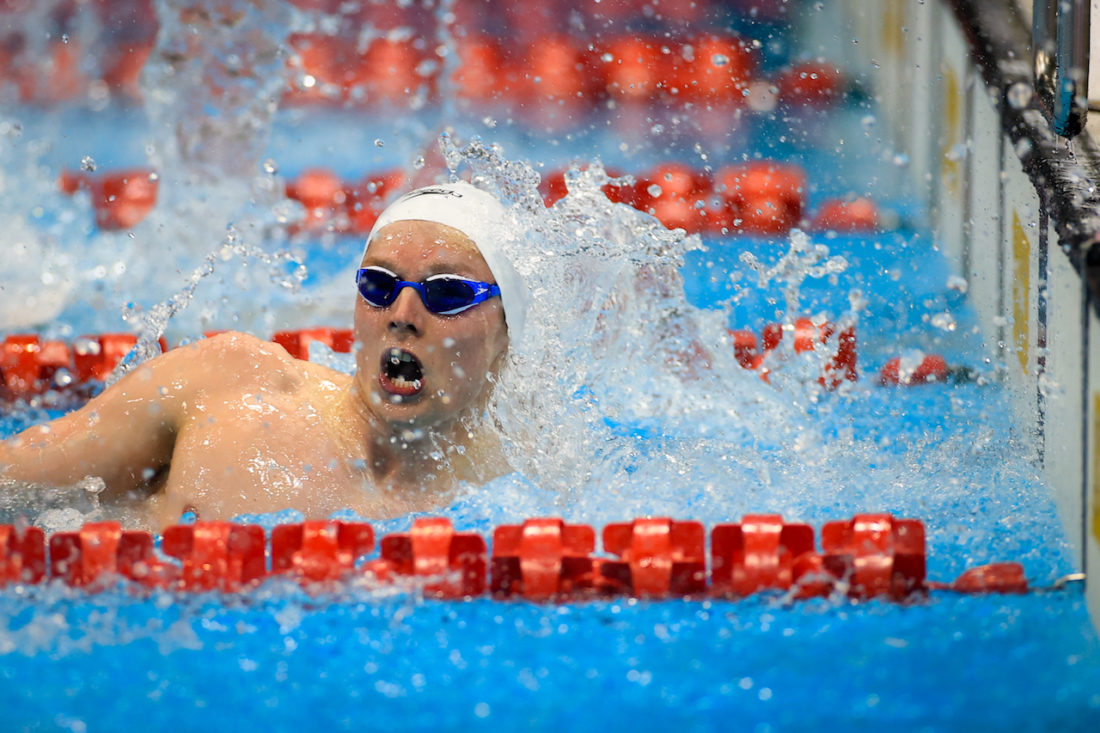 The most sensational three 200m freestyle swims without a shiny edge flowed as follows:
24.55; 50.64; 1:17.16; 1:43.14 Yannick Agnel London 2012 gold
24.47; 51.00; 1:17.73; 1:43.86 Michael Phelps USA World Gold 2007
24.81; 51.45; 1:18.26; 1:44.06 Ian Thorpe World AUS Gold 2001
Today In London:
24.45; 50.25 1:16.88; 1:44.47 Duncan Scott
23.98; 50.57; 1:17.36; 1:44.58 Tom Dean
Other significant splits
2012: 24.28; 50.91; 1:17.75; 1:44.42 Yannick Agnel FRA (also 2012)
2011: 24.52; 51.20; 1:17.49; 1:44.44 Ryan Lochte USA
2007: 24.47; 51.00; 1:17.73; 1:43.86 Michael Phelps USA
2002: 24.48; 50.90; 1:17.69; 1:44.89 Pieter Van Den Hoogenband NED
The flow of the fight and fury
| | | | | | | | | | | | | |
| --- | --- | --- | --- | --- | --- | --- | --- | --- | --- | --- | --- | --- |
| Place | Name | YoB | Club | | Time | | | Its | | 50 | 100 | 150 |
| 1. | Duncan Scott | (97) | UniOfStirl | | 1:44.47 | | | 930 | | 24.45 | 50.25 | 1:16.88 |
| 2. | Thomas Dean | (00) | Bath NC | | 1:44.58 | | | 927 | | 23.98 | 50.57 | 1:17.36 |
| 3. | Matthew Richards | (02) | Bath NC | | 1:45.77 | | | 896 | | 25.04 | 51.04 | 1:18.22 |
| 4. | James Guy | (95) | Bath NC | | 1:46.04 | | | 890 | | 24.48 | 50.87 | 1:18.07 |
| 5. | Calum Jarvis | (92) | Bath NC | | 1:46.47 | | | 879 | | 24.98 | 51.87 | 1:18.97 |
| 6. | Cameron Kurle | (97) | UniOfStirl | | 1:47.36 | | | 857 | | 25.03 | 52.05 | 1:19.82 |
| 7. | Joe Litchfield | (98) | Loughboro NC | | 1:47.48 | | | 854 | | 24.97 | 52.26 | 1:20.07 |
| 8. | Max Litchfield | (95) | Loughboro NC | | 1:47.77 | | | 847 | | 24.78 | 51.81 | 1:19.64 |
The top 4 and last home in line-ups, London 2021 vs the past five U.S Olympic trials:
London 2021: 1:44.47; 1:44.58; 1:45.77; 1:46.04 – 147.77
U.S 2016: 1:45.66; 1:45.67; 1:45.77; 1:46.62 – 1:49.50
U.S 2012: 1:45.50; 1:45.76; 1:46.56; 1:46.64 – 1:48.29
U.S 2008: 1:44.10; 1:45.85; 1:46.14; 1:46.20 – 1:47.71 (non-textile, shiny suits banned January 1, 2010)
U.S 2004: 1:46.27; 1:46.87; 1:48.52; 1:48.65 – 1:49.83
U.S 2000: 1:47.26; 1:48.12; 1:48.17; 1:48.31 – 1:51.27
In 2019, Britain was a touch down on where it wanted to be and in the company of similarly hungry, honed and hard-working blokes around the world, missed the podium topped by Australia.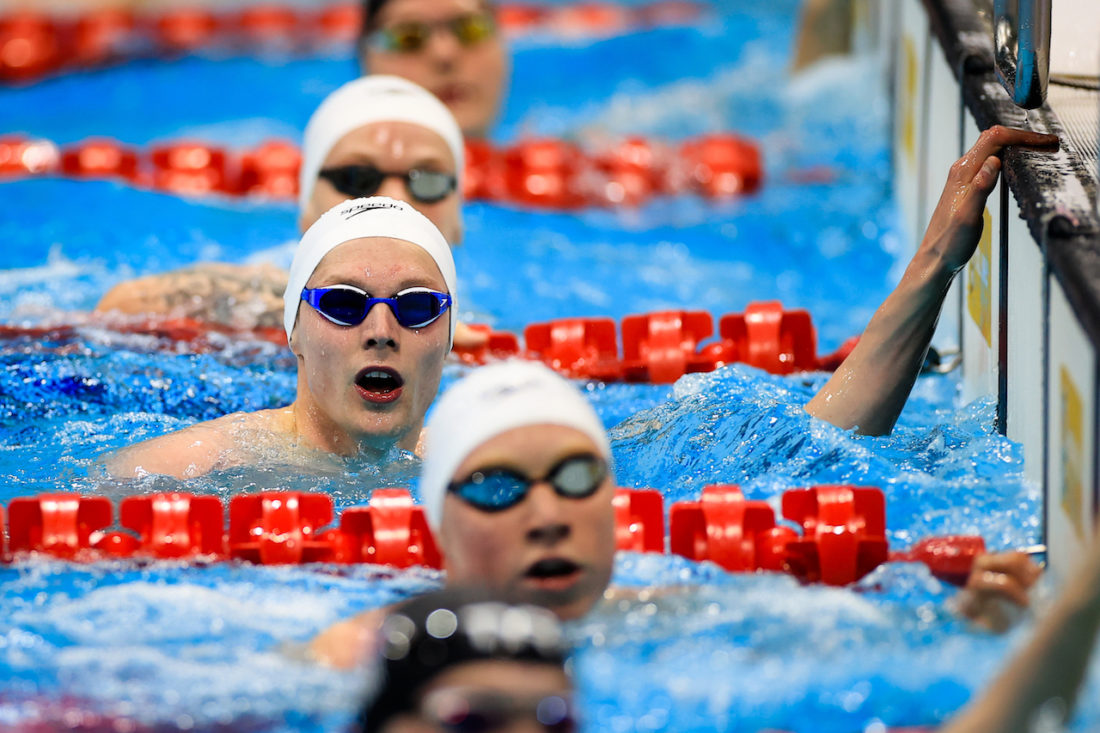 After gold at the 2015 and 2017 World Championships and silver behind the USA at the Rio 2016 Olympic Games, Britain's 200m men felt the sting of disappointment, a word used by Scott this week and one that is not used as a depressive but a driver, fuel for the next day and the next week and the next goal and the next battle. Below is the archive of World titles won in 2015 and 2017, the memory of those moments still alive in the men there those days, an inspiration for those who now join the merry band of British challengers for the Olympic podium. Title indeed – for that is what they want.
Form guides for this July are particularly problematic this year, given the Covid pandemic and its lockdowns and life less ordinary. But go back to 2016 and we find the British men's time of today, overlaid on history, of course, coming in at Kos 1 and 2, 11 and 13 on the full-year rankings for the last Olympic year. In that range, no nation had more than two men.
Move on to 2019 and follow the same exercise for the full year: the Brits come in at No 2 (Lithuanian Danas Rapsys, home first at World title but DQ'd for moving at the start, clocked 1:44.38 on World Cup tour before the pandemic struck), No 3, 10 and 12.
That was the year Australia lifted the 4x200m world title when Britain missed the podium. It had four in the top 20 in the 200m free world rankings that year, compared to two for Britain. Take the race in London today and overlay it on 2019 full year and the first five home would all have had a place in the best 20 in the world.
Little wonder that Duncan Scott and Tom Dean were, respectively "delighted" and "absolutely buzzing". Scott, who equalled his British best in the 100m freestyle earlier in the week and took down the British 200m medley record before that, said: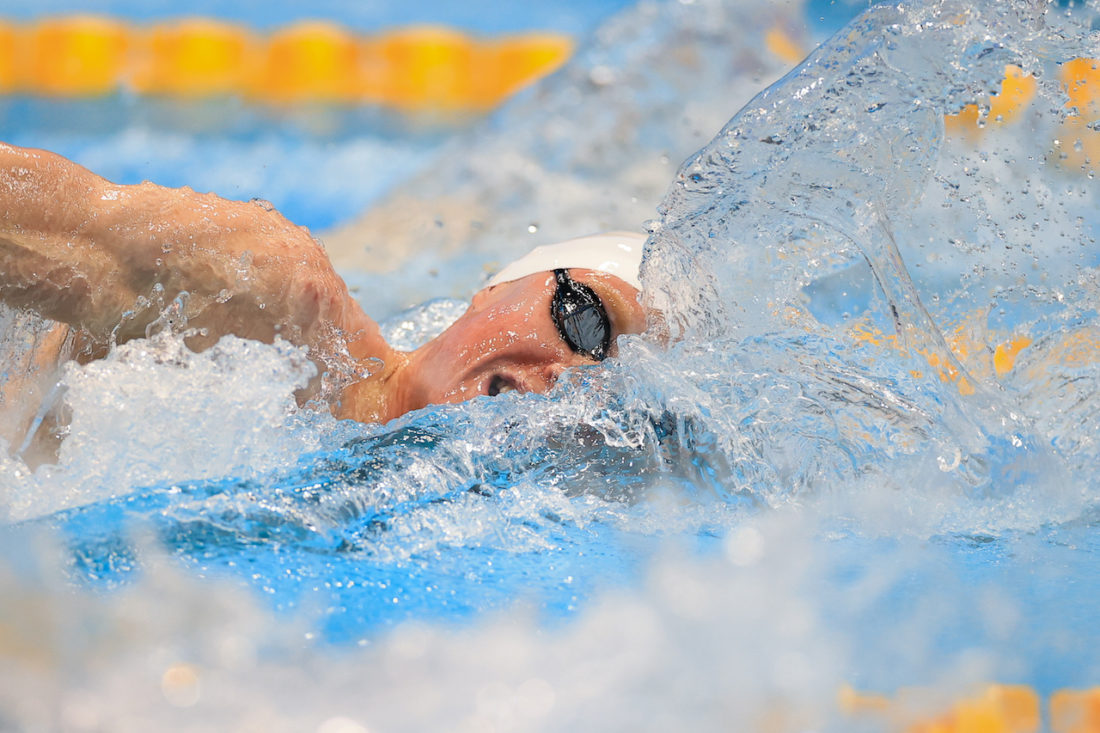 "I'm delighted with the time, but just to get the win in that sort of field is really good. It was my first 200m Free tapered since August 2019, so it's been a while. I believe Deano missed the 1:45s, he went straight from 1:46 to 1:44, fair play to him! It's looking really good for the 4x200m, we need to just carry this on and that'd be great. It was just about trying to stay composed, trust what I've done in training and what I've done the last couple of years. I was just trying to put the strokes together because that was hurting!

Duncan Scott – photo by Georgie Kerr, courtesy of British Swimming
Tom Dean, so close to cuts for Tokyo all week but on the list of "wait and sees", need wait no longer to know that he will be in Tokyo for his Games debut, with prayers for a world without more pandemic shocks and quakes. He said: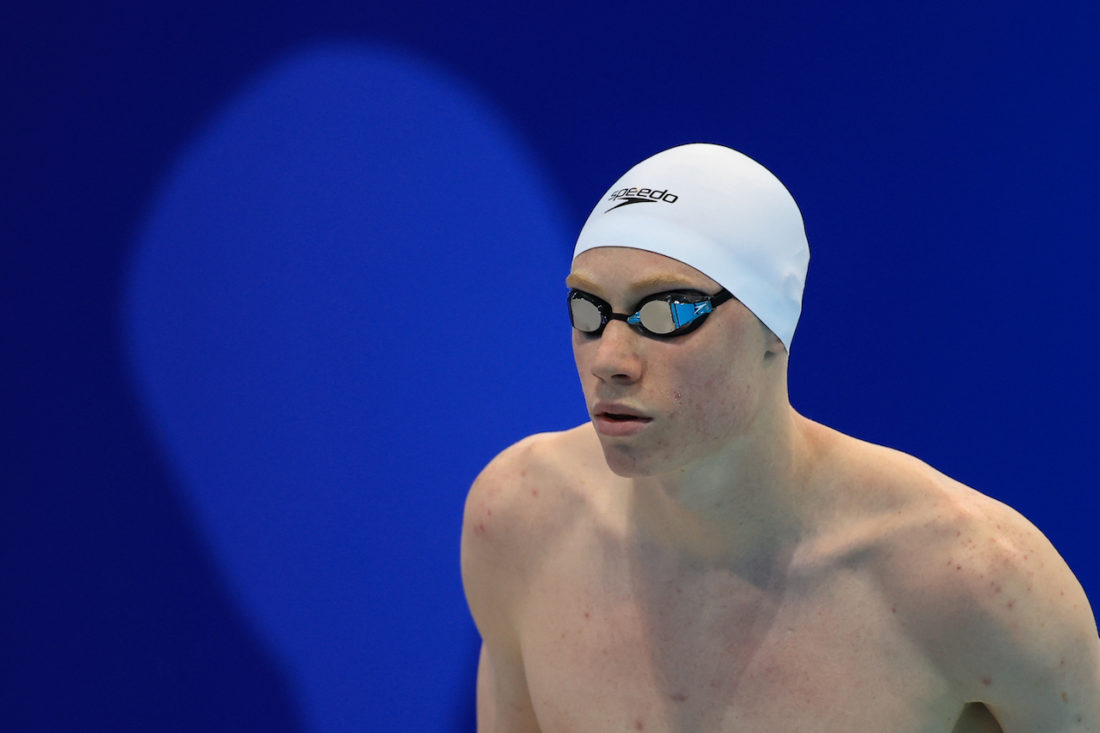 "I'm absolutely buzzing. I skipped through the 1:45, I wasn't expecting that, I'd have been happy with a 1.45. I think Duncan pulled me through there and it feels like it's been a long time coming. I knew I was on good form, with PBs in the 100m and 400m, so I knew something special was going to happen – but that was better than I could've ever expected."

Tom Dean – photo by Georgie Kerr, courtesy of British Swimming
Asked how he would not approach Tokyo, he suggested a time of stable, calm, collected preparation ahead, saying: "Just have a solid block leading into the summer, really. Having got Covid twice, it's been brutal coming into these trials, with disruptions."
Duncan Scott did not pass on his unprompted chance to highlight Britain's 4x200m relay ambitions, noting: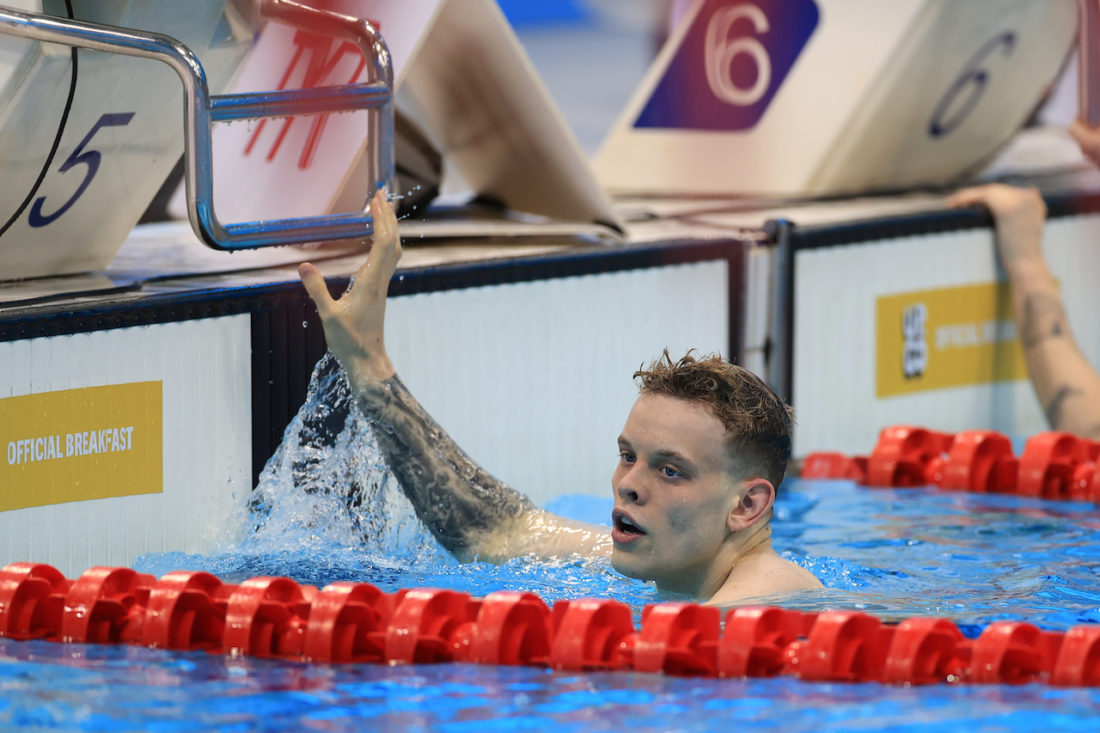 "We were a little bit disappointed with 2019 (in the Men's 4x200m Freestyle), but it was a really strong field for the rest of the world, there were 1:45s everywhere, and we had a relatively young team as well. I'm really looking forward to the 4x200m, and I think everyone else in that race should be too, as well as British Swimming. We've got the European Championships and then some more events to work on it – I'm excited by that event!"

Duncan Scott on the British relay ambitions and a squad that will include 18-year-old Matt Richards, pictured – by Georgie Kerr, courtesy of British Swimming
Before the two 1:44 pace-setters drifted away, Dean peered at Scott through the perspex barrier in the interview pod and lifted his mike as if he went raising a pint to say cheers. The teammates smiled, nodded and vanished back into the bubble of an Olympic season like no other in history
What Duncan Scott and His Britain 4×200 Teammates Are Building On…
From The Archive – Contemporary dispatches from Craig Lord
2017 World Championships – Gold
Britain Greater Still As James Guy & Duncan Scott Add Lightning To Thunder Of Stephen Milne & Nick Grainger
James Guy delivered a knockout blow to Russia and the United States with a blistering anchor leg that kept the 4x200m freestyle world title firmly in British hands this evening.
Gold was one thing. The speed was sensational. Stephen Milne, Nick Grainger, Duncan Scott and Guy combined for a 7mins 01.70 victory, their time the second-fastest ever when swimming history is stripped of shiny suits sunk seven years ago.
Russia took silver in 7:02.68, United States the bronze in 7:03.18, Australia locked out in 7:05.98. Japan, 7:07.68, Italy, 7:09.44, Poland, 7:09.62, and the Netherlands, 7:12.76, completed the showdown.
Guy entered the water in third place 1.62sec behind the USA but clawed his and Britain's way back into contention within just 50m and had taken the lead with 100m to go.
Rippling speed: 49.87 out, which meant a 0.71sec lead over the USA. Could he hang on? You bet! And not only that: by the close of play he had entered the realms of all-time relay heroes. His split time of 1:43.80 is the third fastest ever, swifter than Michael Phelps at his relay best (1:44.05, London 2012, USA gold, he split 1:43.3 leading the USA at Beijing 2008 in the first season of poly putting the kettle on) and Ian Thorpe at top Thorpedo relay pace (1:44.14, 2001 world title for Australia).
Britain had never won a 4x200m title before the 2015 championships, when Dan Wallace, Robert Renwick, Calum Jarvis and Guy, with Grainger and Scott assisting with heats swims, clocked 7:04.33 to end the USA's five-championship winning streak in the 4x200m.
Guy brought home the maiden title in 1:44.82 back in 2015. Today he was a second quicker and entered the club of relay swimmers that produce team efforts that tower above the best speed they can muster when swimming in solo events.
In textile suits, only the United States – 6:59.70 claiming gold at London 2012 as their best – is faster. The world record of 6:58.55 (USA), the European record of 6:59.15 (RUS) and the Commonwealth record of 7:01.65 (AUS) all belong to the Rome 2009 world championships at which a farcical 43 world records fell in eight days because of shiny bodysuits.
For Britain to come within 0.05sec of Australia's best assisted pace is sensational but it looked for at least half of the battle last night as though the crown was in serious danger of passing. As it turned out: bravo to Bill Furniss and his coaching team.
The ebb and flow:
1:47.25 1:46.05 1:44.60 1:43.80 GBR – Milne, Grainger, Scott, Guy (Calum Jarvis in heats)
2015 World Championships – Gold
Guy, Wallace, Jarvis & Renwick Put The Great Back Into Britain
Dan Wallace, Robbie Renwick, Calum Jarvis and James Guy. Just when you thought it could get no better for the national shoal from the island off the coast of mainland Europe at the World Championships in Kazan after 4 golds among 7 medals, the men's 4x200m freestyle quartet put the Great back into Britain in the pool with a stunning victory over the United States and Australia, Russia locked out.
No Michael Phelps and the USA has some to come but for the Brits the magnitude of the victory cannot be overstated after they claimed their nation's first win in the long relay ever in world-championship waters: the USA had won the past five titles back to 2005, while Australia won the three before that, Germany the only other nation to have claimed the crown all the way back to 1973 when world championships began with the first of eight triumphs for the titans of the event, the USA.
First in for Britain was Dan Wallace, based in Florida but flying the home flag in 1:47.04, fifth, his fellow Gator at Gainesville [SwimMac, yes, but once a Gator always a Gator, they say], Ryan Lochte 1.33sec ahead of him. Wallace's fellow Scot Robbie Renwick was in next, elevating Britain to a podium promise in third place after a 1:45.98 split that left Britain 1.98sec back from the Americans, Russia in between, Australia a hand away from Britain.
Calum Jarvis held the fort in third, the Welshman's 1:46.57 handing over a tiny lead over Australia to Englishman James Guy, the British quartet one of three home nations. The solo 200m champion in Kazan was surely looking at silver at best? The deficit to the USA: a big 1.65sec.
Guy made up half a second over the first 100m of his claw-back, another 0.6sec down the third lap – and then the 19-year-old from Bury and based at Millfield with coach Jol Finck, fired like a rocket, catching American Michael Weiss with just under 10m to go.
Head down all the way into the wall, his teammates leaping for joy on the deck, Guy stopped the clock 0.42sec ahead of the USA, the winning 7:04.33 cracking the 7:05.67 at which the British record had stood since the buoy of shiny suits in 2009. In textile, the USA, Russia and France have gone quicker but so fast was the Britain quartet that they surpassed the time at which an Australian quartet with greats Ian Thorpe and Grant Hackett, the latter watching from the stands after his heats swim for Australia,had held the world record in 2001.
Hackett's morning bronze as a heats swimmer grants him a span of 1998 to 2015 on the world-titles medals chart, another footnote for the file in a week in which Sun Yang* has sidled up to match his 7 distance free golds, the longest span between major medals – Olympic gold to silver at that – Dara Torres, 1984 to 2008.
Britain had two medals on its chart in the event before: silver in 1975; bronze in 1998. It was London 1908 when Great Britain last won the Olympic crown. 107 years on, Guy, the 200m solo champion [Photo by Patrick B. Kraemer], 400m silver medallist and one of four new pioneers from his country, said:
"That was great. It was a huge team effort. The guys set it up nice and good and I knew if I was top three I had a chance of bring it back but I never thought we'd get the gold. It's the best British team we've ever had and this relay is definitely something we're going to look out for next year. It was all about staying calm and not getting too tense in the first 100m. You've just got to enjoy it. The main thing is to come here and have fun."
Guy was almost serene. Liz Byrnes noted his calmness, to which he said:
"I think it's just the way I am really. I was more nervous at trials than I was here which is very weird really."
The same could be said of the other 19-year-old on a gold rush in Kazan, Adam Peaty, which three titles to his name; Guy now with two – and a man transformed:
"Since I have been here I think something has changed really.

I remember the 400 free and walking out and the crowd roaring, something just switched inside me and I was so pumped and ready to go.

That is why I love the sport, the crowd cheering and everyone roaring it's fantastic."
Renwick is at his fifth world titles. Long wait. Big reward.
"Finally delivered a medal after five world championships – I couldn't ask for a better team. This is the team I have been waiting for to deliver a medal. It is such a great era for British swimming at the moment, hugely exciting with one year to go until the Olympics. Confidence is sky high on the British team."
Wallace, who finished a frustrating fourth in the 200IM in a lifetime best yesterday, said:
"I had a great swim last night but obviously it's heartbreaking getting fourth. This has definitely made up for that. I wanted to taste what it is like to be the best in the world."

Back home they'll be raising a glass to that …
Jarvis, as great teammates do, deflected:
"It was good to hand over to Jimmy and get that momentum to him. He's a great chaser, he'll do whatever needs to be done on the last 50 or last 100 to get the win. He proved that on his individual 200 and showed it again tonight."
Memory Lane And A New Moment
Let's take a quick trip back to the 2004 Olympic Games in Athens. On the anchor leg of the 800 freestyle relay, Klete Keller put together a valiant effort to hold off Australian great Ian Thorpe and hand the United States the gold medal. In the 11 years that followed for the event, Team USA had no trouble maintaining its position atop the global perch, capturing five world titles and two more Olympic crowns.
James Guy put up the stop sign tonight in Kazan.
Erasing a 1.63-second deficit on the final leg, Guy put his country on his shoulders and carried Great Britain to its first world championship in the 800 freestyle relay, joining Wallace, Renwick and Jarvis for a time of 7:04.33, ahead of the silver-medal winning time of 7:04.75 by the United States. Australia earned the bronze medal in 7:05.34.
The world champion in the 200 freestyle earlier in the meet, Guy faced a daunting gap when he entered the water, but found a way to come through, 1:44.74 to 1:46.79 for Michael Weiss.
In Rio next year, there may be another Michael at the back end fighting for more USA gold. Today, James Guy the Man and Mates had what it took to break a long run of British trying when it comes to making the podium, let alone get gold ahead of the USA, Russia and Australia.