Dr. Carole Hooven On T, Transgender Athletes & Competitive Sports – UNE President's Forum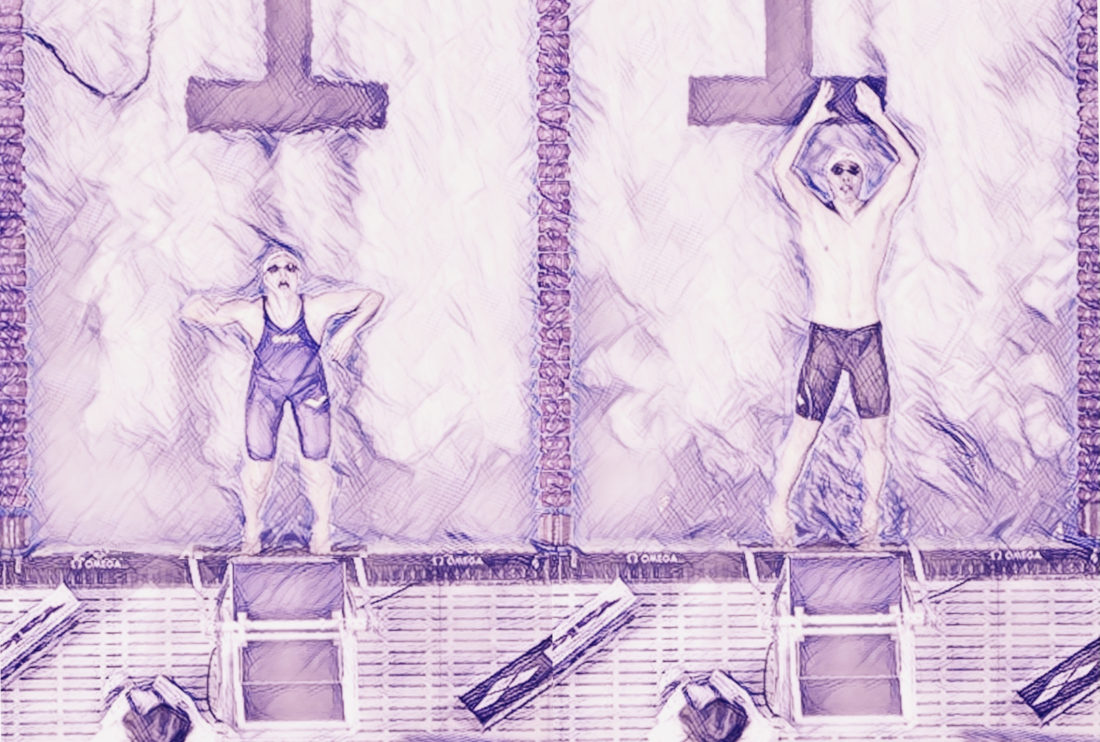 The President's Forum at The University of New England (UNE) hosted Dr. Carole Hooven among its guests in a conversation this week on the subject of "Transgender Athletes and Competitive Sports".
It's well worth a watch/listen. The contribution of Dr. Hooven is particularly insightful to a sports audience, even now, almost a year on since swimming's vote to ring-fence the women's category for female athletes.
Dr. Hooven is the author of T, The Story of Testosterone, the Hormone That Dominates and Divides Us. If you read nothing else on the subject, read that!
Below is the UNE's video of the entire conversation, in which you can hear Dr. Hooven's wisdom and the perspective of Steph Richards, in calm and civil discourse on an issue that has been allowed to divide because sports leaders dropped the ball on their own understanding of sex-based categorisation and the meaning and intention of rules on equality and fair play.
I can't use "wisdom" for Steph Richards' contribution because of the tendency to stray beyond the required level of knowledge on performance sport. For example:
Richards argues that sport is inherently unfair. When pressed to consider that, even if we were to accept that premise, adding more unfairness to an unfair situation would hardly be reasonable, Richards notes that trans athletes have been able to compete at the Olympics since 2004 but without a stampede nor any great podium successes. That perspective completely overlooks the fact that we have had just one Games, Tokyo 2020 in 2021, at which trans athletes have been able to compete without the need for genital surgery and it is only since the IOC's decision in late 2015 (and not effective in time for Rio 2016) that we have seen a surge in transwomen entering female sport. Fact.
Richards also states that it took FINA (now World Aquatics) two years to ban shiny suits but "two weeks" to ban transwomen "because of one swimmer (Lia Thomas" winning at NCAA". That's a calamity of untruthfulness, as far as the "ban" and the "two weeks" are concerned. On the back of years of campaigning and concern by the likes of Sharron Davies and others, it took more than six months of discussions and debates between specialists in human development biology, sex differences, human rights, women athletes, trans athletes, World Coaches and many others to come to a recommendation of those experts and contributors being accepted by the leadership of aquatics. No trans athlete has been banned; categorisation is the issue. As for Lia Thomas, the 500 yards title was claimed five months after World Aquatics director Brent Nowicki had summoned the experts together and set in motion a vast survey of athletes around the world.
UNE President, Dr. James D. Herbert, is an advocate for open and robust discourse on timely topics, presenting diverse perspectives in a fair and balanced manner.
In his introduction he laments the loss of the art of dialogue of "civil, nuanced discourse with those who have different perspectives". The loud social-media row that follows, replete with threats to life and limb, attempts to silence and cancel-culture campaigns, is specifically problematic through the prism of academic institutions and their purpose. Dr. Herbert says: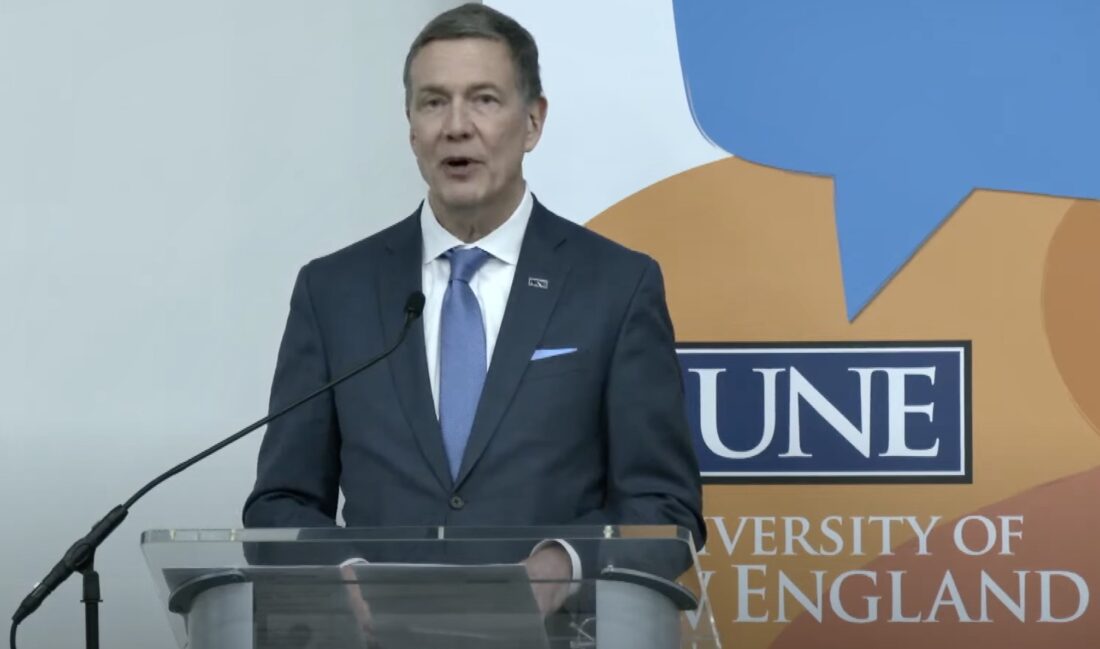 "Since its inception in antiquity, the university has been intentionally designed to be the place where ideas, especially controversial ideas, are discussed and debated in the pursuit of knowledge. This stands in contrast to other social spaces in which the range of ideas on hand is limited, with restrictions even enforced sometimes through the threat of violence.

Yet, as I've argued elsewhere, universities have increasingly abdicated the sacred responsibility to serve as an open market of ideas. Today this market place is under attack from both the political right and the left and from forces both outside and within the academy itself.

Dr. James Herbert, image courtesy of UNE, video still
Cue thoughts of J.K. Rowling's Ministry of Magic, Dolores Umbridge, umbrage for umbrage's sake and the dark art of twisting truth.
Dr Herbert continues: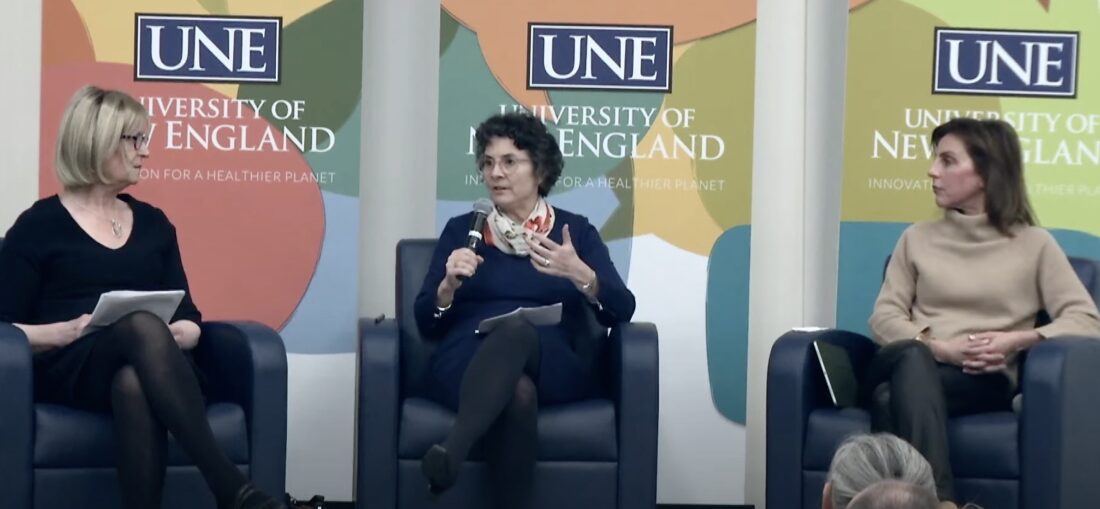 "At the University of New England, we're committed to reversing this trend. We have planted a flag around the importance of fostering robust discourse on important topics and doing so from a perspective of intellectual humility, curiosity and civility. We manifest this effort in many ways. We invite guest speakers to campus whose ideas span various ideological spectra. We're intentional about exposing students to multiple perspectives on important topics. Both inside and outside the classrooms."

Dr James Herbert. Image, still from the President's Forum, March 6, 2023, l-f, Steph Richards, Dr Jeanne Hey and Dr. Carole Hooven
Workshops for the faculty and professional staff are aimed at providing them with the tools to help grow a culture of cultural curiosity, civil discourse and to "encourage and navigate difficult conversations". The President's Forum is another vehicle for the drive to better discourse, deeper understanding and academic integrity, he suggests.
The guests – Hooven & Richards:
Carole Hooven, who earned her Ph.D. at Harvard, currently works in Harvard's psychology department as an associate in the lab of Steven Pinker. She is the author of T: The Story of Testosterone, the Hormone that Dominates and Divides Us (Henry Holt, 2021).
Steph Richards is a British transgender woman and the founder of "Steph's Place UK," a trans advocacy organization (re-branded as TransLucent.Org.UK). She won the UK's National Diversity Awards "LGBT+ Organisation of the Year" award in 2022.
The moderator for this conversation is Jeanne Hey, Ph.D., political scientist and educational consultant. Hey is a former dean of UNE's College of Arts and Sciences.