Don Talbot – Legend Who Led Green & Gold Past Stars & Stripes – Passes Away At 87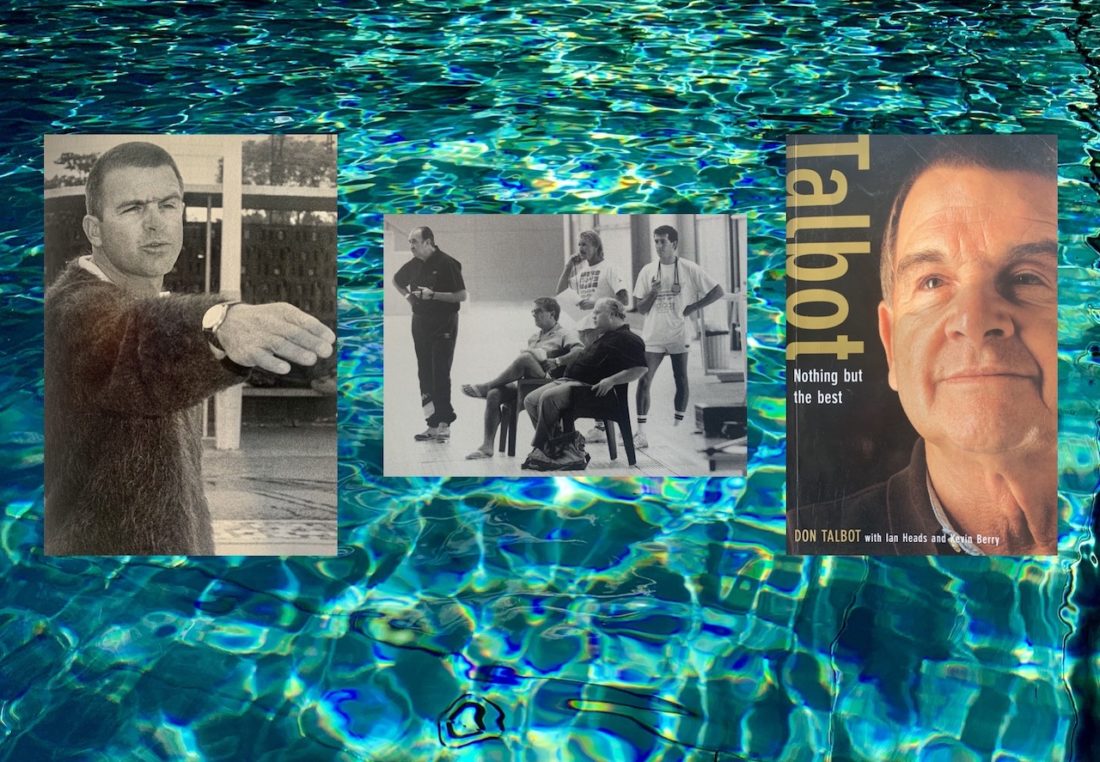 Don Talbot, the head Australia coach who led the Dolphins to victory over the USA at the 2001 World Championships in Fukuoka a year after a fabulous showing at a home Olympic Games in Sydney, has passed away today at the age of 87.
Talbot will be mourned across the global swimming community as a legend of coaching. A master team strategist and motivator who sought to blast any impediment to his squad's best outcome on the big occasions, Talbot was one of the sharpest minds and keenest eyes on the water since the 1950s all through to his retirement as Australian swim boss in late 2001.
"To readers who have arrived at this point with me, the final touching of the wall, I can only hope that you may have enjoyed learning of this life's journey through 50 years of swimming as much as I have enjoyed living it."

Don Talbot – his final words in his autobiography Talbot – Nothing But The Best, with Ian heads and Kevin Berry
Don Talbot – who was married to Jan Cameron (deceased, 2018), who was head coach to programs in Australia and led the New Zealand program, and is survived by their son Scott Talbot, who also became a coach and led tributes to his father – was made an Officer of the Order of the British Empire in 1981 and an Officer of the Order of Australia in 2007. He was inducted into the Sport Australia Hall of Fame as a General Member and received an Australian Sports Medal in 2000 and a Centenary Medal in 2001.
Talbot's illustrious career, while topped by Australian team victories at global and Commonwealth levels, included a wave of successes among his personal charges.
Already in the fray – though self-funding to be there – at the 1956 Olympic Games, Talbot was described as a living treasure of experience by the time he was made Officer (AO) in the General Division of the Order of Australia in the Queen's Birthday Honours in 2007.
The journey to making a big name for himself began with World-record-holder siblings John and Ilsa Konrads, of Latvian birth and Australian freestyle aces of the 1950s and 1960s. The pioneering brother-sister act accounted for global standards over 400, 800 and 1500 freestyle, while John also counts the 200m World record among prizes in his pantheon (see archive tribute below).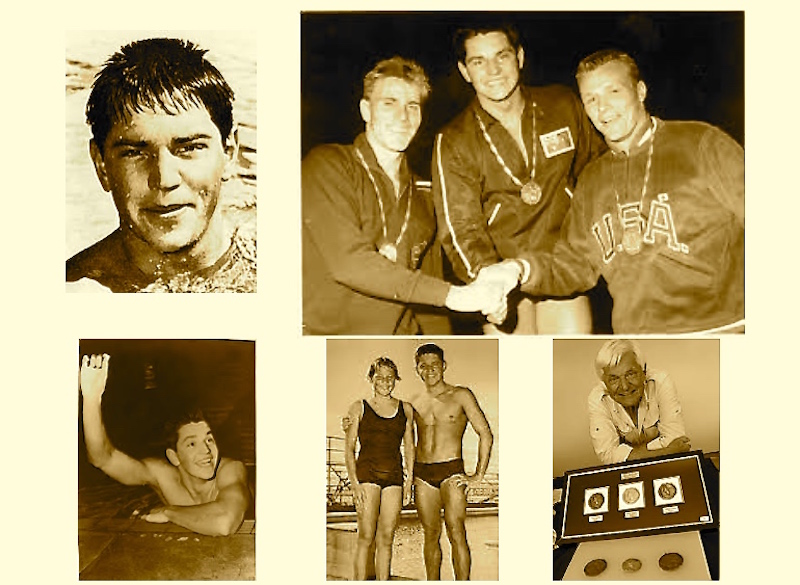 Talbot was one of John Konrads' young primary school teachers and, at the time, an assistant to leading coach Frank Guthrie at the Bankstown Swimming Pool. Talbot guided the young Konrad siblings to success, in John's case a first Olympic selection secured as a reserve at Melbourne 1956. John did not actually race at the 1956 Games but by Rome 1960 things looked very different indeed, with gold in the 1500m freestyle ahead of teammate and defending champion Murray Rose and bronze medals in the 400m freestyle and 4x200m freestyle with mates.
Around the time of Konrads' Olympic success – when there was no 800m or 1500m for women and discrimination meant that Ilsa did not have the same opportunities to shine as her brother – Talbot had another prospect on his coaching roster: 14-year-old 1960 Olympic teamster Kevin Berry.
Talbot was head coach of the Australian men's team at the 1964 Games and held on to that role for the 1968 and 1972 Olympics, a period in which he guided Ian O'Brien, Bob Windle, Beverley Whitfield and Gail Neall to Olympic gold.
History shows how even big swim nations lacked the bureaucratic will, knowledge and funding support to keep the best at home and Talbot left to pursue opportunities in Canada and then at Nashville Aquatic Club. where he coached one of the greatest all-rounders in history, Tracy Caulkins.
After The Australian Institute of Sport took off in in 1980, Talbot returned home to lead the way and worked with the likes of Bill Sweetenham and American Dennis Pursley. By 1984, however, Talbot had returned to Canada and was head coach to that nation's 1984 and 1988 Olympic teams that claimed four golds among 12 medals. Talbot returned to Australia shortly before the 1988 Games and brought with him renewed belief that Australia could be the top swimming nation at global level.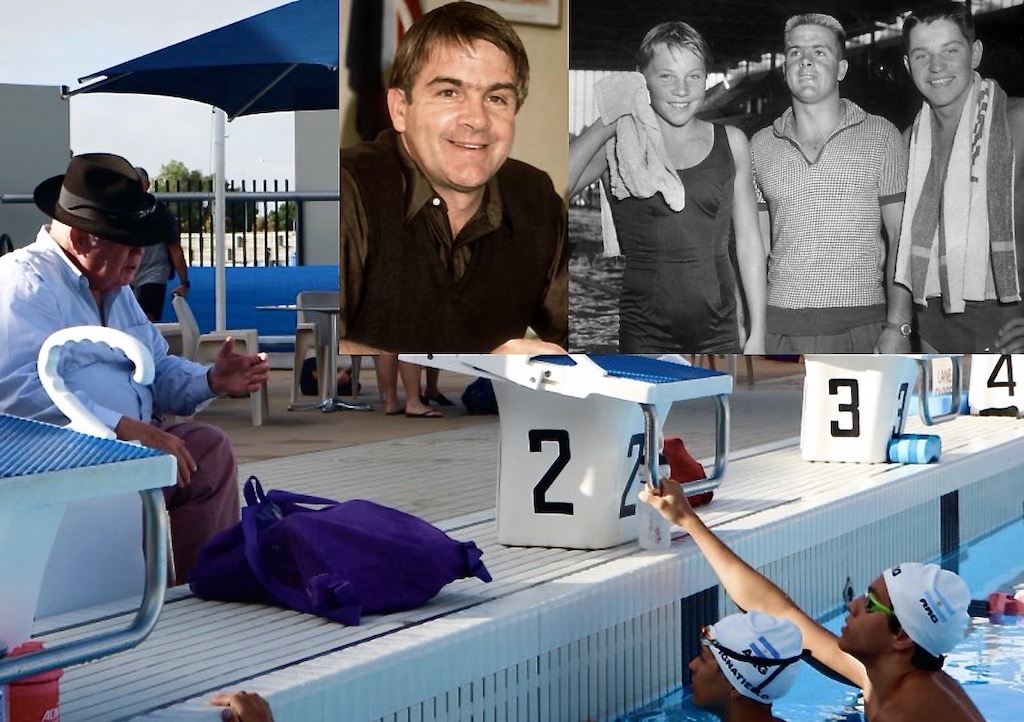 Talbot landed the job of head coach to the Australian National Team in 1990.
His tough disciplinary demands led to a swimmers' revolt but Talbot prevailed and turned around attitudes that had been holding Australia back in the pool at a time when its 'Golden Era' from the start of the modern era – Murray Rose, Dawn Fraser et al to Shane Gould – felt well and truly behind it.
Talbot was dubbed a tyrant, written up in headlines and depicted as Ming the Merciless, the villain in Flash Gordon. No matter: water of a duck's back for Talbot, who proved his points through the success that flowed.
Come the 1992 Olympic Games there were nine medals, then 12 in 1996, with terrific wins for Kieren Perkins and Susie O'Neill, while Petria Thomas was on the rise and a new golden era was about to be confirmed, courtesy of two teenagers growing into giants of the pool: Ian Thorpe and Grant Hackett.
Thorpe not only helped Talbot prove a point in the water. He once said of the coach:
"People see him as being harsh, as being hard. But when you get on the team, you realise that he's fair and he's just."

Ian Thorpe
Talbot led the Dolphins for 12 years and during that time helped to lift Australia out of the doldrums in the pool at global level. Come the Sydney 2000 Olympic Games, the home green-and-gold shoal were ready to bring the heat. With Ian Thorpe the star of the Australian's show from Day 1 – his 400m freestyle gold and his role in 4x100m freestyle defeat of the United States an Olympic highlight in the archives of swimming history – the Dolphins claimed 18 medals, topped by 5 golds, for second-place finish on the table behind the USA.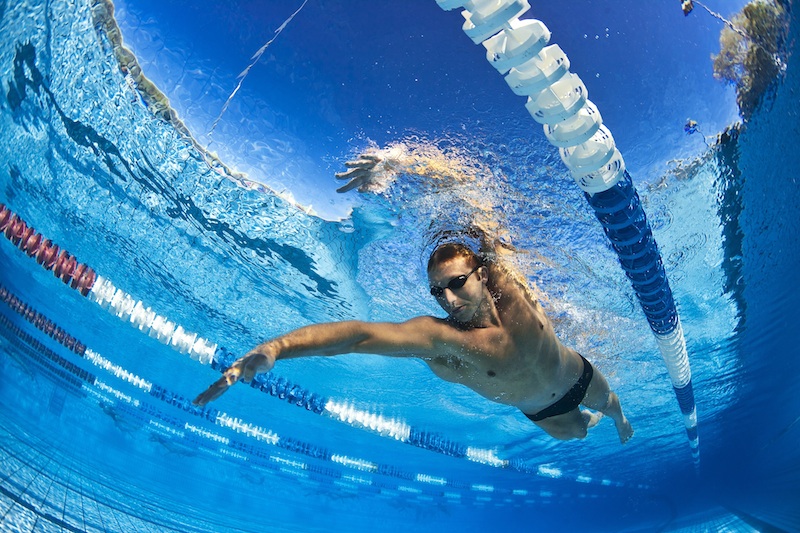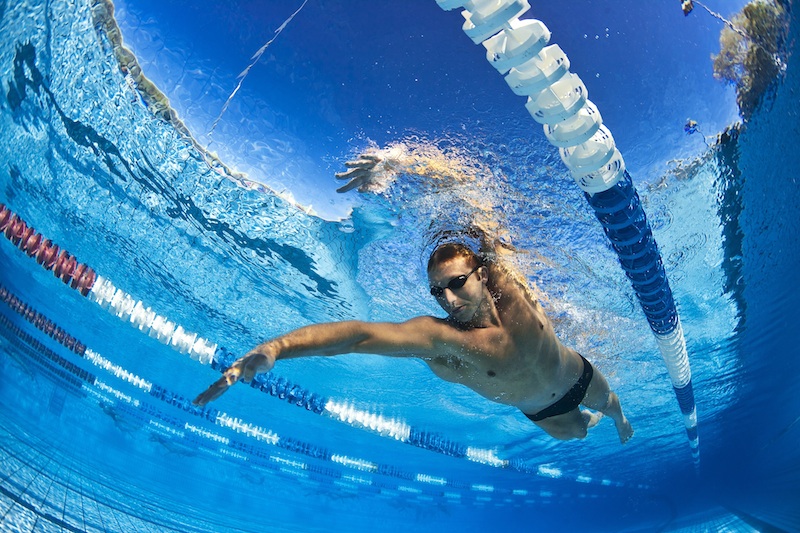 It wasn't what Talbot had wanted. He always wanted more – and a year on at the 2001 World Championships in Fukuoka he got it: Australia topped the medals table ahead of the USA, 13 to 9. Overall, the Dolphins lagged the USA by 7 medals but the damage was where it counted: the gold rush. Talbot once said:
"We want to build the component of team support that the Americans have, which others criticise but secretly envy. We're an island nation of 18 million, 95 percent (who live) within 10 minutes of the sea. We should have the best swimmers."
He proved it by 2001. And it didn't go down well with the United States.
Pursley, by then National Team Director of the USA, noted that a team from a nation that has always valued the gold count, had 'defeated' Australia overall, his remarks aggravated by a post on the official USA Swimming website headed "U.S. Take World Title" – overall medals and points the things that mattered, the gold count overshadowed like never before.
The Olympic and World 1500m freestyle champion Grant Hackett hit back by calling the Americans "sore losers", adding:
"Not many people come out with comments like that after losing a meet. I guess it's unusual territory. They've been the No. 1 swimming nation in the world for decades. To come to a meet and be beaten by four gold medals by a nation as small as us, I guess it's hard for them to take. Sore losers or not, we won the meet and we are happy with that."
Talbot said all three ways of counting counted but noted:
"I operate on the gold standard. They can take the medal totals or the points. I'll take a win on golds any day."
Ian Thorpe agreed, his in-my-lifetime take missing the gap between last time it happened in the era of Murray Rose at the 1956 Olympic Games, when Australia won on the only two counts to be had at the time – 8 golds to 2 and 14 medals to 11. Said Thorpey, with wins over 200, 400 and 800m, 4×100 and 4x200m freestyle in the bag:
The one that wins the meet is the gold count. America has never lost on any count so they feel a little annoyed with us taking one way"
Emerging from Fukuoka, he told this author:
"I'm a very proud man but this should not be about me. The team did a fantastic job and, of course, we were bolstered by Ian Thorpe and Grant Hacket at the helm of a squad that stood up and lived the moment every single day of the meet. They never let up.

The Americans have been No. 1 for a long time and I'll make no bones about it – we want to beat them and we did just that. It's fabulous and it makes me feel great. There's just no comparison in terms of the size of the nations and the catchment. We're known as 'swimming paradise' and there are good reasons for that but we're dwarfed when it comes to the numbers the U.S. has going through its clubs and colleges and all that.

This was one of the most special moments of my career, I can tell you that. And that's where I'll leave it because the praise should go to the swimmers and, of course, their coaches."
The 1960 Olympic 100m free champion John Devitt was on hand to say of the pinnacle of a result:
"Fantastic. It was a very special moment. The team spirit down through the years has been a very important part of Australia's success. And we're fostering that even more now. The team sits together, cheers together, they look like a team, they support each other. That's what it's about and that's how you can go out and become the best swimming nation in the world."
He notes that 1956 had marked the last true global defeat of Americans by an Australian swim team and added:
"They know we've been competitive before but only in certain events and never over eight days and that was the real test on this occasion – that we continually performed at the highest level. We won gold medals basically every night."
Don Talbot – Legacy & Last Years Coaching…
In his autobiography, Don Talbot writes:
The achievements in Fukuoka 2001, which stand as the centrepiece of my story, represent some sort of fairytale ending. And I'll never forget those days in Japan."

Don talbot
After the Goodwill Games in late 2001, Talbot resigned from the top job in Australia but it was not the end of his days helping nations seek out the best way to be their best.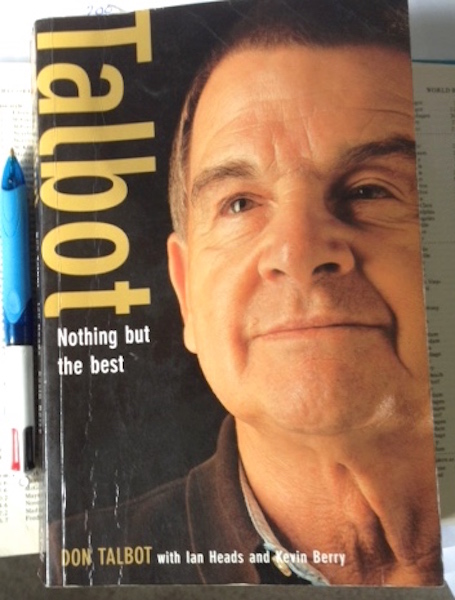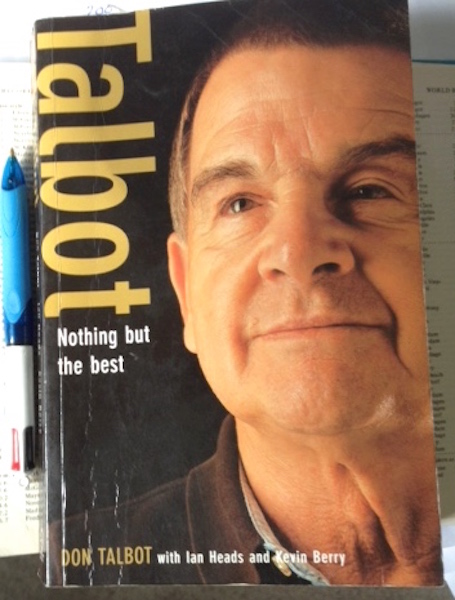 The resignation of Don Talbot, was announced on the Channel Nine 60 Minutes Program on day five of the Games. At sixty-eight years of age Talbot felt it was "time to move on from the burning deck", having achieved his goals of bringing the Australian Swimming Team to the pinnacle of world swimming.
Reflecting on that, Don Talbot said:
"My thoughts are, where do we go next. We're number one right now but that can be very fleeting. We can't lay back. I remember years ago when we were number one. We got careless. We need to assess our program. I don't care how good you are, there are always holes in the program."
There was a hole in his bank account, too, thanks to a Government surcharge that no-one had told him about, heDon Talbot revealed in his autobiography (opposite). He explained:
I had a bank line-of-credit of $50,000 for house extensions, and now they were taking $56,000 from me (in surcharge from superannuation investment). … It meant going back to work."
And so he did.
After Athens 2004, Canada sought Talbot's help once more and then Bill Sweetenham called him to Britain to help talent scout the girls that would make up the Smart Track squad that would bring us Jazz Carlin, Fran Halsall, Jemma Lowe, Lizzie Simmond, Jess Dickons and a boys' select that would be sent to the Southport School Down Under, with David Carry as its captain.
Those exercises from the book and brain of Sweetenham and the keen minds he trusted for input, Talbot's among them, were enormously successful for Britain and now stretch well beyond a decade of influence.
Talbot stood tall, too, when it came to speaking out on critical issues facing swimming, including doping, the China crisis of the 1990s, and the woeful state of governance, international and domestic afflicting the sport. He was a stern critic of FINA oil many levels and issues, including many that put athletes down the list of priorities for "volunteer executives who take too much and know too little".
Swimming Canada paid tribute to Talbot today:
Don Talbot – 'A Legacy Of Good Swimming'
In 2007 when Talbot was made an Officer (AO) in the General Division of the Order of Australia in the Queen's Birthday Honours, for service to swimming, particularly through innovative coaching programs, he said: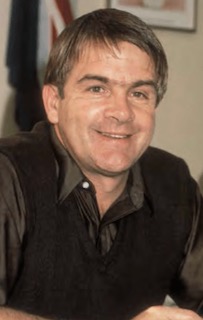 "I tried to leave a legacy of good swimming there. That was part of my aim when I got out and got to retirement age and everything else that it would go off because I've been through the years when Australian swimming was good. Something happens and it gets to the bottom of the barrel and we were down there for a long, long time and hard work to get it back up. I can't say that I don't appreciate it. I'm Australian, and to get recognition by your own people, I think that's probably the epitome of your dreams."
In interviews given on news of his honour, Talbot spoke of his loathing of the term disciplinarian among some commentators. By then 73, he told Nicole Jeffrey at The Australian:
"I don't like to use the word because that's always got a bad connotation and that's what I've been lumped with. But when I'm coaching swimmers I want them to be as hungry and as conscientious about succeeding as I am."
In 2012, Talbot was still urging his nation to strive for the best version of itself in the pool. He called on Australia's swimmers and coaches to rediscover "unity" in pursuit of regaining the world No2 spot lost to China at London 2012.
The veteran guru told Michael Cowley at The Sydney Morning Herald that if reports of team misbehaviour and a breakdown in squad unity were correct when 4×100 relay hopes of gold turned to dust then it should "come as no surprise to find Australia slipping down the swimming ranks". He added that the head coach sometimes needed to be "a bastard".
Talbot was careful not to criticise then head coach Leigh Nugent or other individuals, saying: "It's no good me punching holes in people. It doesn't do any good. I think there will be a lot of people who are feeling the sting, and a lot of the athletes, too, and the coaching staff and everybody else, but I'm hoping that serves as a lesson for them because there are a lot of good meets in swimming these days, and they can get up again and redeem themselves fairly quickly."
However, as an independent review got underway amid talk of misbehaviour, bullying and disharmony, Talbot told Cowley:
"If it's true, it's not good … but if those things did happen it's no wonder they didn't swim to their best. If they don't go as a team then it's very hard to perform well. I could never understand why somebody who works so hard to get into a swim team, or any team, goes away and screws up behaviour-wise. They are clearly not focusing on what they should be. If you want to win, you've got to act like a winner."
He added: "Look, it's salvageable. There is no question the talent is there. Some of them are quite young kids and some seem to lose their sense of what they are going away for. I was a bastard, and I had to be. I played hardball because not only were the swimmers being measured but so were the coaches. You're not doing your job as a coach if you don't do that, I believe anyway."
Cowley tweeted today:
In Final Lap, the last chapter of his autobiography, Talbot writes: So, that's my story. As I look over the long view of 50 years in swimming I don't have any real regrets. A life in swimming is a tough life and there are good times and hard times in any walk of life. My disappointments, I suppose, have been not much more than to discover the way the media can be at times and to find some administrators the way they were – self-serving, approaching swimming in a subjective rather than an objective way, and looking for what the sport could do for them, rather than what they could do for it.
… my involvement in swimming for almost 50 years has given me so much
From the Craig Lord Archive – 2016
A Masterclass from Coach John Konrads, With A Nod To Master Coach Don Talbot
How lucky the master squad at the Clarence River swim club at the Yamba Pool of late: they held a workshop, the man handing out the tips John Konrads, 1960 Olympic 1500m freestyle champion and the first man ever to hold world records over 200, 400, 800 and 1500m freestyle.
Next January will mark the 60th anniversary of the first of 13 world records established by Konrads (200m, 3; 400m, 4; 800m, 3; 1500m, 2; 4x200m – 1).
The summer of 1958 accounted for six of the standards, all within two months, for Konrads, then just 15.
He was 14 and four months shy of his 15th birthday when he clocked a global standard of 4:21.8 over 440 yards (400). Three years on, he had taken the mark down to 4:15.9.
By the time Konrads was celebrating hitting it for six in that Aussie summer of 1958, his 13-year-old sister, Ilsa, had already established two world records of her own, over 800m freestyle. Konrads once told The Australian:
"It was unusual because we were both very young and we beat records by such large margins. In the 1500m race I broke the 1956 record set by American George Breen by 24 seconds."
The Konrads hailed from Riga in Latvia. John was seven when his family migrated to Australia. He learnt to swim in "a 25m concrete tub" at a converted RAAF base near Wagga Wagga, where newly arrived migrate were housed.
At 11, he walked out on to a deck under the command of Don Talbot at the Bankstown Baths in Sydney. Three years on, he was selected for the 1956 Melbourne Olympics as a reserve but everyone stayed healthy, so he never got a swim. That didn't stop him soaking up inspiration: " … Dawn Fraser was a superstar by then and I felt privileged to be walking alongside her in the Olympic village."
His first world record in January 1957 is engraved in his heart and mind:
"The first world record was a very profound feeling of satisfaction because Don [Talbot] had all these plans laid out. There was excitement but the ethic of those days was, 'Don't get a swelled head'. The shaking of the fist in the air that they do today – the culture of that time didn't approve of that behaviour."
Three golds in the bag at the "British Empire and Commonwealth Games" (just Commonwealth from 1978) in Cardiff, Wales, in 1958, Konrads headed with sister Ilsa and teammates to the Rome Olympics.
Nerves got the better of Konrads when he started to overthink everything. He told The Australian: "I was sleeping badly, I had jet lag, I started to think, 'Hey, what if I lose?'"
Bronze followed in a tight 400m, the decision for bronze a slightly controversial one, Ian Black, of Britain on the same time as the Australian but handed fourth by the finish judge. Britain's protest was rejected and the result stood. Teammate Murray Rose achieved a successful defence of the crown ahead of the same silver medallist, Japan's Tsuyoshi Yamanaka, by precisely the same margin as he had won in 1956, 3.1sec.
Don Talbot writes in "Nothing But The Best": "… the protest was dismissed but John's face was hanging on the floor.
'Listen John', I said. 'it's no good worrying about it now. Let it go. The 400 is something beyond your control now. Let's just look at the 1500 and make sure there are no mistakes and get in there and win it. Just get in there and do what you know you can do. We know that Murray is strong at the back end of the race. Well, so are you. You're a pretty damn good swimmer. Don't let him get you'."
Years later, Konrads would recall the moment:
"When you performed badly it wasn't a pleasant experience to go back to the coach. And I knew I had performed badly. I didn't understand all the reasons why. But after the medals ceremony he pulled me aside and said 'Tough luck mate. Now for the 1500 on Friday night'.

"He just cut off the past in three words and started building my vision of the future, which was the 1500."
Result: Konrads, gold, 17:19.6 OR; Rose, defending champion, silver, 17:21.7; George Breen (USA), 17:34.7.
Even so, the imperfect result haunted. "Rome was a bit of a disappointment," he would say decades on. "Ilsa [4th, 400m in the days when there was no longer distance free event for women at the Games, and silver in the 4x100m medley relay] and I were great swimmers but not great competitors. With hindsight, I'd lost focus."
Konrad raced on to Tokyo 1964, raced in the 4×200 relay heats, watched his teammates finish fourth in the final and returned home to retirement from racing.
He then enjoyed two decades of success in business, but his career "went into meltdown" due to alcoholism and bipolar disorder, a condition not diagnosed until 2001. When 64, Konrads spoke to The Australian about why he had thrown his support behind The Black Dog Institute in NSW to help others with mood disorders.
A decade on – he turns 74 this month – Konrads, his entry in the pantheon including inductions to the International Hall of Fame and Sports Australia's Hall of Fame, was to be found assessing the Clarence River Masters one by one, including video playback, something he never had access to in his racing days. He offered tips and guidance with his Swim Easy System.
Talbot reveals in "Nothing but the best" that all the while he was talking `Konrads round from bronze to a winner once more, he was in fact "angry". He notes:
"Bronze medals in those days were looked on by Australians as nothing, and were rated with silvers as 'throwaways'. I was determined that we (John and I) would win the 1500 metres."
The throwaway theme continued when one of the members of the 4x200m free relay that claimed bronze after being tipped for gold – the swimmer not named in Talbot's book – threw his medal against a wall with the words 'Shit! Look at it! It's even the colour of shit!'
Better times lay ahead for the status of Olympic medals and the coaches that helped the swimmers win them. As Talbot writes: "Until the early 1960s it could be fairly said that the coaches existed as the unwanted outsiders of the sport of swimming…".
Never mind the early 1960s: FINA has still to this day to respond to a polite request from Australian coach and mentor Bill Sweetenham for the international federation to submit to independent review of structures, processes and finance. Not even a polite reply. He and the 17,000 plus members of the World Swimming Coaches Association and domestic counterparts very much "unwanted outsiders" to this day, it seems.
NB – So much for their tributes at times like these. CL