Dolphins Open Worlds Account With Day Of Dominance in Fukuoka: 4 Golds & 2 World Records, for Ariarne Titmus & Women's 4×100 Free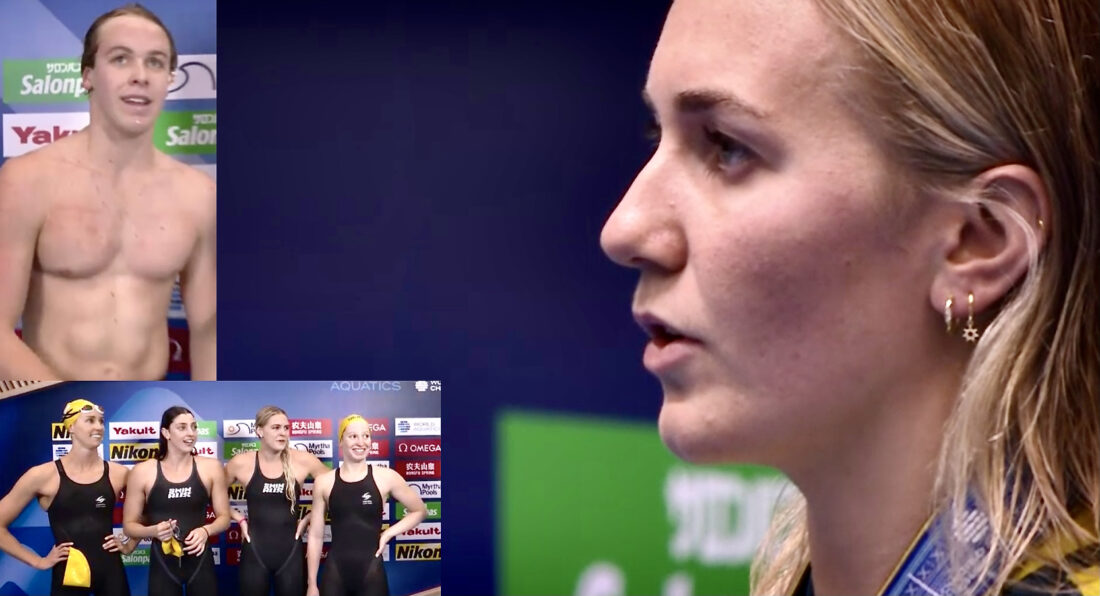 What a day of dominance for the Dolphins! Four golds and two World records for the Australians, courtesy of Ariarne Titmus in the 400m freestyle and the women's 4x100m freestyle quartet, in the first five finals at the 20th World Championships in Fukuoka.
Both men's and women's 400m free titles and both 4x100m free titles went Australia's way, the one gold that got away sensational, too: Michael Phelps was there to pay plaudits to Frenchman Leon Marchand as the last global standard of the American G.O.A.T fell 15 years after he claimed to a record eight golds at the Beijing 2008 Olympics.
Leon Marchand Heralded By Michael Phelps After Magnificent 4:02.50 Takes American's Last World Record Down In Fukuoka Flames
History unfolded in the Water Cube back then. They might rename the Marine Messe in Fukuoka to Diamond Dolphins after Titmus tamed talk of a three-way tussle with Katie Ledecky and Summer McIntosh by making the 400m freestyle final her own with a 3:55.38 World-Record masterclass.
Women's 400 Free – Ariarne Titmus Turns Three-Way Fight Into A Left-Right Knockout With 3:55.38 World Record
Titmus' towering swim followed one from 19-year-old teammate Sam Short, who claimed the 400m freestyle title in 3:40.68, 0.02sec ahead of Olympic champion Ahmed Hafnaoui, of Tunisia.
Men's 400m freestyle: Short-est Margin of Victory 0.02sec Ahead Of Hafnaoiu
Both 400m crowns in the Dolphin den, Molly Callaghan (52.08) led Shayna Jack, Meg Harris and Emma McKeon to a 3:27.96 World-record victory.
Women's 4x100Fr – Australian Gathers Unstoppable Momentum On Decade-Long Bull Run With Timewarp 3:27.96 World-Record
Surely that was it for the Dolphins on one day? Jack Cartwright, Flynn Southam, Kai Taylor and Kyle Chalmers thought not. In 3:10.16 at the helm of the 4x100m free, they kept Italy and the USA at bay to make it four titles in five on their nation's best day at a World long-course Championships in terms of gold count.
Men's 4x100m Free – Kyle Chalmers 46.56 Delivers Gold No4 For Australia
In the timewarp stakes, where Titmus was travelling as fast as Tim Shaw at the helm of men's pace in 1974, the women's relay got inside the World-record heats time of the USA at the 1972 Olympics, only Mark Spitz's addition in the final for one of his seven golds back then standing between the best women of 2023 being faster than the best men of half a century ago.
Leon Marchand turned the clock back too, from Phelps' phenomenal peak, in terms of personal family history (his father Xavier took silver for France in the 200m medley at the 1998 World Championships) and on that timewarp trip: he is now faster on medley than Gunnar Larsson was when the Swedish Olympic 400m medley champion of 1972 held the 400m free world mark in 1970.
Each win is worth US$20,000 in Fukuoka, while each World record attracts a further $30,000, so that's a $50,000 pay day for Titmus and Marchand for all the commitment made down the years to get to the heights their soared to this day.
In Semi-Finals:
Women's 100m butterfly: China's Zhang Yufei was the swiftest of four inside 57sec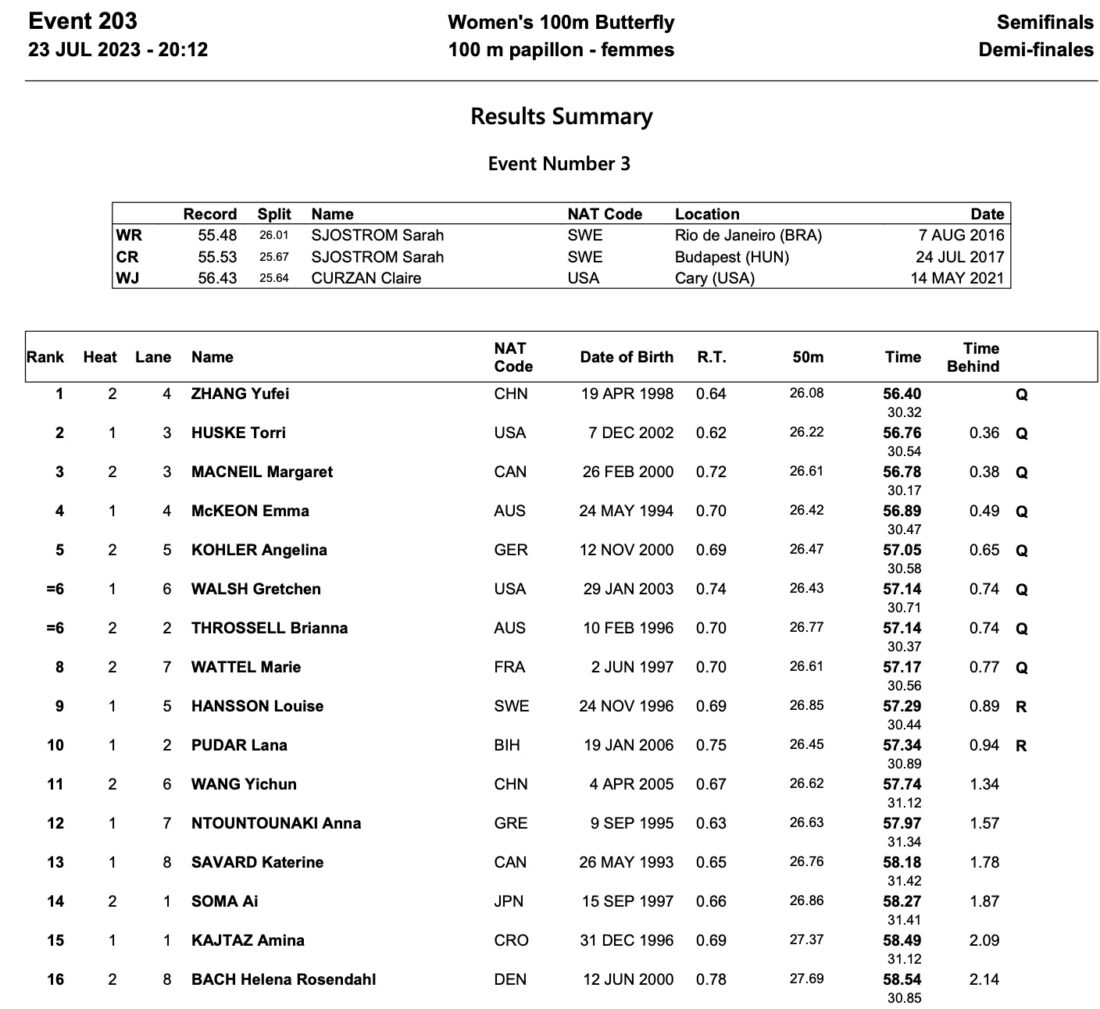 Men's 50m butterfly: Maxime Grousset shaved another 0.02sec off the French record he set in heats this morning, while Britain got two through, Jacob Peters third swiftest and former World champion Ben Proud in sixth. Austria's Simon Bucher won the swim-off for the last place in the showdown.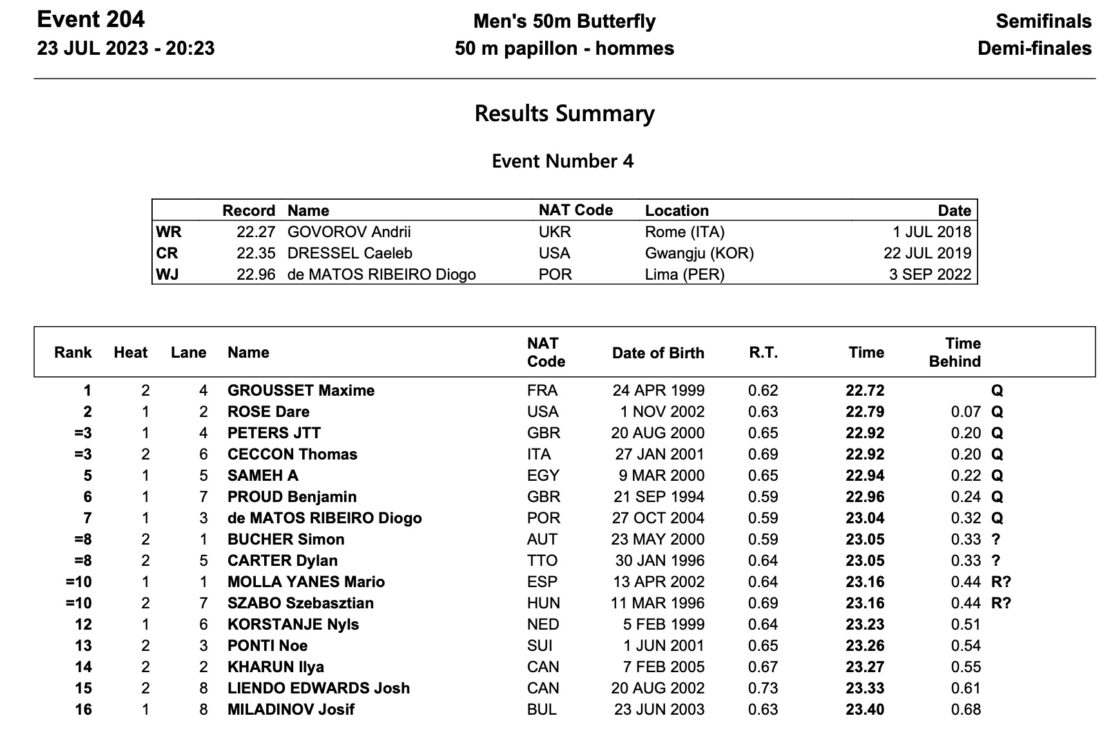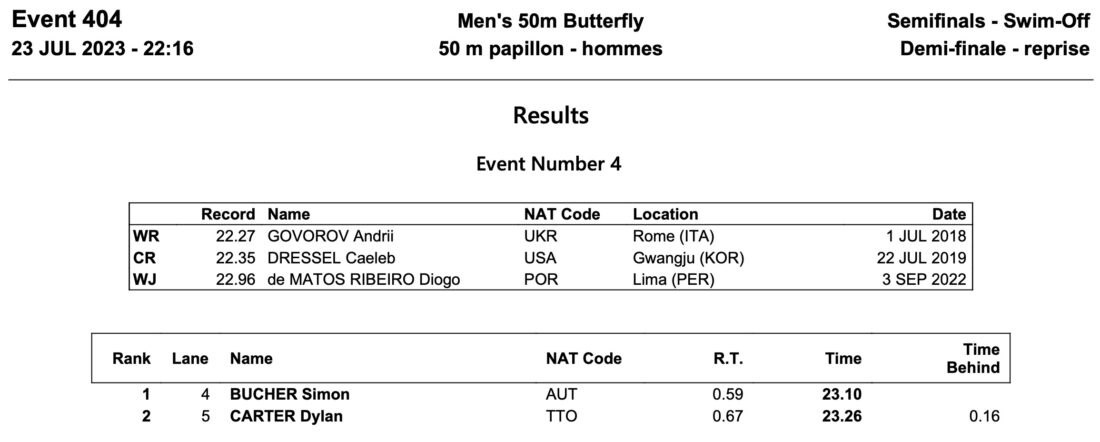 Men's 100m breaststroke: China's Qin Haiyang chose the semis to remind the rest that he's one of only three men ever to race inside 58sec. In semis he was one of only three men to get below 59. Adam Peaty will be among those watching with interest tomorrow.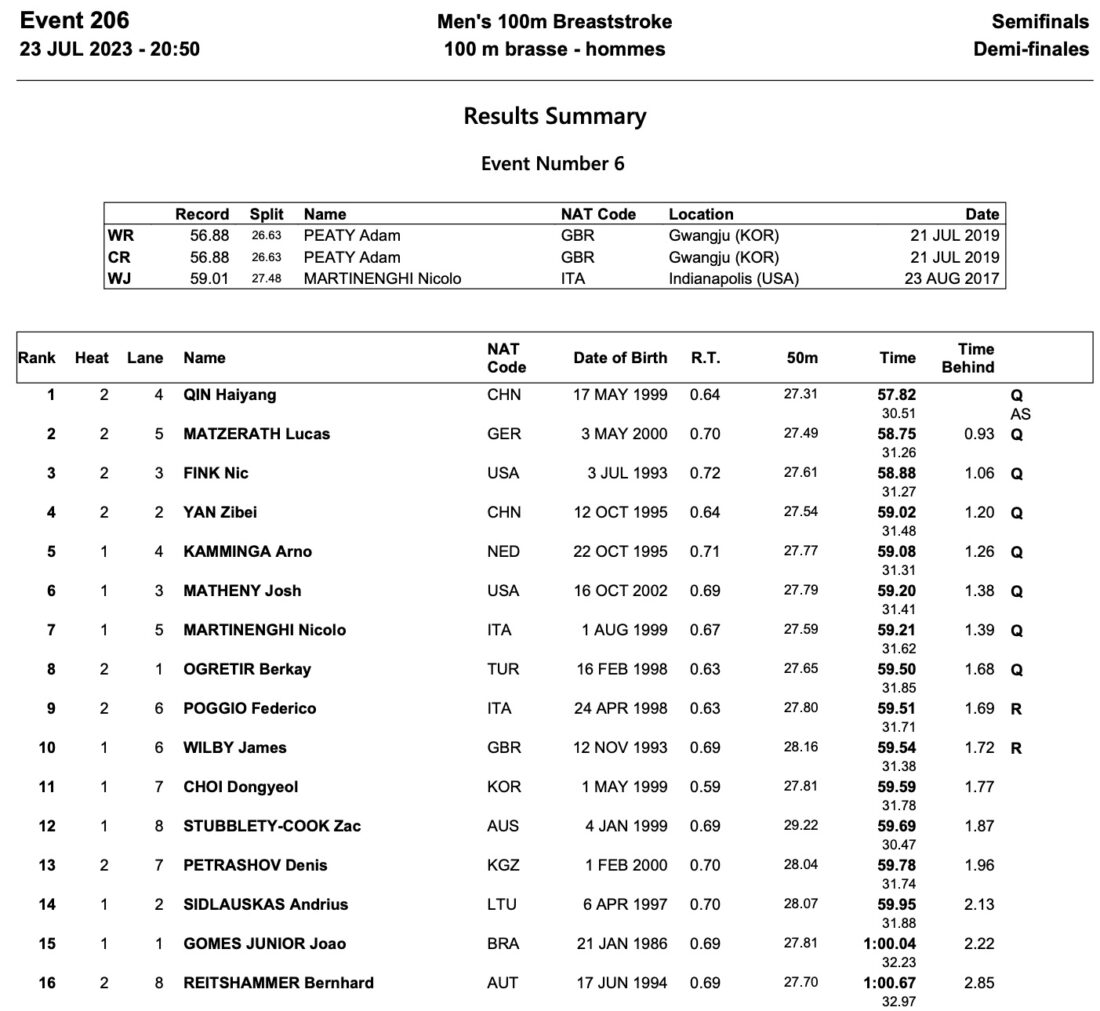 Women's 200m medley: Defebding champion Alex Walsh led the way in the sole sub-2:09 and in a heat that saw three disqualifications. Cue steward's inquiry: Kaylee McKeown, Katie Shanahan and Sara Franceschi are seasoned enough to know how to swim a medley … we await news of what could have caused them all to fall foul of judgement.