Dolphins Leap To 7:39.29 World Record As Titmus Wraps Up 4×200 With 1:52.82 Swiftest Split Ever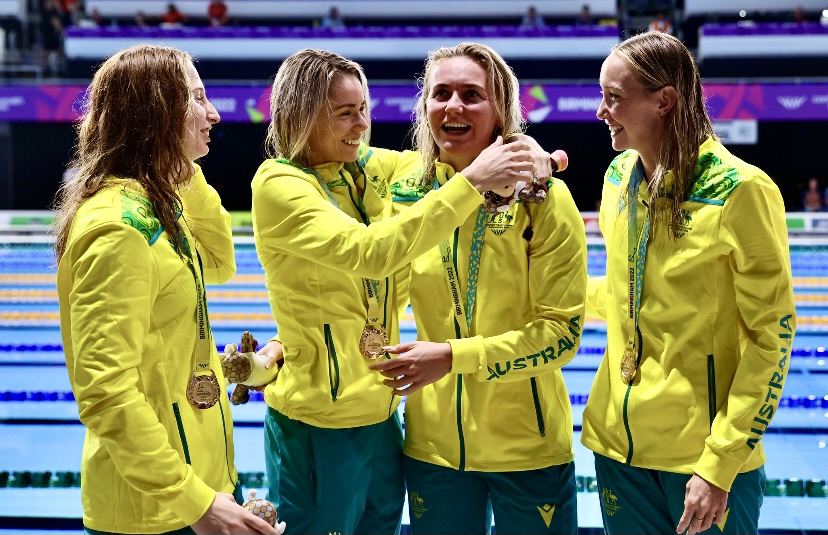 The Australian Dolphins 4x200m freestyle women's quartet wiped more than a second off the World record for Commonwealth gold in 7:39.29 at the Birmingham Games this evening, switching Ariarne Titmus from front to back of battle key to a result delivered with a 1:52.82 fastest-ever split from the Olympic and World 200m champion.
Madison Wilson (1:56.27), Kiah Melverton (1:55.40) Mollie O'Callaghan (1:54.80) and Ariarne Titmus (1:52.82) combined for a 7:39.29 victory that took an axe to China's Olympic gold-medal-winning 7:40.33 in Tokyo last year.
On that occasion, the Dolphins took bronze in an Oceania record at the lower step of a podium of three teams who raced inside the World record that had stood before China stopped the clock first.
Dolphins coaches copped it for getting it wrong on two counts: Titmus was up front, when she might have been better at the back, and O'Callaghan, despite a World junior record in heats, was left out of the finals quartet. Bronze was claimed by Titmus (1:54.51), Emma McKeon (1:55.31) Madison Wilson (1:55.62) and Leah Neal (1:55.85), for 7:41.29. Lessons never stop being learned, even when a team delivers its nation's best outcome ever in Olympic waters.
Titmus was the key to an outcome precisely two seconds faster, while understanding is required of the different environment, program and schedule (morning finals) when pondering the balance of gains and losses. What is very clear is that Australia has even more capacity for improvement on the way to Paris 2024, even with Titmus becoming the first 4x200m splitter to crack the 1:53 mark.
The all-time top 5 4x200m splits:
Leah Neale (1:55.85)
1:52.82 Titmus 2022
1:53.45 Pellegrini 2009
1:53.64 Sjostrom 2014
1:53.67 Ledecky 2022
1:54.09 Schmitt 2012
This time round, coaches opted for the best line-up ion the day and got the order spot on. Titmus "The Terminator" said of her terrific time: "I'm really happy to be able to perform for the girls. I mean, in the past couple of relays I have done I feel like I haven't really performed my role as well as would have liked. I was disappointed last year at the Olympics, so I'm glad that I could do my job for the team."
Canada took silver in 7:51.98, England bronze in 7:57.11. A big gap to Canada, a huge gap to England, gaps that raise talent-spotting, recruitment and development questions for podium placers. Then there's the gulf and drought in depth of a final that went with just five teams, South Africa on 8:02.25, Scotland on 8:13.84, numbers that raise big development questions for swimming very far and wide.
Titmus Thought 'I'm Going A Bit Slow' Before Delivering Dolphins WR in 1:52.82
Asked if she knew how fast her anchor swim was, Titmus added: "I actually felt like I was going a bit slow. On the way back. I'm passing the other girls. I felt a bit of a wash and I didn't really know how fast I was going. But I the crowd definitely helped."
Dolphins coach Dean Boxall, personal coach of Titmus and O'Callaghan – went ballistic again, as expected, though this time he avoided thrusting into a perspex barrier in the way he did when celebrating Titmus' victory over defending champion Katie Ledecky, of the USA, in Tokyo last year.
Wilson said: "I had Dean in the box tell me the split that she had to go to make the world record with his fingers. So I knew when he told me that she had to go 1:54.1, so I just wanted her to get in and have fun and really just enjoy the experience of anchoring such an amazing team."
McKeon was not in the relay because she would have been slower than the rest. The program meant that she was just not quite as fresh as the rest: she had just claimed the 50m freestyle crown in a dominant 23.99 at the helm of a the third Dolphins sweep in three days to become Australia's most decorated Commonwealth Games athlete of all time. Said McKeon: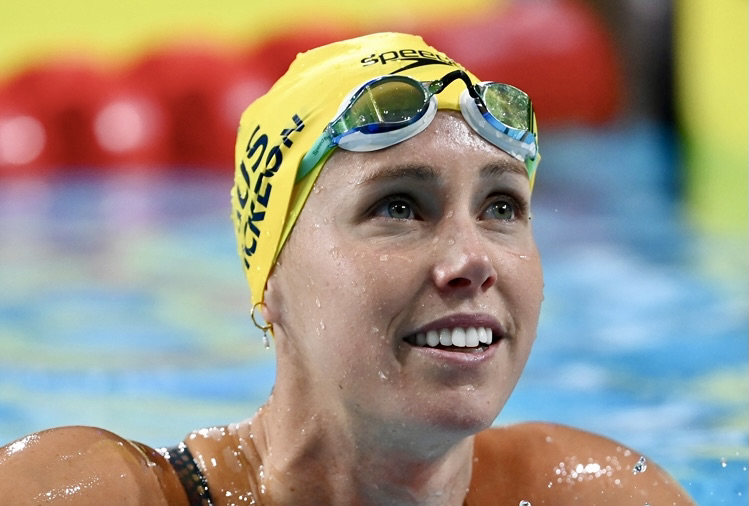 "I just get in there and do my best. Take each race one at a time. When I get in I want to win obviously. Like everyone else in the race. I feel like I am a lot more relaxed this year than last year. I think the place that I am in mentally is showing in my performances."

Emma McKeon – photo courtesy of the Australian Commonwealth games Federation